For those who don't mind flexing their brains, we have compiled a list of the best puzzle games with multiplayer.
And after all, who can't be proud of themselves after solving some mega difficult task? So choose, pump, and train your main organ with pleasure!
Brain Wars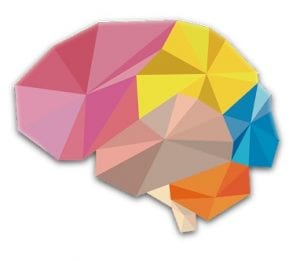 Brain Wars is an Android program with which you compete with other users around the world. Who is smarter is what you have to test.
If you are lucky enough to find someone who is not familiar with the game, you will "fight" on equal terms. There are just a huge number of games available for this.
In fact, it's hard to count how many there are. When an opponent is found, you can vote for the arcade game in which you will test your strength.
There are standard logic games like "find the same picture" or "sum of the numbers," and unusual, where you have to determine what color in the square is greater. Then there's a game where you're asked to swipe in different directions, based on what appears on the screen. Also, you'll find a dozen more puzzles to battle with other people.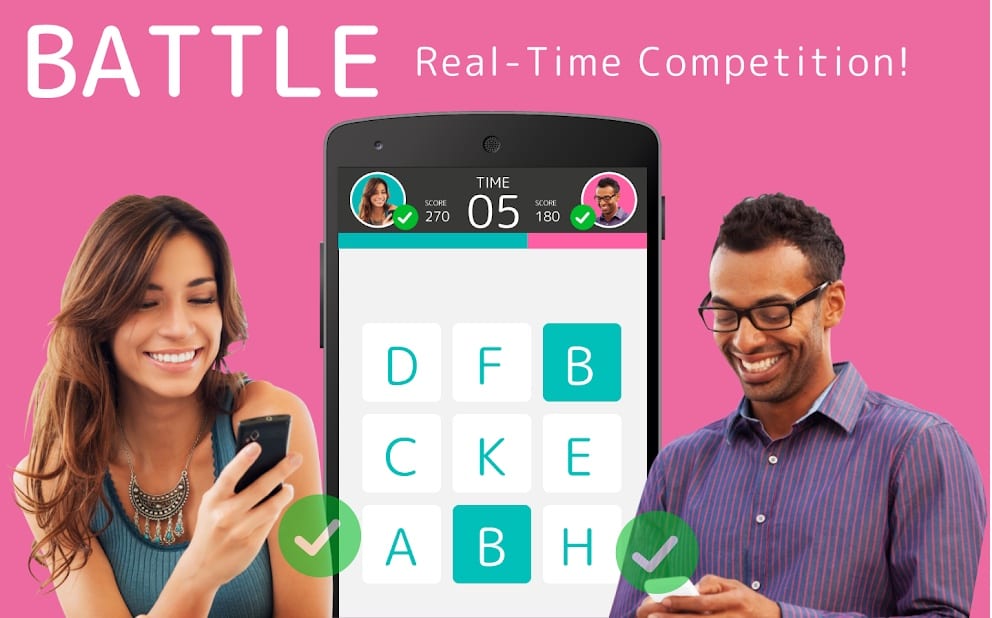 Of course, it doesn't make much sense from this description, but one thing is for sure: all this nonsense with dozens of different games is fascinating. They are incredibly simple and don't please you with a pretty picture, but the gameplay is very dynamic. And the competitive element only fuels interest.
The game can be played by the opponents equal to you, as well as by the people much stronger than you.
After you pass the level, you will see a little diagram, that tells you what are your best skills and what you need to improve. Accuracy, memory, math skills, reaction speed, and so on.
Brain Wars is an intellectual game that doesn't spare the player's powers. Dynamic, though obscenely simple program with several puzzles, will occupy your brain for a long time.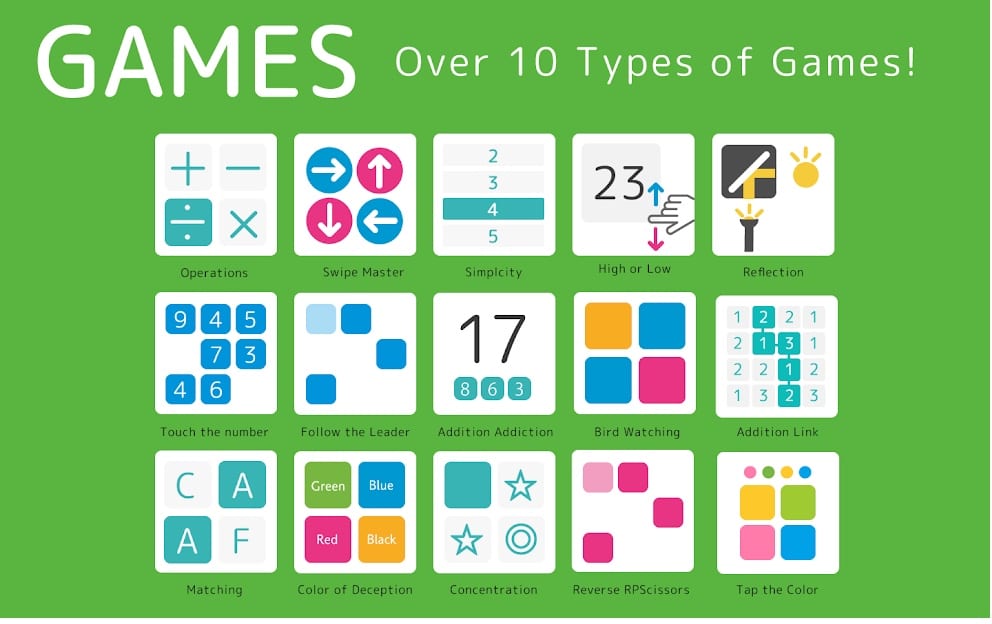 Downloads: 10000000 +
Customers rating:

(4.5 / 5)

You may also like: 17 Best logic game apps for Android
Gunspell 2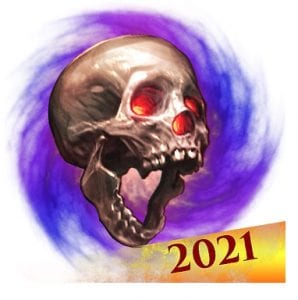 Gunspell 2 is an interesting mix of Match-3 puzzle game and RPG for Android from AKPublish pty ltd studio, in which we will fight the forces of darkness.
The game will please fans of the genre with the original design of locations, high-quality graphics in a cartoon style, bright special effects, and a good soundtrack. The animation is also not bad, but there is a minimum of it because of the gameplay specifics, so it is not a minus.
The point of gameplay is in regular battles with numerous enemies in PvP mode, as well as passing the section of the adventure, which consists of many levels.
The gameplay mechanics are closer to puzzles than to RPG, but for the composed chains and lines of the same elements, we get the opportunity to strike an opponent, who also doesn't stand idly by. In general, you'll have to think through all your actions, so as not to die in battle and win great prizes.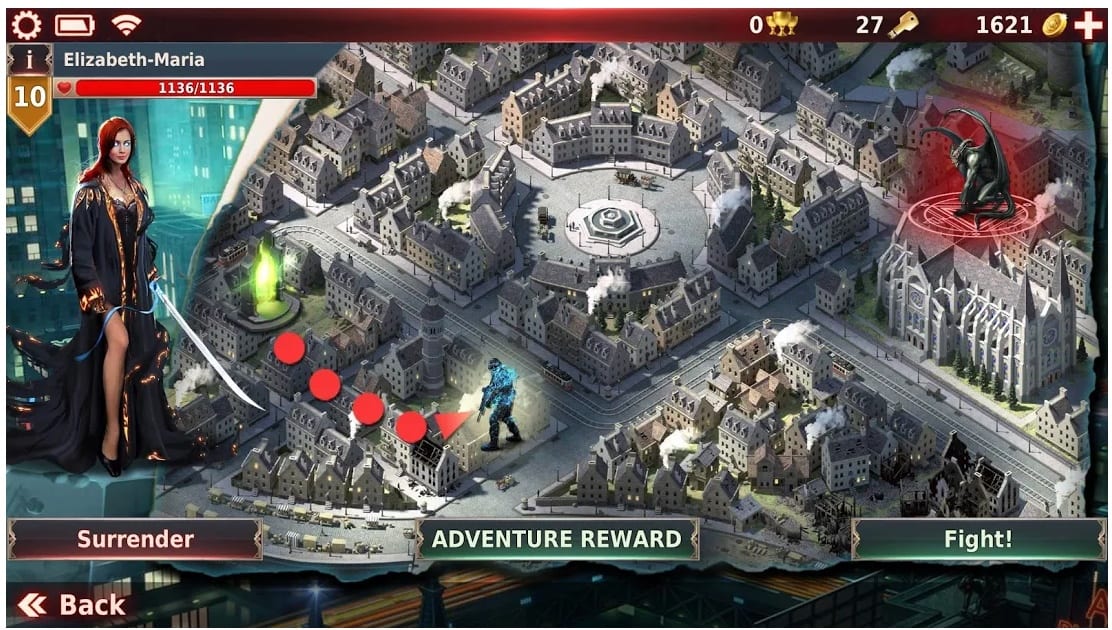 After each victory, we are given a chest, but unlike most strategies with this type of reward, we have several options. The normal opening takes no time at all. If you want to find something more useful or powerful in the box, you will have to wait. Well, if you want something rare or epic, you'll have to shell out the price. But if you regularly win in adventure mode, you won't be short of gold.
Gunspell 2 features:
Original gameplay;
A lot of unique characters;
Interesting boosters and enhancers;
Quality graphics;
Cute design.
There are a lot of heroes in the game and we can take any of the available ones into battle. Each of them has unique abilities and skills.
This is clearly demonstrated in the tutorial mode, which, unlike most games, is implemented quite informatively. In general, this is the rare case where training is useful and not a trivial demonstration of the familiar gameplay mechanics.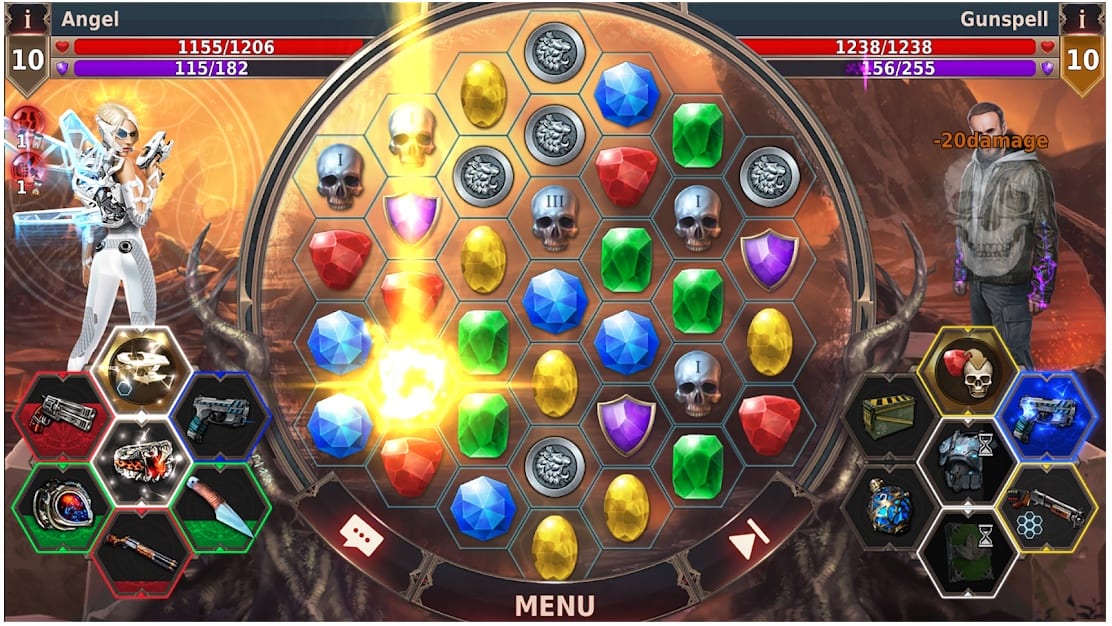 Downloads: 100000 +
Customers rating:

(4.4 / 5)

QuizUp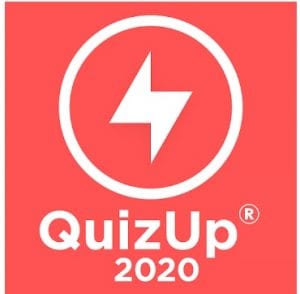 QuizUp is an online quiz that lets you compete against other players online to see who knows more about a variety of topics.
In QuizUp, you can choose different topics to compete on. Usually the following topics are available: geography, history, math, and so on. However, you will also be able to participate in competitions that focus on something specific (such as knowing a particular movie).
One of the advantages of QuizUp is the social aspect of the game, thanks to which you can earn experience and pass levels by participating in different games and winning them. Along with this you will be able to compete with your friends or try to beat strangers in an online game.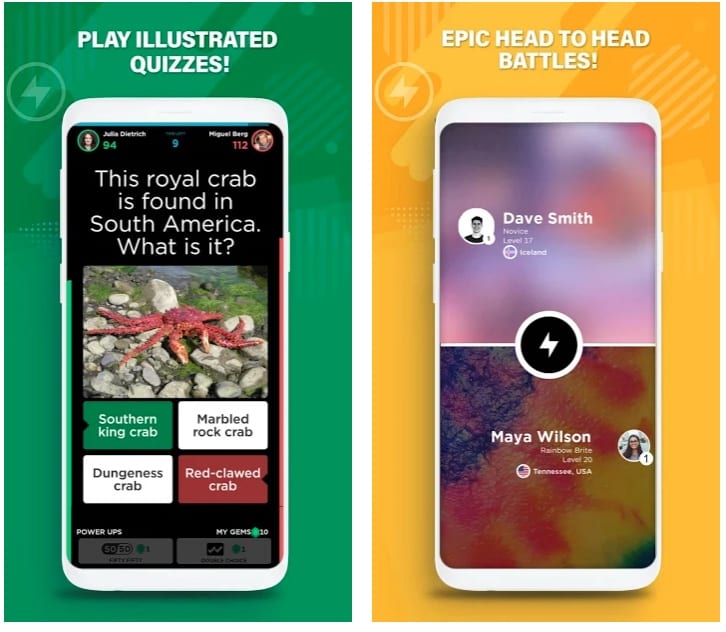 You can not only compete, but also to communicate with other players. In particular, there is a chat and general discussions. Add your opponents to your friends list to challenge them in the future or simply share your achievements with them.
QuizUp is an excellent online game, which allows you to compete with your friends and strangers and learn a lot. In addition, the game introduces more elements of excitement, thanks to the different levels of difficulty.
Perhaps the only significant drawback is the modest design, which lacks the brightness.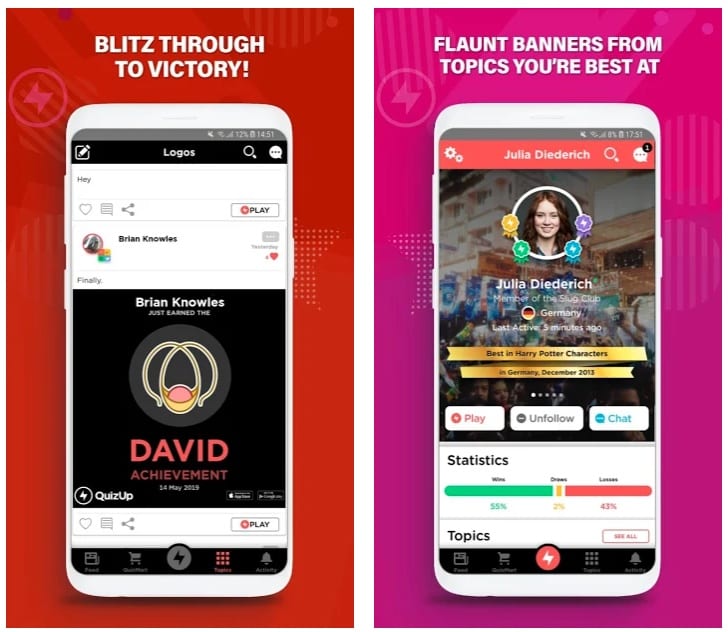 Downloads: 10000000 +
Customers rating:

(4.1 / 5)

Words with Friends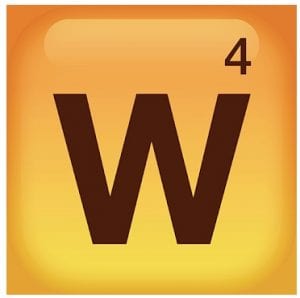 Words With Friends for Android is an interesting online board game in which the opponent can be a random person from the Internet.
In front of the player and his opponent appears a large field on which you have to make complex words from random letters. Everyone has time to search for an existing word.
Very often you have to remember the most incredible and strange phrases to take the most points. The more difficult the word, the more points the player gets.
The game has several modes. They differ in the size of the playing field or the amount of time that is allowed to spend on coming up with the word. An exceptional feature of the logic game is the ability to participate in multiple matches simultaneously. A real brainstorming session!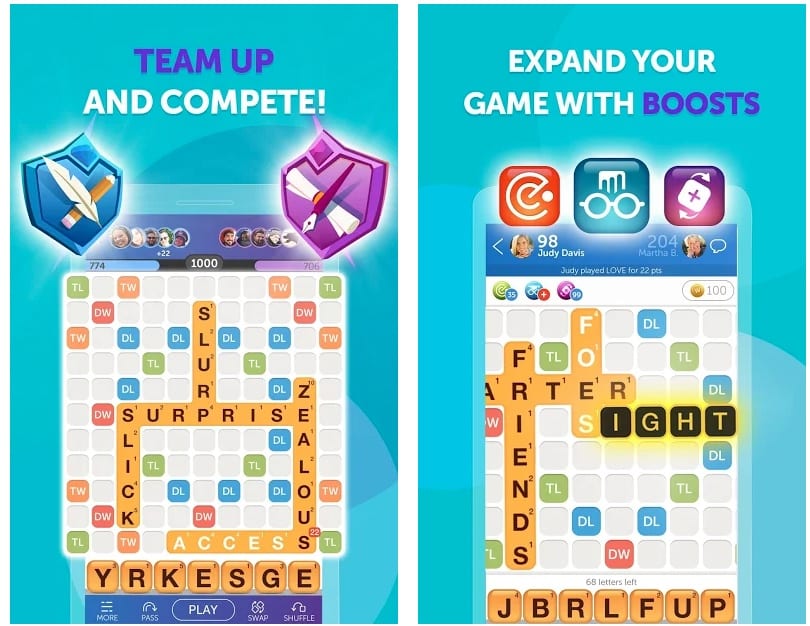 You can chat with your friends in the in-game chat room while you play. Keep track of your progress and improve your skills. Increase the size of your vocabulary.
At the bottom of the screen menu is hidden , where you can quickly remember the rules and read the meaning of just invented words that suddenly became a reality. If there is no connection to the Internet, it's time to play with a virtual computer opponent.
Words With Friends is a quality tabletop arcade for those who are tired of fighting monsters and firing various weapons.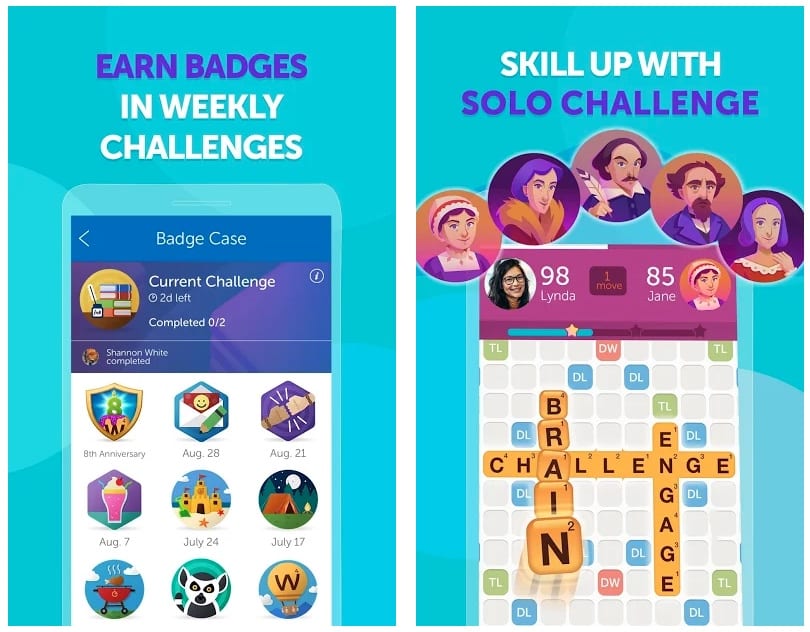 Downloads: 10000000 +
Customers rating:

(4.2 / 5)

Maze King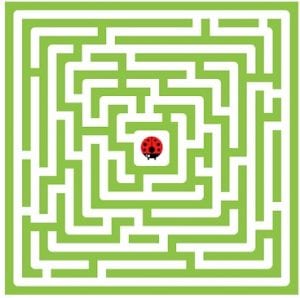 Maze King is an Android game with hundreds of mazes. And if you love this popular pastime, then Maze King will give you a lot of pleasure.
Maze King gameplay is very simple because the mazes in the game are just like the classic ones: with meandering paths, dead ends, and crossings through which you need to lead your ladybug to the right place. Move Ladybug by using the control buttons on the screen.
Although playing Maze King may be easy at first, you will soon realize that this game is a real challenge. Maze King has different game modes, each with its own features and a unique and very exciting experience. Take up the challenge and prove to everyone that you are the master of mazes.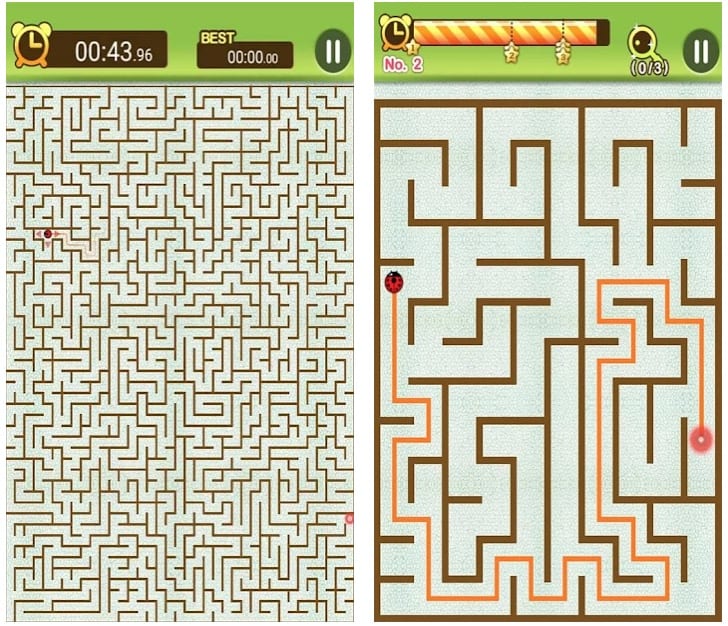 The game supports both single-player and multiplayer modes so that you can compete with your friends, as well as with the whole world for the right to become the king of the maze.
The game has more than a thousand different locations to pass, each of which opens only when the previous level is passed. To complete the picture the developers added several levels of difficulty for all tastes and abilities to the game.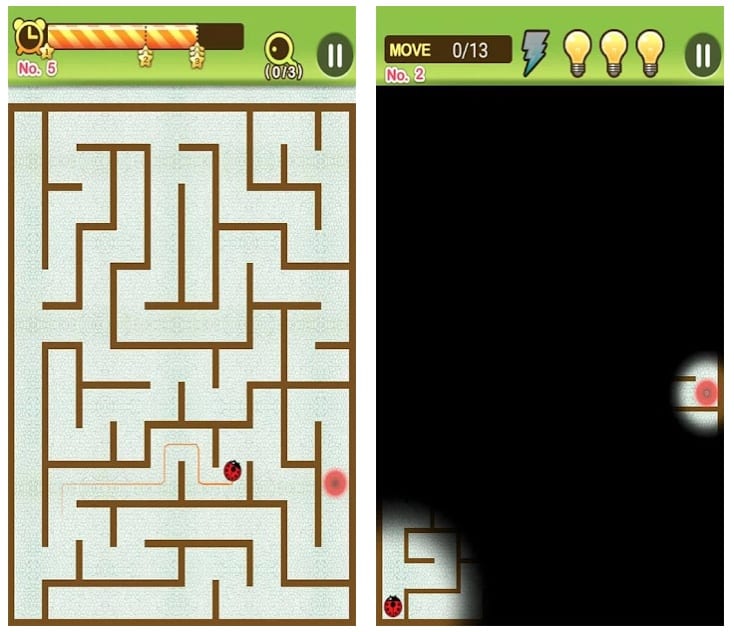 Downloads: 50000000 +
Customers rating:

(4.3 / 5)

Chess Time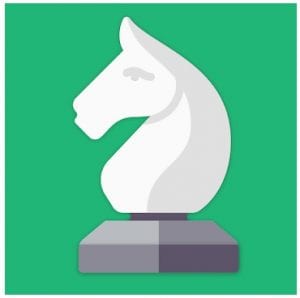 Free multiplayer chess! The game brings together many people with the goal of supporting chess enthusiasts.
The application allows you to find players from the USA, UK, Germany, and many other countries. Communicate with new people through in-game chat, make new friends, and play with them!
Play chess anywhere in the world! The game has interchangeable sets of chess and design themes. The application records information on recent games.
The player rating is calculated automatically based on all the data. On the scoreboard, you can see the results of players and countries of residence. Mark players you meet online as friends to quickly and easily invite them to new games.
The app is mostly connected to the notification system. Users should allow the app to make notifications so that everything works properly.
An intelligent board game with a wide and active community right on your device! Hurry to appreciate all the benefits!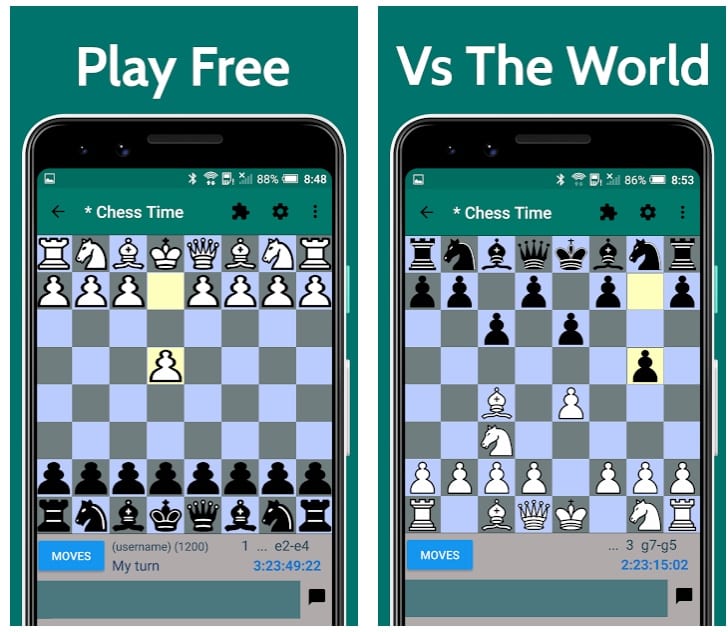 Downloads: 1000000 +
Customers rating:

(4.2 / 5)

Chess With Friends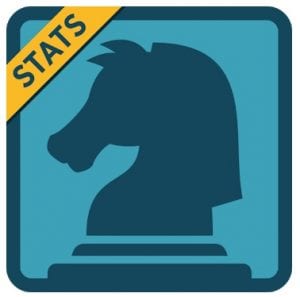 Chess With Friends Free is the most common chess game for Android. That is, there is nothing new in the game. The rules, the design of the board, and the pieces are exactly the same as in the classic board game. The key point is that you can challenge your friends or anyone else from around the world.
The interface is designed in a minimalistic, even ascetic style. Absolutely nothing superfluous, only the field and the figures of two colors. The menu has the same modest appearance: monochrome background, yellow buttons, and that's all. The only bonus is the animation that appears when you move the figures.
As mentioned above, the rules have not changed at all and remain exactly the same as they were a hundred years ago. That is, the main goal is to checkmate your opponent.
You can start several games at once, which is justified because there is no time limit for thinking about a move, and some people abuse this. By the way, if there is no access to the Internet, the "computer" is always ready to keep you company.
Chess With Friends Free is aimed at chess fans, and beginners are unlikely to like the high complexity and complete lack of tutorials. Perhaps the biggest plus is that you can play with real people of different levels. By the way, there is a built-in rating, which shows the best players to challenge.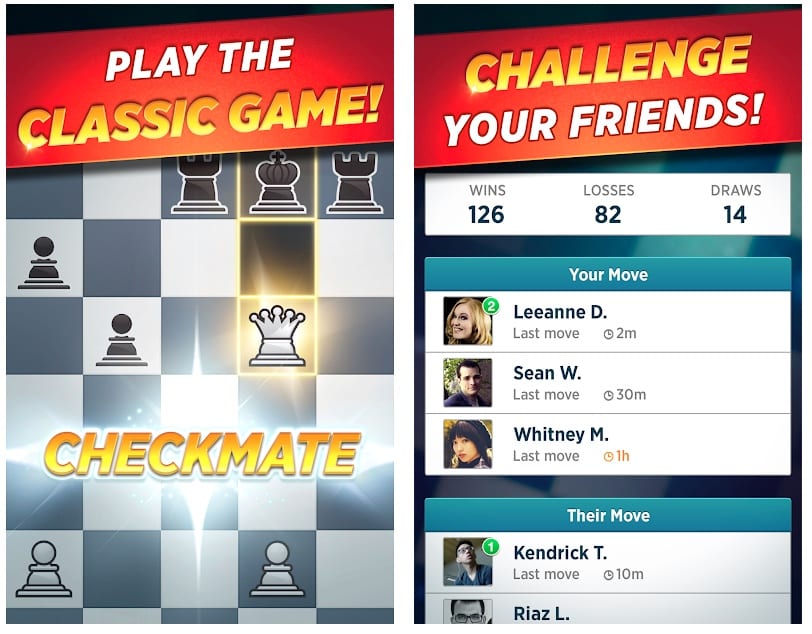 Downloads: 1000000 +
Customers rating:

(3.5 / 5)

Skillz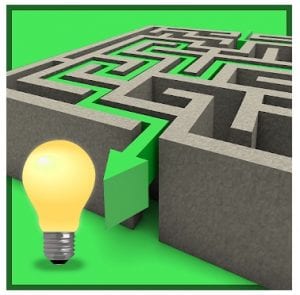 Skillz – Logical Brain Game for Android is another collection of logic puzzles to improve attention, memory, reaction speed, accuracy, and so on.
The game is also able to help children improve color coordination – understanding the difference between one color and another. One of the main advantages of gameplay is that the tests within the application are suitable for any age and any level of relevant skills.
The same reflexes can be tested at any time, not really thinking about the actions performed. The game contains both very easy tasks (e.g. place numbers in descending or ascending order) and very difficult tests (e.g. determine by eye how many percent of the aquarium is filled with water).
In addition, there are the genre's standard games for memorizing a sequence, the selection of pictures from memory, mental calculation, making a logical chain, and others.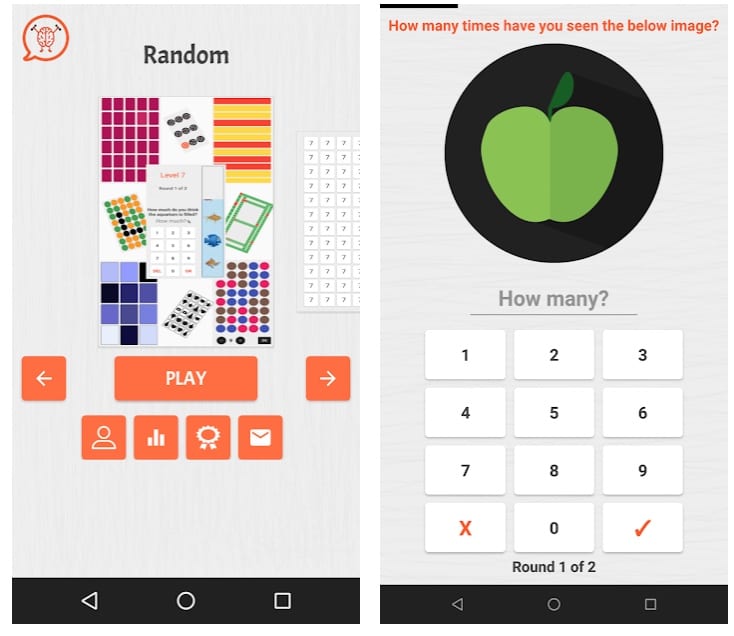 The funniest thing I found in the whole process was how the developer tries to play on the emotions of the user. Motivational messages like "congratulations, you have a genius mind" or "you lost, you picked the wrong number" amused me.
Usually, such techniques are common in runners and other, more dynamic games where the brain is mediocrely engaged. So here you get the impression that the cognitive tests were intended to make something like an action game with a tireless desire on the part of the player to go round after round.
Of course, this system also works in favor of donation. The system of in-game purchases here is very clever and cunning. Not only do you need a certain number of stars to unlock new levels for passing the previous ones, but you also need to earn in-game currency in the form of brain and dumbbells.
But there is a sweet pill in this realm of imposing donation and endless advertising. The fact is that, for unlocking every 25 levels, the player gets a bonus level, in which you can earn enough currency to play without your own investment. But not everyone can get to this stage, of course.
Skillz for Android will please any player with a large number and variety of levels and, accordingly, the tests themselves. A nice addition to the gameplay is the presence of multiplayer with a maximum of four users in one game.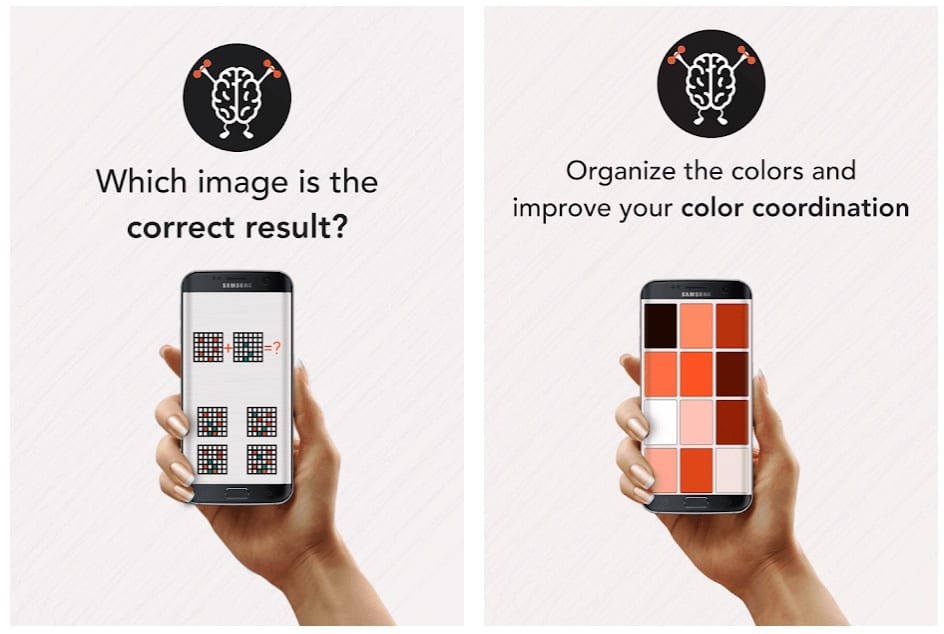 Downloads: 10000000 +
Customers rating:

(4.3 / 5)

You may also like: 17 Best puzzle games for Android
Empires & Puzzles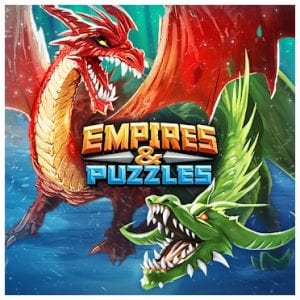 Empires and Puzzles is a mix of RPG and logic game in which you will have to build an empire based on the moves you make in games against all sorts of enemies.
In this game, you will be building your own city from the resources you extract as you travel through the kingdom. Thus, you will build factories that extract natural resources between your borders.
Your mission is to conquer the surrounding territories and take out all the enemies in a game of Match3. You'll have to connect pieces of the same color to conduct attacks. For this adventure, you will need to assemble a team of five fighters.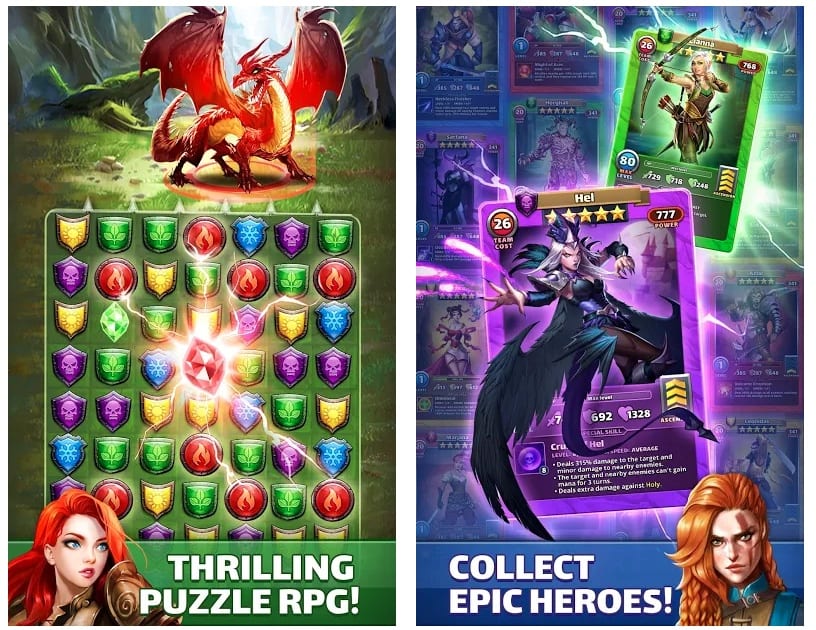 The bigger your combo attack in Empires and Puzzles, the more damage you inflict on your enemy. Think carefully about your moves so you can keep fighting new enemies that will get stronger and stronger.
Build an empire with the best fighters and fight, thinking through the best moves to get as far as possible. Play with friends – fight huge Titans, as well as participate in wars between Alliances!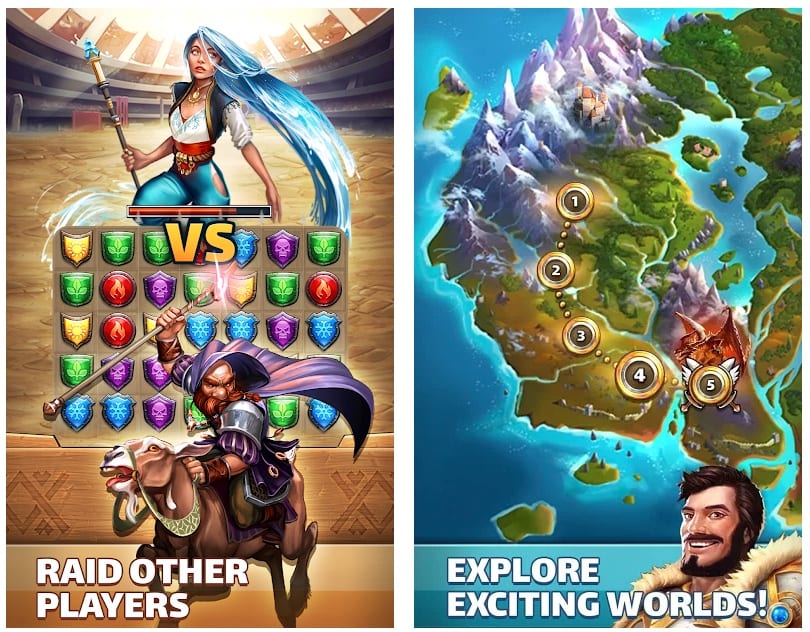 Downloads: 50000000 +
Customers rating:

(4.2 / 5)