Stop killing time with silly games – install a couple of puzzle games that not only entertain but also help develop attention and intelligence.
We decided to give you an overview of the hardest puzzle games in which you have to use your brain to win. So from the huge variety of such applications, we have chosen for you the most popular, the most interesting and the most beautiful programs.
Don't forget to check multiplayer puzzle games!
Brain It On!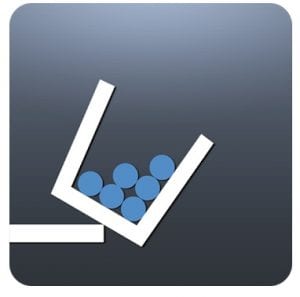 Brain It On! – Physics Puzzles for Android is a unique logic arcade game with good physics.
On the playing field, there is an incomprehensible structure. To solve the task at hand, such as knocking over a drawn cup or a small ball on the floor, you need to draw the figures on the screen to help complete the mission.
Initially, the tasks are fairly similar and don't evaluate the player's cleverness but acquaint with the basic mechanics. Without unnecessary hints, the arcade requires overturning the drawn glass, consisting of several lines. To do this, you need to throw a huge oval or straight stick from a great height, which with its weight will do all the work.
It's also realistic to create a simple hook with more weight on the end, and you can also come up with many other solutions to the task at hand – that is the beauty of the puzzle. Each player will have their own, unique solution to the problem.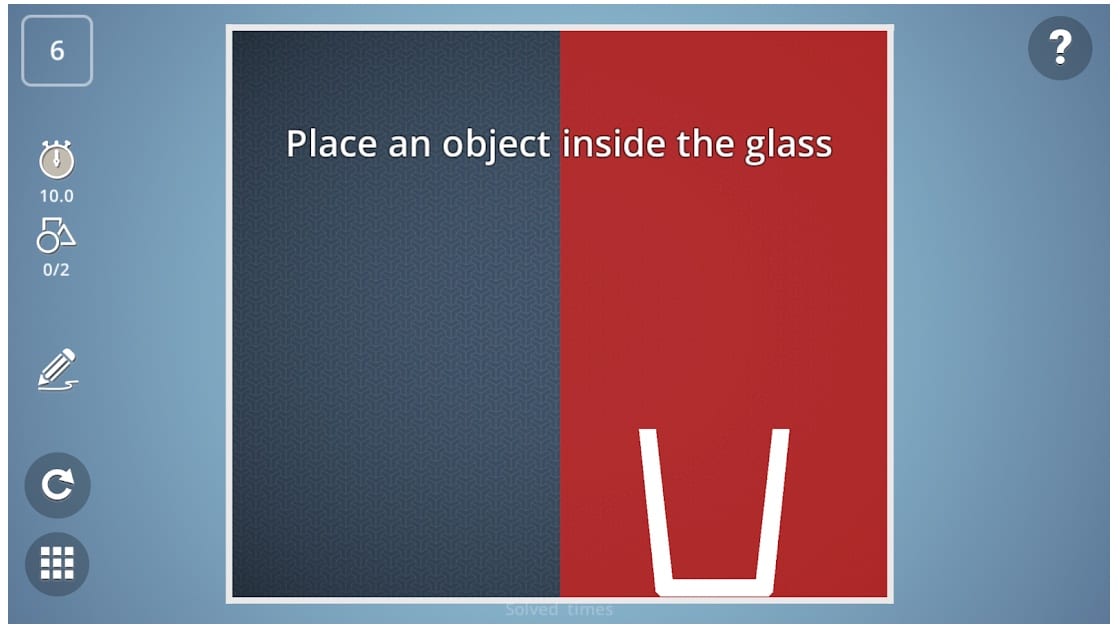 After a few basic levels, Brain It On! – Physics Puzzles offers a real challenge. Using several pieces, you have to sort the balls between baskets and lift the squares above the ground, provided they are initially firmly on the ground. The gameplay is complicated by the appearance of special red areas in which you can not draw.
In the event of a problem, a hint should be used. It forces you to watch a 30-second commercial and then shows you the figure you need to draw to pass the obscure puzzle piece.
Brain It On! – Physics Puzzles is a puzzle game with a great concept and implementation. Missions are passed in different ways several times. In addition, it's possible to share your progress with friends and solve puzzles together.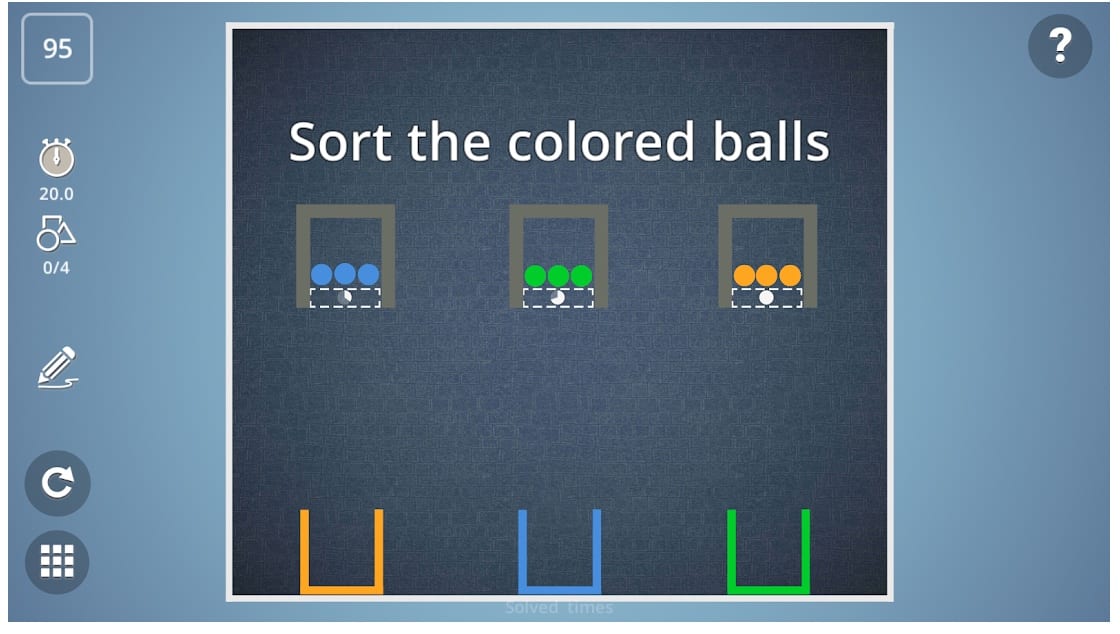 Downloads: 50000000 +
Customers rating:

(4.3 / 5)

You may also like: 17 Best logic game apps for Android
Math | Riddles and Puzzles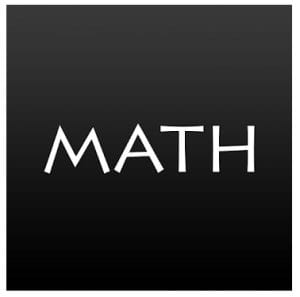 Have you been looking for a challenging and interesting game? If so, try Match Riddles and test your math skills! This game has hundreds of puzzles for you to solve, and each next one is harder than the previous one. How many levels can you complete? Try Math Riddles with its huge variety of challenging puzzles and find out!
Math Riddles includes a hundred nearly unbelievable levels that will test your skills! As mentioned, the game starts with simple puzzles to help you understand how things work.
The more you play Math Riddles, the more difficult the problems you'll have to solve, they'll make you think – they're designed for those who are tired of simple puzzles. And while there are some really challenging problems in this game, it doesn't require any knowledge of higher mathematics.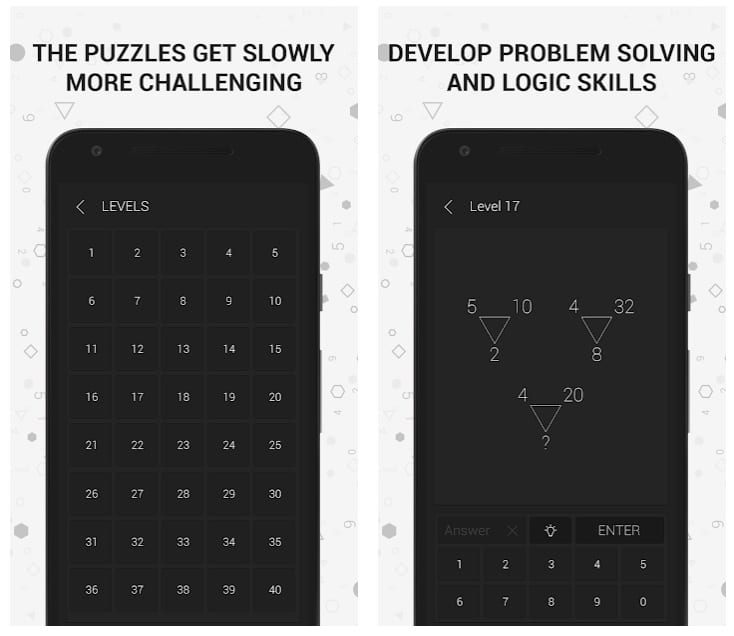 Math Riddles includes a variety of puzzles, from memory games to logic problems, that will help exercise your brain for just a few minutes a day. To solve a puzzle, you just need to enter the correct answer and press 'Enter'. If you enter the correct answer, you will move on to the next level, if not, you will have to try again.
If the puzzle proves too difficult, you can take a hint to help you figure out how to solve it. But if you get stuck and can't solve it in any way, you can look up the solution all the way through the steps. Forget about simple puzzles, try Math Riddles, and test your skills by solving difficult problems!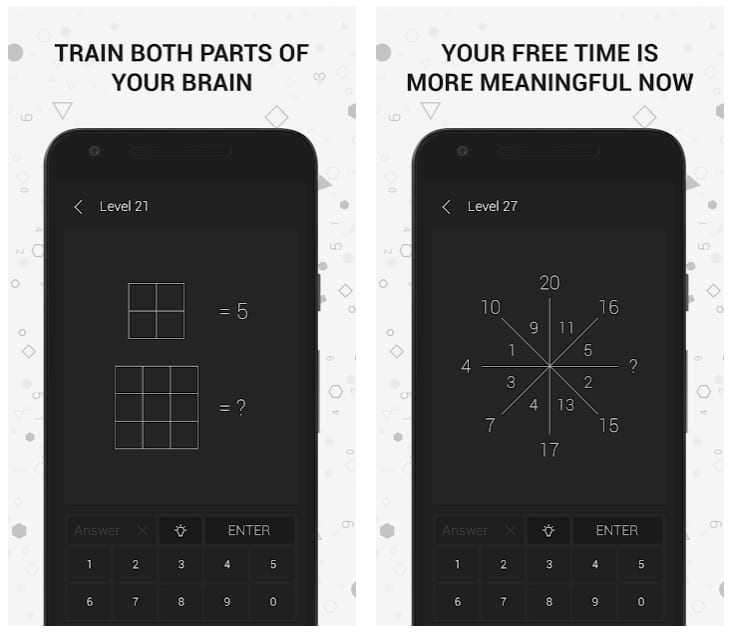 Downloads: 5000000 +
Customers rating:

(4.4 / 5)

Puzzle 100 Doors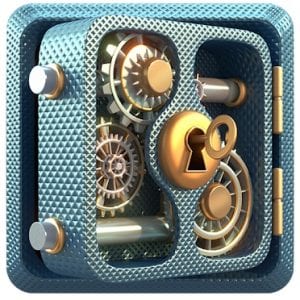 Get ready to go on a journey through the hot corridors of the Egyptian pyramids, get around the tricks of the Mayans, explore the amazing inventions of the famous Leonardo da Vinci, plunge into the wonderful world of logical puzzles.
Solve riddles, solve problems, find patterns in ciphers, look for hidden objects, and escape at all costs! All you have to do is open all one hundred doors.
Game Features:
More than 100 doors;
unique for the genre hidden object search mode;
stunning colorful graphics;
regular updates adding new puzzles;
works offline;
you can skip difficult levels and return to them later;
the game is equally interesting for adults and children of all ages.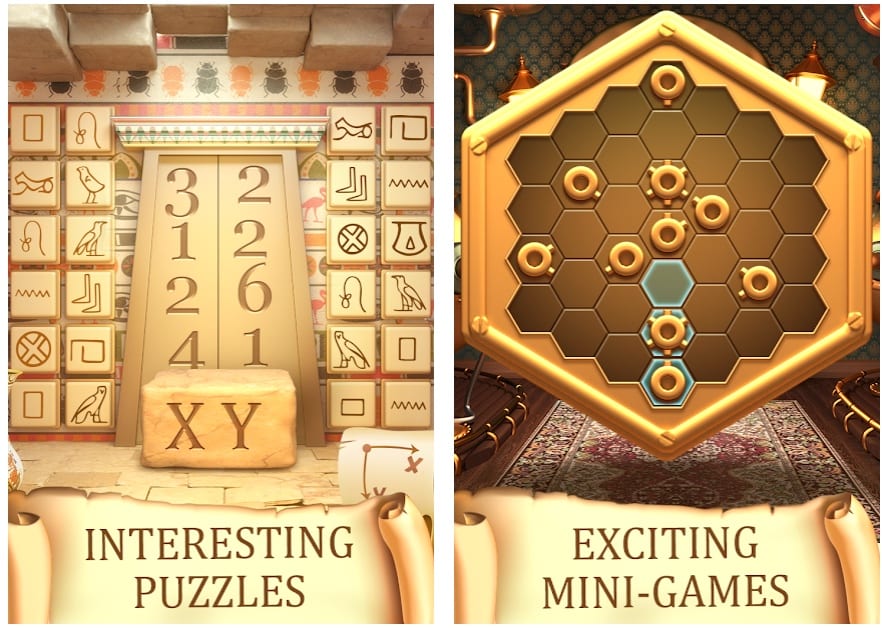 More than hundreds of atmospheric levels, thousands of positive reviews, and millions of players worldwide speak for the game better than any description. Download it and have fun!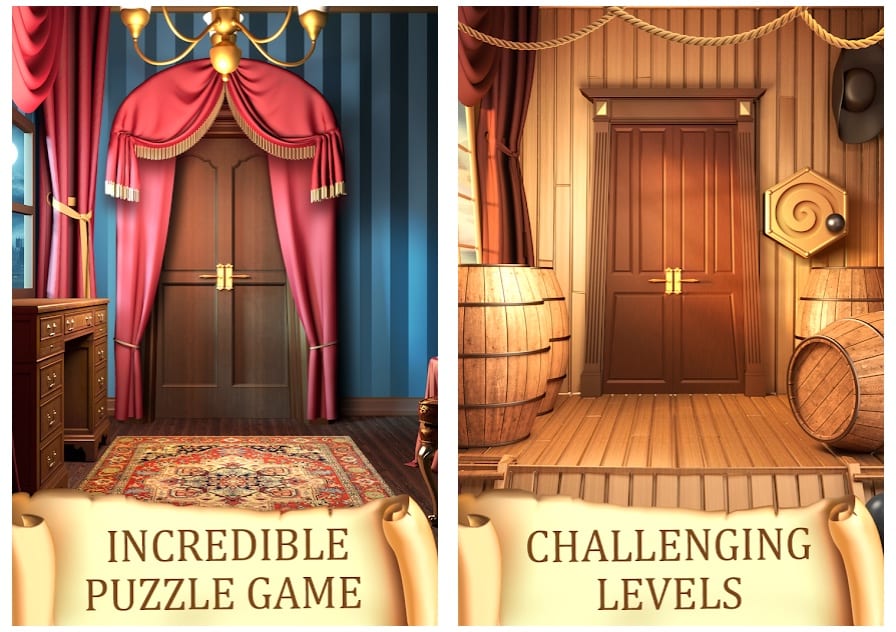 Downloads: 5000000 +
Customers rating:

(4.2 / 5)

MechBox 2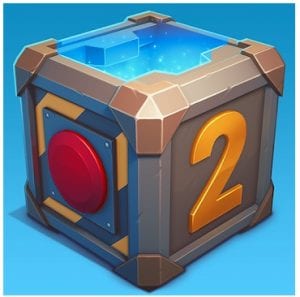 In the continuation of the popular puzzle game, you must once again try on the role of the Explorer and try to crack the mysterious device – the Mechanical Box. Each layer of the Box's defenses presents a distinctive, unique puzzle.
I must warn you that some of these puzzles will be extremely difficult. But each puzzle can be solved if you show attention to detail, logic, and out-of-the-box thinking. Are you ready to accept the challenge, feel the joy of victory, and join the few who have been able to discover the mystery of the Mechanical Box?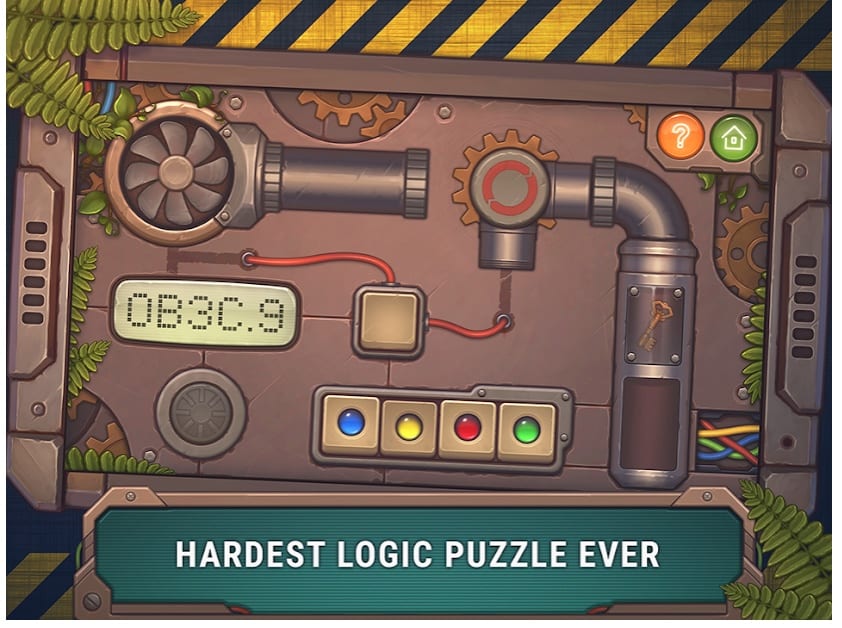 The Box has a built-in hint system. But remember, Box is not a game for casuals, it's a defense system, an armored piece of metal. And the hint is only a hint, not a ready-made solution.
The Mechanical Box is a high-tech device created for the sole purpose of storing and protecting the unknown Object within.
MechBox 2 features:
An incredible, challenging, addictive, unique puzzle game;
No time limit, you can play offline;
Superb graphics optimized for tablets and smartphones
There are hints in the Box!
Play for free!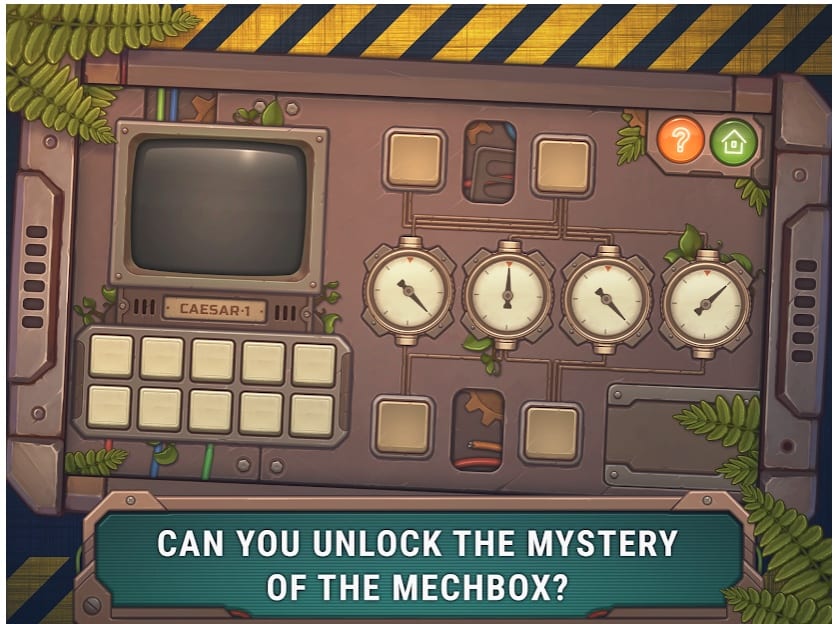 Downloads: 1000000 +
Customers rating:

(3.7 / 5)

Mazes & More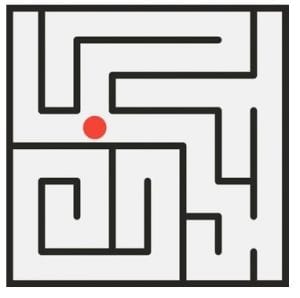 Mazes & More is an interesting Android application, which is a collection of various mazes that will allow you to train your attention to overcome them all.
This free game will surprise you with a large selection of tasks, each one more complex and intense. In addition to the usual solutions, the user needs to avoid collisions with a variety of opponents.
With a large selection of quests, Mazes & More is a dynamic, logical game where you must quickly pass locations while trying not to get trapped by the inhabitants of the labyrinth. Complete more than 450 unique mazes and get rewarded for it, and you can also enter your name in the table of record holders if you pass all levels quickly.
Musical accompaniment will allow you to concentrate, paying attention to every detail. The levels differ coordinately, making the gameplay exciting, interesting, in some places even too dynamic.
Game features:
Easy control;
User-friendly interface;
Wide range of levels;
Dynamic gameplay;
Minimalistic graphics;
Interesting storyline.
Mazes & More is an interesting logic game, where the user will have the opportunity to pass more than 450 levels, each of which is full of dangers, unusual traps and treacherous dead ends.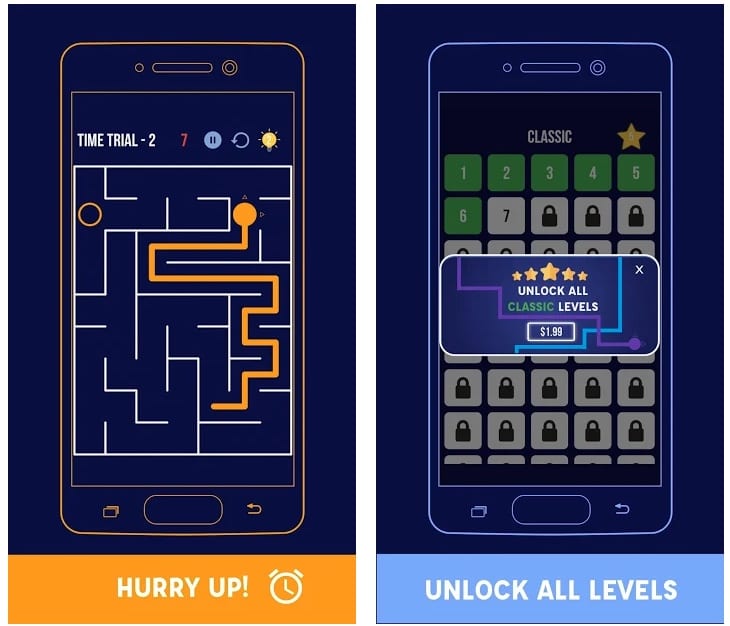 Downloads: 50000000 +
Customers rating:

(4.3 / 5)

Words of Wonders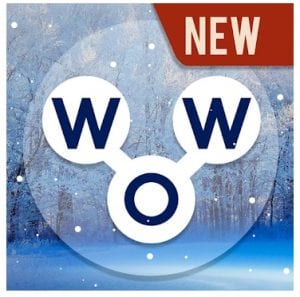 Words Of Wonders is a game where you can prove how much you know about the world's most iconic monuments. All you have to do is place the letters in the right order, completing the crossword puzzle on each level.
You will have to put on your thinking cap to write and come up with new words and then solve the crossword puzzle with their help. Do you think you will be able to find the right word? Or at least guess?
Sometimes the answer will come to you right away, other times you will have to put a lot of effort to solve difficult puzzles at each level. Crossing the world isn't easy, but new and new wonders await you.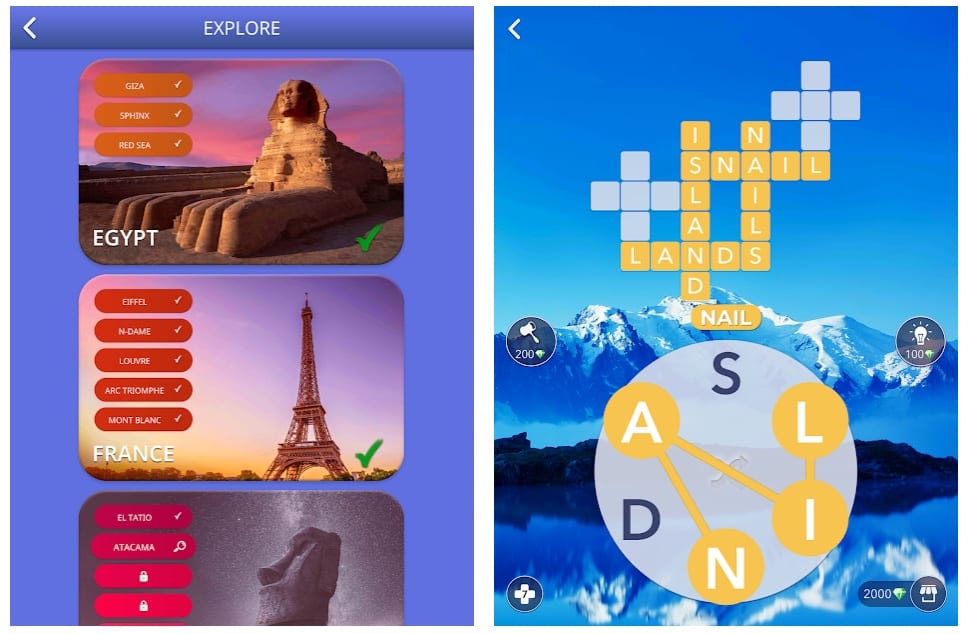 The gameplay in Words Of Wonders is quite simple and similar to other games of this genre. In addition, while playing on different levels, you can find out interesting facts about the most famous monuments from all over the world.
Some words are immediately apparent, and others you have to think about. With this game, you can quickly increase your vocabulary and train your brain. The player here becomes a researcher of the planet because each new photo shows famous places and architectural monuments around the world. Unsolved word puzzles are waiting for their connoisseurs.
How many words can you put together? Do you think knowing the alphabet is enough to succeed? You have to learn, learn, and learn again! Crossword puzzles aren't easy to solve, you need enough vocabulary.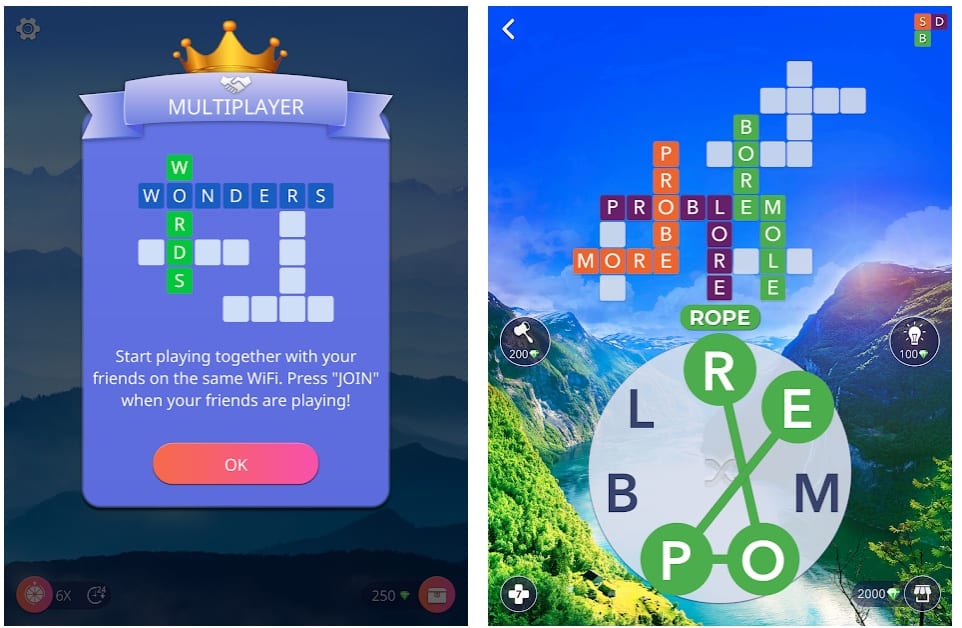 Downloads: 50000000 +
Customers rating:

(4.6 / 5)

Numpuz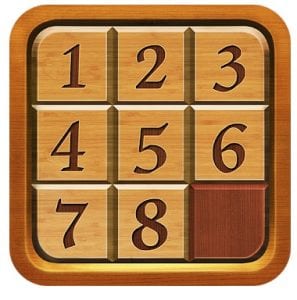 Numpuz is a cool puzzle game. More than 6 levels of difficulty, try to get to the last one, can you?
In this fascinating math puzzle, your task will be to move the pieces around the board so that the numbers stand in the correct order.
Benefits of the games:
Offers five different puzzle games. The collection consists of: Number Riddle, Block Gems, Keep Bounce, Snake Vs Brick, and Stack Jump.
Levels of varying difficulty;
Opportunity to beat your record;
An endless challenge mode that challenges your logical thinking and mental limitations.
The game contains many different mini-games that allow you to make up your mind, train your attention and patience, and just to pass the time. Thanks to the developers!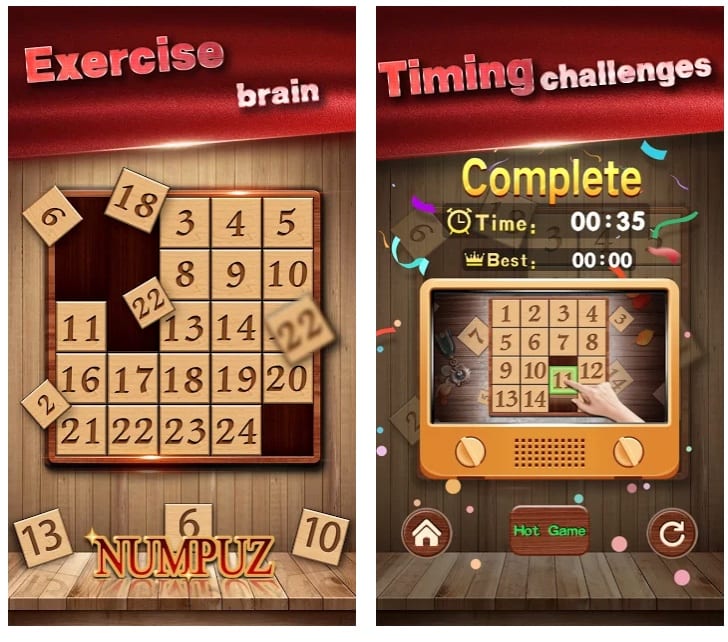 Downloads: 50000000 +
Customers rating:

(4.3 / 5)

Jigsaw Puzzles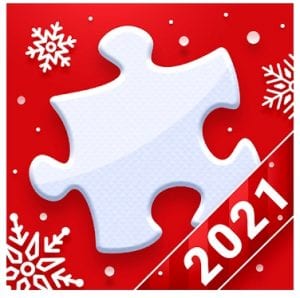 A game with puzzles of different levels. And if you prefer the hardest here they are. There is a choice of the number of puzzles.
There is paid content, you can buy pictures to your liking if you are not satisfied with the proposed selection, but there are a lot of free pictures. You can use this game as an eye-trainer.
Play your favorite puzzle game with more than 10,000 beautiful pictures, solve Free Day Puzzle, and create amazing puzzles from your own photos!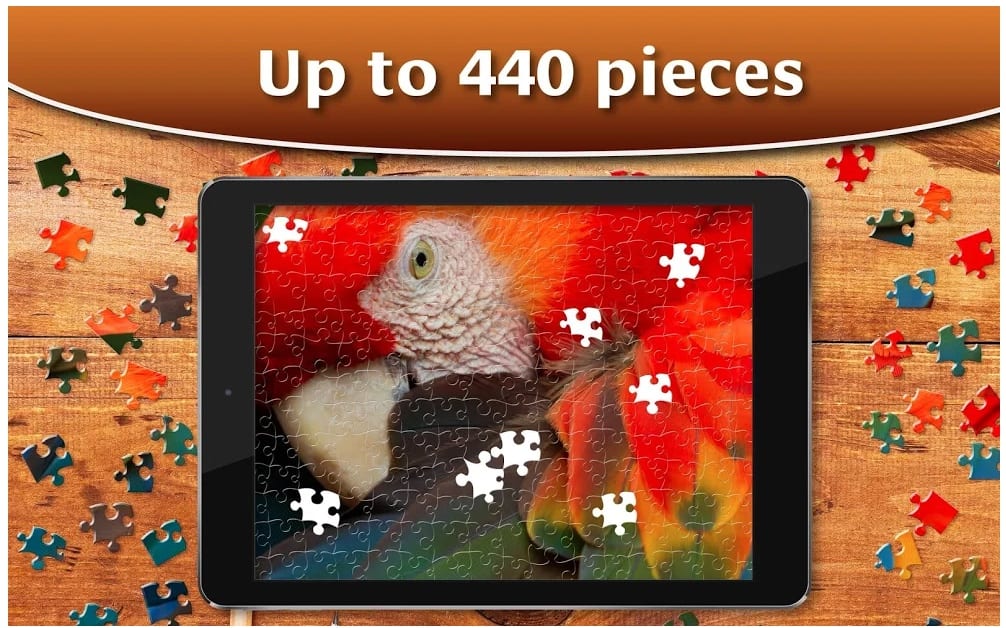 Choose HD images from 200 puzzle sets in different categories and customize puzzles by size, shape, choose background color, and turn the rotation on or off.
Jigsaw Puzzles features:
10,000 puzzles;
20 new puzzles are added every week;
10 levels of difficulty – from 12 to 440 pieces;
Every day there is a Free Puzzle of the Day;
Choose from one of 17 categories: Vivid, Tropical, Flower, Landscape, Seasons, Homes, Holidays, Animals, Butterflies, Patterns, Travel, Crafts, Food, Art, Kids, Tech, Surprise;
The daily free puzzle is available for 24 hours, and then it is replaced with a new free picture;
Every Wednesday there's a big update in the Store section with new free and paid puzzle sets.
You will get personalized puzzle recommendations after you complete each puzzle. The game will suggest new puzzles based on your preferences.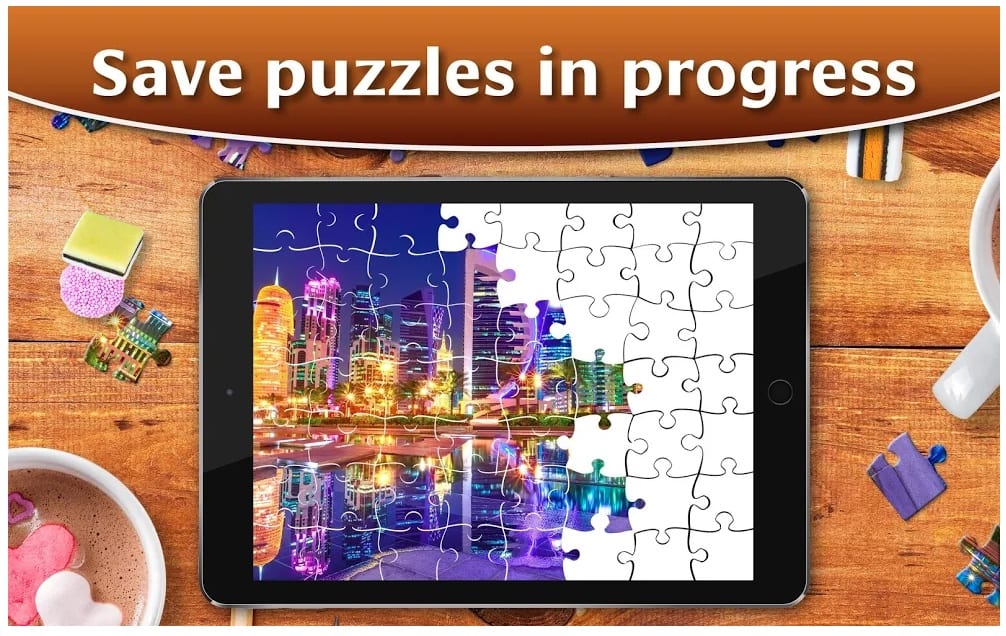 Downloads: 10000000 +
Customers rating:

(4.3 / 5)

You may also like: 17 Best puzzle games for Android
MechCube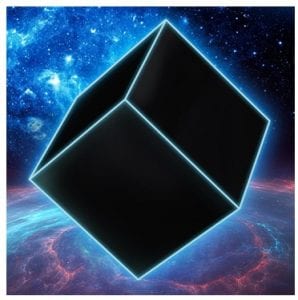 MechCube: Escape is a non-trivial puzzle game for Android from OGUREC APPS studio, in which we will wander the labyrinth of a mysterious cube and solve unusual problems.
The game has received a minimalistic design of locations, a decent graphic design in a cartoon style, modest animation, and not a bad soundtrack.
Not much is known about the cube itself. This is an impressive structure with a single door, which only a man can enter. And inside the allegedly infinite number of rooms (although in fact, it turned out to be far from it), passing which you can go out in the unknown place. The cube is a kind of time machine.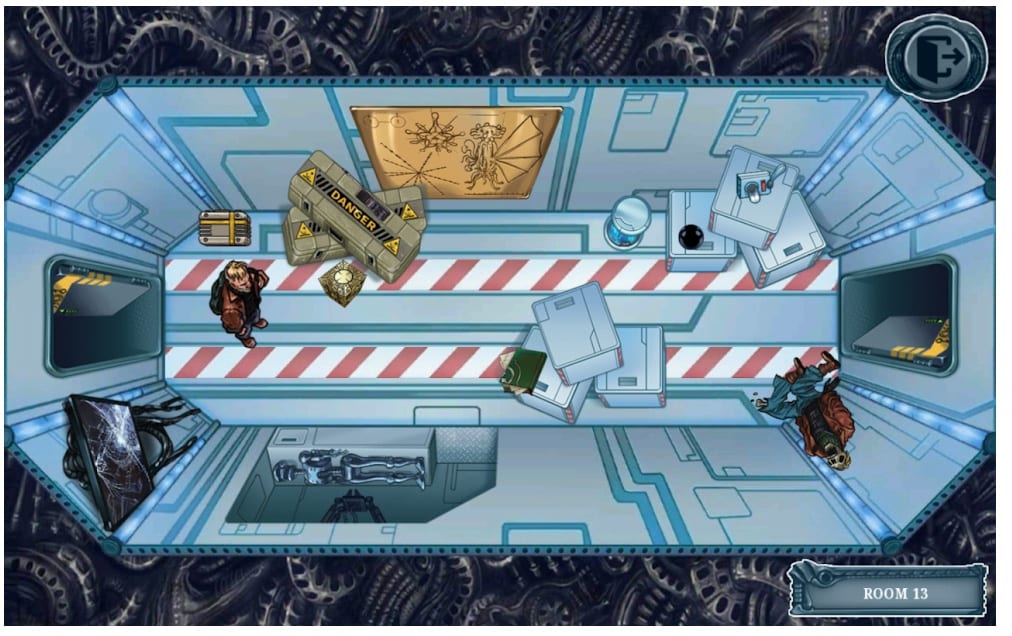 In every room, there is an unusual box or table, and when we open it, we find ourselves in front of the puzzle. Of course, it must be solved, and then you will see the green button with the opened lock.
Click on it and you will find yourself in the familiar room again. At the same time, the drawer will be opened, and there will be an open door. The most interesting thing is that some rooms open two doors at once. It depends on which room you choose, depends on the task that you have to solve.
And in some situations, the door leads to the outside of the cube, and in this case, you will get one of the six endings. And you can't say that all of them are safe, even if they seem that way at the beginning.
Features of MechCube:
Unusual plot;
Decent graphics;
Good difficulty balance;
Interesting puzzles;
There are free hints.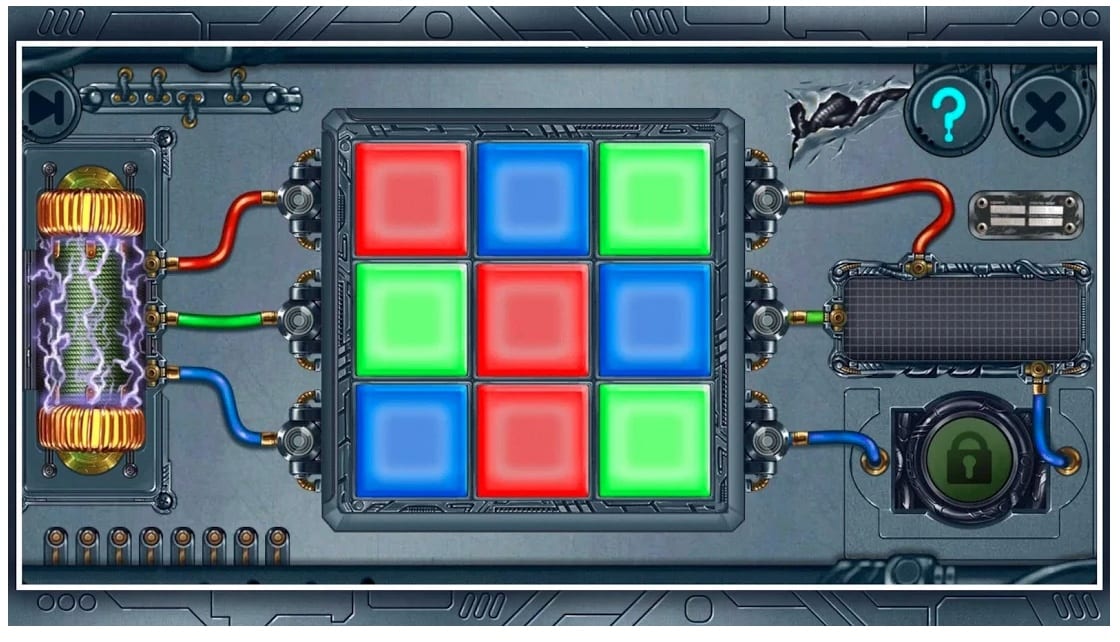 Downloads: 500000 +
Customers rating:

(3.7 / 5)