New Year – new solutions. Many of us want to change something radically for the better, but for this, we need some good reason. Moreover, someone has to control these changes. For this purpose, applications have been created to help control your New Year's resolutions. Let's look at some of them.
1. Toggl Track
If you have an Android phone, you can track almost everything. But the more beautiful your data looks, the more motivated you will be to use the app. Toggl Track is perfect for this purpose.
The app is really easy to use, and the free version is perfect if you change one habit. This allows you to set up five different things to track at the same time. Add a value, select a date, and add a comment if you want.
But remember, don't keep track of what you've done, keep track of how close you are to your goal.
For example, if you have set the ideal weight you want to gain, then track your current weight every time. Don't keep track of when you went to the gym, on what days you followed a diet, changed, and so on. Those don't help so much; instead, keep an eye on the prize.
Over time, you can view graphs and charts of your progress. You can also set up a reminder for daily registration and updating of your data to get a stable, beautiful schedule. Based on your data, Toggl Track will even calculate when you are likely to reach your goal!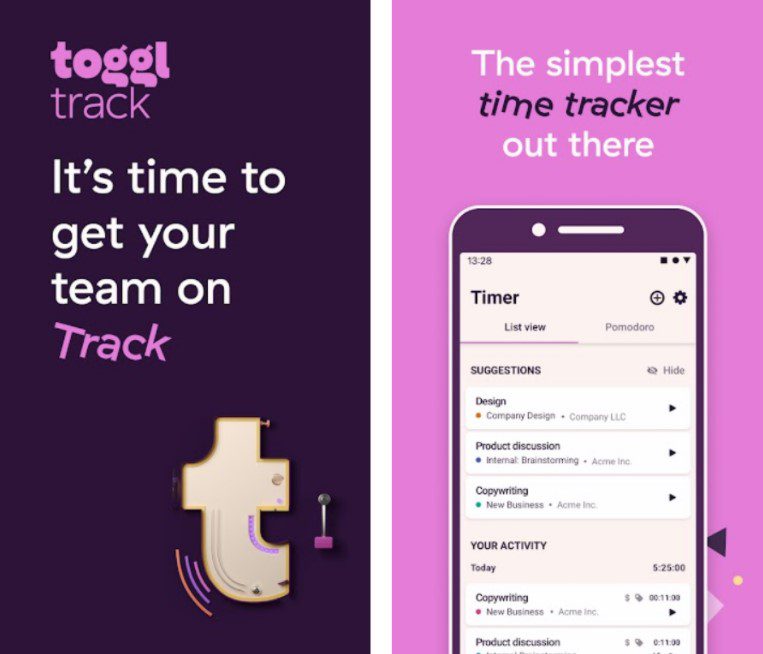 Downloads: 500000+
Customers rating:

(4.6 / 5)

You may also like: 18 Best Wishlist apps for Android
2. Nike+Run club
Couldn't get in shape for a year? Did you oversleep an early rise for a jog or freebie during a workout? The Nike+Run club app will help you in the new year to acquire a useful habit of making early runs and not be shy about it.
You can set goals for yourself and keep a clear track of their compliance. The application created by Nike perfectly copes with the task of reminders, structuring, and motivation. After all, at Nike+Run club, you will see that your friends want to get better as well as you, and celebrities who cooperate with Nike will support you – for example, Kevin Hart.
The built-in music player allows you to integrate your favorite playlists while working.
Also, Nike+Run club performs the following functions•
Storing routes, running time, and any data about them
Weekly, -Monthly, -Daily jog challenge
Preparation of a training and jogging plan
The ability to be in contact with friends while running
The Nike Run and Google Fit collaboration allows you to track your heart rate and your health data, helping to balance and improve your results
Use Nike Run Club and achieve your goals!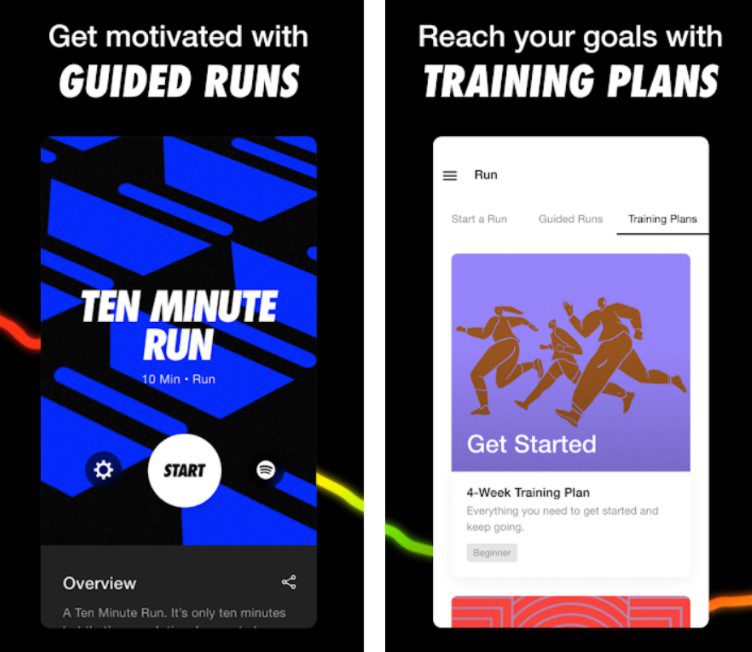 Downloads: 10000000+
Customers rating:

(4.4 / 5)

3. Loop Habit Tracker
Have you long wanted to get up earlier, be more productive, give up smoking and alcohol, start meditating, and generally become better?
The Loop app can definitely help you with this. Loop is a habit tracker that tracks your actions at your discretion, records them, and issues a report, thus motivating you to be better.
Getting up early, playing chess, having a healthy breakfast, yoga, meditation, jogging – all this can be easily done using Loop Habit Tracker.
Loop has a simple, clear, and beautiful interface that can send you reminders about an unfulfilled item. The application can "evaluate" your habits and keep statistics – for skipping and not fulfilling a point, your habit becomes "weaker", and, conversely, the more often you perform a habit, the "stronger" it becomes.
In addition, Loop is absolutely free and does not contain any advertising! This application is definitely worthy of your attention in order to make yourself better.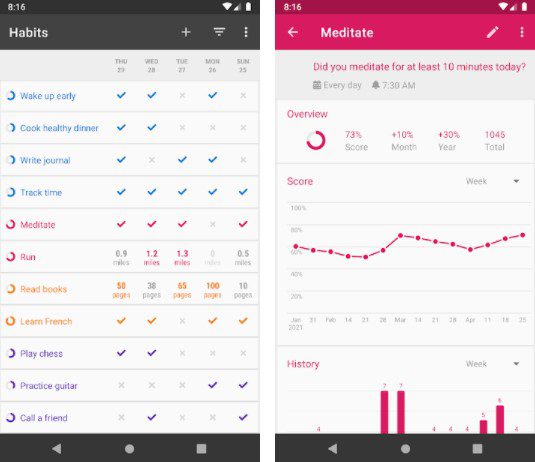 Downloads: 1000000+
Customers rating:

(4.7 / 5)

4. Habit Bull
Another app that helps you get better in the new year.
Habit Bull is very persistent – it will remind you about the failure of your goal several times a day with bright notifications. That's not all – also, he will motivate you with inspiring quotes, because it helps so much when someone does not let you give up.
The Habit Bull application has a synchronization function on different devices, provides the ability to store data in the cloud, and is combined with Google Fit.
In it, you will find everything to become better in the New Year.
There is a common misconception that it takes 21 days to form a habit. Researchers from University College London have found that 21 is too little; the actual number is closer to 66 days — it depends on you, of course.
There is a Pro version that adds additional features, but the free app is good enough to achieve the goal.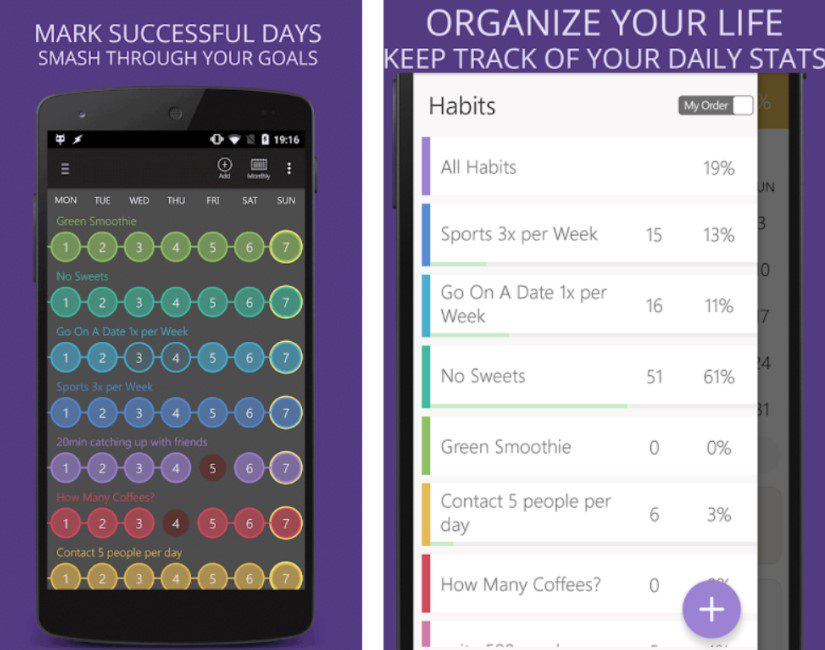 Downloads: 1000000+
Customers rating:

(4.4 / 5)

You may also like: 21 Best Calculator Apps For Android
5. MyFitnessPal
If one of your New Year's resolutions is to lose weight, start eating right, get in shape, and improve your health – this application suits you like nothing else!
This is one of the first well-developed services that appeared as a web version back in 2005, and 4 years later the developers created MyFitnessPal for iOS and Android. Now the total user base is about 120 million people.
An important role in this was played by the purchase of an application by one of the world's most popular sports brands Under Armour, which for 22 years has made its way into the top 5 giants of the sports industry, like Nike and Adidas.
According to the developers, the MyFitnessPal program includes the world's largest database of products – about 6 million items. And this list is updated daily, which turns the mobile program into the best calorie counter app for Android.
MyFitnessPal not only monitors weight, but also selects a nutrition program for every day, and also takes into account the physical activity of the user.
Here is the full list of features that are given in the paid version:
Summary of food activity
Analysis of dishes
File Export
Weekly reports
Timestamp of the dish
Calorie goals for different dishes
Goals for the day
Adjusting Calories from Exercise
PFC level
Adding PFC
Goals for PFC in grams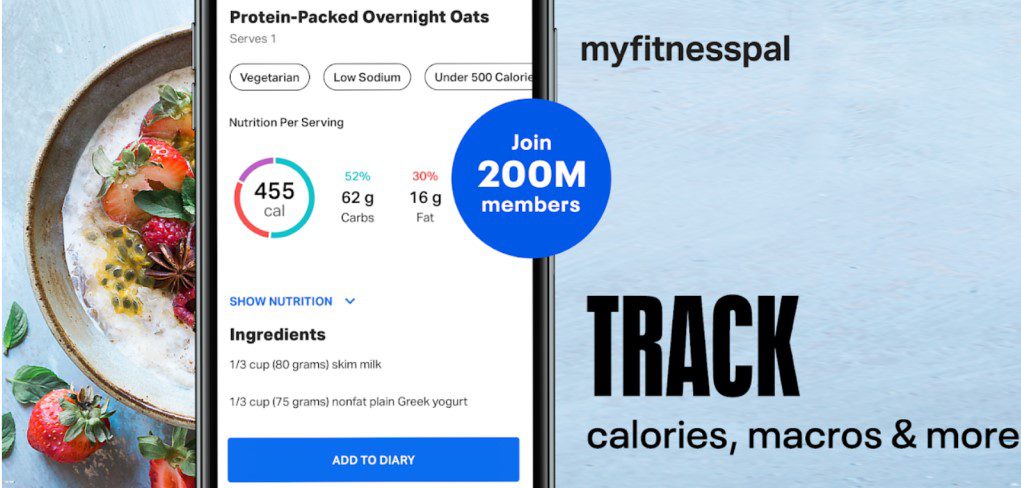 Downloads: 50000000+
Customers rating:

(4.4 / 5)