Idle Games is a genre of games with the simplest game mechanics. The name comes from the characteristic sound of the mouse when you click. In mobile interpretation, clickers are such "tapers".
That is, from players everything is required without stopping to tap on the screen of the mobile device. Each tap on the subject on the screen brings the player some kind of resource.
For example, game currency. It can be spent on the buy of auxiliary tools or characters to automate the process of collecting resources.
In this review, we have collected for you the best idle games for Android.
Tap Titans 2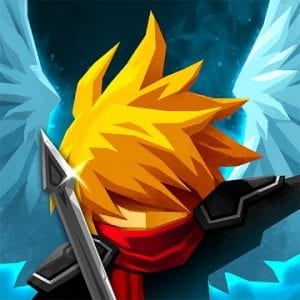 The world is filled with huge Titans and only the main character and his assistants can defeat them all. All you have to do is dig furiously.
What is the secret to Tap Titans 2? Great dynamics, high replayability, and great graphics.
The game is very slow because the constant progress each time will heat up your interest to go further and climb higher in the tournament table.
At the same time, you will not need to sit from morning to evening in the game, it is enough to properly pump and get artifacts.
In Tap Titans 2 there are a lot of heroes, a lot of monsters, and a lot of opportunities for development.
And the best part is that you have an opportunity to try a new development strategy to exterminate thousands of monsters on your way.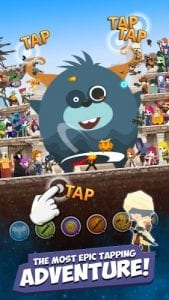 Tap Titans 2 is not only one of the best clickers for Android. But also one of the first games of this genre, the developers of which have so competently approached the realization.
Downloads: 10 000 000+
Customers rating:

(4.6 / 5)
You may also like: 19 Best Crafting and Building games for Android
Juggernaut Champions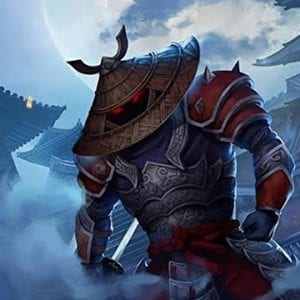 Trouble has come to an end. There's been an attack.
The enemy is countless, dangerous, and unpredictable. You can not do without a brave team of superheroes and champions of the "Juggernaut".
Juggernaut Champions is an ordinary idle-game. But among the masses of clickers, it is distinguished by excellent art and wonderful graphics.
It is pleasant to look at the game, and it is rare for products of this genre.
Tiring and exhausting mechanics clickers in "Juggernaut Champions" are not bad diluted with elements of RPG.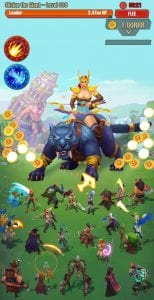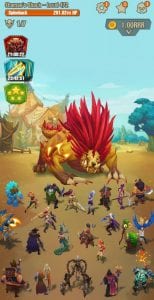 They are a great way to make a variety of both the gameplay and the variability of "assemblies" of your team of champions.
Downloads: 1 000 000+
Customers rating:

(4.6 / 5)

Tap Tycoon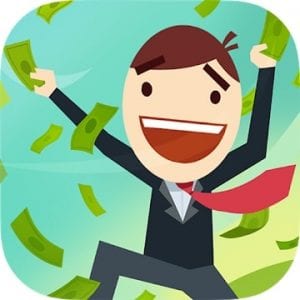 It's no surprise that Tap Tycoon is a great taper because it was developed by a master of the genre.
It's a company called Game Hive Corp, which has the damn popular Tap Titans on it.
The idea is that you have to keep tapping the phone screen to make money. The main character is a funny animated man.
He furiously runs and picks up the money, on which you can then build various buildings.
Each building is a kind of business, and you – the investor and the more money you invest in a business, the more money it will bring your investor.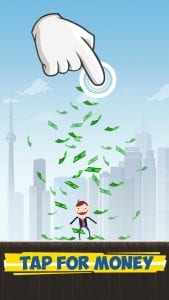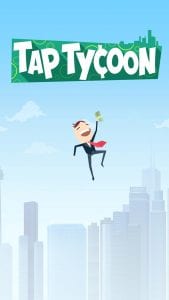 The further you go, the more money you will spend and earn. This is what Tap Tycoon is all about.
Downloads: 5 000 000+
Customers rating:

(4.5 / 5)
Clicker Heroes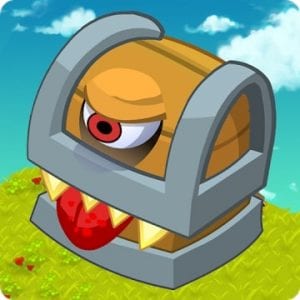 Clicker Heroes is one of the most popular clickers.
Moreover, the game almost from the release takes a confident position in the TOP 100 "best games by the number of players".
It is a great time killer in the best traditions of the genre.
The tasks in Clicker Heroes are like Tap Titans. You must consistently destroy giant bosses with a variety of skims.
You have to collect money from defeated enemies and pump up heroes to increase your power.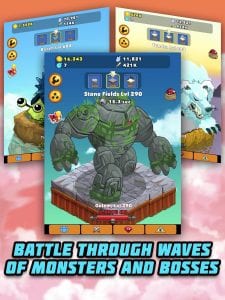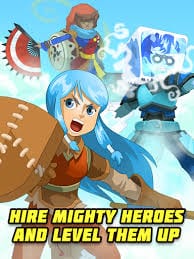 Despite some simplicity, Clicker Heroes offers you quite an impressive variety of both monsters and locations. Clans, raids, and super bosses are also present, but nowadays it is in every game of this kind.
Downloads: 5 000 000+
Customers rating:

(4.3 / 5)
CivCrafter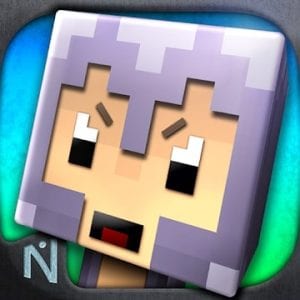 CivCrafter is hardly a classic clicker.
CivCrafter is a kind of strategy based only on the gaming mechanics of an ordinary clicker. In CivCrafter everything is much more interesting.
Just imagine: the extraction of resources is reproduced in stages on the screen.
By accumulating a little wood and stone, you can build a couple of huts and "create" a few inhabitants.
And then CivCrafter meets you with completely unusual gameplay. The residents are unhappy, sick, and dying. They need to dig graves, take care of their health and mental well-being.
You will even need to breed kittens in the village. So that the bricklayer or tanner could live a longer and happier life and bring more skin and ore to your state.
Sooner or later, your people will gain strength, you will be able to unite with other people and fight for the world championship with the same people as you.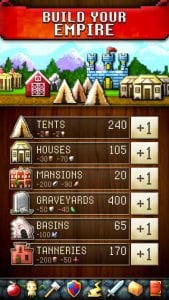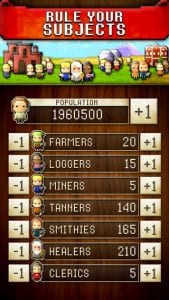 The whole gameplay of CivCrafter is accompanied by calm medieval music and it gives some special entourage to what is going on. Very unusual, though, as always when it comes to games from Naquatic.
Downloads: 500 000+
Customers rating:

(4.2 / 5)
Idle Smartphone Tycoon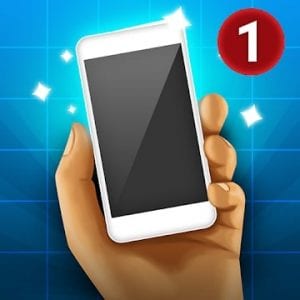 Idle Smartphone Tycoon is an Android clicker.
Here you will become the director and chief designer of the company to create your own smartphones.
Create a unique product, promote your company, promote and advertise your brand.
Expand the boundaries of your business.
Do not forget that this is a clicker, so tap the screen to increase your profits.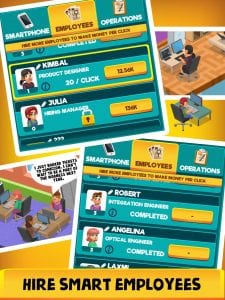 This is a free game that doesn't have any ads.
Downloads: 500 000+
Customers rating:

(3.7 / 5)
League of Gamers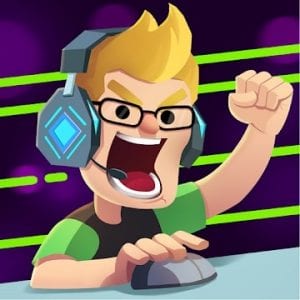 The League of Gamers is a clicker in which you have to immerse yourself in the complex life of a gamer.
Sleepless nights in front of the check, cyber tournaments and exciting sessions with your friends in your favorite games.
Click on your screen to make even more money. You can spend it on upgrades or new components for your computer.
The game is also online, so get together with your friends and have gaming battles with your opponents.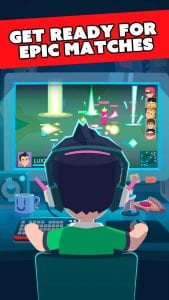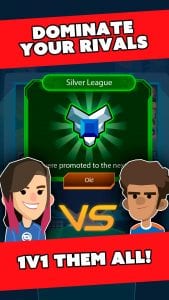 Conquer them and rise higher and higher in the leaderboard.
Downloads: 5 000 000+
Customers rating:

(4 / 5)
Vlogger Go Viral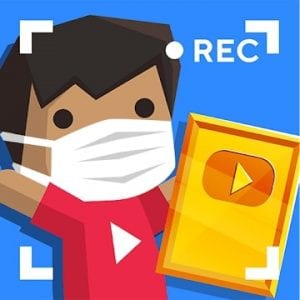 Vlogger Go Viral is a game that will make you feel like a real video blogger.
The game's gameplay is simple.
Tapping on the screen, you create videos that in turn will bring you views, subscribers, and, of course, income.
With the money you get, you can buy equipment, improve and develop your business.
This game is free, but it contains elements that can be purchased for real money.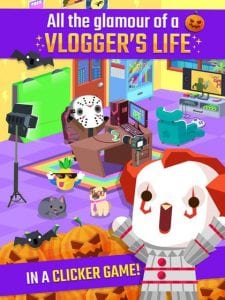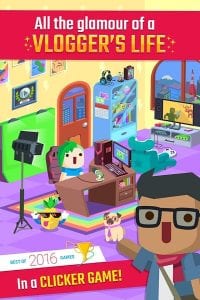 Some features and additional items mentioned in the description can also be purchased for real money.
Downloads: 10 000 000+
Customers rating:

(4.5 / 5)
Make More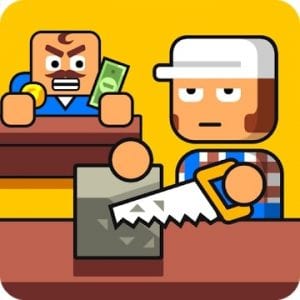 Make More is a fascinating clicker in which you act as the boss of a factory where lazy workers keep your business from growing.
The desire to get rich will always be, but with such a team all hopes are moving towards zero.
Take matters into your own hands and don't let your employees get lazy at work.
Press continuously on the screen, only this will encourage workers to do their job.
You can play Make More for free, but the game includes optional built-in shopping.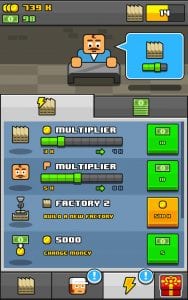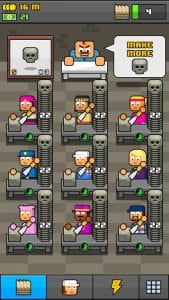 If you want to disable the built-in shopping feature, you can do so in the settings.
Downloads: 10 000 000+
Customers rating:

(4.4 / 5)
Cookie Clicker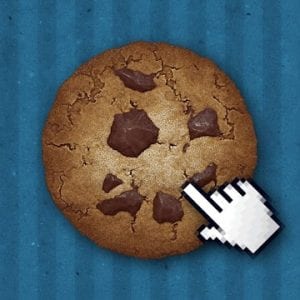 Cookie Clicker is the best example of Idle games. Every time you click on a cookie, you get it. Earned cookies can be used to buy upgrades.
Updates either increase the speed at which you receive cookies (you now receive two cookies per click).
Or the speed of their automatic generation (from now on, grandmothers will bake one cookie per second).
The automatic generation works regardless of whether you press the cookies or not. Cookies are generated even when you are out of the game.
Maybe it seems too simple and uninteresting. But try to play it yourself. The act of buying an upgrade itself is always a pleasure. The growth curve is so steep that it quickly becomes a real addiction.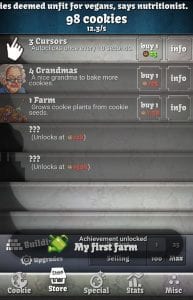 Progress for progress is also enjoyable. Even if it's just about the rapid growth of a virtual number.
Downloads: 100 000+
Customers rating:

(3.9 / 5)
Tap Titans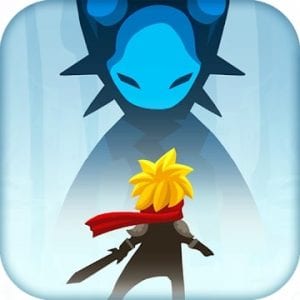 Tap Titans is a single-button slasher, so to speak. It's very simple: we have one screen in the center of which the Titanium Monster stands.
The player's back is the hero who beats the monster with all his might. At first, under your command is only one knight with a sword.
But in time, he will be joined by magicians, barbarians, shamans, animal callers, and other fantasy brothers.
Only the very first hero will be given control, all other warriors will attack automatically. The frequency of the knight's attacks depends on how fast you click on the screen.
After each hit, coins fall out on the monster. For intermediate titans give very little, and for bosses give already more impressive amounts. You can spend them to buy new heroes and pumping existing ones.
Titans, which are in the game a lot, do not cause the hero absolutely no damage. Thus, problems should not arise even the most unskilled players.
Tap Titans are distributed by the pro bono model, but the developers are not trying to shake the money out of the players.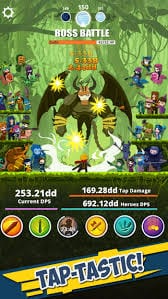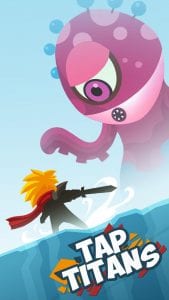 There is not enough money for the new upgrade – postpone the game for several hours, and in your absence, the heroes will continue to earn coins.
Downloads: 10 000 000+
Customers rating:

(4.8 / 5)
AdVenture Capitalist!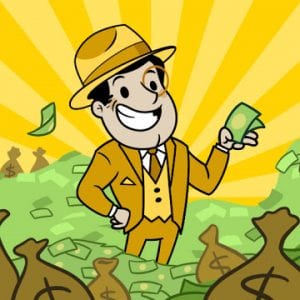 AdVenture Capitalist! – is a game about overpowering human greed and an overwhelming thirst for accumulation.
You don't start your way to the capitalist peaks with a government office, as it might seem, but with a lemonade stall.
At first, you only have one point of sale and a hundred dollars in your pocket. In the beginning, you have to collect money manually from the stall every time.
But having saved up a small amount of money you can hire a manager and assign him to be responsible. And then everything is like in the best movies about the "American Dream".
Having earned enough dollars on lemonade, you buy a shop with doughnuts, a newspaper stand, a fish factory, a hockey team, a bank, and an oil factory.
Each enterprise can be improved so that it brings more money and more profit. At some point, when you get to the numbers with twelve zeros, you will realize that there is a catastrophic lack of finances for the next upgrade.
You will have to wait too long for the right amount. To speed up the growth of your financial empire, you can bring developers money for accelerating time.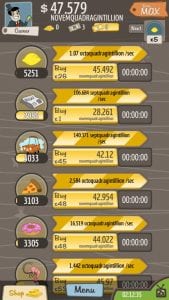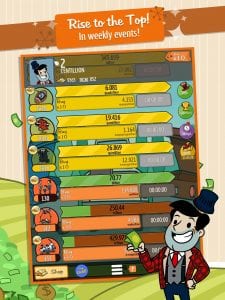 You can also sell all assets to business angels and start all over again with better conditions. Or you can not include the game for a few days to accumulate enough money.
Downloads: 10 000 000+
Customers rating:

(4.5 / 5)
AFK Arena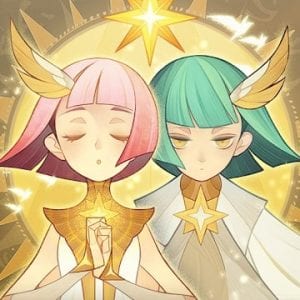 Modern games often try to take all the time available with overloaded mechanics, and regular activities.
The developers from Lilith Games went the other way, their free game AFK Arena is only ten minutes a day.
The project's plot is quite standard: the fantasy world of Esperia was invaded by demons from another dimension.
The threat was so serious that the fight against it rose all the races that inhabit the world.
They formed six factions, and each has its own heroes – the main protagonists of AFK Arena. And each character has its own story, which you can learn bypassing the tasks and raising the level.
The main goal of the game is to pass the tasks related to the hunt for demons. To do this, you need to collect a squad of heroes.
In the first stages of the player receives several. The rest should be opened with the game currency or receive as the campaign passes.
This is a kind of collection element and one of the reasons to return to the game after each update, as developers regularly add new characters.
Existing characters can be pumped up, increasing their level, and changing their appearance. In this case, you need to distribute the experience gained manually and wisely.
The fact that each character refers to a particular faction and has its own advantages and disadvantages. Some enemies can be defeated by only a certain combination of characters, so focus on the same faces is not worth it.
AFK Arena project is a great example of a mobile game. It perfectly fulfills its main task and doesn't try to chaining the player to himself for long hours.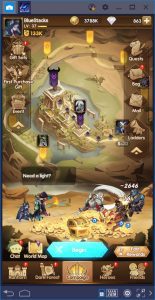 Instead, the developers from Lilith Games studio made a beautiful and simple "idle game" with pumping and collecting heroes.
Downloads: 10 000 000+
Customers rating:

(4.6 / 5)
Almost a Hero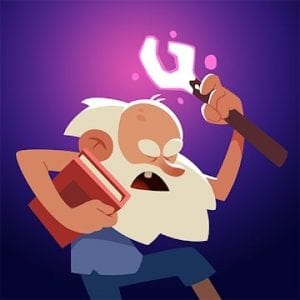 The developer provides us with a standard fighting style runner.
You have an endless chain of levels, each of which is further divided into ten waves of enemies and one boss.
You kill all your opponents in ten waves, then you kill the boss and move to a new level, where you do the same, only with stronger enemies and a stronger boss.
You ask – what's the interest then if you do the same thing? For starters, the developer has added the ability to attack your enemies.
There are also different improvements for each character, you can buy new warriors. All this adds up in an attractive enough picture, which will not let you go long enough.
The game does not get boring even a week after the start of the game. Enemies change, they become much stronger, you have to invest all the gold in improving their fighters.
You need to watch ads to get the gold, you have to try to take all the chests for free. Besides, the unit is constantly replenished with new brave knights who will contribute to the fight.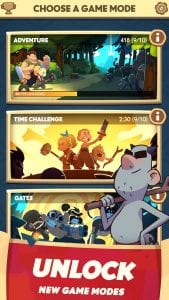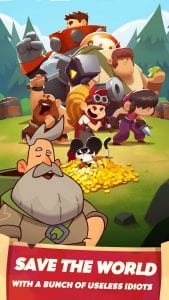 In any case, this game is much better than its rivals in the genre and it brings satisfaction, and this is the most important thing in mobile games.
Downloads: 1 000 000+
Customers rating:

(4.6 / 5)
You may also like: 25 Best simulation games for Android
Bitcoin Billionaire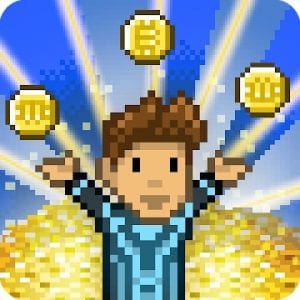 This may seem like a normal game in idle mode when you click on the screen to get some in-game currency.
But if you play it a little, you will see that it is full of different events and things.
Of course, the main prerequisite for the game is the mining of bitcoins, which are the currency of the game. The faster you click, the more bitcoins you will earn.
The game also offers many improvements and tools that will help you get bitcoins for you faster and more.
It does not need you to spend money if you do not want something more. Pleasant visual effects are complemented by a lot of smooth animations and complex details.
Another highlight of the game is its sense of humor, whether it is a joke from the main character or news headlines at the top of the screen.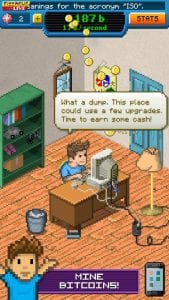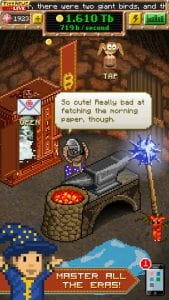 The gameplay itself, though simple, is very long and makes you come back again and again, offering hours of free entertainment.
Downloads: 1 000 000+
Customers rating:

(4.7 / 5)