What are the most addictive games for Android? Certainly, physics-based games won't let you put a phone down for hours!
We've tested hundreds of Android physics-based games. In this article, we will show you the 11 best representatives of games of this type.
Bad Piggies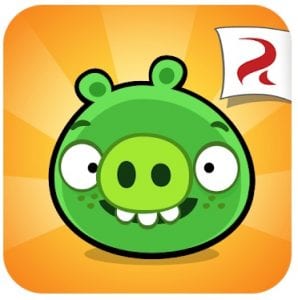 Finnish studio Rovio, the creator of the most popular mobile game Angry Birds Space, has released the long-awaited game Bad Piggies, where we will play as the green pigs, against which we valiantly fought in previous games.
The most devoted fans of Angry Birds may be disappointed because the new game is similar to it only by graphics, but in all other aspects, it is an independent and full-fledged arcade mixed with a puzzle.
The game's plot begins with the bad pigs losing a precious map that could help them get off their lost island. Our task will be to collect all these fragments and save our family.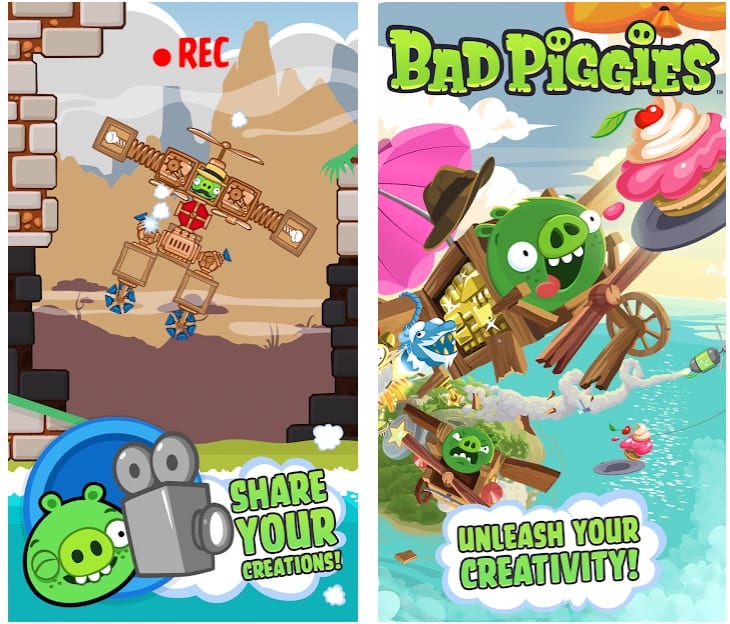 Before the start of each level, we'll put together a small constructor, or to be more precise, create a car that will take us to a fragment of the map. To do this we will be given wheels, boxes, fans, jet engines, balls, and about 30 other different constructor items.
Assemble the construction is still half of the job, after that, you have to drive it to the finish line and try to collect all the bonuses along the way. At the end of the level will be awarded 1 to 3 stars. And there is an important feature: collect 3 stars in one attempt in most levels is simply impossible.
So you need to start the level anew and rebuild the device in order to get exactly the remaining star because the remaining two will already be in your pocket.
Bad Piggies features for Android:
60 unique levels divided into several locations;
30 additional levels with puzzles;
4 sandboxes, which are a huge constructor and a large challenging track;
33 parts to create a mobile device.
Since the game is free, Rovio decided to make money by adding paid hints. The machine can be assembled by the computer instead of you, and you only have to get to the finish line, controlling it.
There is no sense to buy hints, as there are ready-made solutions and walkthroughs for Bad Piggies with detailed instructions and pictures on the Internet.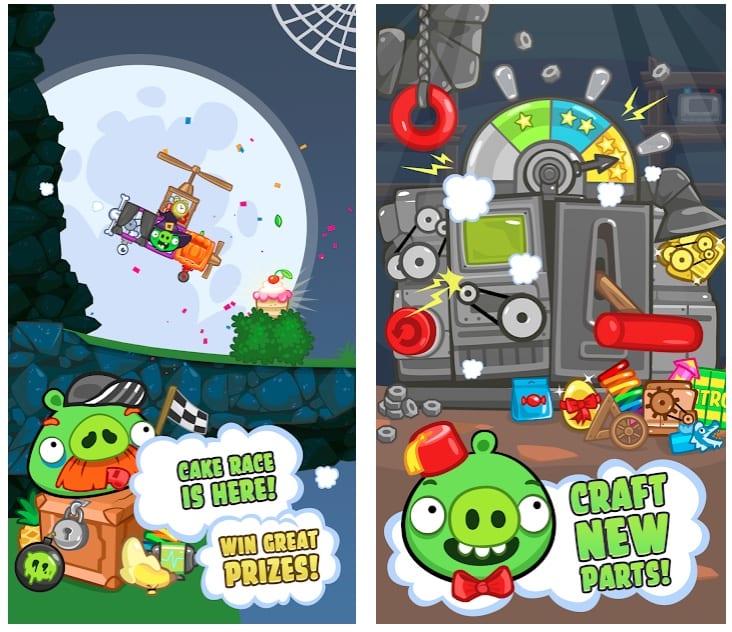 Downloads: 50000000 +
Customers rating:

(4.4 / 5)
You may also like: 17 Best puzzle games for Android
Shatterbrain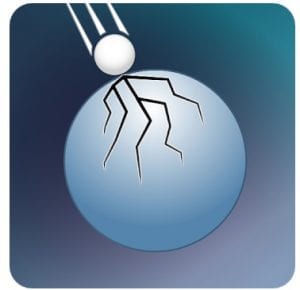 Shatterbrain is an original physics arcade game for Android from the developer Orbital Nine Games. We will try to reach colored glass with drawn lines.
The game has received a minimalistic design, quality graphics, excellent animation, and a good soundtrack.
In addition, the arcade has realistic physics. So, we need to draw a line of arbitrary shape. Then it should fall on the glass objects and break them. The drawn object must not touch the black elements and all key objects must be destroyed in one move.
There is no limit to the time or length of the line. Even if the entire location shaded with white. The main thing is not to take your finger off the screen until you depict what you need to eliminate the crystals.
It should be noted here that the game has two modes, each of which includes eleven locations. And the latter consists of nine quests and you can go from one to another without being bothered by having three stars in the previous level.
The thing is that you can't move to a new location with the next nine tasks until all the levels in the previous location are three stars long. And the whole set of stars is issued only in the case if you solve the problem with a single line.
Features of Shatterbrain:
Non-trivial gameplay;
Interesting physics;
Many levels;
Good difficulty balance;
Simple Controls.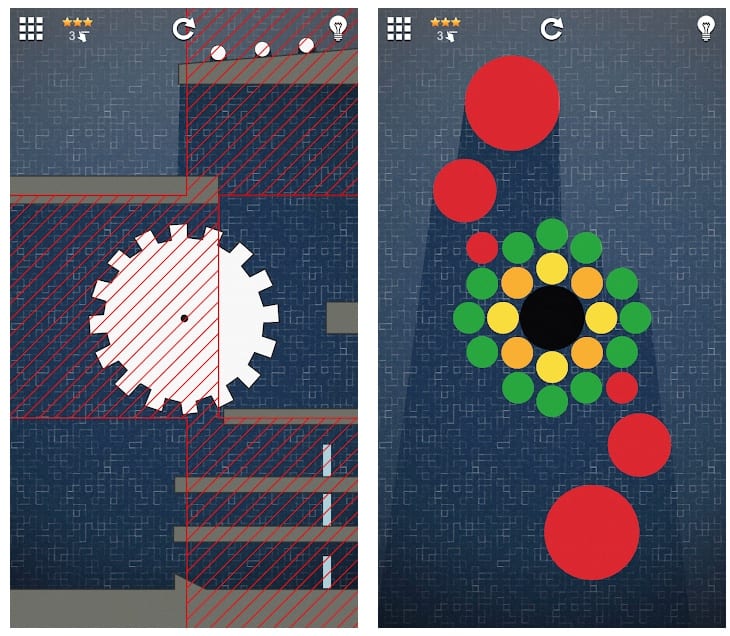 Downloads: 1000000 +
Customers rating:

(3.9 / 5)
Machinery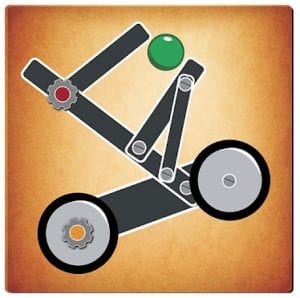 Machinery is a new puzzle game that will train your brain. The goal of each level is to place a green figure into a yellow shape.
The app has a user-friendly interface and a clear task. There are a total of two main shapes in the game – a rectangle and a circle. In addition, the game has many mechanisms with which the user can rotate, move, and combine the shapes. Each mechanism requires a motor to operate.
At each level there is no single solution to the problem, each player can create his own algorithm to achieve the goal.
Create a variety of mechanisms;
Increasing the level of difficulty at each level;
The ability to develop your brain;
Many algorithms to solve the problem on the level;
Make purchases within the application.
In summary, we can conclude that Machinery – Physics Puzzle is an interesting puzzle game that will allow you to easily develop your logic and cognitive brain abilities.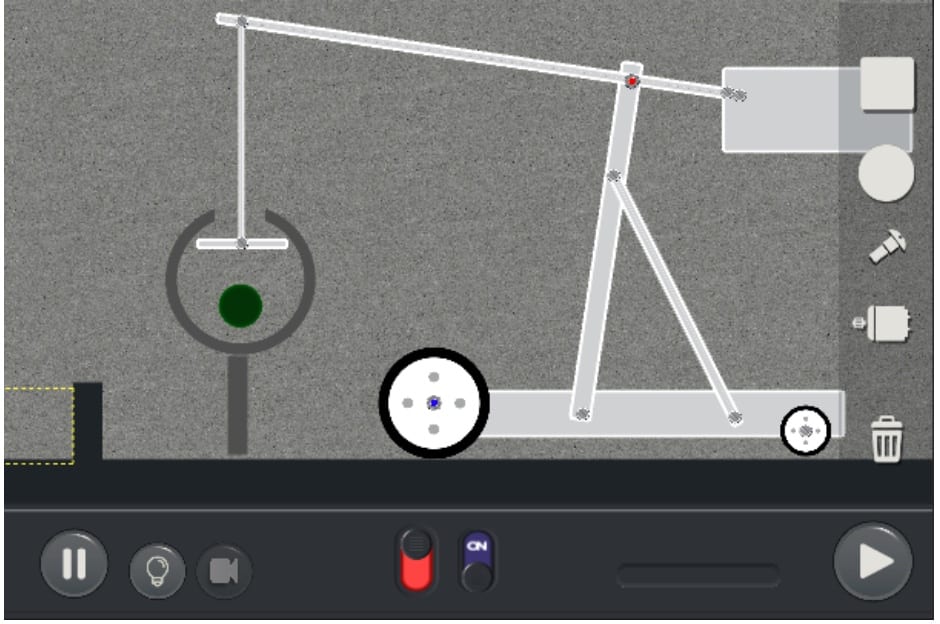 Downloads: 500000 +
Customers rating:

(4.2 / 5)
Lines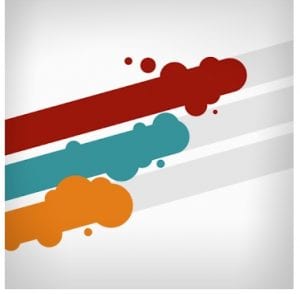 Lines – Physics Drawing Puzzle is a very unusual and quite fascinating puzzle game for Android from the Leo De Sol Games studio, in which we will indulge in colorful paints.
The game has received an ascetic design, but it boasts high-quality graphics in a cartoon style, excellent animation, and a good soundtrack.
The point of the gameplay is to fill in any pattern with paint of a certain color. There are several features. To begin with, it's worth noting that in addition to us artificial intelligence trying to do the same.
It has a wider palette at its disposal and tries to splash it all over the place. The second feature is that we have to outsmart the bot and pour a cumulatively greater length of contour lines.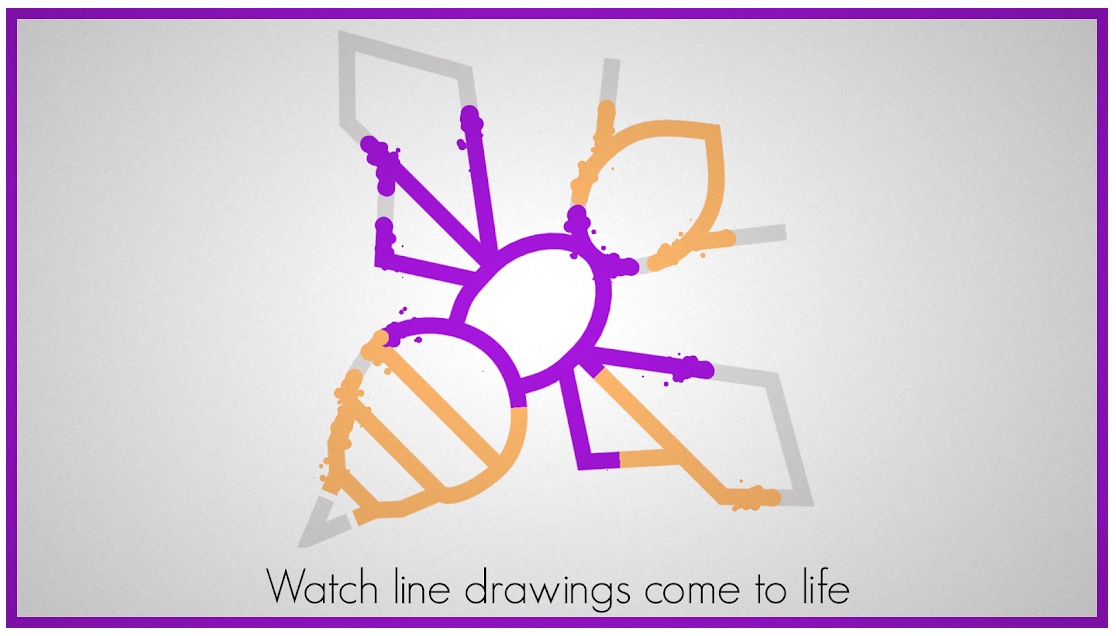 No paint can fill the already painted area, so we need to have time to fill it before the virtual opponent. This happens very simply. We are given one to several points to start filling colored liquid.
It remains only to determine where to place them. As soon as the last point is placed on the chart, the track pouring will begin.
The most interesting thing is that the paint spills out in all directions. If we are talking about an intersection, then it will be filled in all directions. The speed of paint spreading is the same for us and for the virtual opponent.
The trick is that the bot has a priority in choosing where to start filling the picture from. When we open a new level, it already has all the key places of the opponent. To win, you have to stop the bot by placing dots in places that provide the most paint spreading.
In general, Lines – Physics Drawing Puzzle is a great brain workout that will brighten up more than one free evening. The best part is that the game is free and doesn't bother you with ads.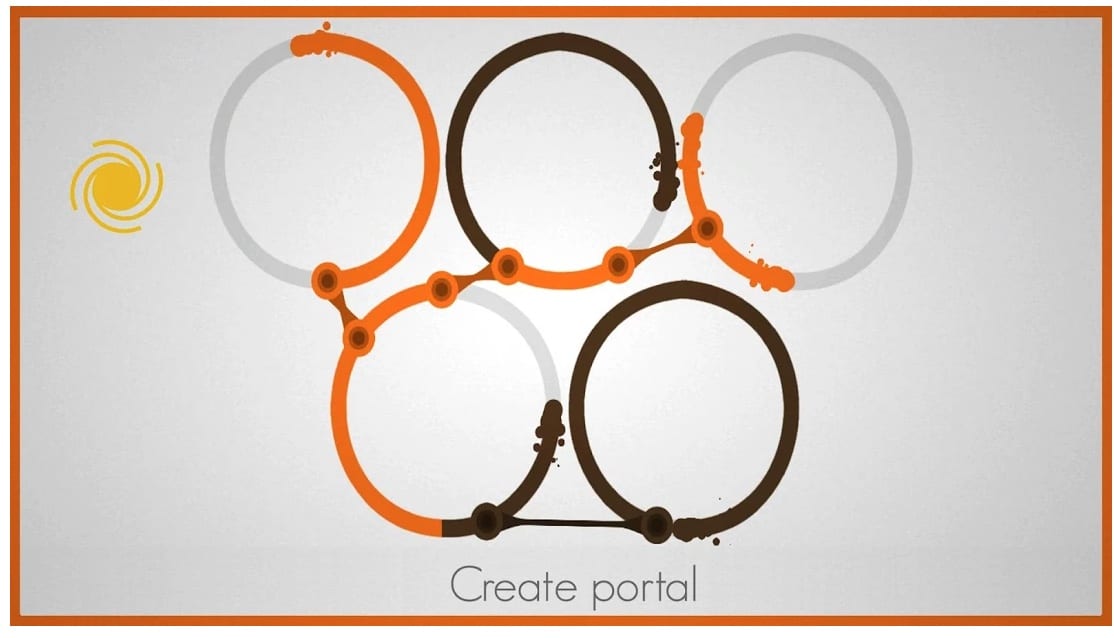 Downloads: 1000000 +
Customers rating:

(4.5 / 5)
Destruction Of World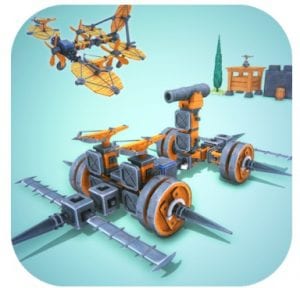 Destruction Of World: Physical Sandbox is an awesome simulator based on the laws of physics with puzzle elements.
Each level is a unique logical task that requires you to build some kind of mechanism. To do this you are given a set of spare parts from which you can create anything.
The game has two modes available: a survival mode where you need to perform various tasks, and a sandbox mode where the player can create any unusual mechanisms and vehicles.
Destruction Of World game's features:
stunning visual design with excellent detailing;
original gameplay;
unique physics-based puzzles;
fascinating sandbox mode with unlimited possibilities.
Quality graphics, interactive elements, freedom of choice, countless ways to assemble one and the same, as well as other features will not leave any lover of the genre indifferent.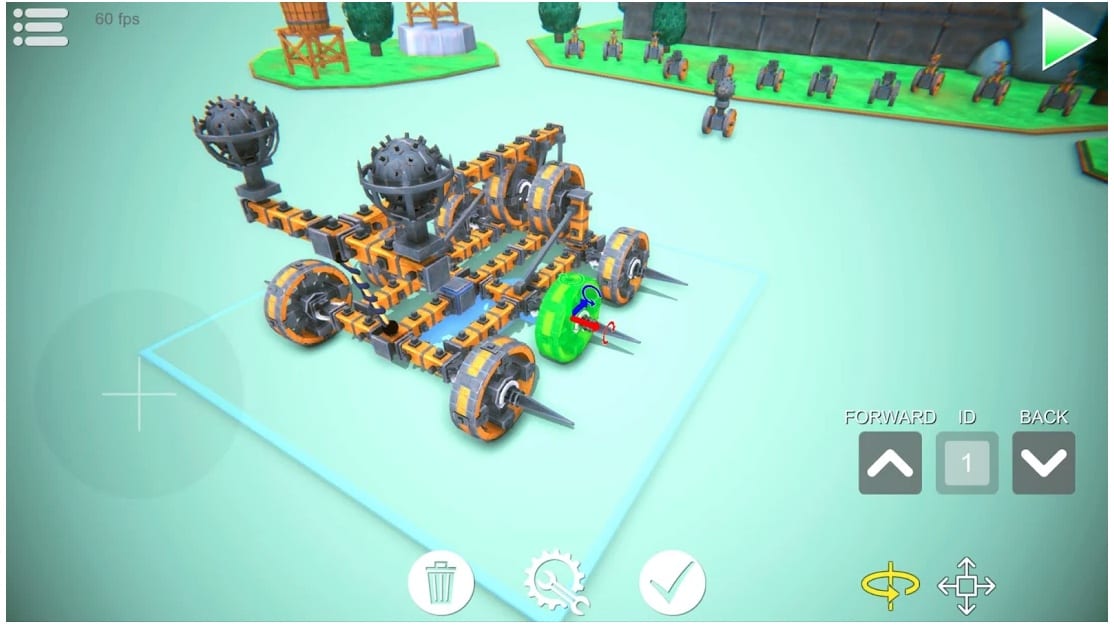 Downloads: 50000 +
Customers rating:

(3.9 / 5)
Build a Bridge!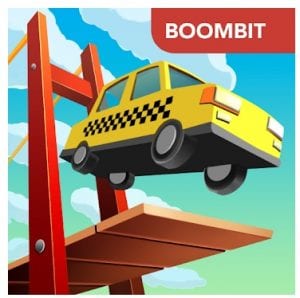 Build a Bridge! is an original puzzle game for Android from BoomBit Games studio. We have to try ourselves as a civil engineer.
The game has a high-quality graphic design of the locations. In addition, it has realistic physics, funny animation, and a good soundtrack.
As you've probably already figured out, we'll be building automobile bridges. In some cases, you will just need to connect two banks or cliffs, in others to build the descent or ascent, in others we will have to build such a high trestle, that under it could sail the ocean liner, and in the fourth will be enough to do trampoline.
And the main thing in Build a Bridge! for Android is to get to the opposite side of the road, and what will happen to the bridge is not important.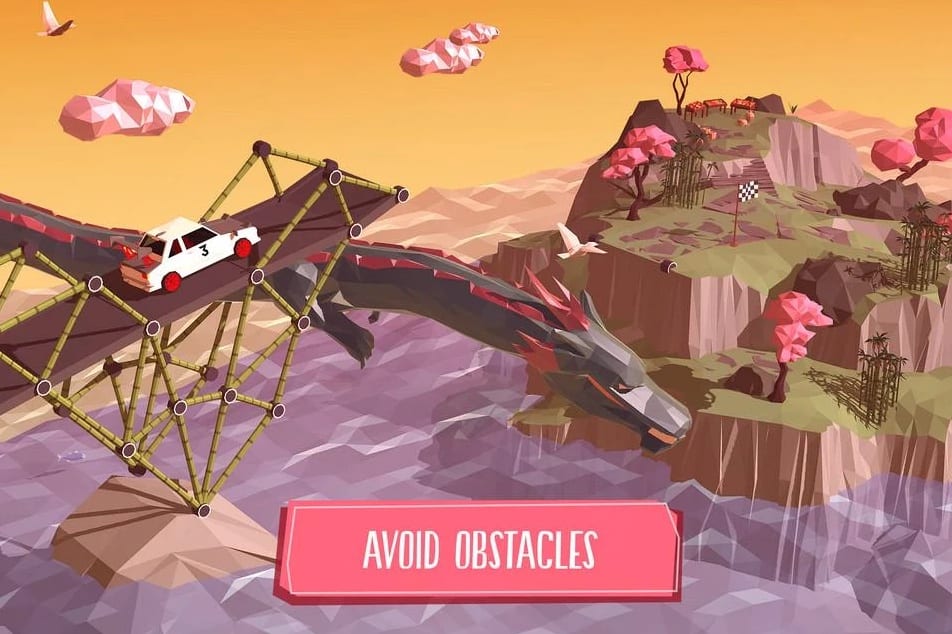 In this puzzle, it's quite realistic to get three stars, even if the bridge collapses after passing the transport. True, to get the maximum reward, you will have to use the very minimum of construction materials.
At the top of the screen, there is an indicator of used resources. Look at it and make sure to stay within the limit. Initially, we only have roadbed and wooden beams at our disposal, but over time we will be provided with steel cables and steel structures.
The more common material is used to build the bridge, the lower the cost of the latter, and the greater the chance of getting three stars. However, the strength of such a structure remains under question, so we will have to look for the optimal balance.
The only serious nuance of the game is the control, which is useless to get used to. Firstly, new elements appear not under your finger, but somewhere near it, and secondly, the elimination of the previously built elements constantly causes anger, because together with unnecessary materials disappear and those that are needed.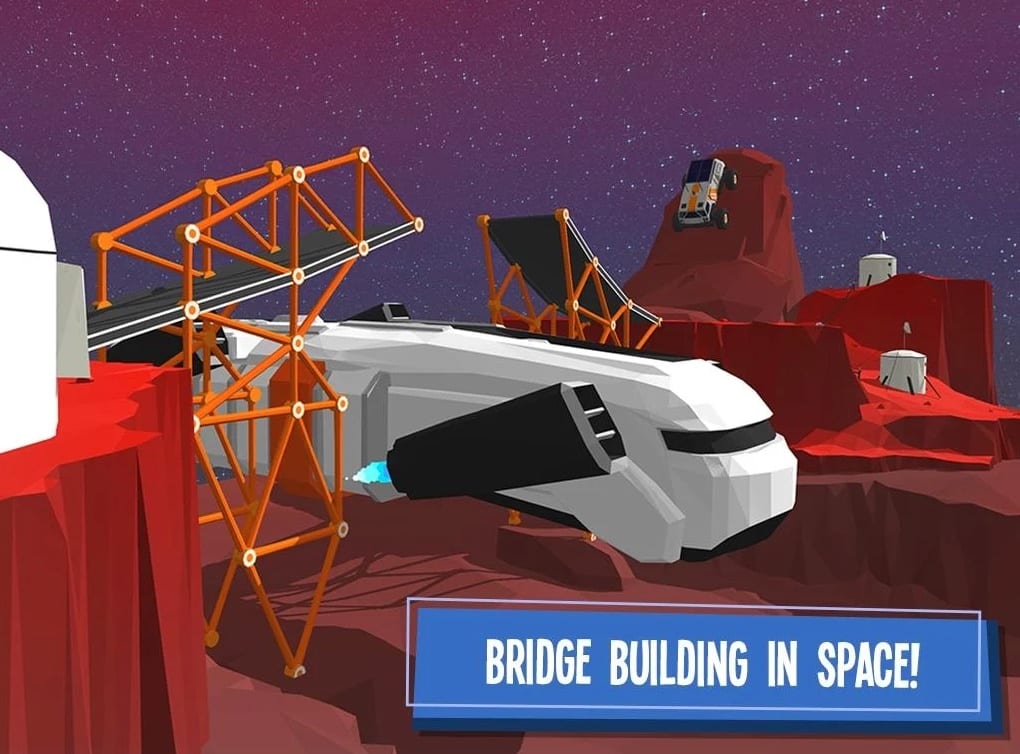 Downloads: 10000000 +
Customers rating:

(4.1 / 5)
Mini Racing Adventures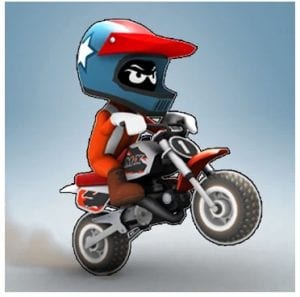 Mini Racing Adventures for Android – exciting racing with simple controls and excellent realistic physics.
The young racer, having bought a racing car, immediately goes to a variety of competitions. He expects the most unexpected places: the countryside is replaced by snow-capped mountains, those slowly turn into the streets of the city, followed by the subway with its secrets and dangers.
We follow the young sportsman from the side, controlling him with a couple of buttons and a few understandable gestures. Gas and reverse not only make the vehicle move quickly forward and backward, but also help us perform some pretty good tricks.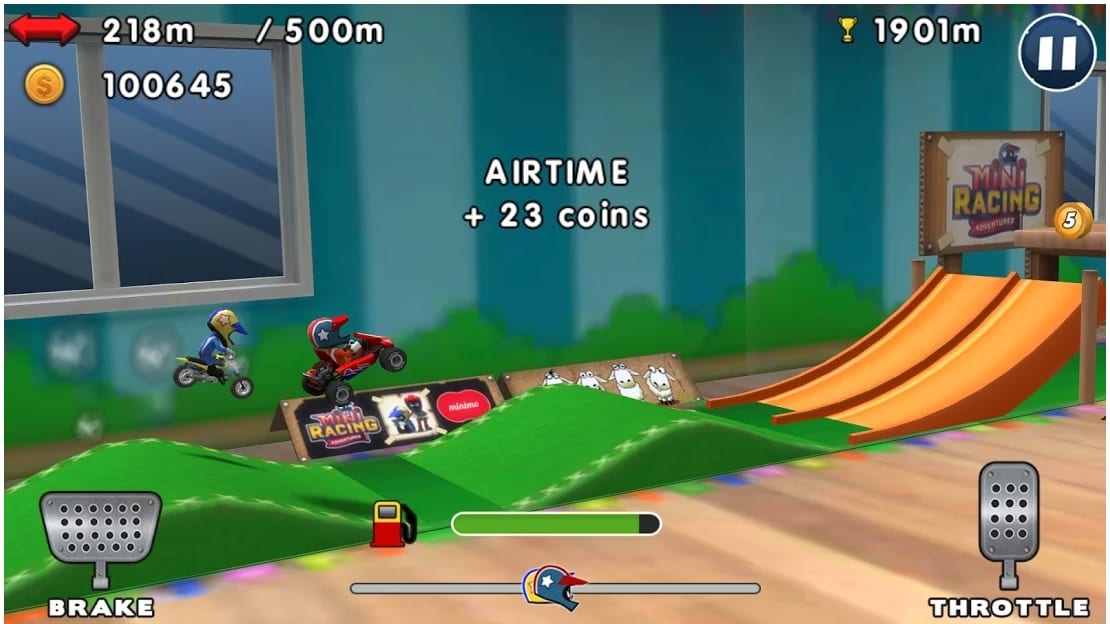 At first the race seems to be a simple arcade. There are jumps all over the place, the road is full of small hills and potholes, and there are coins scattered along the way so you can improve your ride. But thanks to the realistic physics of the behavior of cars, this arcade dissolves in overcoming difficult obstacles.
It's nice that if the car gets bored, and there are enough coins in your pocket, you can go to buy a bicycle or even a quad bike.
Mini Racing Adventures is a great gift for fans of this genre, as well as regular gamers who will be happy with the pleasant picture and sound.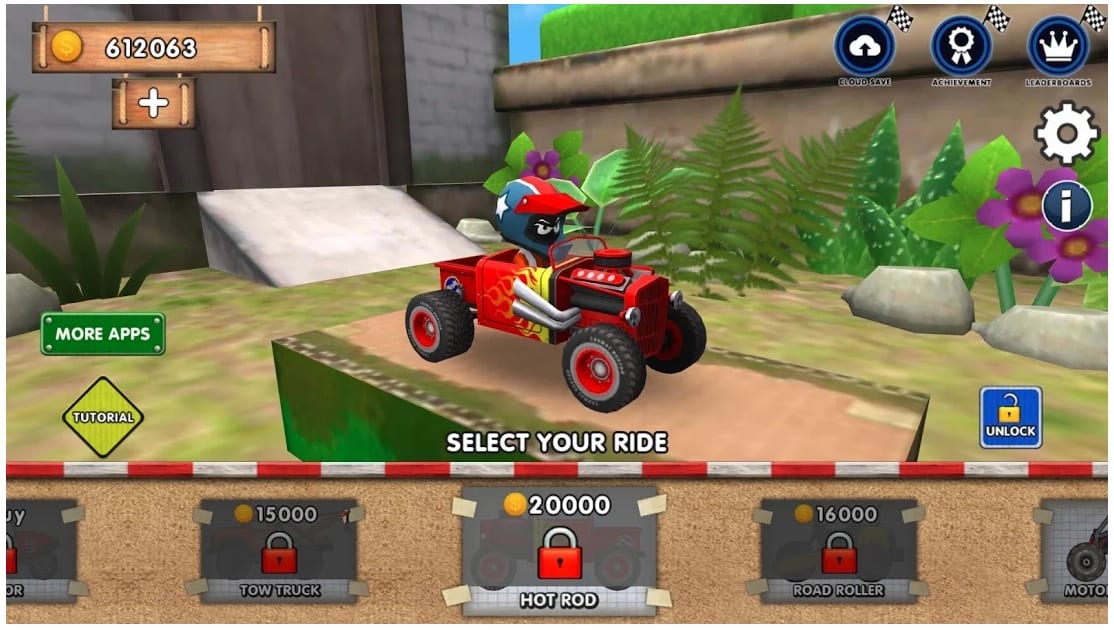 Downloads: 10000000 +
Customers rating:

(4.3 / 5)
Gravity Box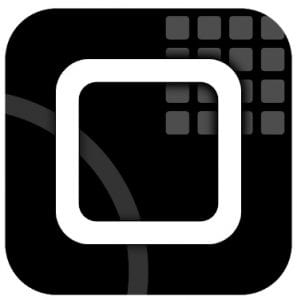 Gravity Box – Minimalist Physics Game is an original physics arcade game for Android from Luca1152 studio, in which we will try to throw a small box into a specially marked area.
The game has a minimalistic location design, quality graphics in a cartoon style, excellent animation, decent physics, and a modest soundtrack.
In the first levels, everything is simple enough. You use blasts to push a box around. But over time the locations become tiered and we have to throw the box on all sorts of platforms and partitions.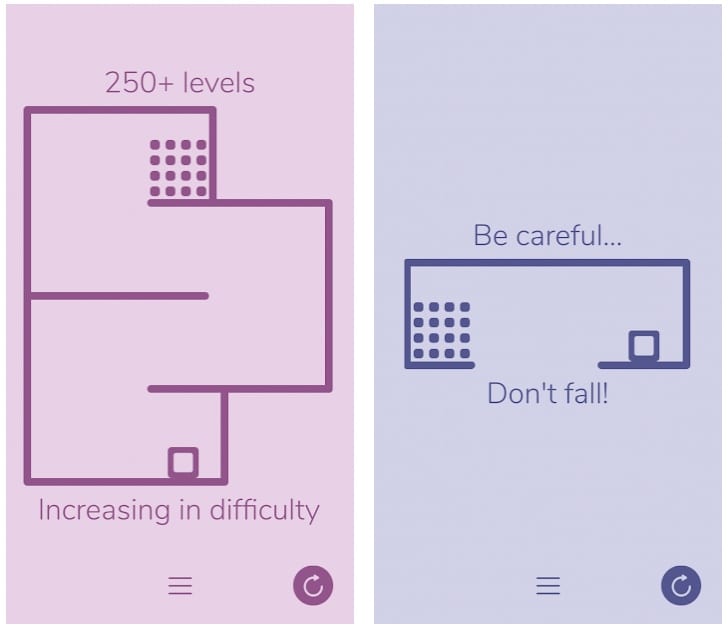 A little later on the playing field sloped surfaces appear, which also adds spice to the gameplay. In principle, the box can be tossed several times in the air.
Gravity Box – Minimalist Physics Game features:
Non-trivial gameplay;
Interesting physics;
Easy controls;
Many levels.
Gravity Box – Minimalist Physics Game is an interesting physics arcade game for Android, which is sure to please fans of minimalism and realistic physics.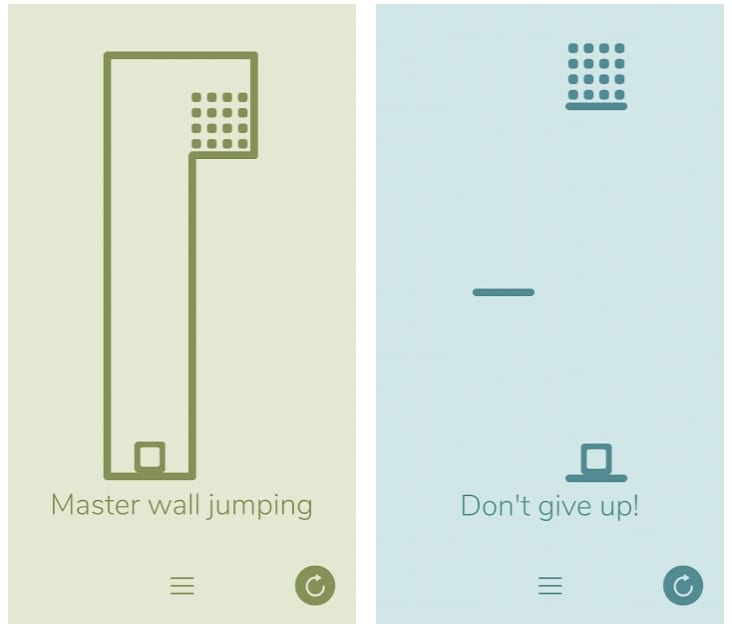 Downloads: 100000 +
Customers rating:

(4.3 / 5)
Where's My Water? 2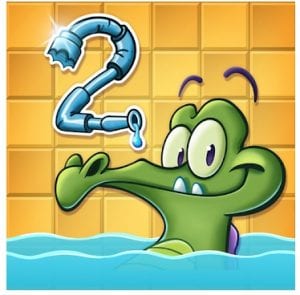 Swampy the Crocodile, Ellie, and Cranky get together again for a breathtaking adventure through the funny world of Disney in Where's My Water 2.
This sequel to the popular puzzle game will take you to three brand new locations. The beach, the sewer, the soap factory – each location has special challenges for you. Clearly break through the tunnels and deliver water and steam to the right place. That's the only way to get out of the depths of the underworld.
The number of new levels exceeds one hundred. In addition to these, the developers have introduced a new test mode. Now you can pass the levels in different ways, earning more and more points.
New power-ups – Vacuum, Filler, and Sorbent – allow you to pass the level even faster. True, you'll have to pay a little to experience all benefits. Collect all the special duckies, earn achievements, and become the best among all your friends on Facebook. Hurry, Crocodile Swampy needs your help!
Where's My Water 2 is an excellent puzzle game that is no worse than its predecessor, and probably even better, as it has even more levels, more characters, and more features. And, by the way, this time it's completely free.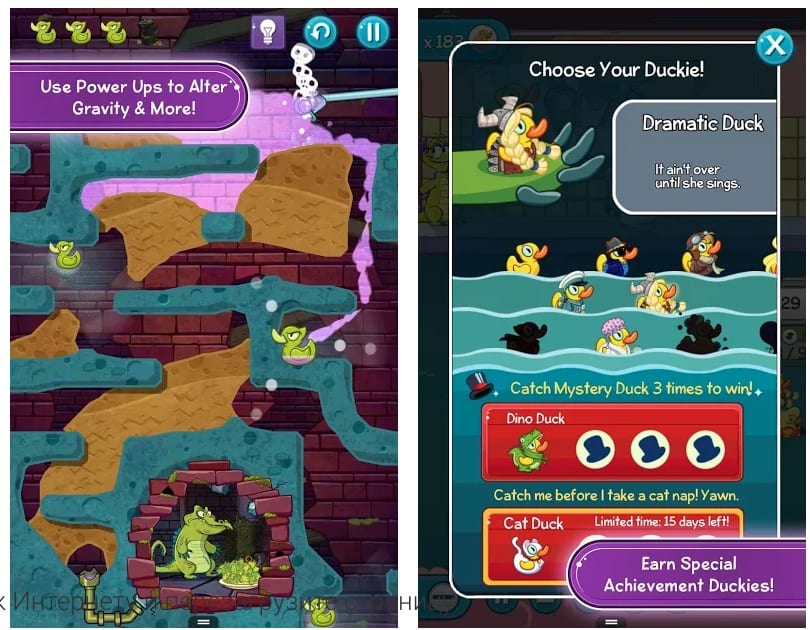 Downloads: 100000000 +
Customers rating:

(4.2 / 5)
Gears logic puzzles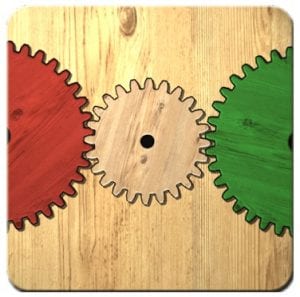 Gears Logic Puzzle is a fascinating logic game in which you must set all the gears on the screen in motion by carefully placing new gears on the field.
Although it may seem easy, this game will put your puzzle-solving skills to the ultimate test! Figuring out where to place the gears in the first few levels is easy, but as you progress, you'll soon have to go through all sorts of combinations to be able to set all the gears in motion.
As you search for a solution, remember that you can only move the wooden gears, while the red and green gears are fixed. The wooden gears can be moved as many times as it takes to find the solution.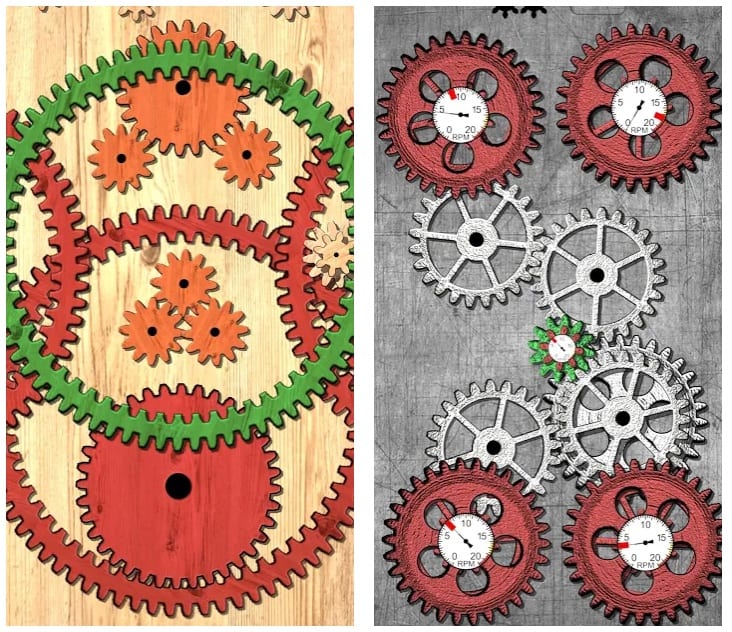 With a large number of levels and perfect gameplay for all ages, Gears Logic Puzzle offers a great, fun way to exercise your brain.
If you're ready to dive into solving a series of mechanical puzzles, then download Gear Logic Puzzles and make it through all the levels in this addictive logic game!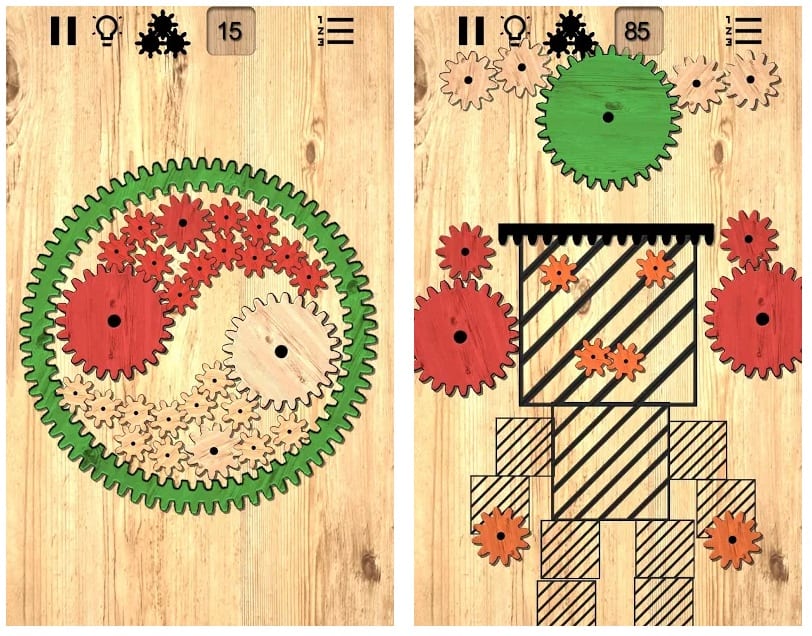 Downloads: 5000000 +
Customers rating:

(4.5 / 5)
You may also like: 11 Free Android Escape Games
Rube's Lab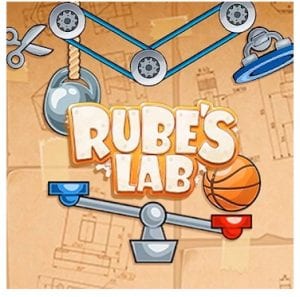 Rube's Lab is a puzzle game in which you can use many different objects to create complex mechanisms.
The goal in each level is to break the glass container holding the key to the exit. However, if you're lucky enough to smash containers with green crystals, even better.
All levels in Rube's Lab start the same way. When you press the play button, the ball will drop. Your goal is to use the figures provided along with the ball's kinetic energy to smash the glass containers that hold the key and the green crystals.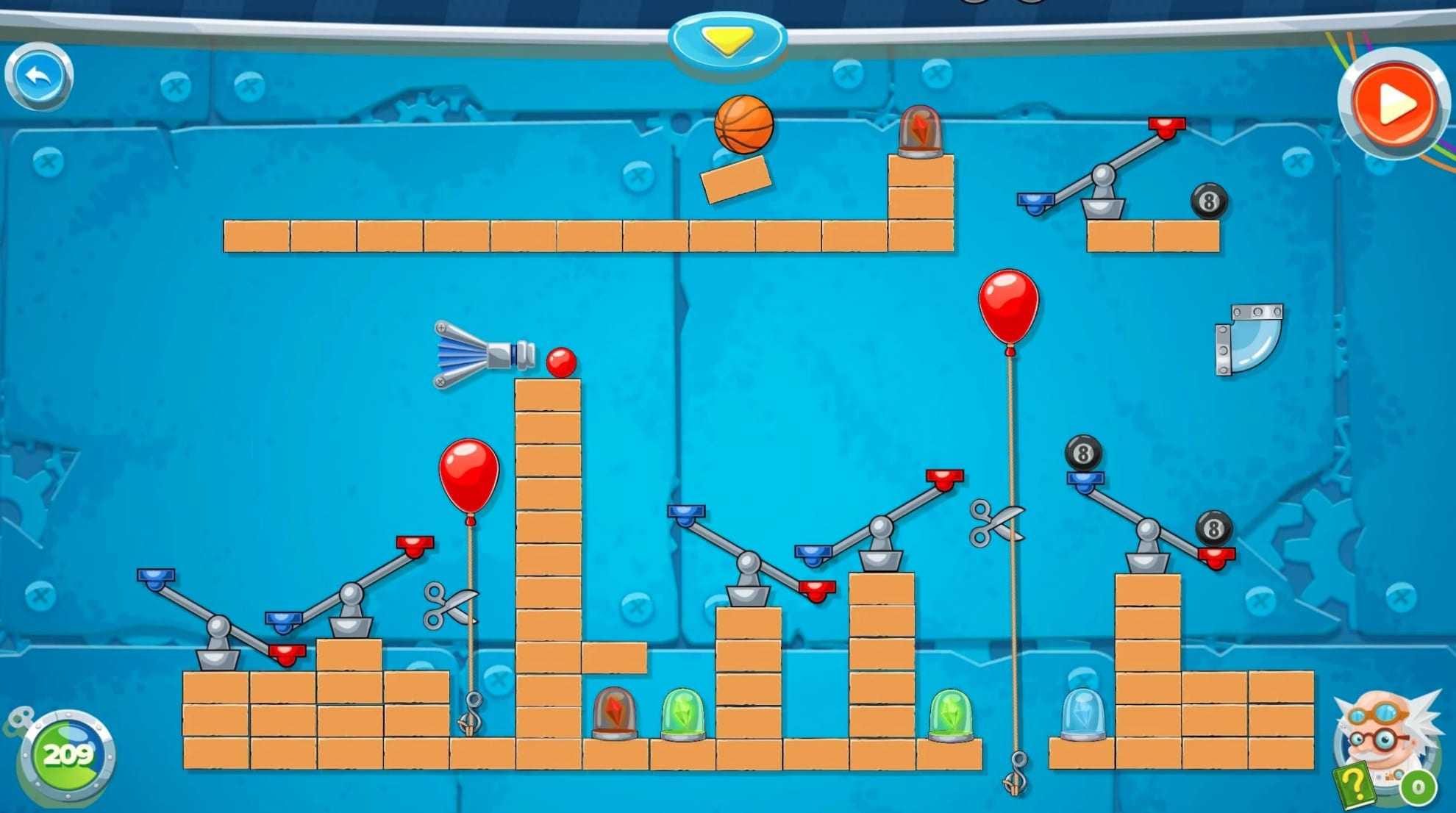 Luckily for you, you'll find a wide variety of items to use. Among the simplest, you'll find wooden boards that you can spin, trampolines to make your balls bounce, and pipe parts through which you can try to roll any ball.
Before you press the play button to see if you did your job well, you must consider a very important factor: the type of ball in each level. Obviously, a bowling ball is not going to bounce the same way as a basketball… or a pool ball. Each ball has its own physics.
Rube's Lab is a really fun game that offers original and exciting gameplay. In addition, you will find many levels to try to earn three stars on each of them.
Downloads: 5000000 +
Customers rating:

(4 / 5)