Designers, artists, architects, and engineers often use all kinds of resources to draw two- or three-dimensional drawings, drawings.
Previously, it was very energy- and time-consuming business, everything was drawn by hand. However, in the age of technology, this can be done with the help of some special utilities that are now available to work on a smartphone with the Android operating system.
We have prepared a list of the 11 most popular applications that will be useful for both professionals and amateurs when designing various objects.
1. Cad Touch free
Not a bad app for something that was created recently. It is distinguished by its high level of optimization – Cad Touch Free will please you with the absence of long interrupting downloads, annoying lags, always pop-up errors.
He is also pleased with his cleverly thought-out interface – it is so intuitive that even an inexperienced user can figure it out. The buttons are where you expect to see them, all tabs and panels are designed clearly and clearly.
If something in the settings is in doubt, they can be changed without much difficulty – and configure the application at your discretion to increase the optimization of your work.
The developers of the program offer you to view and make changes to 2d blanks, study 3d objects, scenes, build and upload your own drawings – all this using Сad Touch free.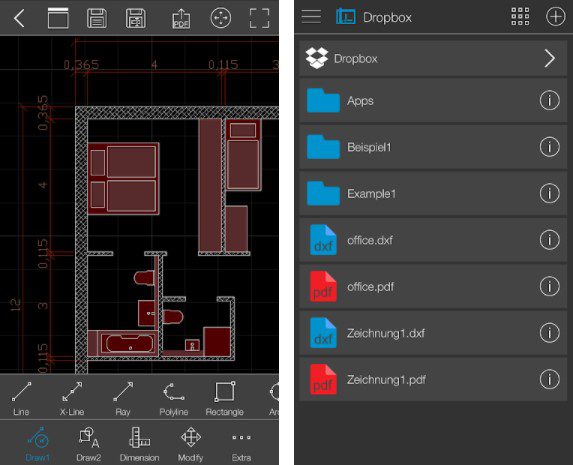 Downloads: 100000+
Customer rating:

(3 / 5)

You may also like: 17 Best apps to listen to music without Wi-Fi for Android
2. Onshape 3D CAD
This application is very easy to use, but at the same time quite functional. Its great advantage can be called the fact that for the full use of the functionality there is no need to register in it, and you also do not need access to the Internet.
It is absolutely free and available for download via PlayMarket or other Internet resources.
There is a tool with which to create drawings not only of two-dimensional schemes, but also three-dimensional models in three dimensions. In addition, fairly large files are supported, which allows you to work even with fairly large images.
You can save the diagrams to your phone or to Google Drive storage. In the latter case, you are allowed to share your creation with friends who can comment on it.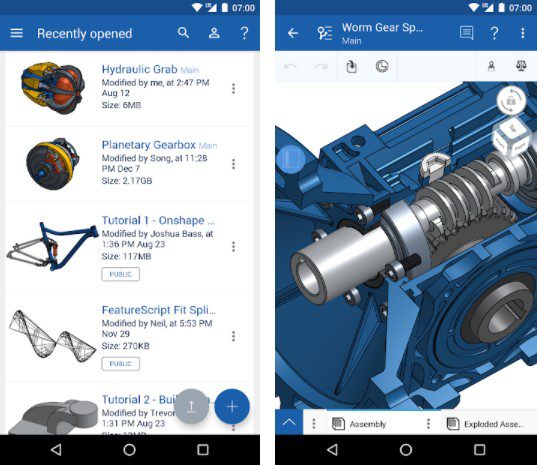 Downloads: 500000+
Customer rating:

(4 / 5)

3. AutoCAD
Now this famous application is also on your mobile phone! Are you an engineer or an architect? Do you understand computer-aided design systems? This application is for you! Now you can work on vacation or finish an urgent project right on the go. This program is a DWG file editor.
It is in this application that you can create a virtual layout of a future building or any engineering apparatus very simply and in a short time. To be allowed to use all the functionality, you need to register on the AutoDesk website.
You can also sync accounts and you won't need to transfer data, they will be automatically downloaded. The platform also supports three-dimensional models of any size. Do I need to make an assembly or a 3D model? This application will help you with this.
It has a built-in library with a lot of details, elements. You can also create an element yourself and upload it to the same library for convenience. The interface is equipped with a large number of functions and settings for drawings, which gives the user even more opportunities to create a unique scheme.
The advantage of the platform is the ability to save a ready-made scheme for export in PDF format, which is supported on all devices. In addition, each user has permission to customize the application interface as they like for their own convenience.
You can change the tabs, the quick launch menu, and the status bar to make the use of the resource even more comfortable and easy.
Opportunities:
Edit DWG files from your email or cloud storage.
Quickly create drawings anywhere
Editing drawings and the ability to apply electronic labels
Applying accurate measurements
Development and modification of exact forms using object binding or keyboard input
All the possibilities of building AutoCAD objects.
Easy navigation through the drawing.
The application works even without an internet connection and syncs when the connection is resumed
Share your projects in the app
Publishing your projects in PDF or DWF format
Convenient layer management
Ability to work quickly and add blocks
For each project, you can create a channel for better teamwork, discussion,n and photo sharing.
The app works with Leica Disto to transfer measurements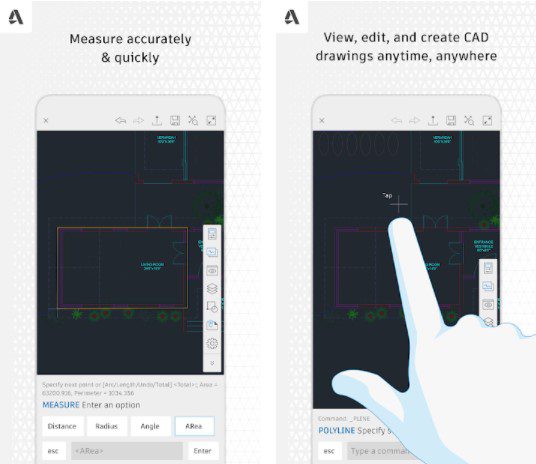 Downloads: 10000000+
Customer rating:

(3.7 / 5)

4. DWG FastView CAD Viewer&Editor
It is the easiest-to-use utility for drawing and editing drawings. It may be inferior to other similar resources in terms of the number of functions and settings. But at the same time, it has a number of positive aspects.
You can work in it without registration and at the same time use all the functions and settings available on the resource. It is also possible to save the image on the device when there is no access to an Internet connection. You can upload saved drawing files to the storage cloud and share them with your friends.
This utility will really appeal to beginners because there are only basic settings that will be needed in the drawing. Therefore, the interface is simple and intuitive for the user without the experience of interacting with such utilities.
There is also round-the-clock support for the administration of the developer site. Its employees will help solve the problem in a short time if you contact them for help through a special tab.
Downloads: 10000000+
Customer rating:

(4.5 / 5)

5. UVCAD – CAD 2D Drawing & Drafting Editor & Viewer
This platform has built-in drawing and drawing functions. Special attention should be paid to the possibility of creating drawings with vector lines.
A fairly simple and intuitive interface. But at the same time, there is a large number of different drawing tools. There are many pencils that differ in color, hardness, and thickness of the line. The possibility of using scalar and radial coordinates.
Multi-layered images, where you can block a layer, make it with varying degrees of transparency, etc.
The program is sure to appeal to users who are learning to draw geographical, topographiс, and other types of maps. There is support for Google maps.
Advantages:
Used in conjunction with cloud storage for collaborative projects
Easy navigation through the drawing
Opening and sending drawings via email
You can transfer a drawing from other programs without losing user designations and notes
Easy work with cloud storage, the ability to correct format inconsistencies
convenient transition to 3D modes as well as working with them, the ability to add entire layers or blocks and edit them.
The possibility of axial rotation of the drawing by 360 degrees, now you can view small details from the right angle, so as not to miss anything important
If you need to check a large drawing or the correctness of the sizing, use the built-in magnifying glass, which allows you to work at any diagonal of the screen.
Supports point editing, you will not be able to accidentally move an object outside of the specified coordinates
Supports all possible types of coordinates: absolute 2D coordinates, relative, polar, 3D spherical, and cylindrical coordinate systems.
Has all possible geometric shapes, works as a full-fledged computer-aided design system program
The ability to work is almost unlimited, you can create, move, manage colors, etc.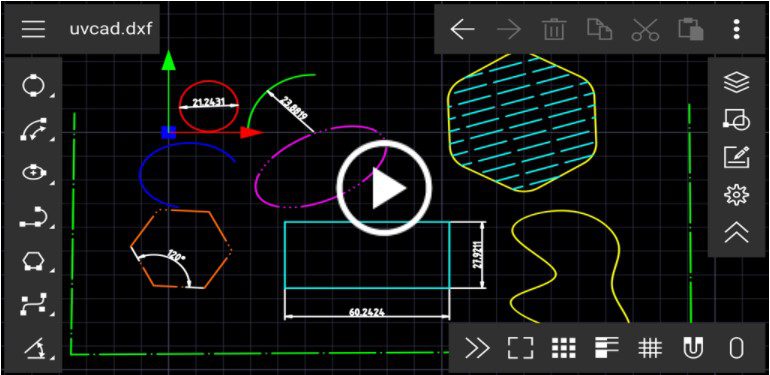 Downloads: 10000+
Customer rating:

(3.9 / 5)

6. Floor plan creator
Have you always dreamed of looking at the dream room? Or are you looking for a chest of drawers and don't know how it will look there? Then Floor plan creator is for you! The application is specially designed for the design of houses, apartments, premises.
There are many variants of different elements and details, designs that can be used in your work. You can also add various furniture and interior items. The application allows you to create a building plan and even calculate the opening of doors!
And if you then decide to see how it will look in 3D, then just switch the mode. The application even allows you to walk around the house you created! Built-in graphics support for three-dimensional drawings. This will greatly facilitate the design of the premises, their connection into one building.
The program will calculate the main indicators for you: Area, height, volume The program will be an ideal solution for engineers and a good assistant in their work on designing different buildings, you can draw not only with your finger but also with a stylus. Thus, it is easy to add miniature details to the project.
So you can easily create a virtual model of the house and view it in the viewing mode. The finished project can be printed or transferred in PDF, DXF, SVG format. The program works with cloud services, so you can create a group or family project.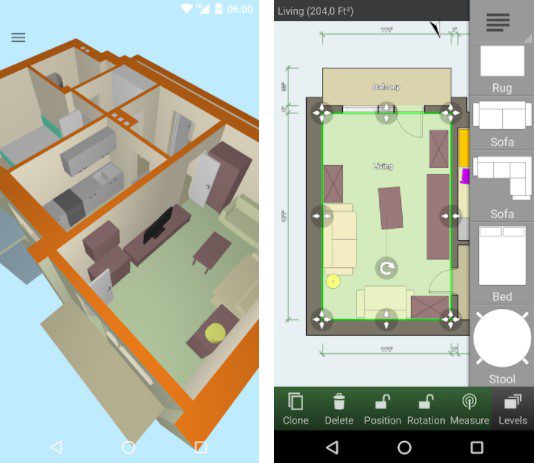 Downloads: 10000000+
Customer rating:

(4.2 / 5)

7. CADmate
CADMATE is a powerful and flexible CAD software for creating engineering and industrial drawings, which is very similar to AutoCAD software. In this software, you can use 2D and 3D environments to create your projects and use various software features to fully meet your design needs.
The main difference between a particular utility is the permission to send documents with ready-made images by e-mail directly from a specific platform. Drawing two-dimensional drawings, drawing lines of any size, etc.
The reduction or closure of the drawing is carried out by the movements of two fingers, the distance between which can be adjusted to completely close the image. Support for three-dimensional images allows you to view the project from all sides in a three-dimensional dimension.
In the viewing mode, it is possible to view small details through the magnifying glass tool.
Main functions:
Zoom change is made with two fingers
You can change the color or move the object
Share your projects via email.
Allows you to upload files to cloud storage and solve emerging problems, adjust different formats
Switch from 2D to 3D format in one motion and use all the features of volumetric mode: hidden parts, assembly.
Unfold your part 360 degrees, find the most convenient angle of work for yourself.
Open the magnifying glass by touching the editing area and you will be able to zoom in on the drawing to check all personal notes.
Support multiple coordinate types in both 2D and 3D modes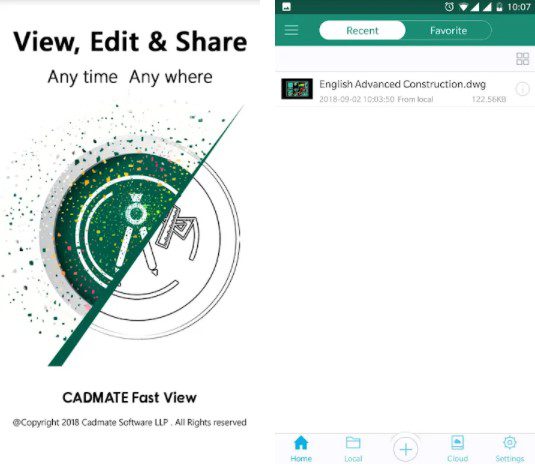 Downloads: 100000+
Customer rating:

(3.6 / 5)

8. ZWCAD Touch
Desktop CAD users may find it difficult to switch from a conventional user interface to more modern touch interfaces. Fortunately for them, there is ZWCAD Touch from ZWSOFT, which will definitely hook many users with a "desktop" experience.
This mobile CAD editor is quite functional and is available for Android and iOS.
ZWCAD Touch responds fairly quickly to "multitouch" input for zooming or rotation. The ability to save the model is limited to the DWG format.
The main difference between ZWCAD Touch is its ability to save and reproduce voice memos attached to drawings — a functionality that will clearly be in demand by those who work in the field with busy hands.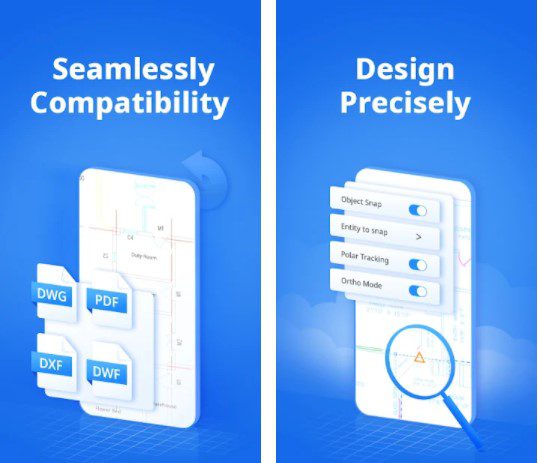 Downloads: 500000+
Customer rating:

(4.4 / 5)

9. OrthoGraph
Another professional tool for creating floor plans and drawings, with an ever-growing volume of functions. The application not only synchronizes with modern DISTO rangefinders, compiles reports, exports data in DXF, PDF, JPG, XLSX, and IFC formats, but also supports cloud services and contains a huge library of BIM object templates.
Among the disadvantages, we can highlight that the application does not support working with older Leica Disto models.
The purpose of the application is so that you can plan your floors, rooms, houses, build drawings without problems and grudges, but at the same time do it efficiently and clearly.
Professionals who use the app are architects, engineers, builders, realtors, investigators, rescuers – they all use Othograph to help themselves and other people fulfill their duties and improve their lives and work processes.
What can you do in the Orthograph app? what functions are available to the user? There are many of them, but the most important and useful are:
– Measurement and creation of floor and room plans
– Maintaining reports
– Export is available in all formats convenient for professionals (for example, IFC, PDF, XLSX).
– Connection of Leica, Bosch or Stabila LDM.
– Possibility of group work and connection – via the cloud
– Library of BIM objects 100+.
– 3D mode and a guide to it
The app is available for iOS and Android devices.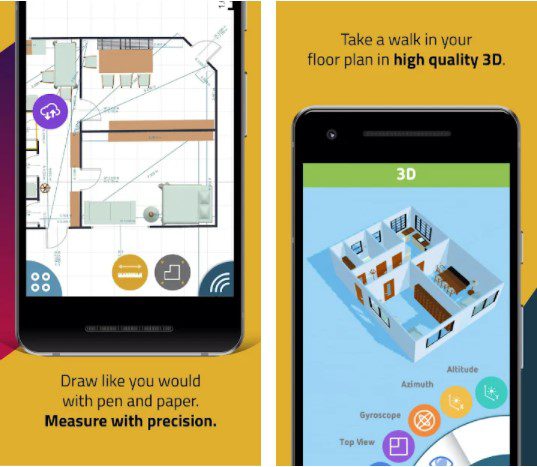 Downloads: 10000+
Customer rating:

(2.8 / 5)

10. Room planner
An application with a talking name, which most architects and designers are probably already familiar with, may also be useful to those who are engaged in repairing their own house, apartment, or bungalow.
Due to the fact that Room Planner contains a large catalog of templates of various objects, materials, textures, and a color circle, you will be able to create with your DISTO laser roulette not only a plan but also entire three-dimensional rooms and houses, as well as make viral tours.
The resulting projects can be exported to professional software products such as Chief Architect X7 and Home Designer 2016. The app is available for iOS and Android devices.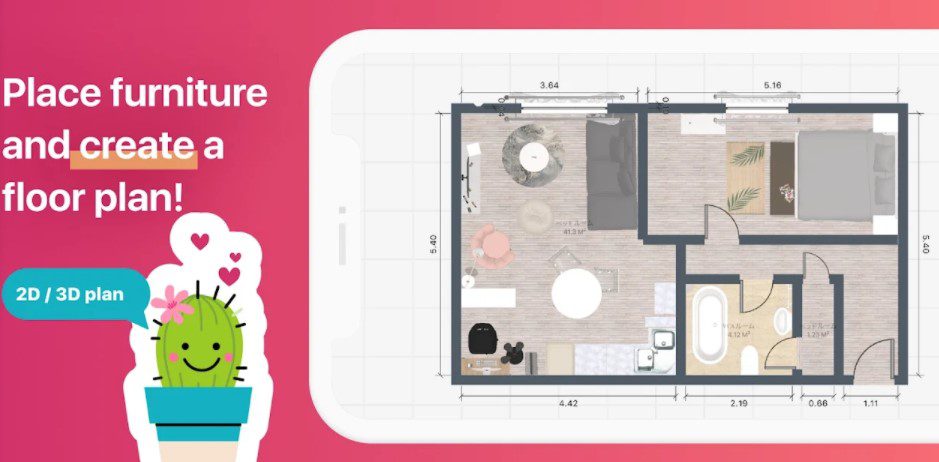 Downloads: 10000000+
Customer rating:

(4.5 / 5)

You may also like: 17 Best voice to text apps for Android
11. Home Design 3D
The main idea is that first, you design a so-called 2D representation or diagram, as it is more convenient for you to call it, and when you view it in a 3D version, by the way, there are two of them, but more on that later. Draw walls, or rather rooms, doors, and windows.
It is worth paying attention to the fact that the length and width of the room, as well as its area, are immediately shown, but this option can be disabled if desired. The thickness of the walls can also be changed.
Doors and windows are selected from a huge list for every taste – plastic, wooden, various colors, and shapes.
There is also a huge selection of flooring and wall decoration options.
And finally, you furnish the room with furniture and other items. The furniture is divided into themes: living room, bedroom, and bathroom. All items can be transformed: width, length, and angle of rotation. And when everything is ready, you can view the resulting project in 3D.
The program provides two options for such viewing: the first is an ordinary 3D model of an apartment, the second is a walk around the apartment. It is worth noting that both types of viewing allow you to evaluate the interior in different ways and subsequently make changes.
Another not very pleasant moment, if you want to save your project, then you will need a paid version. It also presents a larger number of items that can be furnished with an apartment.
Summing up, it is worth noting that Home Design 3D is one of those programs that is convenient to use on tablets especially. The interface is built very conveniently, it does not cause any inconvenience. The program turned out to be very high-quality and quite professional.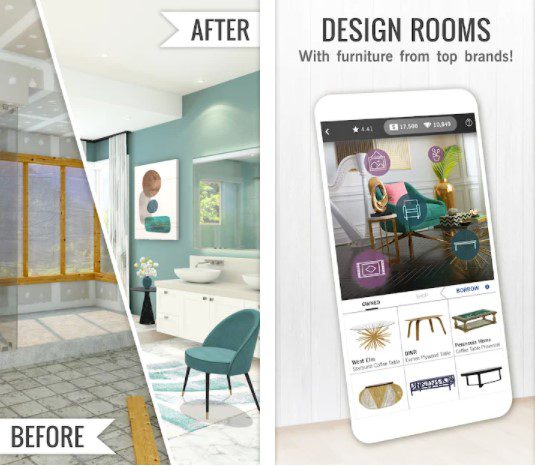 Downloads: 50000000+
Customer rating:

(4.2 / 5)