If a person writes music in sheet music, surely he is not doing it on paper, the last century. And imagine that you are going somewhere or waiting for something or someone somewhere, there is not much to do.
Writing music is an exit. And here are, of course, various mobile devices – smartphones and tablets – we will focus on the most popular ones. In this publication, we will consider the option of using devices with Android OS.
1. Music composer Lite
This application is aimed primarily at those users who have a musical education and know-how to write music. In addition, as the developers note, the program will also be interesting for children who like to poke their fingers at the screen, for example, on a tablet, and listen to different sounds.
One of the most notable functions of a Music Composer can be distinguished:
light accompaniment of movements and finger touches to the touch panel of the device;
Multi-Touch technology support;
polyphony;
the ability to set a different tempo – from 30 to 240 beats (metronome);
"live" piano sound every time you press the buttons;
music is saved in MIDI format;
MIDI files are saved in two-track form for the convenience of further editing and mixing of compositions.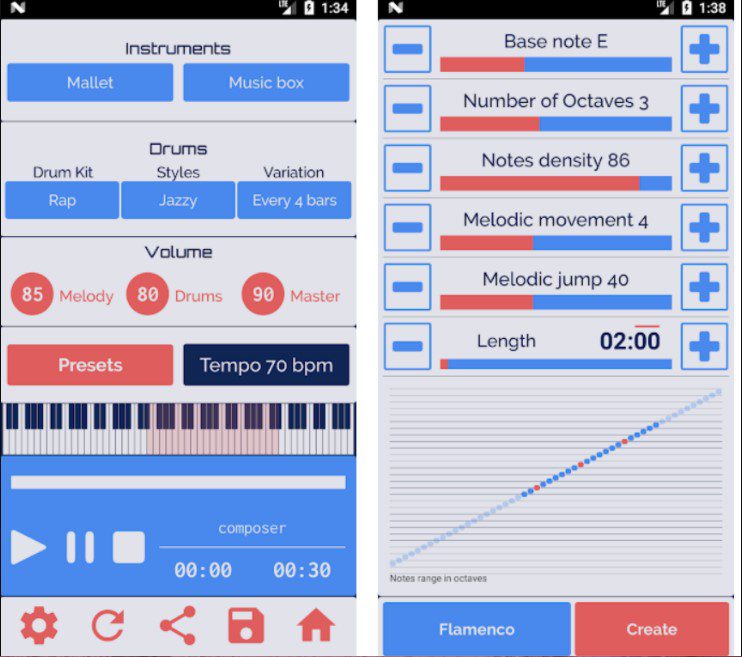 Downloads: 10000+
Customers rating:

(3.7 / 5)

You may also like: 9 Best Novel Reader Apps for Android
2. Jellynote
This app uses a unique approach to the composition of musical notation. The input to the program is a text file compiled in a kind of programming language. Which is later converted into a PDF or MIDI file
Although this approach may be somewhat frightening, do not rush to conclusions. Jellynote has quite good documentation, which is aimed even at novice users. In it, you will find not only examples but also a detailed description of all the various parameters.
After spending some time researching the program, you will find that Jellynote allows you to quickly create any complex compositions.
Remember that editing a plain text file is much faster than editing using WYSIWYG editors. Even a simple addition of volts will happen much faster and easier. In addition to everything, the resulting sheet music in PDF format will look beautiful (a good PDF converter).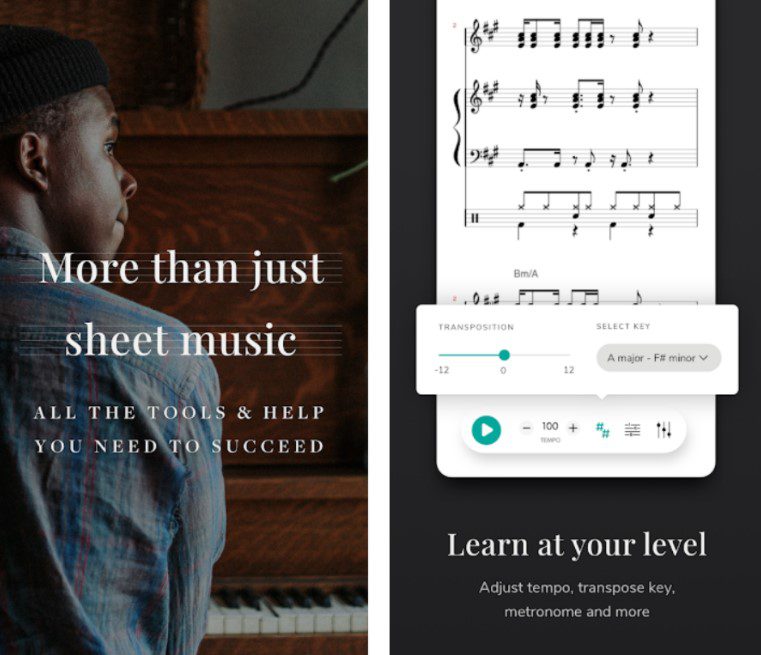 Downloads: 500000+
Customers rating:

(3.4 / 5)

3. Ensemble Composer
If inspiration has overtaken you in an inconvenient place for writing notes on paper, this application is just for you! thanks to its user-friendly and intuitive interface, your drafts of notes will easily move to your smartphone and be securely stored in it until you want to translate your thoughts into a sounding masterpiece.
A very easy-to-use and master program designed for those who are just trying their hand at music composition. This Android application allows you to create literally anywhere and anytime, moreover, only basic knowledge in music is enough for this, the main thing is an inspiration and the desire to create something new. Among the most useful features of Ensemble Composer:
* use of MIDI format•
* ability to save and edit compositions;
* playback of up to 15 instruments at a time;
* saving the finished song as a ringtone for a mobile device;
* multiple undo levels when editing a composition;
* export the recording to a graphic file without any watermarks.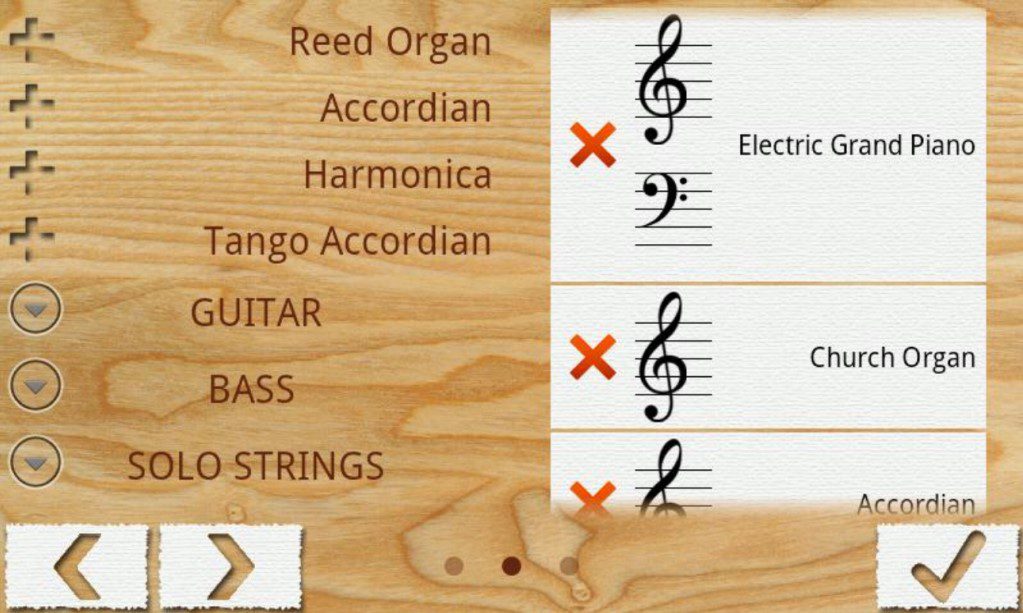 Downloads: 1000000+
Customer rating:

(3.6 / 5)

4. Music Composition
The program allows you to compose music directly on your tablet or smartphone with Android OS. Music Composition is a very interesting and very useful software tool both for people receiving musical education, beginning musicians and performers and for those who already have extensive experience in writing musical works.
Music Composition is:
* convenient music editor;
* export music recordings to audio files;
* export of musical notes to formats ready for printing.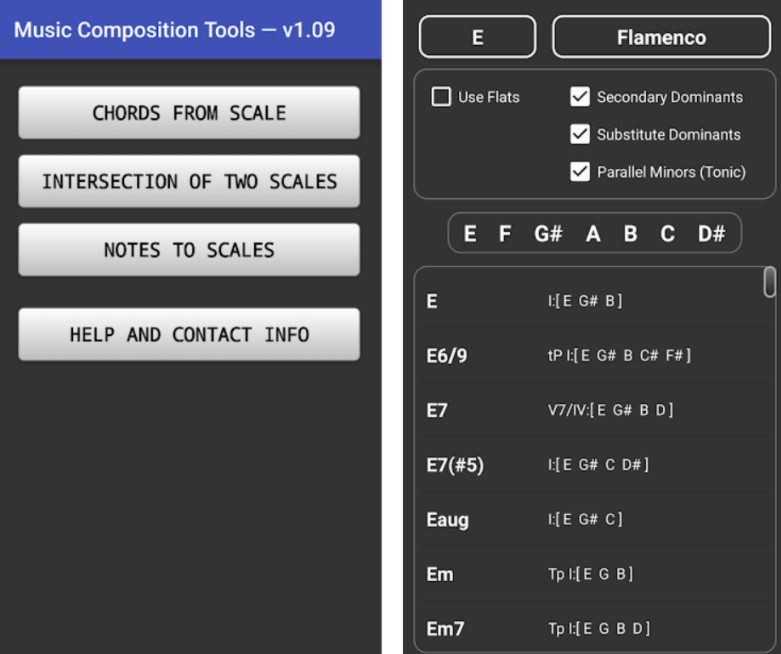 Downloads: 10000+
Customer rating:

(3.9 / 5)

5. Score Creator
Score Creator is a music recording program designed specifically for the mobile platform. This is a simple but powerful music creation tool that allows you to write music "on the go". Regardless of whether you are a songwriter, composer, musician or just a music lover who knows how to read and record a score, this program will be a useful and important tool for creating music.
The app's user interface is fully optimized to make composing music on mobile devices easier and faster than ever. No more "tap and zoom in" to just add a musical note or chord symbol! No "dragging" from the palette to just add a sharp/flat sign.
All you have to do to write a song is just press the keys (notes and chords), similar to a keyboard for typing. In addition to creating compositions, Score Creator is also suitable for music teachers and students as a teaching assistant.
Teachers can teach students to read musical notation by directly entering notes in the program and reproducing the result. Students, in turn, can enter notes of their favorite melodies into the program and play them accompanied by their own musical instruments.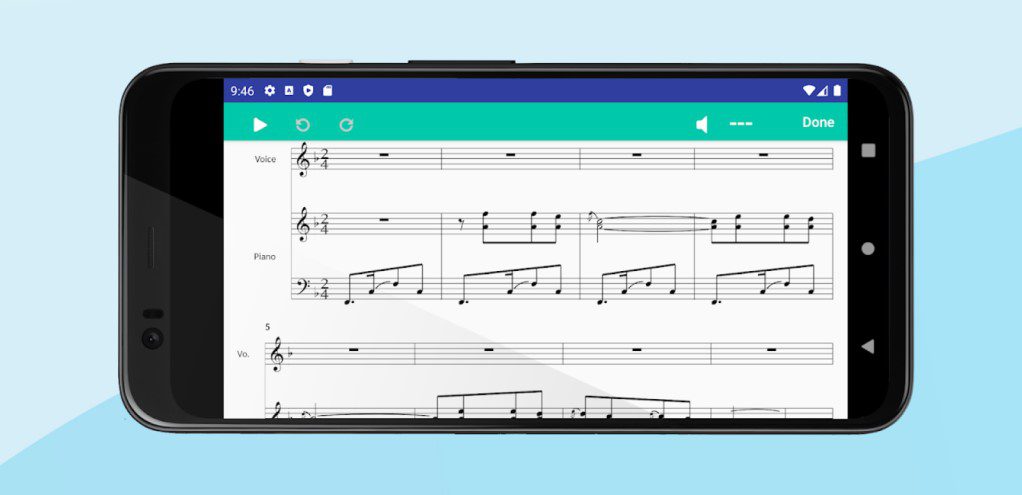 Downloads: 500000+
Customer rating:

(3.6 / 5)

6. Muse score
MuseScore is among the best music recording apps. It offers a huge number of notes from its online community. There is a desktop version of the program with which you can record notes yourself, as well as upload them to the community library. Notes can be played at any tempo. It is possible to display only the necessary part that you want to train.
MuseScore is an excellent music editor that is compatible with Windows, Mac OSX, Linux, and FreeBSD. The program allows you not only to create simple musical compositions but also full-fledged piano accolades, as well as musical notes for orchestral scores.
But, don't worry, you will find answers to most of your questions even. In extreme cases, you can always find your answer not only with the help of the program but also on the developer's website. After about an hour of using the program, you will already master writing and editing notes, as well as inserting additional characters.
MuseScore contains a complete set of tools. The program can play music using its own or your file with a set of sounds (in some way – a sound font). MuseScore can open MIDI, MusicXML, and several proprietary file formats.
You can also export the resulting sheet music to various formats, including MIDI, MusicXML, WAVE audio, and PDF. In addition, the developers' website has a fairly voluminous set of various plugins that allow you to automate most of the tasks that arise.
In general, MuseScore will be an excellent choice for writing compositions of any complexity.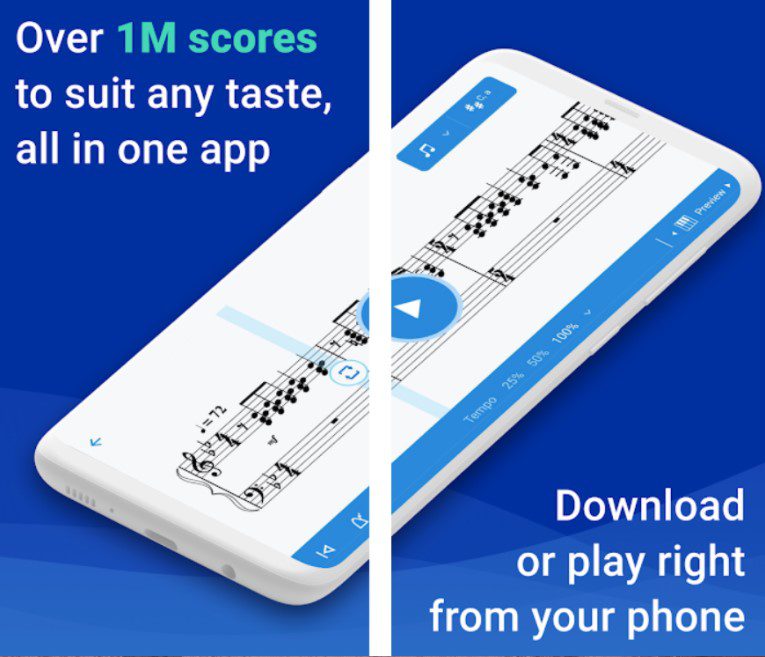 Downloads: 1000000+
Customer rating:

(4.6 / 5)

7. Mobile Sheets
While digital laptops are becoming more commonplace, many people still use physical paper to read sheet music. MobileSheets makes it easy to view sheet music on Windows 10 devices, as well as take notes, automatically view music and search for music.
The app is available for $12.99 for Android. You can try the free version for 14 days, which limits you to nine pieces of music, but it's enough to help you make an informed decision before throwing money.
MobileSheets can automatically scroll through your music or turn pages using USB or Bluetooth devices. It also has a built-in metronome, link points that make it easy to navigate between pages and several ways to manage and organize music.
In addition to features you didn't have on paper, MobileSheets lets you take notes about your music.
While MobileSheets is modern in that it takes notes into the digital age, its design is far from futuristic. It's hard to navigate in full-screen mode, the layout hasn't been updated to newer design styles, and overall it just looks old.
This does not interfere with his ability to read and comment on notes, but it is disappointing that another good application has such an outdated design.
Pros
Supports annotation
It has automatic scrolling
Easily imports sheet music
Cons
Outdated design
High price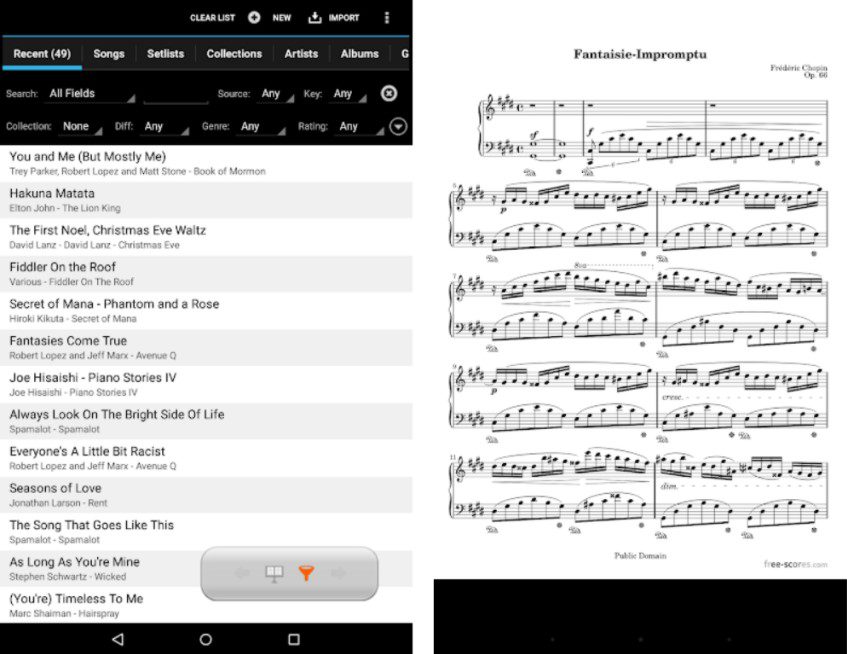 Downloads: 100000+
Customer rating:

(3.3 / 5)

8. Guitar Pro
Amateurs and professionals – everyone who has comprehended the art of playing the guitar further than three thieves chords, for sure, have heard about such a wonderful program as Guitar Pro. It is not surprising that this program migrated from the PC to such a popular platform now, which is Android.
The Guitar Pro program allows you to record musical parts both in classical form – in the form of notes, and with the help of tablatures.
Moreover, you can immediately register the parts of all the instruments used in the composition and play them using the midi capabilities of the computer's sound card, or even download special sound banks and get the sound as close as possible to the original.
And now imagine that you, as a musician, can not only compose and record your compositions but also download from the network the parts of your favorite bands that have already been selected and compiled in this way.
You can also use Guitar Pro as a backing track and play live guitar along with Guitar Pro playback. In general, the advantages of this program can hardly be overestimated.
The program greets us with an intuitive interface. The main menu is made in the usual style – in the form of two main sections. On the left, we see a list of all available tablatures, and on the right – a preview of the currently selected composition, tapping on this preview, we go to the contents of the selected object.
Above the list of files, there is a search bar for songs (very convenient if you have several dozen of them downloaded).
And even higher there are seven tabs:
1) Performers – all files are sorted alphabetically by performers.
2) Compositions – sort files by song title.
3) Album – sorting songs by album.
4) Favorites – you can add any compositions here by clicking on the asterisks before their names.
5) Recently Added – a list of recently added tracks.
6) Recently opened – a list of recently opened songs.
7) NotePad – the mode of creating your own compositions.
From the above-written list of tabs, it can be seen that the first six of the seven items are aimed at convenient viewing and playback of ready-made files, and only the last item (Notepad) is designed to create its own batches.
Thus, in the Guitar Pro program, we get two different modes of operation – the viewing mode and the editing mode. This is where the main disadvantage of this program is found – previously created on the computer and imported files cannot be edited.
That is, if you want to finish working on the file you started on the computer, you will not be able to finish or correct a single note. And those editing capabilities that are implemented in the imported files viewing mode are designed only to change some of the nuances that arise when playing files.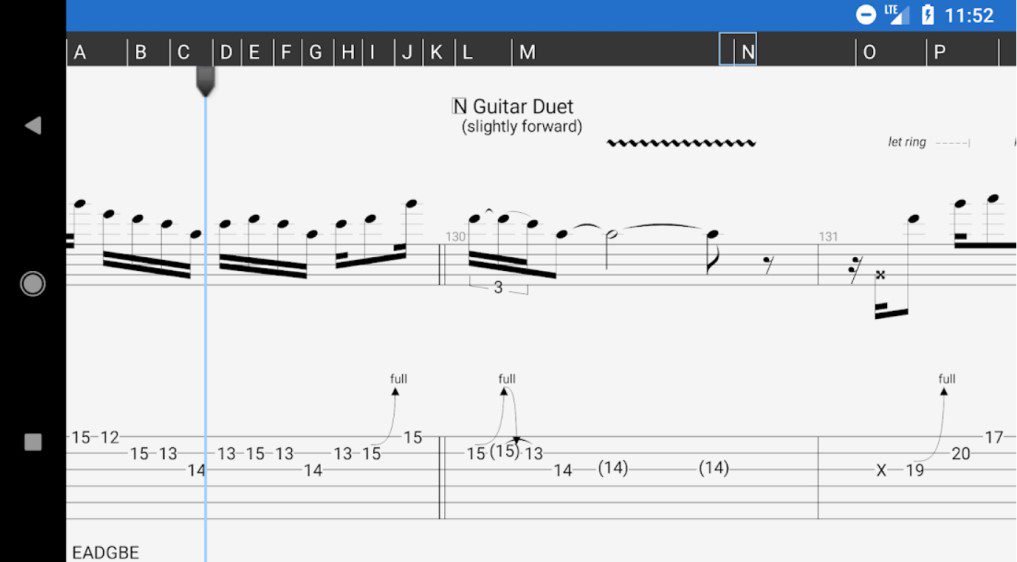 Downloads: 100000+
Customer rating:

(3.9 / 5)

You may also like: 5 Best Steganography Apps for Android
9. Maestro
Do you like to compose music? Do you see the world in the notes? Then the Maestro app is for you! Do you want to wake up to your own music or show off a new ringtone or track to your friends? You can share tracks with us, record sounds for your gadgets.
You can send the notes to print to take them to the instrument or save them in jpg for easier storage. Scale, flip, customize for yourself. This application has a good player, it allows you to play audio without delay and set places for repetitions.
Create your masterpieces without taking into account the length, there is no limit on the duration of the track and the number of bars. There are a huge number of musical instruments and additional sounds.
If you want to listen to an organ or insert a shot from a weapon, Maestro will allow you to do all this.
Compose or study musical grammar! Here is the list of functions that Maestro provides you:
– Notes and Chords
– Pauses and Orchestral Pause
– Clock features
– Repeat Signs, Da Capo(D.C.), Dal Seno, Seno, Coda, Various Endings
– Staccato, Staccatissimo, Accent, Tenuto, Fermata, Trill, Tremolo, Mordent and other strokes
– Lengthening point(note the dot), double extension point(note two points), group, Salihova(binder League), the League is tuplet, triplets, of quintile, grace note, and more
– Casual characters and quarter-tones
– Dynamics
– the transfer octave up/down
– the transposition
– Changing of key
– Tempo changing
– Write words, chord signatures, and fingerings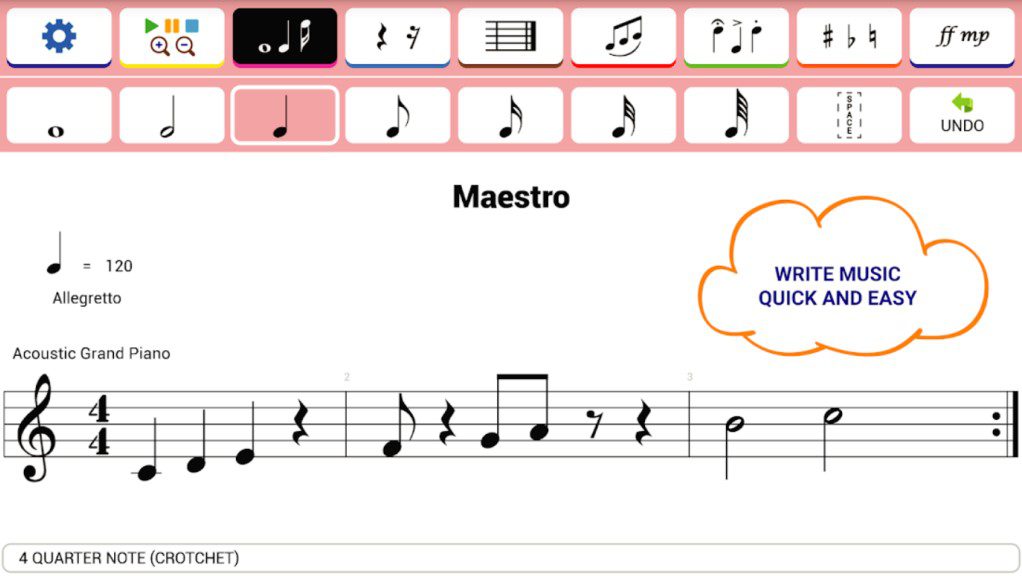 Downloads: 1000000+
Customer rating:

(4.3 / 5)