Are you an anime addict? Do you binge-watch your fave shows at any chance you get? Well, you're in for a treat!
We've picked up the best Android apps to watch anime in English that you could try. These are must-haves for anime fans as they let you stream dubbed anime episodes.
With these on hand, you can carry your anime addiction wherever you go. You can binge-watch to your heart's content without having to worry about buffering or low-quality videos. Let's get into it!
Funimation
Ready to take your anime obsession to the next level? Then you have to try out this app. It covers a wide lib of Eng-dubbed and subbed shows from Japan. You'll quickly find yourself lost in a world of adventure, action, and heart-wrenching drama.
And the best part? You can watch it all on your own time, from any place that suits you. Whether you're commuting to work, lounging on your couch, or taking a break in the park, your fave show is just a tap away. The viewing exp you get there is smooth and convenient.
The app covers ad-free streaming, so you won't have to sit through pesky commercial interruptions. And with simulcasts straight from Japan, you'll be among the first to see new episodes as they come out. Plus, you won't have to wait long for dubs – they're usually available within two weeks of the original broadcast.
But what if you're out of Wi-Fi range? No worries! You can save your fave episodes and watch offline, so your anime obsession can continue even in the most remote of locations.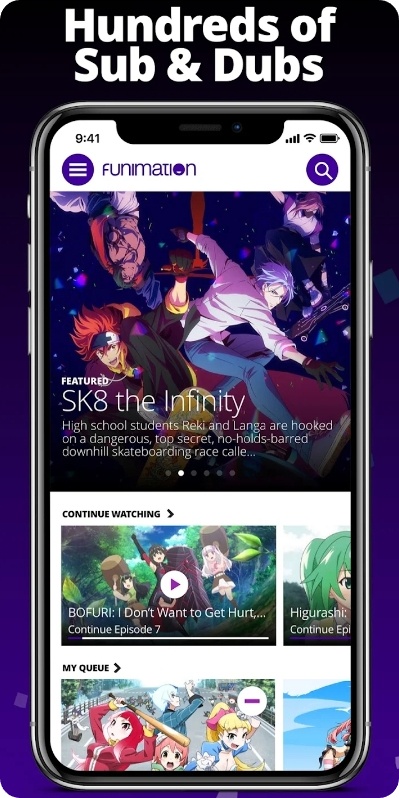 Downloads: 10M+
Customers rating:

(3.9 / 5)
You may also like: 11 Best Apps to Turn Picture Into Anime Drawing
AnimeLab
This app is a one-stop shop for all your anime needs. It has an expansive lib of the best anime classics, fan favorites, and the hottest hits. Trust us, it will quickly become your go-to source for all things anime.
One of the best aspects of this one is its ad-free streaming. Say goodbye to pesky commercial interruptions and hello to hours of uninterrupted anime bliss! Another great thing is the ability to watch both subs and dubs. Thus, you can watch simulcasts straight from Japan and new dubbed episodes within two weeks of the broadcast.
The app also makes it easy to watch on the go with its saving tool. Simply download your fave episodes and watch offline whenever you want! And if you're hooked on a new show, no worries – just add it (and your other faves) to your queue and skip forwards or backward in 10-sec increments.
If you're a true anime connoisseur, you'll appreciate that the app covers OVAs, extras, and top-trending shows and classics in HD! With such an expansive lib, you'll never run out of new anime to discover.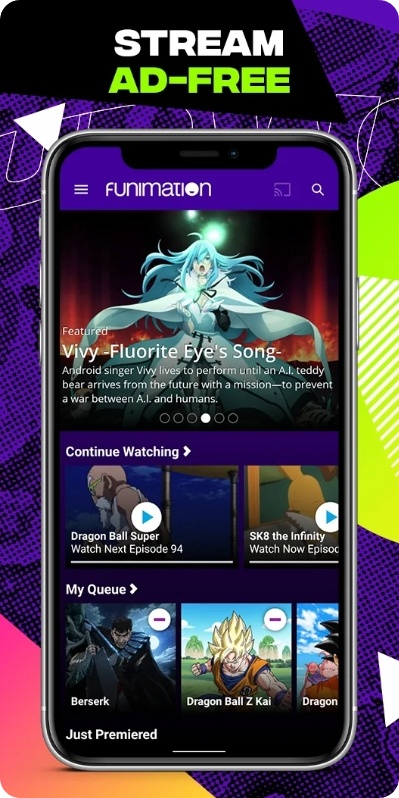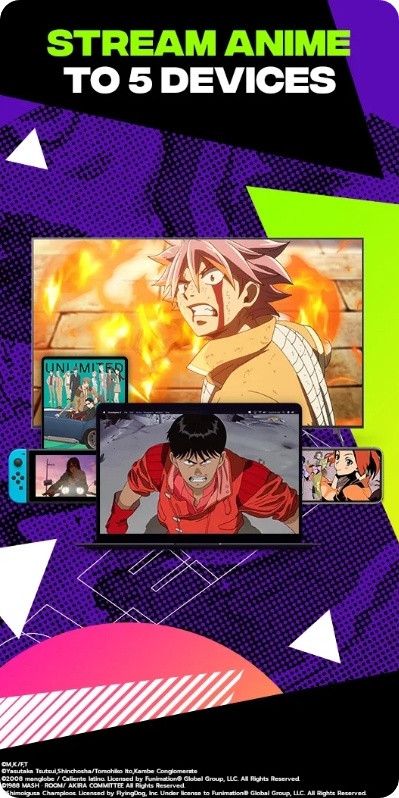 Downloads: 500K+
Customers rating:

(4.4 / 5)
VRV
This app is a treat for anime addicts, as it lets you enjoy multiple channels at once. It can cover all your anime and animation needs and combines a variety of channels, including the ever-popular Crunchyroll.
There's a wide lib of shows from various channels, giving you a wide variety of content to enjoy. So whatever your prefs are, you'll find that to watch here. Not only that, but the app's HQ streaming ensures that you won't miss a single detail of your favorite shows.
Navigating this one is a breeze, thanks to its user-friendly interface. Plus, with such a diverse lineup of channels, you're sure to find new and exciting shows to sink your teeth into. However, like most things in life, it isn't without its flaws. Some content is region-locked, which can be frustrating for fans hoping to catch up on the latest shows.
Additionally, there are ads, but let's be real – they're a small price to pay for the wealth of content available on the app. That said, if you need a handy tool that caters to your tastes, it is surely worth checking out.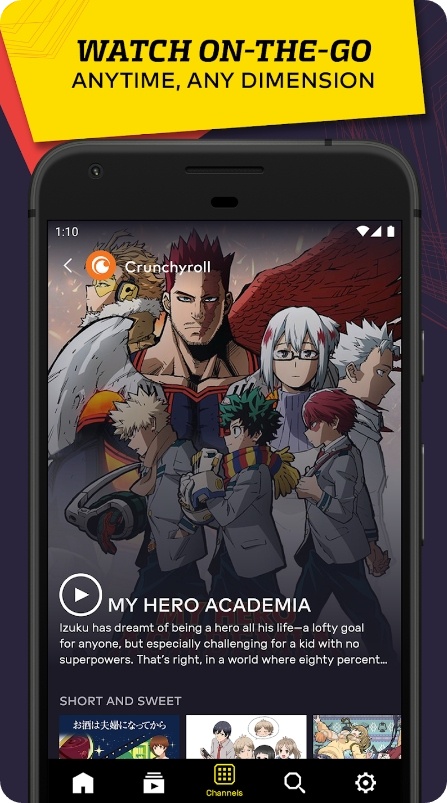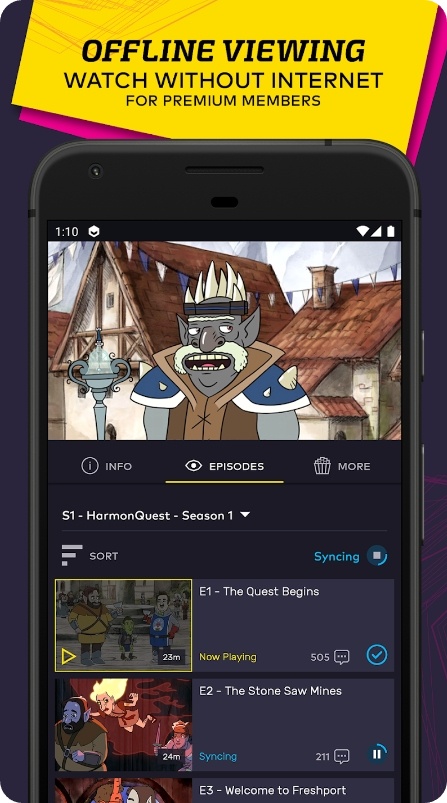 Downloads: 1M+
Crunchyroll
This app is the ultimate anime platform that has it all. It's a must-try for all the anime fans. First off, can we take a moment to appreciate the fact that the app's lib has over 25K episodes? What else could you ask for? Whether you're into classic or the latest releases fresh from Japan, you'll find it all here in one place.
What's even better is that the app works in multiple languages, making it accessible to fans around the world. Plus, you have the option to pick between subs or dubs, depending on your prefs. Are you in the mood for some heart-wrenching anime or action-packed series? Take a pick, and you're in for a treat!
The content quality is top-notch, making your viewing exp nothing less than a delight. Don't believe us? Try it for yourself. You will not get any buffering or lags that could ruin your viewing pleasure.
The app regularly updates its lib, ensuring that you're always up-to-date with your fave series. There's also a section of original content that you won't find anywhere else. It's like having a little slice of anime heaven right in your hands!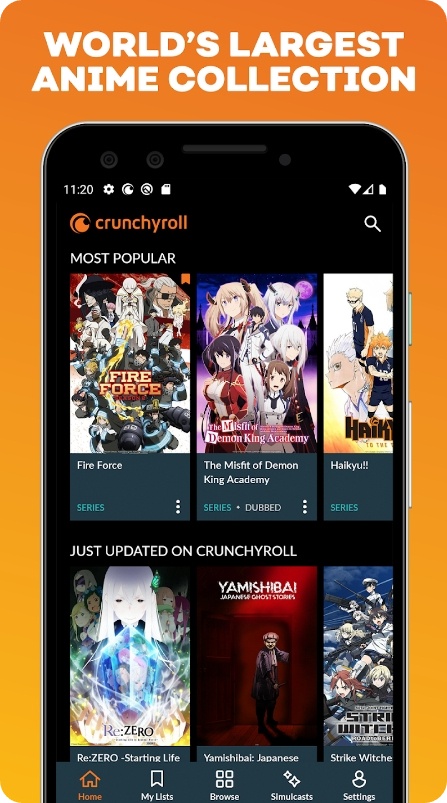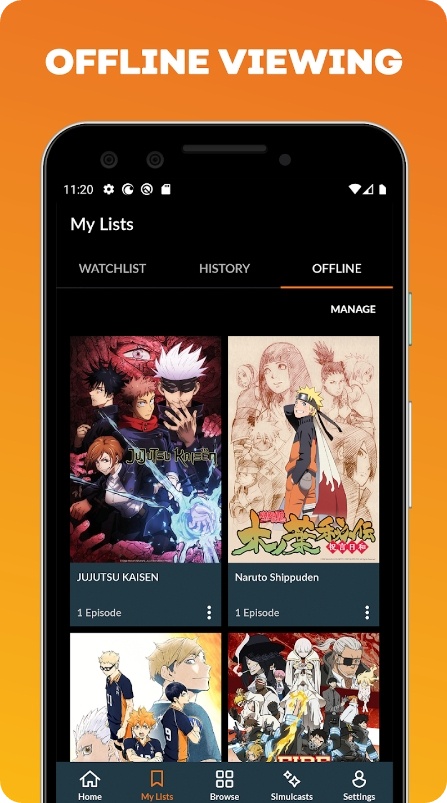 Downloads: 50M+
Customers rating:

(4.5 / 5)
Tubi
Although you might not have thought about this app as your anime source, it can actually be a pretty good option. So if you're on the hunt for a platform with a robust anime lib, don't get past this one. It covers both classics and contemporary series, so you're all the way covered.
The app doesn't skimp on the anime content, with an extensive and diverse range of offerings that are sure to satisfy even the most discerning fan. From shows you know and love, to hidden gems that you may have missed, there's smth for everyone.
One of the best things about this one is that their content is regularly updated, so you'll never run out of shows to watch. And with a friendly UI, it's easy to find exactly what you're seeking.
Of course, there are some downsides to the app. For one, you will encounter ads throughout your exp. However, considering that it's a free app, we think that's a pretty fair deal. Another potential downside is that some content may be region-locked, so you may not have access to everything that's offered.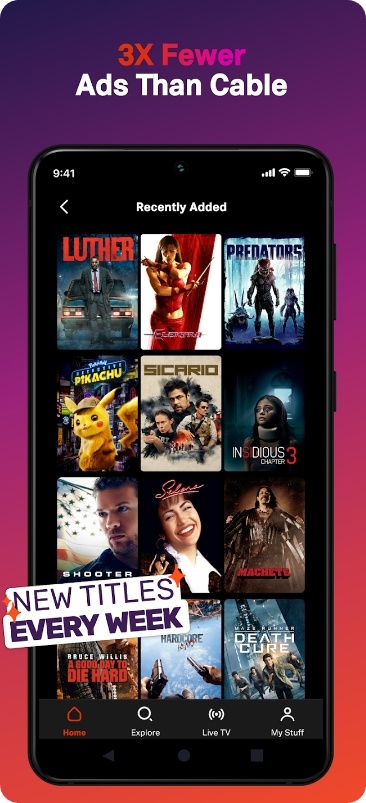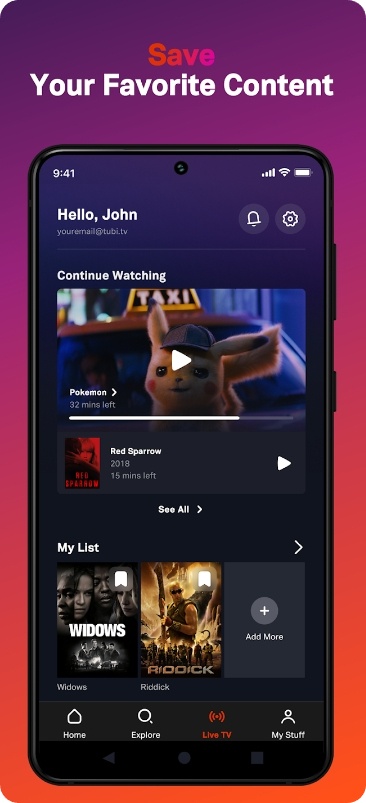 Downloads: 100M+
Customers rating:

(3.8 / 5)
Crackle
That's another app that is not fully dedicated to anime but still covers a healthy dose of it. You'll be impressed by the selection of both classic and contemporary series and films. You'll find both classic and contemporary titles, so there's smth for everyone.
And the best part? It's all open for free streaming! Now, let's talk about the quality of the content. It's top-notch, folks: no buffering or lagging, just smooth playback, and crystal-clear visuals.
Plus, the UI is super friendly. You can easily search for your fave titles or browse the library by genre. You can also bookmark some of them for further watching. And the ability to continue watching where you left off is a pleasant bonus to get.
Of course, there are some downsides to this one too. It does contain ads, which can be a bit annoying. And compared to dedicated anime apps, the selection is somewhat limited. One more thing to mention: some content may be region-locked, but honestly, that's true for most streaming apps out there.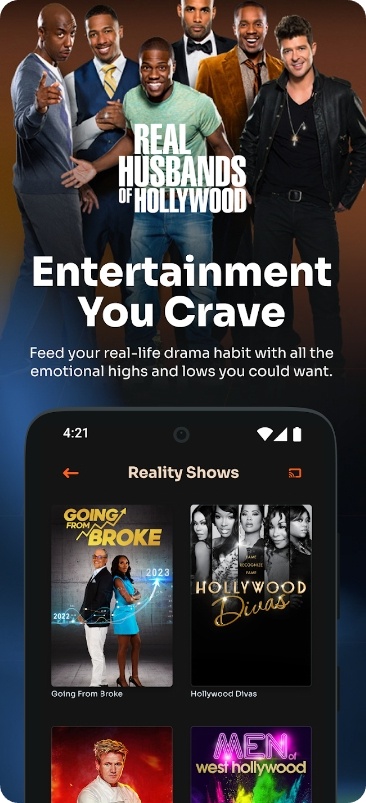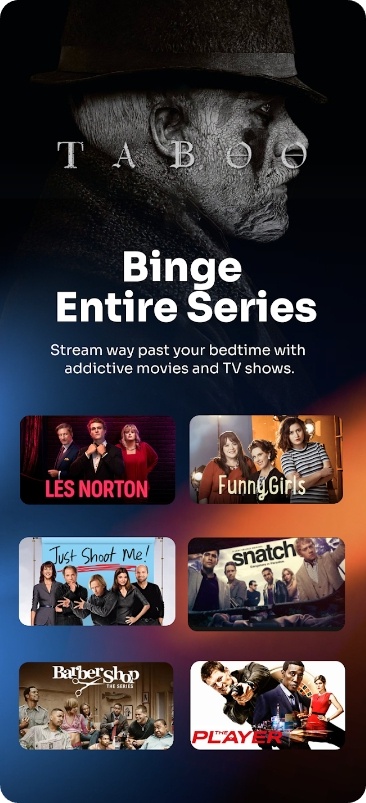 Downloads: 10M+
Customers rating:

(3.8 / 5)
Check also: 9 Best Apps to Connect Android Gadget to a TV
Anime TV
This is a reliable platform to indulge your love for all things anime. It lets you discover new shows and stream them right away. The UI is beyond simple: the design is crisp and clean, so navigating through the app is a breeze.
All you have to do is pick a preferred category, and voila! You'll be presented with a never-ending list of high-quality episodes to pick from. Plus, the app gets daily updates. That's right, you'll have smth new to enjoy every day.
All the latest episodes of your fave shows will be readily available to watch without any hassle. And with thousands of episodes to pick from already, you'll never run out of stuff to watch.
The streaming speed is lightning-fast, too. You won't have to deal with buffering or lagging (as long as you have a stable web connection). The only downside we could find is that you can't watch the shows in the background. That means that if you're multitasking, you'll have to keep the app open on your phone. Nonetheless, this minor inconvenience is overshadowed by all the benefits you get from using it.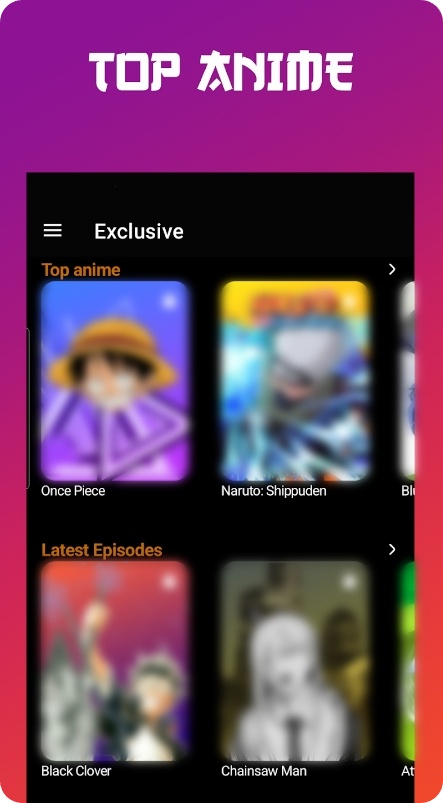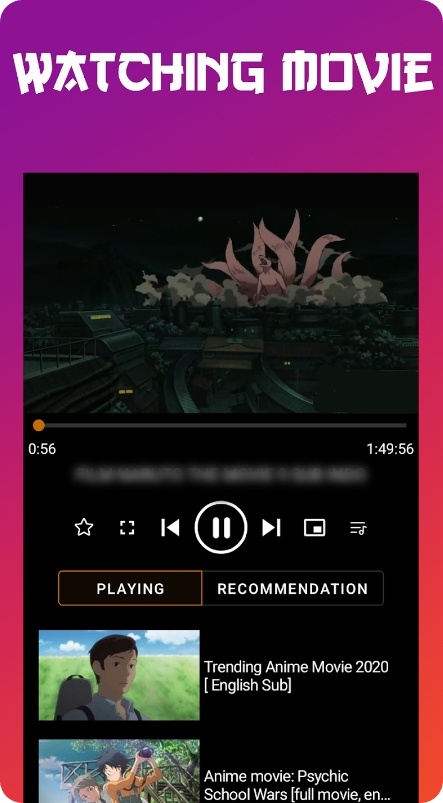 Downloads: 100K+
Kiss Anime
Are you an anime junkie who's always on the hunt for the latest and greatest shows? Well, this app is here to satisfy your cravings. It covers over 10K episodes already, and still counting. All of these are free to stream and can even be saved for offline viewing.
The app has a vast lib of both old and new shows that you've probably never seen before. It has several episodes per film, which means you can dive deep into the stories and characters you love. The app comes with fast streaming and subtitle captions, so you won't miss a single moment of the action.
You can also use it to find top-rated and upcoming series, so you're always in the loop about what's hot. And if you're not in the mood for smth new, you can always bookmark your fave movies, so you can watch them again and again.
The app also helps you make an informed decision about what to watch next. It covers detailed show descriptions episodes, seasons, releases date, and all that.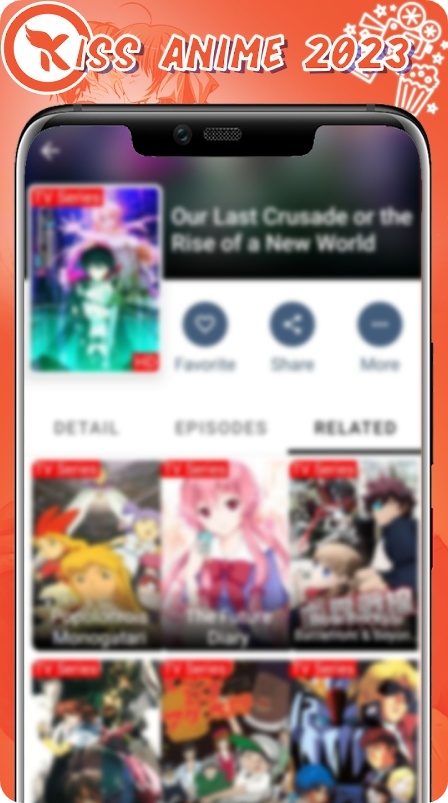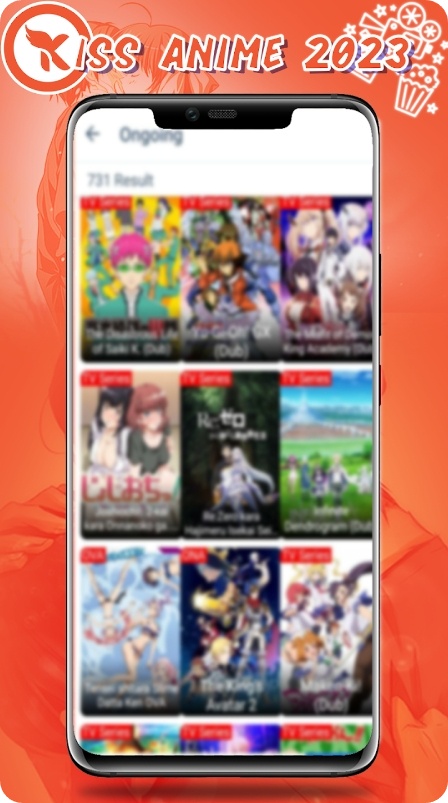 Downloads: 50K+
Customers rating:

(3.3 / 5)
AniWatch
This is a handy little tool for enjoying your fave Japanese shows. If you're a true anime fan, this app should definitely be on your radar.
First off, the app's design is sleek and elegant, making your exp easy and enjoyable. And good news for those who prefer watching with subs, because it has them for all its shows and movies. No more struggling to keep up with the dialogues! The range of dubbed shows is wide too, so no worries here.
But what makes it stand out is the huge lib of series and movies on offer. You'll quickly find yourself immersed in an incredible world of shows, both popular and critically acclaimed. There's smth for any taste or mood, surely.
And the best part? You can watch them for free! Yes, you read that right. All those hours of watching won't cost you a penny. The shows are categorized, and you can use a search bar to find smth specific. Isn't that amazing? Whether you're a seasoned fan or a newbie, this app has smth for everyone.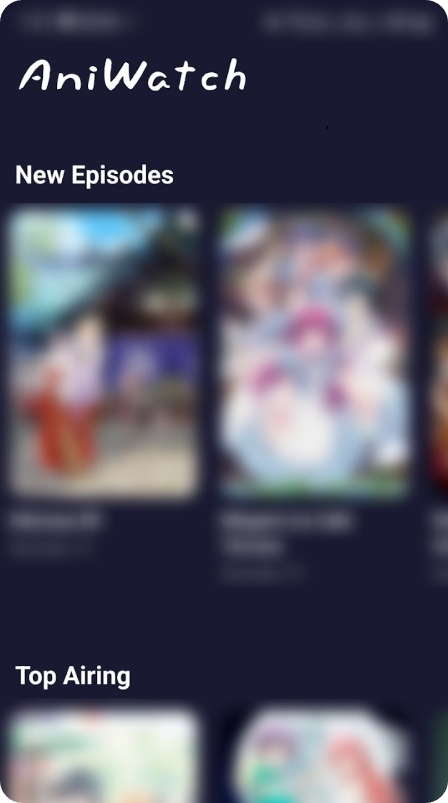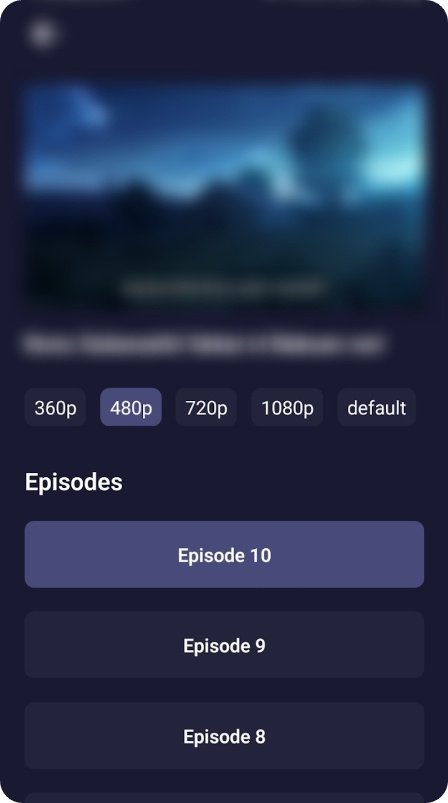 Downloads: 10K+
Wakanim
Have you ever found yourself endlessly scrolling through streaming platforms, trying to find a reliable and affordable option to watch all your fave shows? That's what this app is here for! It lets you enjoy your fave anime titles in HQ without any pesky ads to interrupt the exp.
And if you wanna bring the exp to the next lvl, you can even cast the shows onto your TV with just a few taps. One of the best things about this is its extensive lib of classic and new titles. All these are sorted by genre and popularity to make your browsing easy and enjoyable.
Plus, if you're worried about missing out on new episodes or important updates, don't be! The app sends you alerts so that you'll never have to worry about falling behind on your fave shows.
But perhaps the coolest aspect of this one is the ability to monitor your fave series based on previously watched episodes. So, if you're anything like us and have trouble keeping track of where you're at in a series, this is an absolute lifesaver.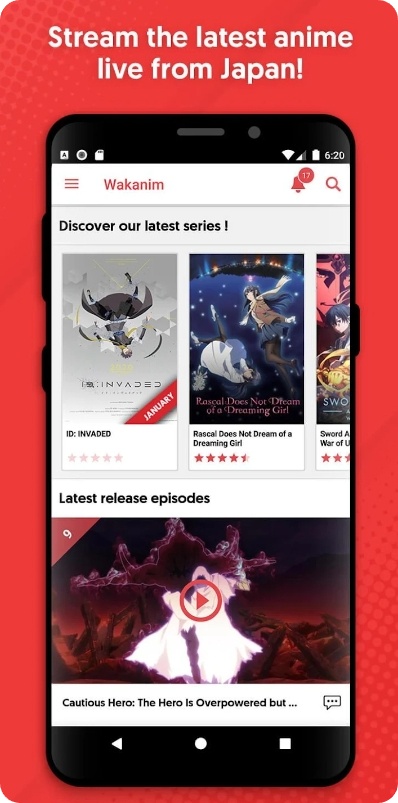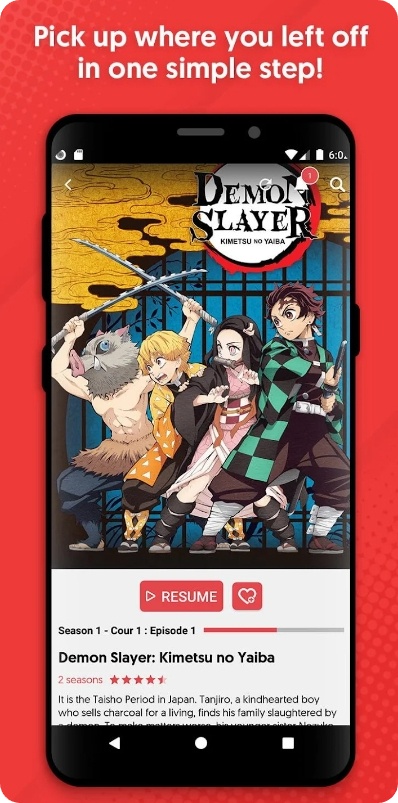 Downloads: 1M+
Customers rating:

(3.7 / 5)
You may also check: 7 Best TV Guide Apps for Android
Anime Pogo Prime
Lastly, we have a hidden treasure of an app for anime fans. It's ideal for those who want to stay up-to-date with all the latest and greatest offerings in the anime world. This app has everything you need to never miss an episode again.
First off, the UI is incredibly simple. You won't have to waste any time trying to figure out how to navigate the app: everything is intuitive and minimal. Plus, the app is updated every day with the latest schedule info, so you'll always be in the loop.
You get both dubbed and subbed shows, so no worries here. Not everything is dubbed, of course, and it takes more time for those episodes to release (obviously).
But that's just the beginning! It also has all the info you need about new releases, including ratings, trailers, reviews, and more. And the best part? All of this info is powered by MAL, so you know it's accurate and reliable.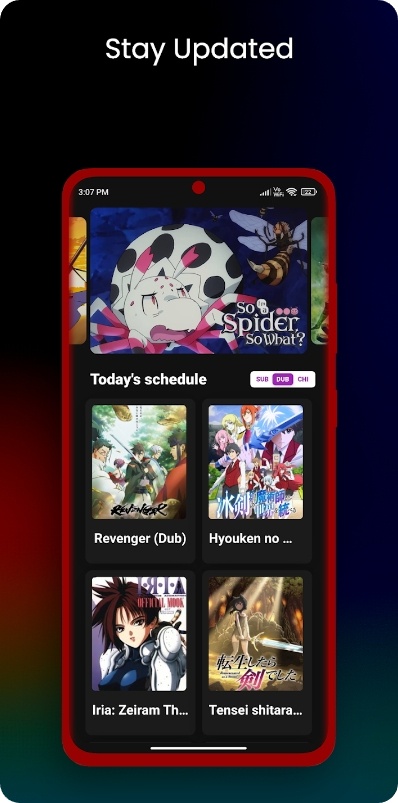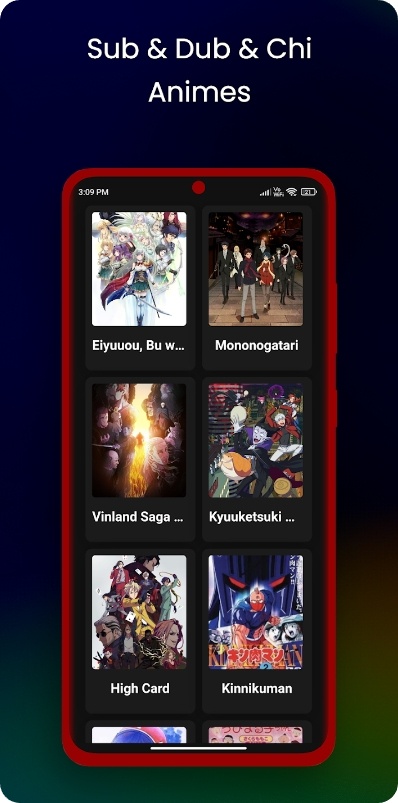 Downloads: 10K+