Despite having a good camera, alas, photos don't always turn out to be of high quality. This can be due to various reasons, from the wrong settings to the banal move of the smartphone in the process of shooting.
How to improve the photo on the phone? In our article, we will tell you about the most effective and fastest ways, as well as popular applications to unblur images.
How to improve photo quality on your phone: basic principles
Regardless of which app you decide to use, it's important to understand the key points in photo editing that are worth paying attention to.
Contrast. As a rule, this indicator on standard phone cameras is quite average. This means that photos turn out rather dim. That is why it is important to properly adjust the contrast level during shooting or while editing the finished image.
Sharpness. It can happen that the images appear slightly blurry when you take them. You can sharpen your photos by increasing the level of sharpness.
Exposure. This is the index that determines whether you get a lighted or darkened result. You should keep to the rule: when shooting bright daylight it is better to decrease the exposure, in the evening – to increase it.
Brightness. Is the picture too bright or too dark? Try turning the brightness down or up.
Color. For a brighter, more colorful picture, check the saturation setting.
Black-and-white photo. If the android's default settings don't improve the quality, try converting it to black-and-white and revisit the contrast and brightness settings.
Snapseed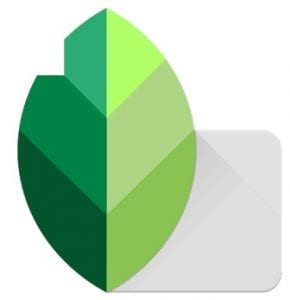 Snapseed is a very popular app for quick photo editing and processing. Its popularity is due to its innovative way of processing photos and the impeccable design of the editor itself.
The program has an extremely simple interface, consisting of three main blocks – a photo, a panel with functions, and a panel for uploading and saving photos. The arrangement of the blocks differs depending on where you are using the program, on a tablet or a smartphone.
A key feature of the program is gesture-based photo processing. If you go into any tool, you use a vertical gesture to select a function, for example, contrast or brightness, and a horizontal gesture to increase or decrease that parameter. This approach gets rid of all the extra elements, buttons, and menus and leaves you alone with your picture.
The tools available in Snapseed for Android:
Automatic – semi-automatic color, brightness, and contrast correction;
Selective Adjust – adjust brightness and contrast depending on the specific point;
Tune Image – manual adjustment of the main parameters – white balance, contrast, brightness, saturation;
Crop – photo cropping with the ability to set ready popular formats (4:3, 16:9, etc.);
Details – tools for adjusting the sharpness of the photo.
Snapseed is one of the best tools for fast and convenient photo processing, which can be put in the category of MustHave. If Photoshop and other similar programs seem complicated to you, then try this, you will probably love it.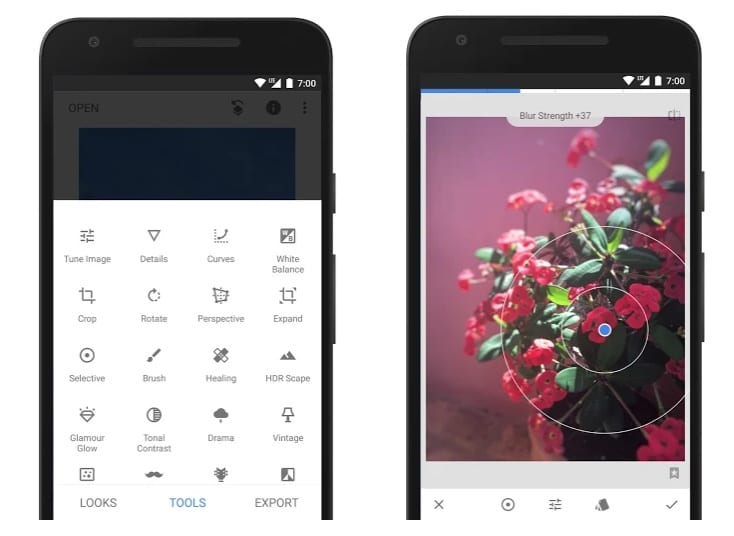 Downloads: 100000000 +
Customers rating:

(4.5 / 5)
You may also like: 9 Best Android Apps for Watermarking Photos
Lumii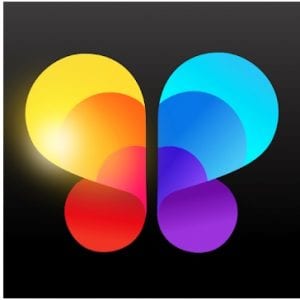 Lumii is a mobile application for professional photo editing and processing, and for applying unusual effects to photos.
To work with this application you don't need any special professional knowledge and skills. The mobile utility offers a large number of advanced tools for photo processing.
Here, you'll find ready-made sets of filters and settings for photo editing and improving the quality of images. The output of the editor is high-quality images and amazing masterpiece photos.
The main features of Lumii:
A color mode HSL. With this function it's easy to control the saturation, shades of color, also its brightness, 8 channels of colors;
presents a set of basic editing tools that allows you to adjust parameters such as brightness, contrast, warmth, shadows, highlights, sharpness, exposure, and others.
there is an opportunity to rotate and crop photos;
you can add text using different style settings (font, size, color, etc.);
the history of processing and editing photos is saved.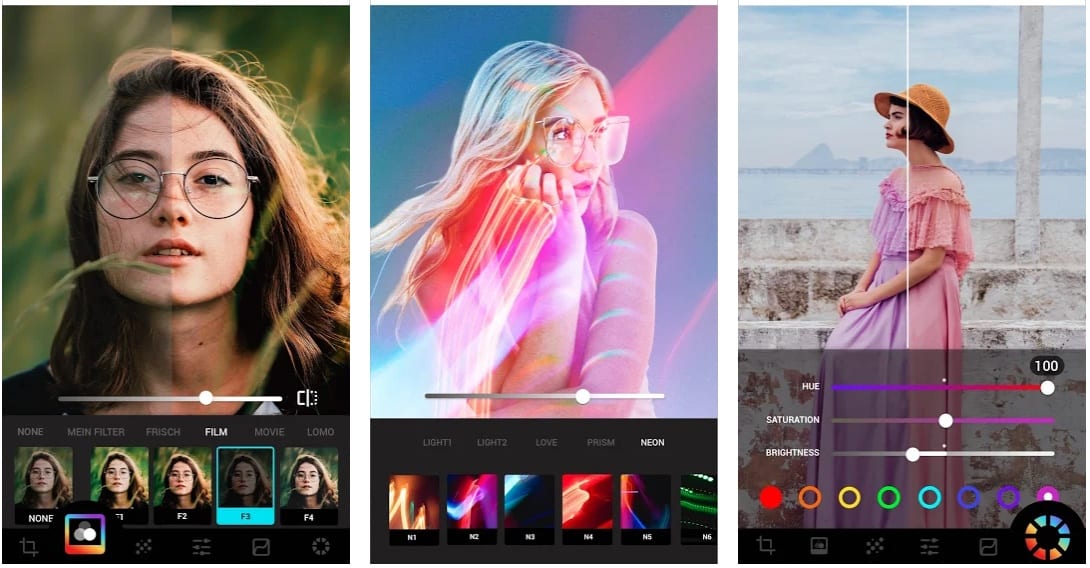 Downloads: 10000000 +
Customers rating:

(4.8 / 5)
Remini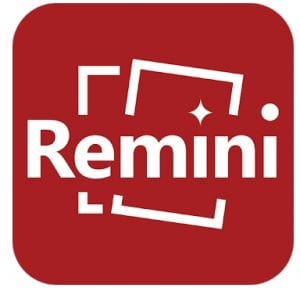 Remini is a real-time online photo enhancement application. Thanks to artificial intelligence, the app can restore blurry, old, and low-quality photos in an instant.
Using Remini is very easy: you just have to select the photo you want to work on and then just wait to see what happens.
In a few seconds, you will be able to see the restored version of the photo. It should be noted that the results are amazing. This app doesn't just use filters, it retouches photos in a more advanced and tricky way.
It's important to remember that you'll need to register with your email address in order to use the app. When you sign up for the app, you will be able to retouch up to five photos, after the trial period you will need to buy a subscription to use the app.
Remini is a great app for restoring old low-quality photos. With this app, you will be able to revive old memories in just seconds. What are you waiting for? Hurry up and give it a try!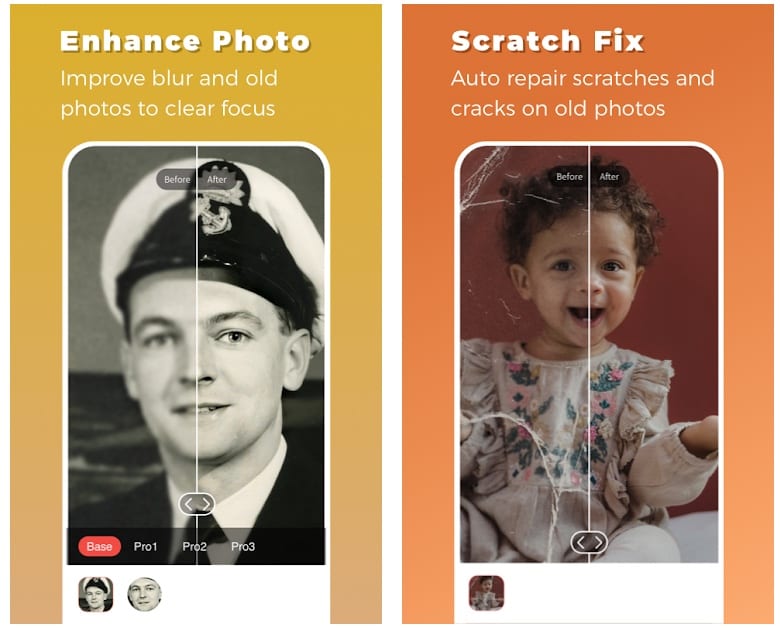 Downloads: 10000000 +
Customers rating:

(4.7 / 5)
Adobe Photoshop Express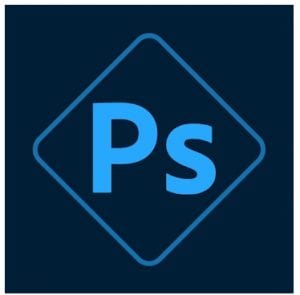 The Adobe Photoshop Express application allows you to make simple photo editing.
With Adobe Photoshop Express, you can in a few seconds crop a photo, correct the brightness, adjust the contrast, apply a blur effect, or unblur an image and apply a nice filter. After that, you can download the finished image to your smartphone and use it further.
To adjust the brightness or contrast, you have to drive your finger over the photo and see what the best result will be. That is, the photo itself acts as a kind of scale-controller, if we swipe to the right, the brightness value increases, to the left – decreases, respectively.
At any time you can cancel the previous step by clicking on the arrow on the bottom bar. You can also cancel all changes completely.
The disadvantages include the lack of a particular desire of developers from Adobe to develop their program and add new features, if you put it simply, they consider it completely finished.
Adobe Photoshop Express is a very simple photo editor for Android completely devoid of any superfluous functions, and it's very unusual because Photoshop is usually expected to do something completely different. Nevertheless, the program is completely free, contains no ads, and works very fast, so why not?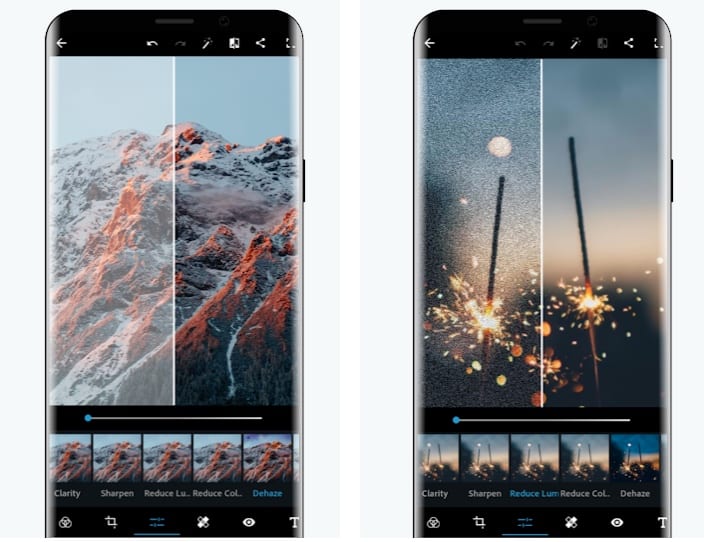 Downloads: 100000000 +
Customers rating:

(4.5 / 5)
PicsArt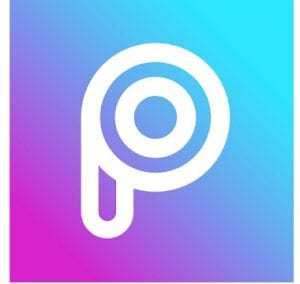 PicsArt is an interesting program that combines almost all the functions of photo editing.
With this program, you can not only apply ready-made filters to the photo but also process the photo in detail, make a beautiful collage in a couple of clicks, set a frame, sharpen a blurry image, and so on.
The PicsArt app is perfect for those who are looking for everything at once and in one place. In fact, this app can replace a dozen simpler photo editors that you probably use. Here it all comes together, and it works just as well.
The main features of PicsArt for Android
Overlay effects: about 15 effects, in addition, you can download them for free through the internal store. Of course, there are also paid effects.
Drawing. With this tool, you can apply various ready-made drawings (text footnotes, stickers, hearts, etc.) to a photo or practice with simple brushes.
Camera. With the camera feature, you can set a filter before you take a picture and see what kind of pictures you might get.
Collages. In this mode, you can create a beautiful collage with your settings. Also here you can choose a nice frame or cover for the photo.
PicsArt is a great constructor for photo processing. You can't say that every function of this application is perfected to a masterpiece state. But here it's all together in one program, which, moreover, can be downloaded for free.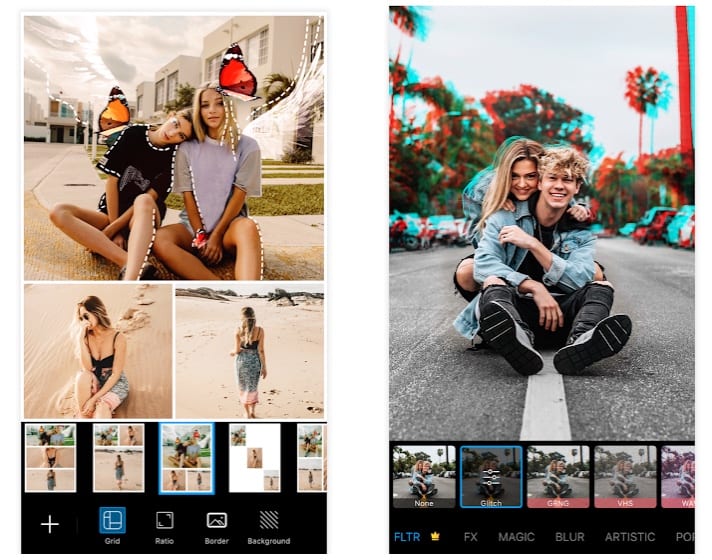 Downloads: 500000000 +
Customers rating:

(4.2 / 5)
PhotoSuite 4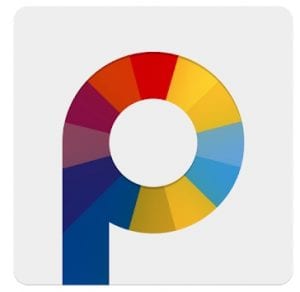 If you need a photo editor with lots of editing features, PhotoSuite 4 is probably one of the best options available. By using this application you will have access to a huge number of advanced tools with which you can fix blurry photos quickly and easily.
The options in PhotoSuite 4 are so diverse that there are probably even more than in some similar PC applications.
You'll be able to work with layers, change hue, saturation, or contrast, merge images, create collages and add graphics, draw over images with your finger, and so on. With this app, anything is possible.
You can also create new elements based on a variety of templates or by drawing on a blank sheet of paper with brushes, pens, sprayers, and watercolors. The app even has filters with customizable intensity so you can change balance, shadows, exposure, and other aspects.
On top of all this, PhotoSuite 4 has its own camera to take photos and immediately edit them through the app. With this camera, you'll be able to apply filters right after taking a photo.
You will be able to add frames to all your photos, rotate them, and use your fingers to drag and drop different elements on them… You will be able to save the results of your work in a variety of formats, such as PNG and JPEG, and share them on social networks with a couple of clicks.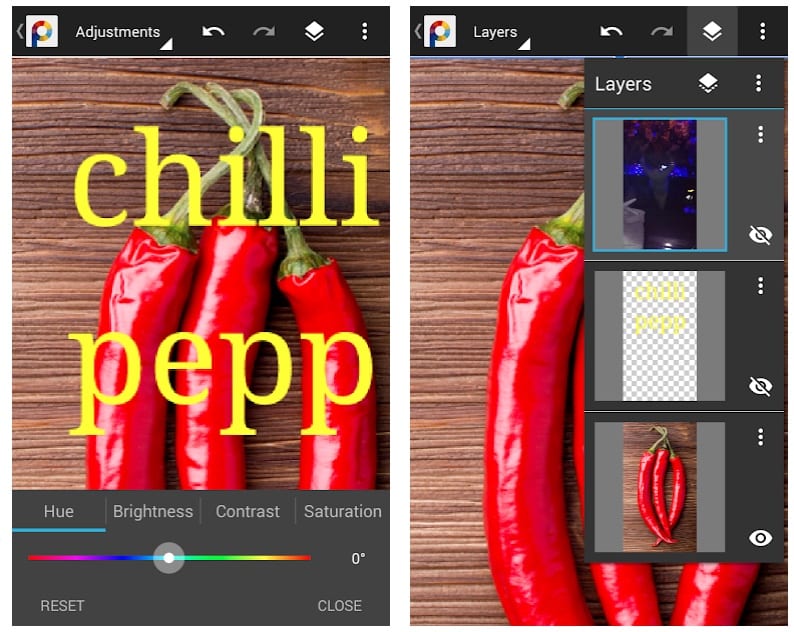 Downloads: 1000000 +
Customers rating:

(4.1 / 5)
Fotor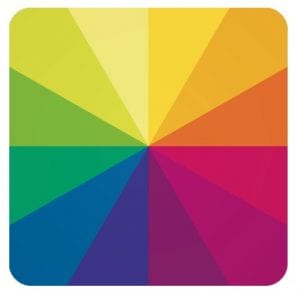 Fotor Photo Editor is an interesting photo editor for Android with a lot of original tools for processing both ordinary photos and images for further posting to Instagram.
It is possible to edit photos from the albums of social networks, as well as from the memory of the device and the camera module.
The functionality of the application is divided into two components: an editor for photo processing and collages. In the first case, the user will find an extensive set of tools.
In addition to filters, stickers, effects, and various saturation settings, there are other interesting additions. For example, it will be possible to make a smooth change in the contrast of the image, cover the photo with a layer of pixels, and so on.
As for colleges, there are several dozen classic options for free use, which can combine up to 10 images. For an additional fee, more sophisticated collages with interesting shapes are offered. By the way, the editor also offers separate add-ons with filters, effects, and features.
However, the program is overloaded with paid content. Probably a more convenient option for users would be a paid version of the application with additional features.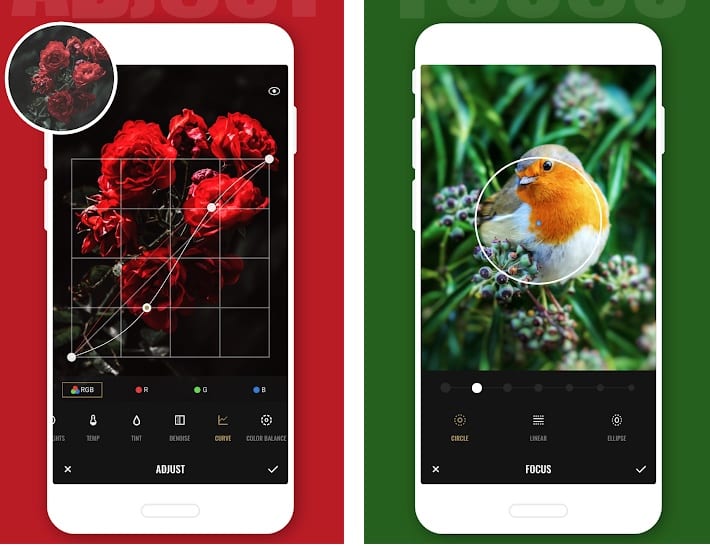 Downloads: 10000000 +
Customers rating:

(4.5 / 5)
PhotoDirector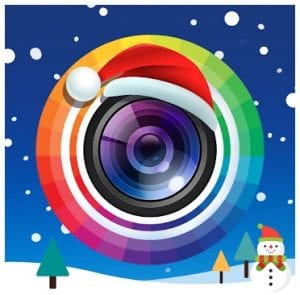 PhotoDirector is an easy-to-use photo editor. With this application, you can quickly and easily add effects and filters, edit and enhance your photos, unblur an image, and create stylish photo collages on your smartphone or tablet.
PhotoDirector gives you a large set of photo editing tools at your fingertips. You can quickly edit photos on your mobile device and share them on Facebook, Flickr, and more.
Its sharpening tool is relatively simple. You can only adjust it globally. Combine it with other tools such as Dehaze, HSL, and HDR, and you can make serious improvements to blurry pictures.
You can remove unwanted people and objects from your photos, adjust color saturation, tone correction, one-click presets, or even add HDR effects to create vibrant, beautiful photos on the go. Anyone can achieve incredible, DSLR-like results with PhotoDirector in seconds.
Efficient and easy photo editing tools:
Easy color correction and white balance correction
Quick one-touch adjustment of Brightness, Luminance, Exposure, and Contrast
Fine-tune for even more vivid photos
Smart Object Removal
Skin smoothing will enhance your portrait
Once you've achieved the result you want with PhotoDirector's tools, share it right now with your family, friends, and acquaintances on Facebook, Twitter, Flickr, or others.
Downloads: 50000000 +
Customers rating:

(4.5 / 5)
Photo Editor Pro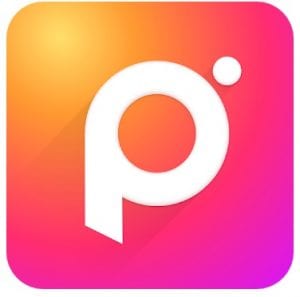 Photo Editor Pro is a cool photo editor for Android, with many features: stylish photo collage, background blur, filter effects, body correction on photos, adding backgrounds and inscriptions in different fonts.
Even if you haven't done anything like this before, this app is so clear and user-friendly that you'll be surprised how easy and fun it is!
A lot of tools for editing, photo retouching, and a drawing will help you create real artistic masterpieces from your photos.
Built-in body editor supports figure correction: lose weight, increase, decrease body parts.
You can not only create stylish collages but also engage in photo processing, using a huge set of tools and features. Choose a photo and apply dozens of effects, filters, attach stickers, smiley faces, add text, and don't forget to adjust the intensity of the selected settings. Crop, rotate, mirror the image, change/blur the background, and much more can be found in the editor.
The app has a sharpening tool for fixing blurry pictures. This works well with mildly blurry images.
Downloads: 100000000 +
Customers rating:

(4.8 / 5)
Fotogenic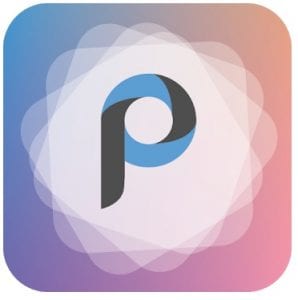 Fotogenic is an app for users who want to improve their photos in seconds, correct skin imperfections, add makeup, adjust colors, and more.
The mobile photo editor has an intuitive design and provides guides to help you understand how to use each of the features. With Fotogenic, you can crop and align photos, choose from a variety of frames, create beautiful patterns, and apply filters and effects.
In addition, the app allows you to remove skin imperfections, reshape your body, add makeup, whiten your teeth, and remove red eyes.
If you want to unblur any area of the photo, choose the Detail section. Then drag your finger over the area you want to unblur. You can zoom-in by spreading out two fingers across the screen.
You can also adjust the brush size, hardness and opacity in the settings menu at the bottom. You will work on specific areas. I really like this option. But making a global change is a bit challenging.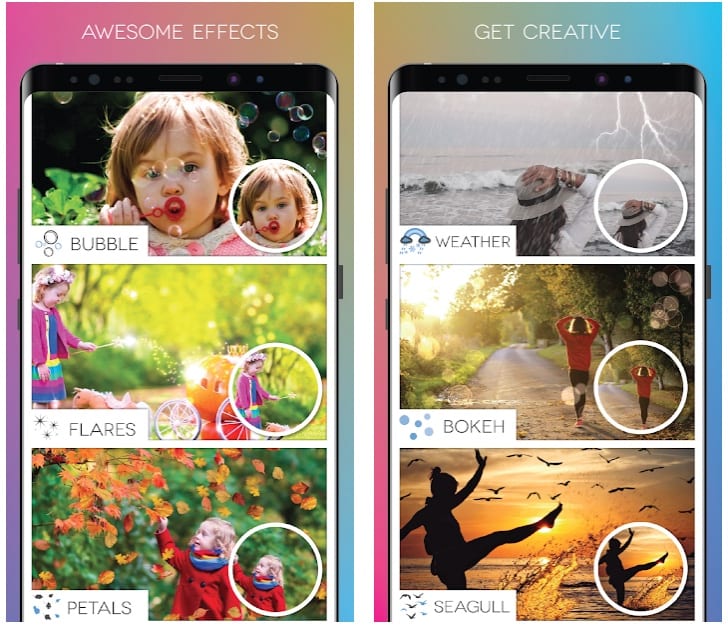 Downloads: 1000000 +
Customers rating:

(4.9 / 5)
You may also like: 11 Best Apps to Add Texts to Photos for Android
Adobe Lightroom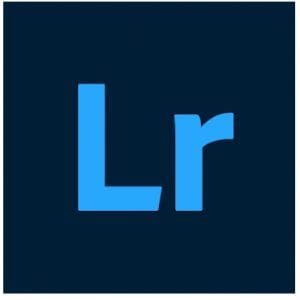 Adobe Lightroom mobile for Android is a high-quality application for photo processing, which is a mobile version of the popular in professional circles product from Adobe.
It's worth saying in advance that to work with Adobe Lightroom mobile you will need to have an Adobe ID account. The company gives 14 days of use of the program to get acquainted, and then you will need to buy a subscription. This account is common to other Adobe products, including the computer version of the program.
After selecting an image, the editor becomes available, which is extremely easy to use. There are settings for white balance, temperature, tone, contrast, as well as a set of some semblance of filters with fine-tuning and cropping for different formats.
With the application, it's easy to unblur the desired image using Adobe Lightroom's filters.
Adobe Lightroom mobile can be linked to the company's proprietary cloud service, and the progress of photo editing will be able to continue on different platforms.
Thus, the application should not be seen as just another editor for entertainment. It's more correct to say that the program is a kind of companion to a full-fledged solution for work when there is no computer at hand.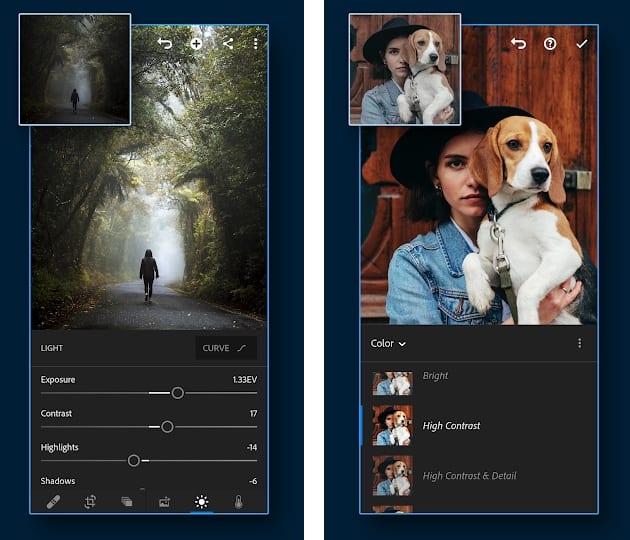 Downloads: 100000000 +
Customers rating:

(4.3 / 5)