Push-ups are a simple but incredibly effective exercise. It can be done by anyone, anywhere and anytime.
However, certain rules also exist here, which are taught by best push-up apps for Android, which we have collected for you in this review.
Push Ups Workout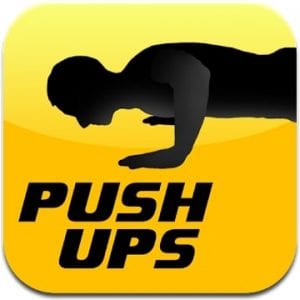 This is an application from the famous studio.
It will not only motivate you to do push-ups but also make the process much easier.
Of course, the app will not do the exercises for you.
But it can free you from having to count the number of push-ups you've done.
The proximity sensor of your phone will calculate the performed push-ups, and it will do it with very high accuracy.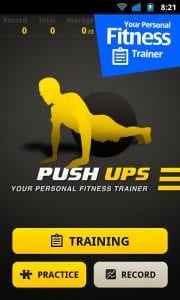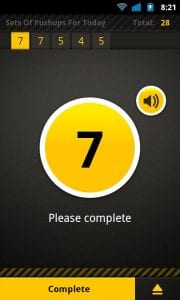 There is also a scientifically developed training program, the ability to track statistics, and more.
Downloads: 5 000 000+
Customers rating:

(4.8 / 5)

You may also like: 19 Best Crossfit apps for Android
Push Up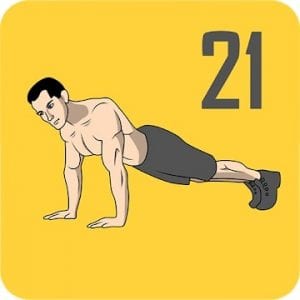 The most important thing in any training is to follow the model.
If you have already decided that you will train, you should do it all the time and do not give laziness any chance.
And in order not to forget about the necessary training, this application has a reminder function.
You can set any time that your phone reminds you that it's time to do push-ups.
There are two training modes on this app. The first is a time-based workout. You set the desired time yourself and you should do your push-ups as many times as possible during a given period.
It is not necessary to set a large amount of time at once, it is better to start with a small and gradually increase the time of your workout.
The second mode is to work out by the amount. Your time is not limited by anything, you just set the desired result, for example, 75 push-ups, and should install the given figure.
You will see how much you have already done and how much more you still have to do.
Now for the fun part: how does the application count your push-ups, do you need any extra sensors or devices? No, nothing is needed, it's very simple.
Once you start your workout, just put your phone up on the floor, right under your chest.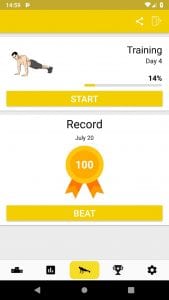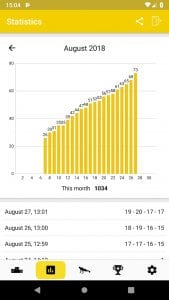 Every correct push-up will count. If you've done the right push-ups, you'll be sure to understand it, even if you don't look at the screen with the counter. Your phone will make a distinctive sound.
Downloads: 100 000+
Customers rating:

(4.6 / 5)

Push Ups Counter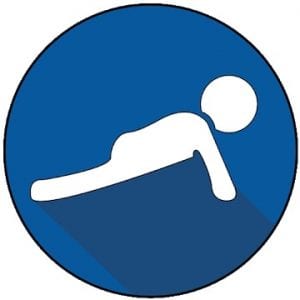 This is one of the best push-up apps that has the right name for its purpose.
The app, with its great design and well-designed interface, gives you extra motivation for push-ups.
Thanks to it, you will be able to get your physical shape in order.
This app also counts push-ups automatically, while the app also makes sure that your exercises are done correctly.
The main screen of this app is bright and concise at the same time. You set the parameter (for time or quantity), put the phone on the floor.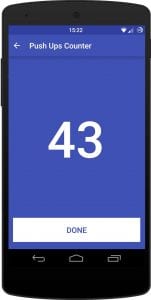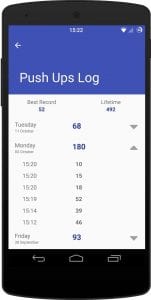 Then you press "start" and start push-ups, lowering the chest exactly until the phone display goes out. When you do what you have planned, the app will notify you with a friendly and happy whistling.
Downloads: 50 000+
Customers rating:

(4.3 / 5)

Push Ups Workout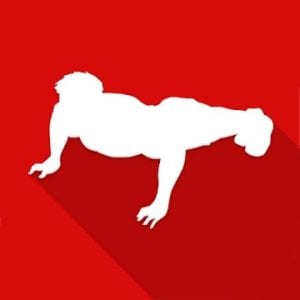 This is a simple but effective app for those who have not lifted anything heavier than a tablet or Ultrabook for a long time.
Important functions of this application:
Pressed back 35 times, rejoiced at the pleasant muscle pain, and then forgot about the existence of the application for a week.
This could well have happened if the application had not offered users to set an alarm clock at the right time.
Sometime after you start working regularly, the first results will come. First, you will easily cross the threshold 50 times, then 50 times in a minute, then 100 times in an evening, and so on.
You will want to share your high achievements with your friends. This application allows you to inform subscribers in two clicks that a new athlete is growing up at home.
You can check your own progress using the statistical tab. When, how much, for how long. This app will not only save these important data for you but will also plot a schedule so you can be inspired by it.
If you increase the number of push-ups by one every day, the steel chest muscles won't keep you waiting long.
Boring push-ups without competition is a fact. This application offers you to pass a kind of mission, getting points for it.
First, you have to fulfill the school standard, then get to the bodybuilder, then – the arrester, and lastly – Apollo.
The standards are also divided into two types: for some, the total number of push-ups is important, and for others, time.
All scores are summed up and added to the world table. You compete not only with the Olympic champion but also with other users of the application.
This is a wonderful utility for people who are tired of a sedentary lifestyle. One minute a day you can find any person. Three minutes is the same.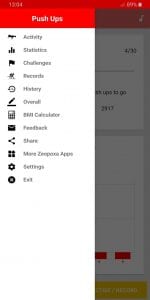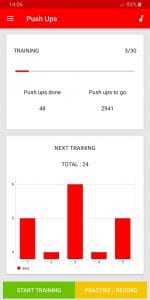 Thus, no one prevents you from turning on this application 2-3 times a day and tense your muscles, making them harder and more voluminous.
Downloads: 100 000+
Customers rating:

(4.6 / 5)

100 Push-ups workout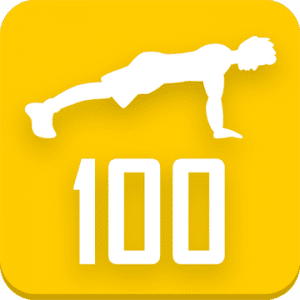 This app will take you by the hand to the opportunity to do the same 100 push-ups in one go.
The application adapts to the physical abilities of any person. No matter how many push-ups you can do in the initial step.
You can see your results in the "Statistics" section. The results will be available both as a fairly convenient table and as such an interesting graph.
This is a rather convenient way to track your results so that you can strive for even more figures and indicators in the future.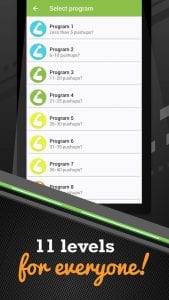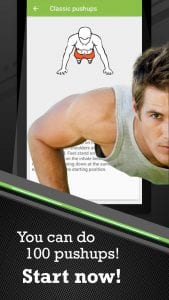 Besides, you can export your results to Facebook or Twitter.
Downloads: 1 000 000+
Customers rating:

(4.7 / 5)

Push Ups Coach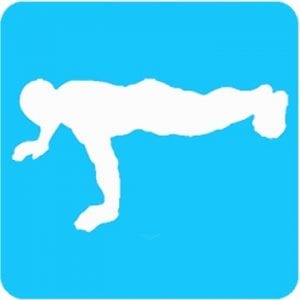 This application is designed to calculate the movements of push-ups and press exercises.
All you need to do is set a certain training mode and number of exercises. Then clip your smartphone under your chest for push-ups.
If the exercise is done correctly, your phone will signal. There is also a reminder function, graphing, and integration into social networks.
This is one of the best apps for practicing sports at home and monitoring your own performance.
But for even more interest in training, we suggest you find and learn different ways to do push-ups.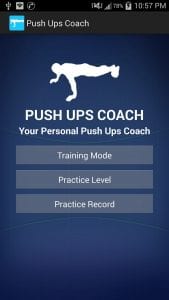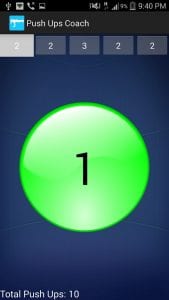 Then you can compare which push-ups and how many times you can do them. And, if you do not miss your training, the performance will not standstill.
Downloads: 5 000+
Customers rating:

(4.7 / 5)

Home Workout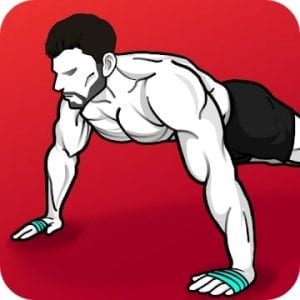 Sensor, which handles turning off the screen during a conversation, has never been so useful.
Push-ups from the floor will cover the scanner with your chest, and this application will record every movement you make.
You'll have to do the right push-ups. If you place your phone correctly, after 25-30 push-ups you will feel significant muscle pain.
This application has two modes (for time and for quantity), as well as statistics.
It will inspire you after a few days of training. There are also reminders here. In fact, it is an integrated alarm clock.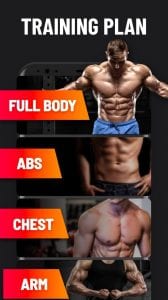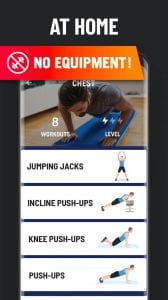 There are no minuses in this app. It allows you to focus on your breathing without being distracted by the number of push-ups.
Downloads: 100 000 000+
Customers rating:

(4.8 / 5)

Push Ups Workout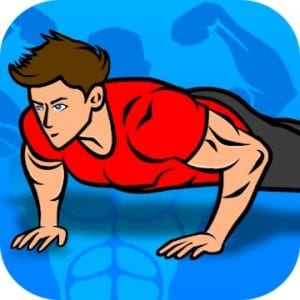 This is another app that aims to help you learn how to do 100 push-ups.
What sets this app apart from the competition is a large number of motivation icons and achievements.
There is also the ability to control music during training and free.
There are 20 effective workout plans to help you quickly increase push-ups, develop strength and endurance.
A unique algorithm will create an individual workout plan and adapt the load based on your results.
Your workout will be comfortable and effective. Training programs will be ideal for beginners as well as experienced professionals.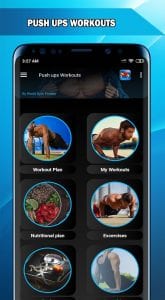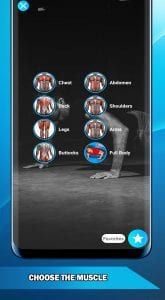 Keep track of your progress on the graphs in the statistics section.
Downloads: 5 000+
Customers rating:

(4.5 / 5)

Push Ups Challenge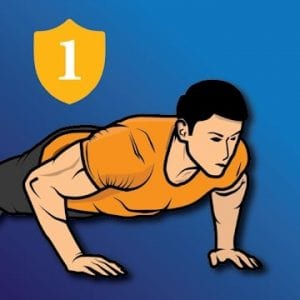 This simple application can count the number of push-ups as well as remind you of your training.
The application also includes a system of incentives to motivate you to play sports.
Perform a test before you start training. The test is to determine the largest number of push-ups you can do at a time.
Now choose a program based on the test result and start training. Press the button after each approach to trigger a rest timer.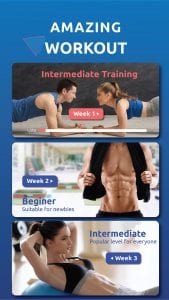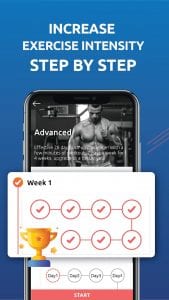 Rest the recommended time or change it according to your feelings. Observe the resting mode and proper nutrition.
Downloads: 10 000+
Customers rating:

(4.6 / 5)

Chest Workout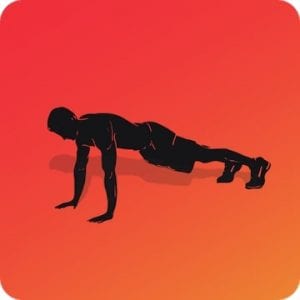 This application is a virtual personal fitness trainer for push-ups.
To pump up strong arms and chest is enough to know how to do 50-60 push-ups.
If you start training on this program, in 6-10 weeks you will be able to do 100 push-ups in a row.
It is not as hard as it seems. It is enough to do the corresponding training.
Training here is divided into 11 programs. Depending on your level of training, choose the desired program.
With this training course, you will get your body in shape in record time.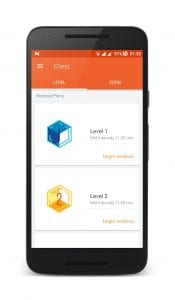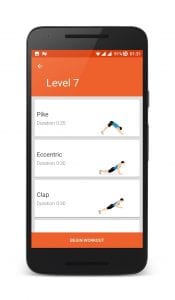 No need to go to the gym, you can exercise at home, at work, where you feel comfortable. You do not need any extra equipment.
Downloads: 50 000+
Customers rating:

(4.7 / 5)

You may also like: 21 Free Dancing Apps For Android
Pushup Perfect
Push-ups are a complex, simple, and effective exercise that allows you to use almost all muscle groups to develop strength.
It helps to develop strength and endurance, build muscles, and strengthen joints.
That is why push-ups – exercise number one to build muscles and strength.
This app will help you quickly increase the number of push-ups.
Significantly increase strength and endurance.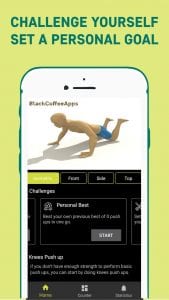 A unique algorithm based on your results will create an individual training plan. This training package will help you quickly develop strength and endurance.
Downloads: 5 000+
Customers rating:

(4.5 / 5)