Social networks, online maps, photo hostings, and other services track your coordinates and often without demand make this information available to others. But you can give them a false location. For example, to keep anonymity or just play friends. This can easily be done by changing your current location to the one you need, whether it is in your city, on a nearby street, or on another continent. We will review 7 Fun mock location apps Android.
If you are a cheerful person and you like joking around your loved ones, then check out the 17 Best sound effect apps for Android.
Fake GPS GO Location Spoofer Free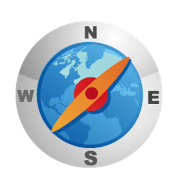 Fake GPS Location Spoofer Free is an application that will magically move you to another city or even to another country. Of course, not for real but only with the help of your Android device. Let your friends think that you are an avid traveler!
Social networks and some games sometimes ask permission to collect data about your current location. You can also mark yourself on the map when you go on a trip. But is it possible to deceive the built-in GPS without having to buy an expensive ticket? There is one good way, a clever mobile program Fake GPS Location on Android will avoid unnecessary waste and arrange an excellent prank for friends. Today you are in Paris, and tomorrow in Tokyo! In the meantime, we can only change the location on the GPS sensors, which is also a good achievement.
Possible reasons for using the application and its features:
Moving from city to city, from country to country, while remaining in place.
Deceive all services that use your location.
An interesting joke, a prank for friends.
Change GPS for more efficient Pokemon catching in Pokemon GO game.
Geotagging on photos.
Choosing a location for your taste and desire.
Simple use without special additional training.
Running with just one click.
For the correct operation of the mobile program, it is necessary to perform several simple actions in the settings of your device. To begin, turn off the advanced GPS accuracy feature. To do this, go to the location settings and check the box "only GPS" or "device only", the names can be different. Also, before downloading Fake GPS Location, you need to look into the parameters for the developers and allow there the use of bogus locations. Do not forget that the tool will need access to the Internet, turn it on. That's all, no more manipulations, now you can safely use the application for your own purposes and enjoy the quick and high-quality change of your location.
Downloads: +10000000
Customers rating: (3.9 / 5)

Fake GPS location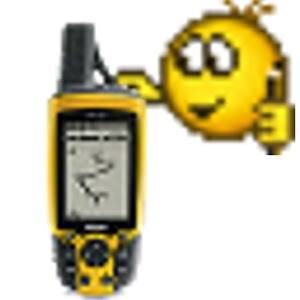 Fake GPS location – as it is clear from the name of the tool, it is destined to specify fictitious GPS coordinates of Android smartphone, tablet or even an emulator from the Android SDK. By disabling the GPS module, you can transfer any coordinates using all navigation utilities. To do this, you may define a point on the map or enter the exact coordinates. It is possible to search for one or another address, as well as maintain a list of Selected coordinates. In addition, the utility remembers the previously used coordinates.
Before using this application, you must disable the option "Determine the location over wireless networks" in the settings of your device. Remember that Fake GPS location should be started before running any application that uses GPS.
The application is certainly useful for Android developers and testers. Also, the application can be used to deceive programs that require GPS on devices that do not have a built-in GPS receiver.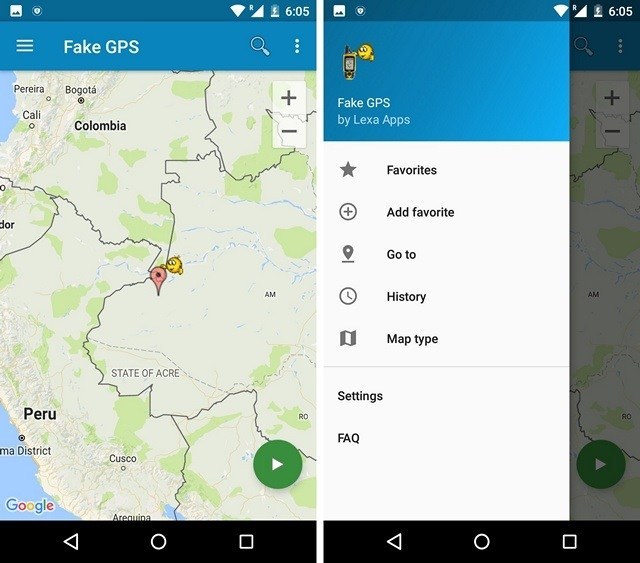 Downloads: +10000000
Customers rating: (4.3 / 5)

Hola Fake GPS location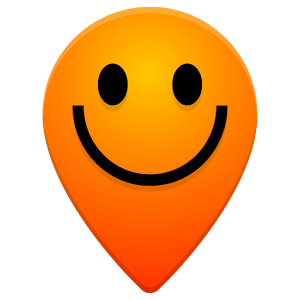 You can disguise your real geo position using the Hola Fake GPS location application. After the first run, you'll have to spend a few minutes to make the necessary settings. But in the future, you can almost instantly change the coordinates in a simple and convenient interface. When you make the settings, the application will be ready for use. To change the coordinates for all other programs with it, it is enough to select a false location on the map and press the GO button. You can choose any location around the world. To disable the coordinate submenu, press STOP.
A false location transfer works in the background. By turning on Hola Fake GPS location, you can usually share coordinates in social networks and take new pictures in other programs. But now other users will see not your actual location and not the places in which you took the photo but the selected coordinates.
Hola Fake GPS location can also be controlled using a special widget that appears after the program is installed on the notification panel. If you decide to use a false geo position to unlock services that are not working in your country, know: you probably will not get anything done. For this purpose, VPN-services are suitable. After turning off Hola, other applications can still see fictitious coordinates. In such cases, simply restart the GPS module.
Hola Fake GPS location is available for a paid subscription or completely free. But in the second case, the program will use the computing power of your device during its idle time and a bit of traffic.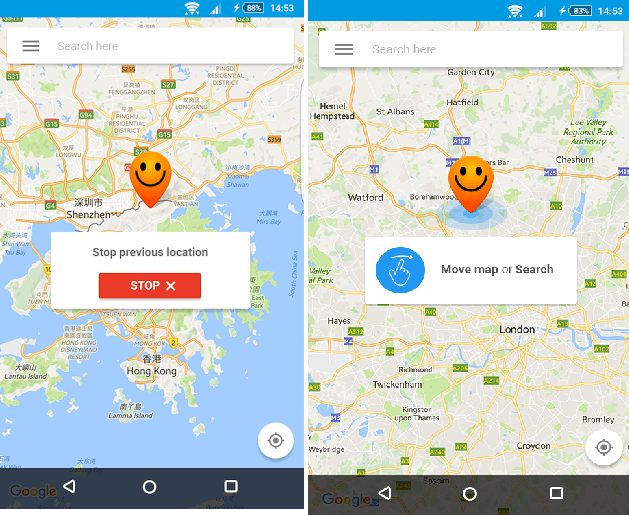 Downloads: +1000000
Customers rating: (4.3 / 5)

Mock Locations (fake GPS path)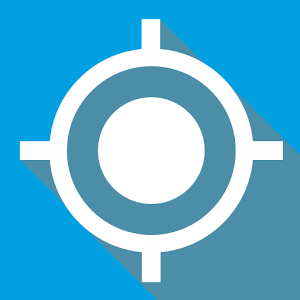 Mock Locations (fake GPS path) – something really new. In an era when everyone is trying to fight for their information security and independence, this application, which makes it possible to become "invisible" – is valuable.
After downloading and installing the program, it takes time to understand the features of the work, however, thanks to a thorough description from the developer and an intuitive interface, the task is facilitated. So, the application is launched, and its purpose is to simulate the fact that the user is located in a completely different place than in reality.
It is possible to construct artificial routes by points. After choosing the necessary road, it is possible to give a pseudo-travel a real look. What is the speed range? Where do you need to slow down, and where to go faster? Maybe it's time to "stop at the gas station"? All these parameters are easily customized to give your "trip" the most realistic look.
Technical performance is at a good level, given a rather unusual idea. The application can safely work in the background, and all the remaining programs on the smartphone will perceive the artificial route as real. It is also possible to completely hide the fact that something like this is generally running on the device.
Summarizing, it is worth saying that Mock Locations (fake GPS path) – a real find for people who do not want constant surveillance. A separate category of people who will admire the idea – are the players in Pokemon GO. Catch Pokemon without leaving home – what could be better?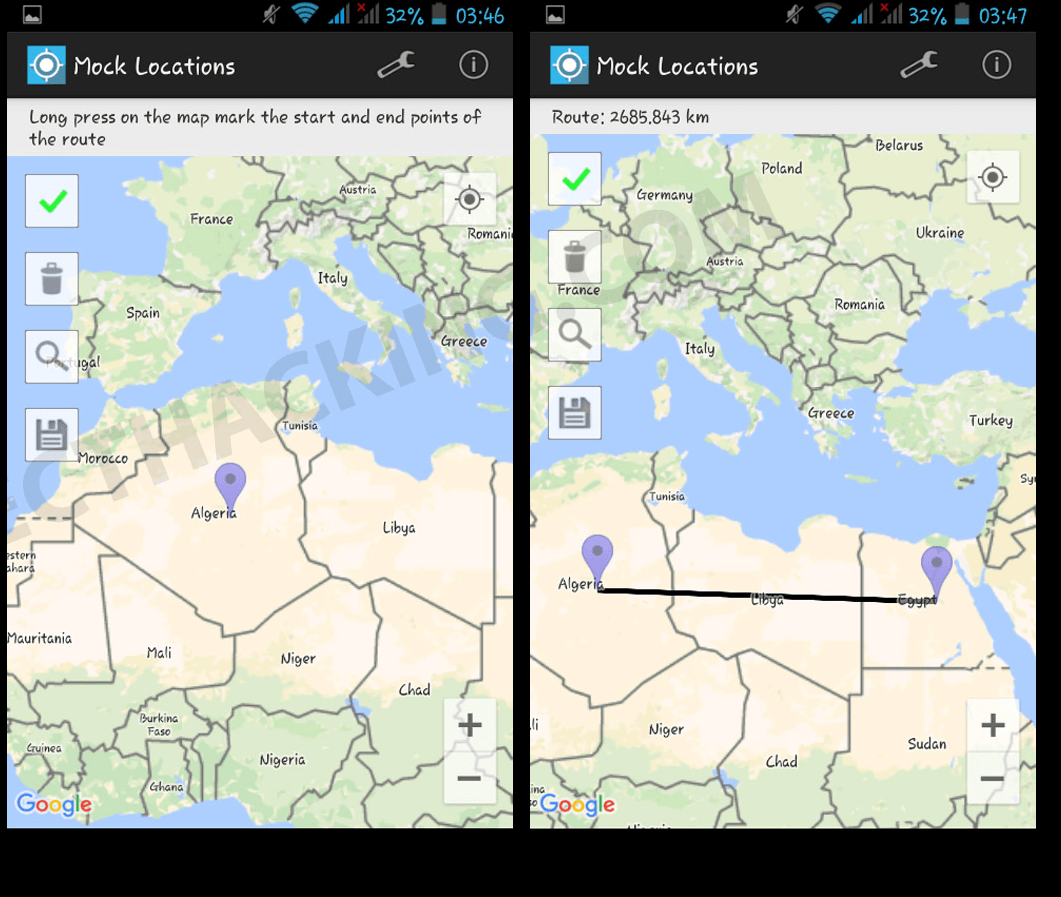 Downloads: +1000000
Customers rating: (3.8 / 5)

Fake Location (Mock GPS)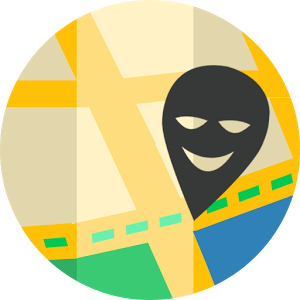 Fake Location (Mock GPS) – an excellent utility for setting false coordinates on the Android smartphone or tablet. If you want to virtually move yourself to another place – now you will have such an interesting feature. The program is simple in terms of functionality and management – everything is extremely simple and understandable. The interface is pleasant and comfortable. Developers constantly improve the efficiency of this utility, so there are constant updates.
The application described allows you to specify certain GPS coordinates on phones, without using the definition of your location. These very coordinates will be transferred to all other applications that require GPS navigation. This allows you to extend the battery life of your smartphone, as well as to start better navigating in space to you personally. In this development, you can specify a specific point by selecting it on the map yourself, using a pressing, or to specify certain coordinates.
Features of Fake Location (Mock GPS) for Android:
fast change of coordinates;
does not require a lot of battery power;
easy to work with.
This application will be useful, first of all, for the creators of games and those who are engaged in their testing. Ordinary people can use all this to deceive games that require navigation with a constant connection to the Internet. In order to use this product correctly, you must disable the Wireless Location Detection feature in your phone's settings. After that, run this application and use any other that requires a GPS connection. Hurry up to download Fake GPS location on Android phone and tablet for free.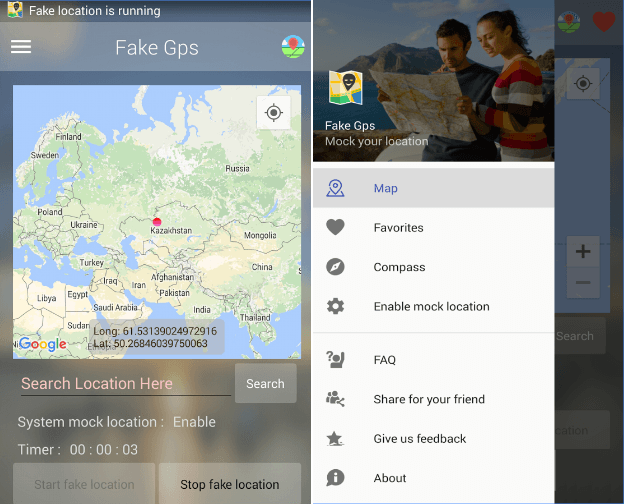 Downloads: +500000
Customers rating: (4.1 / 5)

Floater Fake Location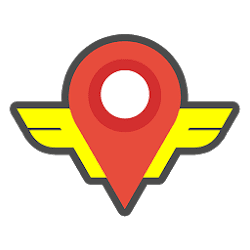 Floater Fake Location is an application that affords you to "deceive" the GPS of your Android mobile device so that it thinks you are somewhere else – at the location you chose. It does not matter where you are: in Spain, Mexico, the USA or Canada – you may make sure that your gadget's GPS thinks you are in the heart of the Sahara desert.
One of the advantages of Floater Fake Location is the interface. It generally consists of a small floating window, with which you can quickly and conveniently modify your position. Just swipe your finger across the screen to alter your placement. You can conserve certain places to your favored directory in order to access them in the future.
In the settings preferences, you may alter the dimension of the floating window, do it more or less at will. It's crucial to remember that although you can use WeChat, Ingres, and Pokemon Go with this application, no one guarantees the results. Why? Because many of these applications are capable of detecting a dirty trick.
Floater Fake Location is a very intriguing application, the difference of which is its ease of use. It also includes training materials in which steps describe how to properly employ this tool.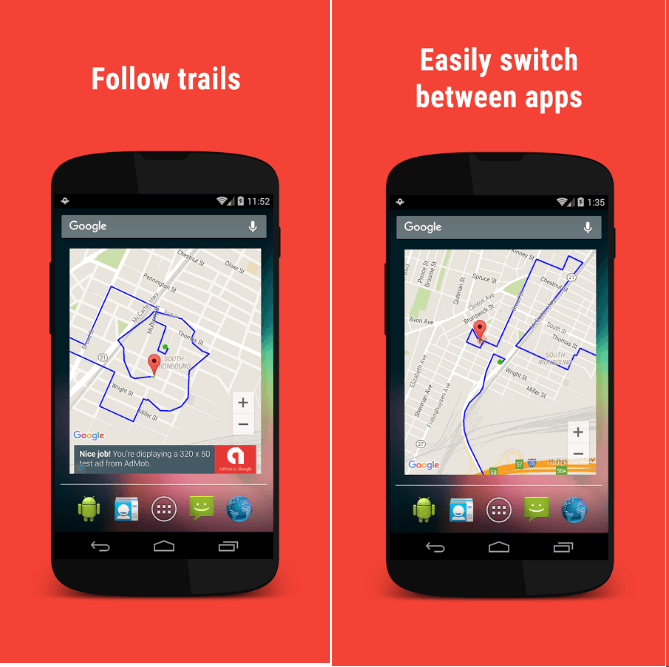 Downloads: +100000
Customers rating: (3.4 / 5)

You may also like: 11 Best fake broken screen apps for Android
Fake GPS Location – GPS JoyStick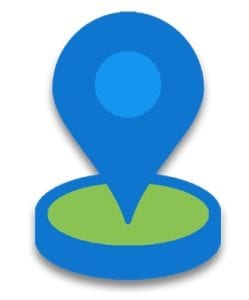 Fake GPS Location – GPS JoyStick allows users to redefine their current location so they can bypass the requirements of any other application by setting the location you want. You can select any city in the world. The best part is that you can change your position by moving a simple joystick.
To use Fake GPS Location – GPS JoyStick, like any other app, first you need to activate the 'fake locations' feature in the control panel of your Android device. After this simple action, you can manually assign your location on the map. You can use the joystick to navigate the world map or, if you want, enter your exact location.
One of the most interesting features of Fake GPS Location, the GPS JoyStick, is that you can even create dummy routes on the map to make it look like you're walking or running at a set distance. This feature can be particularly useful in some games where you need to walk to complete a task.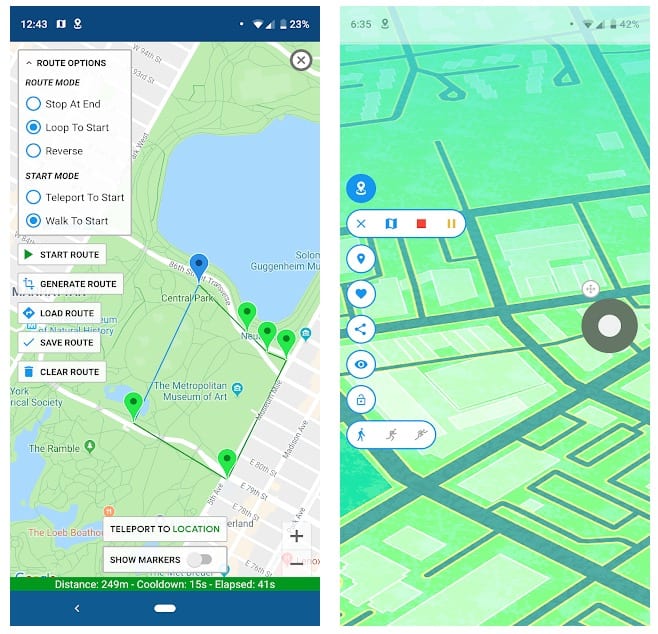 Downloads: +50000
Customers rating: (4.3 / 5)

With these applications, you can travel to any place around the world without any problems, as it creates a false location for your phone that you can use in any application that can request your location. It is also ideal when you want to make fun of your friends, boasting that at the moment you are somewhere in Paris and Milan…