We are all afraid of making a mistake and appreciate it when something warns us against that. So let's take a look at Scalar, the most advanced scientific calculator that also serves as a scriptwriter.
You can also check the apps that will help you to study math at home. 
Simple and engineering calculations, functions, graphics, and programming will not be difficult with it.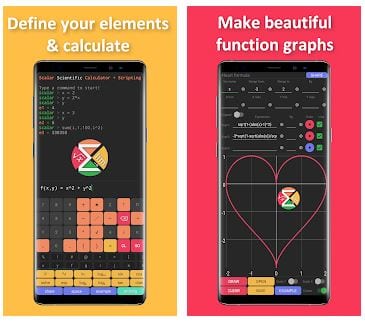 The scalar will help you execute:
Radical, power calculations, calculations of elementary functions
Trigonometric functions, algebraic calculations
Logic functions and user-defined functions including randomization
Your own script
All implemented mathematical elements exceed several hundred. You can also view examples of functions and calculations. And for dessert – interactive charts of functions.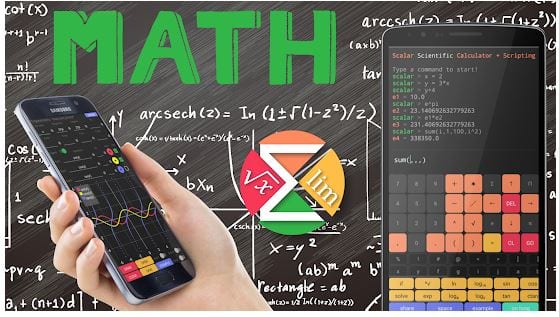 But in addition to such a rich functionality, the Scalar also has a chic design. All the screen space is used with maximum efficiency. Each type of button is color-coded, bright enough to be different and pleasing to the eye.
The upper part of the screen is reserved for the script, calculations, and results, while the lower half is a keyboard with several types of buttons. Rotate the device if it is more convenient for you. The script field will be on the left half and the keyboard will be on the right.
Under the sections of numbers and the most common functions, there is a two-row strip of alphabetic variables and symbolic designations. Scroll it to see everything. Even below we see a yellow, two-row too, the strip of logical functions. Scrolling is also welcome. Below is another row of function buttons.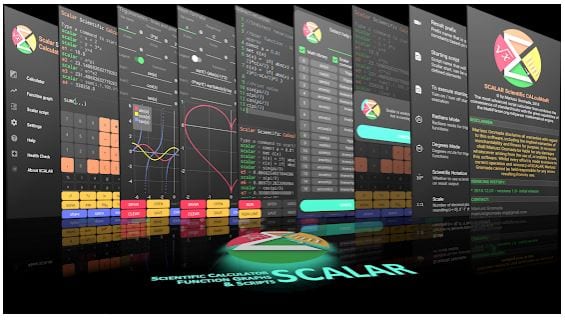 Speaking of scrolling, don't forget to do this when you get the calculation result if it's long enough. Different types of entries in the script field are also decorated in different colors, which makes it easier to visualize.
Move the settings call button anywhere on the screen where it will not interfere with you. You can even place it over the keyboard. The scalar presents its interface in ten languages, and the choice does not depend on the device system language.
All people who like math probably also like the Sudoku game. If you want to play cool Sudoku apps on your phone, you should explore this article.
Attention! Having tried the Scalar, you will not want to change it for anything else.