Are you staring at the stars, dreaming of dashing in the space shuttle while dodging asteroids? Then "2 minutes in space" is the game right for you. The application does not require registration, just download it, and play.
Apart from this game, we can also reccomend you another interesting games for your Android – games like Diablo. 
On the home screen, you can choose your settings or jump straight into thrilling flights.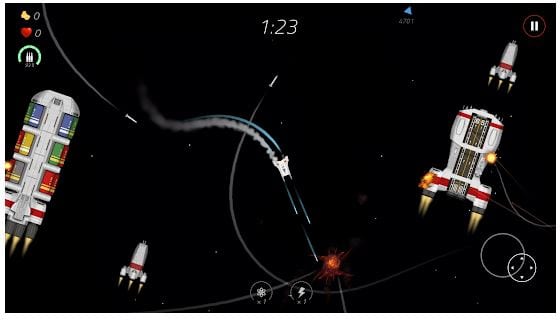 So, you are flying through outer space, dodging rockets that are trying to kill you. It's not that easy since the missiles are self-guided. But with a little practice, you master it. Red flags around the perimeter of the screen hint where the next attacker will arrive.
If you are injured, you fly to the repair station, and the missiles continue to interfere with you. Also, don't crash into planets and asteroids. Avoid nebulae as they will reduce your speed.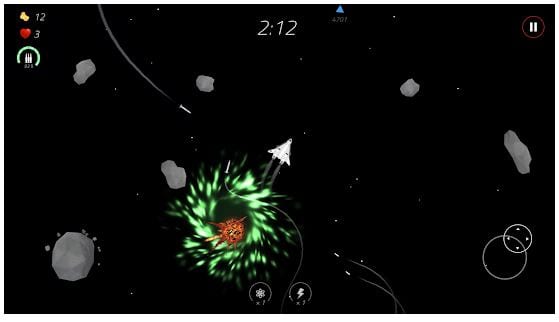 For successful flights, you earn gold. Spend it on power-ups, new spaceships, and the ability to fly in different space zones. The Asteroid Field, the Orion constellation, and the Gravitation zone are waiting for your exploring. Another way to earn a lot of gold at once is to fly to where it hangs in space. Small blue marks will hint at the direction.
You can fix the vertical or horizontal orientation of the screen. Or you can change it by turning your smartphone while playing.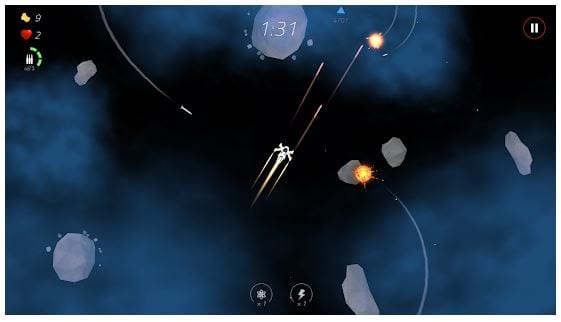 We spend too much time looking at smartphones and spoil our eyes. But this game has a black screen background, and the eyes do not get tired of playing it for a very long time. On the contrary, the eyes rest after a long time of working at a computer or the like.
The game is very simple and straightforward, it is fun for children and not boring at all for adults. The developer is very responsive to user questions.
This game doens't require WiFI when playing. If you want to find more games that can work without internet signal check out this article. 
Spend 2 minutes in space and your everyday routine will shine like a bright star.