In childhood, many of us dreamed of a radio that would allow us to communicate with friends all the time. Developers of Android applications have been also inspired by the idea of a walkie-talkie and created an application that allows you to be closer to your friends. In this article we will tell you about the best CB radio apps for Android devices:
CB Radio Chat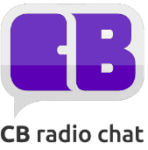 This is a program that will turn your smartphone on Android OS into an Internet radio for communication with interest groups, and just to communicate with your friends who have this program installed on the smartphone.
The interface and virtual control buttons are very similar to the buttons on the radio stations – you can choose the channel number and the "frequency standard of different countries". This is the way the choice of the country and the language you would like to communicate is available. There are about 50 different countries and languages available.
In each country, there are a few dozen channels for communication. When selecting the list of countries and channels, the number of users who are currently online and on which channel they are available for communication is displayed. You can join them, or choose a free channel, letting the number of your friends know that you can communicate with them on the radio.
All in all, this is an amusing program that allows you to turn a phone running Android 1.6 and higher into a kind of walkie-talkie. That is, everything, as in a normal walkie-talkie, but you can communicate only with people who use this application on their phone.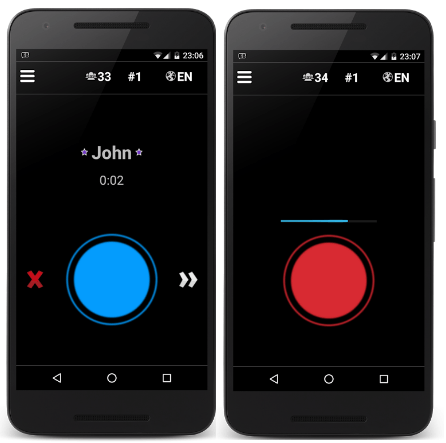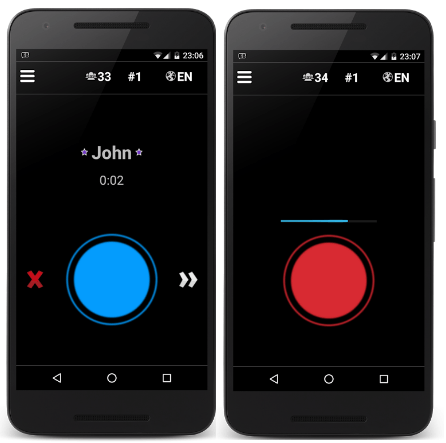 Downloads: 1000000 +
Customers rating:

(4 / 5)
You may also like: 21 Best SMS apps for Android
CB TALK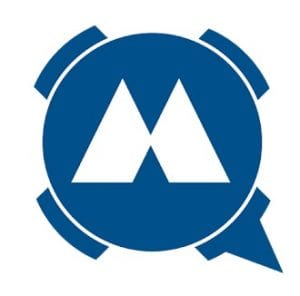 CB TALK is available for free on the Play Store. It is another tool that can be used as a voice communicator your CB.
The interface of the app is quite simple so even an unskilled user will understand how it works. With CB TALK you can select users who speak your native language without distance restrictions by localizing their position on the map.
In general, the application is good in terms of lightness. There is no advertising as on similar applications. The pleasure and benefit of using will be unlimited.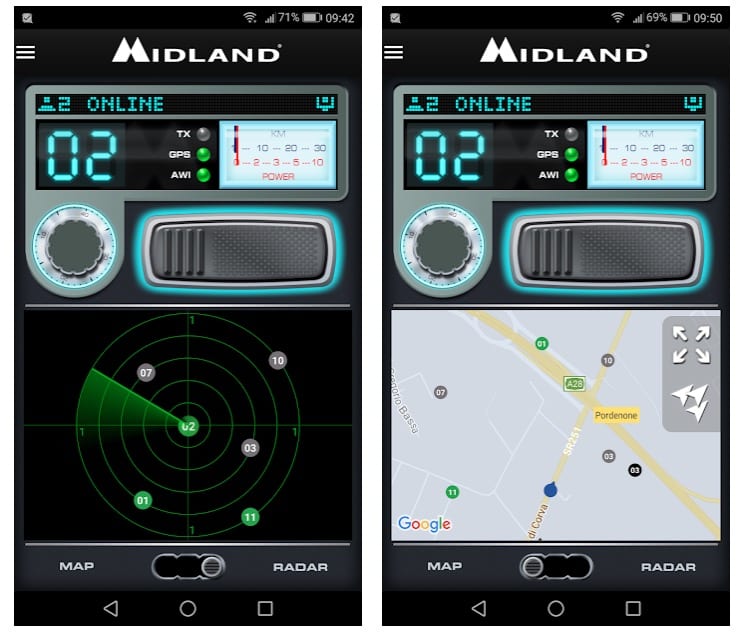 Downloads: 500000 +
Customers rating:

(3.8 / 5)
Two Way: Walkie Talkie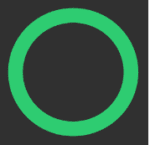 Two Way application is a kind of communicator which allows you to talk with friends, co-workers, and relatives instantly. You will not be asked to register here and no personal info is needed. However, the registration will take only a few minutes, and the pleasure of the use will be unlimited. The program is designed for different operating systems.
The Two Way app is similar to a standard walkie-talkie in many ways. You can select the channel number or location using a map and talk to anyone on the same channel. It can work in the background with minimal battery usage.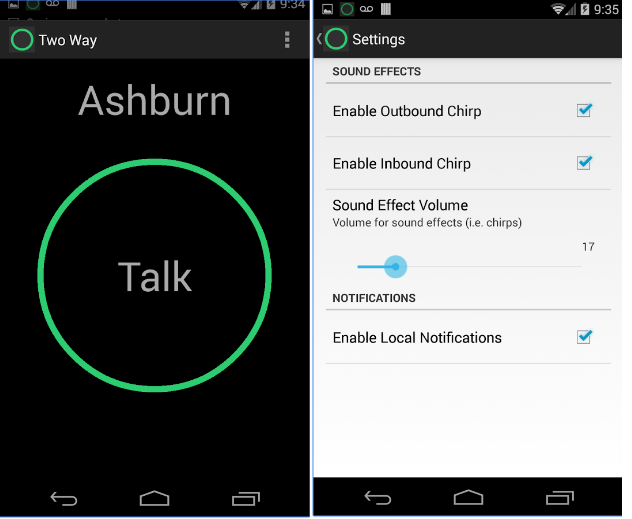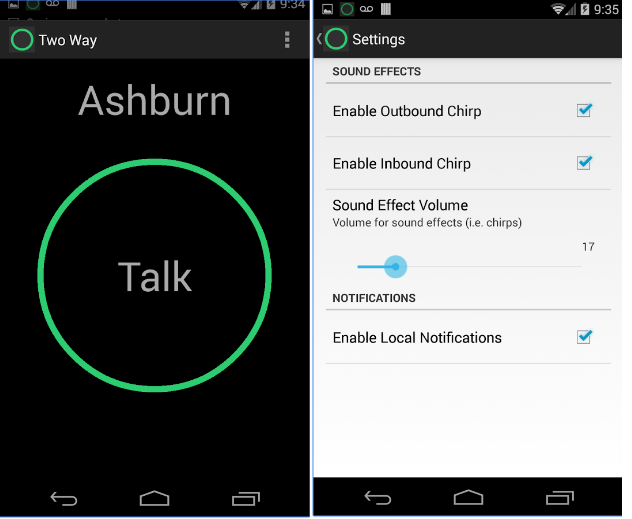 Downloads: 1000000 +
Customers rating:

(4 / 5)
Online Walkie Talkie Pro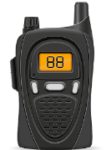 The Online Walkie Talkie Pro can be also be considered as a real walkie talkie. You are allowed to select one of the 50 public channels and talk on that channel with all other people who are using the same app set to the same channel.
Perhaps, it is one of the most famous programs that turn your smartphone connected to the Internet into a walkie-talkie. Due to the fact that you are connected to the global Internet, the geography of your communication has no boundaries – the program is widely used around the world. You can always be in touch with almost the whole world, no matter what you have now – a smartphone or walkie-talkie.
There is no registration required. Just download the app and start using it immediately!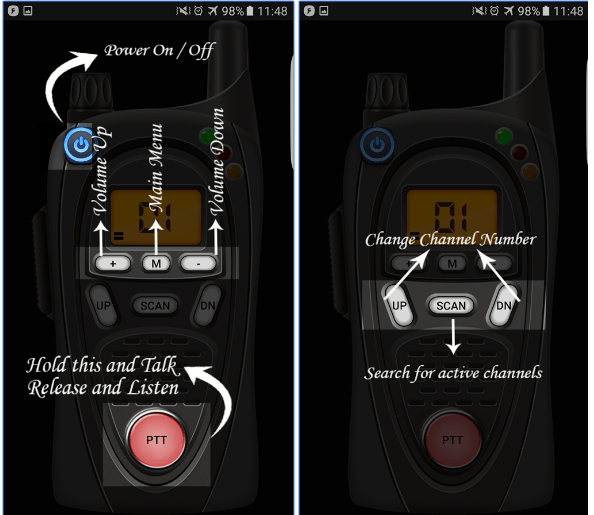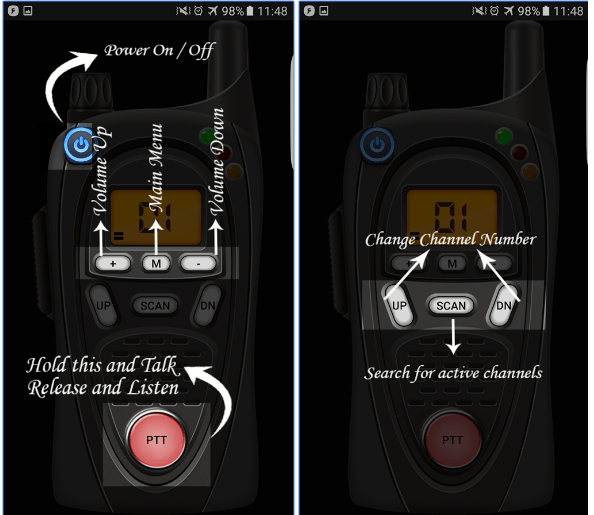 Downloads: 1000000 +
Customers rating:

(3.9 / 5)
TiKL Touch Talk Walkie Talkie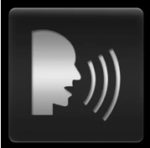 We present you the popular application for communicating with friends called TiKL Touch Talk Walkie Talkie. This is a very convenient and useful application, downloading which, users will be able to communicate with each other, and completely free. That is, you do not have to spend money on SMS or MMS, using this software will not cost you a penny.
TiKL Touch Talk The Walkie Talkie has many positive features, including a convenient and intuitive interface.
Through the TiKL Touch Talk Walkie Talkie, people can communicate with each other without creating new contacts – all numbers can be taken directly from the phone book. Among the functional features of the product, we can also c highlight such an interesting opportunity as the creation of group chats. About 40 people can take part in it. You only need to invite them to the group, after which you can start chatting with your friends.
Another important advantage of TiKL Touch Talk Walkie Talkie is its enhanced integration with social networks, in particular, Facebook. You can send text messages to your relatives and colleagues from the list of friends, you do not even need to go to the browser. Naturally, their answer will also come to your phone, text delivery is instantaneous.
In general, the program will surely please everyone. It boasts useful features, as well as a convenient and intuitive interface.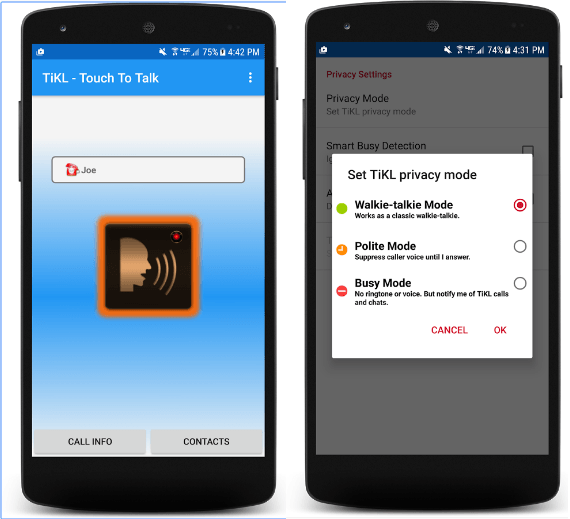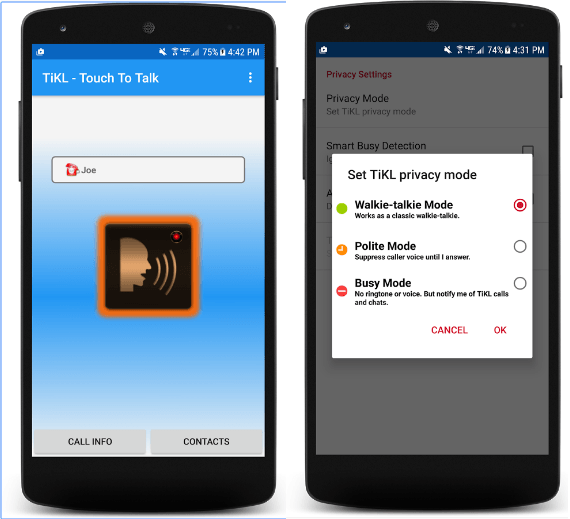 Downloads: 10000000 +
Customers rating:

(4.3 / 5)

Voxer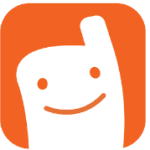 According to statistics, the messenger has more than 10 million users. The application allows you to send text messages, audio and video files. The main feature of the application is Walkie Talkie. This function actually makes your smartphone a walkie-talkie. It works on the system push-to-talk. Push the button and talk.
Overview of the Voxer messenger 
● Voxer allows you to create personal and group chats. And thanks to Walkie Talkie, users can not only send text messages but also communicate in voice.
● The application uses push notifications, you can activate them in the settings or turn them off.
● The application has quick access to the camera and can instantly transfer photos.
● There is no advertising in the app.
● Communication mainly occurs by exchanging recorded voice messages and photos, less – by text messages.
● Messages are not encrypted and stored on the server.
● Each user has his own profile, which can be customized: avatars, statuses, personal data.
● The messenger can use the geolocation and transfer the user's location.
● There is a function of inviting friends into an instant messenger.
In the extended version of the application, you can create chats for 500 people. Also, it has a portable walkie-talkie mode, in which the user does not need to be in the application. You can select the channels you want to listen to and in which you want to talk and exit the messenger. In addition, there is a widget on the smartphone screen, allowing you to send voice and text messages without accessing the application.
The application works quite stable. Voxer does not allow you to revoke or edit messages. Also, there is no possibility of their deleting.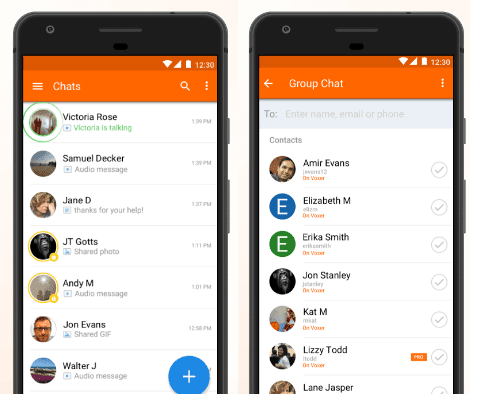 Downloads: 10000000 +
Customers rating:

(4.3 / 5)
You may also like: 12 Best call blocker apps for Android
Zello PTT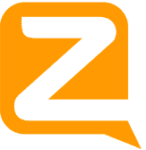 If you tired of the usual communication on the mobile network or skype then you can turn your device into a real CB radio with this app.
The Zello PTT Walkie Talkie application supports thousands of open and private channels for communication, each of which can simultaneously connect up to 2500 people.
You can join the conversation in one of the open channels, or create your own: create a name, add a password and invite your friends. The application displays the entire list of channel members, as well as information about your other contacts. Messages are transmitted in real time with high-quality voice and then stored in the history of the application. This Android-radio supports a different Bluetooth headset and also connects to other applications via a WiFi network and 2G, 3G, 4G Internet.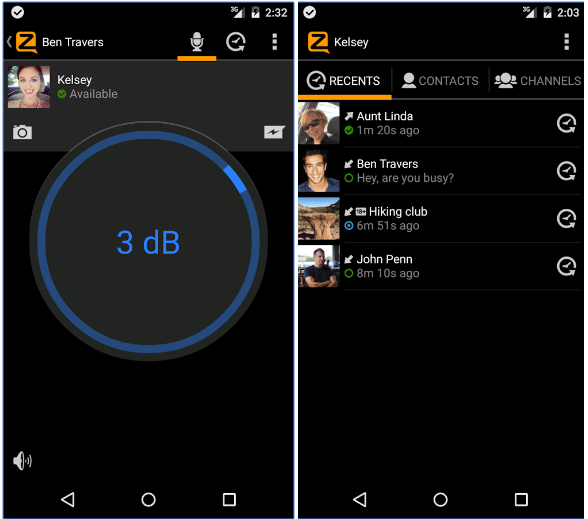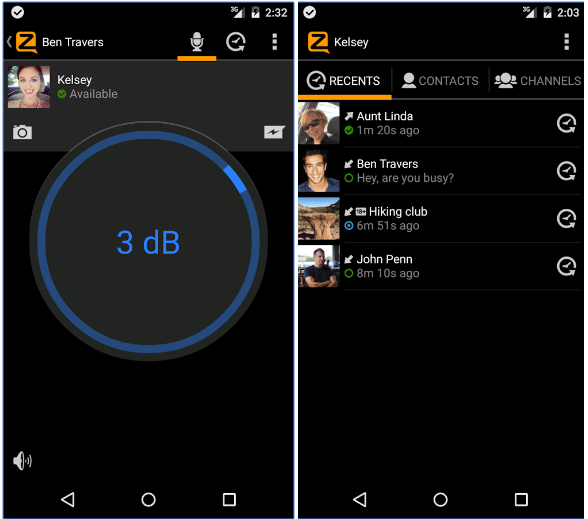 Downloads: 50000000 +
Customers rating:

(4.4 / 5)