In the article down below we are happy to introduce to you the article about the best truck simulator games for your device.The list starts with the most popular and loved variations.
And if you like everything that deals with truck and construction works, we recommend you check out this article.
Truck Simulator: Ultimate
One of the newest apps that can allow users to entertain themselves. The developer has experience in creating similar programs that also hold a great reputation.

The design is realistic, even though two functions were combined: Simulation availability and Tycoon.
During the playing process, users will get a chance to create and expand their businesses. To achieve higher levels in the game, they will have to earn money and hire employees.

Players are allowed to choose the country they wish to play in. Each of the clients can choose to participate in races or transportation of goods.
The app is available for installment on any Android device with a version of 7.0 or higher. Even though the interface is thought through well, the game may not be suitable for some due to large amounts of advertisements.

The absence of lengthy maps is compensated with a rich functional and many settings to choose from.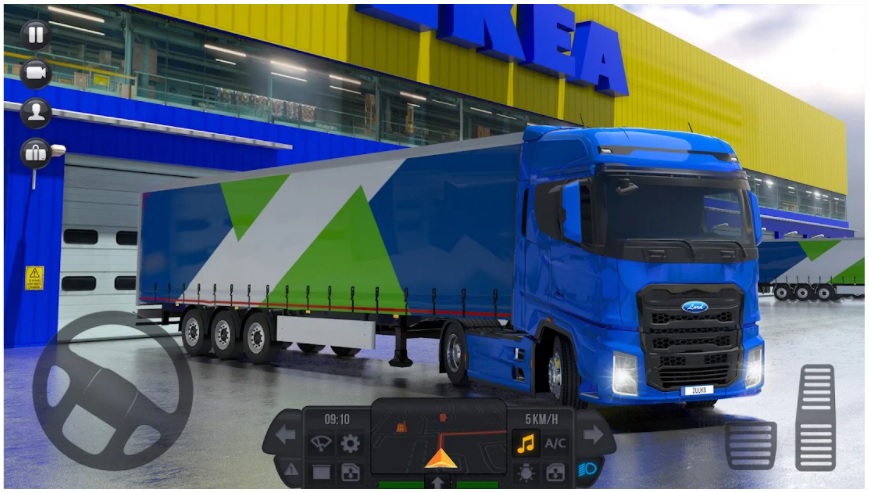 Downloads: 10000000 +

Customers rating:

(4.4 / 5)

You may also like: 11 Best survival games for Android
Grand Truck Simulator 2
This app is still undergoing development services, however already managed to gain a large fan base. It is an improved version of the first game of the saga that carries the same name, however now also available on mobile phones.
In this game, the player aims to take proper care of their auto park. New updates have been created and now the driving process is even more realistic.

Users have to deal with refueling their trucks to keep them working and purchasing extra ones when the elderly break down as a result of long utilization.
The functionality has been expanded more. Everyone can check the tire conditions and other indicators that are required for smoother running processes in real life. New maps have also been added to the range.
Some users talk about large amounts of lagging in the gaming process, however, this is more of an individual factor.

The app could be improved if some extra truck models were added to widen the choice of available variations, considering that the ones presented are quite similar and lack diversity.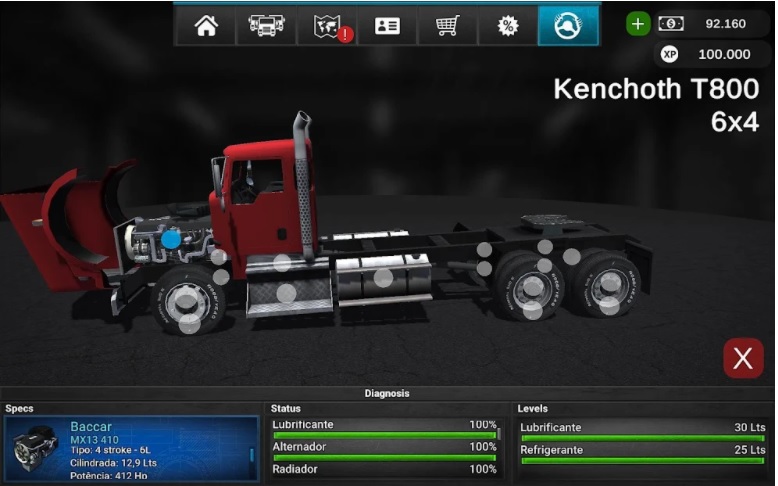 Downloads: 10000000 +

Customers rating:

(4.2 / 5)

Euro Truck Driver
The only truck models available in this game are European. Nevertheless, every one of them has a large number of settings and modifications possible.

During the playing process, one will be able to experience and visit popular locations of Europe, including capital cities that many people dream of.
It is easy to earn gaming money in this app if the user turns on the career mode. The income can be spent on buying new truck models and improving the quality of previous ones.
This is one of the apps that has a multiplayer option, so everyone can invite their friends over and race to find out who has the best abilities. When a player earns enough money, they can customize their trucks to make their design unique.
All graphics and town layouts are realistic, there is a weather-changing option to optimize users' experience. Although the game received a lot of positive feedback, however, on some devices, it takes up a large amount of data, so the phone or tablet heats up quickly.

The roads are also similar, and there is a lack of design differences.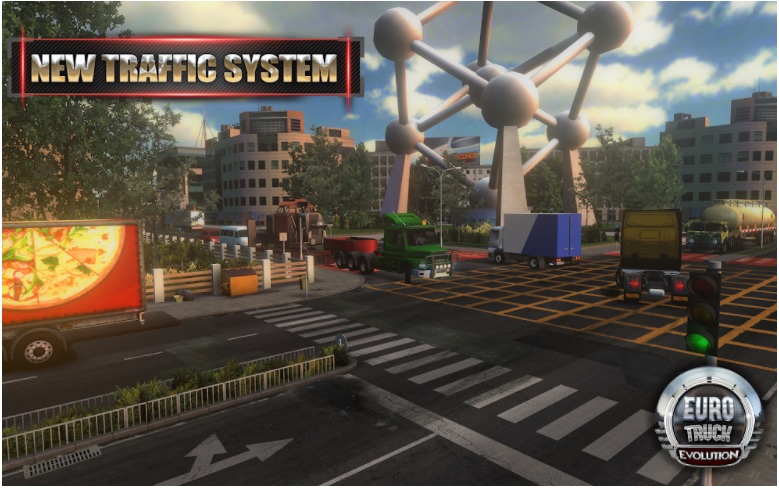 Downloads: 50000000 +

Customers rating:

(4 / 5)

Cargo Transport Simulator
While playing this game, users find themselves taking care of their own company. Weather changes and a time for both day and night have been added to the app to make it seem more realistic.
At the beginning of the process, each player is given a basic machine, with which they have to complete certain tasks and receive their first income.
Then, after they have earned a big enough amount of money, they can visit the shop and buy new versions. With these, they can deal with deliveries quicker, and so improve their company's services and gain a fuller customer base.

Each of the cars has details in the interior design, as well as the exterior interface.
As the levels upgrade, more vehicles become available with bettered qualities. Because the game is relatively new, it lacks function variety.
The options available are quite basic, even though well worked on. There are still lags to get rid of, and features to add. For example, there is no variety in seasons, so it is always summertime.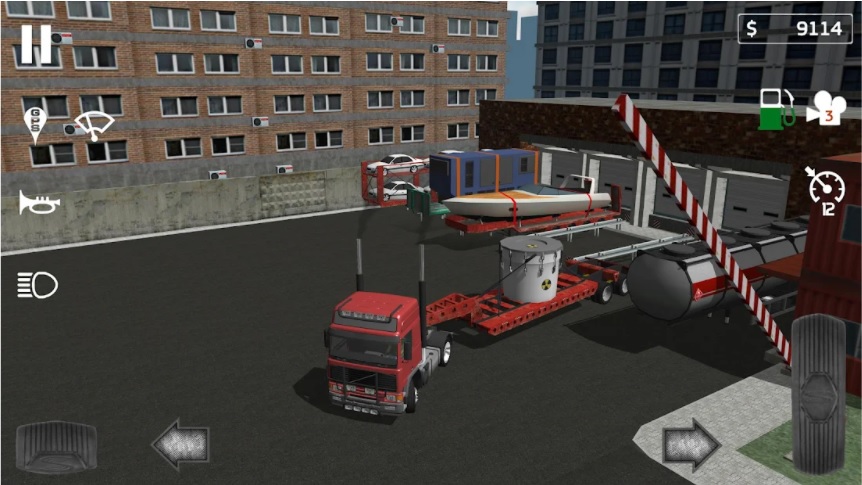 Downloads: 10000000 +

Customers rating:

(4.3 / 5)

Trash Truck Simulator
This game is more specific, as each player has to learn to drive a trash truck. Users earn money by delivering and transporting rubbish to processors. The task is to burn the required materials. This gives a chance to earn money.

In this app, players will not only have the chance to customize the color of their vehicles but add special accessories too.
Each of the rubbish trucks has a collection of loaders of different types, there is an option to choose a front, side, or rear one. Unlike some other programs, day, and night switch here, including changes to the weather conditions.

Each user can choose their preferred gearbox: automatic or manual.
One of the main disturbances that players face is a large number of lags that appear after a while of running the game. Occasionally the app may throw people out by itself.

As well as that, it is not comfortable for some due to the lack of control over the garbage utilization options and inability to collect rubbish by themselves.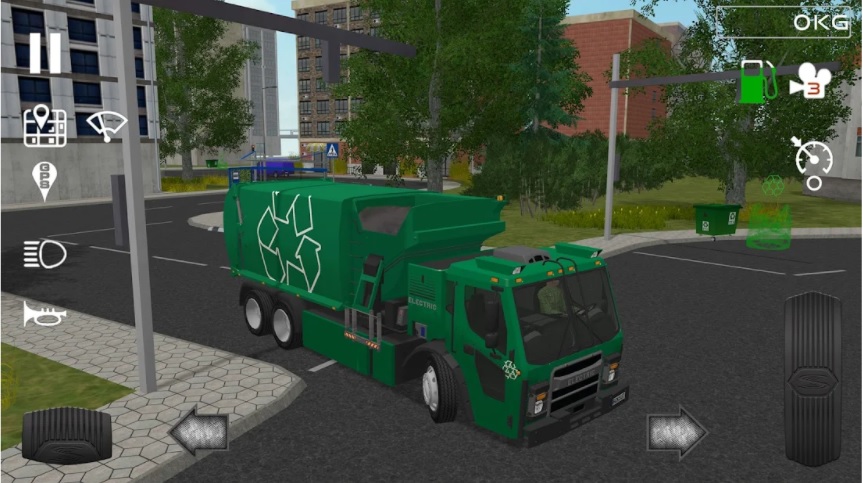 Downloads: 10000000 +

Customers rating:

(4.2 / 5)

Track Simulator USA – Evolution
Players get a chance to drive a proper truck with eighteen wheels in this game. They can travel to any location that exists in North America and discover new favorite spots. The products eligible for transportation include other vehicles and cars, fuel for the transport, and different edible products.
One cannot invite friends over, however, they can always connect to the online server and play with other users that are online at the moment, make new rivals and win over competitors.
The countries that one has access to are Mexico, the USA, and Canada. Each one has several different climates at separate spots, which are developed to be especially realistic. Players can drive through deserted land, mountains and valleys, towns, and cities.
There are a couple of different gaming modes, one of which players choose based on what they are most comfortable with. The options include tilting the device to turn, using a proper steering wheel, or pressing buttons, located at the two bottom angles of the screen.
To improve the game, fans suggest adding road signs and so make the driving process feel more real. One of the disadvantages of the game is that one cannot track the speed, at which they are driving, so it would be useful to add a speedometer in future updates.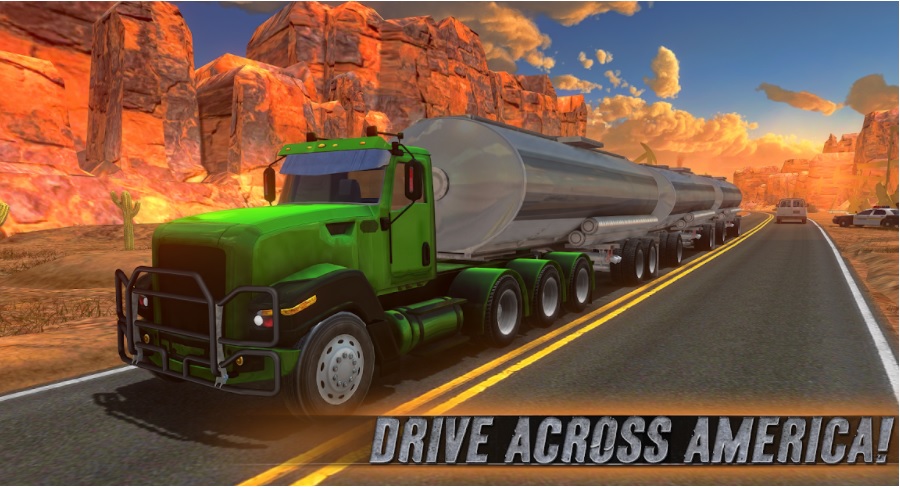 Downloads: 10000000 +

Customers rating:

(4.1 / 5)

World Truck Driving Simulator
Only the best truck models are presented to those who download this game. The variations are collected from all around the world, including large continents and countries.
Each of the vehicles can be adjusted not only by color but by their skin design as well. One can add favorite pictures and drawings onto the parts free of technological advances.
The interior layout of the cars has been carefully studied and developed to look to their fullest potential. All parts move, depending on the situation in which they are in to optimize every user's experience and help them feel like a real truck driver.
There is also a special feature included: leaderboards. On these, players fight to get the highest ratings and overcome competitors by achieving top positions.
As well as that, an achievement system has been worked into the game, allowing utilizers to gain extra experience while attempting to gain a new badge. In case the truck runs out of fuel, some stations allow refueling the cars for a certain amount of cash.
There are still some functions missing from the app interface. For example, many would enjoy the game more if there was an option to turn on the radio or adjust their seat heights.

Some also complain about several roads not being wide enough, however, demanding sudden turns and twists.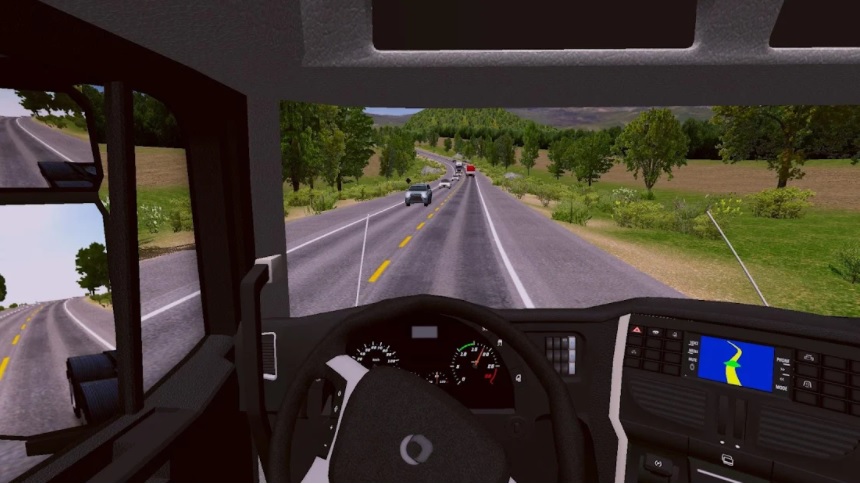 Downloads: 10000000 +

Customers rating:

(4.1 / 5)

Truck Simulator – Truck Games
The game has been specially developed for offroad driving. These vehicles manage to transport large amounts of oil from one location to the other. A thrilling and fun experience for those users who enjoy other truck simulator games.
The game can be operated and used while the Android device is offline or without an Internet connection. Players complete difficult tasks in dangerous circumstances while driving through the mountains, gain skills and learn to avoid obstacles.
The goods and cargo in general are heavier than in other games, so the journeys will need to be planned out carefully to save fuel and use the shortest routes.
This app is completely free and offers a great 3D ability to operate large cars. It is more complicated to earn money in the game, so some may get bored of the similarity of the trucks they own.

Another disadvantage that many mentions in the reviews are that there is only one option as to which way one can drive, it is not possible to turn over.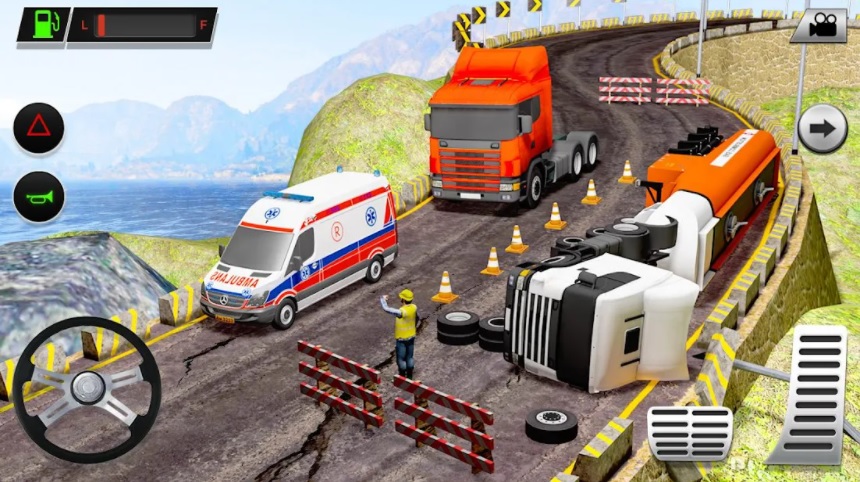 Downloads: 50000000 +

Customers rating:

(4.2 / 5)

Truck Simulator Offroad 2
The app allows players to learn how to manage their trucks in extreme conditions. It has gained a large fanbase due to the interesting options present, such as disasters and emergencies.

It is a fun experience as there is a time limit and winning or losing options. The goal is to save as many people as it is possible.
There are more details in the engine constructions, added for more comfortable use and quicker reaction time. Even on mobile phones, the game will manage to process to its best ability. There is an attractive layout and engaging situations.
In the users' feedback, it is noticed that the maximum speed limit is fairly low. Some also prefer other apps as this variation is more complicated due to the absence of checkpoints.

Once a player loses the level, they will have to start over from the beginning of the stage, which is frustrating as the higher one progresses through the program.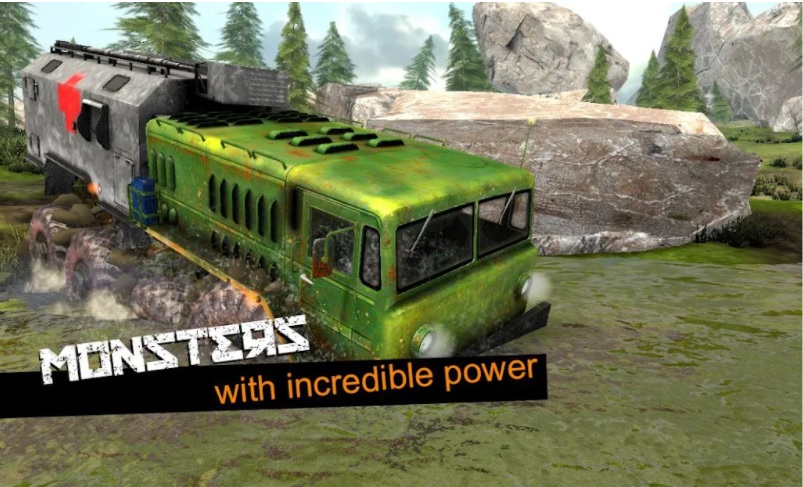 Downloads: 10000000 +

Customers rating:

(3.9 / 5)

Log Transporter Truck Driving
Trucks not only from global marketplaces are available to choose from in this app. The selection range is widened with different country providers. Heavy truck lovers will enjoy the game the most as more options will suit them.
As one of the challenges, players will be required to operate their vehicles through muddy roads and manage to fit in narrow streets, limited by the sides of the hills. The aim is similar to the previous games – it is required to remove goods from one place and bring them to other locations.
The variety of products that need to be transported is large and diverse, making the game more interesting and engaging.
Here, users also learn how to park their cars properly to avoid accidents. They play for the main character of the game: a delivery man. During the playing process, a huge variety of realistic noises will be made, improving the quality of exploitation and realism.
The only minus of the app is that there is a large number of adverts, that disturb the game.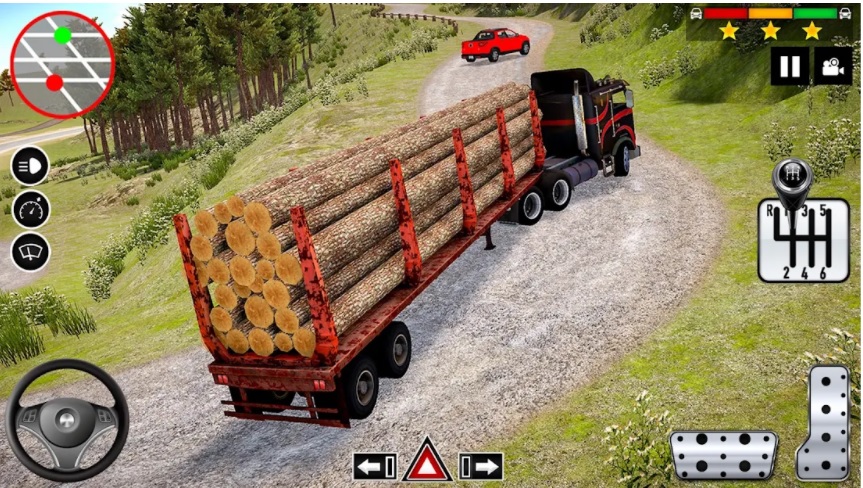 Downloads: 1000000 +

Customers rating:

(3.8 / 5)

You may also like: 19 Best Crafting and Building games for Android
American Truck Simulator Games
An exciting program, in which downloaders can try driving their trucks in city conditions. This game is for those users who already have a lot of experience in driving vehicles via app simulators.

In the game, one will have many opportunities to learn different techniques and master their already existing skills.
It is a 3D realistically developed game with a great design. The sound effects add to the overall atmosphere. Each of the cars has eight wheels and looks like one of the American models. As one progresses throughout the game, they move up levels, which continue to grow in difficulty.
There are some excess features that users complain about, for example, the timer that creates an obstacle for full control over the gameplay. As well as that, there has been a lack of options to control the riding process, the popular variant that uses the tilting method is not available.

Some reviews also state that the design implemented is not simplistic enough and hard to navigate through.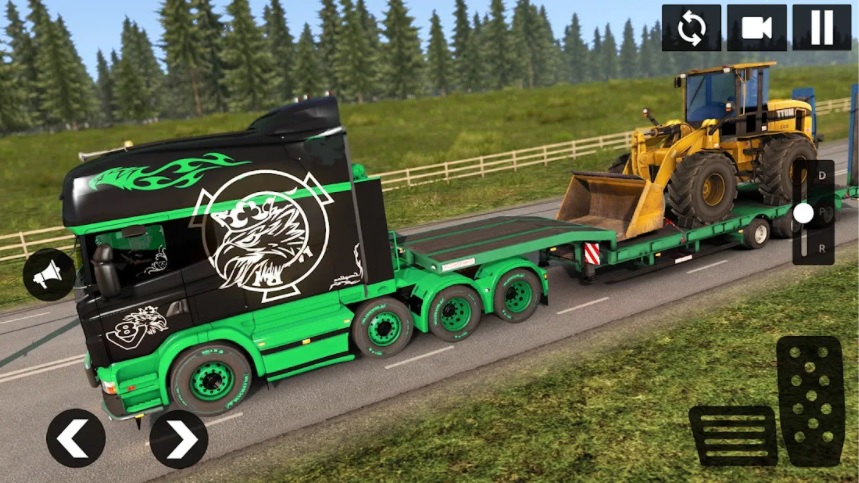 Downloads: 1000000 +

Customers rating:

(3.5 / 5)

Nextgen: Track Simulator
This Android app is only available for installment on mobile phones. However, the absence of versions for other devices is compensated with a huge variety of levels and difficulty options.
Unlike the previous games, the main target in this game is to make own business thrive. This can be achieved not only by the transportation of important goods but by selling the current products and making efficient deals.
It is still possible to improve the qualities of driving abilities with the app. Users love it for its great functionality and magnificent features.

The minus of the game is that to open new options, in some cases, one will have to pay real money. Also, some mention that there is a lack of interest due to the minimal rules and restrictions.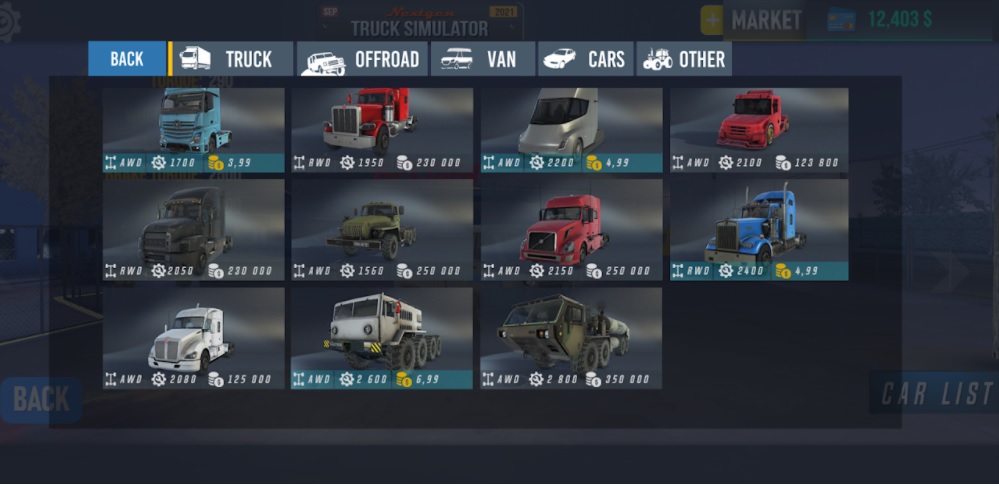 Downloads: 500000 +

Customers rating:

(3.9 / 5)

Heavy Truck Simulator
The Heavy Truck Simulator is equipped with many unique and special features. For example, the roads in the game are improved because there are irregularities, which will have to be dealt with separately.
As the app continues to receive constant updates, the range of truck choices increases, allowing players to find their favorite models from other games. The locations, which the game lets utilizers visit are beautifully developed and designed.
There is a new function in the truck's engine, and now it is possible to switch the system off. There has also been a GPS tracker added for better navigation purposes through the Brazilian cities.
In some cases, downloaders mention that the control system is uncomfortable and reacts too slowly to their movements and commands.

There is a large number of restrictions concerning speed limits, and the fees for the rule-breaking are high, which players once again talk about in their reviews.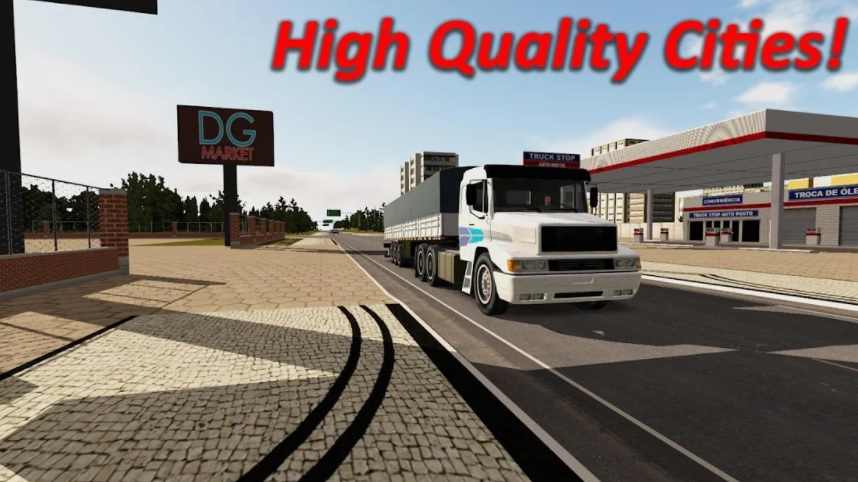 Downloads: 10000000 +

Customers rating:

(4.1 / 5)

Euro Truck Driving Simulator
This game is created for those users, who want to try driving their trucks during the winter season. Only European models are present.
Here, players will be faced with various obstacles to do with the cold weather. For example, everyone will have to overcome heavy snowfalls and slippery ice on the roads.
There is a possibility to use a Christmas-themed design if the holidays are approaching. This creates a warm and comfortable atmosphere while playing.
Overall, the game has received tons of positive feedback. There is no particular result that has to be achieved, so part of the audience may get bored, however, the rich functionality helps keep everyone interested.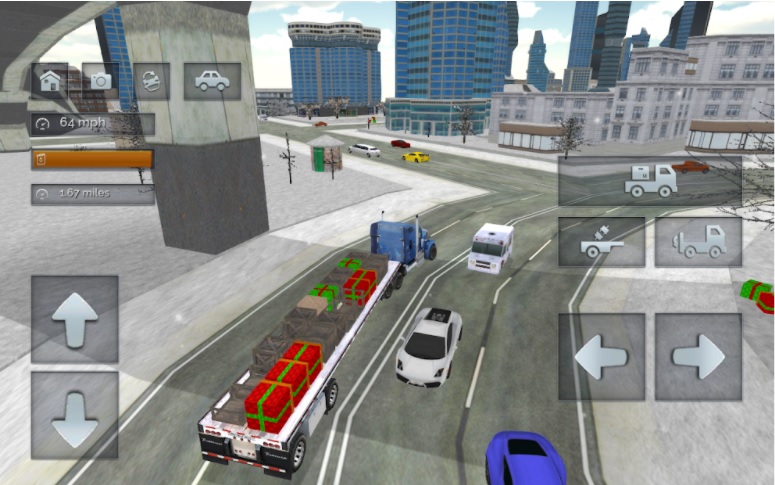 Downloads: 1000000 +

Customers rating:

(4.1 / 5)

Truck Simulator: Europe 2
Now, it is possible to travel and visit the most famous cities in Europe while driving a truck. The more money is made, the quicker models one can purchase, and so experience more towns and locations.
The selection of vehicles is quite limited, there are only seven fully-functioning options available. However, the number of trailers is much larger and allows to add variety to the game.
Each of the cars has a thought-through interior design and a fabulous construction system. The controlling options are easy-to-use and navigate. A new system of achievements and leaderboards is now available.
Occasionally, there are complaints about the lack of diversity in the views that are presented outside the car window. There is a large number of bots that can slow down the task completion procedures.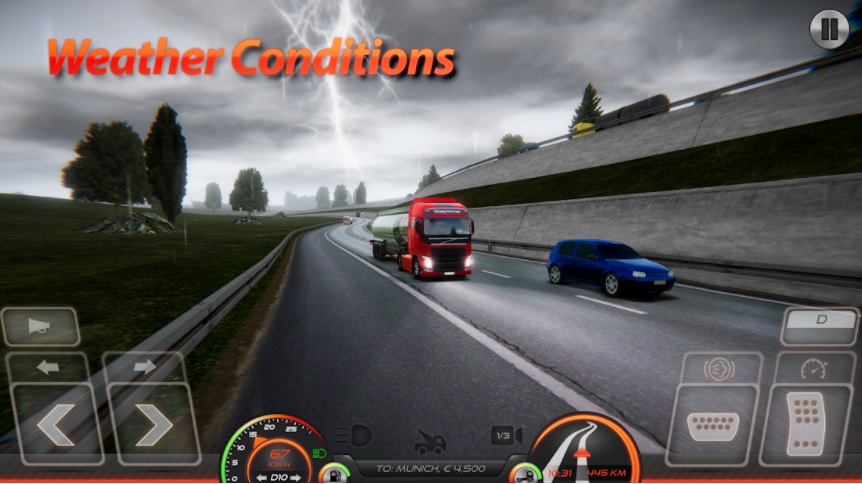 Downloads: 50000000 +

Customers rating:

(4.2 / 5)

Mobile Truck Simulator
Mechanisms offered in the Mobile Truck Simulator will not only entertain the uploaders but teach new driving skills.
There is a unique option to turn on the headlines during the night to see the obstacles on the road better. It is easy because of the ability to stop the truck at any time with the click of one button.
No fuel stations are provided in the game, however, one can always use the special offer page when they run out. The more rules are followed during the gameplay, the larger the total income will be.
Players can always choose the aim they would like to reach from the available selection. This allows them to engage with the app more, as they do not have to complete the tasks, they are not interested in.
It may be uncomfortable to play for European and not United Kingdom users because the trucks are driven on the left side of the road. Some players ask the developers and providers to add extra tuning options as well.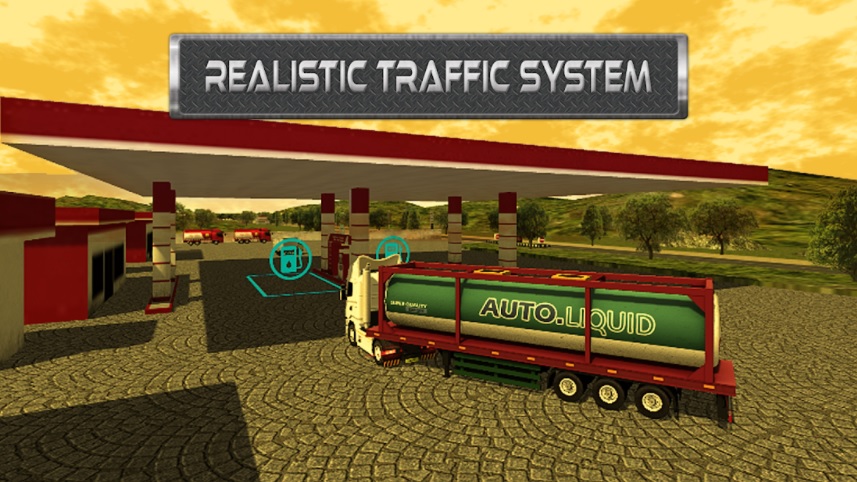 Downloads: 10000000 +

Customers rating:

(3.9 / 5)

You may also like: 21 Free Offline Action Games for Android
Grand Truck Simulator
This is the basic version of the Grand Truck Simulator 2. Just like the previous one, it is undergoing development services at the moment, so the version available for downloads is beta and not yet completed.
Nevertheless, it has a realistic layout and interfaces with real-life features such as the fuel spending function. Every user has a chance to customize their vehicle not only using the presented options but implying their designs.
The cars used break occasionally and easily get damaged just like the real prototypes. As for the weather conditions changes, the one available is fog. Users do not control the time it comes down, so the levels are automatically made harder.
The map is interesting due to the ability to explore existing towns in an online mode. Players often hire other drivers to operate their salons and parks better and increase income, which will allow for more trucks to be upgraded and bought.
When one enters the game for the first time, they will be offered a basic car model, and as their skills improve and they progress through the stages, more options will become available.
The difference between this app and others, that some find uncomfortable is the inability to buy virtual coins via watching ads. Instead, the only possibility to gain them except for earning and winning is to use real money.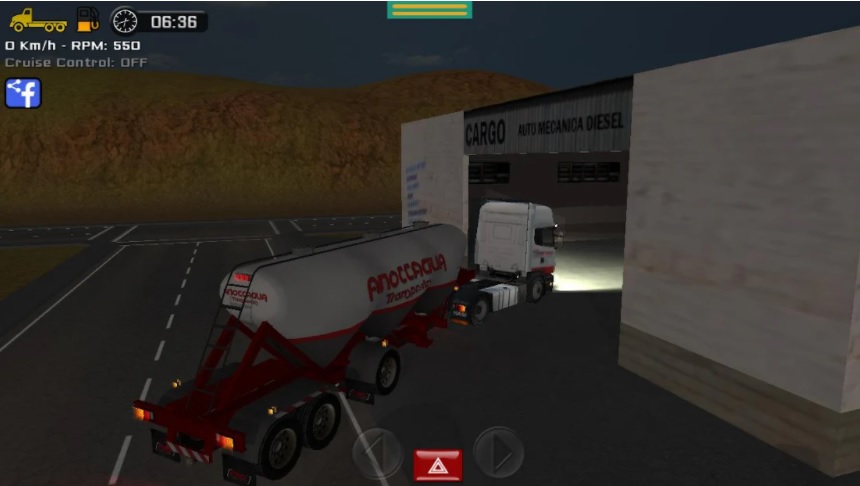 Downloads: 10000000 +

Customers rating:

(4.2 / 5)