TikTok has taken the world by storm, and everyone seems to have jumped on the bandwagon. If you are like us and addicted to the app, you might have faced the watermark issue while trying to save the vids. It seems like you can't escape it no matter how hard you try.
Lucky for you, we've compiled a list of the best Android apps to remove the TikTok watermark with ease. These apps remove the watermarks automatically while saving the vids, so you won't have to deal with that eyesore anymore.
The apps don't affect the quality of the vids, so you'll get to share these on any platform without any indication of where they originated from. Let's dive into it!
SnapTok
If you've ever tried to download a vid from TikTok, you know it's easier said than done. If you'll try to do it right from the app, you'll end up with a pesky watermark, ruining the entire thing. Well, this app is here to change that. This is a speedy and handy solution that lets you save any clips within secs.
You'll get to save any clip from TT quickly: no risks, no effort. And if you're worried about having to log in to use the app, fret not! It doesn't require any registrations at all, and you won't need to enter your acc details either. The only thing you need is a link and the app will cope with the rest.
Above that, the app covers an integrated player, so you can play the vids offline at any time. The quality of the vids is not affected by the download, so no worries there. Plus, you can save the vid's thumbnail as a visual reminder of your fave moments.
There's also an audio saver for you to save the viral sounds and use these as a ringtone or smth. You may even use the vids as live wallpapers, and there's an option to add sound to these if needed.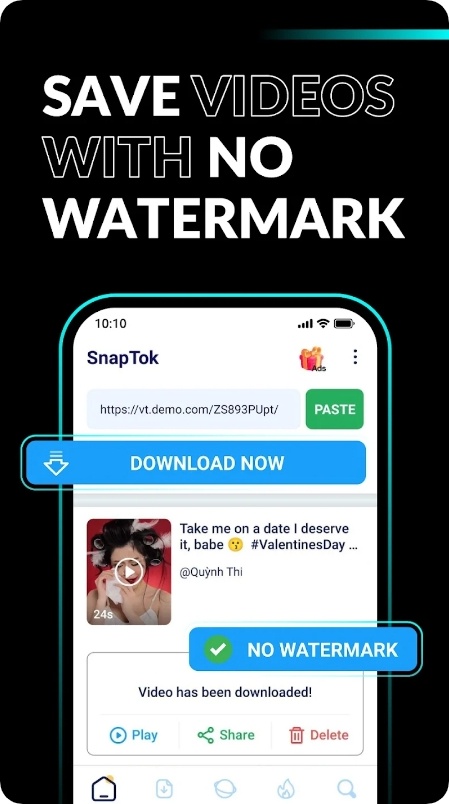 Downloads: 5M+
Customers rating:

(4.3 / 5)

You may also like: 9 Free Apps To Download Videos From Instagram
HD Tik Downloader
This app is a game-changer for all the TikTok enthusiasts out there. It's fully free and provides lightning-fast vid downloads without the irritating watermarks. What is even better than that? You can easily re-post and share those vids on any platform you prefer.
The download process is extremely swift, and you can try several saving methods that are super easy. You'll just need to copy a URL of the vid and the app will do the rest. You won't need to sign in at all, which is great.
You'll also get to select a preferred saving format, and there's a 4K options as well. Likewise, you can easily pick the quality that suits you the best, and you won't have to pay for any of those.
Aside from that, you'll get to play all those incredible vids in HD offline. And if you've ever been obsessed with a TT sound that can not be found anywhere else, you'll definitely enjoy the ability to save the audio for further use. Once saved, you'll get to set those sounds as ringtones or smth.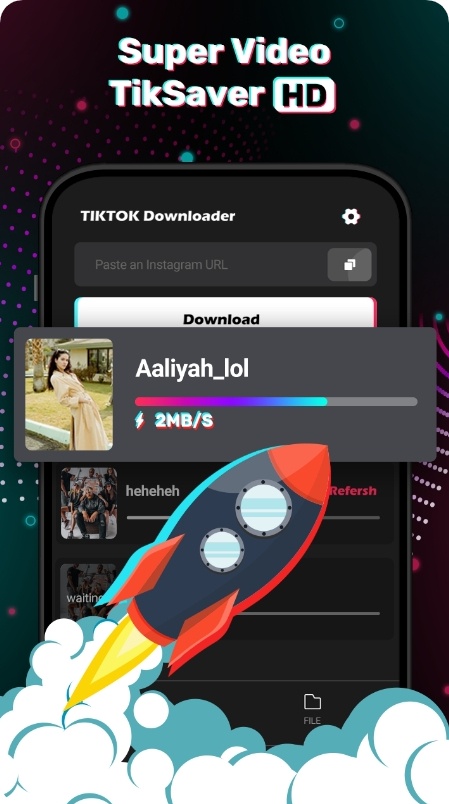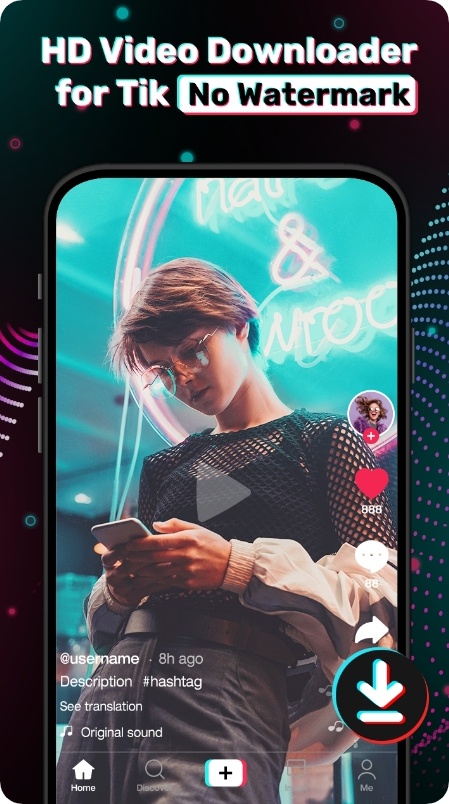 Downloads: 5M+
Customers rating:

(4.7 / 5)

Download Video No Watermark
On the hunt for a hassle-free way to save some vids from TT? This app is here to save the day. It lets you get the clips without any watermarks, so you can use them as needed effortlessly.
The app lets you get any vids and music from TT and view these offline at any time needed. You'll get to save multiple vids in one go, which is handy. The app doesn't restrict the digit of vids or the duration of those, so you're all the way covered. And the best part is, you don't need to log in to start using it. Cool, right?
But wait, there's more! This app isn't just limited to TT vids: it works with Pinterest too! So regardless of where you've found the vids, you can save it without a watermark in just a few taps.
The app saves all the clips you've ever saved right away, and there's a built-in player for you to view them with. You don't need to be a tech genius to navigate it, and there are not too many ads either.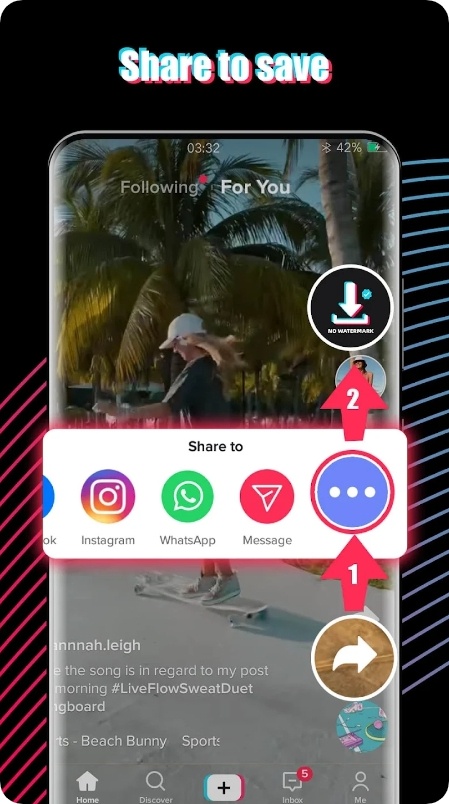 Downloads: 10M+
Customers rating:

(4.7 / 5)

TikSaver
This app is here to help you save TikTok vids with minimal effort. You'll literally need to make a few taps and the app will download any vids without a pesky watermark that usually ruins the entire clip.
Once again, it's incredibly easy to use: just select the clips, click share, and pick the app from the list. That's it! It will automatically save the content. No login is required, so you can use the perks right away.
Plus, you can get the link to vid and input it into the app for a quick download. Once it's done, you'll get to watch the clips offline anytime, anywhere. It's ideal for long flights or commutes without a web connection.
And if you want to re-post those vids, you can easily do that too. Above that, the app is also fast and safe. This is important, given the number of sketchy apps on the market that claim to do the same thing. None of your info gets used there, and the app is completely legal.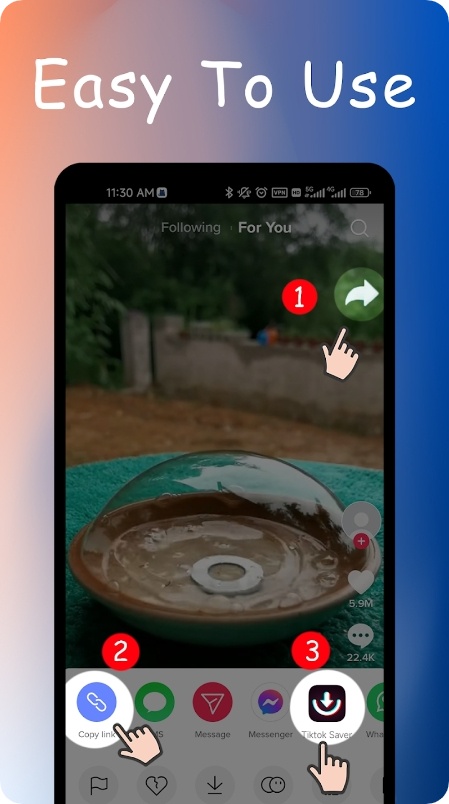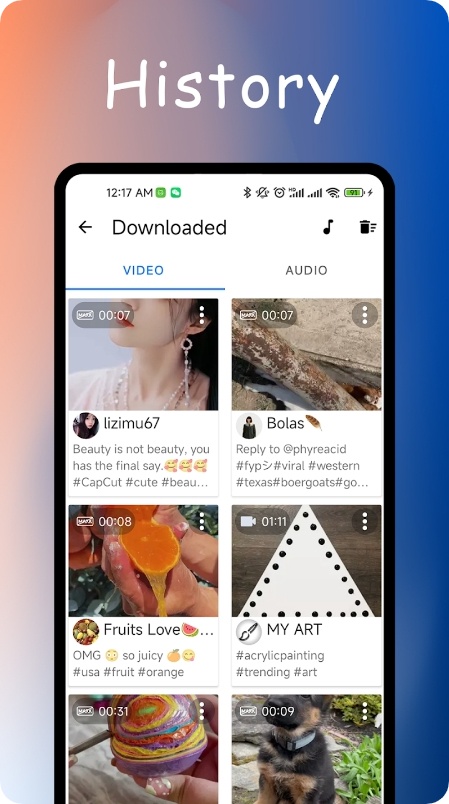 Downloads: 100K+
Customers rating:

(4.7 / 5)

Check also: 11 Best Reverse Video Apps
No Watermark Video Downloader
Here's an app that will change the way you save TT vids. It lets you get any clip without a watermark that destroys the entire viewing experience. First of all the app is super easy to use and doesn't ask for any login whatsoever: you can start using it right away.
You won't need to input any personal acc details, so no concerns about privacy. You'll also get to save the sounds from the clips separately if needed. Thus, you can easily use any of your fave TT songs (that may not be fully released yet) as ringtones or smth.
One of the best aspects is the fact that it supports HD downloads. Say goodbye to grainy, low-quality videos and hello to crystal-clear content.
Plus, you'll get to save your fave TT sounds, and the speed is lightning-fast. You can also add an extra layer of protection by adding the vids into a special folder only you can access. Plus, you can manage the clips with ease and vids the at any time. You can also cancel saving if you change your mind.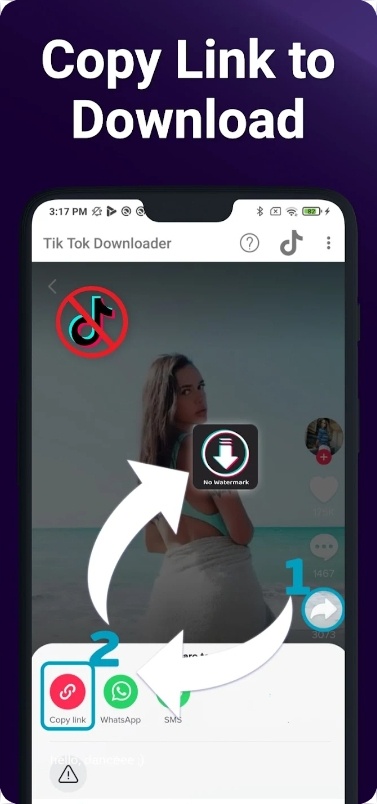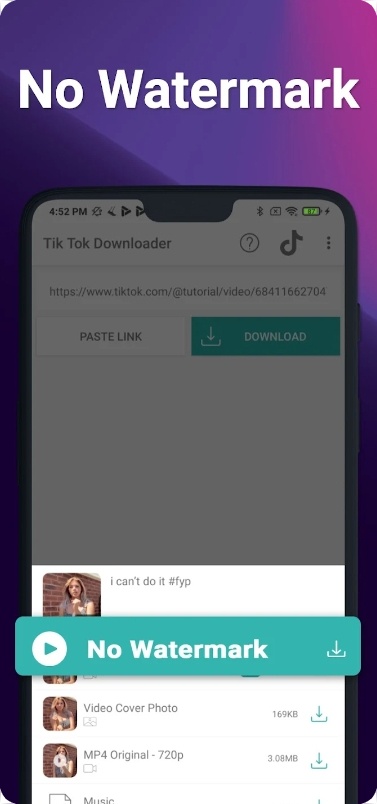 Downloads: 1M+
Customers rating:

(4.5 / 5)

Snaptik
It's a nifty little tool that lets you do you to save TT vids fast. You can save multiple clips at once, and there are no limits on the duration of those at all. It's completely free and there are no hidden fees as well.
The app boasts a wide range of exciting features, such as the ability to remove those pesky watermarks and save the vids in HD. What's even more impressive is that you can boost the speeds by up to 5x faster with the amazing multi-thread technology.
Navigating the app is super easy: the UI makes it simple to save the clips and organize them further way. You'll get to easily manage the saved clips, re-post them, and even play them offline using the built-in media player.
Above that, the clips get saved in the bg, meaning you can continue doing your thing while the clips are saved. You won't need to log in or enter your TT acc details, so no worries.
Plus, the app is pretty lightweight, so it won't clutter your memory space too much. It's safe to use as none of your data gets collected and the content gets stored on your device exclusively.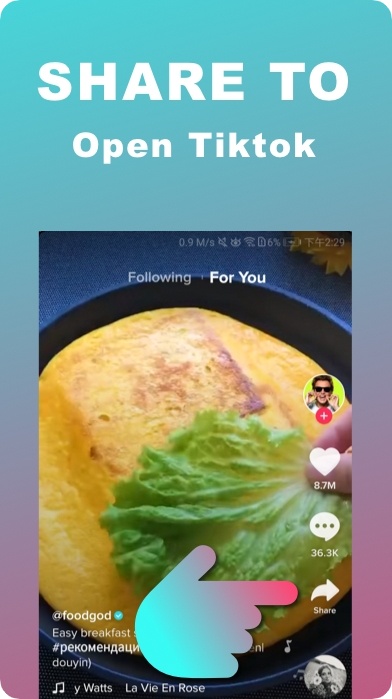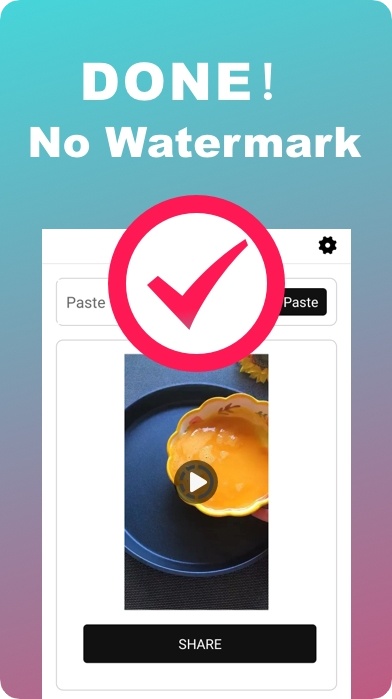 Downloads: 1M+
Customers rating:

(4.4 / 5)

Tikmate
Have you ever come across a vid that you just had to save, but hate the watermark marring its beauty? This app is exactly what you need, then. It's the ultimate solution to all your TT needs.
First of all, it's super easy to use. No login is required, just find the clip, and voila! The saving speed is lightning-fast, and before you know it, you'll have the vid saved on your device.
The app removes the watermark automatically, giving you a clean vid ready to get posted on your socials. What's even better is that the app actually lets you save the vids as mp3 files. So, if you hear a catchy song on TikTok that can not be found anywhere else, you can now get it and listen to it whenever you want.
All the clips can be viewed within the app at any time required, even if you're not web connected. On top of that, the app supports a wide range of languages and has a UI that's a dream to work with intuitive and minimal.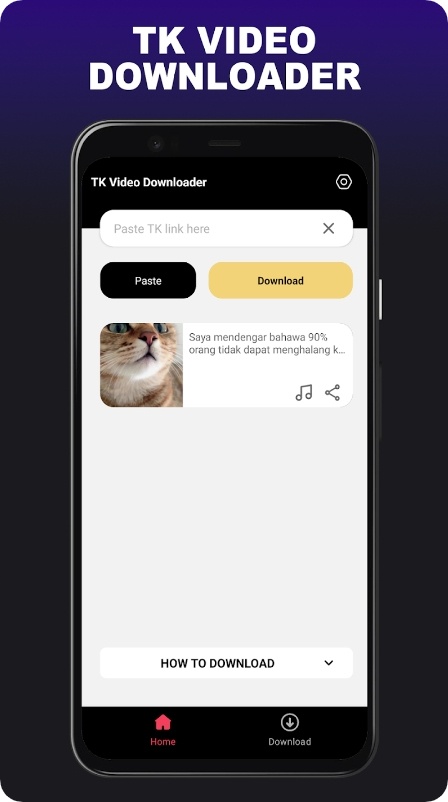 Downloads: 500K+

SnapTik
If you're tired of those annoying watermarks cluttering up your fave clips, you have to check out this app. It lets you save any TT clips without watermarks, so you could watch, share and re-post them at any time needed.
First things first, the app is incredibly easy to use. You don't even need to sign in with TT to get started. Simply pick out the vids you like, tap to share, and select the app from the list. And if you don't like this method for some reason, you can also input the link into the app for even faster downloading!
And speaking of saving, the speed is lightning-fast, and it's 100% free, That's right, you can save the vids without a watermark and view them offline without any hidden costs or fees. It's like having your own personal TikTok library right at your fingertips!
Plus, the app lets you save profile pics and tag info, so you can easily keep track of your favorite creators. The quality of the clips won't get affected by saving.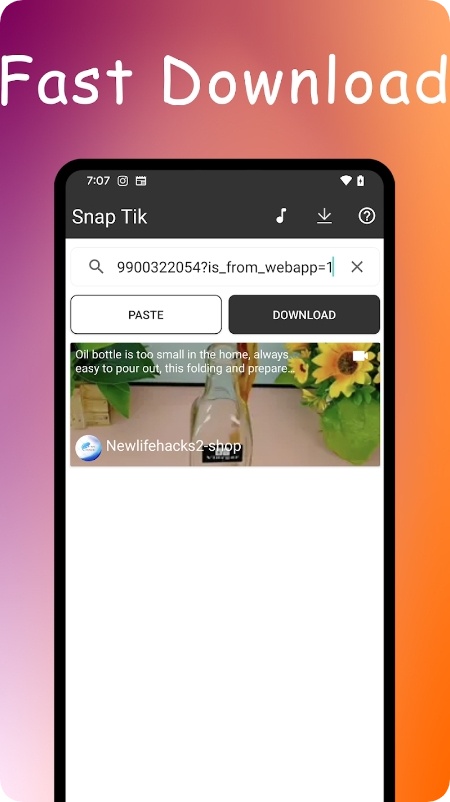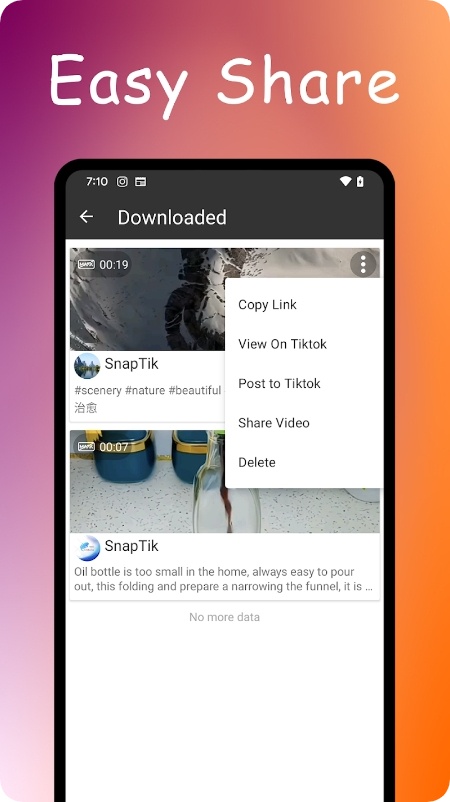 Downloads: 5K+

You may also check: 10 Best Lip Singing Apps
TT Downloader
To wrap up, there's an app to save TikTok clips hassle-free. No more pesky watermarks or low-quality vids: this app lets you save the clips quickly and doesn't affect the original quality at all. With its simple UI, you can effortlessly get any vids in HQ within a few seconds.
You won't have to register or log in to use it. All you have to do is copy the vid's link or share it via the app and the saving will start automatically. The app also supports mp3 download, so you can get the trendiest audios to use as your ringtone or whatever else.
The app is entirely free as well. It doesn't matter how many clips you want to get: you can get as many as you want. The speed is fast, and the clips get saved in the background, so you can keep minding your business as it goes.
You won't have to worry about the security, either. The app doesn't require you to provide any personal info, and it's 100% safe to use without any risk of data theft.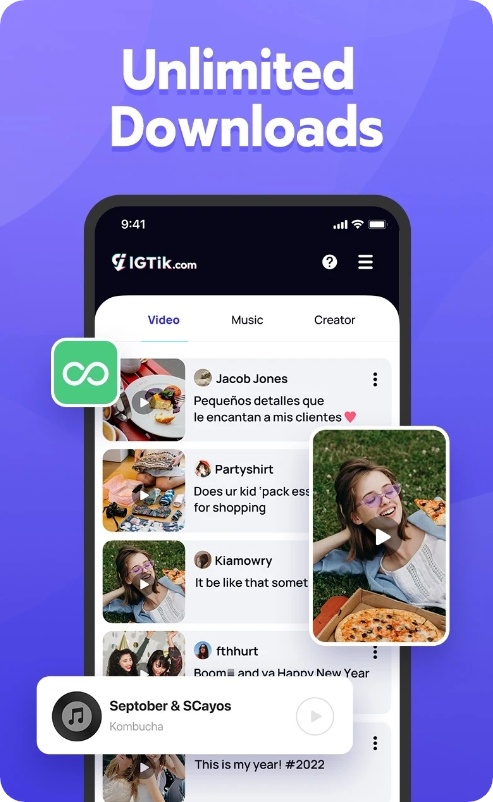 Downloads: 500K+