Do you like tennis games? Well, you are by far not the only fan of this sport and everything that has to do with it! How about playing a tennis game right on your smartphone? Read this article about tennis games and discover the most captivating of them for your Android device.
And for all fans of games with rockets, we also recommend checking out this article about badminton game apps.
Tennis World Open – Sport
We decided to kick off this list with the most lavish tennis mobile game – the one that represents the most important tennis tournament in the world. Dive into the atmosphere of big sports and become the champion of the world!
We also have to note that this simulator will be quite difficult to handle for beginners since the control panel is tricky to manipulate.
Apart from that, the biggest advantage of this game is its realistic atmosphere. The graphics, the animations, and the overall presentation of the Tennis World Open Cup are astonishing with their precision.
There are also several modes in the game and everyone can pick up something they like. You can choose a career mode, so you have to pass the levels and the overall process will take time, or, you can select a quick game and turn it into a one-time experience.
There is also a practice mode, but to be honest, it doesn't make much sense – only if you want to practice the controlling before the career mode (but you can actually do this in the quick game mode as well).
And since the game sets a high standard in its requirements keep in mind that Tennis World Open is not for the weak hardware devices.
Among other pleasant bonuses, you will find such things as:
the customization of your contestant (equipment, clothes, accessories)
ability to choose from the most popular tennis players
ability to choose the difficulty level
indicators of happiness and others.
Overall, this game is classic in the niche of tennis mobile games. However, we would like to warn you that there are also some peculiarities: the whole game is quite predictable and standard, and the players are not as mobile as we wish they could be.
Final say: a high-end game with classical tournaments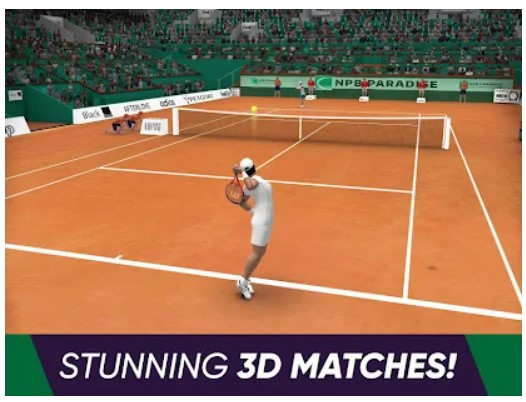 Downloads: 5000000 +
Customers rating:

(4.4 / 5)

You may also like: 8 Best football streaming apps for Android
World of Tennis: Roaring '20s
As the next choice, we would like to offer a game that will not only allow you to play tennis but also enjoy the aesthetics of the roaring 20s. An interesting idea for a tennis game.
Even though the graphics in this game is not as eye-popping as in the previous, it's still decent though. It's quite high-end graphics, so once again, it requires powerful hardware.
When you start the game, you can first select the language, then you hear a cheerful soundtrack from the 20s. It's also important to note that the World Tennis world only with stable internet connection.
Then select the game mode – do you want to play alone or with the team? Maybe you want to play in multiplayer mode?
Before you can participate in the tournaments you must train your character so it acquires all the necessary skills. The whole process will be going on locations decorated in the style of the 20s era.
However, the main reason why this game is so good is that it gives you detailed reports about the training system of your character, precise control, a number of mobility options, and career possibilities. This is a classic sign of the World of Tennis games.
But this game has drawbacks as well, and they are quite typical. The AI in this game tends to work illogically time from time and many users complain about it.
Final say: an atmospheric game with elaborate levels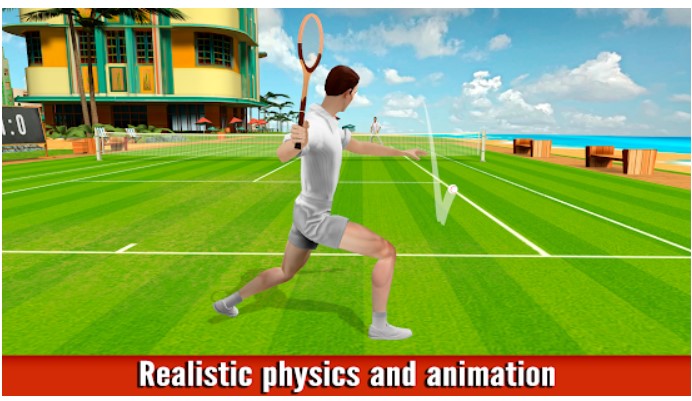 Downloads: 1000000 +
Customers rating:

(4.4 / 5)

Tennis Clash: Multiplayer Game
Finally, you can play tennis with your buddy not only in real life but online as well! Tennis Clash is one of the most popular games out there and it's already been approved by millions of users.
The graphics are a little bit worse than in the two previous apps, but it can't take away the special charm of the game. You just have to choose your skin and then start the game! The dynamic atmosphere of the game will keep you involved in the process.
Moreover, in comparison to others, Tennis Clash is easier to control. The developers of the games wanted us to focus on the fun of the game rather than performing elaborate manipulations with our fingers. But of course, if you like the challenge of the game, this option won't be an excitement for you.
The main hallmark of this game, as we already mentioned, is the ability to invite your friends (even using social media connection) and play together and have fun. And, by choosing a random competitor it is even more fun.
The one major flaw that this game seems to have is its upgrade system. You have to pay for special upgrades and also for the upgrades to your status, and obviously, this is a way for developers to raise money.
However, in practice, it leads to unequal matchmaking, errors with the upgrades, and the overall dissatisfaction of users.
Final say: fun to play together without getting into the details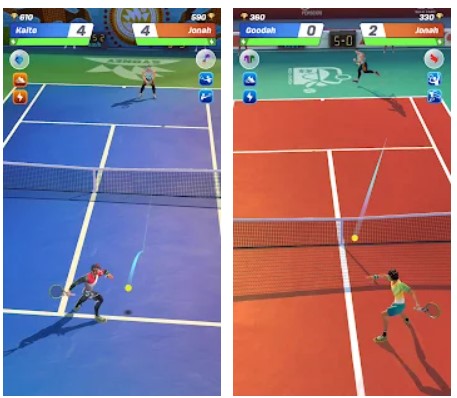 Downloads: 50000000 +
Customers rating:

(4.4 / 5)

Tennis Arena
This game is perfect to be placed in the middle of the list. It has everything that a decent game of tennis should include, however, at the same time, it doesn't have anything extra special about it.
All you have to do is to install the app, choose your character and start playing. There are no ay special modes, you just have to pass through levels and win tournaments. A great option for those who just want to come home and relax after a long day.
The animations are good as well, and the controlling is easy to handle. Both horizontal and vertical orientation of the screen is supported. The locations are quite nice, even though they are quite typical.
All in all, our feedback about Tennis Arena is rather neutral. It's not the top-priority game for the fans of this category, it's more a game for those who just like the process of gaming.
Final say: cool game for distraction from daily problems – with its endless number of levels, you sometimes forget about the time.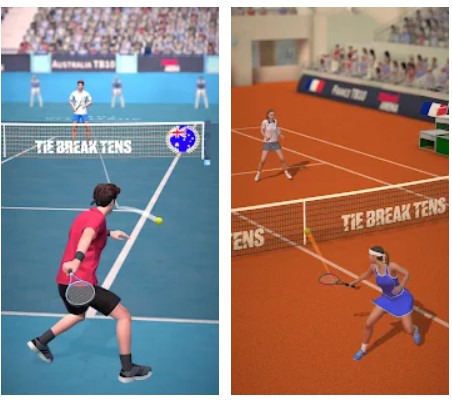 Downloads: 100000 +
Customers rating:

(4.5 / 5)

Ping Pong Fury
Yep we know this isn't exactly a tennis game, but Ping Pong is a branch of this sport, right? Moreover, this is one of the most fun games to play whether you are one or playing with your friends.
In Ping Pong fury you are playing from the 1st sight. No complicated animations, controlling, excessive details, or anything else – just solely the game process. Concentrate on the ball and try to score as much as possible!
As you are progressing in the game, you can unlock more and more various rewards. The game can be played both with your friends and with strangers.
In addition, there is a training mode in the game that you can use before you start playing. However, starting the game without learning is more fun.
Logically, you will need the internet signal for you to be able to play this multiplayer game.
As for the drawbacks, one of them is the excessive amount of ads which is really annoying. What is more, we don't recommend playing against the AI here since the further you proceed, the more difficult and unlogical it gets.
Final say: fun and easy game to play but only with you friends.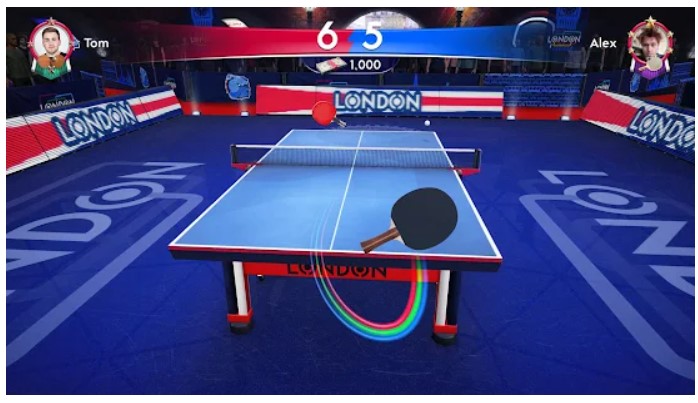 Downloads: 5000000 +
Customers rating:

(4.5 / 5)

You may also like: 15 Best Football Manager Apps for Android
Play Tennis
An alternative to the previous game but here we have classic tennis. Here is no need to look for any special animations or graphics, but this game allows you to concentrate on the simple process of playing.
You can play either against the AI or against the real person. The controlling is easy and you manipulate your rocket by swiping a finger on the screen. Moreover, the fact that there is nothing complicated about Play Tennis means that it can be run almost on any Android device.
The game doesn't have in-app purchases, but it has lots of ads that you can't escape. Overall, the general feedback about Play Tennis is good – probably because you don't expect much from this game.
Final say: an average tennis game.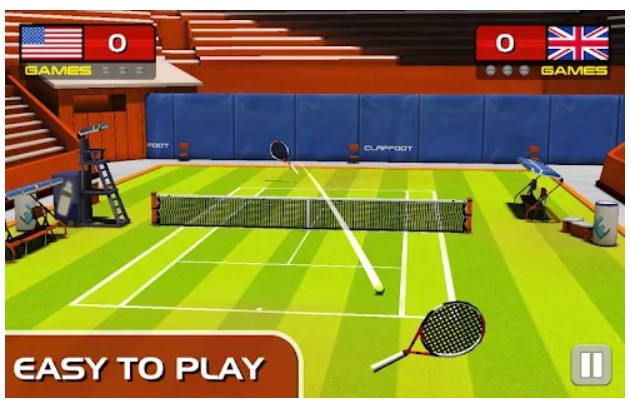 Downloads: 1000000 +
Customers rating:

(4.2 / 5)

Tennis Manager Mobile
Here we offer you to play an alternative game about tennis and try yourself in a role of a tennis manager.
Tennis Manager Mobile requires a higher evolvement from you that the previous games. In here, you are working step by step building your progress in the game. You can play in a single mode (career mode) or choose the multiplayer mode (compete against real people).
First of all, you need to build a training center for your athlete. Depending on the financials you have, you can afford various amenities and equipment. As your trainee is progressing, you earn more money and can afford better things as a result and build more objects.
Moreover, hiring the staff is another important task of this game. Coach's assistants, sparring partners, trainers, doctors – these all are necessary to stand by your side in order for your trainee to be in the best share possible.
You can accept up to 4 players to your team. Scout for the young talents across the world and raise the champions!
And this is not even it. In order to win each tournament, you have to develop specific skills and strategies that are applicable in a certain situation. Each tournament requires a different set of skills and equipment.
Also, to gain more money, you have to close sponsorship and media deals as your players get more popular.
All in all, this is a perfect option for all tennis fans and everyone who loves games that require strategic thinking. The only thing you need to be cautious about is the hardware of your device – if it's not good enough the game tends to freeze.
Final say: a business game about tennis.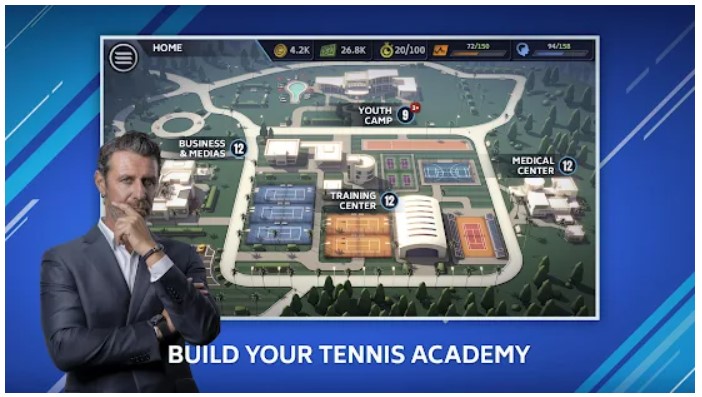 Downloads: 500000 +
Customers rating:

(4.1 / 5)

TOP SEED Tennis Manager
Basically, an analog of a previous game but this one includes more live tournaments. Besides, TOP SEED Tennis Manager has simplified graphics and MUCH more tables, so if you don't like to concentrate on details, you better skip this app.
In general, here you will be doing everything that a regular tennis manager does. That means finding new sportsmen, conducting training, organizing tournaments, finding sponsorship deals, planning budgets, and so on.
One aspect that makes TOP SEED Tennis Manager more realistic is that the game takes into consideration lots of aspects about everything of this sport and you will have to pay attention to the slightest details so that your career evolves in a positive key.
Another essential point of this app is that it doesn't have any significant flaws. Of course, there are some minor misconceptions about AI, but it seems like all games nowadays have this problem.
Final say: tennis business game for those who are into details.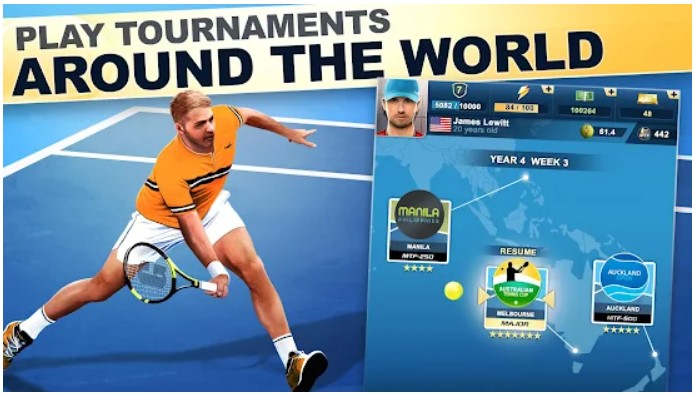 Downloads: 1000000 +
Customers rating:

(4.2 / 5)

Pongfinity – Infinite Ping Pong
We couldn't hold back but add Pongfinity to this list because the game is too good despite it's not connected to the tennis theme straight.
It's really different from all the games on this list – it has nothing to brag about in the terms of fancy graphics, but it brings to its users something that can put them in a better mood – an easy and dynamic game.
Pongfinity won't become a game where you are building your career like a pro, but it will surely stick on your phone as a contestant game that you turn to when you need to get distracted and reduce the stress.
Cartoon graphics, easy controlling, cute characters, interesting rewards, and an endless number of levels – and here you are playing this game for 2 hours non-stop. The application is lightweight and easy to run on any kind of Android device.
No bugs were detected. Only in-app purchases.
Final say: the strength of this game is its simplicity.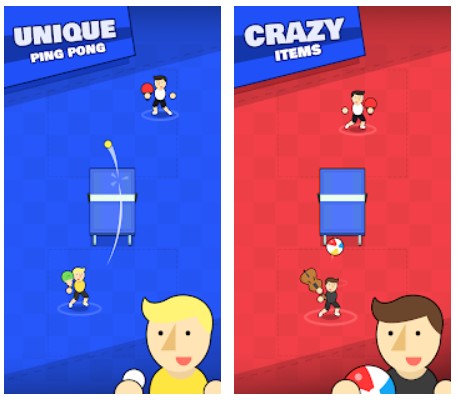 Downloads: 100000 +
Customers rating:

(4.6 / 5)

Australian Open Game
All tennis fans are familiar with this greatest tournament in the world of this kind of sport. Thus, we offer them to play the game about it.
We need to claim from the beginning that the most noticeable part of it is that it represents this tournament. In all aspects, there is nothing extremely special about it.
The game is quite standard. You create your own player and then start winning contestants. Upgrade your equipment and skills to get better results and win the world cup.
The graphics are OK, but the animations are rather raw. The game hangs from time to time and the controlling in general isn't that convenient to use.
In conclusion, as we said before the game is on this list because of its loud name, in other aspects it gets boring soon.
Final say: a game for tennis fans to play for a check.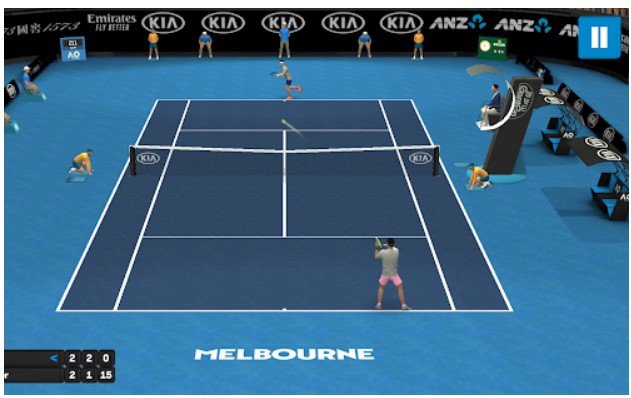 Downloads: 1000000 +
Customers rating:

(4 / 5)

You may also like: 5 Best Tournament Bracket Apps for Android
Tennis Champions Clash: Amazing Sports Games 3D
The fact that this game is less popular than all the previous ones is the only one that keeps it from the higher positions. Indeed, this is a classic tennis simulator game where you have to choose your character and build your career.
You don't have to focus here on complicated tables or on elaborate upgrades – just on the process itself and on controlling your player during the tournaments. The animations are not that realistic but the graphics are quite enough to pass all the mood of the game.
There is also a possibility to organize dual championships.
We didn't find any significant flaws in this app, but we have a slight suspicion that the rating of this game is forced by bots.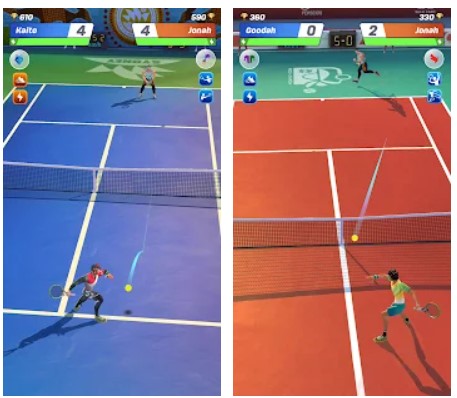 Downloads: 10000 +
Customers rating:

(4.4 / 5)