[thrive_text_block color="green" headline=""] Now you have probably waded through your search engine's results and decided to tap on this page because you need a classy polling app! That's quite predictable, but we gotta make some things clear. There are different kinds of polling apps introduced on Google Play. Some of them are simple social polling apps to have fun with or to ask people for instant opinions, while others are designed to serve more complicated goals, like conducting a research or working with an audience.
The great news is that we have them all on our list! And, what's more, we have them organized in a certain order: first come social polling apps for fun, than come the apps for doing research and, finally, the apps for interacting with an audience. As you can see, everything at your service! Just scroll down to the category you need and choose the best tool for accomplishing whatever you are intending to accomplish! [/thrive_text_block]
Social polling apps
Wishbone

Wishbone Compare Anything is an app that is not actually about polling, at least in a professional kind of way – it is more of an app that allows you to learn a bit more about what's buzzing around these days or, in other words, what's on everyone's mind. The app's auditory is mostly young people, teenagers – the ones that create most of the fuss nowadays.
Every day you get to answer 12 questions and see how others voted. You can create your own polls as well – like, for example, if you want to know what movie is liked best: Twilight 1 or Twilight 2, you just have to enter the two names, add pictures and see how it all turns out.
The app is really fun to use. It covers such topics as humor, celebrities, music, sports, fashion, etc. The design is quite nice and handy in use. All in all, if you want to get a grasp of what today's youngsters are talking about, Wishbone is the easiest and fastest way to do it!
Downloads: 1 000 000 +
Customers rating: 

(4.2 / 5)

SoPo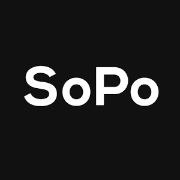 SoPo is short for 'social polling' which is a name that speaks for itself. This social polling app hasn't got as many users as the first one on this list but it has got just as much potential.
The app allows you to pick one of the two options and share your opinion on social media (if you want to). In many ways it resembles the already mentioned Wishbone app – it also covers the most trending topics like music, celebrities, movies, and so on. Apart from all of these, you can actually search for and find practically anything you want to. And if you haven't found the right poll, well, you can always create your own, which will hardly take you more than a minute.
Sharing your attitude towards things on social media in an original way has never been so easy! Rihanna or Lady Gaga? Game of Thrones or Stranger Things? Pick your side and invite your friends to choose theirs! Who knows? Maybe your choice will inspire some meaningful discussion.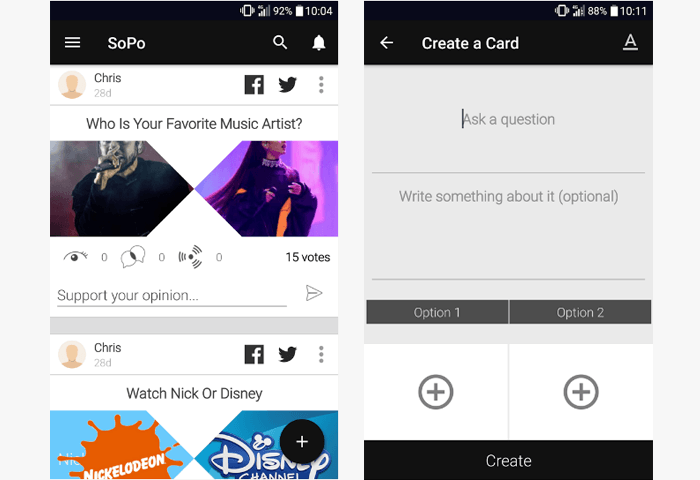 Downloads: 1 000 +
Customers rating: 

(4.5 / 5)

Swell decisions – Daily votes
Swell decisions is an app that will help you to make swell decisions! End of story. Oh, okay, a couple more sentences to make things clear. This app is made for the cool kids who for some reason happen to have doubts about what to wear, what to eat, what to post… We all have those doubts sometimes. And the problem is that there are situations when there is nobody there to ask.
Well, now you know what to do in this kind of situations. Just upload two images in the app, add some hashtags, and instant feedback is guaranteed! You can vote in other people's polls as well. Just check out trends or search for a hashtag like fashion, style, Instagram, whatever, and you'll see lots of polls to take part in. In sum, the app is not for some serious scientific crazy stuff, but it does a great deal in helping you make decisions quicker!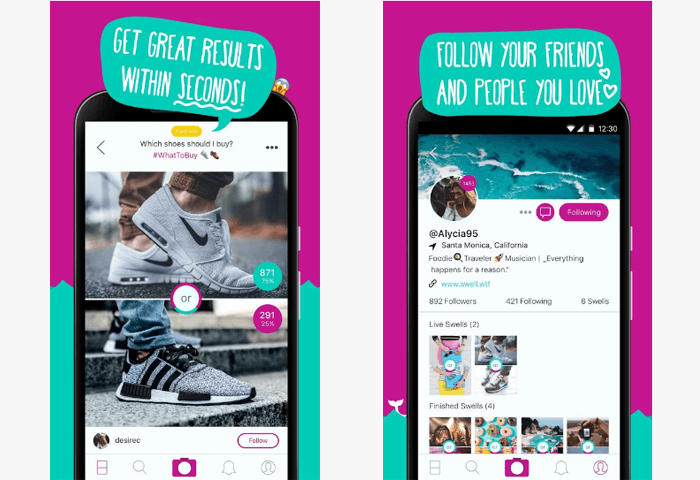 Downloads: 50 000 +
Customers rating: 

(4.2 / 5)

Wonder Polls: Free Version
Wonder Polls is a typical polls app that has got everything you need to conduct some research or to ask your friends about something so that they could give their opinion anonymously. The key features are the following: creating polls for a certain type of responders – friends, people from your local area, or all the users of the app; getting instant results and even comments and, finally, answering to other people's polls.
Besides the key features, there are also games to test your knowledge or to have fun, so in case you get bored while making some serious public poll, you can easily distract yourself (not sure if it is a good thing though!) All in all, a simple app for creating polls and spreading them among the targeted sample!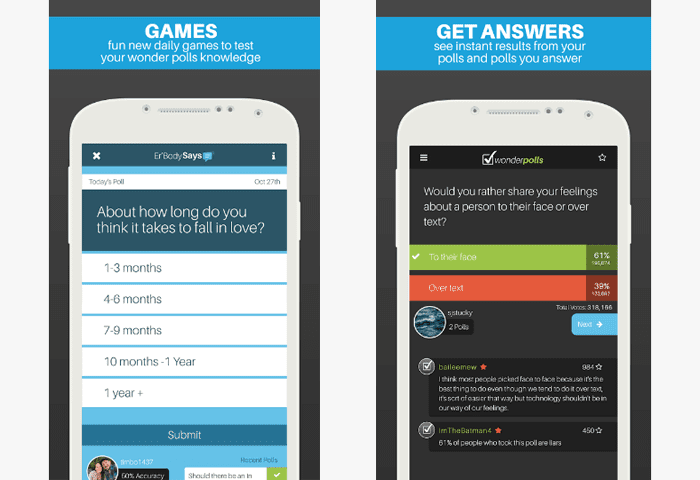 Downloads: 100 000 +
Customers rating: 

(3.9 / 5)

Smart Poll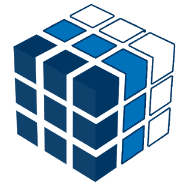 Now we've covered practically all of the topics that can be voted upon in social polling apps – pop culture, lifestyle, general tasks, politics. It is nice to end reviewing this category's apps with something deeper, something more philosophical.
There are some issues every person is thinking about at this or that point. Smart Poll app allows you to know what are the most popular answers to the questions that concern you. It is not just about philosophy, of course, politics can be a part of it as well, and a very important one too.
Actually, it was just a lyrical digression – you can ask anything using this app if you'd like! The app provides you with an opportunity to add pictures, share polls on FB, look for trending polls and so on. Get it now and see if this is the one you were looking for!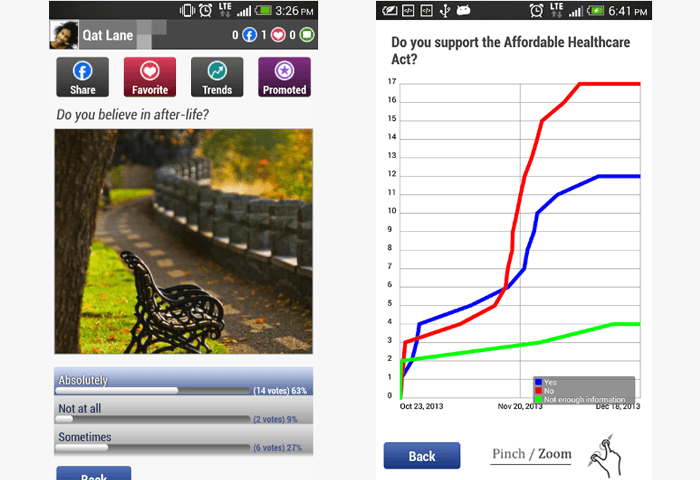 Downloads: 10 000 +
Customers rating: 

(3.8 / 5)

Polling apps for researchers
SurveyMonkey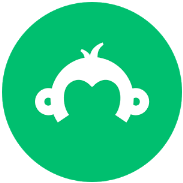 SurveyMonkey is a polling app made for creating professional surveys. You can create surveys to study social phenomena, people's attitudes towards some event or, maybe, some product.
The app's based on the popular survey platform – it is not exclusively for Android devices, it can be used on 'other type' (we all know which one!) of devices as well. PC, phone, tablet – doesn't matter, the app's accessible everywhere, which drastically increases the number of your potential respondents.
You can create your own unique surveys from scratch or you can edit one of the app's templates to make your work a bit easier. When you're satisfied with all the questions, pictures, etc., the app offers you three ways of sharing your survey – e-mail, text or social media. After making sure your survey spreads like a fire, the only thing left is to monitor and analyze the results, which, by the way, can be done in real time.
This survey platform is really one of the best, just because it can help you find a huge army of volunteers who'd gladly answer your questions. You can be that volunteer as well once in a while! Just choose the topic you're interested in and go ahead – help someone conduct their studies. All in all, a great option for all kinds of surveys, even the extensive ones!
Downloads: 500 000 +
Customers rating: 

(4.3 / 5)


Pollpop
Pollpop is an app that can be used in order to poll different groups of people. You can create a community of voters who will register and answer your questions or you can give your questions to the app's community. The developers claim it to be universal, but I'd doubt that – there are no more than 5000 downloads. On the other hand, though, nobody prohibited sharing polls on social media, so maybe you have an audience that will diversify the results.
The results are shown not just in terms of numbers like this number of people have chosen this option and that number of people have chosen that option. Things are a bit more complicated here (if you want them to be) – there are charts that reflect votes varying across gender, country, age group. All these details might be interesting enough to look at not only for a researcher but also for an average user – for example, you can view, whether your opinion coincides with the majority. All in all, the app represents a very useful tool when it comes to creating polls with a certain audience. If you need to track the statistics of your polls, definitely grab this one!
Downloads: 1 000 +
Customers rating: 

(4.2 / 5)

Apps for interacting with an audience
Poll Everywhere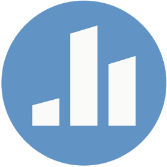 Poll Everywhere is a survey app created for interacting with an audience. Just like SurveyMonkey, it serves as an addition to an online website and can be used on all kinds of devices.
No matter in front of what kind of audience you're going to make a presentation – students, colleagues, serious grown-up people – you'll definitely find a way to diversify your talk with a couple of riveting questions answered live. Immediate results on the screen are usually fun and interesting to watch since our brain's rewarding system reacts right away to such things, which makes the whole process of presentation considerably less boring. You can even ask spontaneous questions and see how it all turns out.
The format of your survey can differ depending on your topic, personal preferences, etc. – you can use multiple choice, true/false statements, open-ended polls, ranking polls or polls with images. If your respondents are students, you might wanna check their statistics at the end, which is possible, even in terms of correctness of each individual participant.
So, Poll Everywhere is an app that will help you keep your audience alert and entertained! You have already thought of the ways you might use it, haven't you? Then get the app now and try to put your ideas into reality!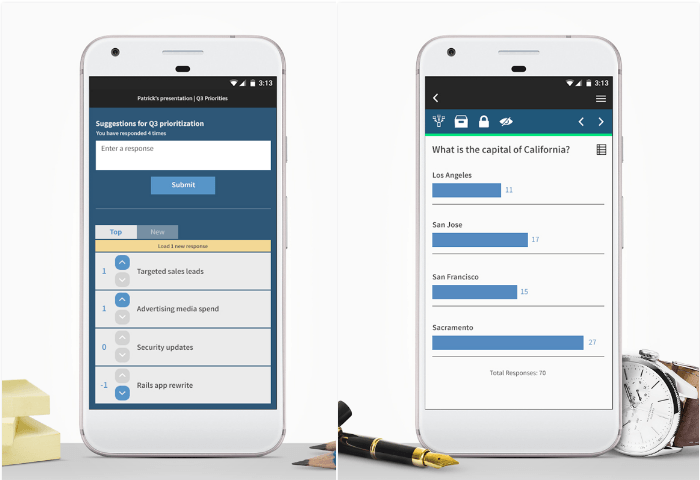 Downloads: 100 000 +
Customers rating: 

(3.4 / 5)

Canvas Polls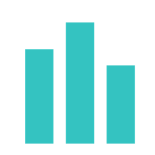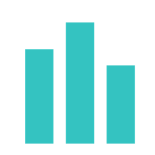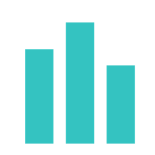 Canvas Polls is one more app to assess your students live. The app can help you implement an indeed useful teaching method. Not only live interaction will make your students more motivated to keep their brain active in classes, but, by doing that, it will also improve their understanding and make them memorize more things than they would without any feedback or interaction. So, just one more app for all the keen teachers and professors out there!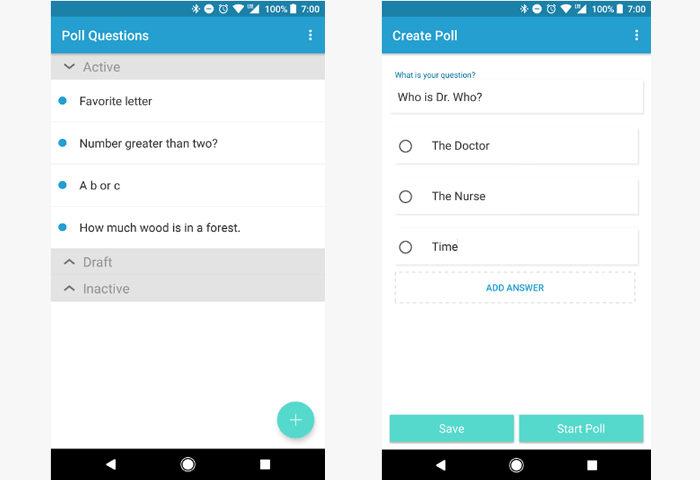 Downloads: 10 000 +
Customers rating: 

(3.8 / 5)

Straw Poll Manager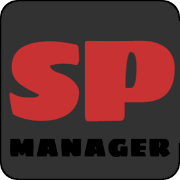 Straw Poll Manager is an app which serves for creating drafts of polls for an online service called Straw Poll. Straw Poll is used for creating instant real-time polls and gained some popularity due to the fact that it is free (like any other app on this list, so nothing special) and easy to use.
The app is not official, but using it can save your time, so why not to try it if you like the service? All in all, one more app for conducting live polls and making your audience a bit less sleepy!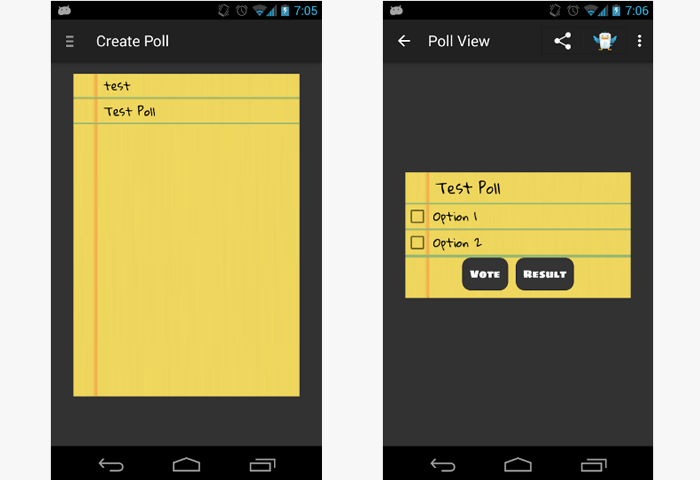 Downloads: 10 000 +
Customers rating: 

(3.7 / 5)
Max Life Polling App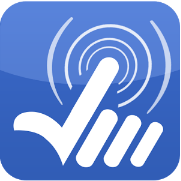 Max Life Polling App is one more app for working with an audience. You can try it on any kind of audience, not just on students – the app is amazing! It authorizes a user to participate in a unique poll by entering a PIN created by the poll's admin.
When questions are answered by all the responders, the app, just like any other in this category, will give the poll's admin the results. The results are introduced in a very appealing way – with graphs and everything. And the app itself looks fantastic. Get it now and give a fresh impetus to your presentation-making approaches!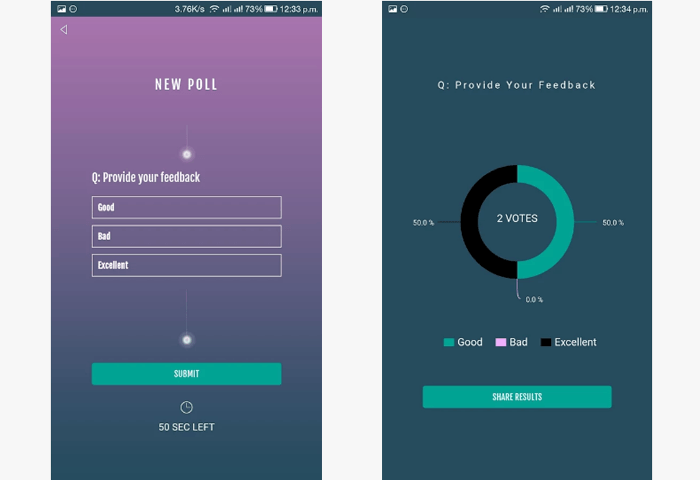 Downloads: 1 000 +
Customers rating: 

(4.4 / 5)
Voice Polls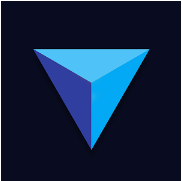 Voice Polls app is created by enthusiasts who were determined to give people an opportunity to 'raise their voices'. The app is in fact quite a unique one in its genre. It allows people not only to soullessly vote in the polls but also to express their opinions by making comments, answering to each another, stepping into in-depth discussions and so on.
Even while creating a poll, you are given much more freedom, like you can attach not just images, but also music, YouTube videos, Google maps and other media content.
Using the app is completely safe. Moreover, it is so much more enjoyable to receive feedback from real people who cared enough to actually answer you, not just by pressing a button, but by writing something. You might be the person whose opinion is crucial to somebody! Don't be shy – get the app and raise your voice!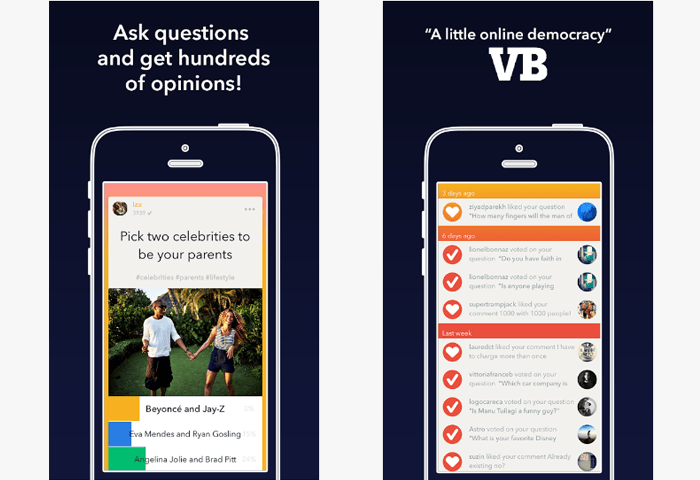 Downloads: 10 000 +
Customers rating: 

(4.1 / 5)
askwhich1 – social polling app

askwhich1 is one more social polling app on our list. This one is less successful than the apps mentioned above, but, surprisingly, it has got a considerably richer feature set. Among the features are the possibility to make text posts, posts with multiple choice; choose whom to ask – friends from your social media, the app's community, or, maybe some private group created by you within the app's community.
No need to say that pictures are allowed as well. Ask anything! What to wear, what vine to choose, how to get out from some complicated life's situation. Don't forget to help others make decisions as well! Who knows? Maybe you'll be the one who knows exactly what the right choice is. The only drawback of this one is that it is not so popular among users, so it is better to use it for sharing polls with friends on social media. All in all, another great social polling app to try out!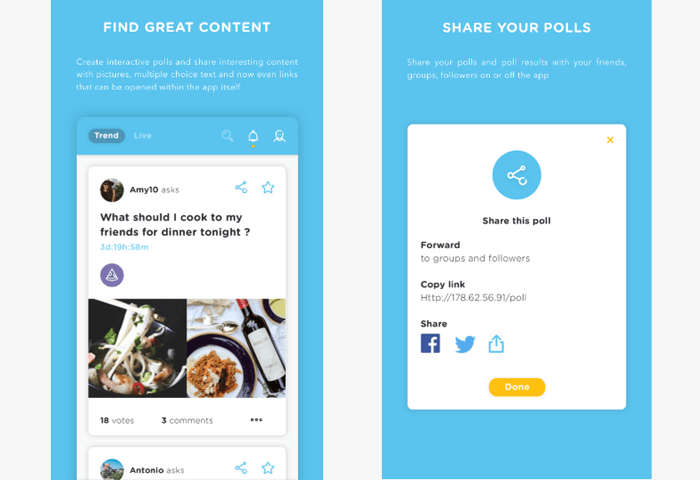 Downloads: 500 +
Customers rating: 

(4.9 / 5)
Pyne. Poll the world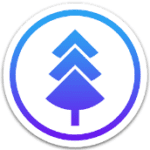 Pyne is one more social polling app. This one's targeted audience is not teenagers – for the most part, but young adults, people who are older… Let's just say this app is for everyone! There are questions about dating, about one's lifestyle, about business, and about many other things.
Obviously, you can create your own questions, share them on social media and get instant results. It's fun to learn about statistics. Here, it is presented in a nice way – you can see it in the picture down below. To make a long story short, the app is perfect to have fun with, ask friends thought-provoking questions or engage in discussions in the comment section! Got some doubts about your life? Well, who doesn't! Get the app and see how people tackle their problems.
Downloads: 5 000 +
Customers rating: 

(3.6 / 5)
BedlooVoting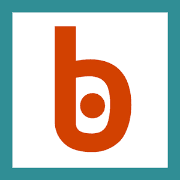 BelooVoting is another one for deciding really tough life's questions! What to wear? What to do? How to choose what to buy? You know all those doubts! When we are at our best, making such decisions is like cracking nuts! But when there is vulnerability involved, sometimes even small decisions can make you worry.
Well, now you don't have to worry. Download BedlooVoting today and start making your choices with the awareness of what other people think! Just remember that the most important thing is that your decisions are in line with your own taste or spirit! Voting in other people's polls is welcomed as well. You can even share how you voted on your social media. All in all, just one more cool social polling app!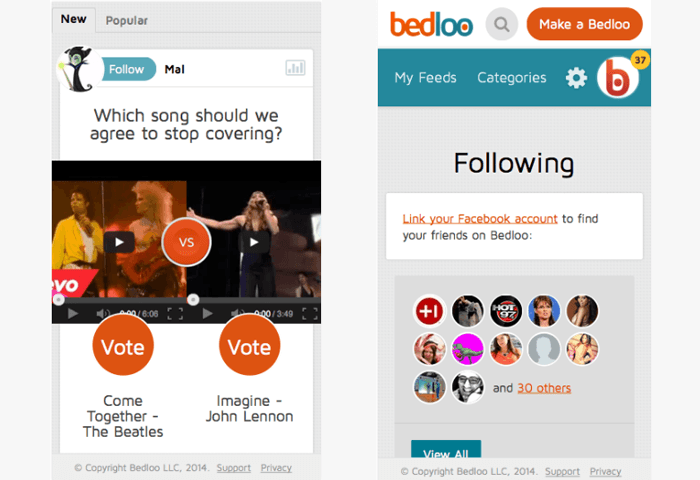 Downloads: 5 000 +
Customers rating: 

(4.1 / 5)
We the People – TheLivePoll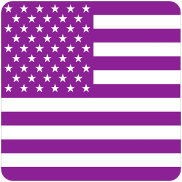 We the People is an app that was at the peak of its popularity during the latest presidential election in the United States. Well, we all know the results of this infamous election. Today, the political situation in the US is far from stable and that means that the current issues need to be discussed by the society more than ever.
Join the app's community and express your opinion anonymously. You can vote, you can leave comments, you can get updates on the latest news (and tweets!) It doesn't matter whether you are a Democrat, Republican, Libertarian, Green, etc., the only thing that matters is that you share your ideas with the world, let them be criticized, defend them or even have doubts about them! All in all, this social polling app is for the citizens who care about their country's future.
Downloads: 10 000 +
Customers rating: 

(4.2 / 5)
Shark Poll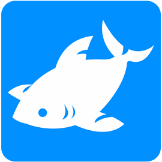 Shark Poll is a great attempt to make an interesting app for polling. I don't mean it failed or something, it is just that the number of users is not that big. However, the app's simple design and an opportunity to create as many anonymous polls as you need with as many options as you need might float one of the readers' boats. So, you know, here we are, with Shark Poll included in our list of the best Android polling apps!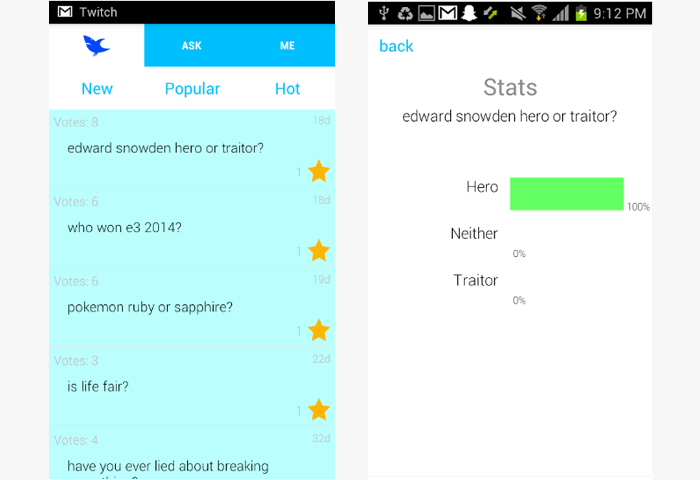 Downloads: 500 +
Customers rating: 

(4.5 / 5)
These were the most useful and handy polling apps Google Play is able to offer at the moment. If you know more apps like these, please, share them! Good luck with your polling experience and stay tuned to see more cool apps' lists like this one!