Calculating your total daily energy expenditure is critical for fat loss, muscle gain, and weight maintenance, so here is a review of free and best Total Daily Energy Expenditure calculators to accurately estimate your daily calorie needs.
TDEE Calculator – Calorie Intake Calculator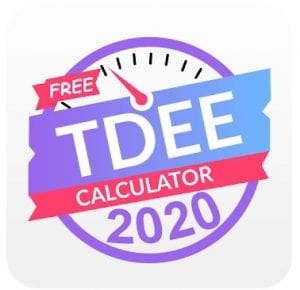 This is one of the best free TDEE calculator apps available on Play Market. You can use it to find your TDEE. The calculator is based on the standard TDEE formula.
This app also allows you to calculate your BMI and BMR.
How do we calculate how many calories a day we consume?
To do this, you need to know your body fat percentage, body weight, and level of physical activity. And put this into a daily calorie intake calculator. And what to do with the result? It all depends on your goals:
If you want to lose weight, you need to consume fewer calories than you burn.
If you want to gain weight, you need to consume a little more than you expend.
If you are happy with your current weight, the number of calories you burn should be about the same as the number of calories you eat.
Does that sound pretty vague? What do you mean more or less and by how much? In other words, you should try to adjust your energy balance as accurately as possible.
And that's where the Total Daily Energy Expenditure (TDEE) calculator comes into play.
With this information at your disposal, you can easily create a meal plan, with the help of which you can systematically lose, maintain or gain weight.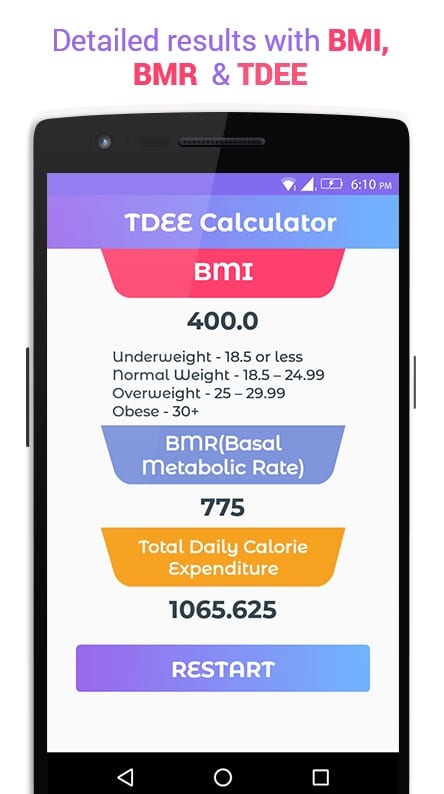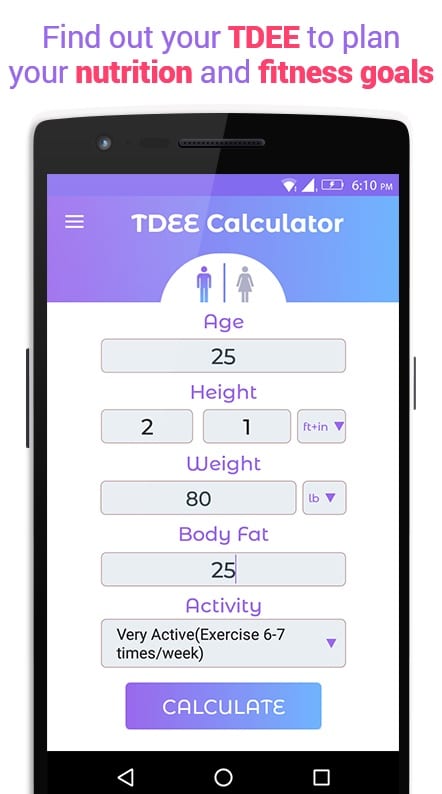 Downloads: 50000 +
Customers rating:

(4.2 / 5)
You may also like: 12 Best Diet Diary Apps for Android
AccuBMR – BMR, TDEE & Calorie Calculator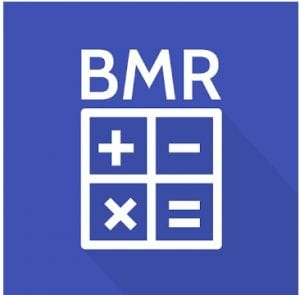 AccuBMR helps to calculate BMR, TDEEE, and calorie intake. It's easy to navigate and use. And the accuracy is far superior to any other TDEE calculator.
For accurate calculations, it uses the Catch McArdle formula to estimate your BMR, rather than just using your total body weight. It takes into account your body fat percentage and the amount of fat-free mass you carry.
It also includes visual aid to quickly estimate your body fat percentage.
To estimates energy expenditure it evaluates exercise, work, and "other" activity separately, rather than simply using one generic activity multiplier for all daily activity.
As a result, you can adjust the recommended caloric intake according to your body fat percentage.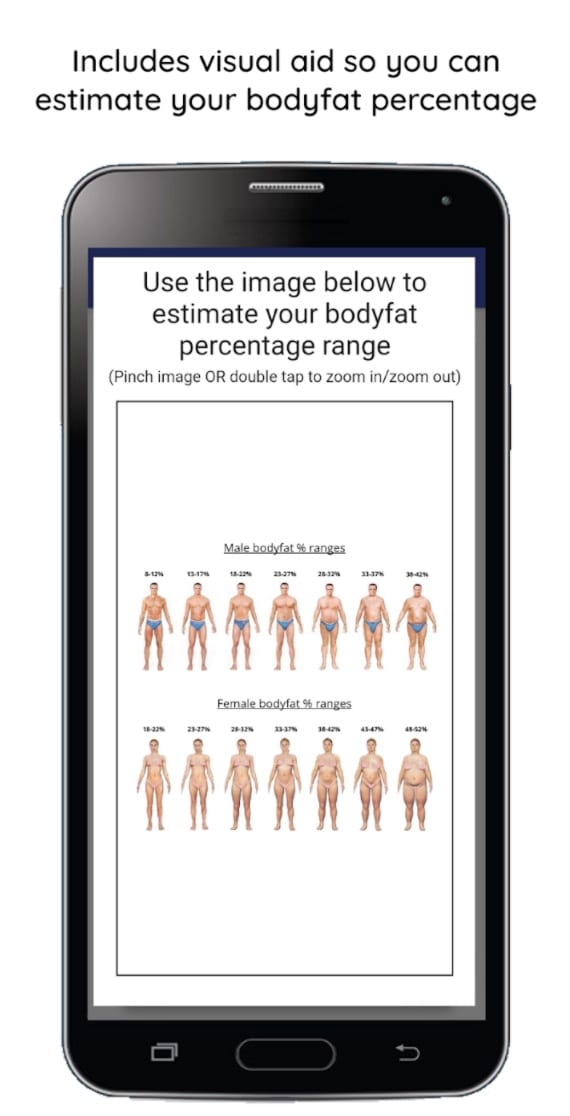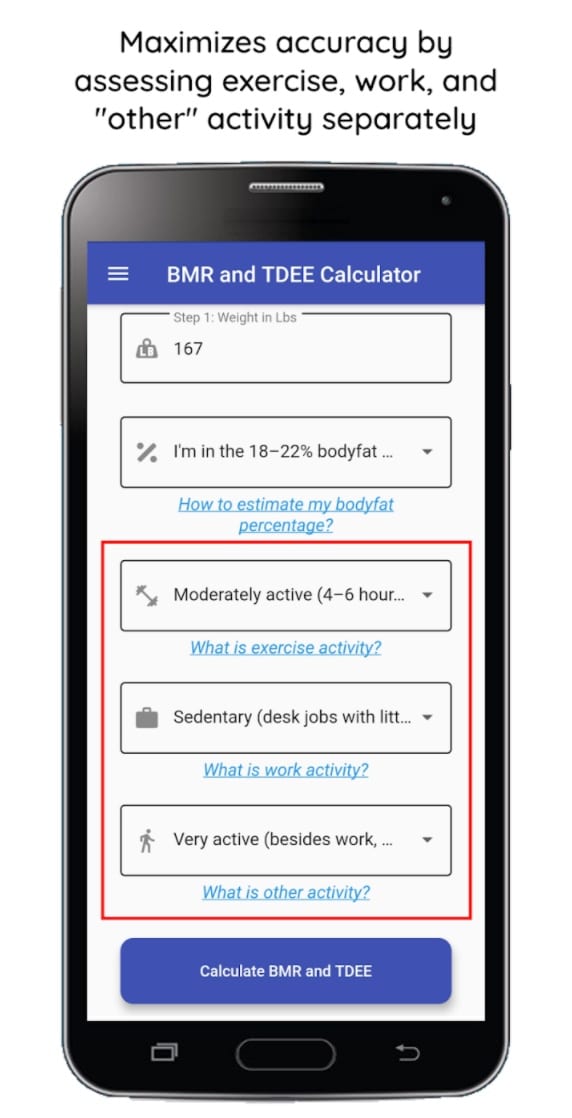 Downloads: 5000 +
Customers rating:

(4.8 / 5)
Adaptive TDEE Calculator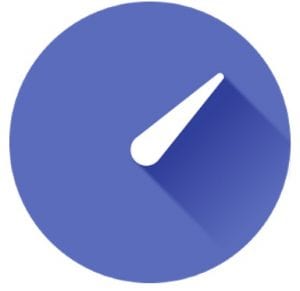 If you don't want or have no time to use formulas and make independent calculations, an Adaptive TDEE calculator will help.
Adaptive TDEE Calculator is a simple tool that will tell you exactly how many calories your body burns each day, making it easy to figure out how much you need to eat.  Just enter your caloric intake and body weight regularly.
The accuracy of the calculation depends on how complete and accurate the data you give. It supports exporting data such as weight and calorie information from MyFitnessPal or other food tracker apps. So, you won't even need to enter this information manually.
The advantage of this particular calculator is that it gives accurate data based on your personal body weight changes and calorie intake.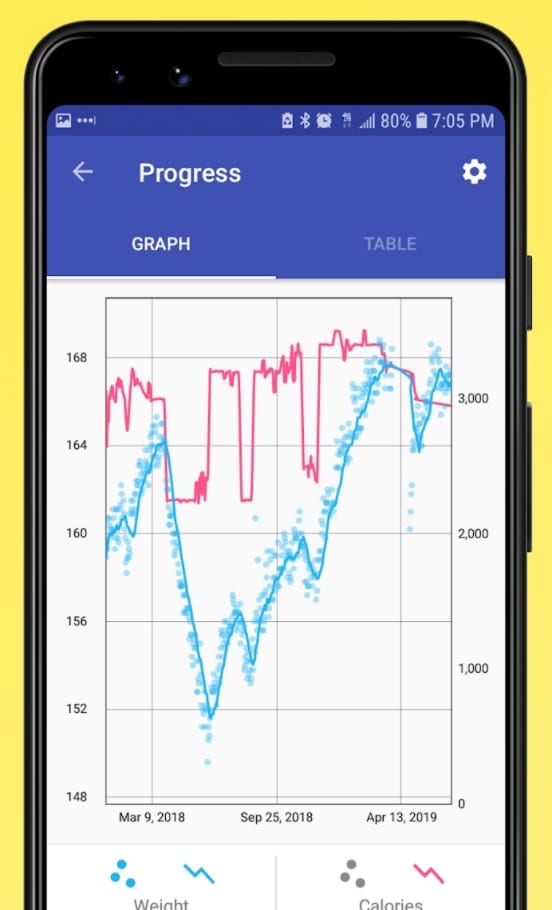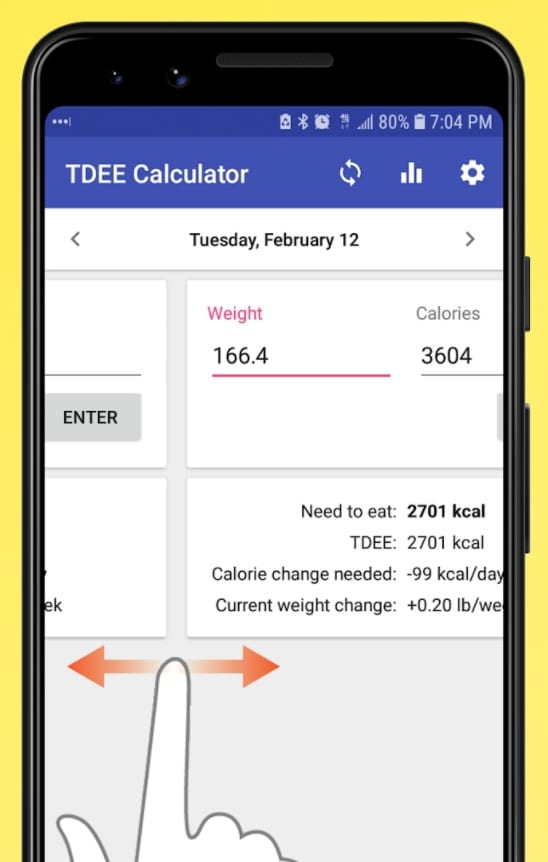 Downloads: 10000 +
Customers rating:

(4.5 / 5)
TDEE Calculator & Tracker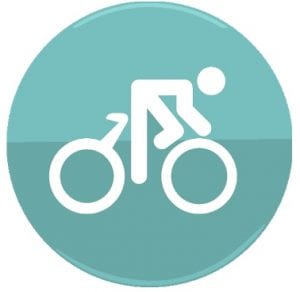 TDEE calculator & tracker will help to find and track your TDEE.
In order to gain muscle mass or lose weight, you need to know your normal caloric intake for weight maintenance. This figure depends on body parameters and physical activity.
And how many calories do you need so that your body compensates for energy expenditures and stays in a state of energy balance, i.e. so that your weight does not change? Just use this calculator to get the right formula!
Main features of the application:
Metric and Imperial measurements;
daily statistics;
import/export your data;
manual calculations;
select a theme;
tracking past entries.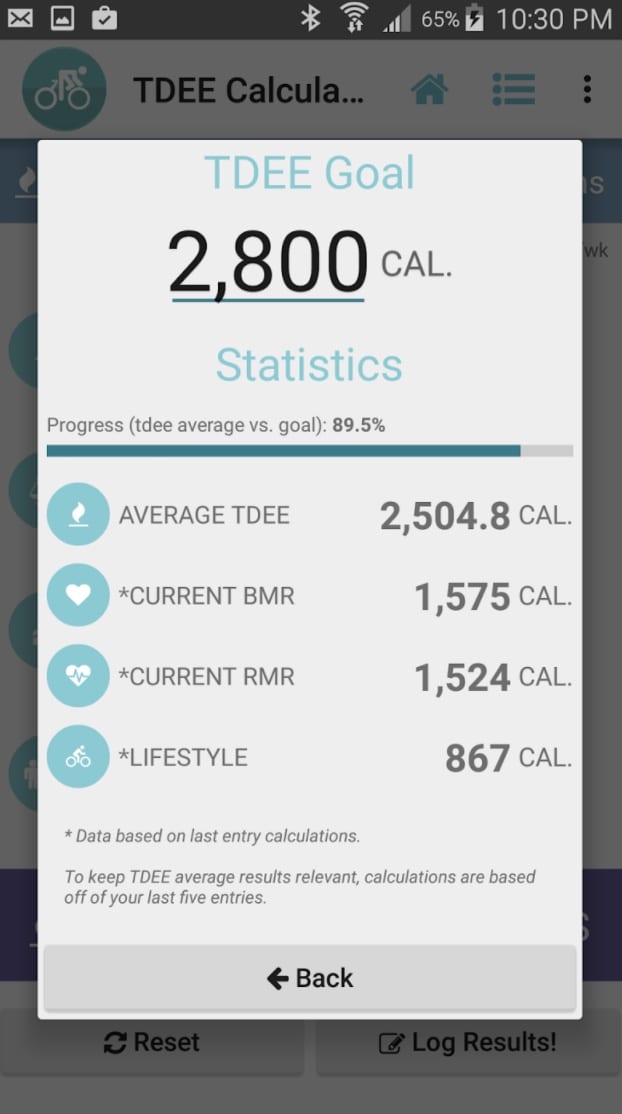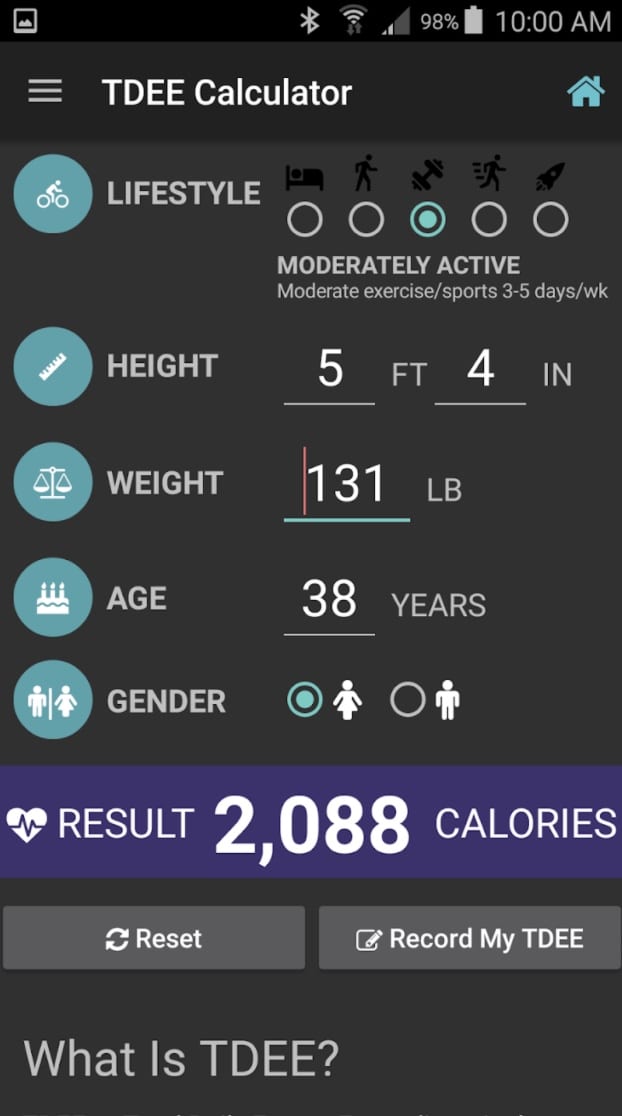 Downloads: 10000 +
Customers rating:

(4 / 5)
IIFYM MyFitness Diet Calorie Calculator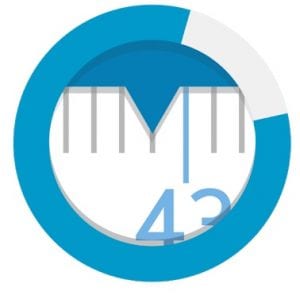 IIFYM MyFitness Diet Calorie Calculator – one more useful tool that you can use to calculate your TDEE. It works fast and easy.
If you want to lose weight or gain muscle you should know how many calories you must eat per day based on your current weight and activity levels. This calculator will become a great helper on your way!
In addition, you will not only know your calorie intake but also see how many calories you need to consume in order to achieve your goals. The program will select your calorie consumption per day based on the goals you have set for yourself.
After all, as you know, to lose weight, you need to consume fewer calories than you consume. To gain weight – on the contrary. But how much more or less? The program will give you the exact answer.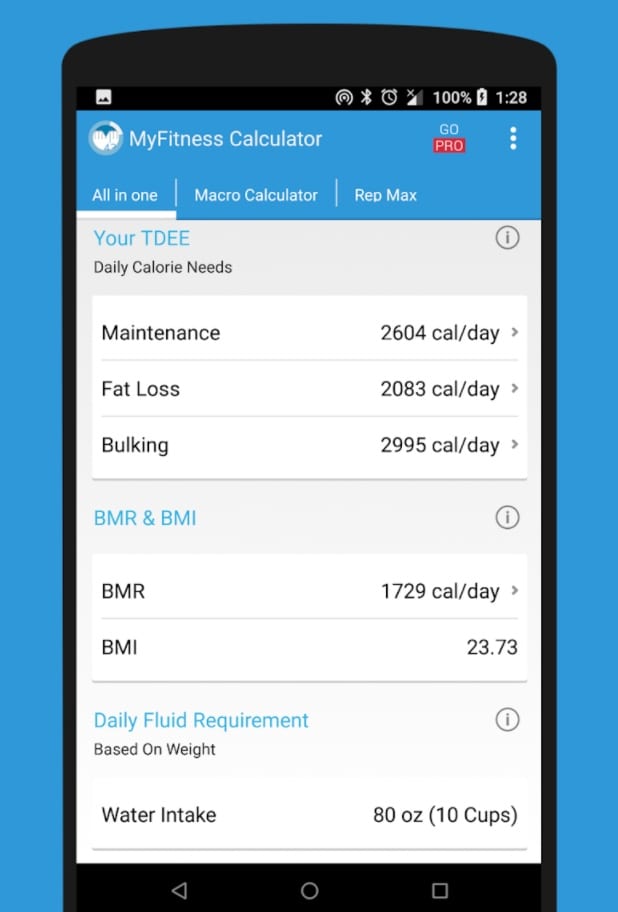 Customers rating:

(4.6 / 5)
Body Calculator (BMI, TDEE…)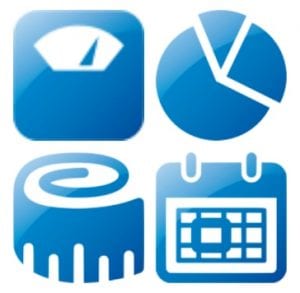 The number of calories burned is affected by your muscle mass, body fat percentage, fitness level, metabolic rate, body temperature, ambient air temperature, relative humidity, presence or absence of precipitation, air pressure, altitude, your float and wind direction while running, sleep patterns, and even your diet.
A Body Calculator can help you get at least an average data.
Find your TDEE;
Create an individual nutrition plan;
Clear graphics and animations will help to set a goal and keep track of it.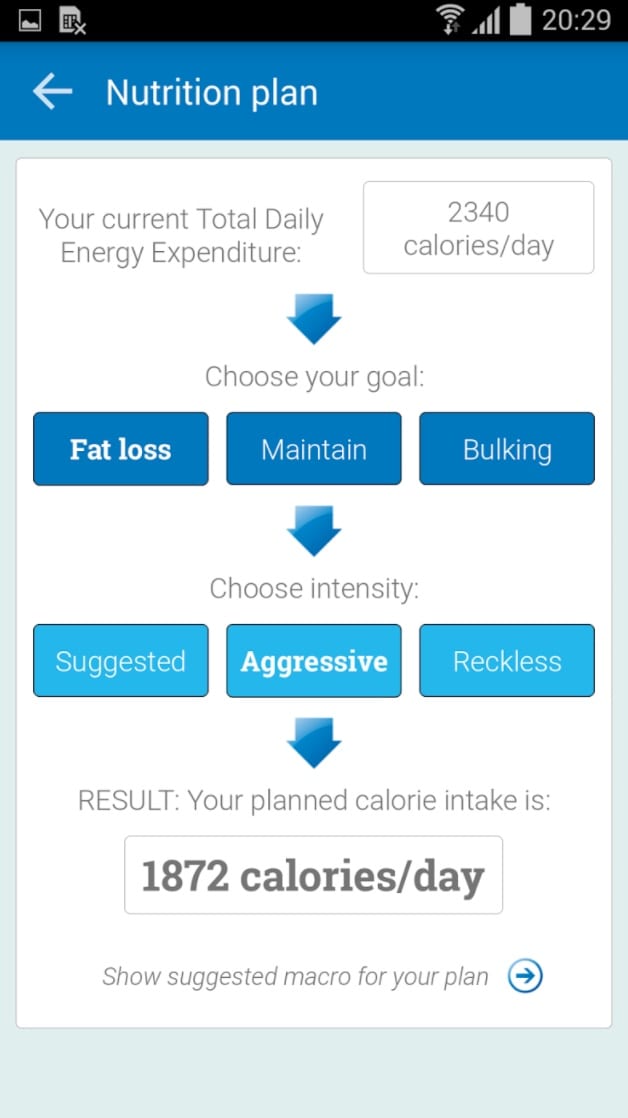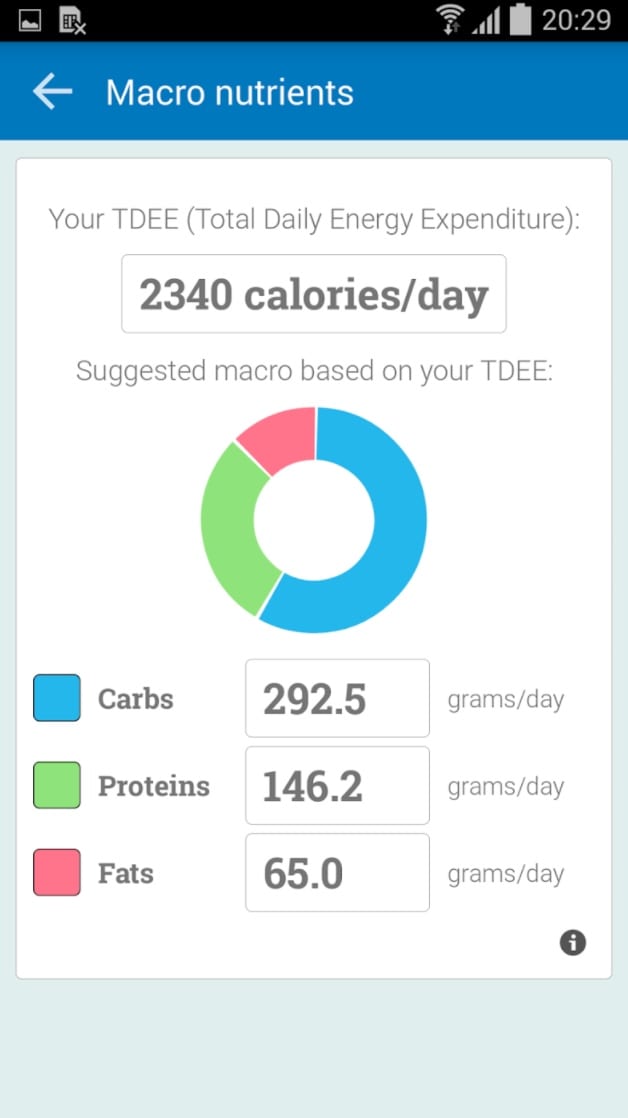 Downloads: 100000 +
Customers rating:

(4.5 / 5)
You may also like: 5 Best Atkins Diet Tracker Apps for Android
TDEE & Calorie Intake Calculator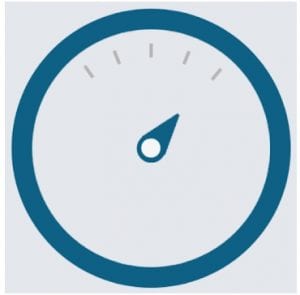 This calculator for Android will help you calculate the approximate calorie consumption of various activities.
The calorie counting method involves a sensible approach to eating without stress and serious restrictions. You don't traumatize your body by putting it on a rigid diet.
Calorie counting is the first step toward a healthy, balanced diet. You'll learn to keep your diet and to be thoughtful about your food choices. And this tool will help you do that.
As a rule, after 2-3 months of regular calorie counting, you will form a few menu options and know approximately what and how much you can eat per day to stay within your calorie range. If you think that now the calculator will be your companion for the rest of your life, it is not so.
With this online calculator, you'll know how many calories you're wasting during your daily exercise routine. Thanks to the information you receive, you will be able to adjust your diet on your own by adding the necessary foods and eliminating those that contain more calories than it has time to burn in your daily activities.
The calculator is useful for those who strive for balance. Knowing your energy expenditure, you will be able to choose the right weight loss program.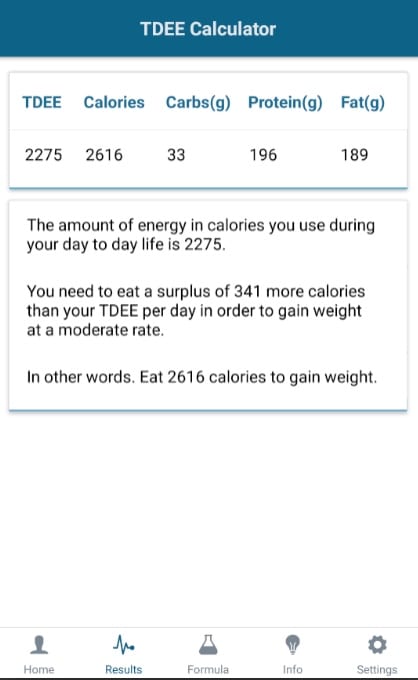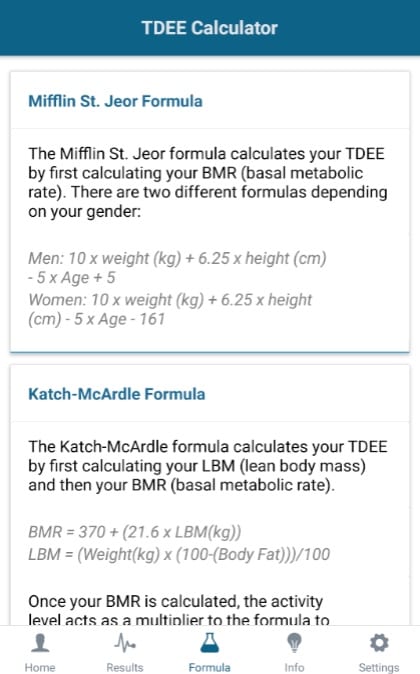 Downloads: 1000 +
Customers rating:

(4 / 5)
Every person, while performing some activity, expends energy, which he or she replenishes through food. When the balance of calories consumed and burned is disturbed, obesity from excess calories or all kinds of diseases from a lack of calories can occur.
That's why knowing how many calories are expended in certain activities is so important. And for those who lose extra pounds, such counting is a must.