Accountability apps can help you get things done, whether it's managing goals and habits, controlling your family budget, or tracking your health.
We've put together the best accountability apps for couples. They offer many interesting resources that will make you happier as a couple and help keep you accountable to each other.
HabitShare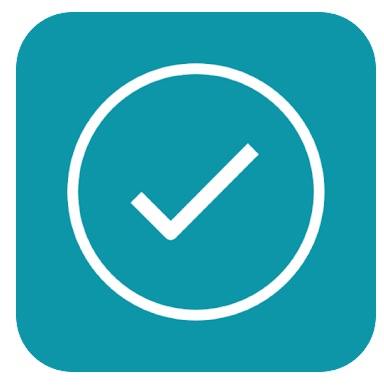 HabitShare is the perfect app for couples to help you track each other's habits. It really increases accountability when you're doing as a couple.
Your soulmate can keep track of your progress from his/her device without stressing you out with unnecessary questions. And you, in turn, will have extra motivation not to break.
In the application there are gifs that you can send in support to your partner, and just for extra fun.
What else does the app have to offer?
Set goals for each day, week, month;
Use the reminders;
Send motivating gifs to your partner;
Chat directly in the app.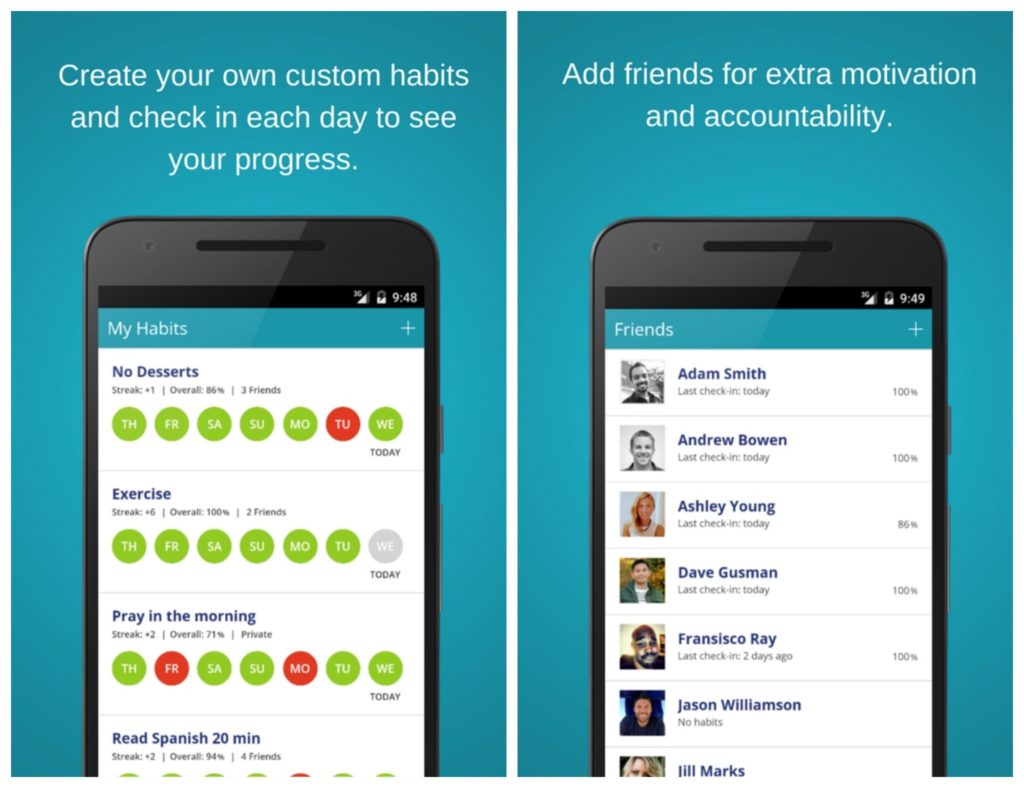 Downloads: 100000 +
Customers rating:

(4 / 5)

You may also like: 25 Best Android apps for couples
stickK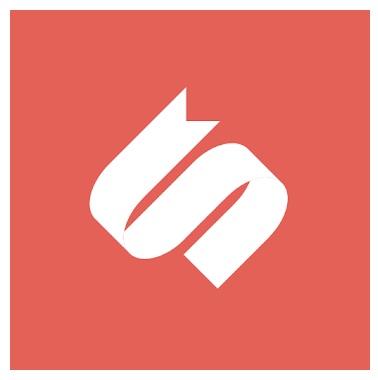 The tickK app will also be useful to couples for goal setting and accountability.
tickK easily turns goals into habits with its clever tools. Have you been dreaming of learning a language for a long time? Can't quit smoking? Want to meditate regularly? Then download the app, set a goal, invite a partner to monitor your progress and it will all work out!
The app paired with your partner will motivate you well in achieving your goals.
The app has a customizable timeline for achieving one goal or another. You can even set a monetary price for not meeting it. This will give you an extra incentive.
You can also set group goals. That is, you can unite with a partner in achieving a common goal. It will be even more interesting. Add photos of your progress and share them as proof of your activity with aa patner.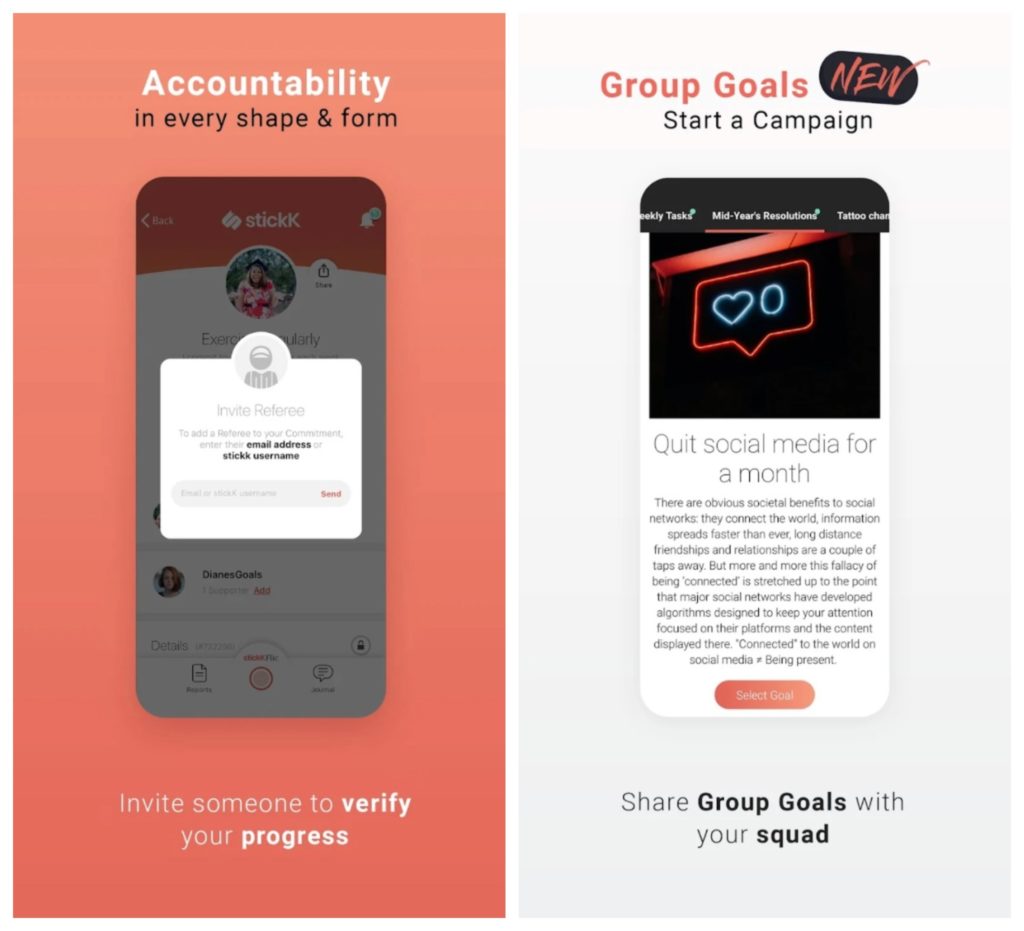 Downloads: 50000 +
Customers rating:

(3.4 / 5)

SnapHabit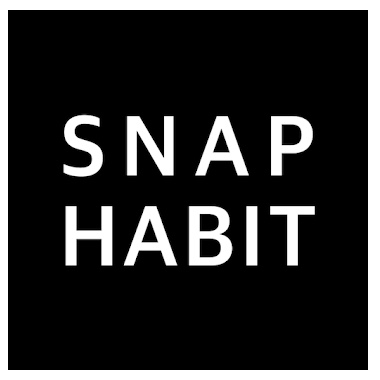 SnapHabit will help you build habits through interaction with your soulmate. Being accountable to your partner will help you stay motivated. Whether it's exercising, a way to get rid of bad habits, a diet or something similar.
Here you'll be able to keep a record of your results, add photos and comments on each habit. The app provides a handy chart to keep track of. Set goals for each day, week, month.
You'll also receive notifications so you don't forget or miss out. Send your partner photos and comments in the chat as a report.
You can make the habit shared between you and your partner. Invite him or her and motivate each other to do it. It will be easier to form a habit together.
Add as many goals and habits as you like. The good thing is that there are no annoying ads.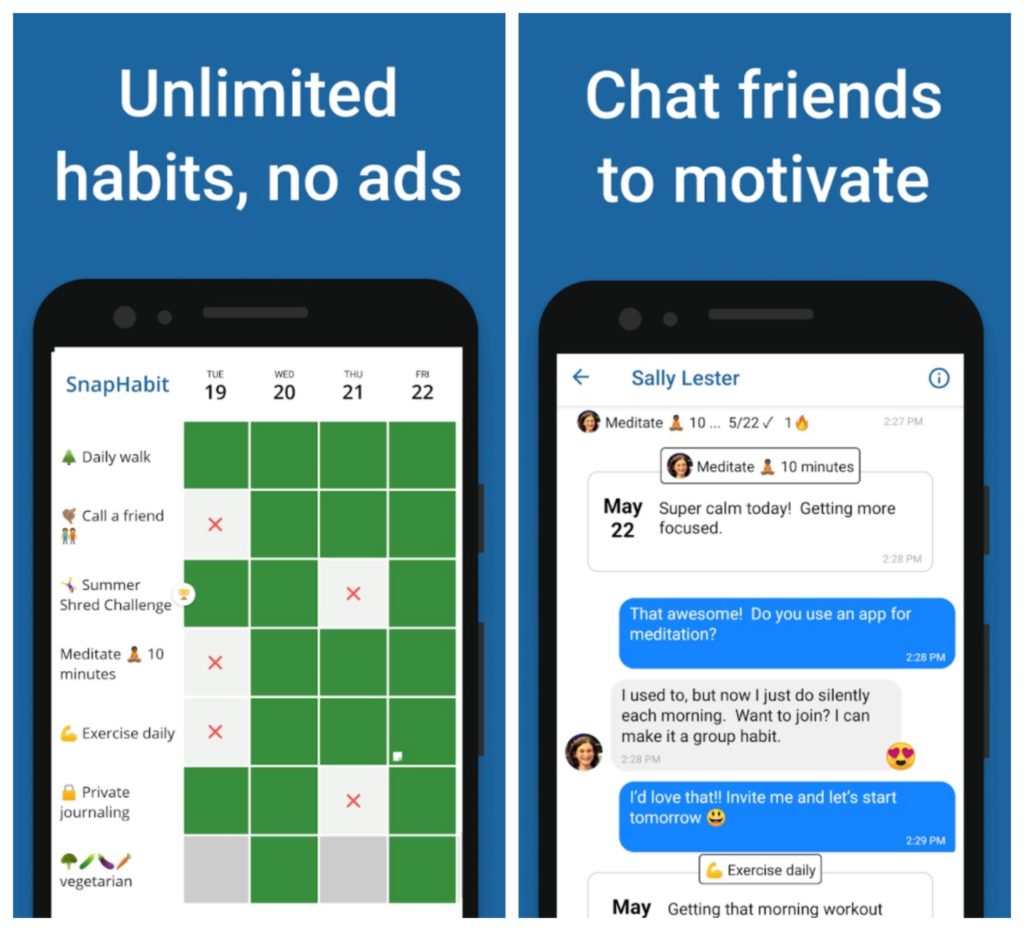 Downloads: 10000 +
Customers rating:

(4.1 / 5)

identi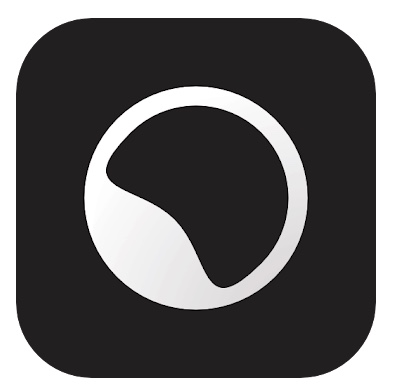 Like the previous one this app gives you the ability to set an unlimited number of goals and habits. You can team up with your partner for accountability and motivation.
Add habits to your calendar and set reminders. You can add photos to record your progress.
What else we liked about the app is that it positions itself as a social network. You can join like-minded groups with an experienced mentor. And then the progress towards the goal will be even faster because you can motivate each other. And the mentor gives useful tips and advice on achieving the goal.
Habit groups are varied. There is practically everything: meditation and yoga, weight loss, career and money, healthy lifestyle, etc.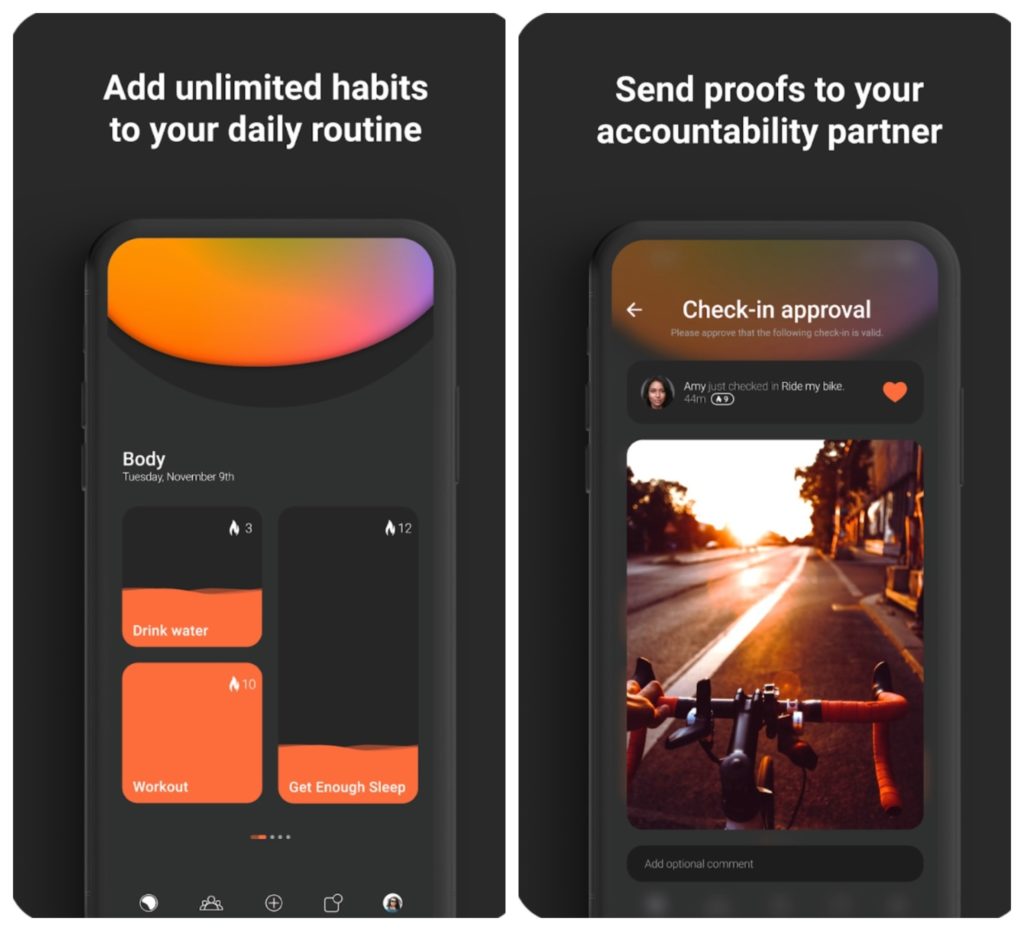 Downloads: 10000 +
Customers rating:

(3.9 / 5)

Love Nudge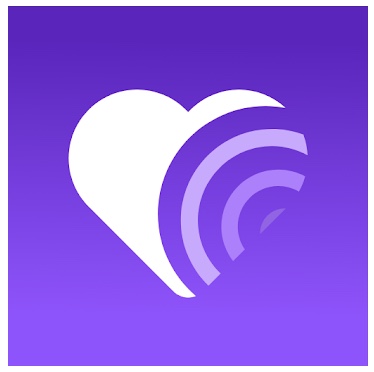 Sometimes love isn't enough. Relationships require effort, understanding, and patience, among other things. This app helps you understand your partner and strengthen your relationship with a variety of simple tools.
Love Nudge is a tool that helps to improve the relationship in a couple. The basic idea is to make you understand each other (something you could solve by talking, but it's so awkward).
Your personal relationship helper. You will be able to create goals together to improve your relationship and follow up. It will be clear at a glance who is meeting the conditions and who is not.
Sometimes couples seem to speak different languages. This app gives you the tools you need to make your partner understand you and know what makes you feel loved. And vice versa, of course.
Once you know what makes your soulmate happy (in the form of a test), you have to create a list of tasks with goals to fill the "love deposit". In this way, the deposit basically becomes a personal relationship aide, guiding you as you take the necessary steps to improve the relationship.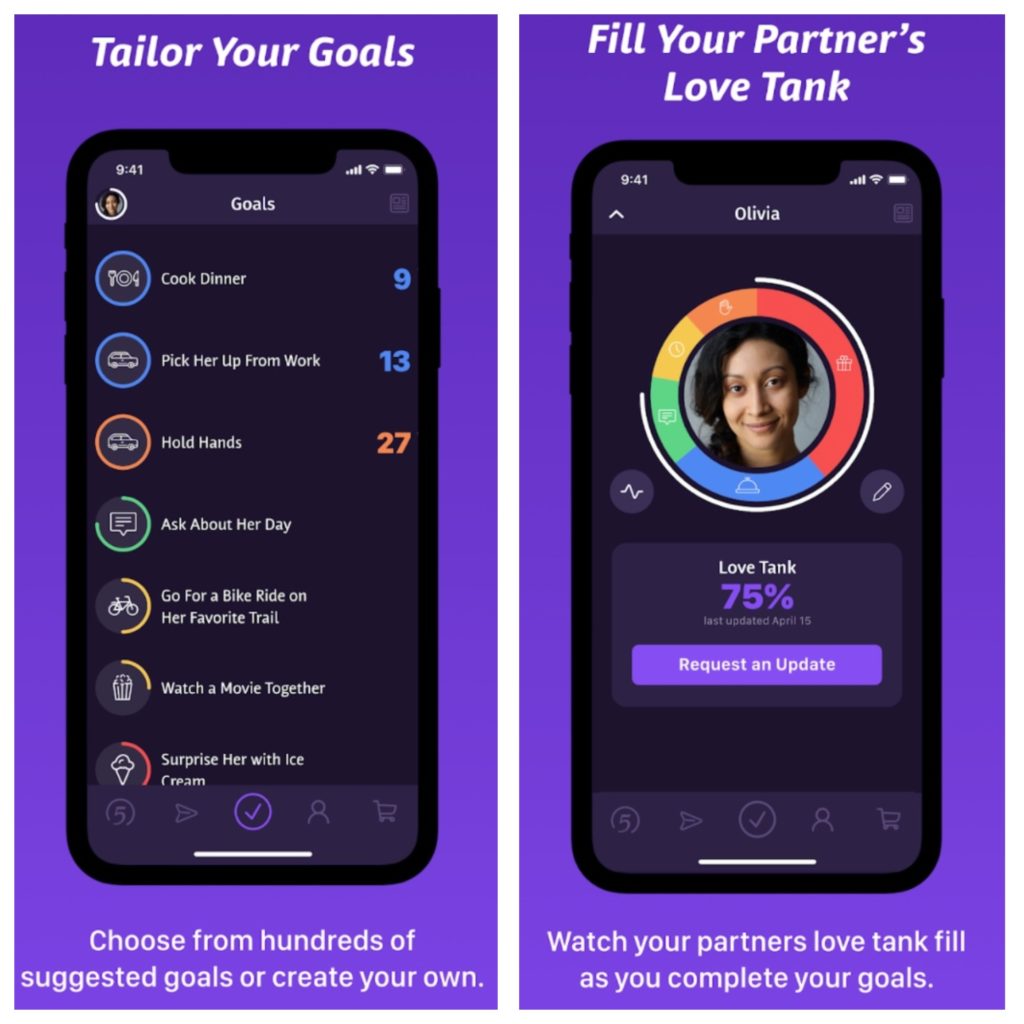 Love Nudge is the app that helps you express love to your partner in the most meaningful way and also keeps you accountable as a couple.
The app is free. It offers video and push notifications for convenience.
Downloads: 1000000 +
Customers rating:

(4.2 / 5)

Lasting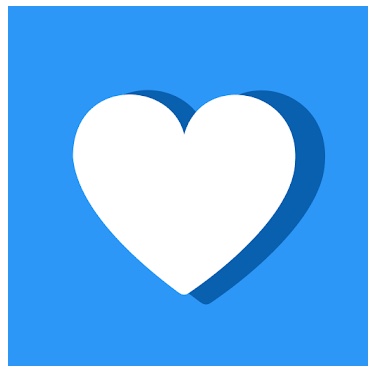 This app is for couples who want to improve their couple's relationship. If there are any problems in the relationship, Lasting will be a good chance to improve them and establish an emotional connection.
Since your accounts will be linked you will have accountability to each other. Connect your accounts and get started. The first basic relationship unit will be available to you for free. You'll also have access to individual sessions, conversations and reminders.
The premium version is free to try for 7 days. It covers all the topics related to couple issues.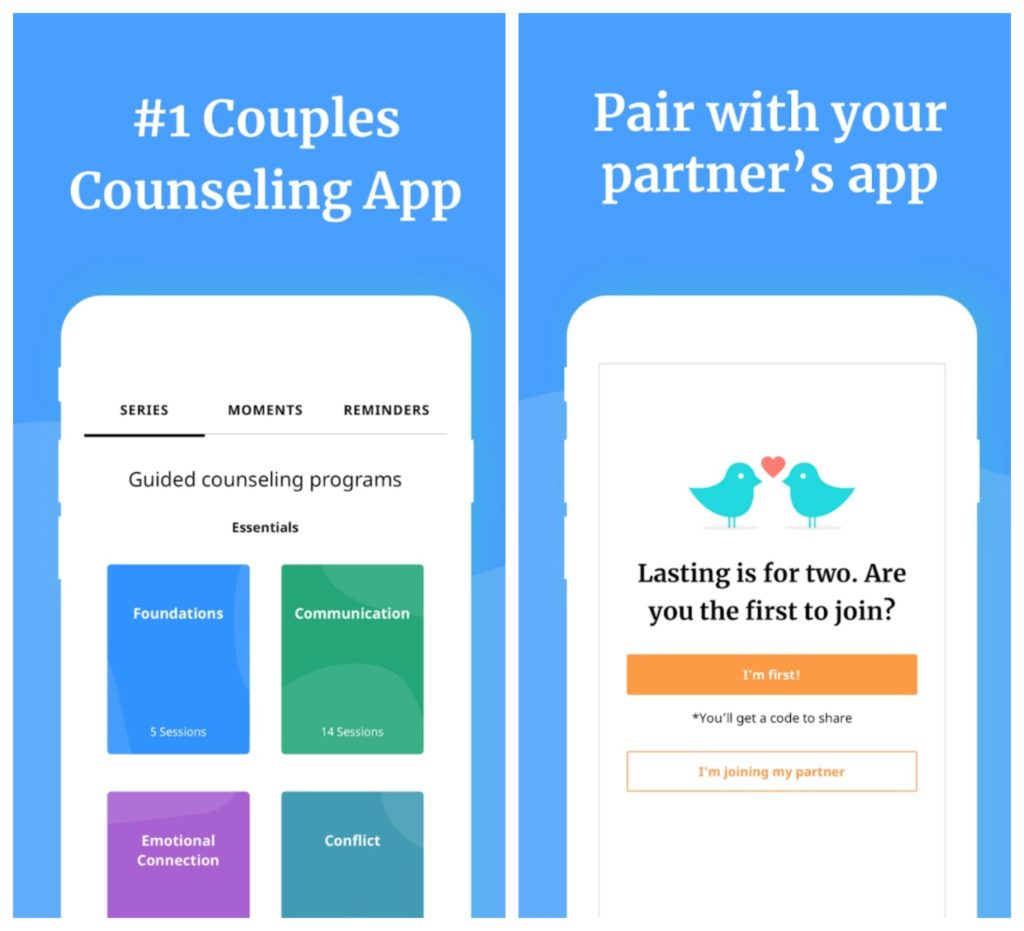 Downloads: 500000 +
Customers rating:

(4.5 / 5)

Between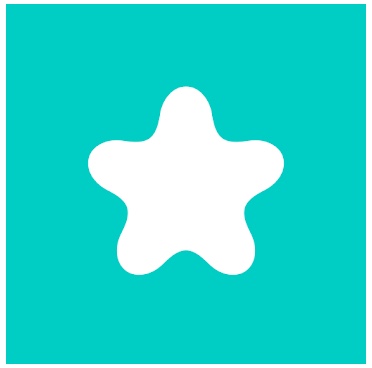 Between is an app designed especially for couples. Thanks to it, you and another person can be together almost inseparably inside a secluded space. Here, you can exchange text messages, photos, remember important dates, and do much more.
To start using Between, you need to register as a couple. During the registration process, you have to enter exactly the same code as your partner, so you have to register at the same time. In fact, you will only have 24 hours to enter this code before it loses its validity.
Basically, Between is an instant messaging client where there will only be one single contact, your soulmate. Nevertheless, the app contains a lot of different functionality. You can send photos, videos, and custom stickers. In addition, you can easily create dates and events and automatically invite your partner to them.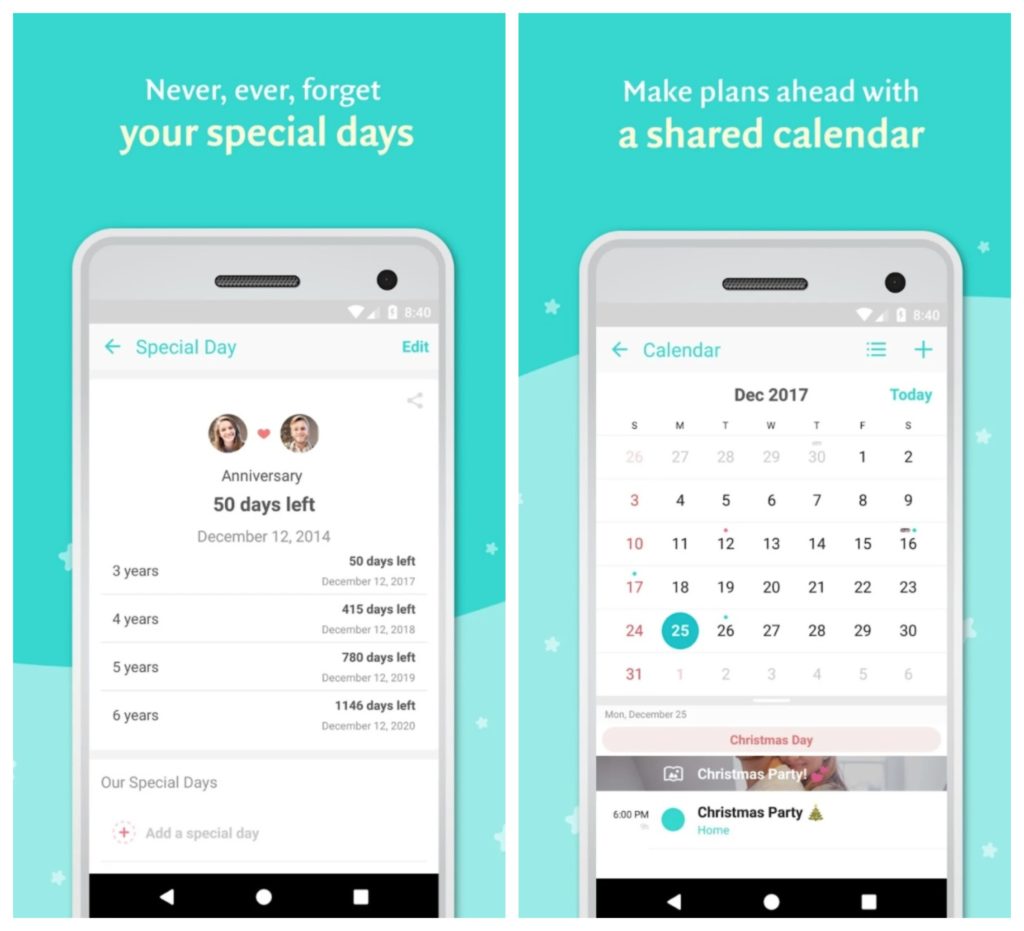 Between is an app that couples who want to stay in touch with each other at all times will love. It allows you to pay special attention to your partner through your smartphone.
Downloads: 10000000 +
Customers rating:

(4.5 / 5)

Lovewick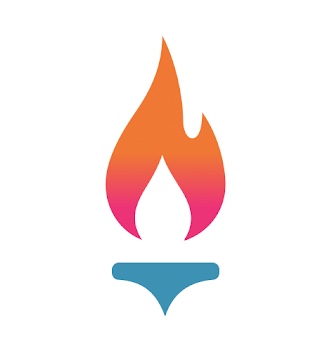 Lovewick is another amazing app for couples that you must love. In addition to reporting to each other on your couple goals, you'll have games, date ideas from other couples.
In general, the app contains a lot of useful information for building relationships in a couple, whether you are together just a month or 10 years. There is a variety of topics offered: family values and interests, money and sex, etc.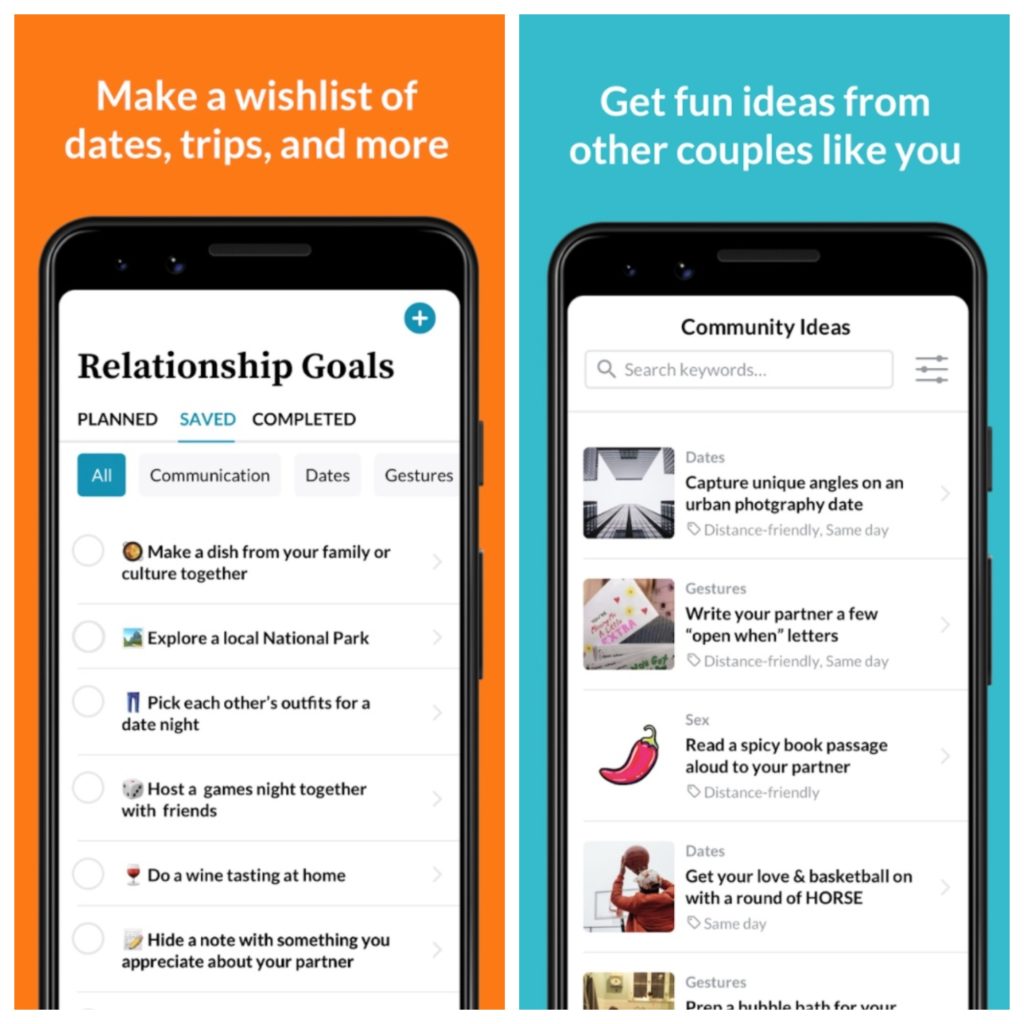 Set relationship goals with Lovewick and grow together. And some of the goals you can learn from other couples. In a special tab you can browse through them.
Keep a journal and strengthen your relationship. The interface of the application is pleasant and intuitive. See your planned, saved and completed goals and draw conclusions.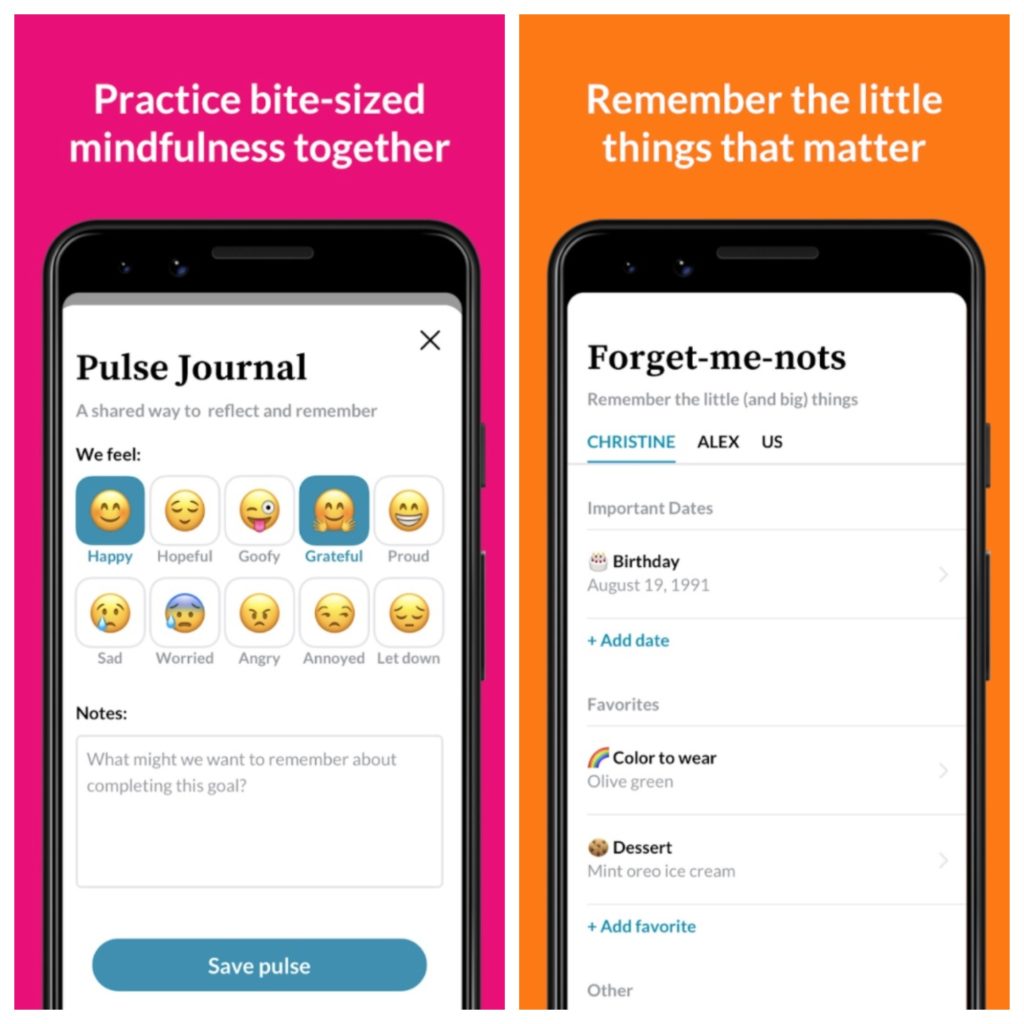 Downloads: 10000 +
Customers rating:

(4.1 / 5)

Monshare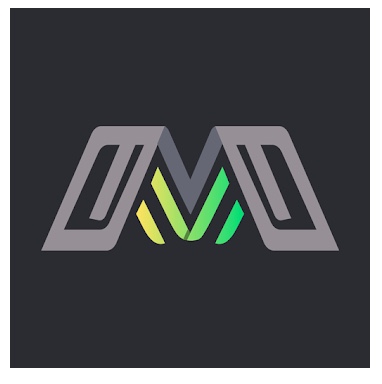 Financial accountability is also important for most couples. Monshare handles this issue with ease.
Monshare will help you allocate your budget according to your couple's individual style. You can now manage your shared expenses together with such a handy tool. Plan a budget for important events, organize bills, and keep track of all of the couple's expenses.
You can link bank accounts for convenience. This way you'll save a lot of time importing transactions directly from your bank account.
A handy budget limit setting feature will help you not exceed it. All of your couple's expenses in one place for easy accountability.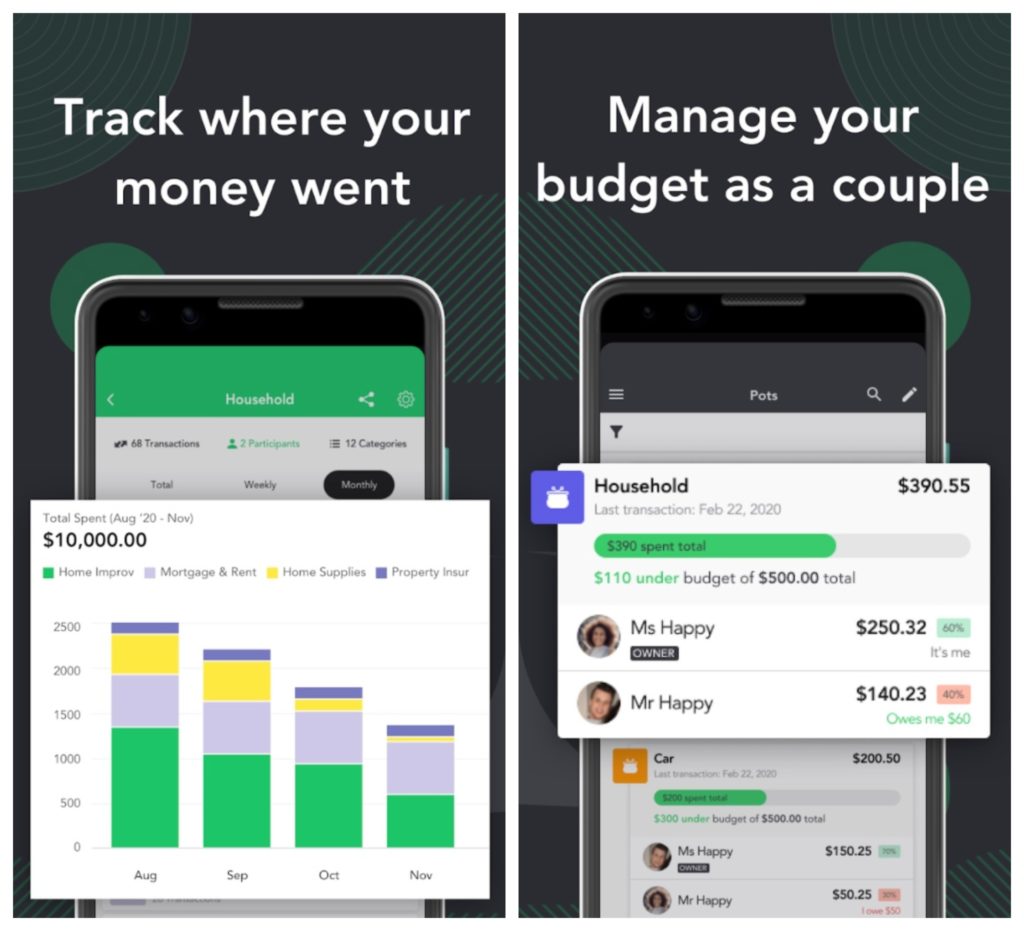 Downloads: 5000 +
Customers rating:

(4.1 / 5)

You may also like: 9 Best Truth or Dare Apps for Android
Goodbudget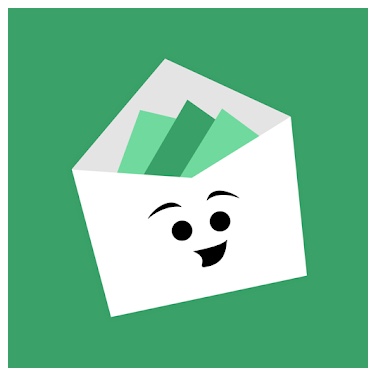 The app allows you to create a family budget and with the help of virtual envelopes you will manage your expenses in one category or another.
The service allows you to define a budget for the desired period, enter personal items of expenditure and set limits on them. In essence, the app replaces putting money in envelopes for specific purposes. Up to five people can manage a budget at the same time.
The user sets the planning period and the date on which it starts (for example, the date the salary is received).
The app also lets you track expenses, savings, bank balances, and other transactions, offering simple but complete charts.
The app will be a good financial assistant both for personal use and for forming and keeping track of a family budget.
Of the disadvantages – the interface is not the most understandable for beginners.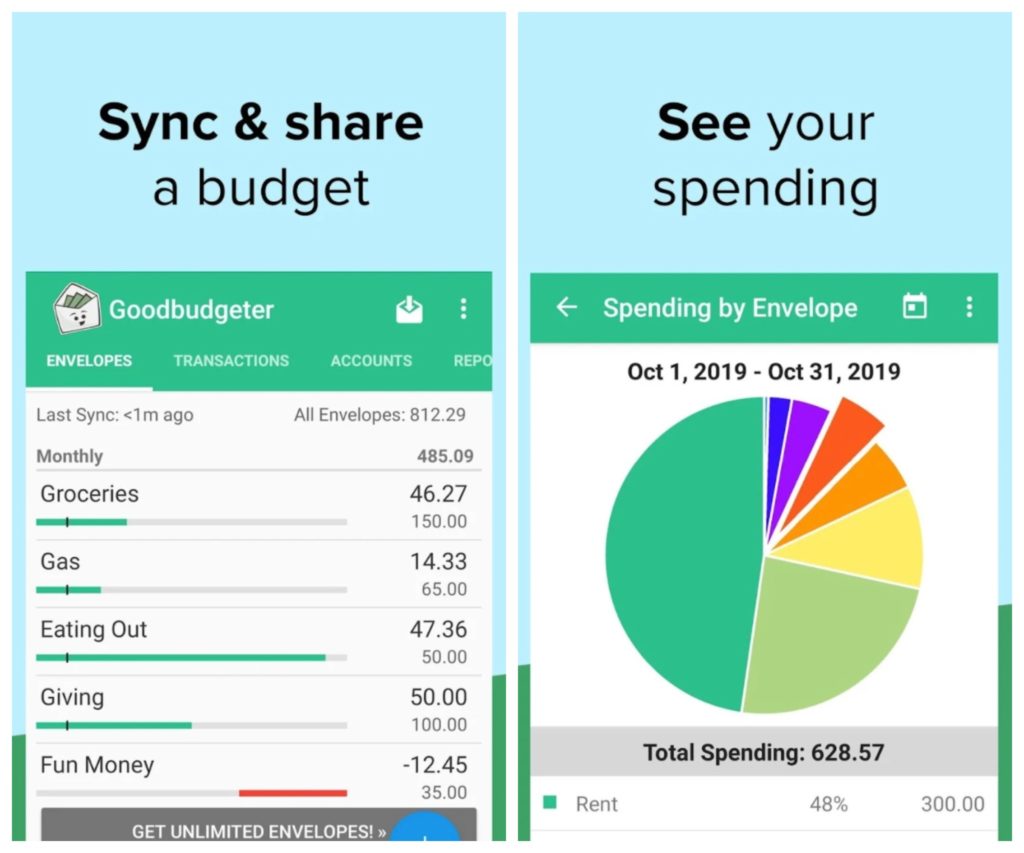 Downloads: 1000000 +
Customers rating:

(4.4 / 5)