How about a fashion assistant and personal stylist on your phone? We're talking about mobile apps that will help you create stylish looks, follow trends, inspire you with ready-made looks, and teach you how to optimize your closet.
The phone can easily become a personal stylist, a fashion analyst, and a faithful assistant in matters of fashion and individual image. We experimentally analyzed popular free apps and compiled the top 9. The choice is yours!
Smart Closet – Fashion Style
Smart Closet is a great app with which it will be convenient to compile a basic closet and images. You won't forget what things you have and will see what is missing. And at the same time, get rid of things that don't fit into any capsule or have not been worn for a long time!
I love the fact that everything can be edited at any time and that there are notes! It has important points that others don't or don't have all:
It works without the Internet.
Statistics! You know how much your closet costs and you can calculate the "efficiency" of each item.
The catalog is customizable.
Quality photo editor. It's easy to add photos, remove the background, make a look, and convenient filters.
Search using online stores.
You can configure all the important parameters, there is a calculation of investments, a calendar of looks, etc. Clothing categories, customizable filters, and your own fashion feed: no need to scour the Internet for looks now!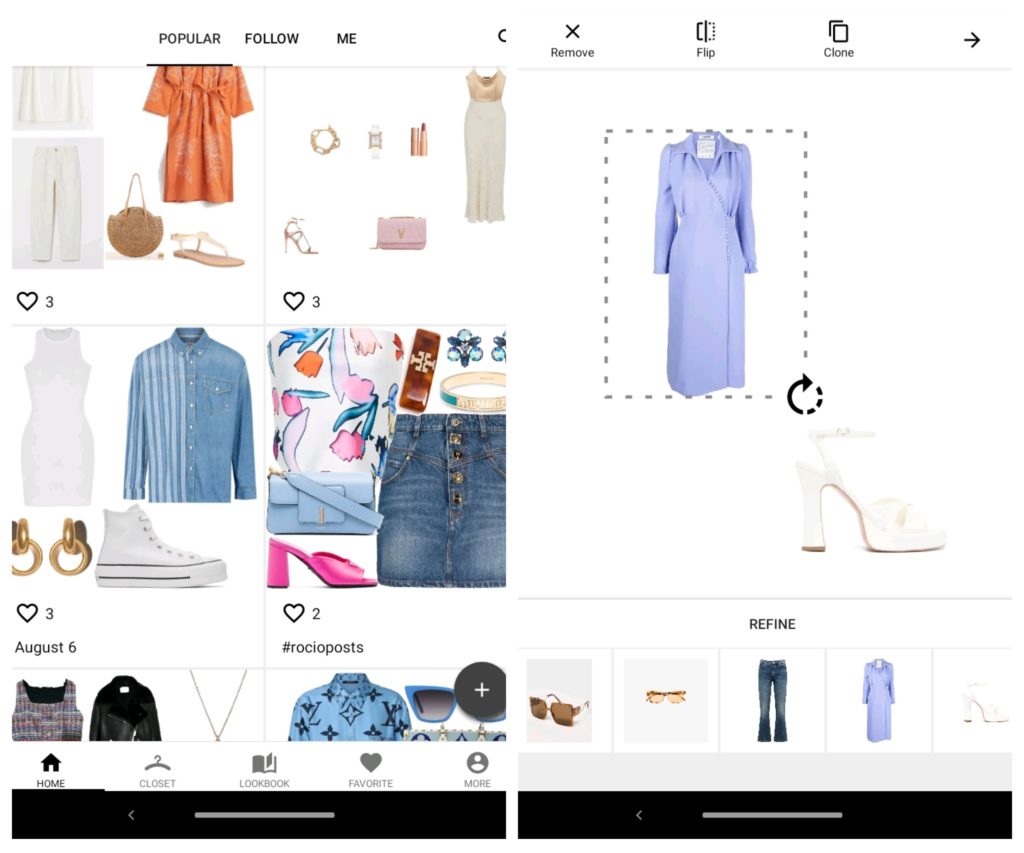 Downloads: 1000000 +
Customers rating:

(4.2 / 5)

You may also like: 5 Best Skin Tone Detection Apps For Android
Acloset – AI Outfit Planner
The app is the bomb! At first, you have to strain and load your entire closet, but then you can get high!
It analyzes your closet, tells you what to wear for the weather, what to pair this or that thing with, suggests new looks, and gives a lot of useful analysis – which things in your closet are more, which are worn more often, what is their cost-effectiveness (cost of wear), etc.
A closet sometimes offers great combinations that you don't even think about. The feed is full of great ideas. Everything is done very conveniently and intelligently. There is built-in photo processing.
Awesome app with no limit on the number of items and kits you can add. If you specify the seasonality and purpose of each item right from the start, it offers really great picks for every day, and it also correlates with the weather.
The only thing I would like is that the images for the day would be selected not only tops/bottoms/shoes but also bags and jewelry.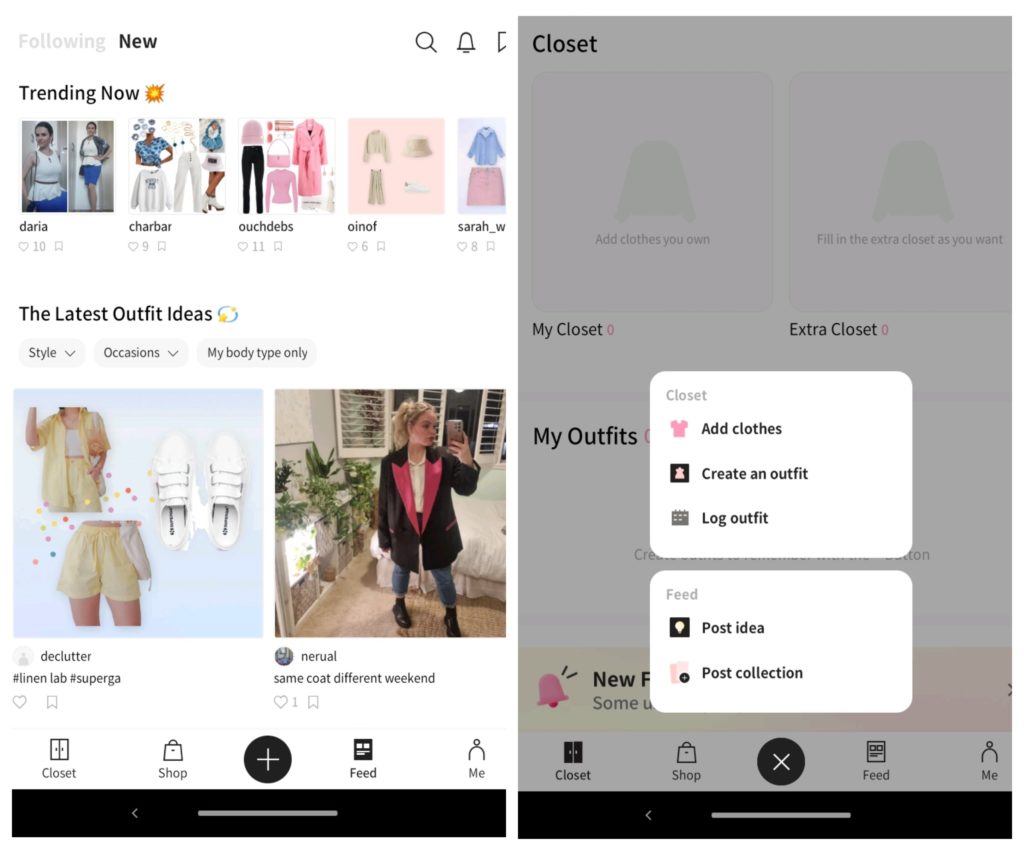 Downloads: 500000 +
Customers rating:

(4.5 / 5)

Get Wardrobe – Outfit maker app
Everyone needs an order in their closet and tries to organize their belongings! This app is one of the best closet organizers.
In the free version, you can add 100 things or sets. Then, by mixing these things, you make up outfits. You can immediately see an objective picture – what is there, what is not, what goes with what, etc. It's convenient to use when shopping, so that when you buy a thing you can immediately see how it fits in with the rest of your closet.
The Get Wardrobe app has an automatic pairing feature. Go to "Thing" and you will see a "combinations" tab that will give you options.
Also, try the function of the fashion feed. There, you can collect new ideas for new outfits.
I've noted only one minus. When you remove the background around the clothes, some parts can be erased, such as the sleeves on a jacket. So, y you have to take many photos to get a good picture where the background is well removed.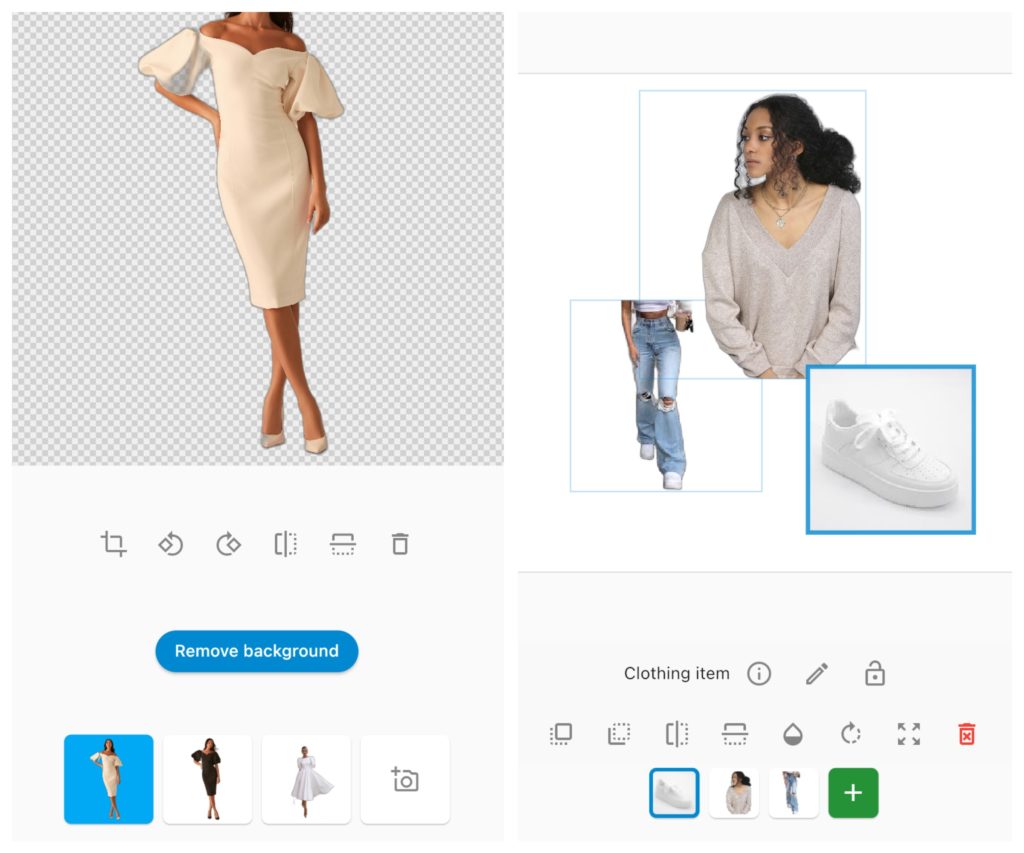 Downloads: 100000 +
Customers rating:

(4.5 / 5)

Combyne – Outfit creation
Combyne – find the perfect outfit for you. In this app, you can find the perfect outfit for any occasion. You will see a huge selection of different clothes. Follow fashion and choose the right clothes and hairstyles for you.
In doing so, you can stack different clothes in one set, thus trying them on. Follow the appearance of celebrities. You can create the kind of outfit you want. The app has more than 50 partner stores of fashionable clothes.
Also, if you like something, you can buy it directly through the app. The app has a built-in chat room where you can find like-minded people or just consult on clothing choices. Once you've picked out the perfect set of clothes, you can save it and return to it at any time. Also, you can comment on the outfits of people who use the app.
Benefits of Combyne:
Create unique looks with a variety of clothing;
Follow famous personalities and their looks;
Chat with like-minded people in the built-in chat room;
Comment on your friends' styles;
Share your outfits;
Collaborate with over 50 partner stores.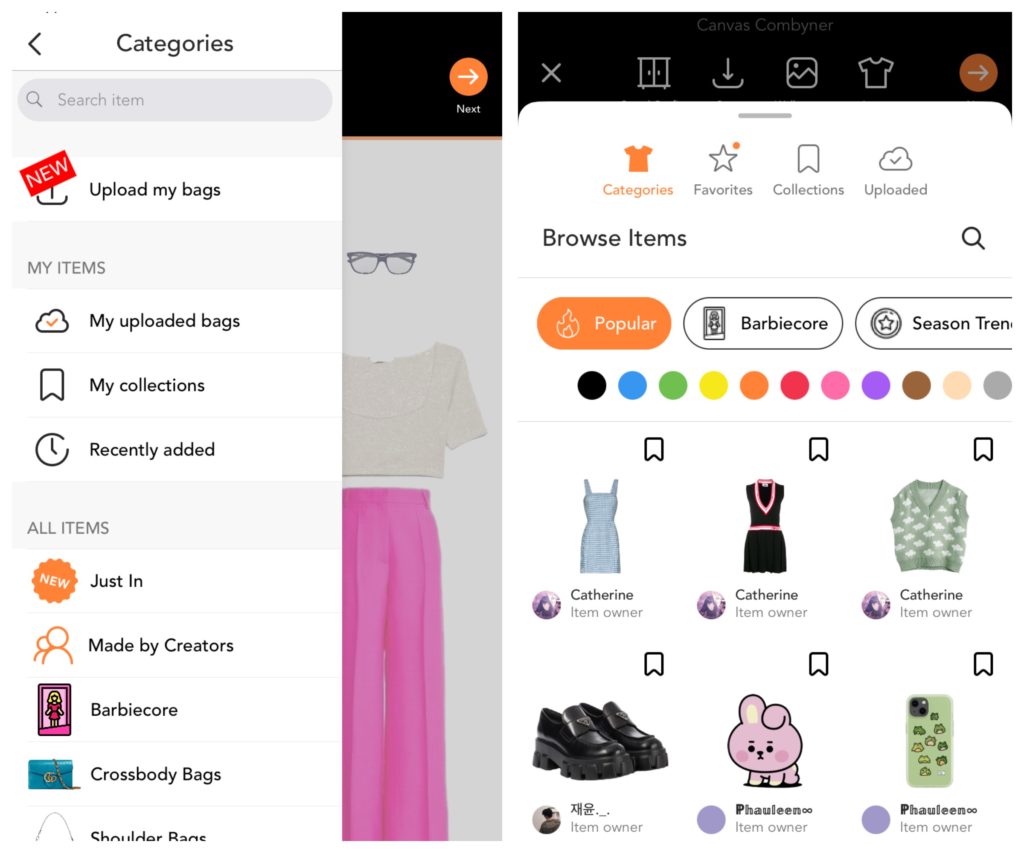 Downloads: 10000000 +
Customers rating:

(4.1 / 5)

STYLICIOUS – Closet Organizer
A chic app to help you create a capsule closet and get rid of unnecessary things. The look of the app reminds me of a magazine. You can browse trending outfits and add them to your collection.
It's cute and nothing superfluous. STYLICIOUS is a girly toy. Agree, that it's convenient to "keep things in your phone" when you don't always remember this or that thing in the closet.
In the program, you can:
Add photos of clothes, and sort them by different items (style, season, category).
Compose looks from different things.
Allocate ready-made outfits to calendar days (it's convenient to schedule what to wear and where to go for a week in advance).
Online shopping.
Overall, the app isn't bad: there's a breakdown by type of outfit, seasonality, and event. It's convenient to upload photos: you can take photos right into the program or upload existing ones. The structure of making looks and adding/removing things to them is very clear.
By distributing images by date, you simplify your life. Really, girls, it's so cool. No need to stand in front of the closet for 30 minutes and decide what to choose. Come in, see, put on.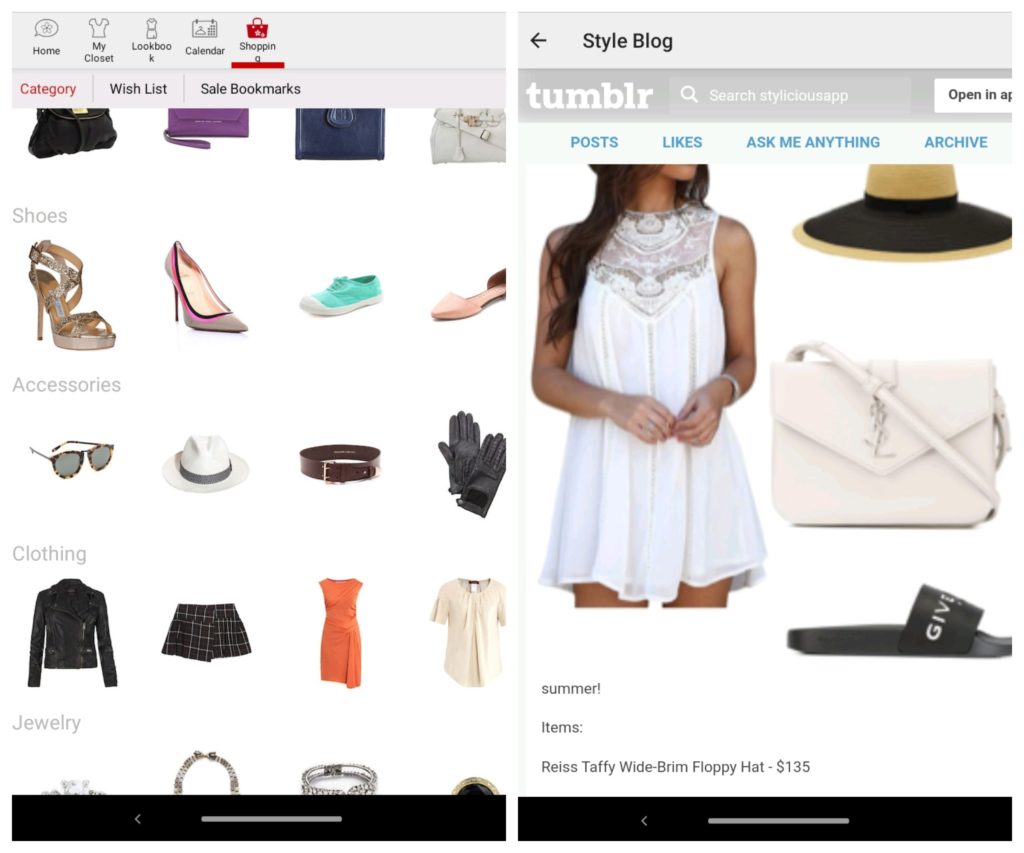 Downloads: 100000 +
Customers rating:

(3.7 / 5)

You may also like: 16 Best buying shoes apps for Android
Shoplook Outfit Maker
ShopLook is a platform that makes it easy for anyone to create mood boards or outfits. You can follow set authors you like, search for and communicate with look makers you're interested in. Here you can pick your own outfit by browsing through millions of products.
To create a set, you need to go through a simple registration process and then get started.
You should drag and drop the items you want: tops (tops, blouses, t-shirts), sweaters, dresses, jeans, pants, shoes, bags, swimwear, and accessories. You can apply a filter by color, brand, and price.
Add all the items we need and click Publish. The result is a set that will be saved in your profile.
The Likes tab stores the items you like, marked with a like. The Text tab has fonts. The Images tab contains images uploaded by users, divided into sections: Women's Fashion, Men's Fashion, Children's Fashion, Home & Interior, Beauty, and Other. In the tab Extras, there are backgrounds, frames, pictures, and different graphic elements for beautifully designed sets.
Let's summarize the service ShopLook:
User-friendly, clear interface.
Filtering by color, price, and brand.
Communication with other users.
Opportunity to upload images from the web via URL
Ability to upload sets to Pinterest and other platforms.
Good user support.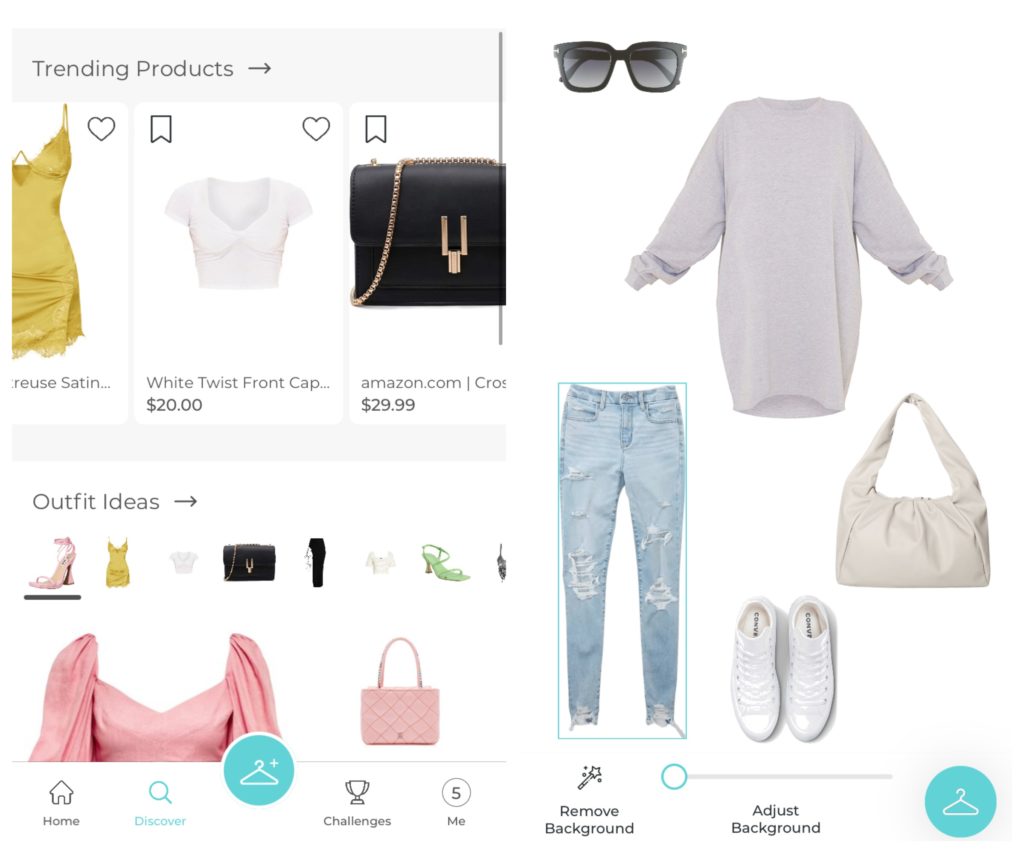 Downloads: 100000 +
Customers rating:

(3.9 / 5)

My Wardrobe – All your clothes
Every girl wants to be beautiful, and stylish and dreams of a perfect closet. In this case, few want to spend a considerable amount of time choosing the right outfit. Everyone wants the contents of the closet, as if by magic, in a matter of seconds decomposed into stylish sets and all things are in harmony with each other.
Today, this magic wand can be a special application for your smartphone, which can easily solve the eternal problem of girls "what to wear?".
The My Wardrobe app is a super fashion assistant. It helps to systematize the entire closet, really assess what is missing and what is in excess, and the function of making outfits for every day is super.
You can take pictures of your things and then make outfit sets for the exit. You can use the calendar. A great feature of the app is that you can get notifications so you don't forget what you will wear.
It would be cool if there was a minimum of analytics – how many times during the period thing was used in the images.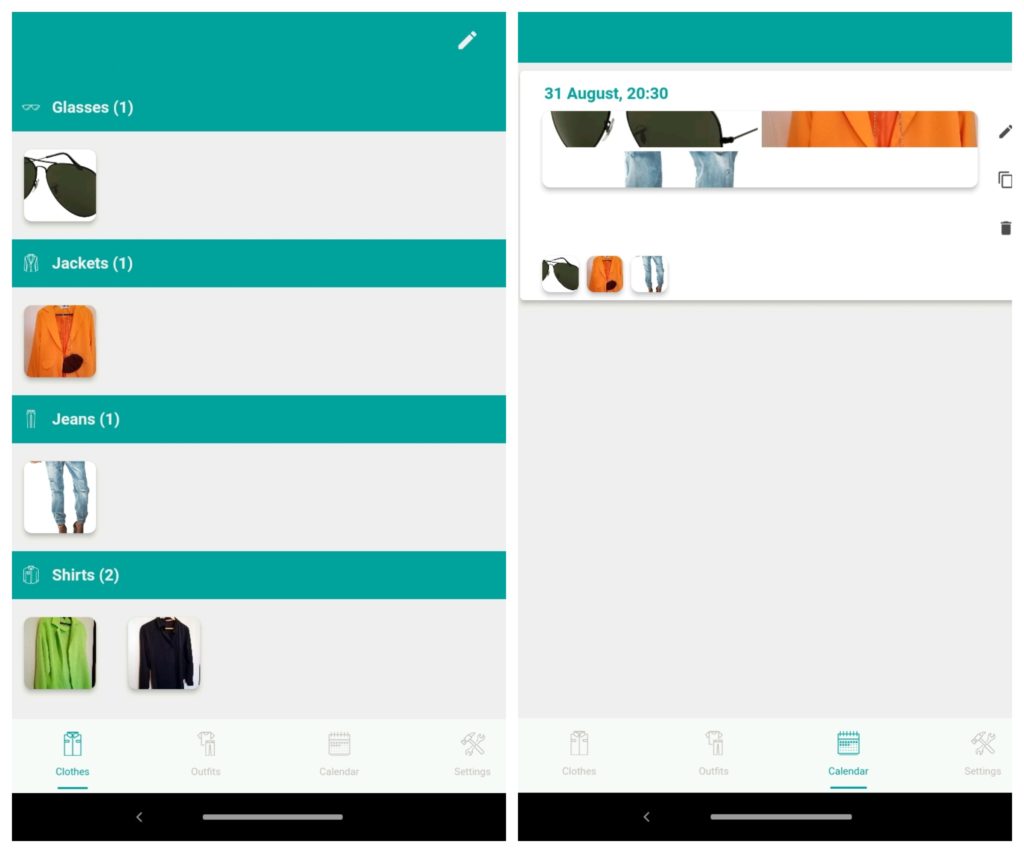 Downloads: 100000 +
Customers rating:

(3.7 / 5)

Style DNA – Personal Stylist
DNA Style is an artificial intelligence-driven platform providing a wide range of image consulting services. Based on your photo, it makes a unique selection of clothes and ready-to-wear images online.
DNA Style has developed unique technologies on the basis of advanced image consulting techniques, which allow:
determine the user's color type and form a style book,
Make an individual choice of clothing, based on your personal style,
Visually correct flaws in the figure with the help of clothes.
Also, the application answers the most popular question "What to wear with a particular thing" by providing up to five images with it according to different criteria:
To match your individual style;
With any item from the catalog;
Any downloaded item from your closet;
In the colors of any photo.
The app is as good as a live stylist. There is a free version, where you can learn a lot of useful things about color type and style. There is a paid extended version.
What I like here is that the app analyzes the information in real time and selects outfits taking into account the features identified in the photo as well as your height and shape (you specify your parameters in advance).
But still, I think there may be inaccuracies in determining the color scheme, for example. Because you can take photos in different lighting, with different styles and shades of makeup, etc. So, it's worth paying attention to that.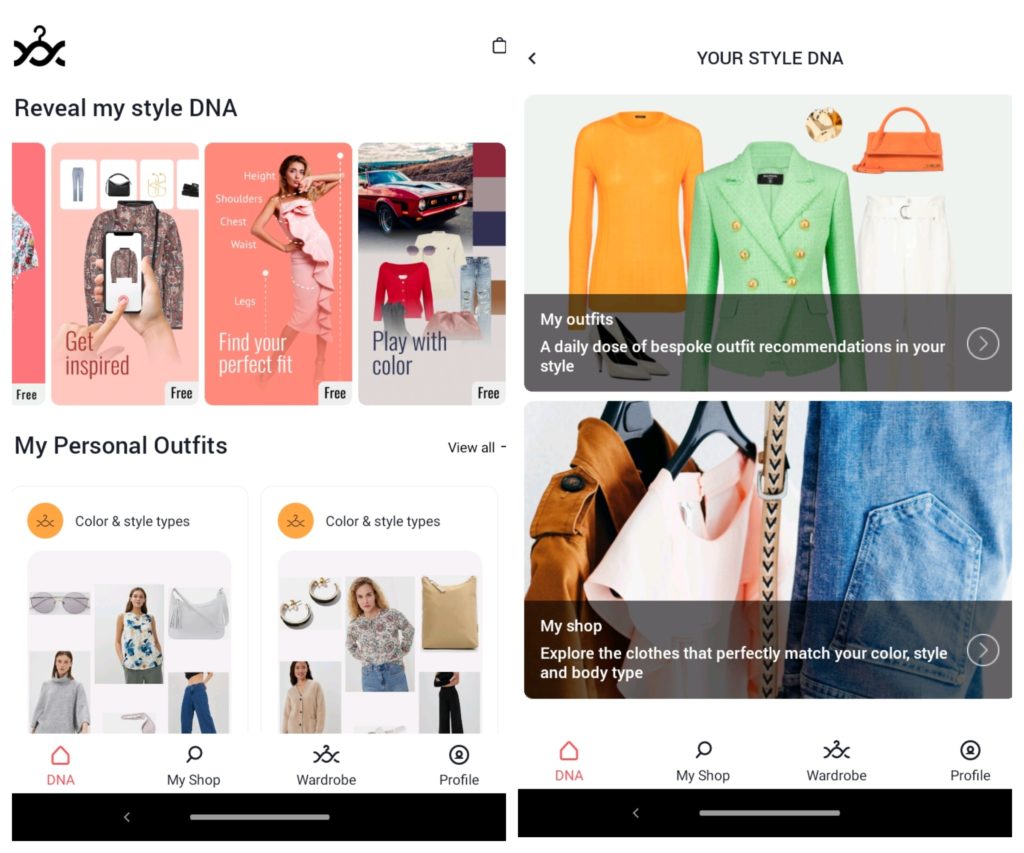 Downloads: 100 +
Customers rating:

(4 / 5)

You may also like: 20 Free Fashion Games for Android
Whering – Digital Wardrobe and Outfit Planning
The Whering app is not only fascinating but also practical: with its help, you can learn how to approach shopping more consciously.
Still can't part with your favorite sweatpants? Upload your closet to Whering to make sure you remember the things you haven't worn all year and you won't waste your money on something useless.
Whering will be your personal stylist. Based on advanced machine learning technology, it offers the user ready-made images, occasionally integrating products from eco-friendly brands, items from resale platforms, or fashion rental services that could fit into your existing set.
Whering takes the kits you've made before, remembers your preferences, and suggests new options based on that. The app pays attention to quality and durability so you can buy less frequently and more consciously.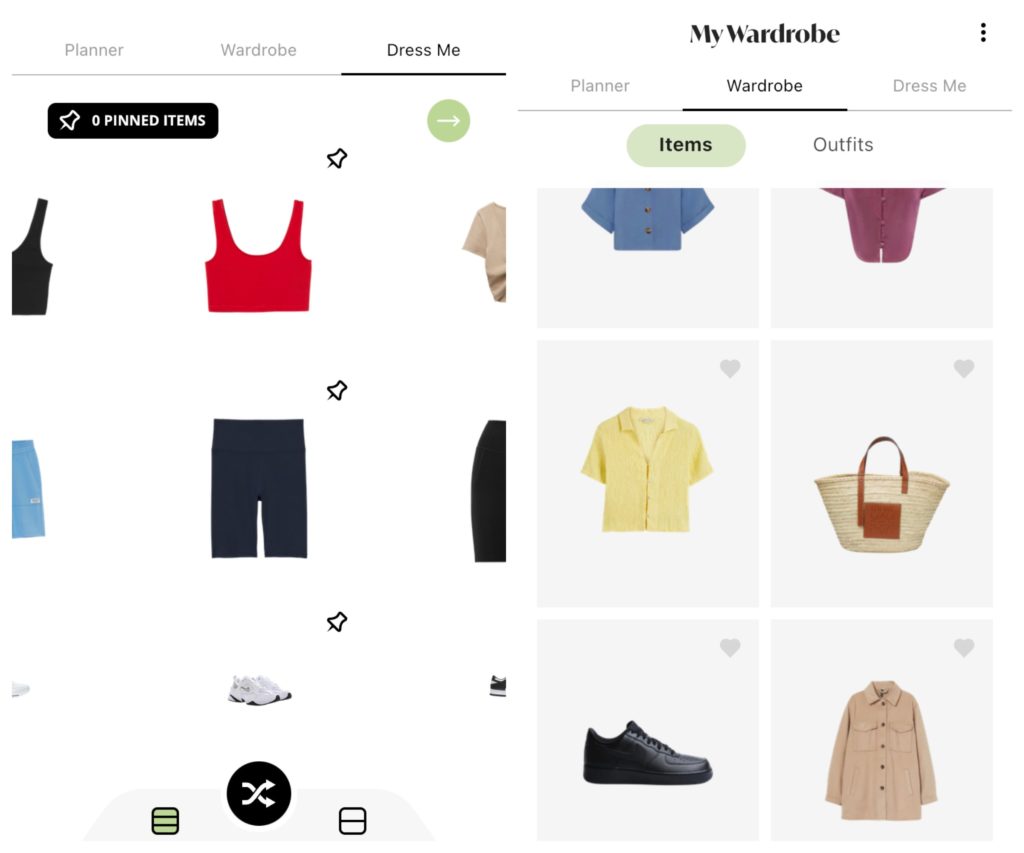 Downloads: 100000 +
Customers rating:

(3.7 / 5)