Do you want to know which hairstyle is right for you? Do you see yourself with luxurious light curls or in dark color? For such tasks, there is a whole category of mobile programs that allow you to see yourself in a new way even before visiting a beauty salon.
Several different applications allow you to change the color of your hair in the photo. Everyone can use them, it is enough to perform several manipulations according to the step-by-step instruction.
YouCam Makeup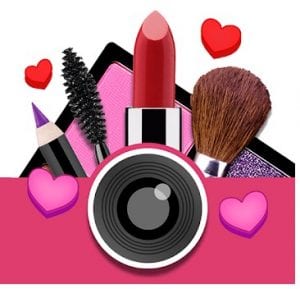 YouCam Makeup is a universal virtual beauty salon. Using the technology of augmented reality YouCam Makeup allows you to try on make-up, beauty images for free, and experiment with appearance, providing incredibly realistic results.
Shoot photos and videos on the built-in selfie camera, edit using facial retouching tools, try on hair color, fashionable shades of lipstick, pick the right color of tonal cream, make your teeth white, smooth the skin, try on a new shape of eyebrows and eye color, as well as ready-made beauty images.
It's easy to get the perfect selfies from any angle because this smart beauty editor works in 360-degree mode.
A hairstyle, hair color, and ombre:
Try on the classic or the most incredible colors and shades and surprise your subscribers with a new style!
Styling for any length and structure of the hair.
You can even try on a dozen different wigs – in this, you will have complete freedom.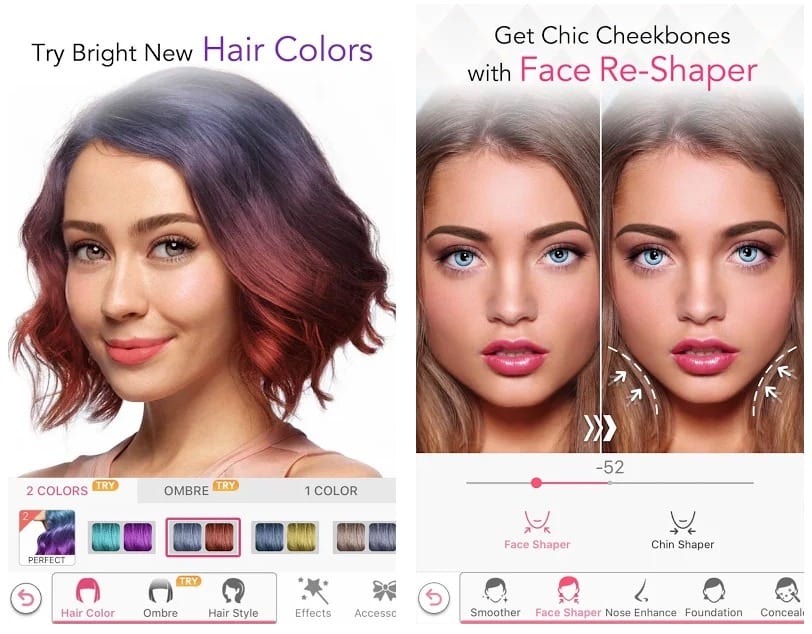 Downloads: 100000000 +
Customers rating:

(4.5 / 5)

You may also like: 7 Best Fake Hair Clipper Apps for Android
Fabby Look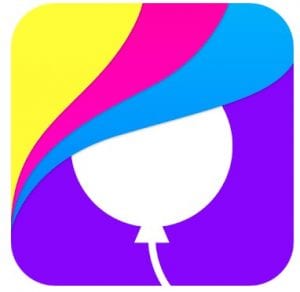 This is an application that has only one function – it changes the color of your hair and saves photos. Without advertising, mandatory registration, and paid functions.
This application contains a lot of different colors, from natural light and dark to bolder colors such as purple, blue, green, and pink. Photos are beautiful with a small auto filter, the color is clear and beautiful.
Change the hair color in real time:
More than 10 fashionable shades and stylish coloring: ash, platinum, neon, natural shades.
Experiment with real time hair color: try on colors before you take a photo.
Share the results in your favorite messengers and social networks.
Note: you cannot apply an effect to a ready-made photo, you cannot select your own color, you select only from a ready set.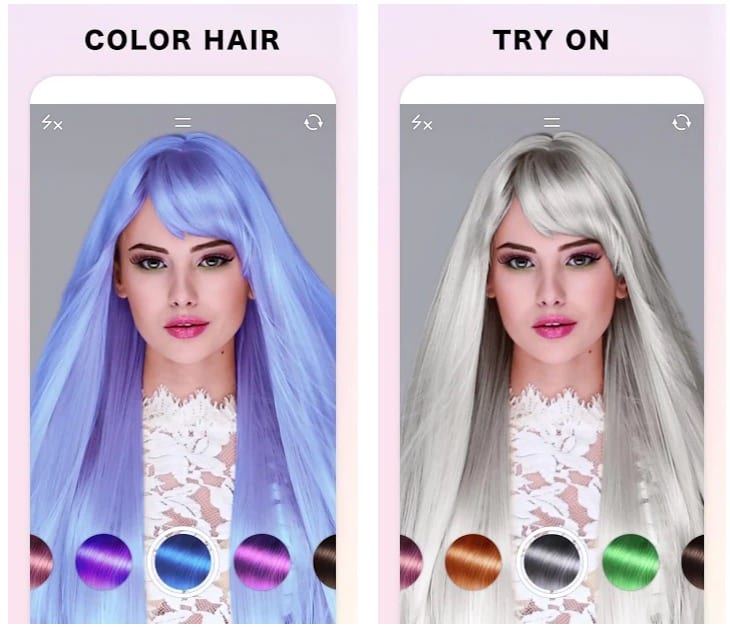 Downloads: 5000000 +
Customers rating:

(3.8 / 5)

Teleport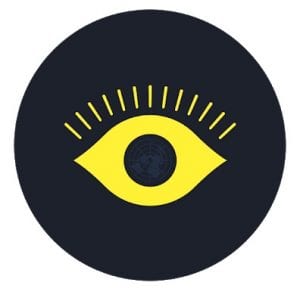 Teleport is an application, which has become a real hit on the Internet. Thanks to artificial intelligence, Teleport allows you to replace the color of your hair in any photo as realistically as possible.
Green, pink, purple hairstyles are in trend now, so you can test fashionable images!
We recommend that you immediately create collages with different hair colors. With their help, you will be able to better understand which option of hairstyle is more suitable.
Functions:
In addition to the choice of more than 50 colors, users have the ability to adjust the color saturation;
There are built-in filters with which you can take selfies, ready to be published on social networks;
Change skin color;
Change the background of the photo.
Now you can change your skin color! A golden tan, your favorite comic book superhero's skin color, or a phosphor glow like a ghost? The choice is yours!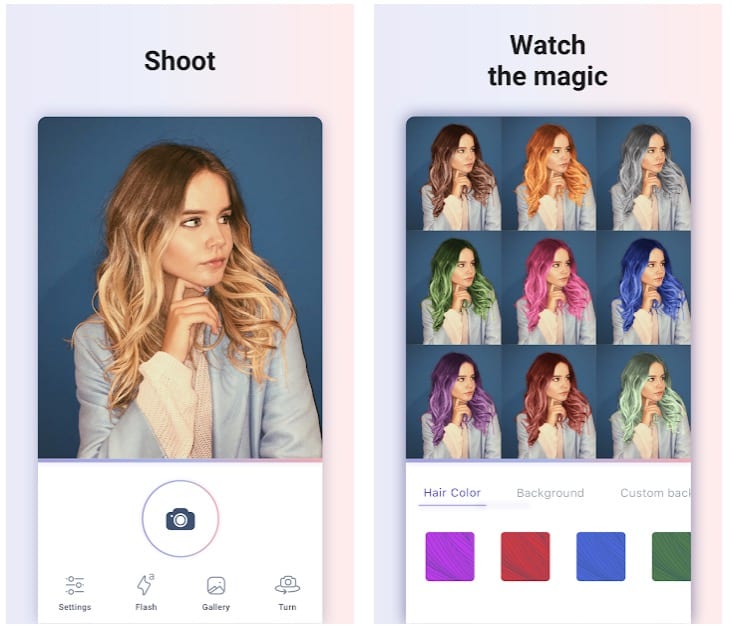 Downloads: 5000000 +
Customers rating:

(4.2 / 5)

Perfect365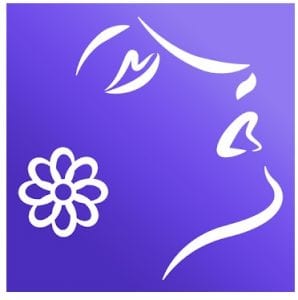 This is a cool make-up room. Perfect365 has ready-made images, including paid, but the most interesting starts in manual mode. For example, for the eyes, you can change shadows, shine, eyelashes, eyeliner, pupil color, and remove circles under your eyes. A great feature for experimentation: to overlay your hair in a different style.
With just one click, you can choose and try on dozens of pre-prepared fashionable make-up samples, as the stars of the screen, or have fun customizing your own unique style.
To look like a model, use tools that make your skin smoother and your teeth whiter, remove flaws, change hairstyles, and so on. You can adjust the intensity of each effect, and no one but you will know why you look so good.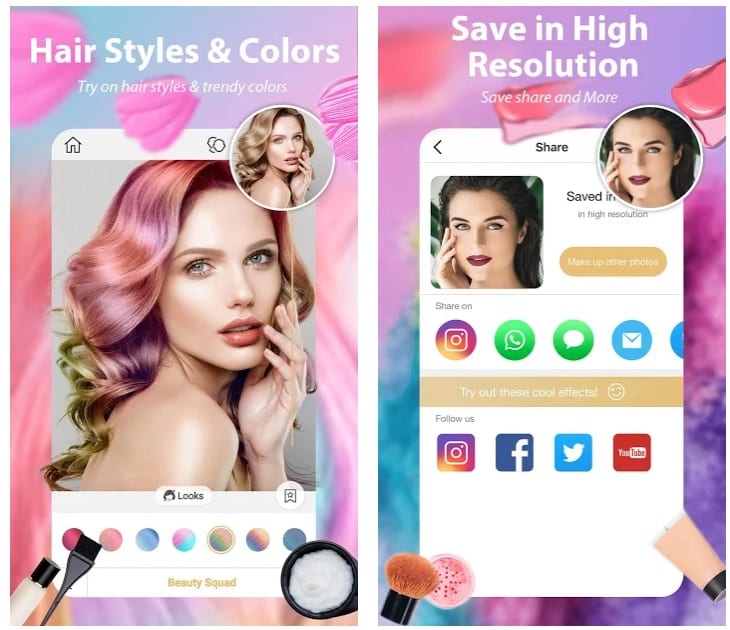 Downloads: 50000000 +
Customers rating:

(4.3 / 5)

Hair Color Changer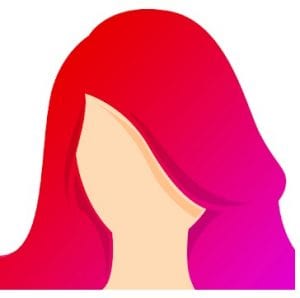 Want to see how you will look with hair of a different color? Easily dye your hair in any color with this app.
Functionality:
Color your hair in any color you like;
Auto brush helps you automatically color your hair;
Super magnification for perfect paintbrush application;
Adjustment of transparency and brush size.
Features:
More than 15 different hairstyles that you can try.
You can use a photo from your gallery or you can take a picture with the camera.
You can choose one of the beautiful hairstyles and adjust its size: long hair, short hair, curly hair, straight hair, ombre, and more.
You can save your new look in your photo gallery and you can make your own personal photo album.
You can install your new work of art as wallpaper on your phone or tablet.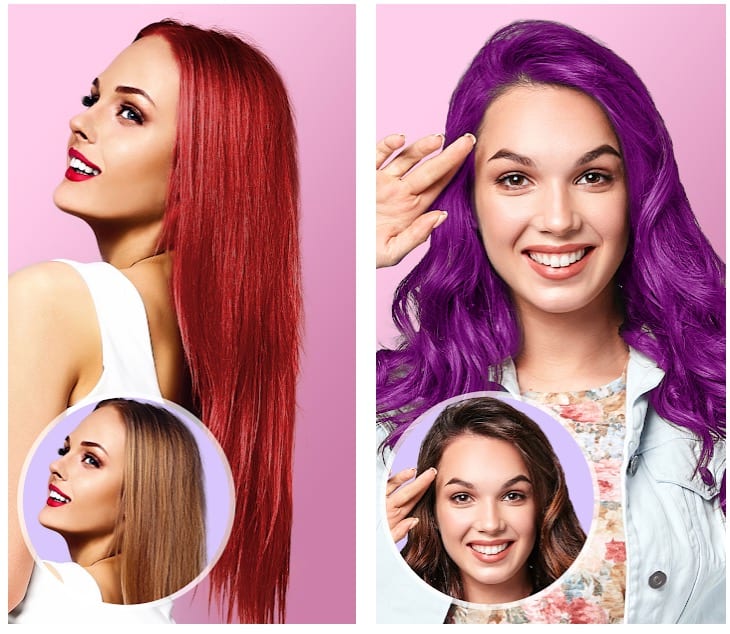 Downloads: 1000000 +
Customers rating:

(3.7 / 5)

MakeupPlus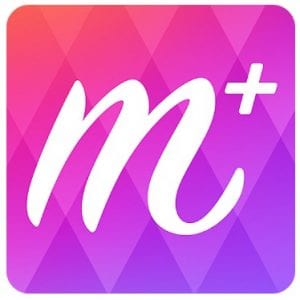 Easy to use program with quality results! In 1 click you literally become a model from the cover!
Release your inner unicorn and try the most unusual hair dyeing trends, such as "sweet cotton candy", "sunset", "pink tips" and much more! The Advanced Dye For Hair tool allows you to try each color of the rainbow so you know exactly what color you want before you go to the salon!
The only disadvantage in the mode for changing the hair color is that the color superimposed may look not natural and if you make the color semitransparent, it's not very noticeable. On the photo model, the hair color is superimposed better. So, the photo quality for this must be maximum.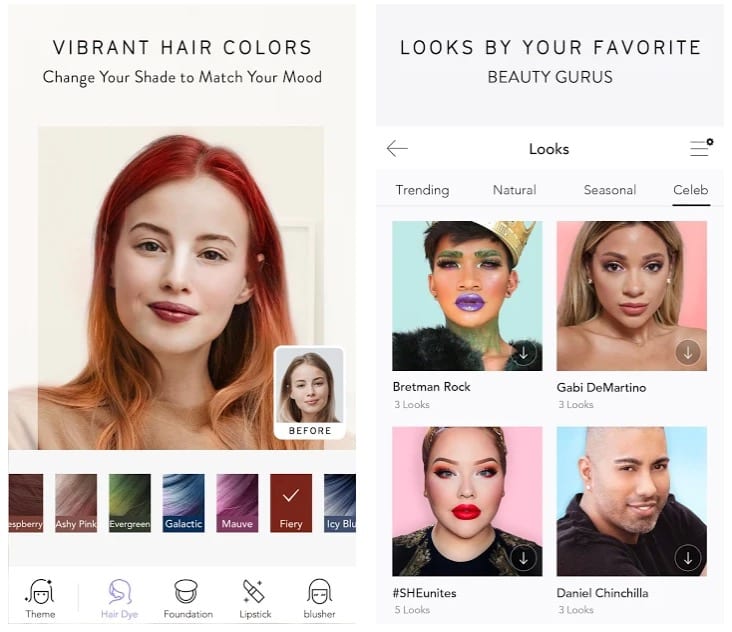 Downloads: 50000000 +
Customers rating:

(4.4 / 5)

PicsArt Photo Editor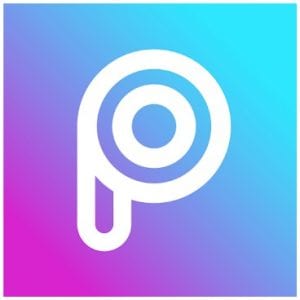 PicsArt Photo Studio is not just a photo editor, but a professional tool with many features and a user-friendly interface.
A huge number of stickers, visual effects, custom pictures, drawing tools, collage templates and much more. With this functionality, you can turn ordinary photos into real masterpieces.
Want to change your hair color? This feature is quite well presented here! Become blonde or brunette in the photo, or even surprise everyone with a new bright shade of your hair (red, blue, pink), change the hair coordinately!
The application has thousands of amazing features – everything you need to create perfect photos.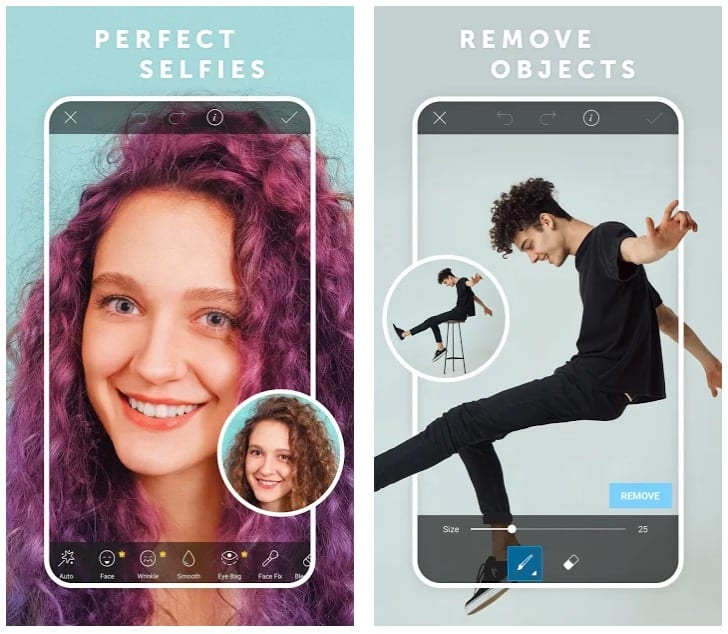 Downloads: 500000000 +
Customers rating:

(4.2 / 5)

Hair Color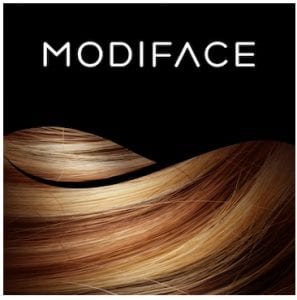 Hair Color Studio is a photo editing tool that lets you change the color of anyone's hair in your photo.
It's very easy to use. You take a photo or upload a photo that you want to work with and use your finger to draw the contours of the person whose hair color you want to change.
At least the color palette is not very wide, but realistic. And you can apply the changes exactly on your type of hair, not the hair of the model, which will never be like in the picture.
Nothing has to be selected by yourself, everything is automatic.
Quite a lot of shades, with division into categories.
Several coloring options: from full to tip coloring.
There is a function of splitting the screen where you can see before and after.
You can make a new photo, as well as upload an image.
The only thing I don't like is that you can't scale the uploaded photo, it's cut off.
However, many users remain dissatisfied with this application. And here's what they're crushing about. It doesn't give such a real effect in comparison with other similar applications. Quite simple and convenient but it's a pity that there are few shades available and others are paid.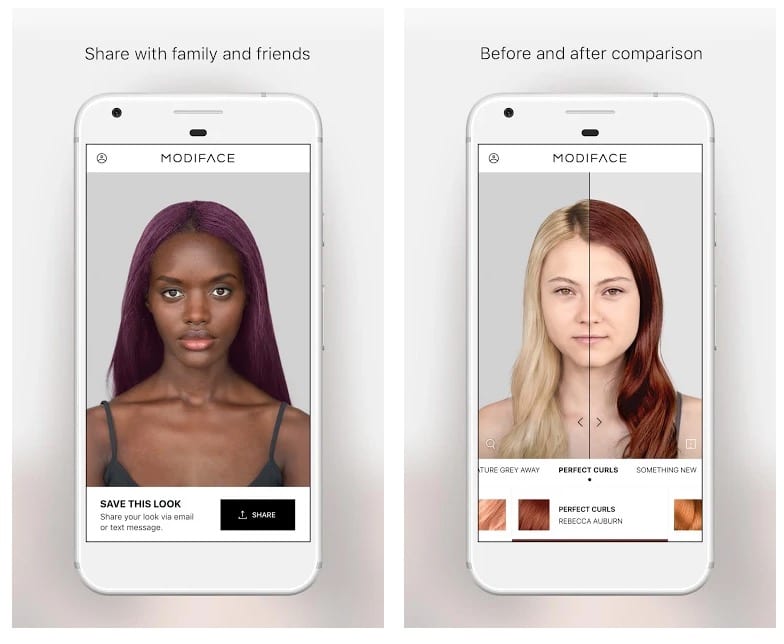 Downloads: 10000000 +
Customers rating:

(2.2 / 5)

You may also like: 12 Best face swap apps for Android
Change Hair And Eye Color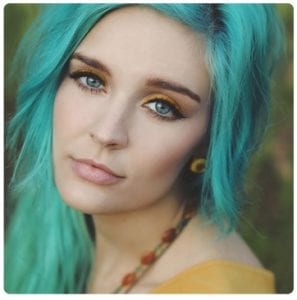 The application is cool. You can select any photo on your device and edit it so that the color of the hair of the person on it becomes different.
It paints beautifully, the color is adjustable, you can highlight different curls. For example, you want to paint the tips, one click and you highlighted the ends, edited the color, contrast, and that's it.
The color palette is rich. You can even change the hairstyles from classic to fashionable coloring.
You can make the boundaries of your hair and color it the way you want.
Quite a lot of colors. A lot of shades.
Brightness can be changed.
If you decide to change the hair color but don't know how it would look, this application really helps. Download the application and change the image as many times as you want. The results will be saved in the device gallery.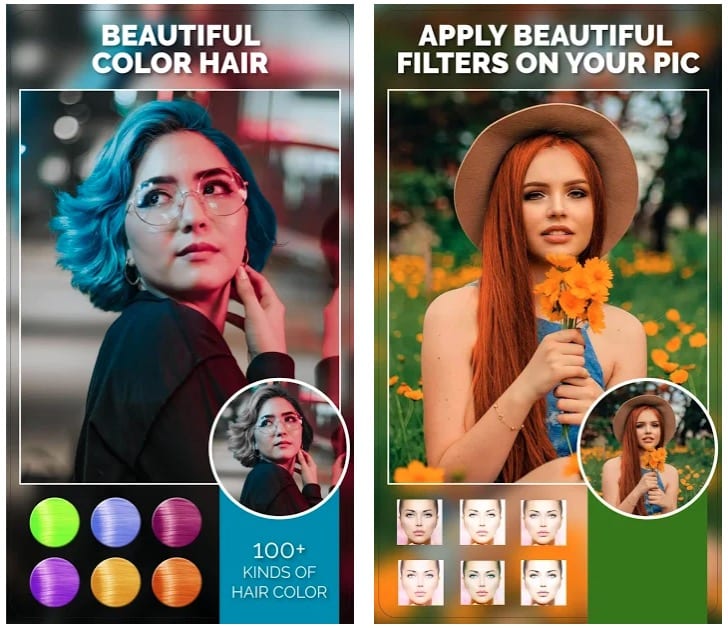 Downloads: 10000000 +
Customers rating:

(3 / 5)

Hairstyle and hair color are fundamental to the image. And if the real type of hair has some flaws that you don't want to show, you can use these services to change the hair color.
Edited photos are needed for placement in social networks, in a resume when searching for work, in questionnaires on dating sites, or just for your own entertainment.