Are you ready to set sail on the high seas and embark on a ship-building adventure? Well, we've got exactly what you need!
We've got the best ship building games for Android you could try. Whether you want to become a sailor in a fantasy world or learn how to build and repair ships, these games got you covered.
There are both realistic games and ones with fantasy elements, so there's something for everyone. From designing the perfect vessel to navigating treacherous waters, these games offer excitement and challenge at every turn. So raise the anchor and get ready for the adventure!
Full Steam Ahead
Let's start with an addictive ship-building puzzle game that has all the right elements to keep you hooked for hours on end. From the eight challenging ship-building tasks posed by none other than the legendary Isambard Brunel (feel free to google the guy), to the intricacies of iron versus wood construction, this game has it all.
With this game, you will learn how to explore the distinction between paddles and screw propellers, face investor confidence challenges, and build more complex ships.
There are tons of stuff f to unlock, and one of the most impressive ones may be the iconic Great Britain ship. You'll get to discover the fascinating design and structure of the ships, and may even build a custom ship that will be a rival to legendary ones.
It quite literally puts you in the shoes of the engineer and engages you in the world of shipbuilding like never before. The graphics are stunning, and the sound effects are superb as well. The game has step-by-step instructions that walk you through the entire process.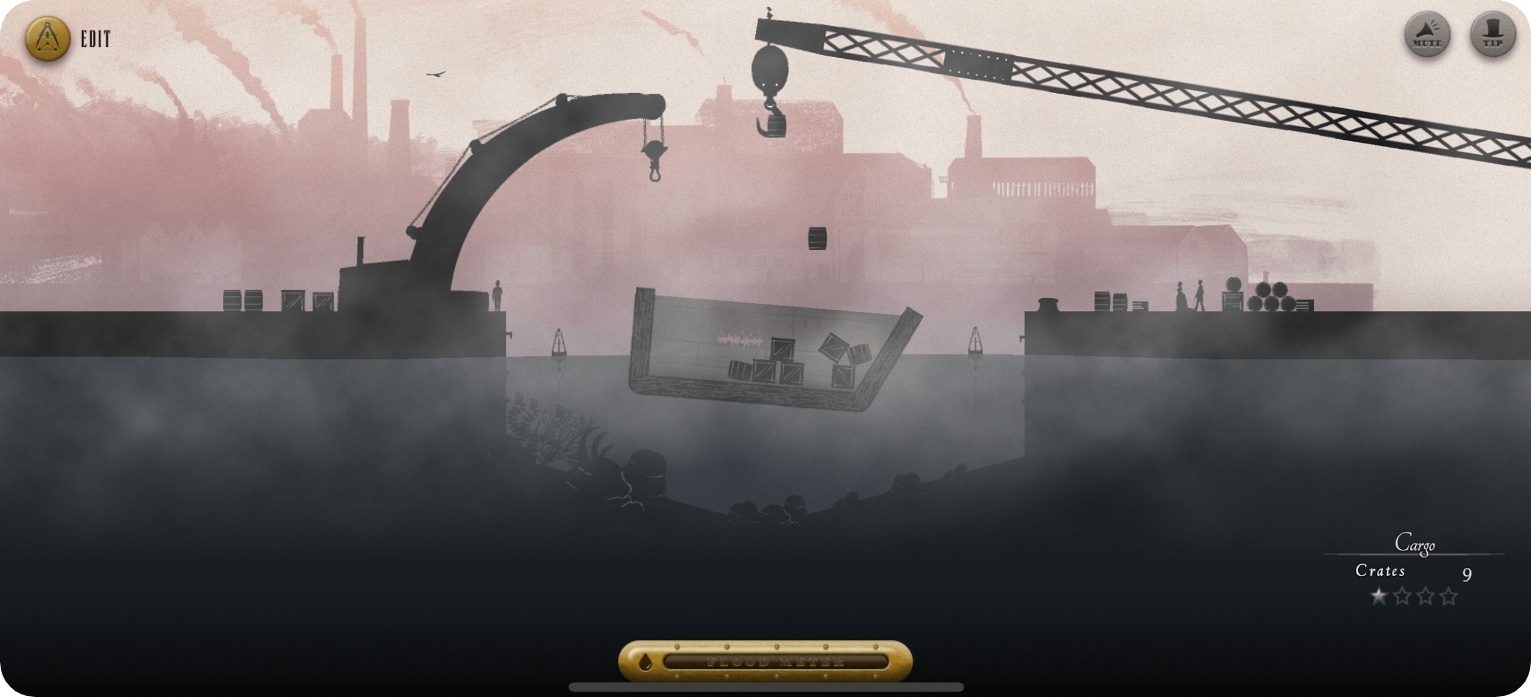 Downloads: 10K+
Customers rating:

(3.9 / 5)

You may also like: 17 Best Base Building Games
Pocket Ships
This game is an absolute delight for anyone who loves building, exploring, and managing. With so many exciting opportunities waiting, you won't be able to stop building ships and cities. The gameplay is incredibly addictive: it's satisfying to watch your coastal seaport grow bigger and bigger as you acquire more gold and expand your trading routes.
And with amazing daily events happening all the time, there's never a dull moment. The level of customization is impressive as well. From selecting your fave sea captain and township manager to upgrading and leveling up your fleet, there's so much flexibility and freedom for you to make the game your own.
But it's not all fun and games. You'll also have to face big Corsair ships and defeat pirates as you explore new horizons and unlock rich seaport islands. But fear not, with a wide range of cool ships to unlock and customize to your taste, you'll be more than ready for any challenges that come your way.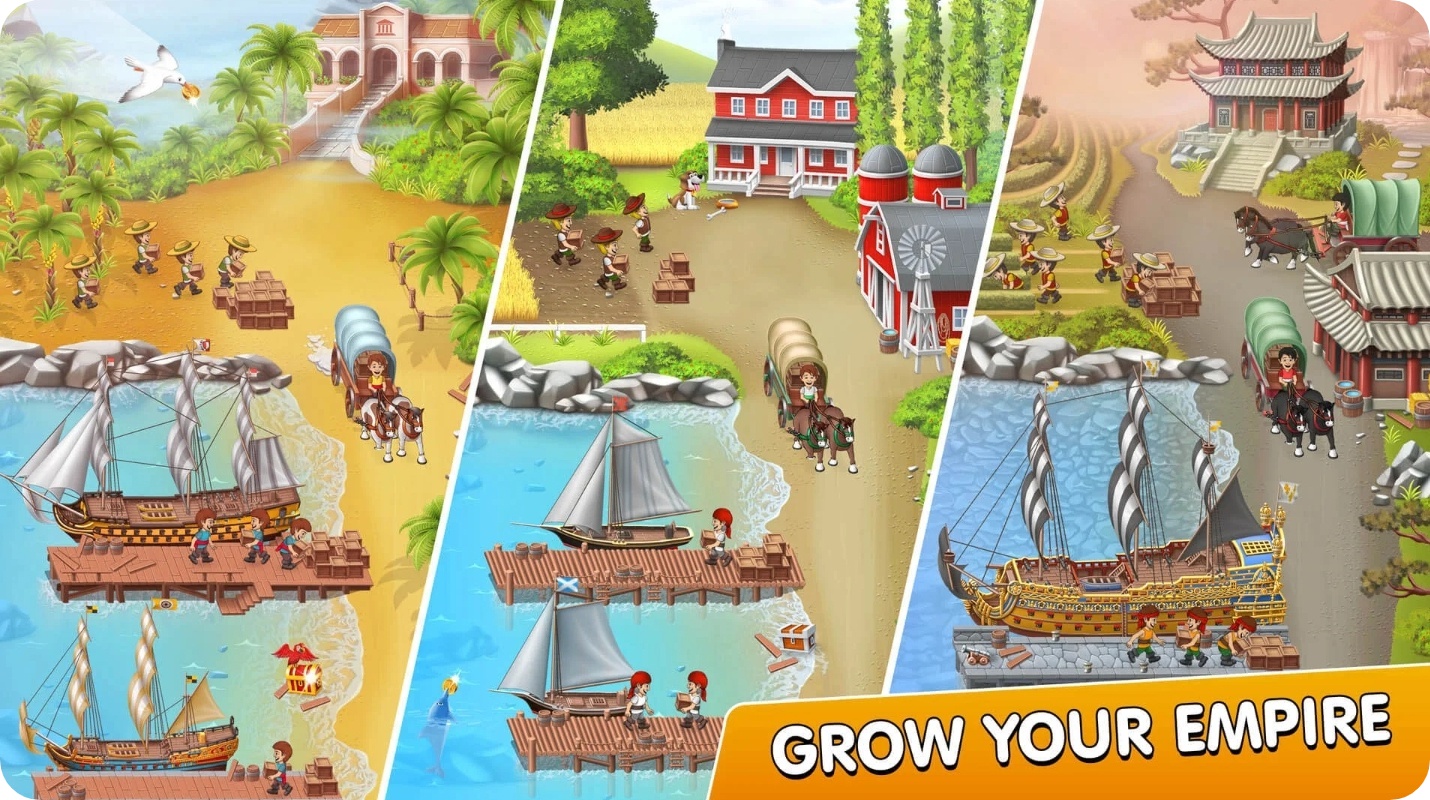 Downloads: 1M+
Customers rating:

(4.6 / 5)

Ship Tycoon
If you've always dreamed of managing a shipping company, this game is a real gem. With its authentic multiplayer sim, you get to experience the thrills and challenges of running a successful business (and building ships, of course).
You start the journey with a tiny bulk ship but with enough effort and skills, it can soon become a global powerhouse, with a huge fleet of vessels in your command. With over 80 major ports around the world, the possibilities are endless.
You get to pick the type of vessels you want to use, and there are tons of options to try. Each one comes with a unique set of characteristics and challenges, adding more depth and fun to the game.
You can also pick the type of items to transport. There are over 50 different types available, ranging from oil and gas to cars and machinery. The regular free flights that you can unlock without paying anything make the game more engaging and exciting for those who are not able to pay.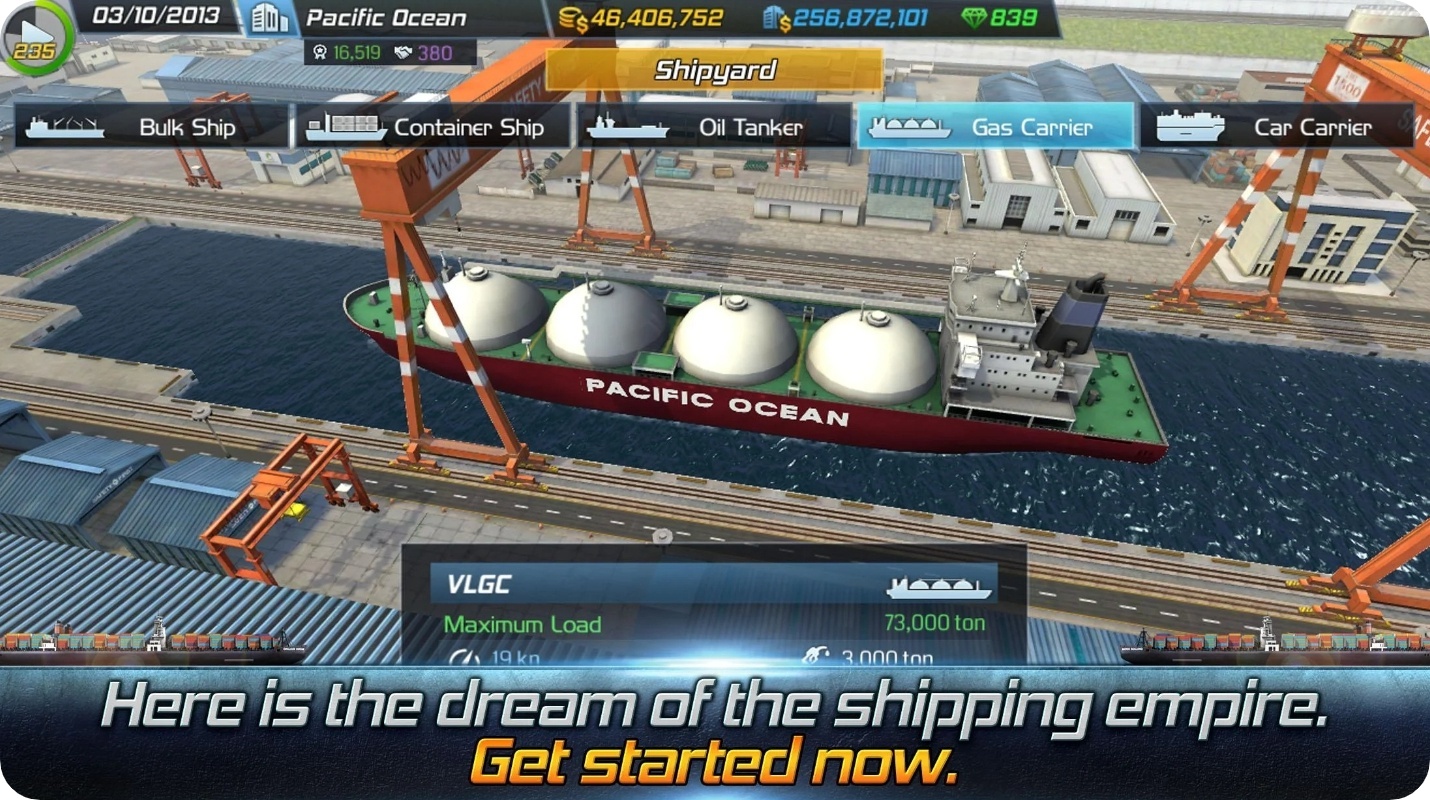 Downloads: 1M+
Customers rating:

(3 / 5)

Cruise Ship Mechanic Simulator
Are you ready to take on the challenging role of a cruise ship mechanic? Cause that's exactly what this game lets you do! It's here to test your skills in fixing these gigantic luxury yachts. You will have the chance to work with cargo crew members in a modern car mechanic workshop for fixing not only cruise ships but also motorboats like a real technician.
The game includes time-limited levels that will truly put your problem-solving skills to the test. Adding to the fun is the repair garage: one of the most advanced you'll ever see. It's equipped with the latest engineering tools and gadgets. You can use these to diagnose, troubleshoot, and fix any problem you encounter while navigating huge marine vehicles.
And if you're into personalizing your vehicles, then you'll love the numerous trendy vinyl sticker options and paint jobs you can pick from to make your repair job. Aside from the addictive gameplay, the ultra-real graphics and animations will get you pleasantly surprised for sure. You'll feel like you're inside a real mechanic workshop, working on a really huge cruise ship.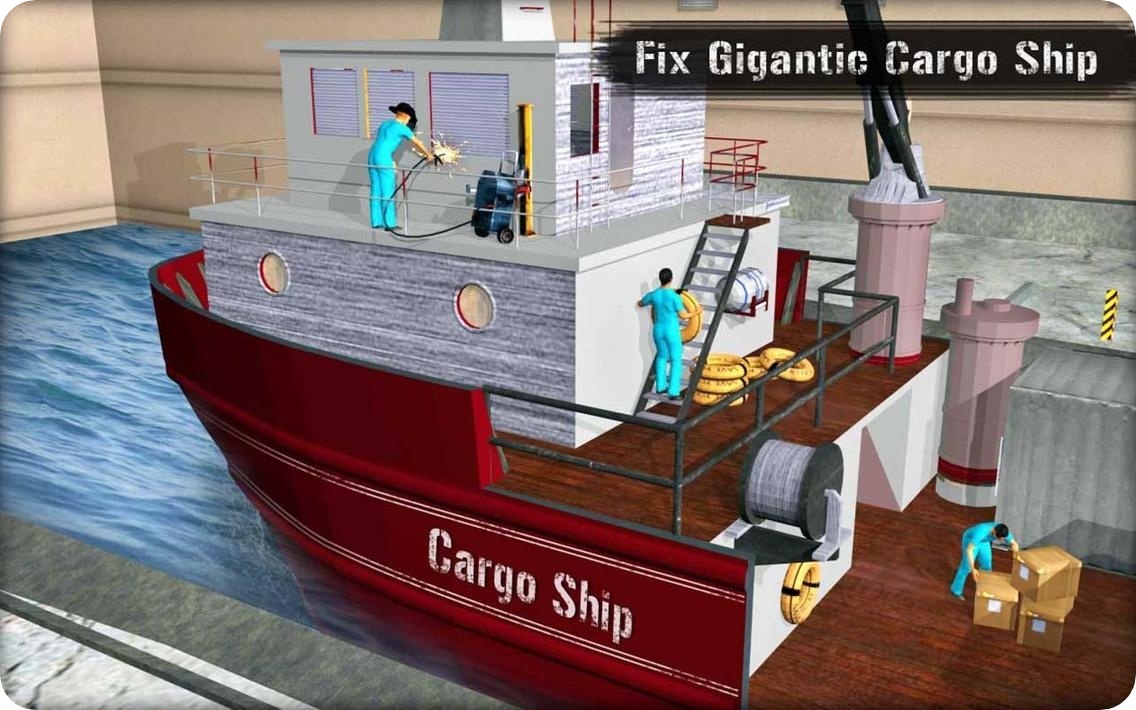 Downloads: 100K+

Check also: 17 Best Truck Simulator Games
Battle Warship
This game lets you become a true master of the sea. It not only lets you engage in epic battles but lets you unleash your creativity by building your own naval base. Herewith, each carrier has its own set of performance and abilities. This means that you need to choose wisely which ships to use for each battle.
With more than 100 types of carriers, you can select the one that fits your strategy. Want to launch surprise attacks? Then, a destroyer is your best option. Need a tough ship that can withstand enemy attacks? You should check out the battleships. There's a ship for every need in this game.
And don't worry, you can always enhance and upgrade your carriers to make them even stronger. As you progress in the game, you can unlock even more advanced warships that have higher combat effectiveness.
But, to build a strong core of fleets, you need to supply your commander with superior resources as well. You'll also get to battle with other players and create alliances to rule the seas together. The post-apocalyptic sea world with its 3D graphics adds up to the fun as well.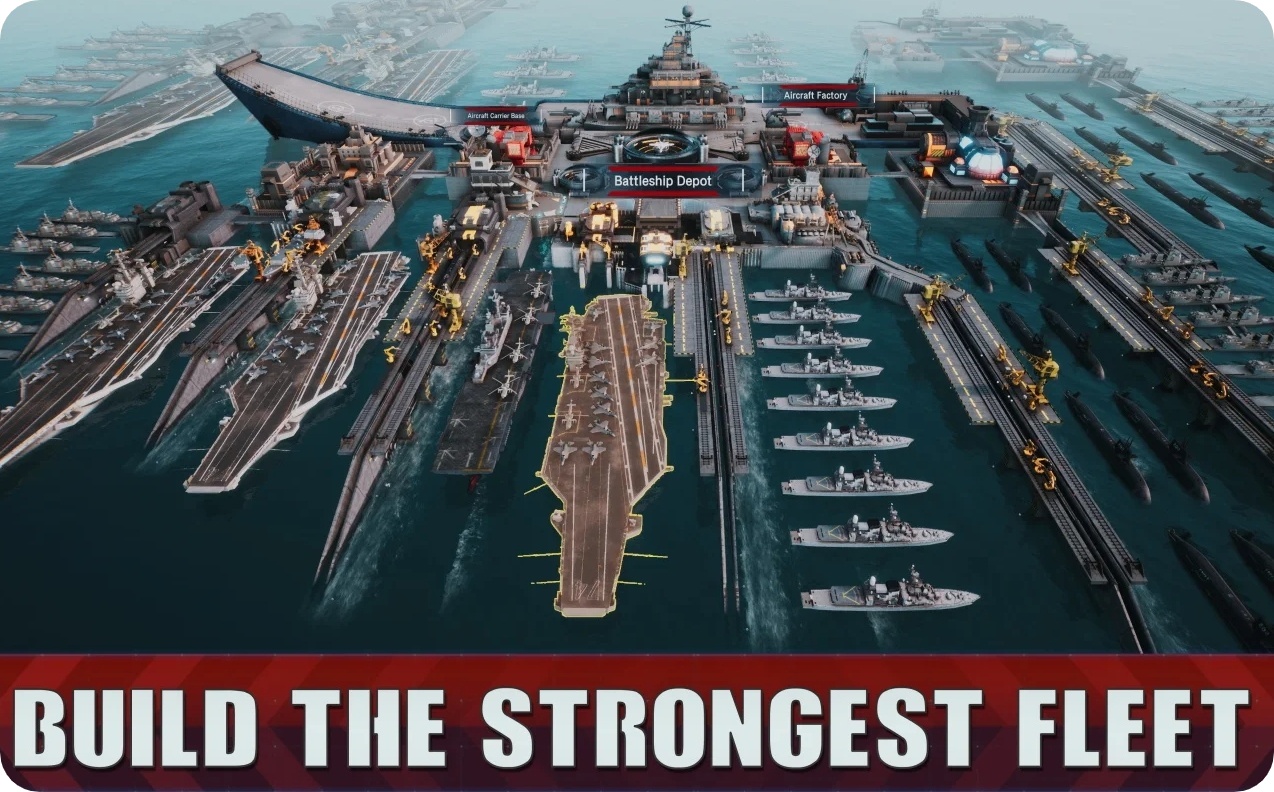 Downloads: 10M+
Customers rating:

(3.6 / 5)

Port City
With this game, you'll have a chance to become a ship tycoon that sails the seas with a fleet of cargo ships. It is loaded with surprises, personalization options, accomplishments, and contracts that will keep you hooked for hours.
The game lets you build popular ships from marine history. Ever heard of the Titanic or the Queen Mary? Well, now you can build your own version of these iconic vessels and elevate them to reach their full prospect. Plus, there are plenty of ships to collect and customize as you progress through the game.
The game is also about completing jobs and contracts to earn money and grow your empire. You'll meet contractors with unique challenges that will test your strategy and logistics skills.
As you build your shipping empire, you'll also enhance your port city and create larger carriers and docks for more ships. And let's not forget about the exciting exploration: your ships will cross the seas via bridges and islands, letting you construct and explore new regions.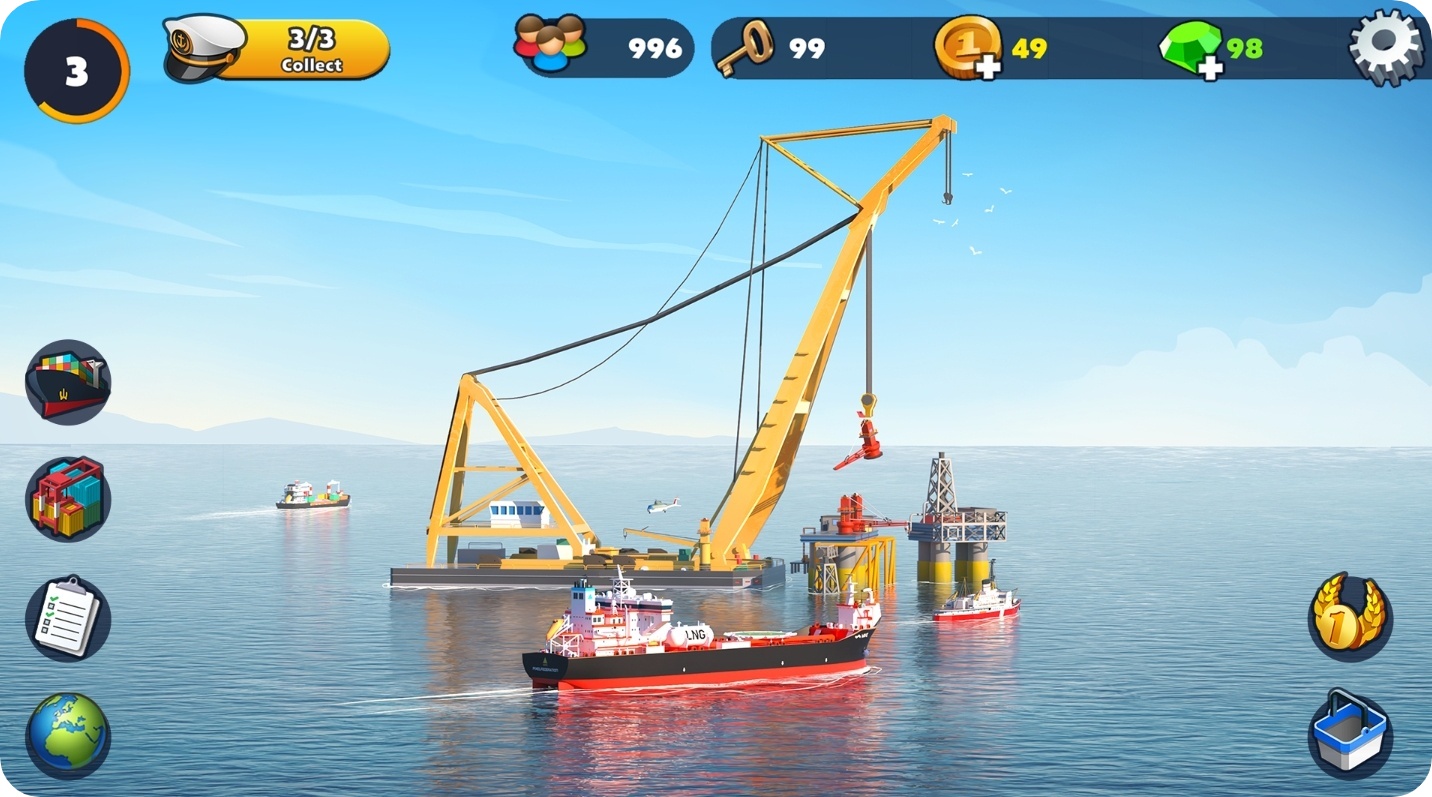 Downloads: 1M+
Customers rating:

(3.5 / 5)

Shipping Manager
If you've always been intrigued by the shipping industry, don't get past this game. It's a thrilling mix of strategy, management, and adventure. It comes with top-notch graphics and the attention to detail is beyond impressive. There are tons of different types of vessels available along with varying routes and destinations to explore.
You get multiple customization options to upgrade the ships with, so feel free to add a personal touch to the fleet. You can make the ships hold more cargo, sail faster, or whatever else. But beyond just the aesthetics, the gameplay itself is addicting.
You have to strategize and make choices on how to manage your staff, market your company, and even play the stock market for maximum profit. And let's not forget the excitement of tracking your routes live and getting your precious cargo safely from point A to point B.
But it's not all smooth sailing (pun intended). The element of pirate attacks just adds an extra layer of excitement (although, admittedly, it can be nerve-wracking trying to protect your cargo!). You'll get to build or join alliances, as it adds a sense of community and teamwork to the game.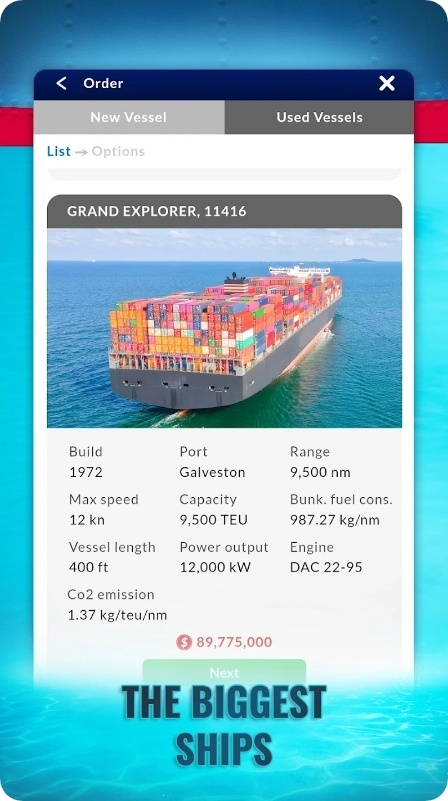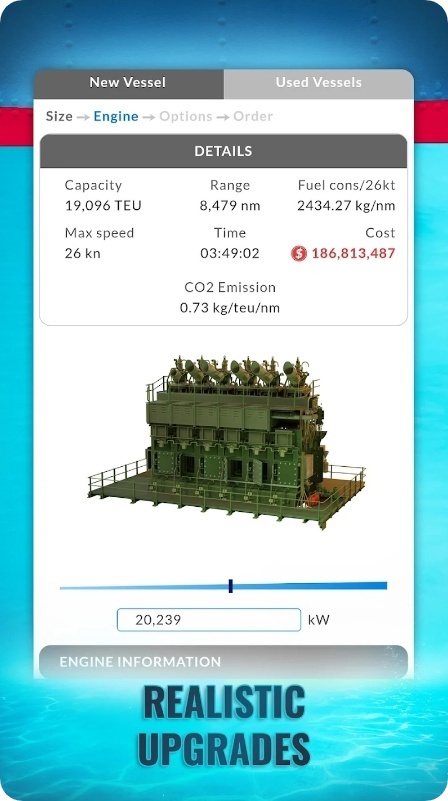 Downloads: 100K+
Customers rating:

(4.3 / 5)

You may also check: 13 Best Open World Games
Abandon Ship
And lastly, there's a game that will immerse you into a swashbuckling adventure on the high seas. This fantasy world is teeming with unique islands to explore, each with its own stories and challenges to overcome. And the fact that the world reacts to your actions makes it all the more thrilling.
There are tons of unique locations for you to visit. There are all types of terrain, from snowy tundras to lush jungles. The combat is well-done as well: you'll get to engage in epic battles with enemy ships, fortifications, and sea monsters, using your best tactics to outmaneuver and outgun your foes.
But be prepared for the elements to play a role in your battles, weather and environmental conditions can make a huge difference in the outcome of each battle. Luckily, you can customize your ship to face all the possible threats. There are dozens of diverse weapons and upgrades to utilize on the various ship classes that can be acquired.
But the fun doesn't stop there, you can also customize the appearance of your vessel by capturing enemy ships intact. And let's not forget about the crew, who gain experience and unique traits that can give you an edge in battle.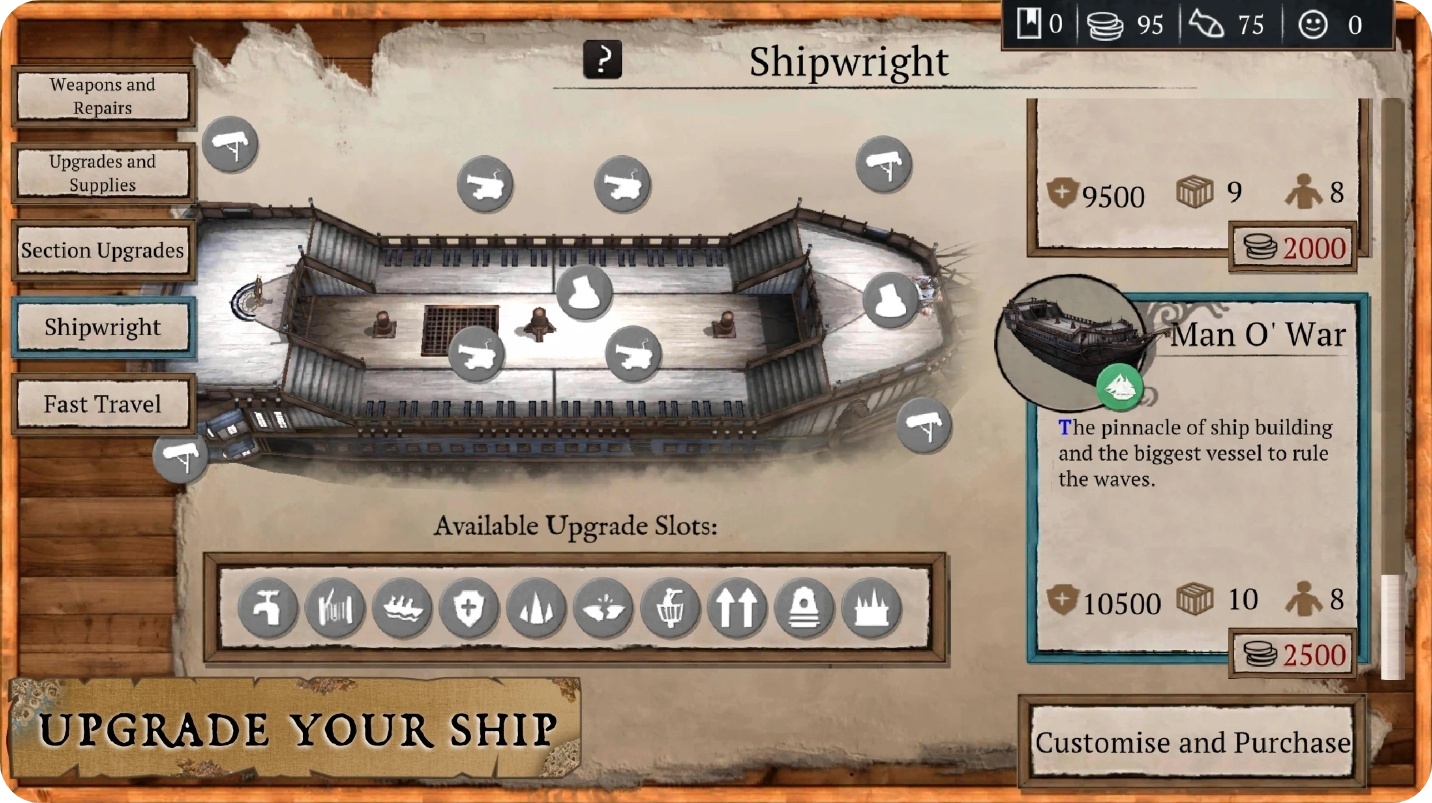 Downloads: 50K+