Have you ever come across a TikTok vid that you wanted to repost? Then you know it's easier said than done: the quality may go bad, and let's not forget about the pesky watermarks.
That's why we've rounded up the best repost to TikTok apps for Android for you to try. These apps let you share your fave clips with your followers with little to no effort.
The apps automatically remove the watermarks from the vids, so your vids could look more professional and aesthetically pleasing. Some of these apps even let you post to other social media platforms. Let's get into it!
Repost for TikTok & Downloader
If you need a hassle-free way to repost TikTok vids, this app is right up your alley. It's a handy, easy-to-use tool that lets you repost the clips to your TT or IG acc. The whole process is incredibly simple, and it only takes a few taps to get it done.
Plus, no login is required, so it's a convenient experience from the get-go. All you need to do is to pick the vid, tap to share, and select this app from the list. Then, the app will save the clip while removing the watermark from it. The speed tends to be pretty fast, so the vid will be ready within secs.
Once it's done, you'll be able to play the vid ad repost it right to your acc. The saving doesn't affect the quality of the vid, and there are no limits on the number of downloads.
And for all of you Instagrammers out there, you'll be happy to know that you can repost these clips to IG and IGTV as well. Considering the watermark removal, no one would ever guess where the vid is originated from. Cool, right?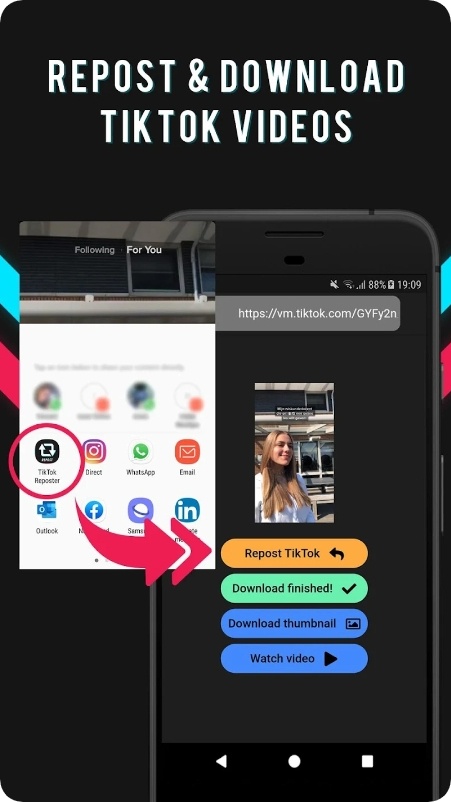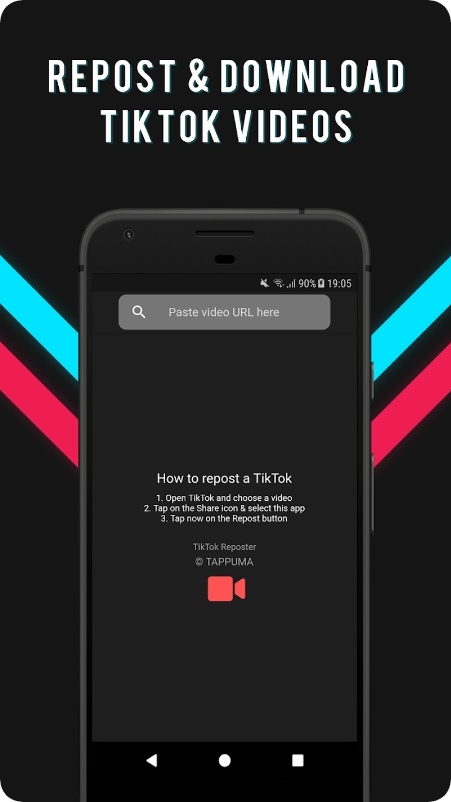 Downloads: 10K+

You may also like: 7 Android Deepfake Apps Using AI
TikSaver
This app will simplify the process of reposting TikTok vids with minimal effort on your part. Well, it doesn't let you repost the clips immediately, but the whole process won't take too long either. The thing is, you'll need to save the vid first, and then repost it to your acc.
It takes literal secs to save the clip, and the app makes sure there won't be any perky watermarks to ruin the viewing experience. The app is incredibly user-friendly: select the clips, click share, and pick the app from the list. That's it! The content is automatically saved without requiring a login, so you can taste all the benefits instantly.
Then, you'll be able to view the clips within the app, and you'll get to do it without being web connected as well. The reposting takes one tap as well, and you can load the vid to any social media, and not only TT.
The app works pretty fast, and it doesn't collect any of your personal info, so it won't get stolen. It's fully legal and free to use, so make sure to give it a try.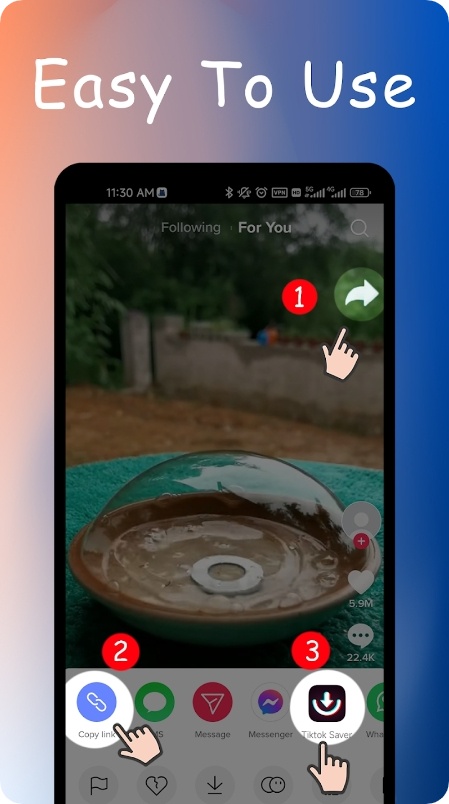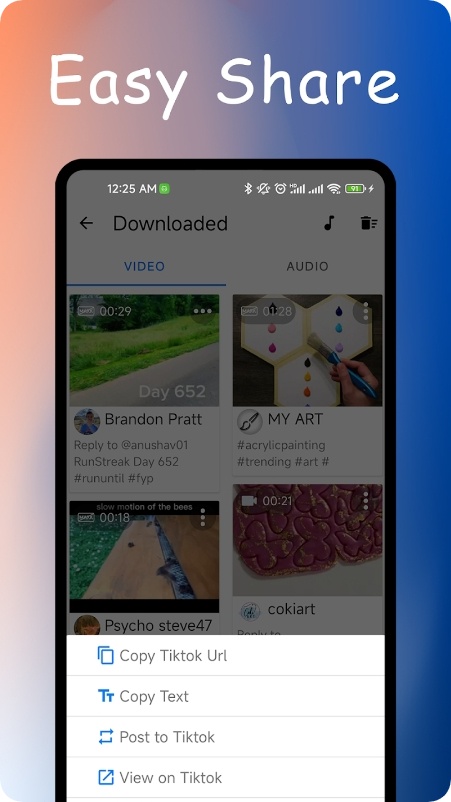 Downloads: 100K+
Customers rating:

(4.7 / 5)

SnapTok
It's another app you can use to repost HQ vids on TikTok. You won't be able to get it done with one tap only, but the entire process won't take longer than a few minutes, so no worries. What this app does is let you save the clips from TT in a hassle-free way.
As you may know, saving the clips from TT has always been a hassle. Attempting to get it directly from the app results in an unsightly watermark which ruins the aesthetics of the content. And that's what this app is here for. It's a speedy tool that lets you get any clip without watermarks.
The saving makes literal secs, and you can enjoy the HQ clips at any time needed. No need to fret about logging in to use the app! There are no pesky registrations or account details required. All you need is a link, and the app takes care of the rest. So simple!
Once it's done, you can easily repost the vids right to your TikTok acc (or to any other platform of choice). You can also play the clips offline whenever you need.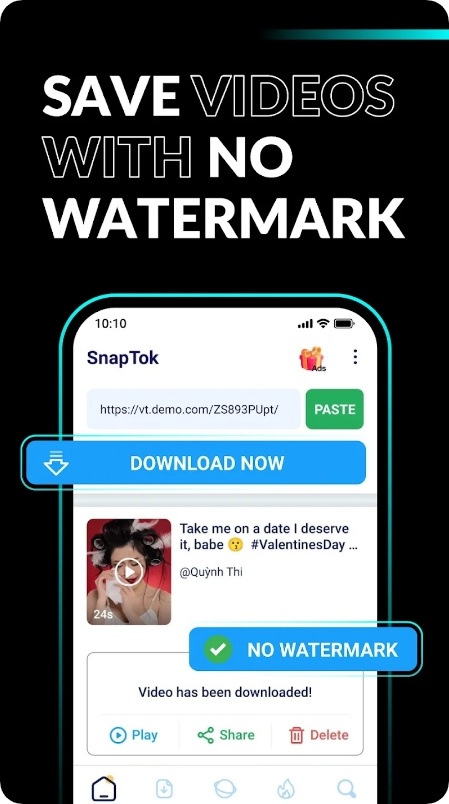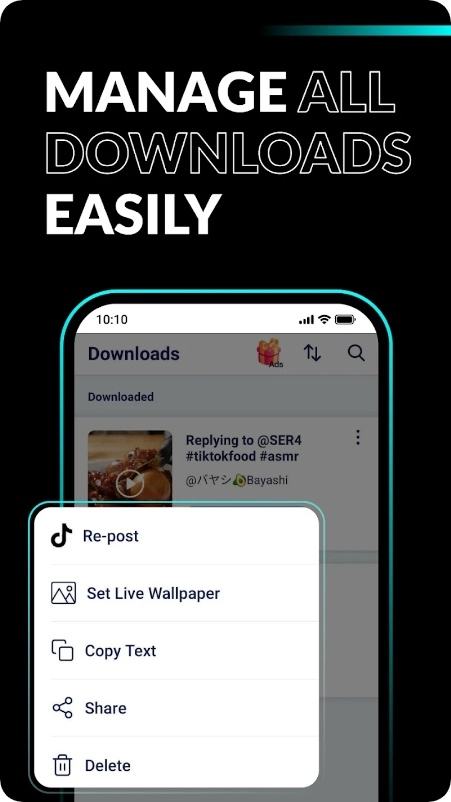 Downloads: 5M+
Customers rating:

(4.3 / 5)

Check also: 9 Best Video Playlist Manager Apps
Video Downloader for TikTok
Have you ever come across a TikTok vid that you just had to share with your followers, but you couldn't because of the watermark? Well, we have good news for you, because this app is here to save the day!
Not only does this applet you save your fave clips, but it also allows you to repost them right to your acc hassle-free. No more copy-pasting or worrying about watermarks or quality loss, this app will make sure everything is top-notch.
This app is easy to use and does not require you to log in, which is handy. You can simply copy the URL and let the app do the rest. It is also designed to work in the background, so you can do other things on your phone while the clips download without any interruptions.
You can also use the built-in video player to watch the clips offline. The reposting takes one tap, and you can even post the clip with the original thumbnail. And the cherry on top? It is lightweight and won't take up too much space.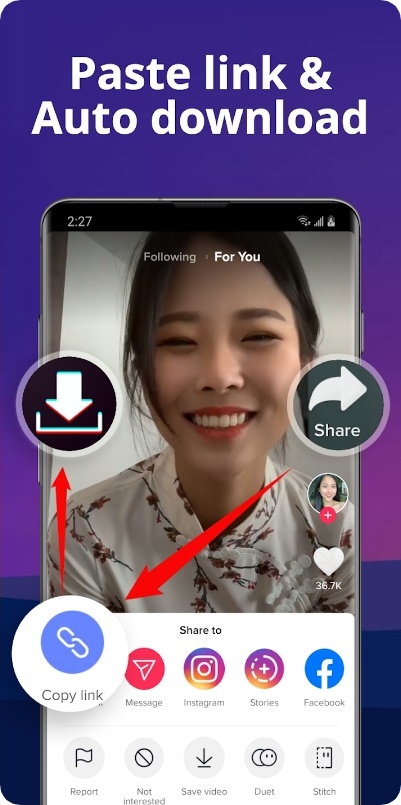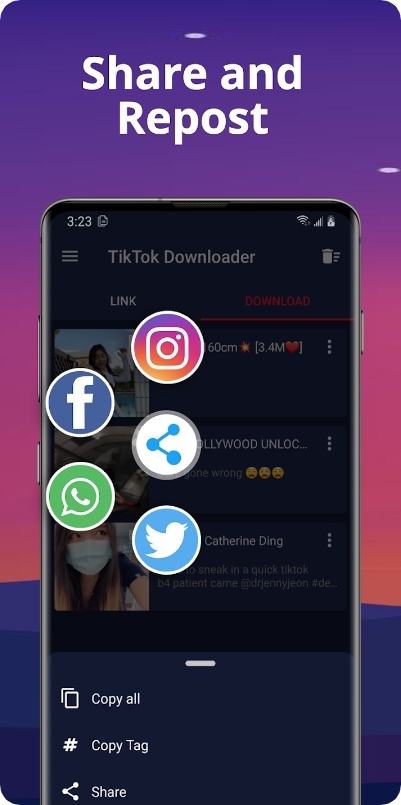 Downloads: 100K+
Customers rating:

(4.7 / 5)

HD Tik Downloader
This app is a treat for all the TikTok lovers out there: it will change the way you save and make content once and for all. It's completely free, enabling lightning-fast video downloads without irritating watermarks. But wait, there's more! You can easily repost and share those videos on any platform you prefer.
It comes with a simple UI and gives you a couple of saving methods to try. The speed is lightning fast, too, so it won't take long to get all the vids. You can actually save multiple ones at the same time if needed.
The app doesn't ask you to sign in at all, and the only thing you need for it to work is the URL to the vid. You'll have the chance to pick your preferred saving format, including 4K options, ensuring quality output tailored to your specific needs. All the options are free, so no hidden fees here.
The app also lets you save TikTok sounds separately and use it for whatever your heart desires. The reposting can be done right away, and you'll get to post the clip without an annoying watermark.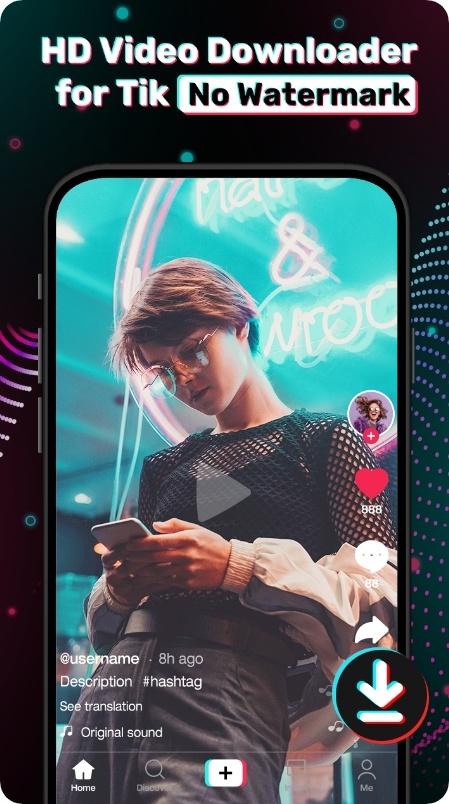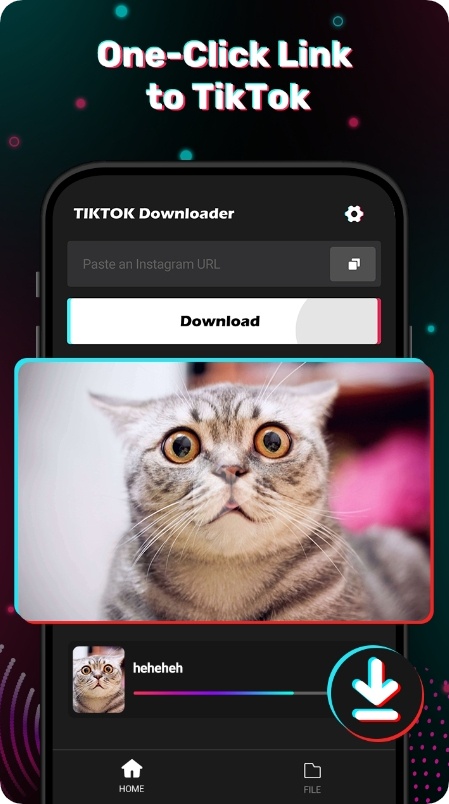 Downloads: 5M+
Customers rating:

(4.7 / 5)

You may also check: 9 Free Apps to Download Videos From Instagram
TopClipper
This app lets you save video content from almost any social media platform you could think of, including TikTok. So if you need a one-stop vid downloader to cover all your needs, this might be the one.
With its built-in browser, you can easily search for the videos you want to download, and save them in different resolutions, including HD quality. Hereby, the app erases the watermarks automatically while saving the clips, so you could easily post them on your acc.
You can also save the clips in batches, which is handy. But what about the audio, you ask? No problem! The app can extract the sound of any clip, so you could use it while editing. And if you want to share the clips, it's just a tap away. You can easily post the vids to the platform of choice and do it right from the app.
The app doesn't take down the quality of the vids neither while saving or posting, so no worries here. The saving and posting go in the background, and you can mind your business in the process.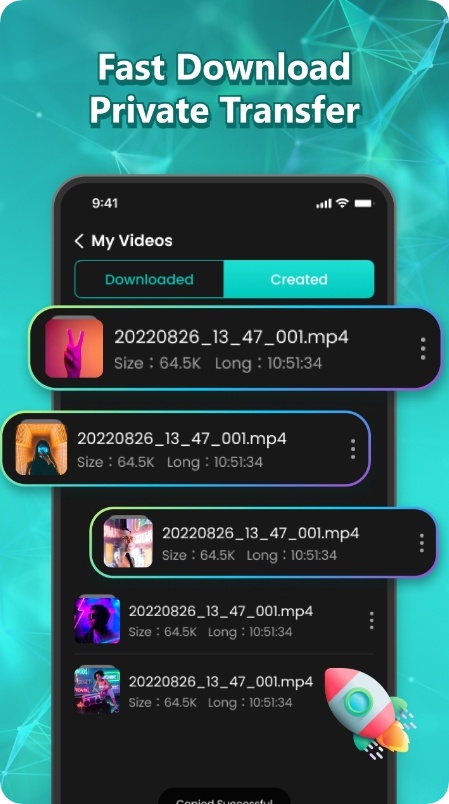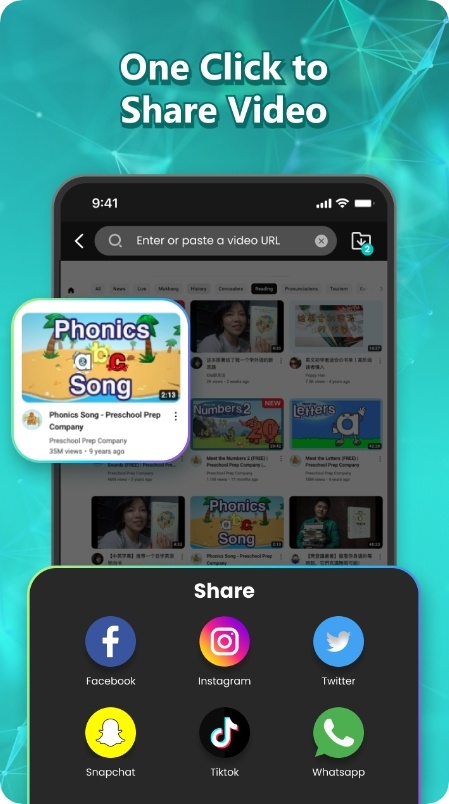 Downloads: 10K+