Lots of people are used to leaving their devices on the charger even after reaching 100%. This cannot lead to significant consequences such as a breakdown, although it is in preference not to do so as it may lead to a reduction in the effectiveness and the capacity of the battery and overheating.
Therefore, there exists a great number of applications that notify the owner when the gadget is fully charged and it is time to unplug it. Thus, the lifespan of a phone or a tablet is prolonged. The best representatives to this kind of apps are collected in this article for you.
1. Full battery & Theft alarm
The following application combines two functions as its name mentions:
It allows a user to choose when to turn the alarm on depending on a charge level. Any percentage in the interval from fifty percent to a hundred can be chosen. Also it is possible to get a notification about a low battery level.
The function "Anti-thief" saves user's nerves if a gadget is left charging without a supervision. In case someone tries to unplug it, the alarm instantly begins to sound.
Also, the key features are:
A convenient interface
The application shows phone's temperature and general state
You always know how much time is left to full battery level
Easily integrated with smart watch
Custom alarm and Anti-thief melody
Runs automatically after the phone is reloaded
The history of previous charges with appropriate time and battery level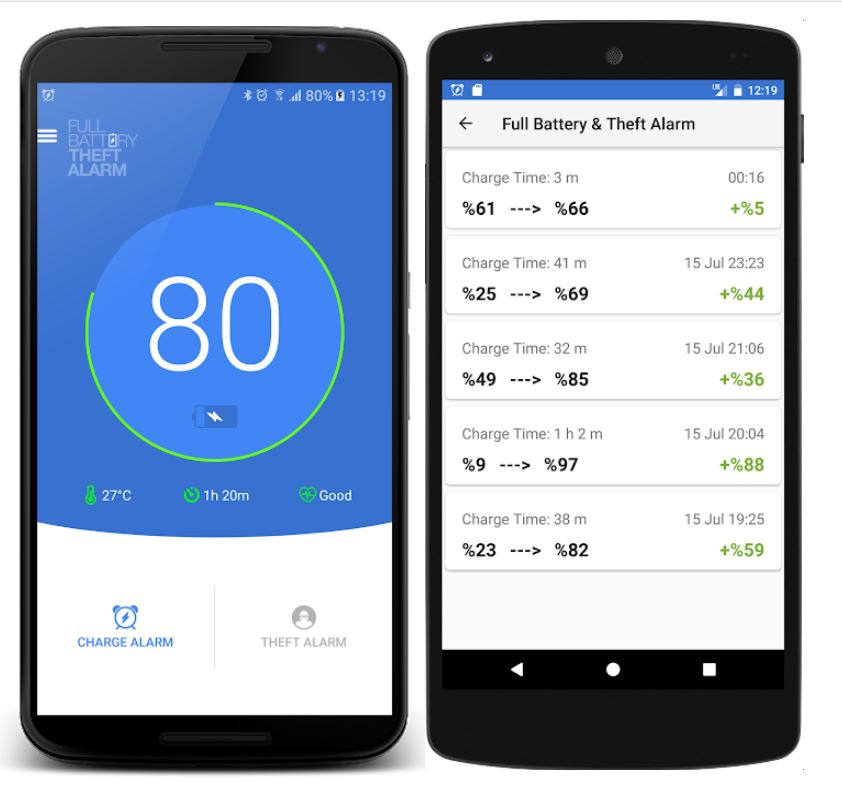 Downloads: 1000000+
Customers rating:

(4.5 / 5)

You may also like: 9 Best Phone Usage Tracker Apps for Android
2. Battery guru: health and saver
This application is designed not just to warn when the phone starts to overcharge, but to maintain the healthiness of the battery. It measures its real capacity, predicts the periods of charging and discharging, records charging history, and estimates each session of it as normal, healthy, or overcharging.
The main advantage of this application is "Doze". That is a special configuration of the battery working process while the device is inactive. There are a few modes of it represented, which are: Aggressive doze, Light doze, and optimization of it. The right usage and configuration of this function will lead to an ideal economy of energy and battery resources and will preserve it.
Moreover, this application can be used to compare the way chargers and cables fit your phone and to find the most fruitful combination.
In addition, it contains the option to set limits for the temperature of a device and battery level. When they are reached, an app notifies the user.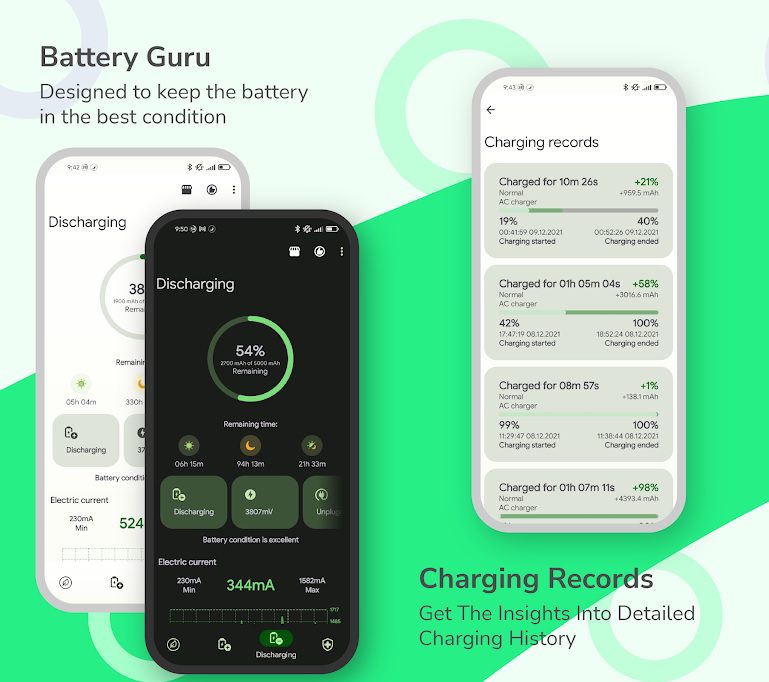 Downloads: 500000+
Customers rating:

(4.5 / 5)

3. Battery 100% alarm
The dashboard of the app is incredibly simple and understandable. It displays voltage, temperature, and battery level. Battery 100% alarm provides you multiple functions of alarm customization: silent mode, block of the alarm on call, changeable delay, vibration, time, tone, and the level preferable for notification.
Furthermore, you can choose the melody from all of your accessible library
Additionally, there exists an option to snooze the alarm according to your wishes.
The design of this app is quite delightful and is implemented in nice violet color.
More than that, settings include a wide list of languages, thus, the app is open to a great audience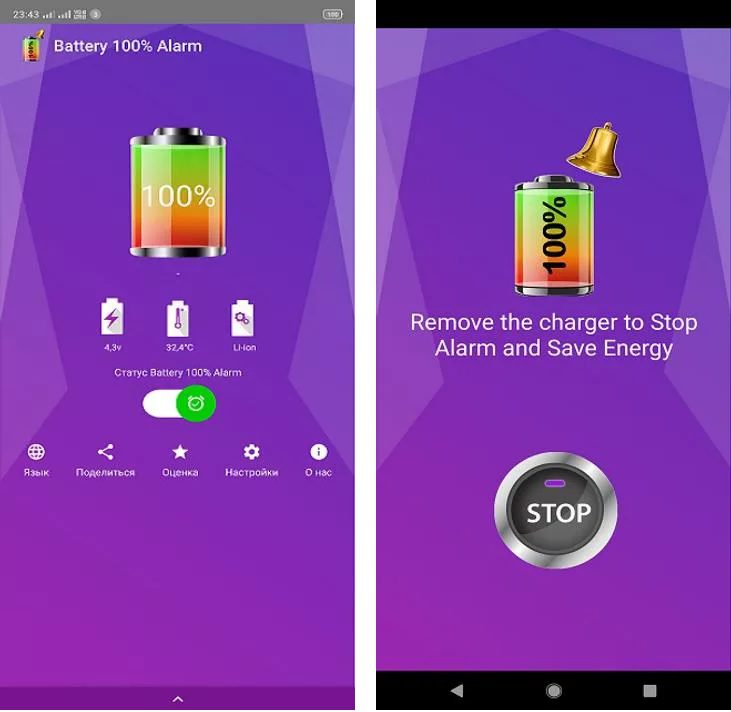 Downloads: 5000000+
Customers rating:

(4 / 5)

4. Full Battery Alarm
A slightly more complicated application that includes lots of interesting functions.
Its interface shows you all the parameters related to a battery: charging level, capacity, temperature, voltage, and health.
Alert can be set for a changeable level of the battery, for unplugging the device prematurely, and for unwanted temperature rise.
Beyond that, this app notifies when the battery level is low.
It also includes a multifunctional battery monitor
The main distinctive feature of this application is the option to change the theme and customize it in accordance with your needs. Moreover, you can control the screen brightness and tour on or off the torch within this application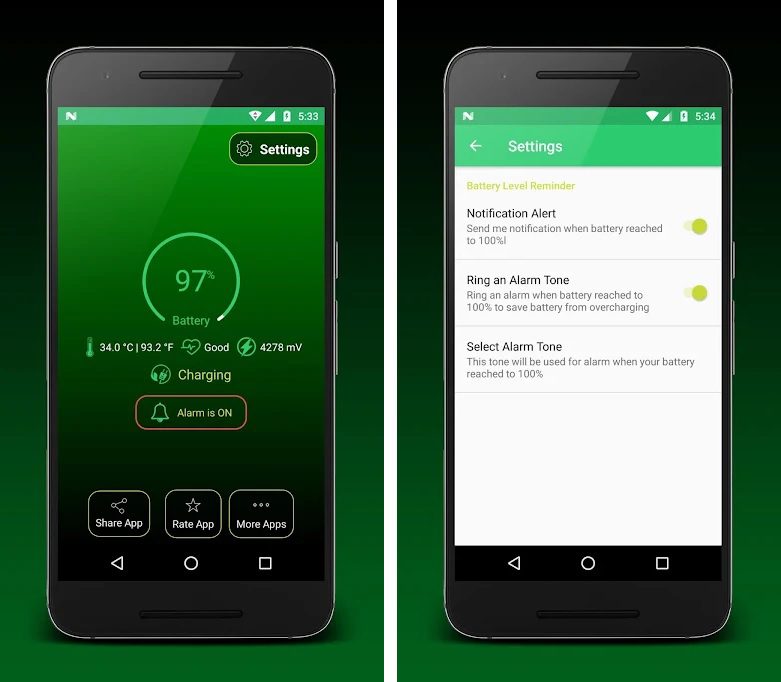 Downloads: 1000000+
Customers rating:

(4.3 / 5)

You may also like: 9 Best Apps to Block Blue Light on Android
5. AccuBattery
Apart from all the basic functions that every application in this list possesses such as various notifications and alarms, AccuBattery provides a wide range of facts about the battery of your device including the time that the battery can endure with different conditions: screen off, screen on and combined use.
It accurately estimates battery usage per app and discharging speed.
You can always monitor the charging history and control the health panel of the battery. The application suggests various ways of keeping better track of your phone and tips to reduce the damage.
AccuBattery is actually user-friendly and understandable for beginners.
Additionally, the theme of this app can be modified as well as the icon to match the preferences of the users so the usage can be not only useful but simultaneously enjoyable.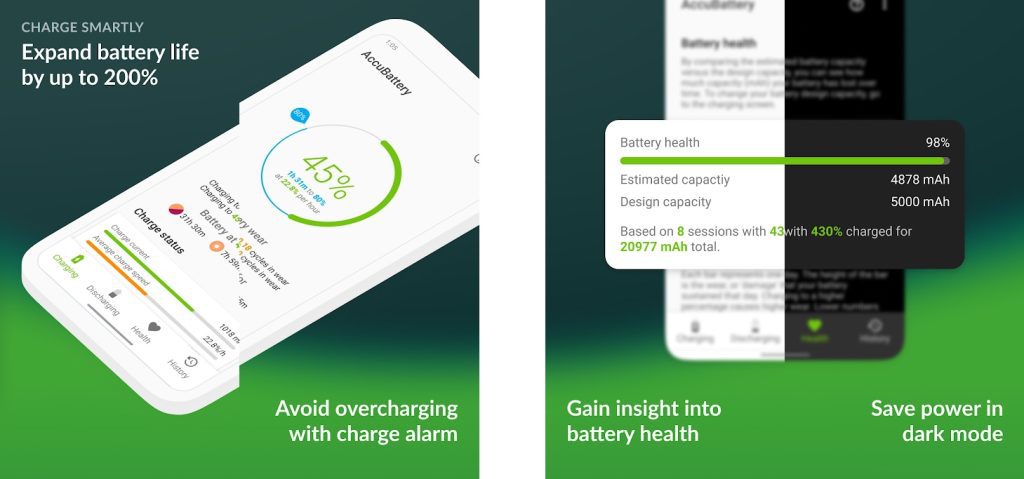 Downloads: 10000000+
Customers rating:

(4.6 / 5)