Tired of constantly glancing at the clock during training? It's time to ditch the wristwatch and enter a better world.
We've scoured the web to bring the top workout timer apps for Android you could try. These apps will make your workouts efficient and make you feel like a pro athlete.
From interval training to HIIT exercises, these apps will keep you motivated and on track. Plus, with tools like voice guidance and adjustable intervals, you'll feel like you have a personal trainer right at your fingertips. Let's dive in!
Interval Timer
This app is a treat if you need to monitor time during your workout. If you're the kind of person who tends to lose focus and missing intervals, you have to give this one a try. First off, it is so easy o use: it's like having a personal trainer in your pocket.
The full-screen color coding is a game-changer, really. No more squinting at your phone to figure out where you're at in your exercise. You can now glance at the screen from afar and quickly see how much time is left. And with presets, you can switch between activities with ease.
Another cool aspect about this one is how flexible it is. It lets you easily save your presets. If you're someone who does a lot of different workouts, you'll surely appreciate the simplicity of being able to switch between activities with ease.

You can keep it running in the background or with your screen locked, so you don't have to worry about constantly checking your device. And the additional audio, vibration, or silent alerts are super handy: you can get a heads-up without interrupting your flow.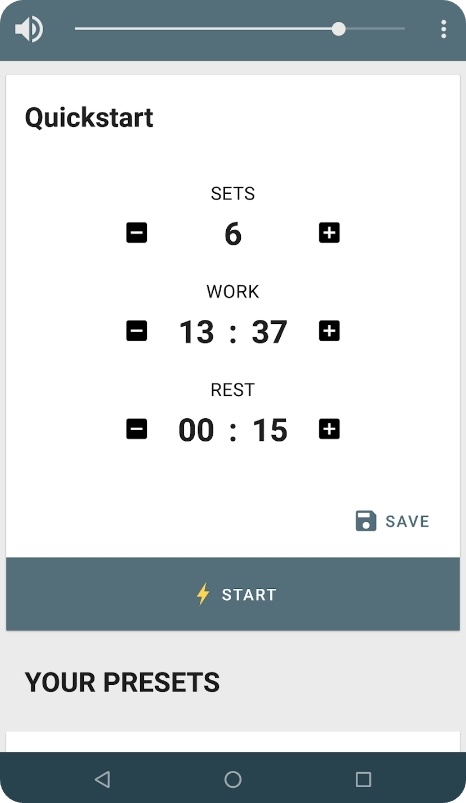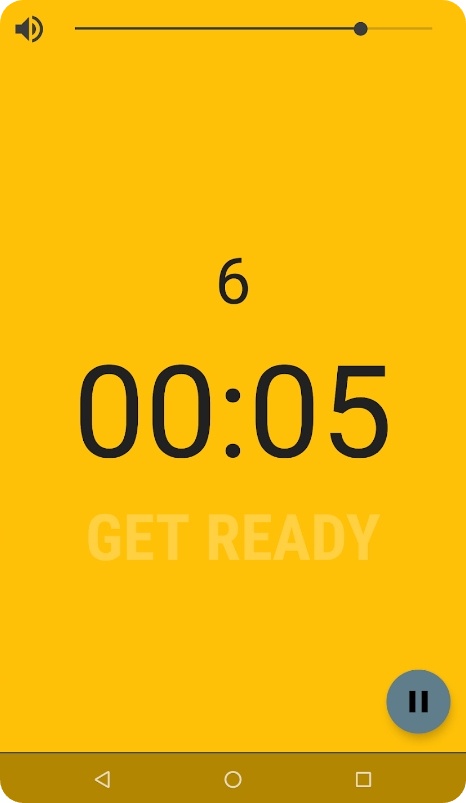 Downloads: 5M+
Customers rating:

(4.9 / 5)
You may also like: 9 Best Zumba Workout Apps
Tabata Timer
If you're into fitness and want to take your workouts to the next level, you need to this app! It is an absolute game-changer when it comes to interval training, and it's nothing short of amazing. It's so intuitive and easy to use, even your tech-challenged grandma could figure it out.

Let's start with the basics – the timer itself. The huge digits and bright colors make it easy to monitor your intervals, even in the middle of a grueling workout. And speaking of that, the ability to modify each interval means you can build the ideal routine for yourself.

But that's just the beginning. The app also has a voice assistant, so you can get real-time updates without ever having to glance at the phone. And the addition of over 50 sound options means you can really alter the exp: set sounds for each interval type, halfway mark, last secs, and more.

And if that's not enough, you can also add your own sounds. These could be your fave motivational catchphrase or your gym buddy's annoying laugh, whatever you like, really. And the metronome is ideal for keeping pace during those cardio-heavy sets.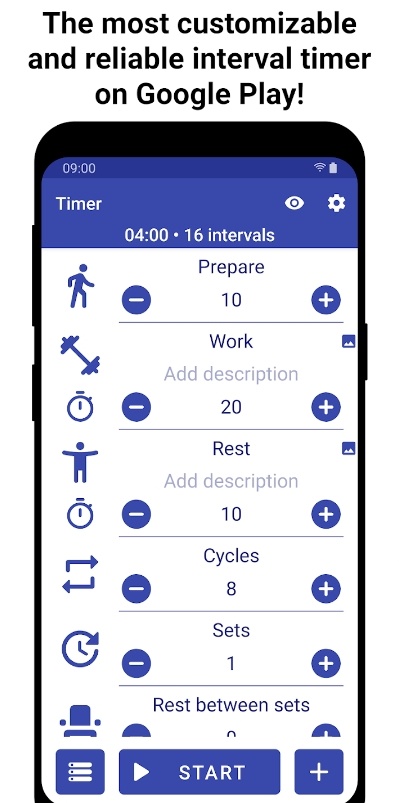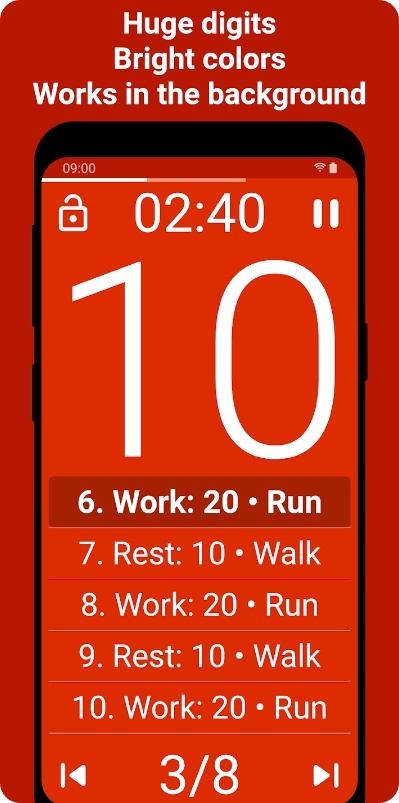 Downloads: 5M+
Customers rating:

(4.9 / 5)
Timer Plus
Tired of using standard timers while doing high-intensity interval training? Well, say hello to your new best friend. This app has everything you need to make your workouts more efficient.
It lets you display the number and duration of rounds and cycles. This makes it easy to see how long you have been going and how many rounds you have left. Another perk is the interval stopwatch. This helps to keep you motivated and on track during exercise.

The app also works in the background, which is ideal for those who like to multitask during their workouts. You can easily enjoy your fave tracks or watch a video. There is also an informative screen flash that lets you know when the round or cycle is about to end, making it easy to prepare for the next set.
Making an infinite number of timers and saving them in the history of workouts is a breeze. This lets you set the rounds in a way that is best suited for you. And if that wasn't enough, the voice guidance is there to push you to the limit and help you achieve your goals.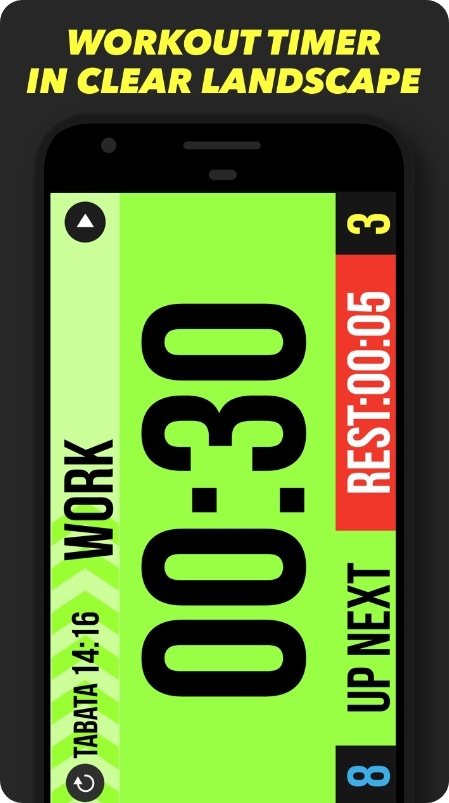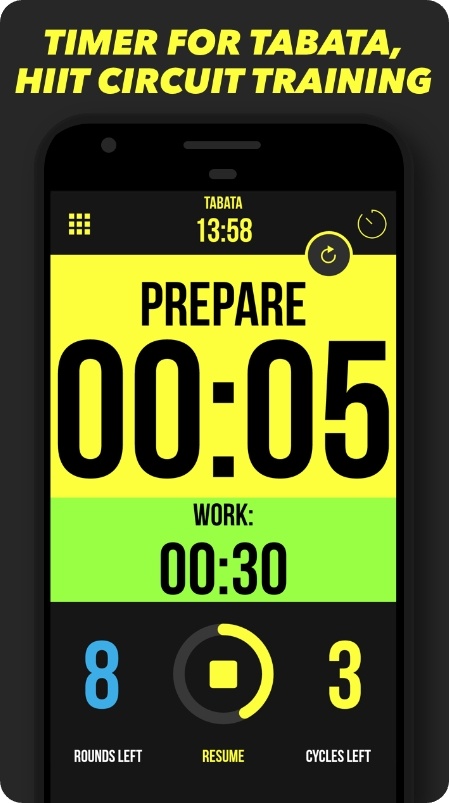 Downloads: 1M+
Customers rating:

(4.6 / 5)
Tabata HIIT
This is a gem for fitness enthusiasts wanting to engage in HIIT. Say goodbye to boring routines and hello to a fun and exciting regime with this app.
One of the outstanding aspects of this one is its adjustable gym timer, which allows you to personalize your routine to meet your goals with ease. It also has music, so you can work out to your fave tunes, making it even more enjoyable.

The app covers plans that target specific areas of the body. However, if you prefer, you can make a custom workout that meets your specific needs and objectives. The reminders ensure that you don't miss training, while the calorie counter helps you stay on top of your intake.

The detailed stats let you monitor progress and see how far you have come. As for the UI, it's pretty simple, so you'll quickly figure it out. It also syncs with Google Fit and other fitness apps easily. Everything gets saved automatically, so you won't lose any data by accident.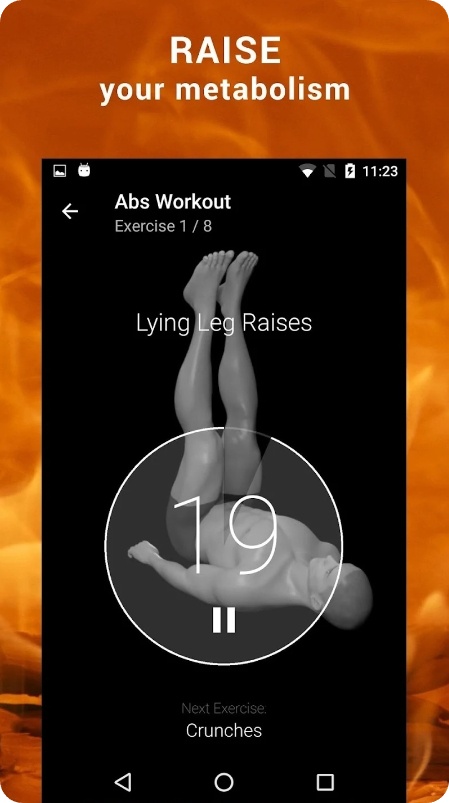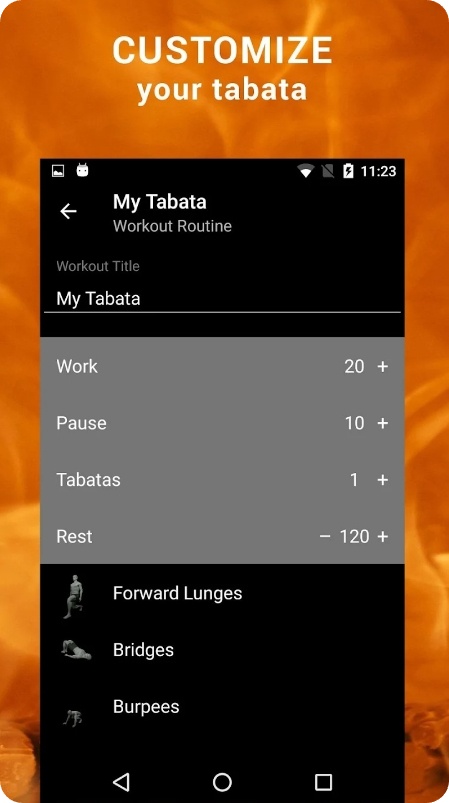 Downloads: 1M+
Customers rating:

(4.7 / 5)
Tabata Interval
Tired of aimless training with no clear plan or direction? This app will revolutionize the way you work out! Its main goal is to turn your mundane routine into a thrilling adventure. Whether you're a fitness junkie or a newbie, this app covers a dynamic and motivational exp for all levels.
Never miss a target heart rate again! This app lets you easily input a desired heart rate and let the app do the rest. And speaking of modification, you can even pick music to play while training. Say goodbye to dull workouts without a beat!
But the fun doesn't stop there. You can plan and organize your routines using the calendar, and monitor the advancement over time. And for those who prefer to conserve battery life or multitask, the app runs in the background with real-time alerts for the lock screen and status bar.
It also caters to personal prefs by letting you make custom timers and save them for further use. And for those who want an extra challenge, determining sets and pause phases can add an element of surprise and excitement.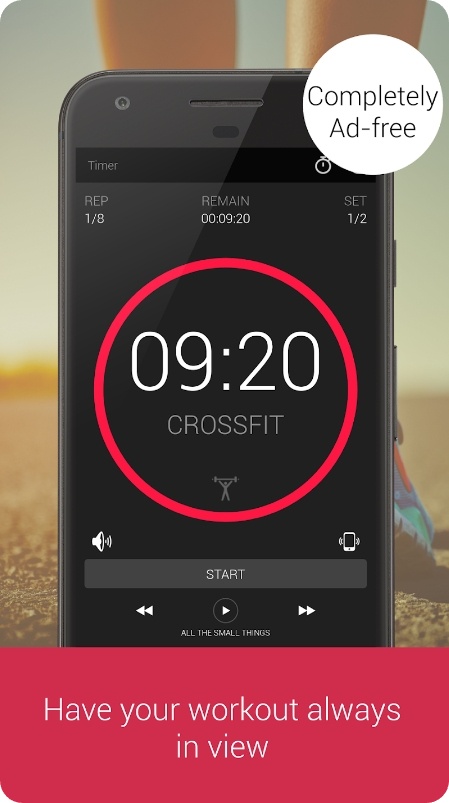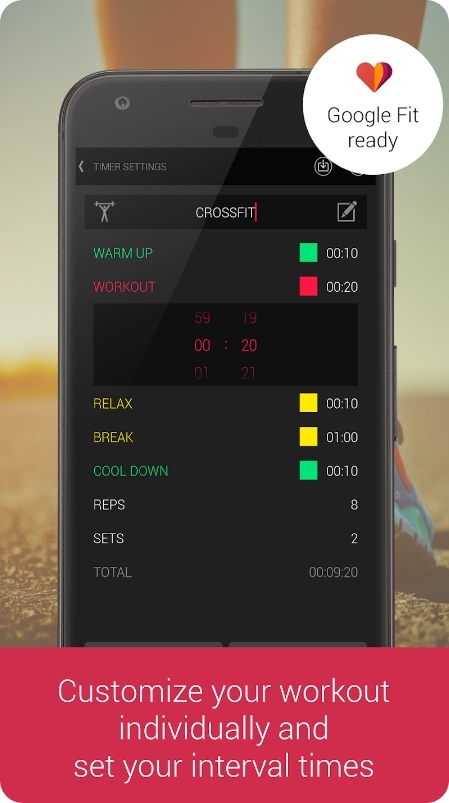 Downloads: 500K+
Customers rating:

(4.8 / 5)
Check also: 7 Best Intermittent Fasting Apps
Seconds Interval Timer
If you need a training companion, this might be the one. It's a gem for those who are into HIIT or circuit training. This app is the real deal if you're looking for a flexible and user-friendly sports timer.

First things first, the display is just amazing. It's big, it's colorful, and it's easy to read from a distance. You can switch between landscape and portrait mode depending on your prefs. And the best part? You can make custom templates for every interval!

But wait, there's more. The app speaks your interval names so that you can focus on exercise instead of staring at the screen. And you can even assign specific music to each interval to match the intensity of the exercise. And if you're worried about missing an interval, it can even provide a prior warning of it. How cool is that?

And here's the kicker: the app runs in the background, so you can use other apps or turn off your display without disrupting the routine. And if you're feeling generous, you can share the timers with pals or get new ones from the web.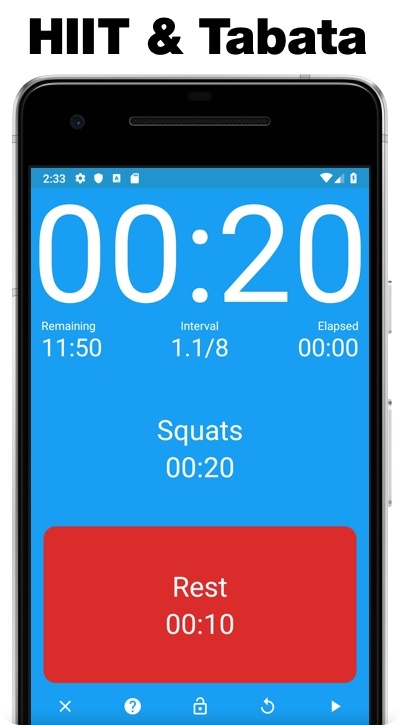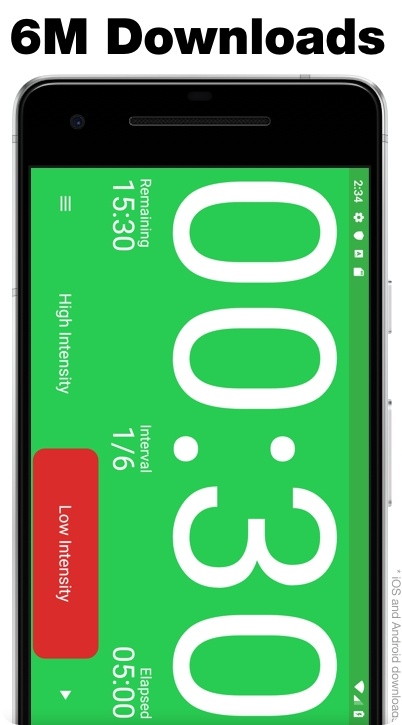 Downloads: 500K+
Customers rating:

(4.4 / 5)
Interval Timer
It's an easy-to-use and versatile sports interval timer for you to use. It will surely take your training to the next level. First off, setting up your workout is a breeze. With adjustable presets and huge digits, you'll be able to easily see and adjust your intervals without any confusion.
Plus, the app's reminders and color-coded intervals provide just the motivation you need to keep pushing yourself through your HIIT routine. The digits are huge, too, so you'll see the timer from afar.
Another great thing is the app's traceability. You can easily monitor your progress, see how many calories you've burned, and see your heart rate all in one place. It's like having a personal trainer right in your pocket! It's also free, and the timer won't be interrupted by ads or smth.
And don't worry about interrupting your rhythm to change your music or check your phone. This app is made to keep you entertained and engaged throughout your workout. It runs in the background, letting you enjoy your fave songs or motivating audiobook while you get your sweat on.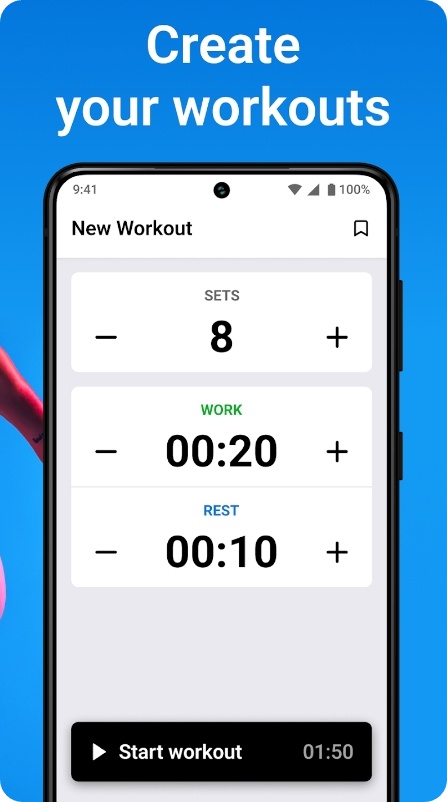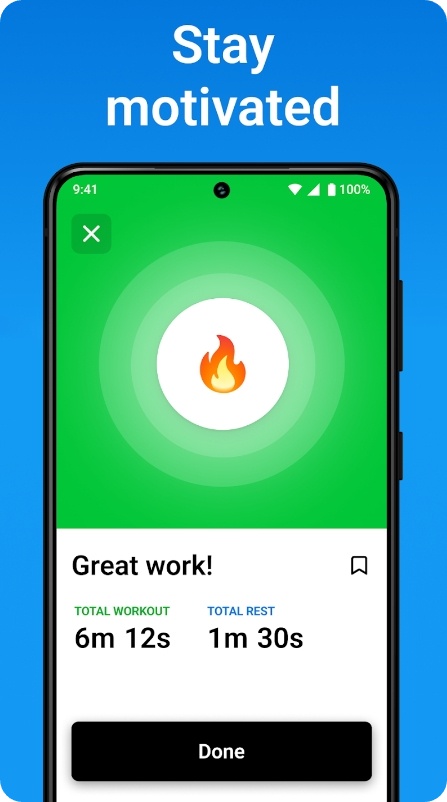 Downloads: 100K+
Customers rating:

(4.9 / 5)
Flex Timer
Feed up with squinting at the timer during training? This app will help. It covers 8 highly customizable timer modes so you can make the ideal routine for your needs. And all of these can be saved for further use.
The app works for all kinds of training, and you can use presets for quick navigation. And if that's not enough, feel free to set a custom routine. But that's not all! This app lets you go hands-free with by controlling the timer via your fitness bracelet.
And if you wanna monitor heart rate, simply hook up your Bluetooth monitor and get all the data you need. But perhaps the most impressive aspect of this one is its ability to connect to clocks around the gym and simultaneously control all of them. No more running back and forth between timers: with this app, you can keep everything in sync easily.
And with Bluetooth control, you can now start, stop and pause your timer from acute angles and around corners. Say goodbye to line-of-sight restrictions!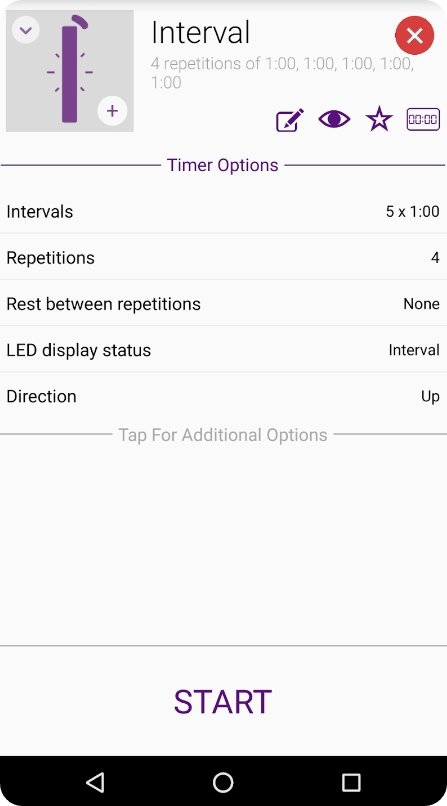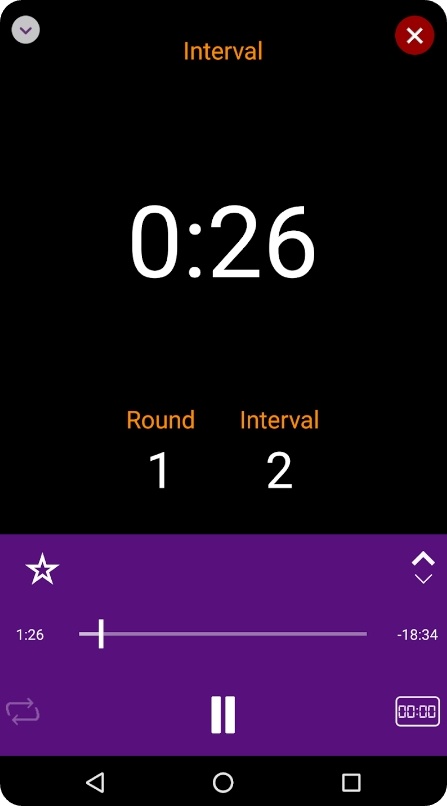 Downloads: 100K+
Customers rating:

(4.7 / 5)
Interval Timer
That's a workout buddy that can keep up with your pace. It will become your new BFF when it comes to monitoring your exercises.
The app covers reverse modes for all kinds of routines. The simple one is ideal for those who just want to get started right away, while the advanced one lets you adjust the timers to fit your needs. But wait, there's more! You can even make your own presets, so you can jump right into your training without any hassle.
Now, let's talk about the tools that make this app stand out. First off, the app has a voice assistant. Thus, you'll always know what's next without having to constantly check your phone. And if you need to skip or restart a set, it's a breeze with just one tap.
But here's the best part: the app works in the background, so you can continue using other apps or even lock your phone without interrupting the routine. And if you're a music lover, don't worry: it seamlessly works with your music apps. The app is also easy to set up: no registration, no ads, and no web connection needed.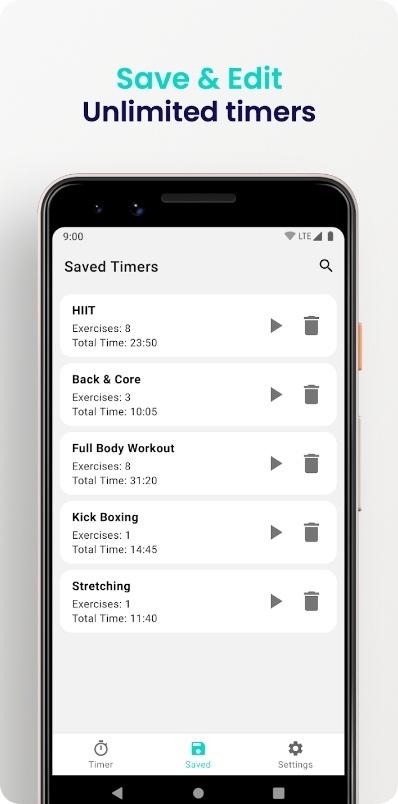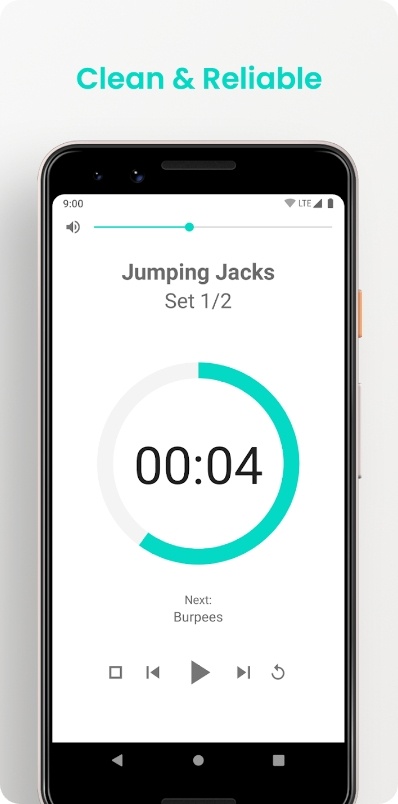 Downloads: 100K+
Customers rating:

(4.6 / 5)
You may also check: 11 Best Spinning Apps in (Indoor & Outdoor)
Hiitmi HIIT Timer
To wrap up, there's a killer HIIT workout that delivers dynamite results. The free version has no ads at all, so no distractions during training. And with an unlimited number of timers, you'll never run out of options for your full-body burn.
But what really sets it apart is the music integration. You can use your fave music or podcast service (Spotify or YouTube, anyone?) to power your exercise. And the female voice assistant is energetic and motivating. It imitates a personal trainer right in your pocket.
And if you're in a noisy environment, the beep sounds will ensure you won't miss a set or rep. But the real cherry on top is the simple stats you can view, so you can see your advancement, set new goals, and celebrate victories. And with a dark and light theme, you can pick the ideal ambiance for your training.
But what really makes the special is the feeling you get when you use it. It's like having a virtual workout buddy cheering you on, pushing you to your limits. And that is what is truly priceless.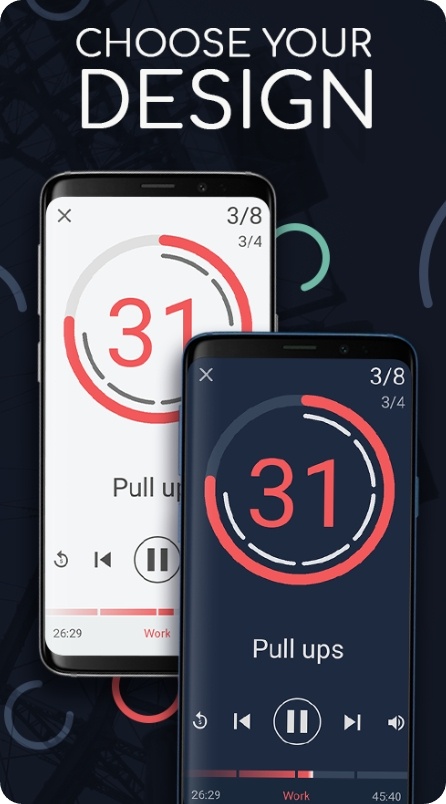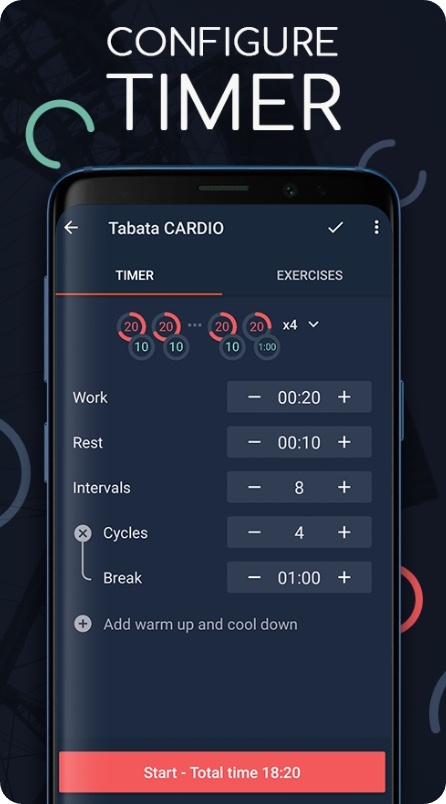 Downloads: 100K+
Customers rating:

(4.8 / 5)