Do you think you're a wordsmith? Prove it! In our today's review, we have collected the best word games similar to boggle.
The best boggle games with multiplayer in one place! Have fun playing with your friends and expand your vocabulary.
Boggle With Friends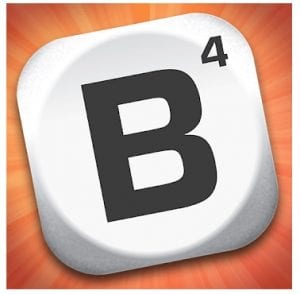 Do you like crossword puzzles and word puzzles? Then get on board! Enjoy the new design of Boggle With Friends! This is a new take on the classic board game from Hasbro. Fun new modes, daily challenges, and puzzling twists.
This is a fast and addictive word game where you can challenge opponents from all over the world.
If it's hard to start, you can play solo against the Coach in order to test your word skills in a three-round match. Then when you are ready you can challenge an opponent.
Expands vocabulary;
free to play;
multiplayer;
solo mode;
choose a language from 9 available;
you can play in offline mode.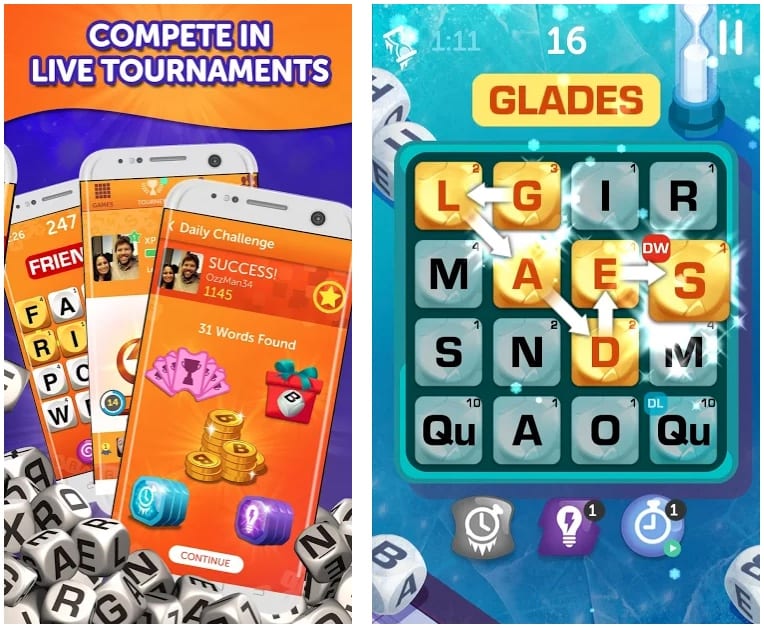 Downloads: 1000000 +
Customers rating:

(4 / 5)

You may also like: 17 Best logic game apps for Android
Word Chums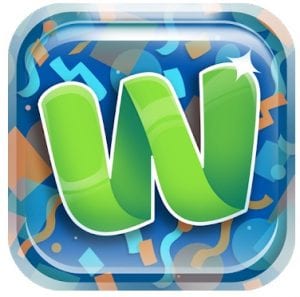 If you are a fan of word games, then you should definitely try the game Word Chums. It is very well made, has fun graphics and sound.
The multiplayer mode is unlike others, you can choose customizable characters. The game has a full dictionary.
Great for adults and kids;
Built-in dictionary;
Customizable Chum characters;
Leaderboard competitions.
Three or four players can play Word Chums, you can play with friends, strangers, or Chumpbots. You can play against your Facebook friends or anyone on your contact list. The game has in-app chat for friendly play during competitions.
Try your skills in Word Chums!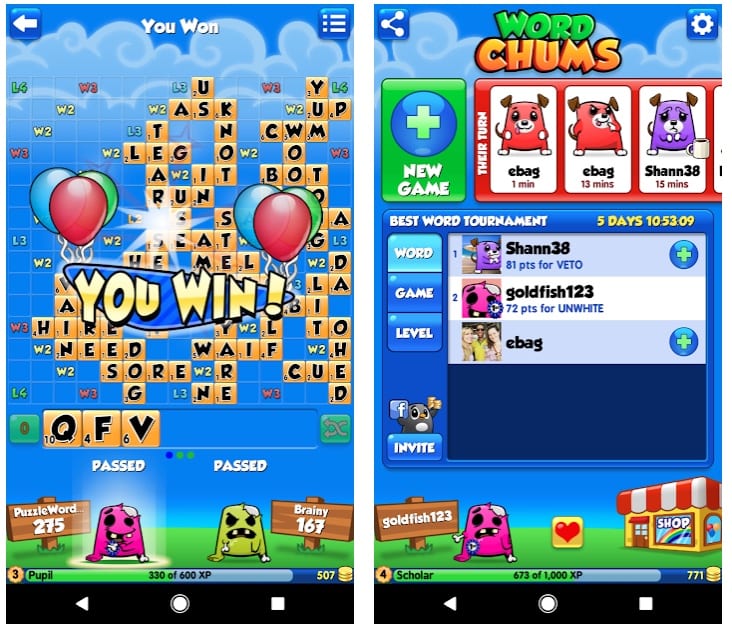 Downloads: 1000000 +
Customers rating:

(4.7 / 5)

Word Wars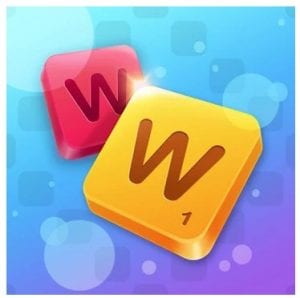 This is one of the best word games for Android without ads. Enjoy it with friends in quick word battles and learn new words on the go!
You can play several matches at the same time. So, you'll never get tired of waiting on your opponent to play his turn.
Play with friends and family;
Choose an opponent based on your skill level;
Chat with other players;
Power-ups;
Weekly tournaments.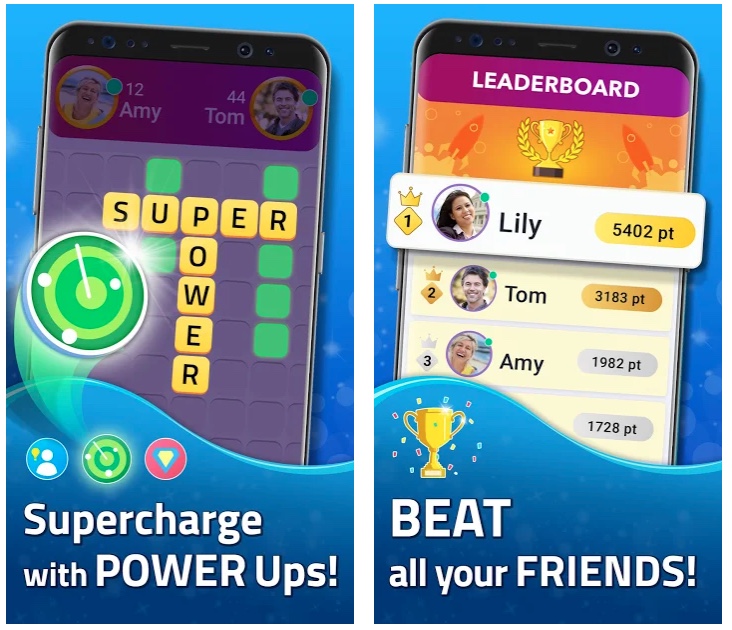 Downloads: 1000000 +
Customers rating:

(4.5 / 5)

Words with Friends Classic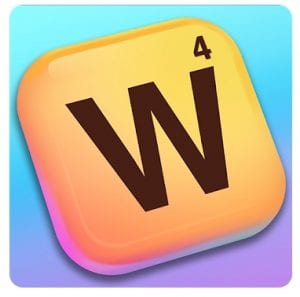 Words with Friends Classic is a free social word game developed by Zynga. It is similar to the classic Scrabble, where you play against an opponent, placing words on a board made up of the 7 letters you have.
Up to 20 players can play at a time, your turn will be shown in pop-up notifications. You can invite your friends to play via Facebook, Twitter, or you will be matched up with a random opponent.
The main advantage of Words With Friends Free is its asynchronous multiplayer system, which allows you to play up to 20 different games simultaneously. You can make your move, forward it to your friend, and then he has as much time as he wants to respond. So you can take your time to calculate the perfect move.
The game has a chat room where you can communicate with other players.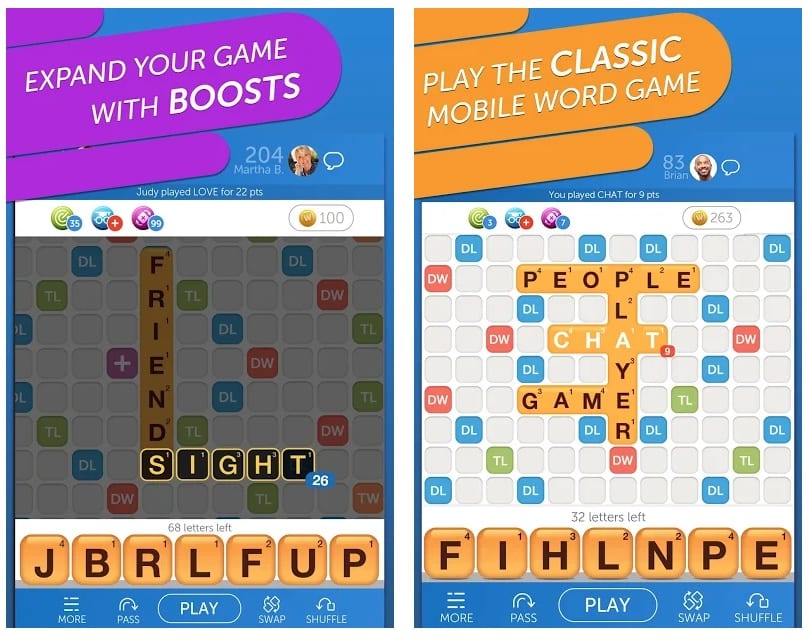 Downloads: 50000000 +
Customers rating:

(4.2 / 5)

Ruzzle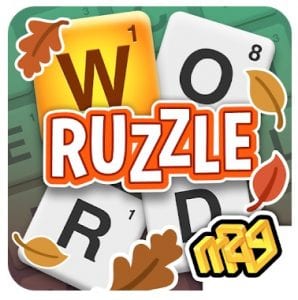 Ruzzle is a cool word game, which is similar to Words With Friends and other similar games. Your goal in this game will be to make as many words as possible in a certain time, using the letters on the board.
Although you can practice on your own, it is still much more fun to play Ruzzle against other users over the internet. You will have 2 minutes to compose as many words as possible from the letters you see on the screen – those letters will be the same for both players.
The words you compose will give you a different amount of points, which depends not only on the length of the word itself but also on the letters it consists of. For example, a normal five-letter word will give you more points than a four-letter word, but if the shorter word is made up of rare letters, it will probably give you more points.
Ruzzle is a fun and dynamic game that will allow you to demonstrate your rich vocabulary and play fast games. Among other things, you can play this game in different languages, so if you want, you can always check your knowledge, for example, in English or German.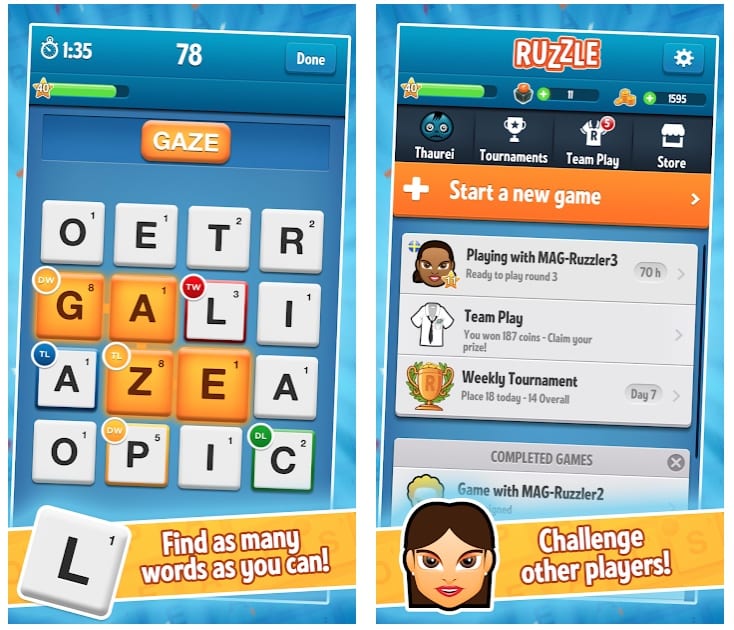 Downloads: 10000000 +
Customers rating:

(4.3 / 5)

Word Crack Mix 2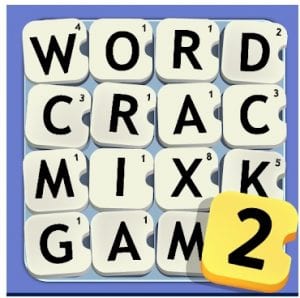 Immerse yourself in this multiplatform word game. You can play against your friends or against random users of any platform. Plus, there are no restrictions on current games!
Ready for a new challenge? With the new single-player mode, you can shake your brain and find your word search rhythm. Join the characters in the game and help them win medals and get experience. Stay sharp by testing your skills!
Form as many words as possible by connecting the letters on the board any way you want. Each game consists of 3 rounds of 2 minutes each, so your brain has to be very fast!
The player who gets the most points by the end of the game will be the winner. Expand your vocabulary and show off your spelling skills in this fun free word game.
The 5 charismatic characters will guide you on your way to victory. What are you waiting for? We guarantee you'll love it from A to Z!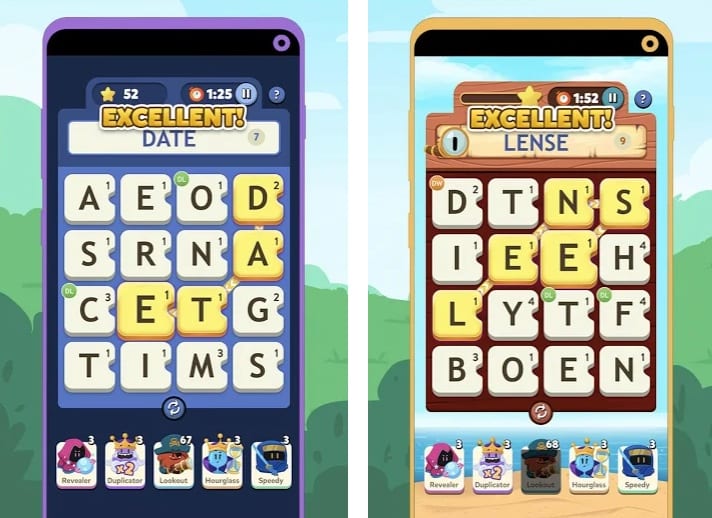 Downloads: 5000000 +
Customers rating:

(4 / 5)

Word Crack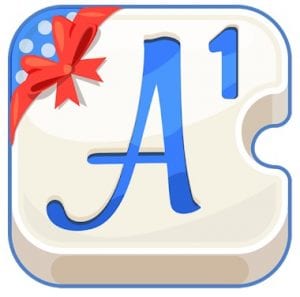 An entertaining word puzzle in which you have to try to compose as many words as possible from the letters on the playing field.
The app supports 16 languages, online play, endless levels, and even a chat room to communicate with your opponents while you play. This app is worth a try, especially if you like to play with friends.
Increases vocabulary and improves mental abilities.
Ability to play against friends.
User-friendly controls and pleasant interface.
Funny and entertaining game.
Availability of user rating.
You can play adequately only with a familiar partner with whom you have agreed on the rules beforehand. And with random players, it's just a competition to see who will put more letter combinations that the game will accept. If you are lucky, it will even be a meaningful word.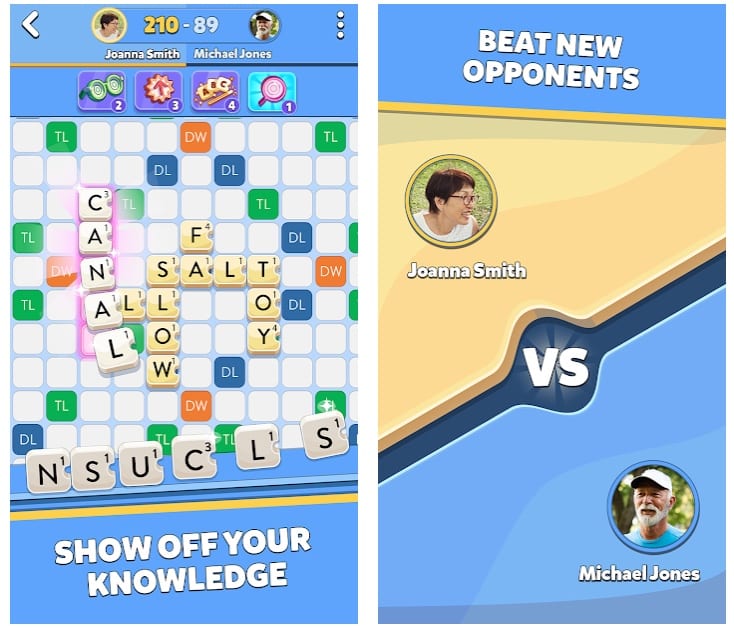 Downloads: 10000000 +
Customers rating:

(3.8 / 5)

Scrabble® GO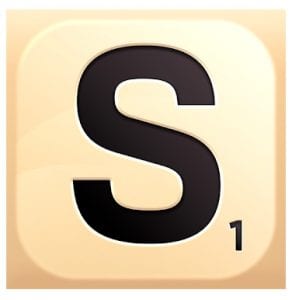 Scrabble® GO is a classic puzzle game for true polymaths, the kind of fun you like. This app provides a lot of functionality, like playing in duels and testing your level of knowledge at one of four speeds.
Scrabble GO allows you to play with friends and family members on Facebook, but first of all there are new challenges: anagrams, chasing moving words, etc. And there's even a training mode and a statistics tracking system to help you keep track of your progress.
A huge board with words, letters, you have to solve these crosswords every day to move on to the next stage. You can enjoy the game with your friends or the whole family, it really will be fun and interesting. Change your appearance, use extra power-ups, and hints to win.
If you're ready to be competitive, then get your friends, let them set records too, and you'll try to beat them. In all, there are more than 3 modes available.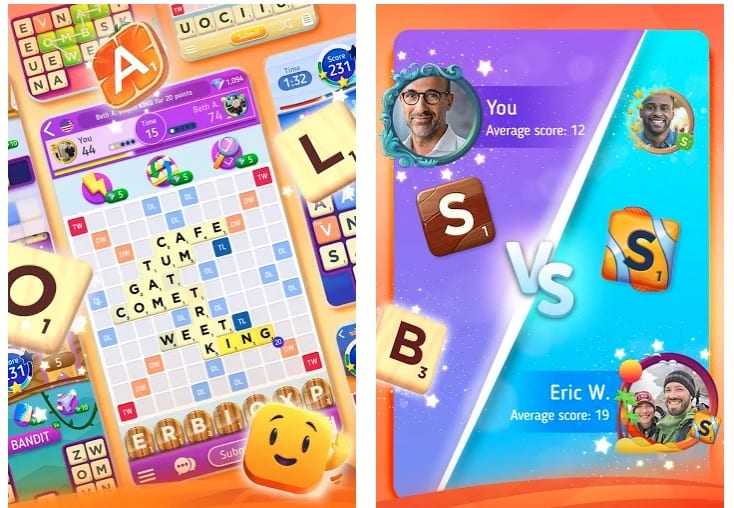 Downloads: 10000000 +
Customers rating:

(4.2 / 5)

Wordfeud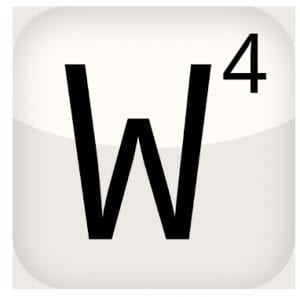 Wordfeud is another mobile game that is constantly being updated and improved. It has two versions: free and paid, without any in-game purchases.
The game is a little bit different from the classic Scrabble and has some new rules. For example, you can place letter tiles in a different order on the game board. Up to 30 online levels with different opponents are available to you. The game supports 9 languages.
You can play with friends, invite them from your contact list or by mail, or the game itself will pick a random person. The list of players shows the start time of the game, the time of the last answer, and the last move.
The player is given 72 hours to answer, so you can take your time choosing the words and their location. It's a shame that the game has no statistics on players, I think this added competitiveness to this game. You can also exchange messages with your opponents. The game allows you to set up notifications so you don't have to watch your phone all the time.
It boasts a fanbase of more than 30 million people, and while we don't know how many are currently active, you're sure to find someone who will enjoy multiplayer without waiting too long.
The game is quite interesting, doesn't take much time, helps to learn the language. All in all, a very useful educational game, try it at your leisure!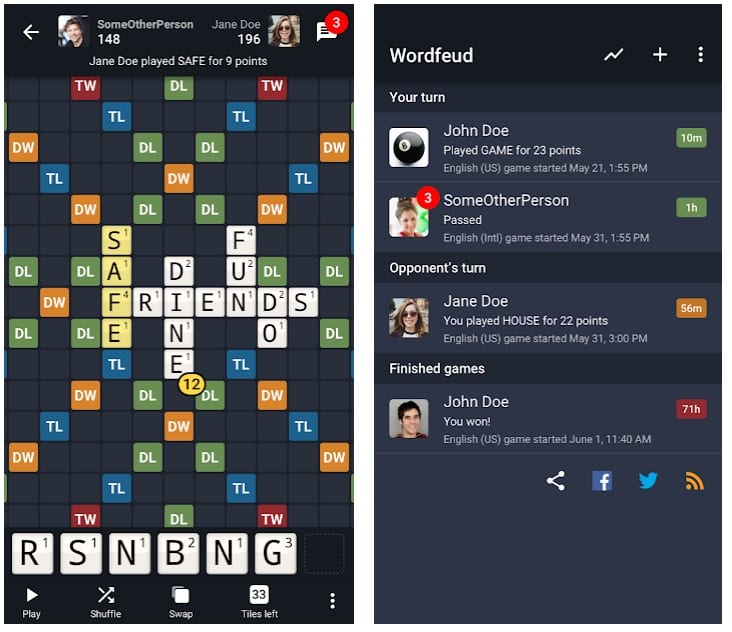 Downloads: 10000000 +
Customers rating:

(4.4 / 5)

Wordsmith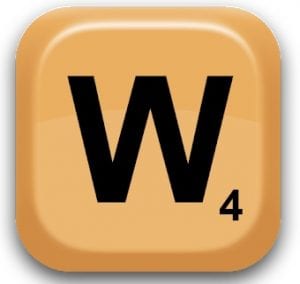 Wordsmith is a 2 to 4 player turn-based crossword style game, which is a lighter version of Scrabble.
Two to four players can participate, which is great because we're all used to playing Scrabble in a company. You can open up to 8 levels at a time, play with friends or other players, and set timers so the game doesn't stretch (helps against cheating).
Chat with other players;
Up to 8 games played simultaneously;
Get game statistics;
Play with friends or random users.
Like Wordfeud, the app has two versions, free and paid, but also includes additional fees.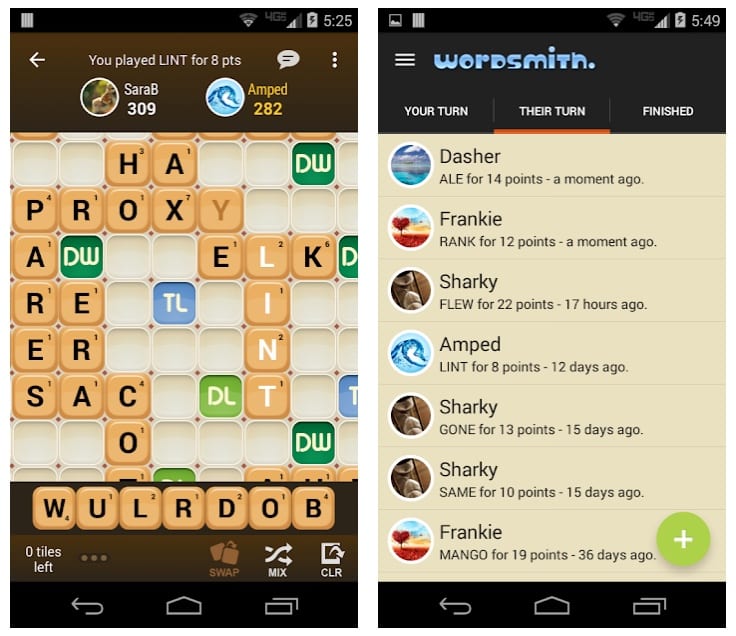 Downloads: 500000 +
Customers rating:

(4.1 / 5)

You may also like: 9 Best Multiplayer Puzzle Games for Android
Word Domination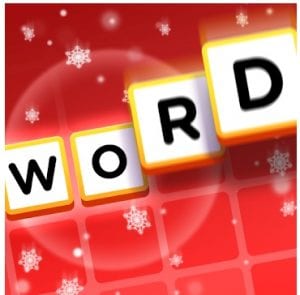 MAG Interactive invites users to play the game Word Domination on their smartphones. Word Domination is a puzzle game, where you will make words out of suggested letters. You will play this game with your friends and other players from all over the world and train your erudition and intelligence.
Build up your vocabulary with new words and make up words faster than your competitors by putting them on your phone or tablet screen. While waiting for your partner to move you can run all sorts of fun effects that make the tiles dance on the board for example. You can also chat with an opponent.
Of course, there are all sorts of techniques to get an advantage over your opponent. For example, you can use a hint. But as you know, in this world, nothing is free. You have to pay for them with gold coins and rubies, which you'll get for winning games (or trivial donation).
Also, note that it's not possible to play indefinitely. Each player has an energy level that will run out sooner or later. To replenish it, you can either pay again or watch a couple of promotional videos.
What is required to play the game? Android 5.0 version and above, age over 3 years, and sometimes iron nerves. Because it's not so easy to hold back emotions when your opponent "blocks" your access to the desired letter or you yourself have missed a great word variant.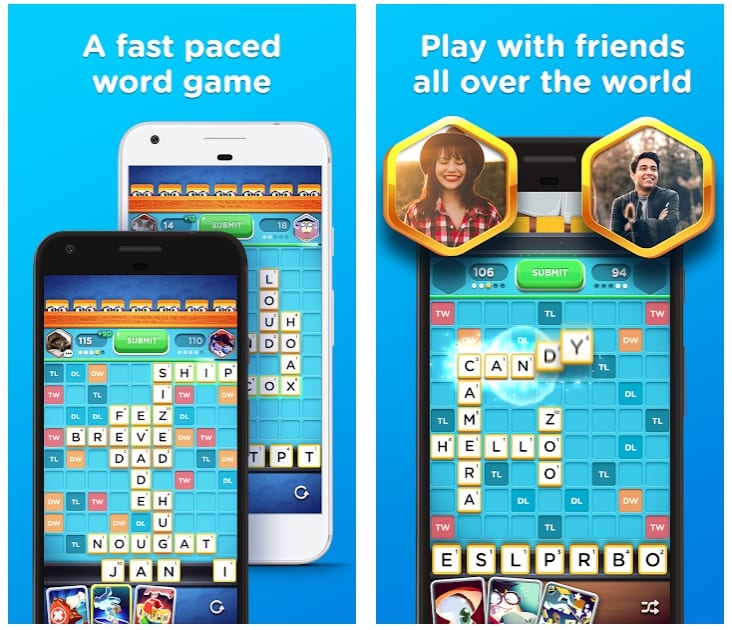 Downloads: 5000000 +
Customers rating:

(4.2 / 5)