Sometimes some people need to know their nationality. On the other hand, you can have a lot of fun using ethnic analyzers. Here is a list of best ethnicity analyzer apps.
If you like the apps that allow you to experiment with looks and face shapes, then chekc also the article about the best funny face changer apps.
DNAlyzer DNA Ancestry Gradient
You will definitely like this app. It has all the necessary functions and can determine which nation you belong to.
Take a selfie first. Make sure your face is visible. Then you will have to continue for no more than a few seconds while the program analyzes your photo. You will see the result soon.
After the app has checked your face, it will show you a special table. You will find out not just what nationality you belong to, but even get the number of percents. For example, you can be 65% Chinese, 15% German, and 20% Greek.
However, the functions of the app do not end there. Continue your research with this app.
It is possible to find out which star you look like the most. The results will surprise you!
Also, if you do not trust the mirror or compliments from friends, you can always check the level of your beauty and attractiveness. Let the service analyze your selfie and get the results as a percentage.
In addition, if you have just started a romantic relationship with a partner or have been dating for a long time, it is never too late to check how well you fit each other.
Take a photo together, upload it to the app and find out what the future holds for you.
Advantages:
User-friendly and modern app design.
It is possible to get pretty accurate results.
Drawbacks:
Many features are only available when you purchase a subscription.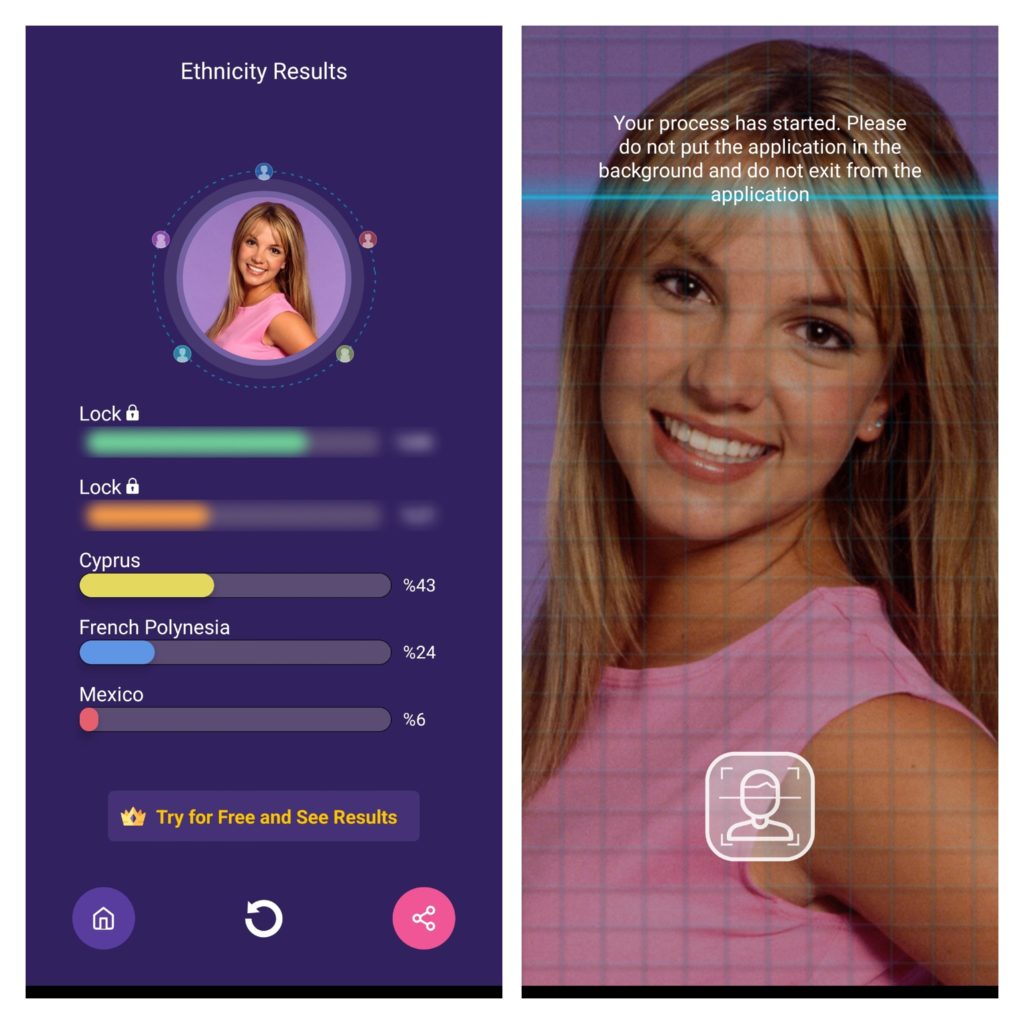 You may also like: 12 Best face swap apps for Android
Myface: Nationality by face
This is a simple app with which you can find out what nationality you are.
Take a clear photo so that your face has a good quality to see, and then add it to the app. Magic will happen in a couple of seconds!
The neural network is actively working to compare your facial features and looks typical of different nationalities.
Under the photo, you will see the results. The number of percentages and the flag of the country will let you know which ethnicity you belong to the most.
The results can be saved in the storage of your smartphone to then show to friends.
Though the app does not look modern and besides, it hardly shows accurate results. However, it is not a bad way to have fun!
Advantages:
The app quickly analyzes photos.
All functions are completely free.
Drawbacks: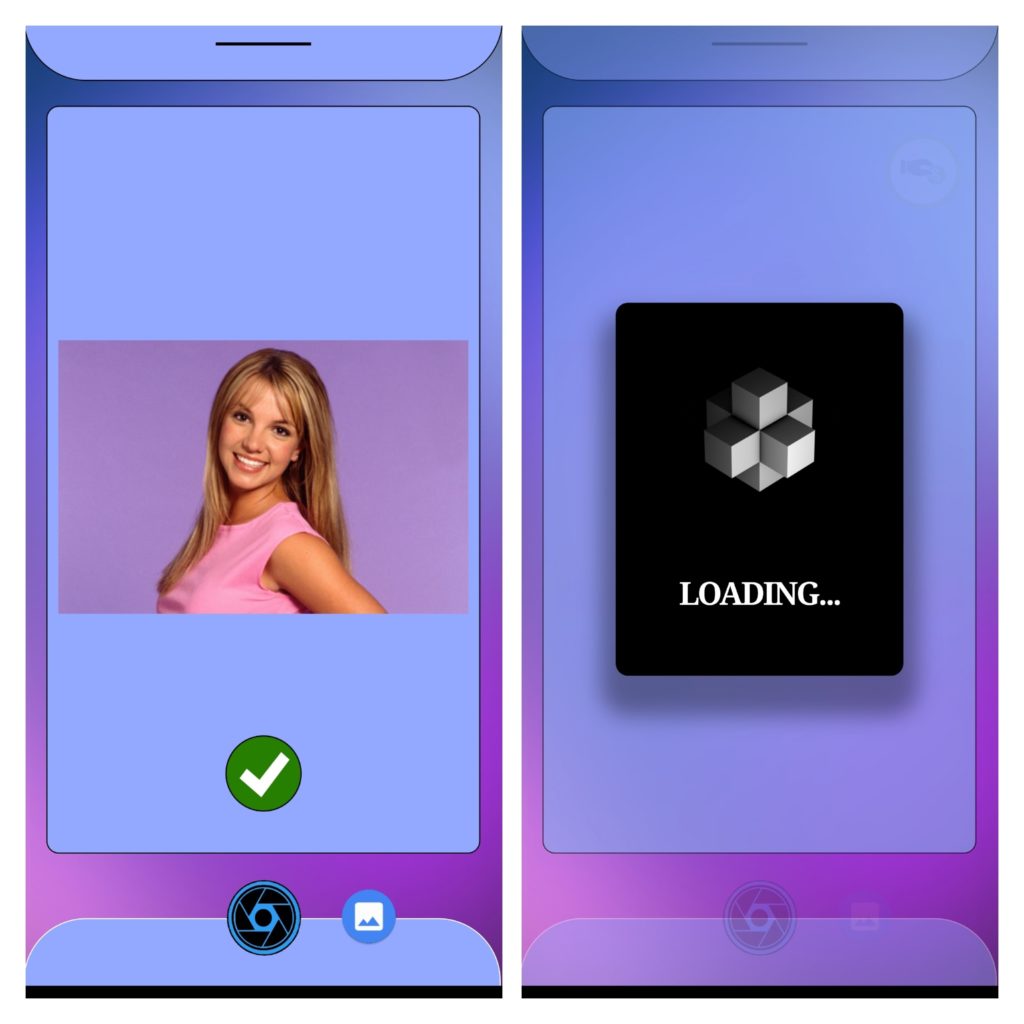 Nation face scanner
For those who need to know about their ancestors or who just want to make planks for their beloved ones, it is a great idea to download this app.
There are no additional features that would distract you and cause the service to start requiring a paid subscription. Only the analysis of the ethnos.
Upload your selfie to the app. It is possible both to add a ready-made photo and to take a picture without leaving the service.
The study of your nationality will not take even a minute – so quickly the app determines who your ancestors were. At the bottom of the screen, right under the photo, you can see the results.
Conveniently, information about your ethnic group is presented in the form of the number of percentages. So you will be able to understand whose genes predominate in you, and which ones there are quite a few.
Advantages:
It is quick and easy to find out about your nationality.
There is an opportunity to share the results on social networks.
Drawbacks:
The app does not always show accurate results.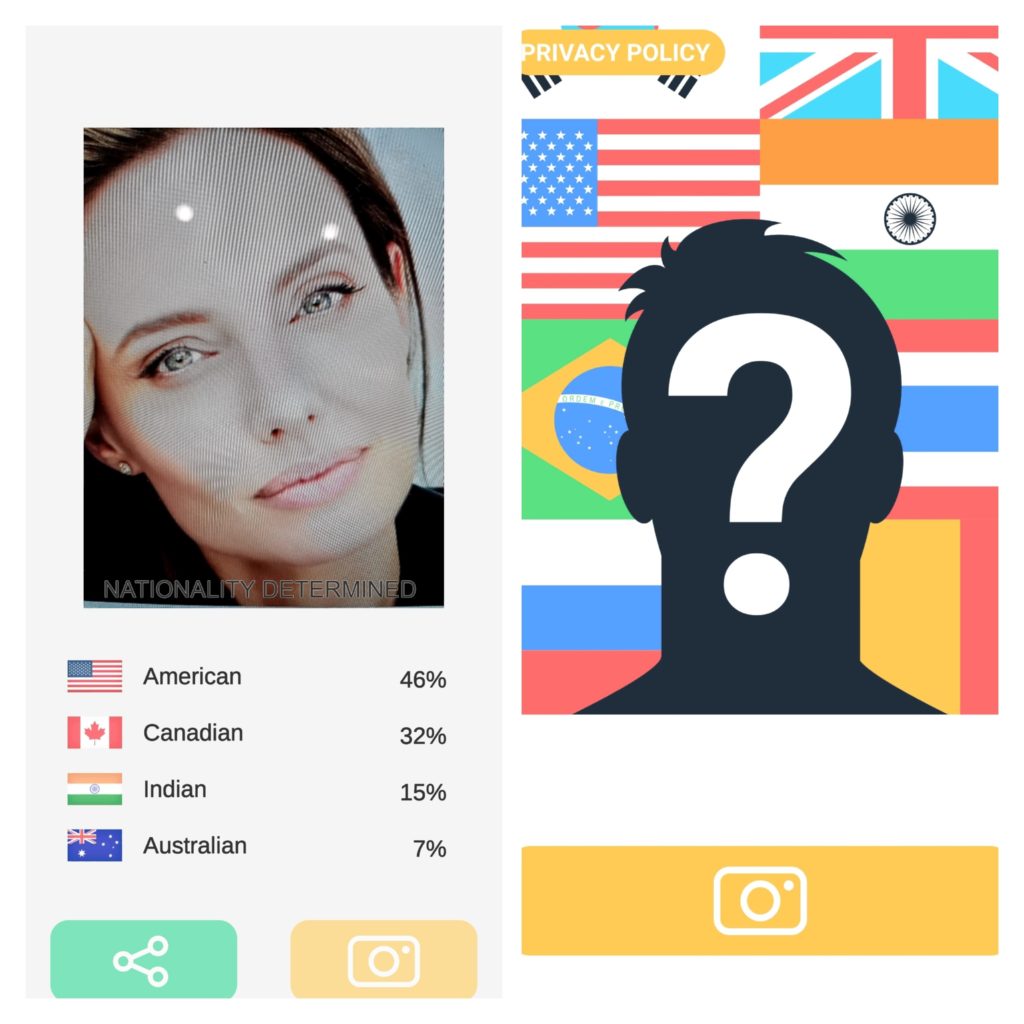 Golden Ratio Face – Face Shape
Using this app you can try out many functions, each of which will open to you a side of your appearance.
However, you are primarily interested in finding out what nationality your face is. Upload your selfie and get a detailed analysis of your appearance.
Although the app is not based only on the definition of your ethnicity, you can easily find it in the general table, which presented all the information that the AI was able to collect.
It is also possible to get an analysis of age, smile level, beauty level, and facial quality.
If suddenly you get results that upset you or do not satisfy you, then should not worry about it. After all, what do these tech programs know about humans?
You can see what your face would look like if it met the gold standard of beauty. Be prepared for the fact that you will laugh till collapse.
Another opportunity that you will get if you install that app on your smartphone will be to check the similarity with another person.
In this case, you need not only your selfie but also a picture of your friend. The program will compare the features of your faces and tell you how much you are similar to each other.
Advantages:
Modern design.
There are additional interesting features.
Drawbacks:
There are a lot of ads in the app.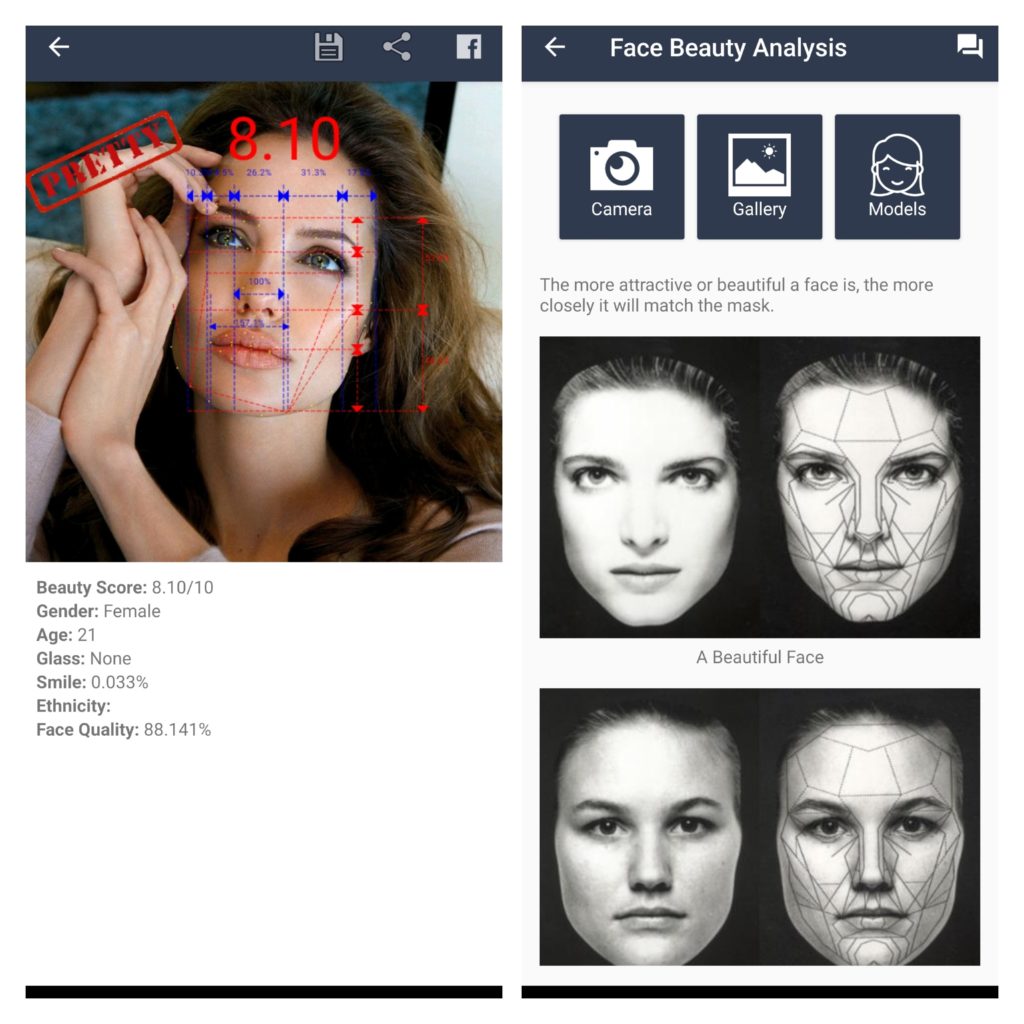 Beauty Calculator Pretty Scale
This is another service that can determine your nationality.
Using it is very simple. Make sure your selfie is of excellent quality and then add it to the app. The AI will immediately begin its work.
Its task is to compare your appearance with the standards of appearance of other nations. Based on this data, the AI will give you the results.
Although do not you think it is a bit boring to learn only about the ethnic group? If yes, then at the same time you also get information about the beauty of your face, shape, features, and so on.
Perhaps before going to a modeling agency, it would be a good idea to check your chances. Of course, this is a joke.
You can check the level of your attractiveness, but do not take the results to heart. The technology is not yet perfect, and therefore errors and inaccuracies are allowed.
Advantages:
There are many additional features in the app.
The results can be shared with friends.
Drawbacks:
Inaccurate results.
There are a lot of distracting ads.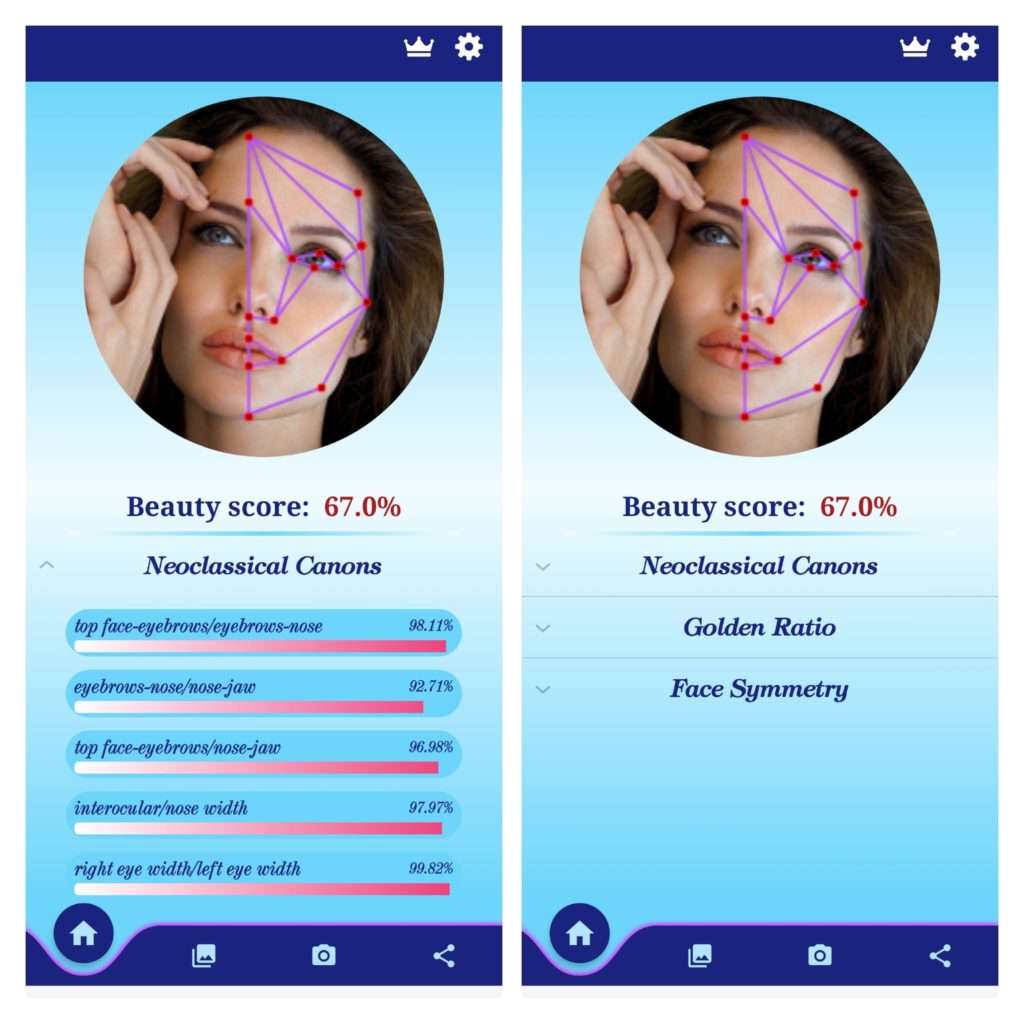 You may also like: 9 Best Breast Photo Editing Apps for Android
Face Reading App – Aging Face
Install this app if you want to learn more about your nationality. It is easier than you think.
The service has a laconic design. You will not get confused by the multiple functions, because the app is easy to use.
All you have to do is take your selfie. Upload it to the app and wait just a few seconds while the AI does its best to find out your ethnicity.
Soon you will find out how many characteristics of a certain nationality there are in you.
It is also possible to see how you will look old. Just choose for how many years the service should add wrinkles to you. It is quite interesting to find out what your face will be like in 20 or 40 years.
Moreover, a check of your beauty level is also available here. It is always curious to find out how many percent you are stunning.
Surely you have at least once in your life been interested in learning how you would look if you had a different gender. Now it is possible to do this in just a few taps on the smartphone screen. The program will instantly change your facial features as if you were born a female or a male.
Advantages:
The app has a large number of features.
Convenient navigation system.
Drawbacks:
The app can freeze and lag.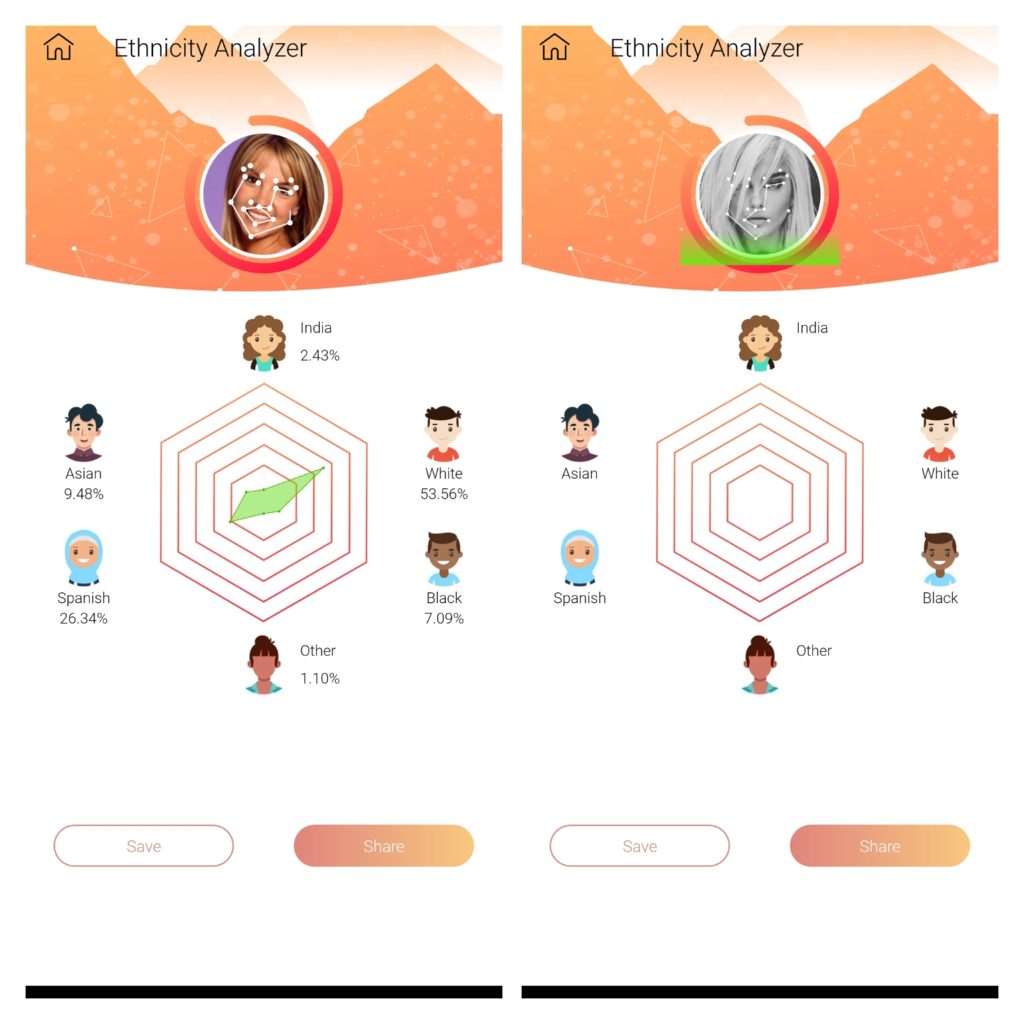 Face Beauty Score Calc & Tips
This is a great choice for those who want to get to know their ethnicity through photography. In addition, the developers offer many other options.
Even though checking your nationality is not the main function of the app, you can always find out when you perform a general analysis of selfies. In one of the lines with the information you will immediately see: Italian, Arab, Indian or other.
This service allows you to get detailed information about your face. What shape, what eyebrows, what nose, and so on? Based on this, you get recommendations on how to take care of your facial skin or hair.
All the tips are presented in the form of short articles that give you a lot of useful tips on how to take care of your body.
However, if you think that the recommendations relate only to the face, then this is not the case. The developers have even added tips on how to get rid of the feeling of dry feet.
What is more, you can make pranks on family members and run a similarity check. Just upload your shared photo. This will help you make sure that you are not an adopted child. Or adopted.
It is available to compare both two people and a large company. Take this chance to laugh with your friends.
Advantages:
There are many useful analyses on the face.
The service offers various recommendations for facial care.
Drawbacks: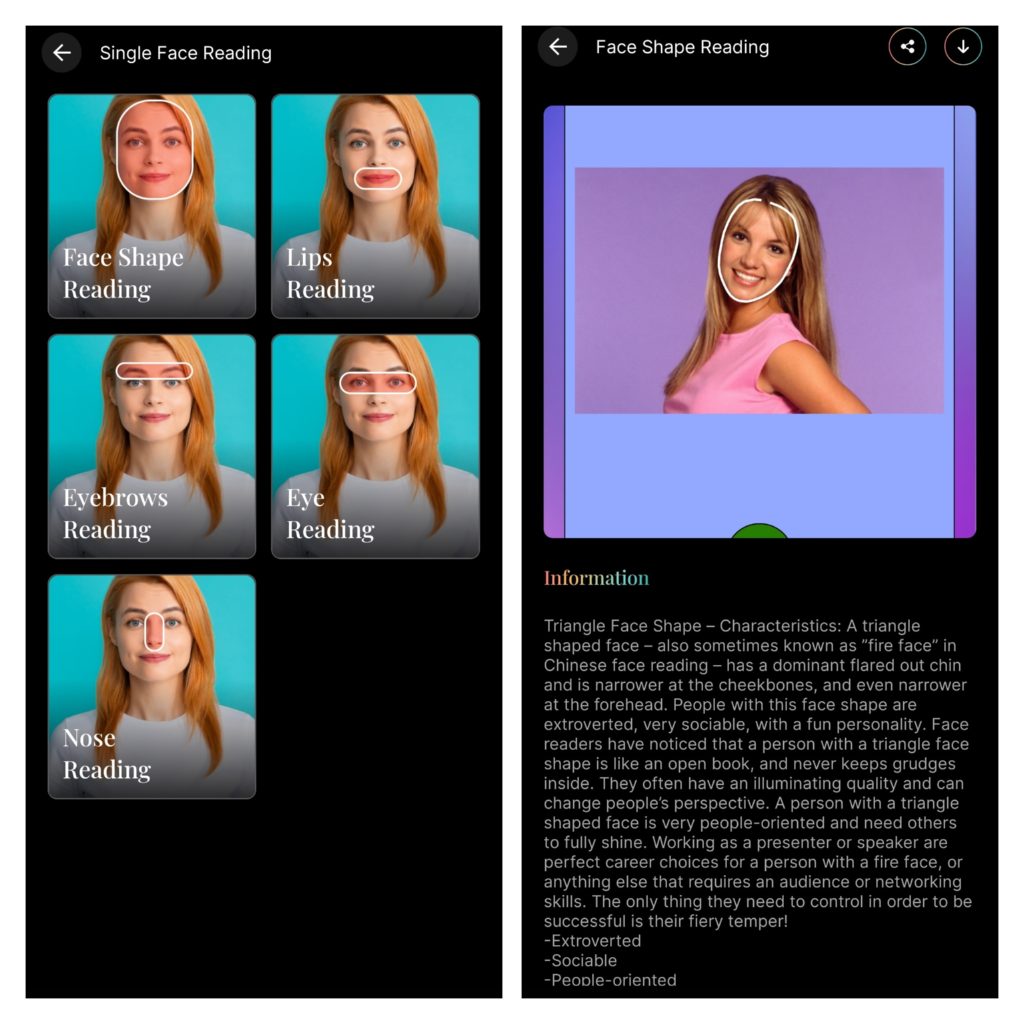 FaceBreak – Face Shape & More
This is a multifunctional app ready to answer all your questions just by looking at your face once.
So, since you need to learn about who your ancestors were, then rather take a selfie. The app will easily tell you who you look like the most – Indian, Korean, or Mexican.
However, that is not all. The service can identify what kind of character you have by analyzing your photo. You will get a lot of new information about yourself and this will help you understand your inner world.
Among other things, the app can easily identify all your emotions and even some character traits. It is enough for the program to have your selfie to let you know what feeling is reflected in your eyes. Maybe it is flirting, joy, or mystery.
The developers also provide you with data such as the beauty of your nose, eyes, eyebrows, and other things. In the general table with the results, the percentages of the attractiveness of individual facial features will necessarily be.
It is also possible to find out your age. If you are afraid that you look old, then let the app explore your face. Since it is just a program, it will not be able to produce results based on subjective assumptions.
Advantages:
There are additional functions.
Drawbacks:
It is not always possible to get accurate results.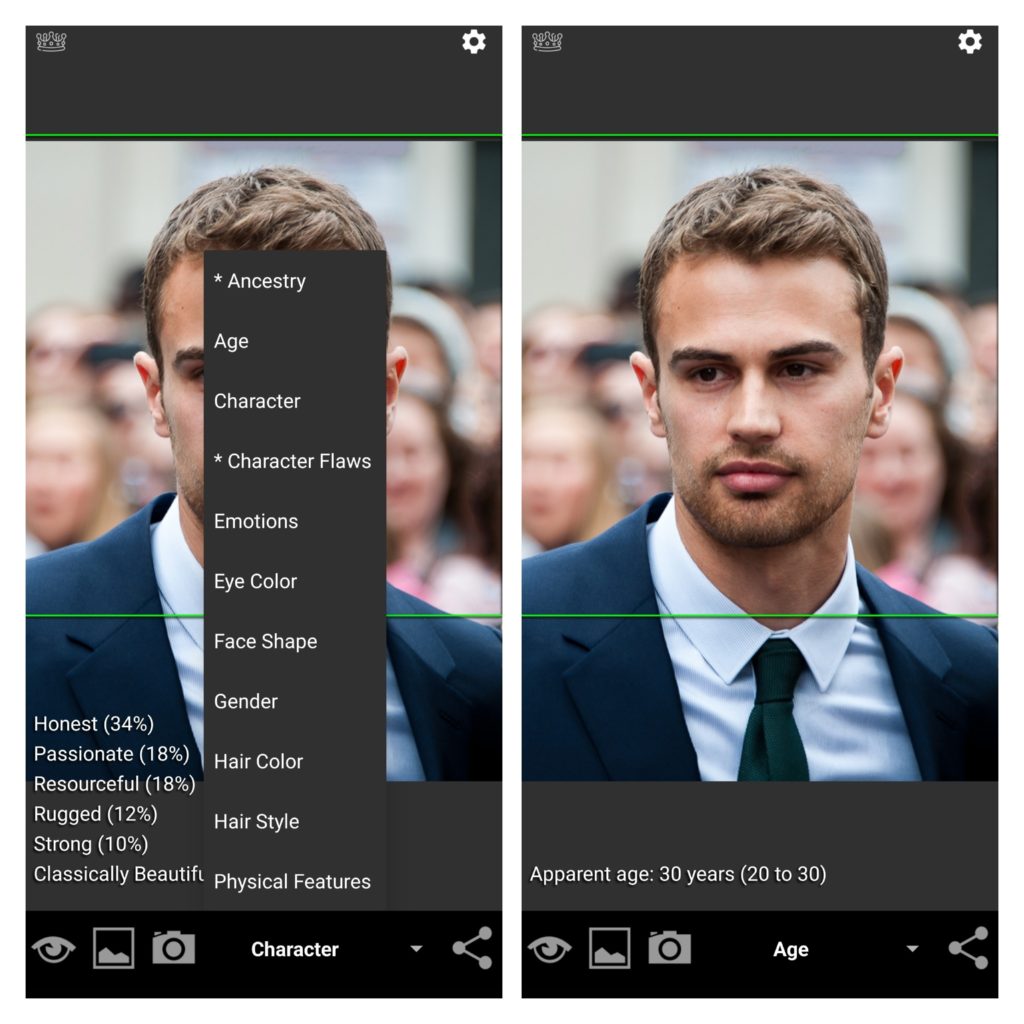 You may also like: 7 Best Baby Face Apps for Android
Age Recognition App
Although there is nothing in the name of the service about the possibility of checking your nationality, you can still do it. This feature is part of the app.
Of course, first of all, let the service get your photo. The program scans your selfie, taking into account every detail, every wrinkle, and every mole, to then give you reliable results. You will find out who your ancestors could be.
There is also a useful option for those people who are worried about their age. Perhaps you think that you look much older than you are and on the contrary younger than your age.
This service helps to get an independent AI opinion. The program cannot evaluate you subjectively, because it focuses only on statistical data.
Also, if you want to analyze your emotions from photos, you should use this service.
For example, you decided to check which emotion prevailed during the last week. So upload all the pictures for this period, and the app will tell you what feeling your face showed.
However, you will be surprised that this app still identifies what is shown in the photo.
If you uploaded a picture where the beach, the sea, and a magnificent sunset are behind, then right under the detailed analysis you will see keywords describing the background.
Advantages:
The service offers various types of analysis of your face.
AI recognizes animals.
Simple and easy-to-use design.
Drawbacks:
There are a lot of ads in the app.
It is possible not to always get the correct results.