Sharing photos has never been more popular. Perhaps it's because you want to keep your family, friends, readers, or followers up to date. There are many options for storing and sharing photos for a variety of needs. You can even find a way to share your photos that suits your personal life as well as your work life.
But sometimes we want to share photos only with our loved ones, friends and relatives. So, let's choose the best way to share photos privately. We'll consider the best private photo-sharing apps for couples and for family use.
Cluster
You had a party last night, after which you were left with a lot of pretty specific photos. You don't want to post them on social media: someone might not understand. Instead, you can upload them to Cluster and share them only with those who can see them.
The mechanism of adding photos visible only to selected users is available on Facebook. The problem is that these photos get confused with the rest. For example, I don't feel comfortable when next to an album that is visible to everyone, there is an album with photos I only want to show to a few people. And only one click in settings separates it from being seen by everyone.
Cluster is an Android app that is designed so that you can share such photos. Here's how it works:
You create a group and give it a name. For example, "Party";
You add photos to it;
You invite other users by email address or phone number.
An invitation is sent by mail or SMS. Other users receive a unique link to view the photos in the group. The photos can be viewed not only in the app but also in the web version of the service. The photo feed is similar to that of Instagram. It's possible to like, comment, and tag people.
There is no charge for using the service. In addition to photos, you can also share videos and notes.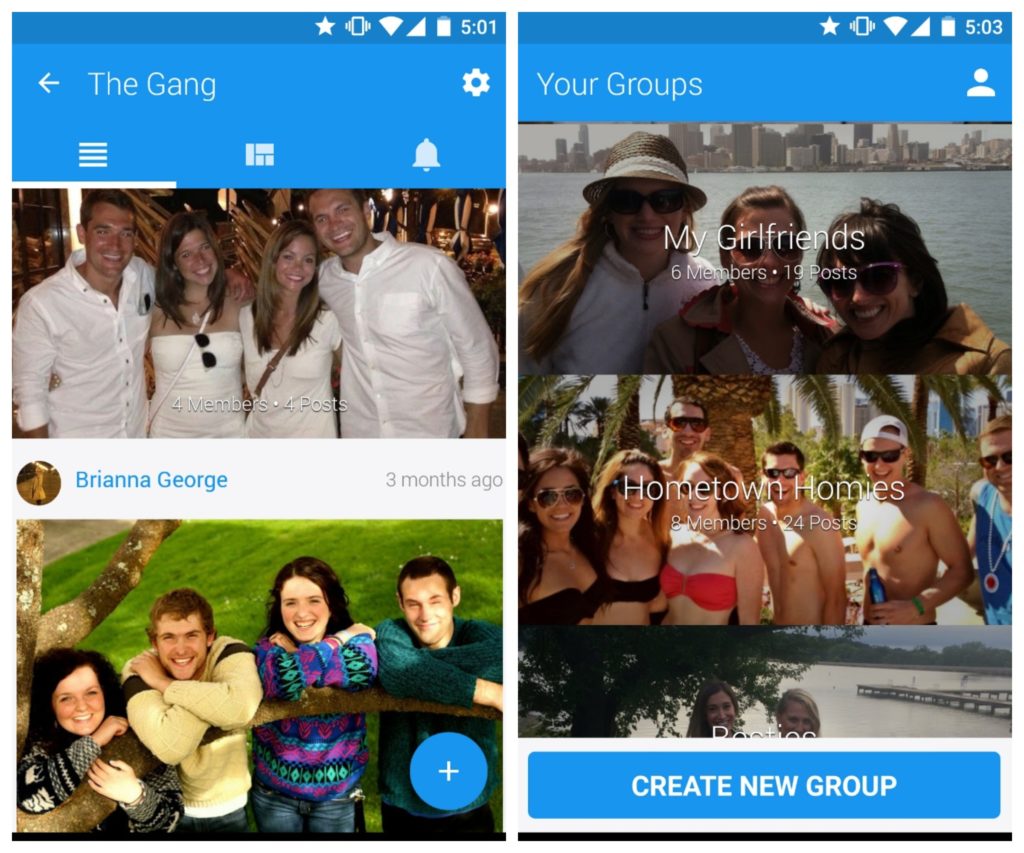 Downloads: 100000 +
Customers rating:

(3.7 / 5)

You may also like: 11 Best Apps to Enhance Photo Quality
23snaps
23snaps is a family album-style Android app that allows you to collect images and videos from the early years of your youngest family members, without publishing them or their details to any social networks or advertisers.
This service is a joy for parents who want to document their children's lives from the moment they are born. As well as confidentially share with friends and relatives.
Apart from the ability to capture and save family photos, the app has the following interesting features:
The ability to upload videos, stories, height, and weight as well as current information about each child in addition to photos;
A snapshot catalog with different sections;
Filters and photo frames;
Live alerts to your friends and family so they don't miss any important moments in your kids' lives;
The possibility for your family and friends to express their reaction in the form of smiles, hearts, and comments;
This is a completely confidential and secure service, only invited people to have access to its content.
Collect the best moments of your children's lives! The app allows you to update photos, videos, and stories, share photos, and videos securely, categorize them into different categories and add various filters, frames, and effects to them.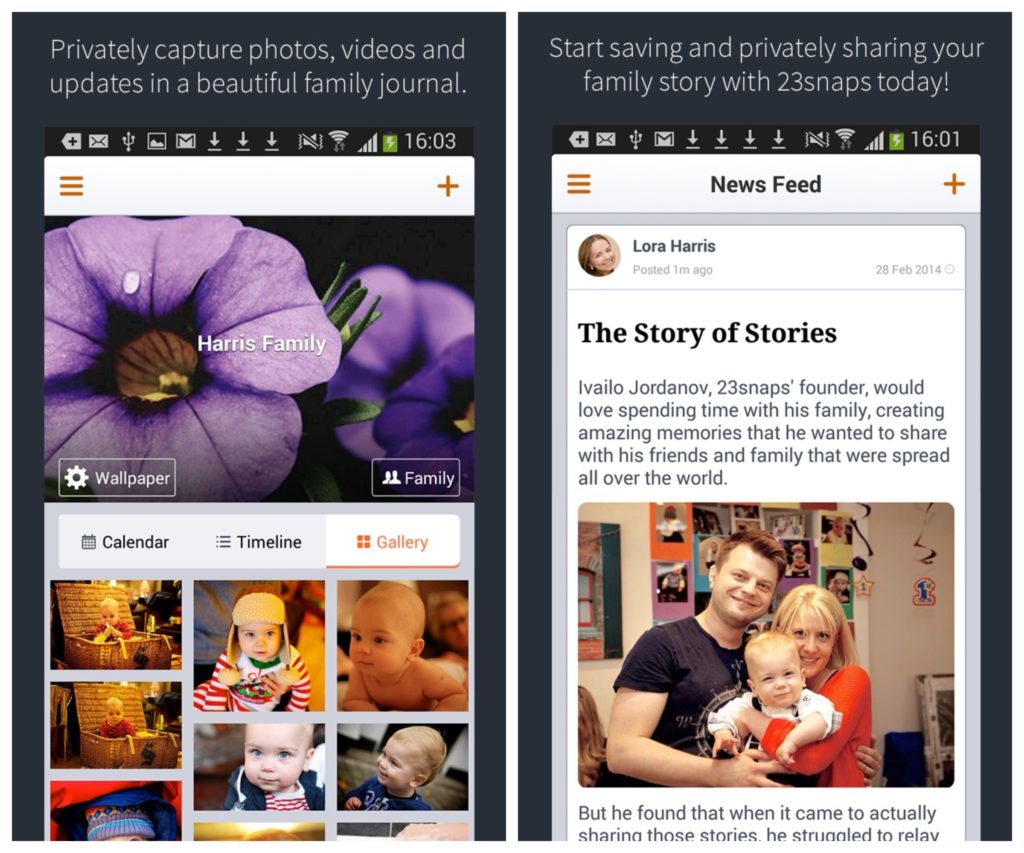 Downloads: 100000 +
Customers rating:

(3.9 / 5)

Flickr
Flickr is an app that allows you to share photos privately and offers users online storage space (1 terabyte) after the latest update.
The app allows you to share HD images, apply 16 available filters to them, edit them (crop, rotate, insert text, retouch color, etc.), set the protection level on each photo, and become a member of the Flickr geotagging community.
Privacy settings allow you to limit the number of users who can view, comment on and tag your photos.
You can access Flickr using your Yahoo!, Facebook, or Google account. To do this, you will need to choose a name, which will appear on the main screen and enter your date of birth. You will then be able to set up your account, upload photos, and find friends.
Flickr's positive features:
Provides access to a community of people who are passionate about photography;
Great photo organization tools;
One terabyte of photo storage;
Ability to identify people in photos using tags;
Allows users to use Aviary's photo editing tools.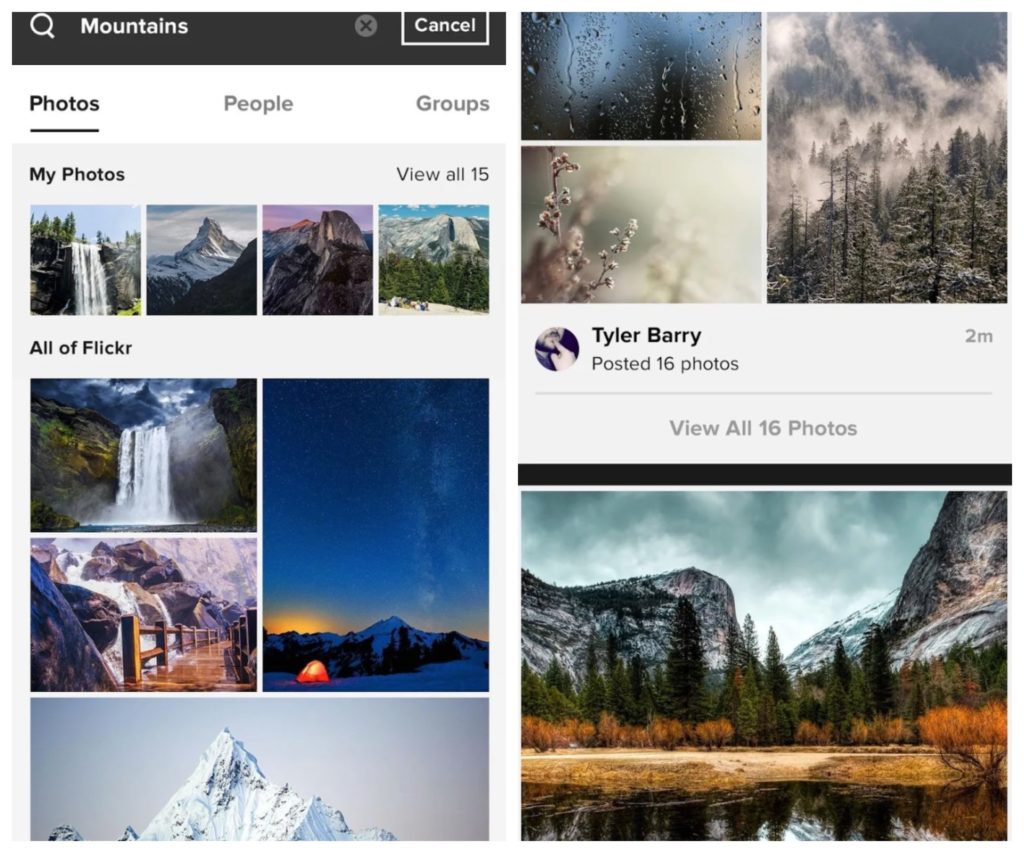 Downloads: 1000000 +
Customers rating:

(3.8 / 5)

FamilyAlbum
FamilyAlbum can be considered the best private photo sharing app for family.
It's a versatile application for working with photos, organizing albums and sharing photos between groups of people.
The app is easy to use. It immediately sorts the photos by month. FamilyAlbum app will not show already uploaded files, which prevents confusion and re-uploads.
Everything you upload to the app is completely private. Photos uploaded by you can only be seen by you and the people you've given access to.
Only you decide which photos and albums to share with everyone, and which remain private between you and your partner.
You won't see any ads, which is great too. If you activate the Premium version of the app, your options are greatly enhanced.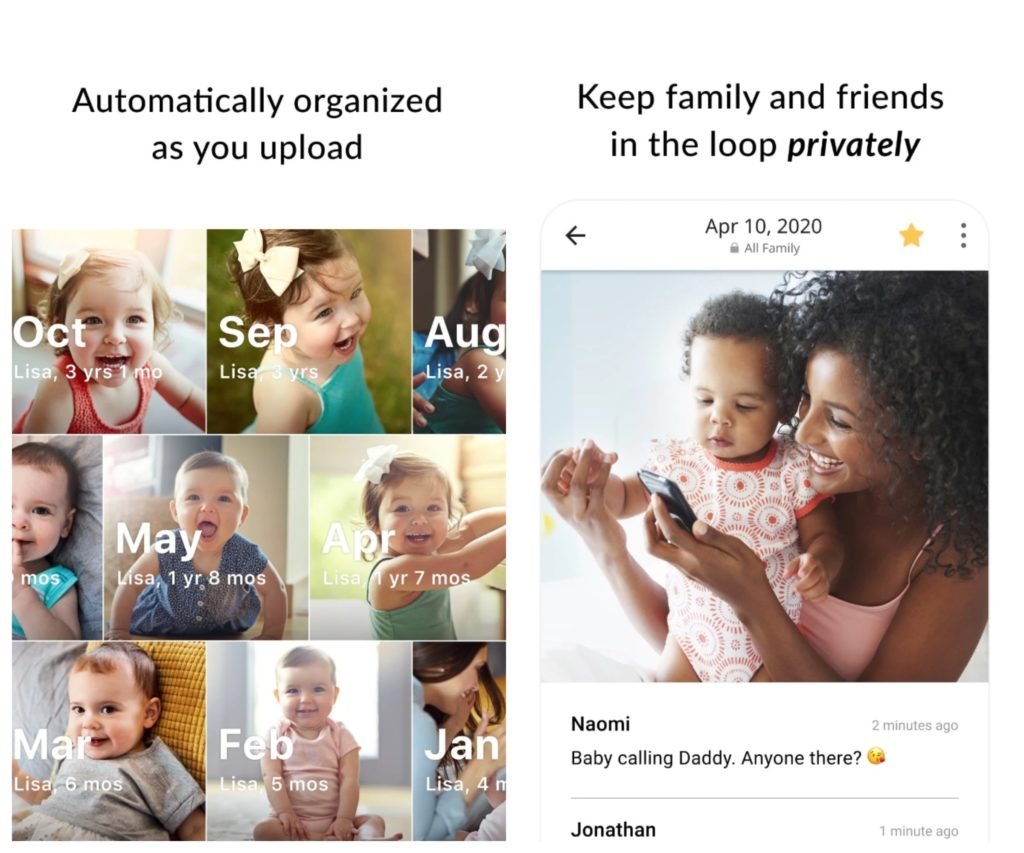 Downloads: 5000000 +
Customers rating:

(4.5 / 5)

Confide
Confide is an excellent messaging service with a high level of security thanks to its anti-screening system.
Exchange encrypted messages that are automatically deleted after you have read them, as well as photos and documents. To read a message, swipe your finger over it. When all text is read, it will be automatically deleted.
You'll find this app ideal for keeping in touch with your friends safely and sharing photos privately.
Features of Confide:
Fast and space-saving application;
Sending photos and documents privately;
Ideal service for serious correspondence;
Simple and attractive interface.
All users need to install the application to be able to have a conversation in the app and share photos.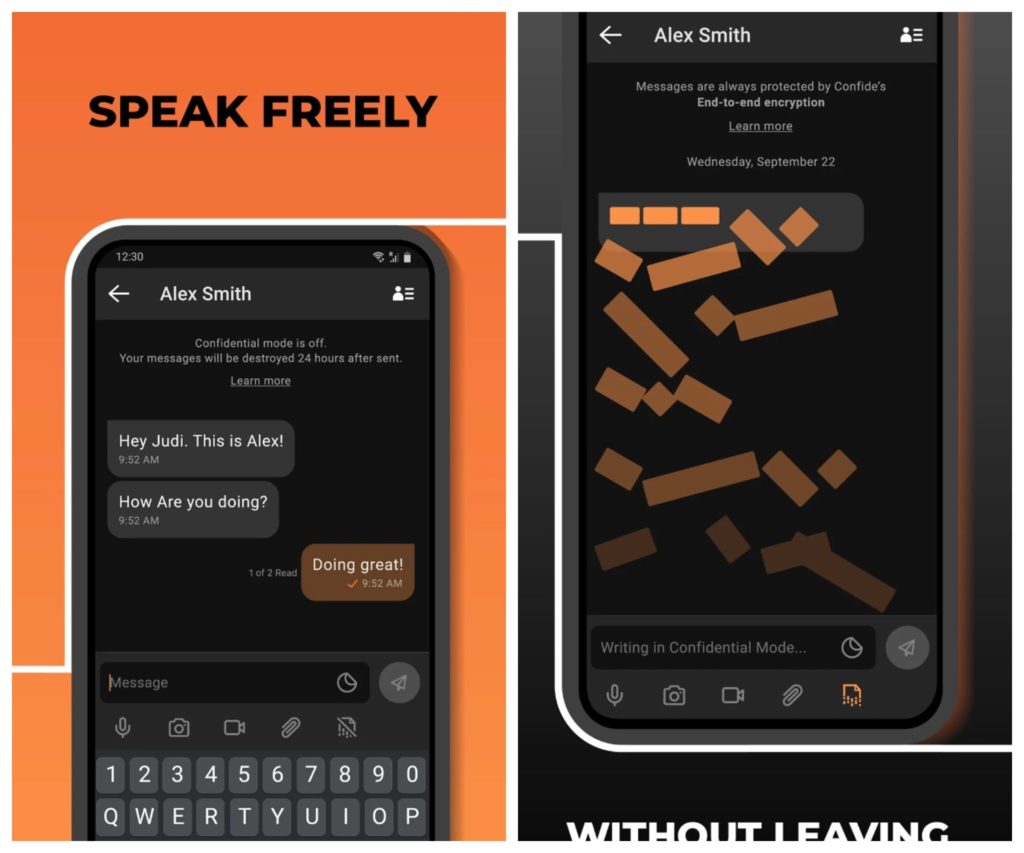 Downloads: 1000000 +
Customers rating:

(4 / 5)

You may also like: 9 Best Dirty Emoji Apps
Dust
There is a huge offering in instant messaging these days, undoubtedly led by WhatsApp, with other alternatives such as Facebook Messenger.
The fact is that quite a few users don't trust the performance of these apps in terms of privacy of information sharing. It has prompted the emergence of alternatives that close this issue, such as Dust, which we are now considering.
This app offers users a privacy-based messaging system for private, sensitive, and other personal conversations, guaranteeing that there is no trace or readability of the correspondence by unauthorized parties (okay, that's what the developers claim).
Messages in the app are deleted after 24 hours, and there's also a screenshot protection system. By the way, there is no need to specify a phone number, as the search for other users is done manually by nickname or alias. In addition, it has the following features:
Minimalist user interface;
Chat with your contacts or use the search engine to find someone you want to talk to;
Encrypted messages;
Delete messages after 24 hours;
Screenshot protection;
Different interface themes;
Customizable user profile.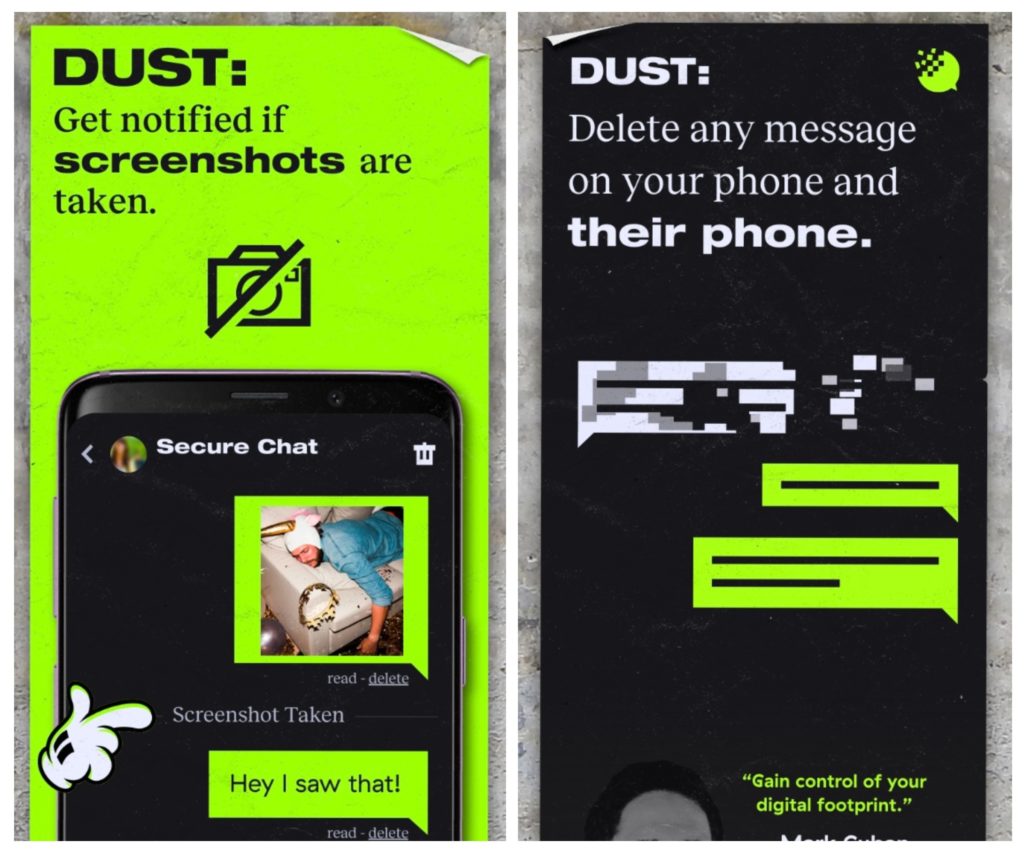 Downloads: 500000 +
Customers rating:

(3.9 / 5)

Keepsafe
There is no doubt that it's best to use an app that is capable of sending photos to others with a secure pin code, or photo display timer. The process of sharing photos with this app will give you complete confidence that your photos will stay safe and sound.
KeepSafe is one of the simplest applications available. Once you've imported particularly valuable photos into it, all you need to do is set a four-digit password to protect them and, of course, remove them from the standard gallery.
Although it's not the strongest protection, for many people it will suffice, as the phone is always on hand and even a four-digit password is almost impossible to guess quickly.
Keepsafe Photo Vault is a personal photo vault that boasts many security features and a user-friendly interface. It will also allow you to share your photos securely with other people and has an alert feature, in case the notorious Mr. Robot tries to steal your personal files.
Maximum digital privacy is what we all want.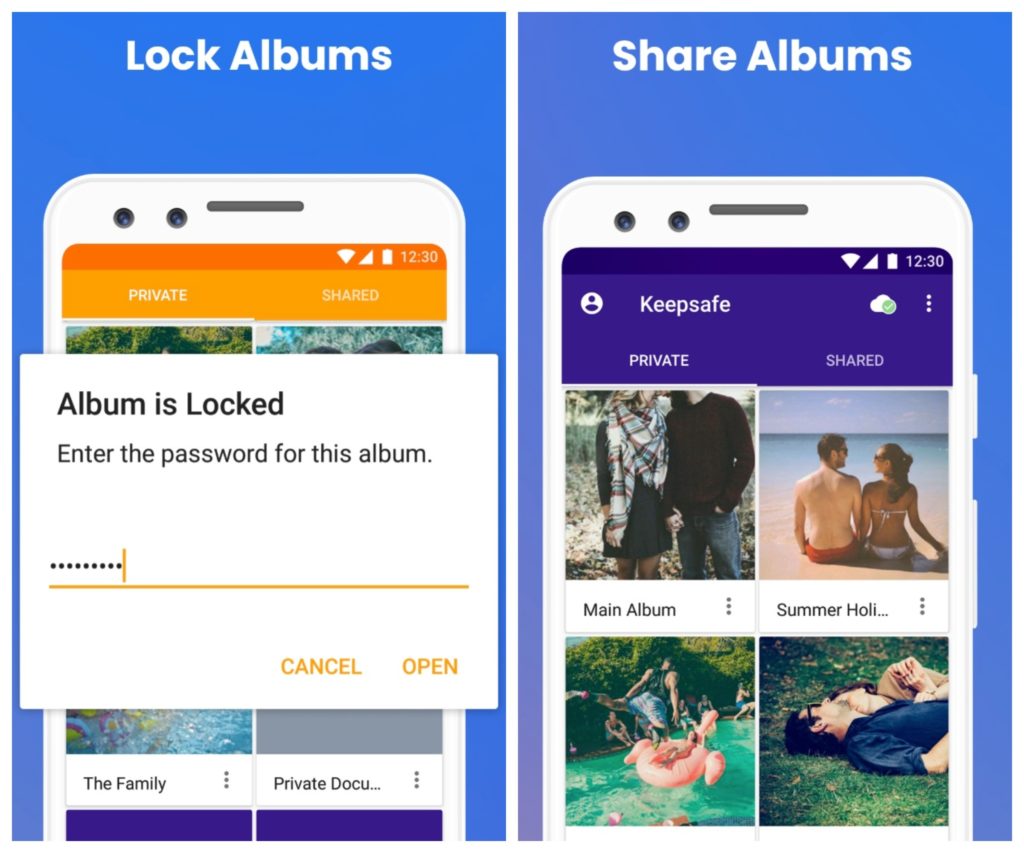 Downloads: 50000000 +
Customers rating:

(3.9 / 5)

PhotoCircle
If you're seeking the best private photo sharing app for couples or for a family this is a great option.
It's easy to use and confidential. Save all your most important moments in the app and easily share them with loved ones. You only share photos with the people you choose. No one else will see your photos as everything is private.
You can create individual albums by category. Create unforgettable travel albums, children's albums, colorful events, etc.
All uploaded files are copied and stored in the cloud. PhotoCircle is not only used for home purposes but by professionals as well. Share inspiring ideas for events, advertising, product development and more with your team.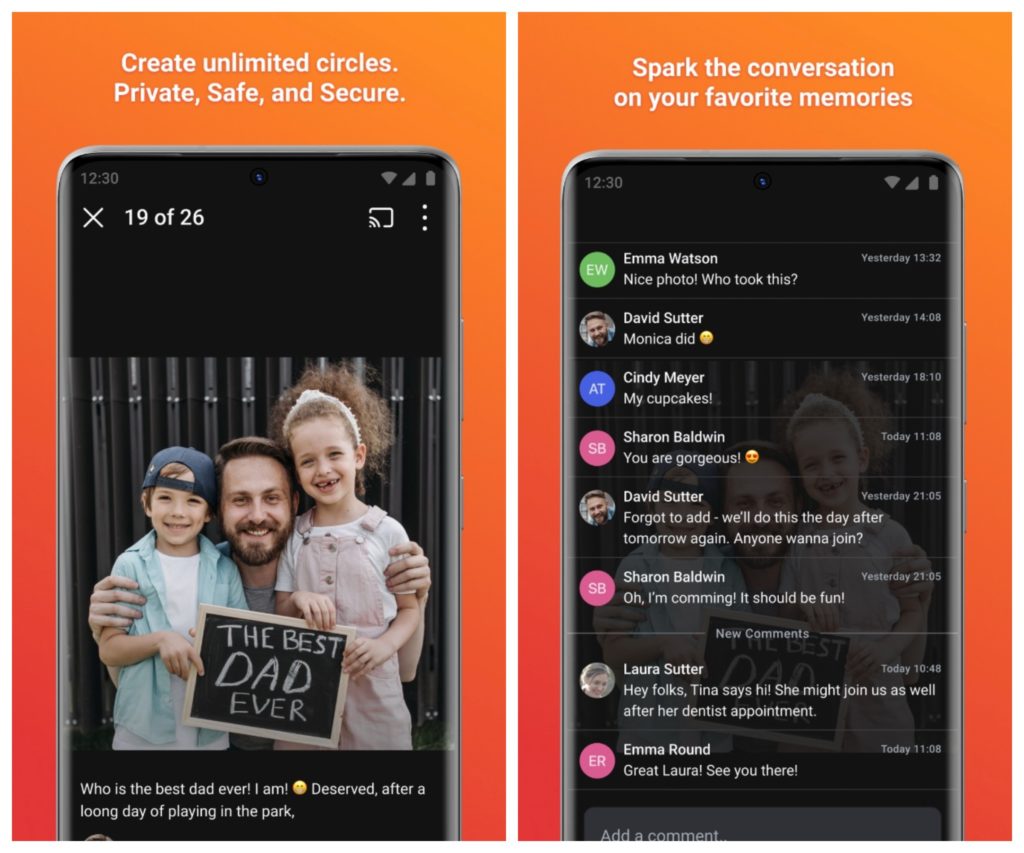 Downloads: 500000 +
Customers rating:

(3.3 / 5)

You may also like: 10 Best Android Apps to Share Big Files
SmugMug
SmugMug is a complete solution for people who are serious about storing and sharing images. The plans don't offer free photo storage, but they all offer unlimited space.
Customizable sites. Each fee plan comes with a customizable website to showcase your photos.
Full-screen galleries. Full-screen display of an unlimited amount of photos.
Password protection. Password protects your album, gallery, or entire website.
Private sharing. Share via email or social media.
Print service. Order a printout of your photos directly from the website.
Ideal for professionals.
SmugMug is a good choice for serious photographers, as its professional features go far beyond photo hosting. If price matters to you or you just need the ability to share photos, this option may not be as attractive.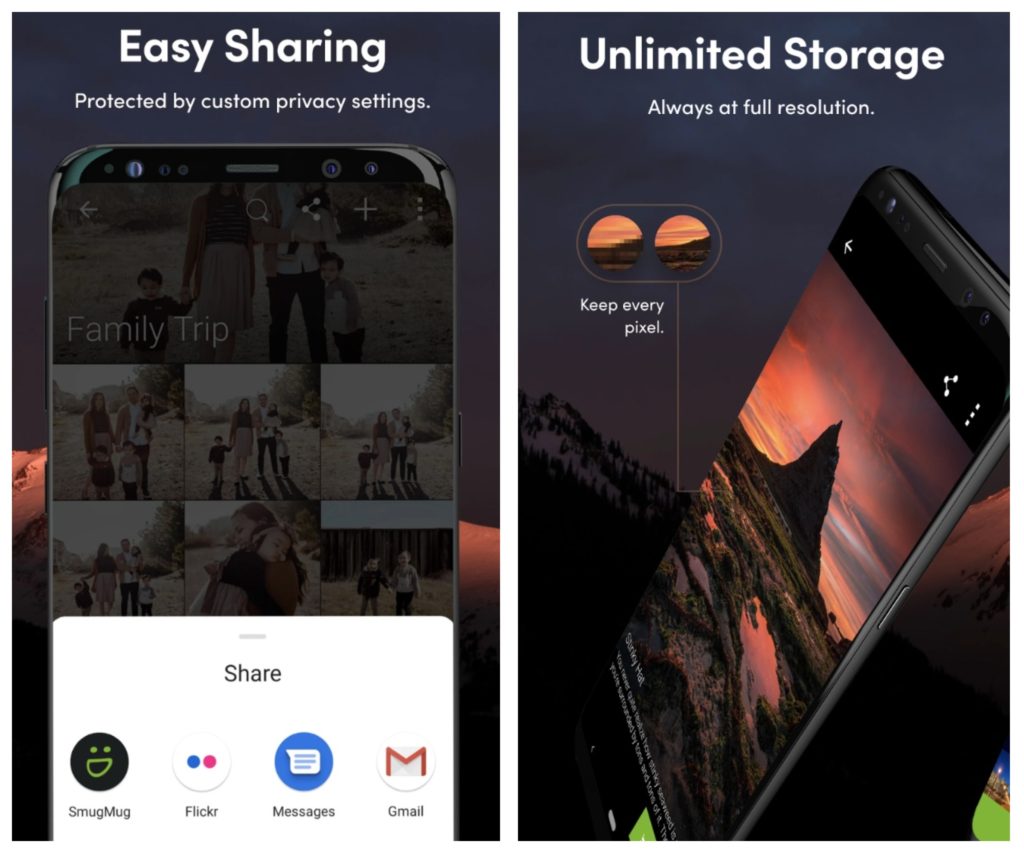 Downloads: 100000 +
Customers rating:

(4.5 / 5)