If you are not satisfied with the weather forecast built into your phone, if you want to always have accurate temperature readings, and be aware of precipitation – this application is definitely for you! Appy Weather app presents hyperlocal correct forecasts.
You may also like: 9 Best Android Apps to Change Hair Color
With separate weather sources at its disposal, including Dark Sky, AerisWeather, OpenWeather, and Foreca, it is one of the most accurate weather apps out there. Its design is clean and concise which makes it eminently user-friendly, the perfect app for everyday use. You will not regret downloading it, because it is a Winner of Google Play's Best of 2019 "Everyday Essentials".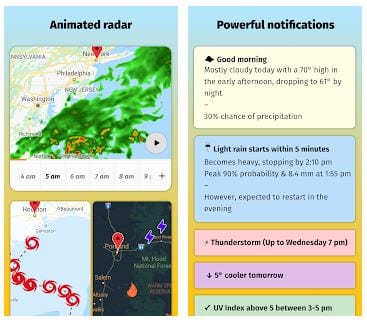 The app has a gorgeous interface that is both informative and striking, which makes it different from others. Appy Weather has many features. It displays images of your location with the matching time of day and weather conditions, with the option to view detailed forecasts.
Also, weather widgets are attractive, and functional will be available to the users. The app has a unique timeline screen. Weather Display can be in the form of lines, of hourly and daily views. Interactive maps can display the latest radar data. The meteorological data is animated to show any weather changes.
The app also includes notifications for incoming severe weather events such as snow, thunderstorms, high winds, or tornadoes, which you can see on the screen. It has a dark mode, so you can give the app a look that helps you easily check the weather.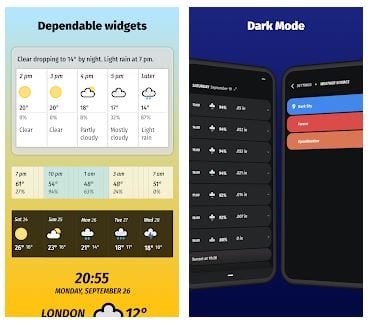 The app is free to download. The developers are regularly releasing updates with the addition of new functions and bug fixes. The developers also took care of privacy.
You may also like: 5 Best Android Apps to Catch a Cheater
The app does not collect or process any users' data. You have an opportunity to upgrade to Appy Weather + for an ad-free timeline, 10+ widgets, radar, notifications, status bar temperature, and lock screen weather. Appy Weather is definitely well designed. Is the best one we have ever used! Recommended!