Mobile forensics is like being a tech-savvy detective for your device. Perhaps you accidentally misplaced that important contact or need to uncover some scandalous text messages (we promise, no judgment!). Whatever the case may be, you're in for a treat!
We've rounded up the top mobile forensics tools for Android you could try. These let you plunge into the depths of your phone's data, effortlessly retrieving any file needed.
These apps work with all kinds of files, so you can easily retrieve pics, videos, docs, and so on. Rest assured, you don't need to be a tech whiz to use them, all the apps are simple and intuitive. Let's get into it!
File Recovery
This app is the ultimate lifesaver for those "Uh-oh!" moments when you accidentally lose an important file. It covers With its impressive scanning superpowers, it can recover all types of files – pics, vids, docs – you name it. It's like having a superhero for your file emergencies!
This app isn't just powerful; it's also incredibly easy to use, even if you're more tech-dummy than tech-savvy. It unveils all the hidden files it finds and gives you the freedom to recover what you want effortlessly. It's like having a personal assistant for your files – simple, intuitive, and hassle-free.
Privacy concerns? Not a chance! This app takes privacy more seriously than your neighbor secretly admiring your beautifully crafted Excel sheets. Your files are safe and secure, so no surreptitious uploads or unauthorized access. Rest easy knowing your sensitive info won't go wandering into the wrong hands!
And here's the best part: no device upheaval is required! No rooting, no system damage – just the required storage-related permissions. It's like a magical genie, except it loves recovering files instead of granting wishes. Pure wizardry in your pocket!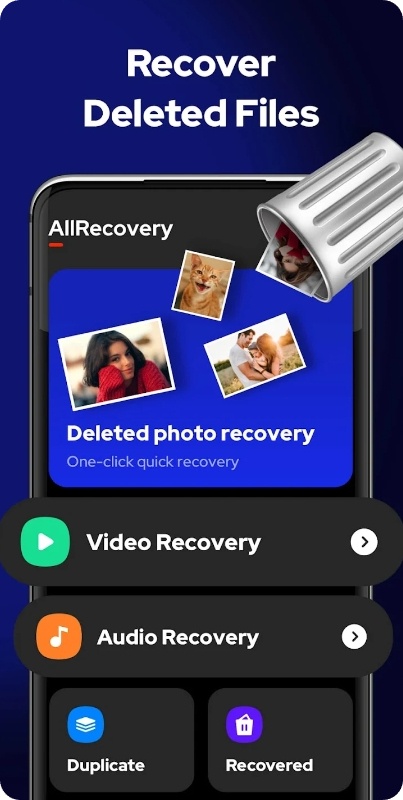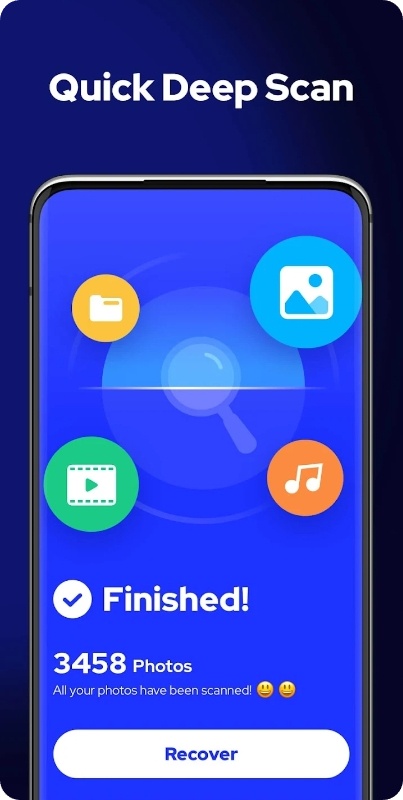 Downloads: 10M+
Customers rating:

(4.3 / 5)
You may also like: 10 Best Android Apps to Recover Deleted Messages
EaseUS
Tired of drowning in a sea of never-ending files, desperately trying to decipher the keepers from the rejects? This app has come to your rescue! Even if you have some doubts about it working the right way, the app will prove you wrong. And it's the kind of situation when being wrong is not a bad thing.
It effortlessly retrieves lost files and liberates precious storage space on your phone, leaving you feeling like a digital wizard. But here's the kicker – this app doesn't play faves.
It's not just about pics; it masters vids, audio files, and even apps! Wave goodbye to those pesky files hogging your phone like an uninvited guest.
Now, brace yourself for some serious user experience magic. It's so intuitive and simple that even your grandma would give it a thumbs up. All the important details about your files are served on a silver platter – names, formats, creation times, and sizes – no more detective work required!
But the real sorcery unfolds when you wield its power to manage your files. You can select multiple pieces at once and obliterate them in one epic sweep.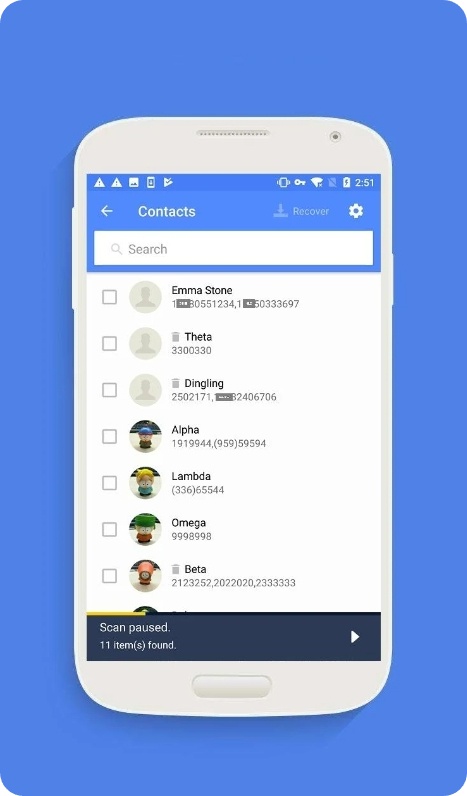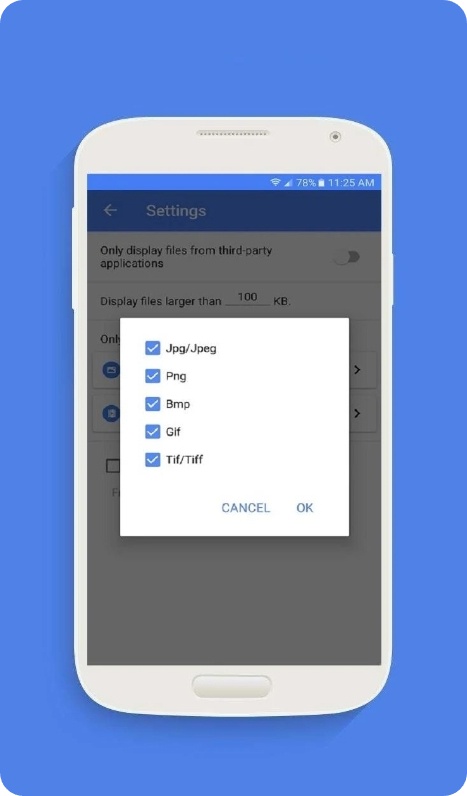 Downloads: 10M+
Customers rating:

(3.1 / 5)
RecycleMaster
Tired of frantically searching for lost files on your phone? Enter this app, the knight in shining armor for accidental deletions! It's the hero of the digital realm that rescues your precious memories and vital docs from the void.
But it isn't just a file recovery magician. It's like having a personal maid for your device, brilliantly wiping away those space-hogging backups. Bid farewell to pesky storage notifications and say hello to a room for all your captivating cat vids!
Concerned about privacy? Fear not, for the app has your back with its top-secret PIN lock. No more sleepless nights worrying about exposing last night's shenanigans or sensitive business intel. Rest assured, your files are safe and sound.
But hey, don't let tech fear hold you back! The app's friendly UI will have you backing up and retrieving files like a digital wizard. Dump them in the app's dumpster, and they'll be ready to emerge at your command. All in all, it is the ultimate sidekick for file enthusiasts and smooth phone operators alike. And all that without spending a dime!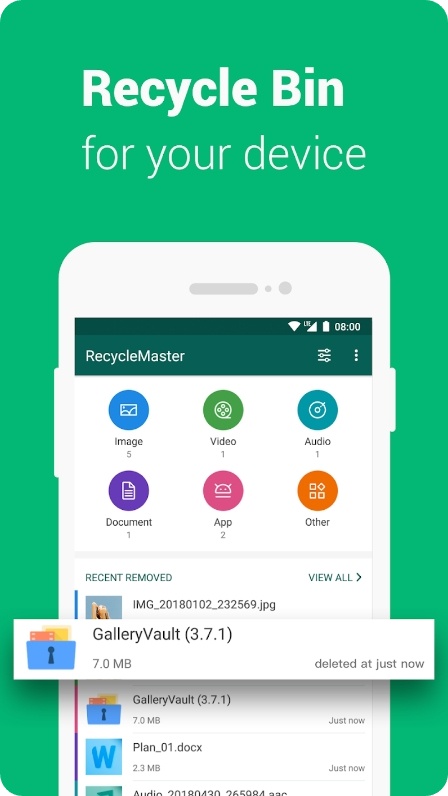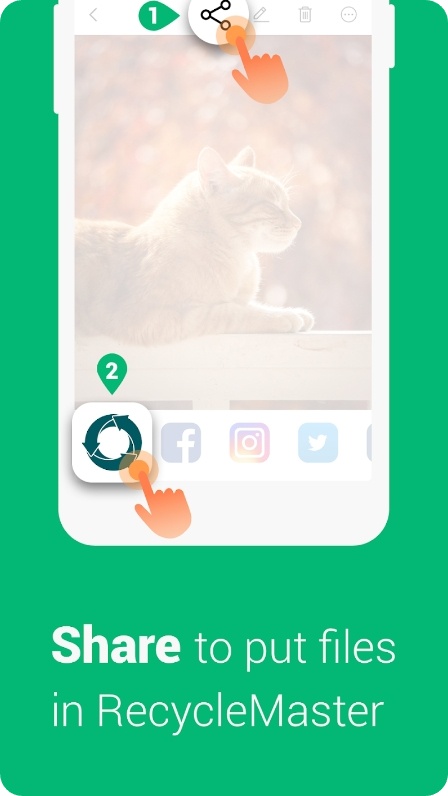 Downloads: 10M+
Customers rating:

(3.4 / 5)
DiskDigger
That's a reliable data recovery app that goes above and beyond. It is a true digital lifesaver, rescuing your memories more times than we can count.
Accidentally delete a flawless selfie? Format your memory card too soon? No sweat! The app swoops in with its mighty data recovery powers, turning that "lost forever" into "found again"!
But it isn't your average app, it goes beyond mere recovery. Want to upload your files straight to a cloud service? Send 'em through email? Easy-peasy! And when you're ready to bid farewell to those files, hit the "Clean up" button and say "Adios!" for good.
Oh, and for the extra security buffs out there, there's a tool that ensures even deleted files stay buried in digital oblivion. Now, here's the inside scoop – this app needs the file access permission to fully rock and roll on your device. But trust us, it's a small price to pay for that serenity of mind, knowing your precious memories are guarded with this app.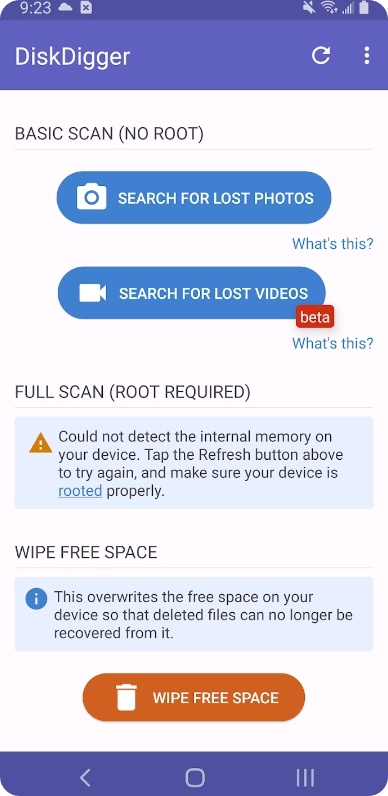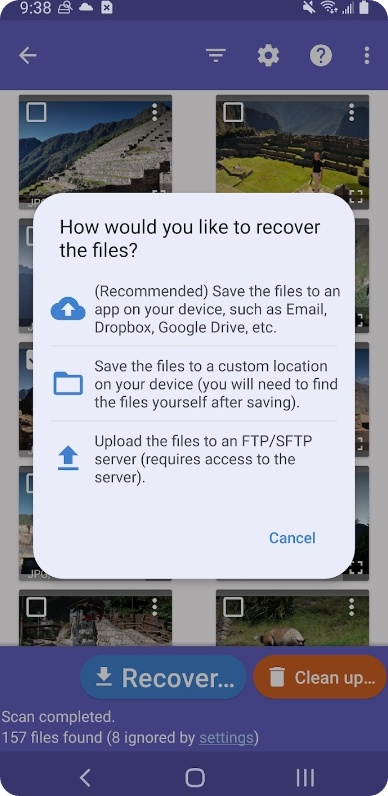 Downloads: 100M+
Customers rating:

(3.9 / 5)
UltData
It's the app that will make all your lost-file nightmares disappear. This app will retrieve all your deleted files with ease and without any hiccups in the process.

Let's cut to the chase and dive into what sets it apart. First off, this app is a master at file recovery – it can resurrect anything from texts to pics and more. It'll salvage anything unless it has been trampled by new data. But hey, who's reckless enough to stomp on their old precious files anyway?
The app scans not just your phone's internal memory, but also the external SD card, leaving no stone unturned in the quest for your lost files. And the convenience doesn't stop there! You can filter by size, type, and date, and even feast your eyes on deleted items only.
Before the actual recovery process, this app lets you preview and play scanned docs. So you'll only retrieve what you truly need. Oh, and did we mention it? No root access is required, and the grandma-friendly UI makes it a breeze to navigate.
Plus, the app is as safe as they come. Your files stay intact, and your privacy remains rock solid. Nothing sketchy going on here.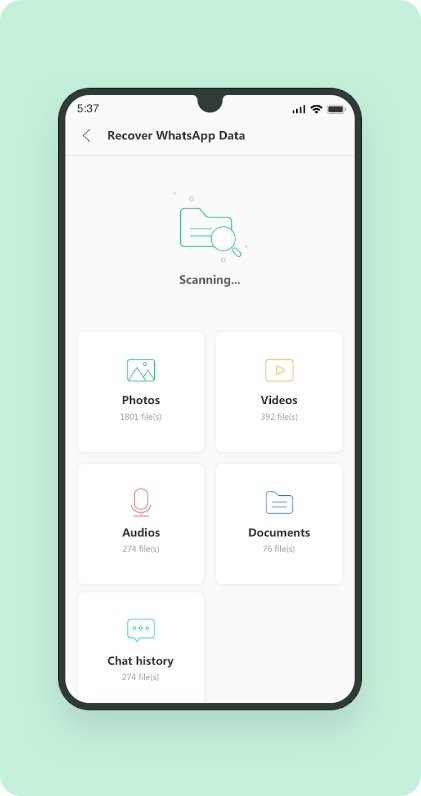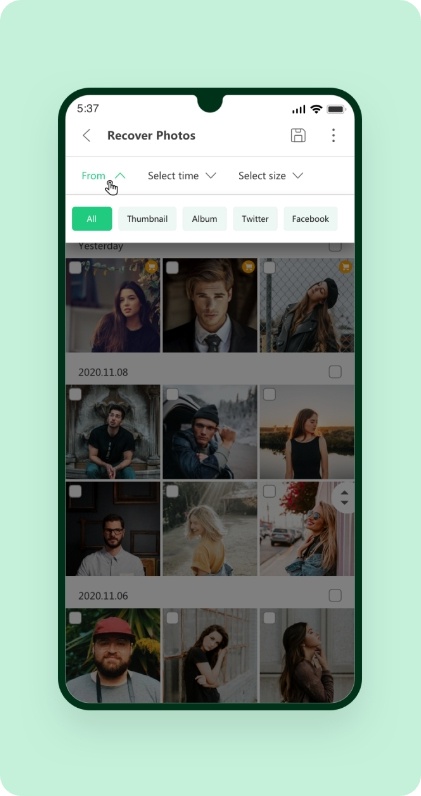 Downloads: 5M+
Customers rating:

(3.7 / 5)
Check also: 7 Undetectable Spy Apps
File Recovery
Can you claim the status of being a master at losing files? Well, this app is here to save your day like a caped crusader! What makes it super special? No need to root your device! Even tech novices can effortlessly resurrect their vanished data with just a few simple steps. Who needs the hassle of device rooting anyway, right?
It not only boasts a highly secure and safe recovery syst, but it also rocks a modern and friendly UI. No more feeling like you need a computer science degree to locate your elusive files.
But hey, secret keepers, we've got your back too! The app's file vault covers a covert sanctuary for all your private files, ensuring your secrets remain as safe as a vault.
And guess what? If you want to make something vanish forever, the app's "permanent delete" option will zap it away in a jiffy, no stress involved! It's a true lifesaver for those tricky file mishaps. You won't have to pay for anything, and the ads are fully bearable, too.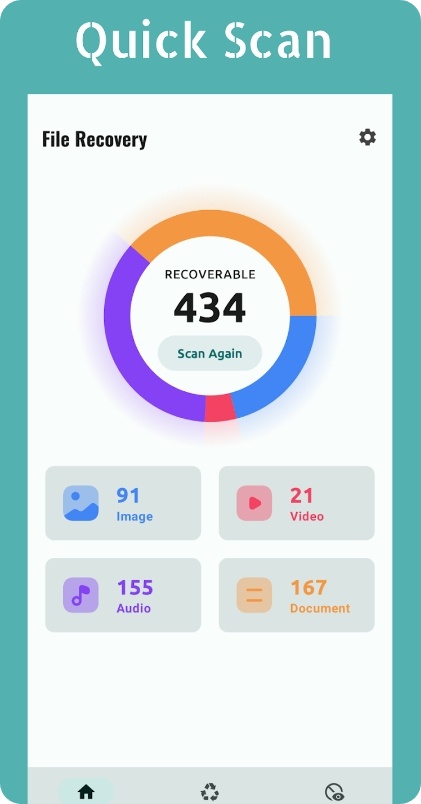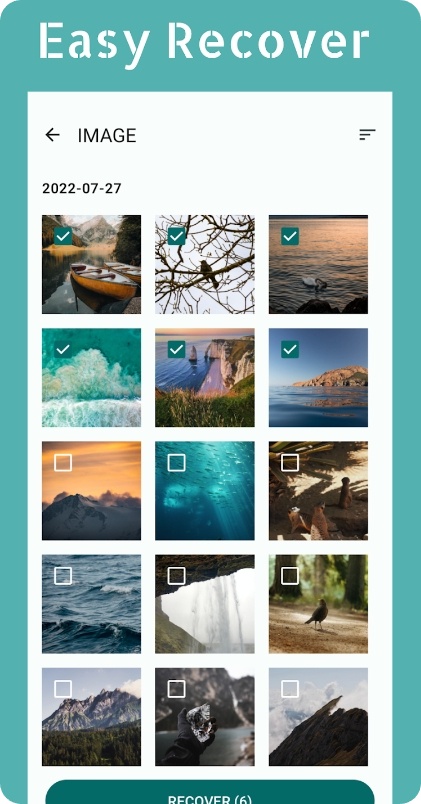 Downloads: 1M+
Customers rating:

(4.4 / 5)
Data & Photo Recovery
Sick of kicking yourself for not having a backup for those important snaps and memories you lost? Well, you have to check out this app then.
First things first, it's a total lifesaver. Seriously, it's like having a superhero right on your phone. And guess what? No rooting is required! So, sit back, relax, and let this app do the heavy lifting for you.
Now, one thing you'll surely adore about this app is how darn easy it is to use. The UI is sleek, the instructions are foolproof – believe us, everyone can handle it, even if you're not the savviest tech person around.
Let's dig into the juicy details, shall we? This app fully delivers on its promises. It scans your phone deeply, detects all that lost data, and here's the kicker – it lets you preview before restoring. Say goodbye to restoring tons of unwanted files! Oh, and did we mention it works with deleted music too? This app practically does it all, except make you breakfast in bed.
And guess what? No limits, folks. Absolutely zero paid tools. Don't worry about those ads – barely noticeable.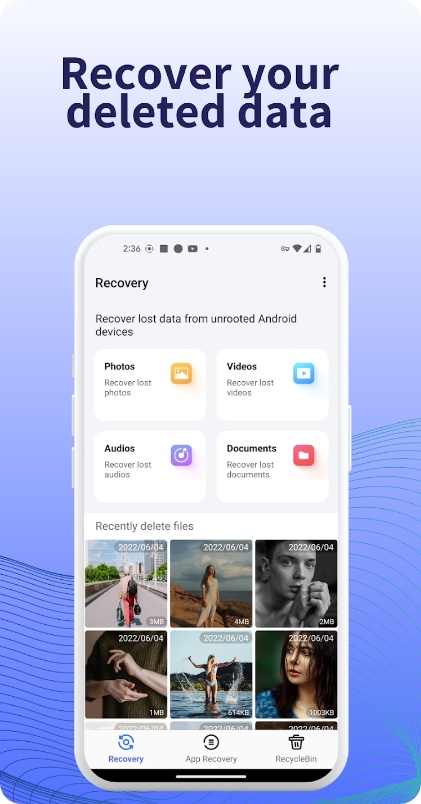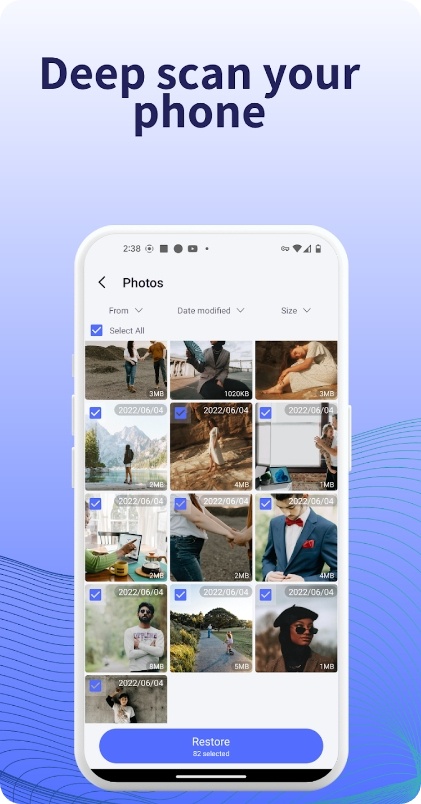 Downloads: 500K+
File Recovery
This app is a magical solution to retrieve your vanished files. This supercharged tool flaunts its friendly UI, making file recovery a piece of cake. With just a few clicks, you can summon back your long-lost pics, vids, and more!
Now, here's the trick! The app dazzles with its robust scanning engine, zapping through your device and teasing you with previews of your deleted files. It's like a magician revealing secrets! No matter if your files were hiding in the internal memory or on an SD card, it does its magic trick flawlessly.
And wait, there's more! The app is not your average conjurer. It's committed to safeguarding your data like a loyal bodyguard. The app is programmed to perform READ-ONLY operations, ensuring your device or memory card won't be harmed. Plus, it conducts a deep scan to ensure that no file escapes its magical grasp!
So if you're on a quest for a reliable, secure, and enchanting tool to recover your lost files, give this one a try. With its charming UI, lightning-fast scanning engine, and secure recovery, your precious files will feel right at home. And guess what? It's absolutely free!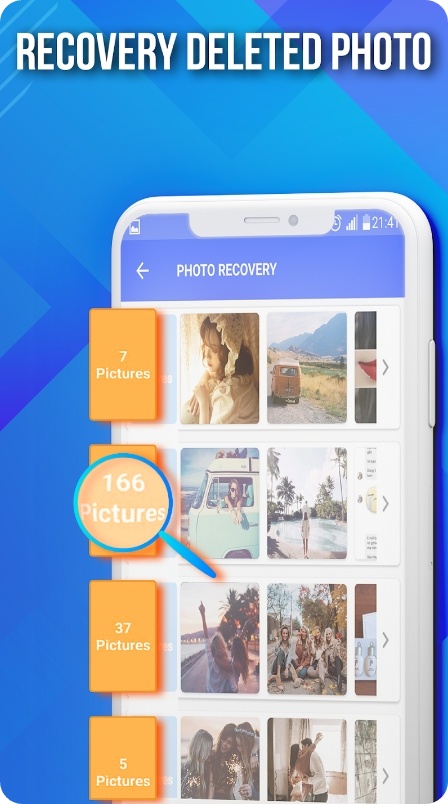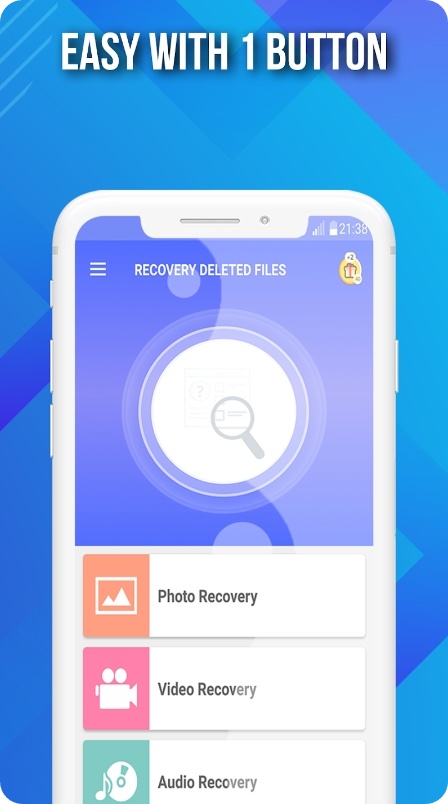 Downloads: 1M+
Customers rating:

(3.6 / 5)
All File Recovery & Restore
Tired of playing hide-and-seek with your precious files? Say goodbye to the panic and hello to this app! This little gem works wonders in rescuing your pics, clips, docs, and other files.
Above that, it's easier to use than counting your pet's tricks! The app's intuitive UI lets you effortlessly select the files you want to retrieve, saving you hours of aimless searching.
Once the files are back in action, they cozy up in the app's bin activity. It's like a neat little closet for your files, displayed in a user-friendly list. Feel like a cherry-picker as you decide which ones to restore, and yes, you can even view hidden files like a secret agent!
Now, let's not get carried away. The app won't perform miracles or find every single file you lost. But hey, it's a solid investment that gets the job done! The app is a real treasure finder, detecting most of the docs. Not too shabby, right? No more sleepless nights over disappearing files! It's your personal tech whiz in the palm of your hand!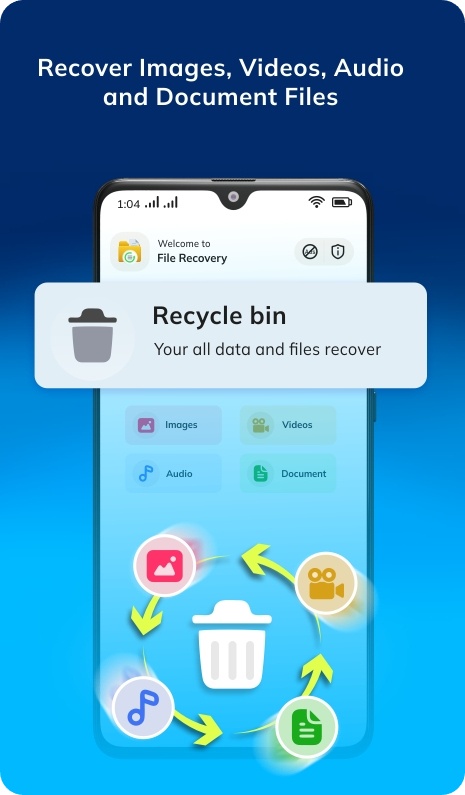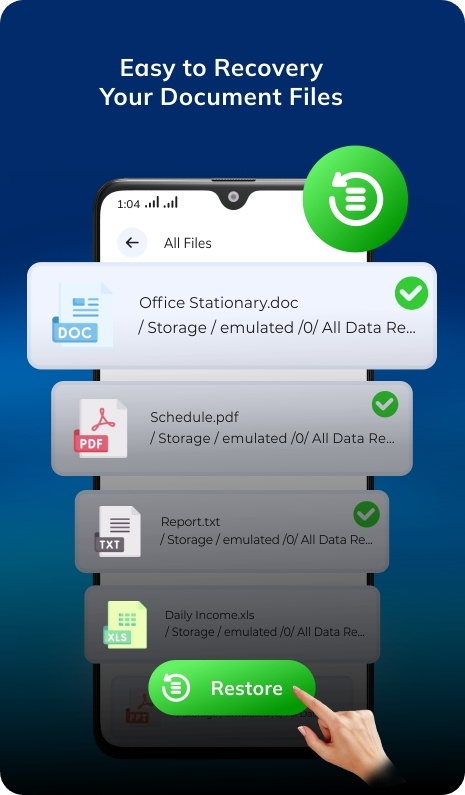 Downloads: 100K+
Customers rating:

(4.2 / 5)
You may also check: 11 Best Duplicate File Finder Apps
Data Recovery
To wrap up, this app lets you retrieve all the deleted files from the digital abyss. Consider this app the magician of digital artifacts. It can scan every nook and cranny of your smartphone's memory to resurrect those lost files. It's practically magic but without the hassle of wands.
Not only does it restore vids, snaps, and audio files to the folder of your prefs, but it also organizes them like a meticulous librarian. Sort files by date, view them in chronological order and even filter them by size and file type. No misfiled docs here!
And the perks don't stop there. We're talking about ultimate control over file deletion. Locate and obliterate those unwanted files with just a few taps, bidding them farewell for eternity. It's like playing digital whack-a-mole, only better.
You can also sign up to unlock more tools that will make your digital journey even more epic. There's a three-day trial that ensures you can test the waters, and you can cancel anytime – no pesky long-term commitments. And yes, you can still enjoy the app's basic functions without a subscription.
Downloads: 5M+
Customers rating:

(3.3 / 5)