Split picture apps make it quick and easy to create a unique profile on social networks. So, we've prepared a list of the best split picture apps for Android to transform your feed in minutes.
MOLDIV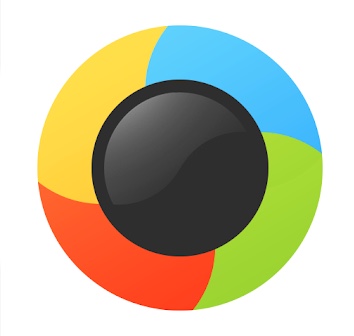 MOLDIV is a versatile multifunctional photo editor. Take advantage of the opportunity to create high-quality photos and take stunning selfies.
MOLDIV gives you professional photo editing tools. Thanks to the competent interface and tips, even a beginner will understand the process of editing.
Colorfully decorate your photos, use the most fashionable filters and stickers, split pictures, the results will be stunning.
MOLDIV app features:
Over a hundred stunning filters;
Large selection of themes;
Lots of professional editing tools;
Hundreds of fashionable stickers, patterns and other decorations;
Stylish frames and collages, creating posters;
Pro Camera with lots of useful features to create high-quality photos;
More than 100 fonts;
User-friendly and easy-to-use app.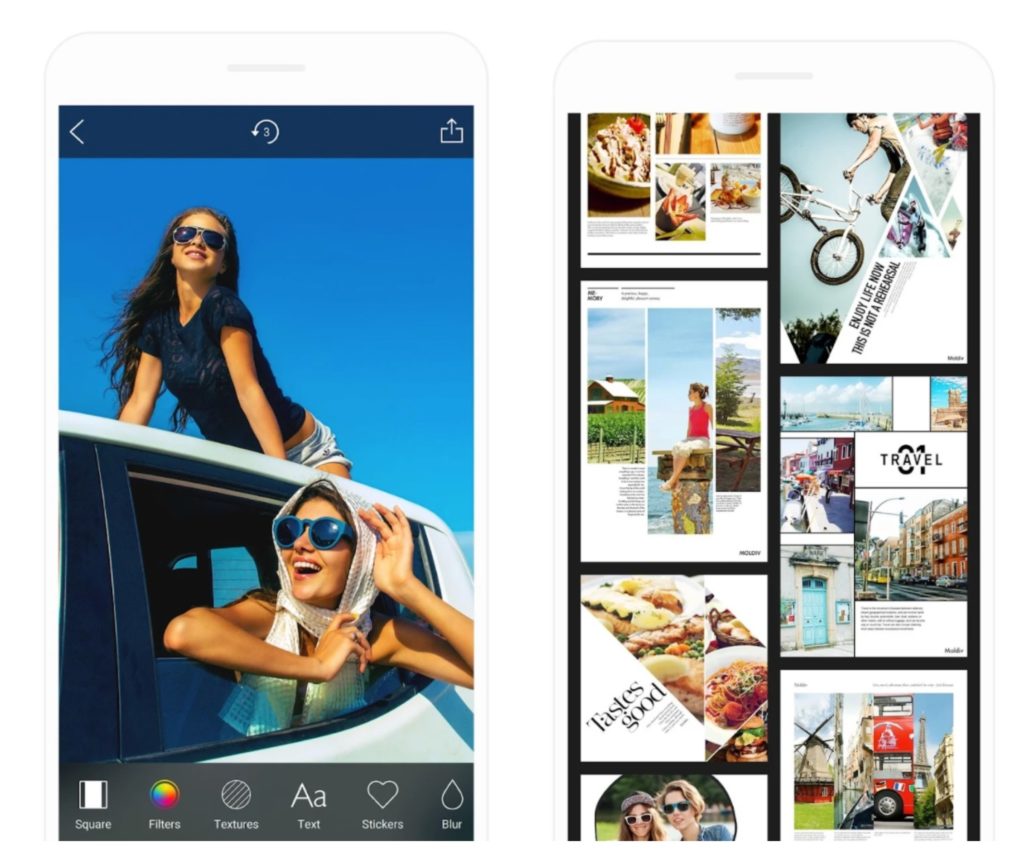 Downloads: 5000000 +
Customers rating:

(4.6 / 5)

You may also like: 7 Free Photo Resizer Apps for Android
Grid Maker for Instagram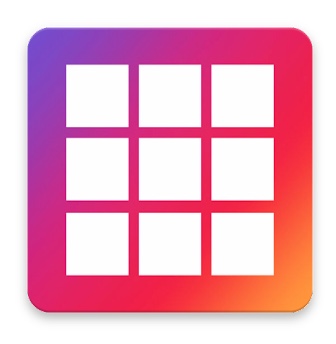 Grid Maker for Instagram is a program for creating an endless feed. With its help, you can split a picture and place it in parts. The main functions include only splitting of photos and automatic saving to the memory of the device.
In the main menu of the application is the "Add from Gallery" button. The user selects a file from and specifies the dimensions to which the cut pieces should correspond.
The settings include:
Splitting the image from 6 to 12 pieces;
selection of individual fragments for publication;
publishing to Instagram at once;
saving parts to the Gallery of the device.
An image of high quality is recommended: that is, from 1900 x 1800 pixels.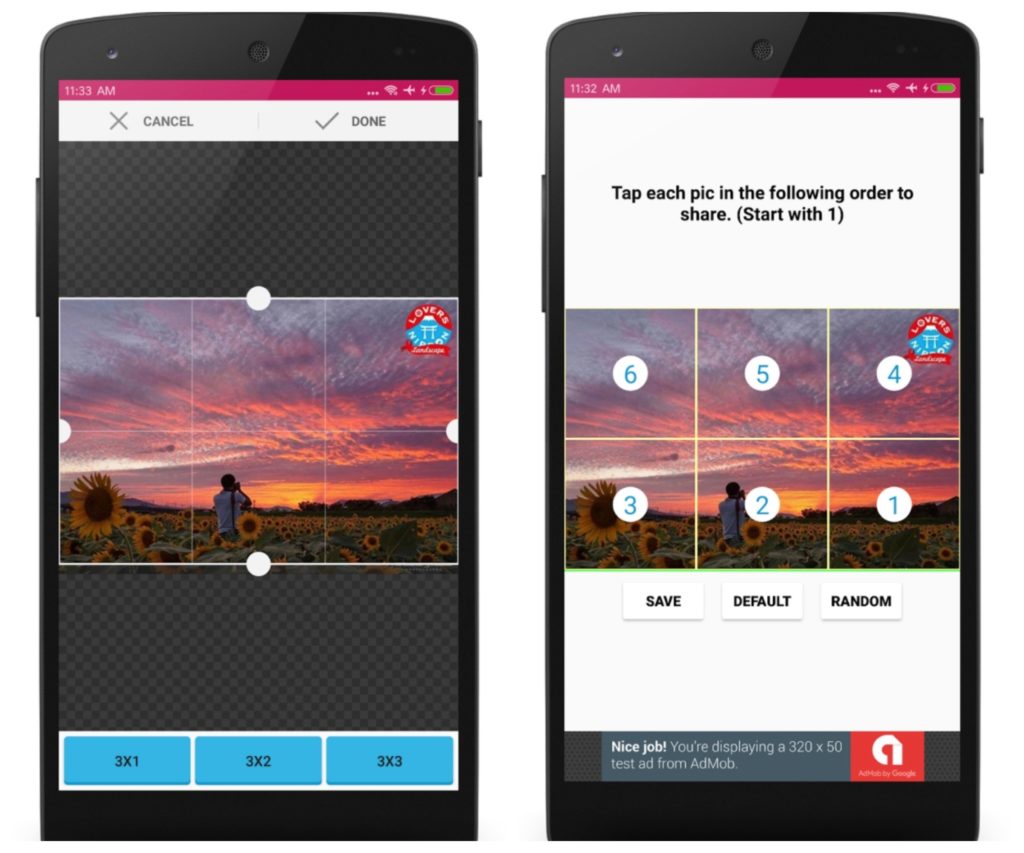 Downloads: 1000000 +
Customers rating:

(4.4 / 5)

Grid Maker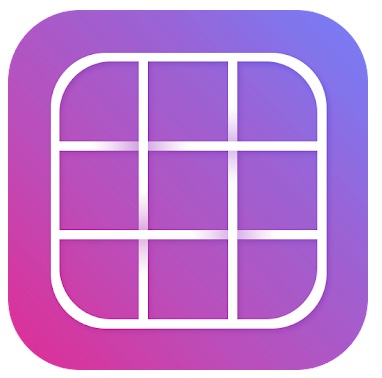 Grid Maker is necessary for splitting pictures into several parts, creating an endless feed. The cut parts can be immediately published to the social network.
Instructions on how to make an endless feed in Grid Maker:
Download the application from the official source: Play Market;
Select Open Gallery from the menu;
In the toolbar select Cut the picture function.
The created puzzle is saved in the gallery. So, publish each picture with the last. Thus, in the profile appears 6-9 or 12 images, which are stacked in one.
To create a panoramic picture in the carousel, you need to upload an initially horizontal image to the app.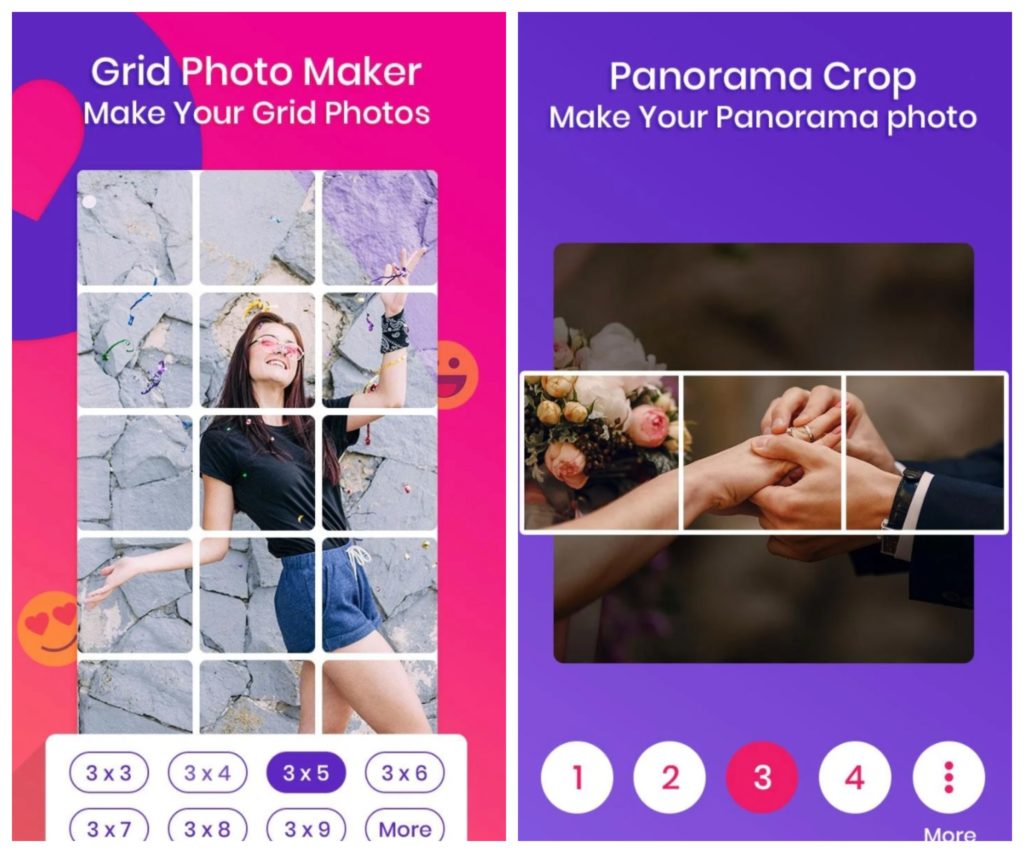 Downloads: 5000000 +
Customers rating:

(4.2 / 5)

InSwipe
If you want to publish a panorama on Instagram, the easiest solution is to split it into squares and post it as a series. If you post it to Instagram as is, you will lose a lot of detail. If you cut it up and post it as a series, you get a complete picture.
The InSwipe app allows you to cut a panoramic photo into multiple pieces to publish them to Instagram as a gallery of multiple images. Thus, with InSwipe you can easily publish panoramas to Instagram.
The program can cut a single panorama into parts (1×1, 2×1, 3×1, 4×1, 5×1, etc.). After posting to Instagram, you can flip through the panorama like a normal gallery.
Downloads: 500000 +
Customers rating:

(4.3 / 5)

Grid Post – Photo Grid Maker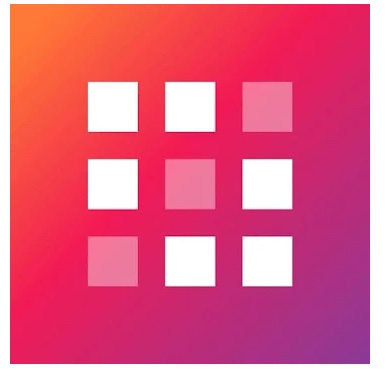 Grid Post – Photo Grid Maker is an editor application for Instagram fans. It will help you turn your basic photos into collages and mosaics. Simply split your large rectangular photos into a number of square pics that fit the format of the program perfectly.
Convenient operation, a variety of ready-made presets, frames, and everything else makes this process incredibly easy and at the same time very productive.
Great results will not keep you waiting. So the project should be recommended to everyone who wants to get a useful assistant for implementing ideas to improve your profile and filling your page with worthwhile content.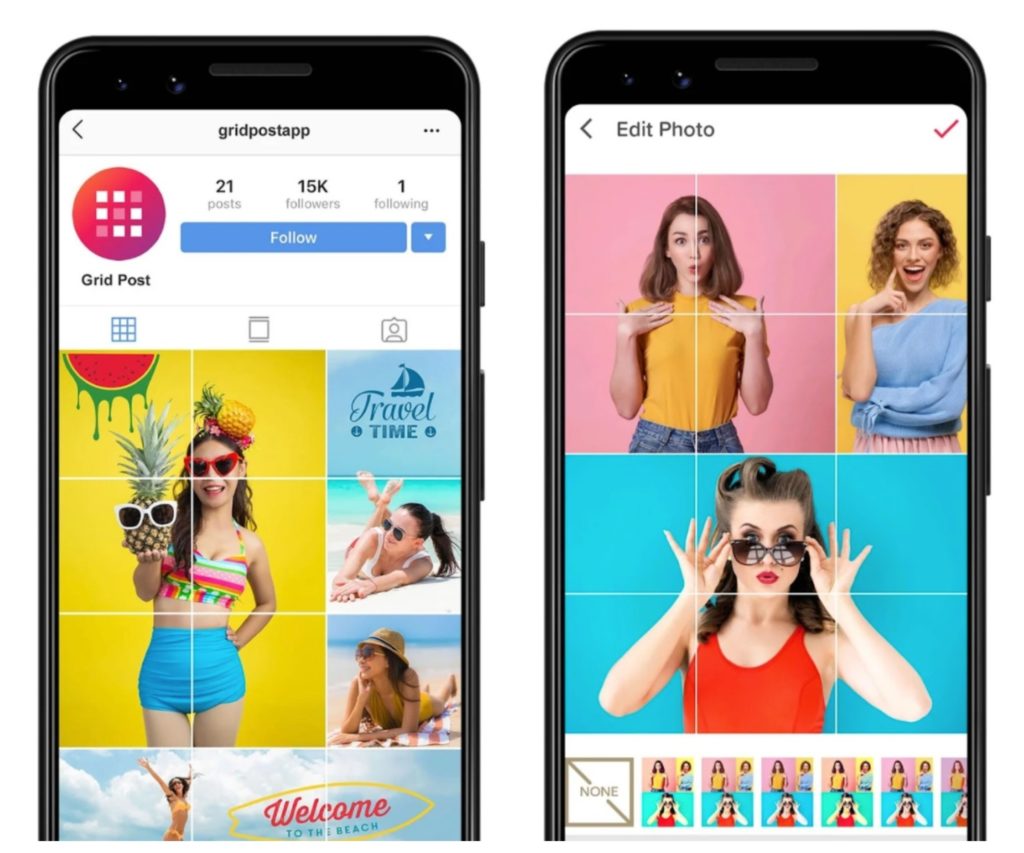 Downloads: 1000000 +
Customers rating:

(4.6 / 5)

9 Cut Grid Maker for Instagram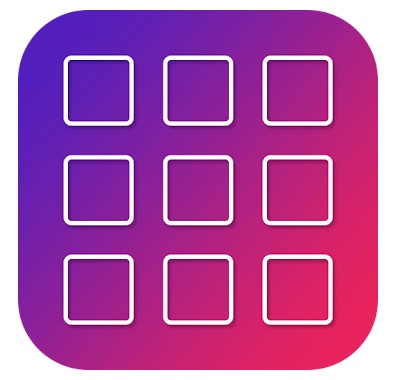 9 Cut Grid Maker for Instagram is an easy-to-use editor that lets you "cut" a photo into squares. Thereby obtaining the original results, creating panoramas from any source, and so on.
The work of this split picture tool is excellent, especially when the images are of the best quality.
Well, when the images are processed they can be easily published. The program will certainly appeal to anyone who previously had to work with the more cumbersome and complicated professional analogs.
A handy application, it is easy to split in different ways. Of course, there are ads, but it's free.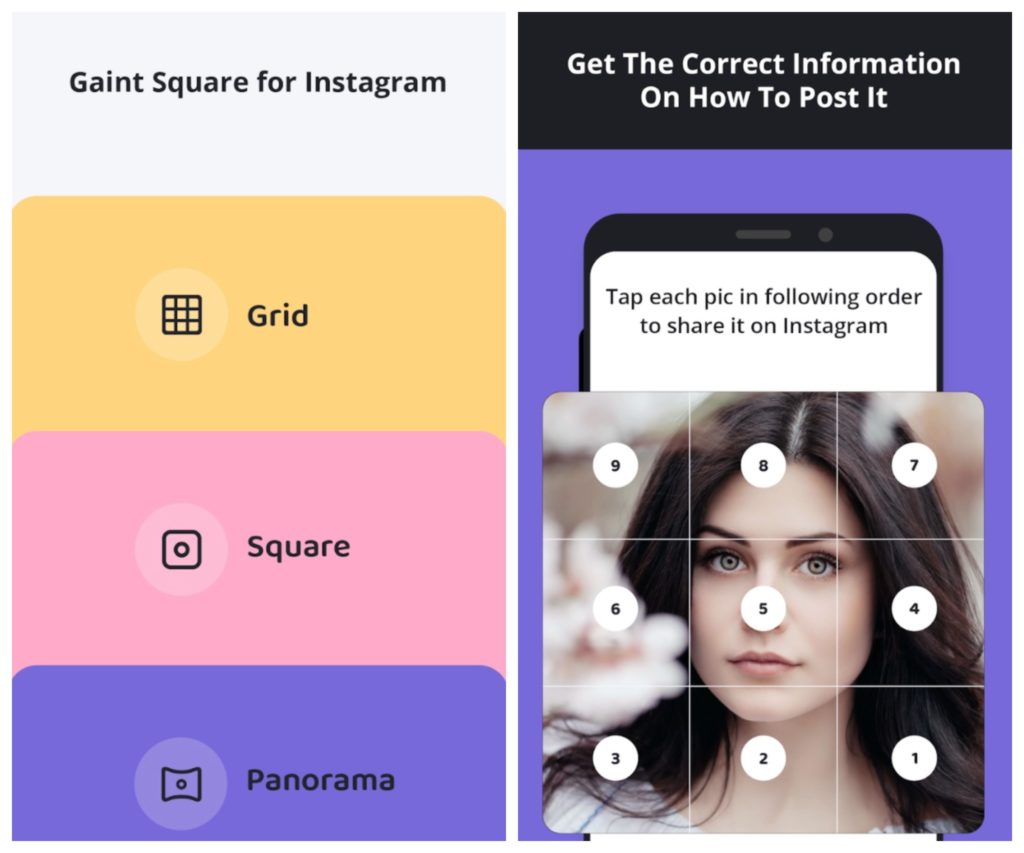 Downloads: 1000000 +
Customers rating:

(4.5 / 5)

PicPlayPost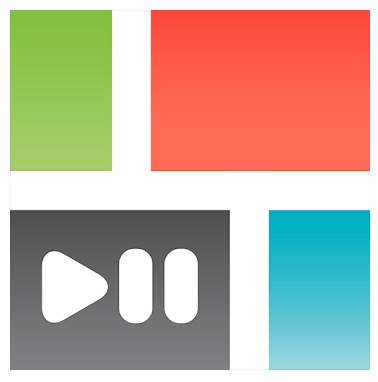 An interesting discovery for us was the app PicPlayPost from the developer Mixcord, which, among other things, allows you to split videos and GIF files.
When you open the application, you get to the page for choosing the collage layout from 48 options. You can also immediately set the aspect ratio (1:1, 2:3, 3:2, 4:3, 3:4, 16:9).
The borders inside the frame can be adjusted manually if necessary. Window corners can be rounded. You can adjust the thickness and color of the borders. As an option, you can choose a background (more than 70 options).
You can insert a photo, video, or animated GIF file into each of the windows. Sources: your device's media library albums, YouTube, Giphy. Items are added one at a time or as a slideshow of up to 50 objects.
The components of the future split pic can be scaled and rotated within the windows, as well as mirrored horizontally and vertically. When everything is done, you can add music from your device's memory or SD card.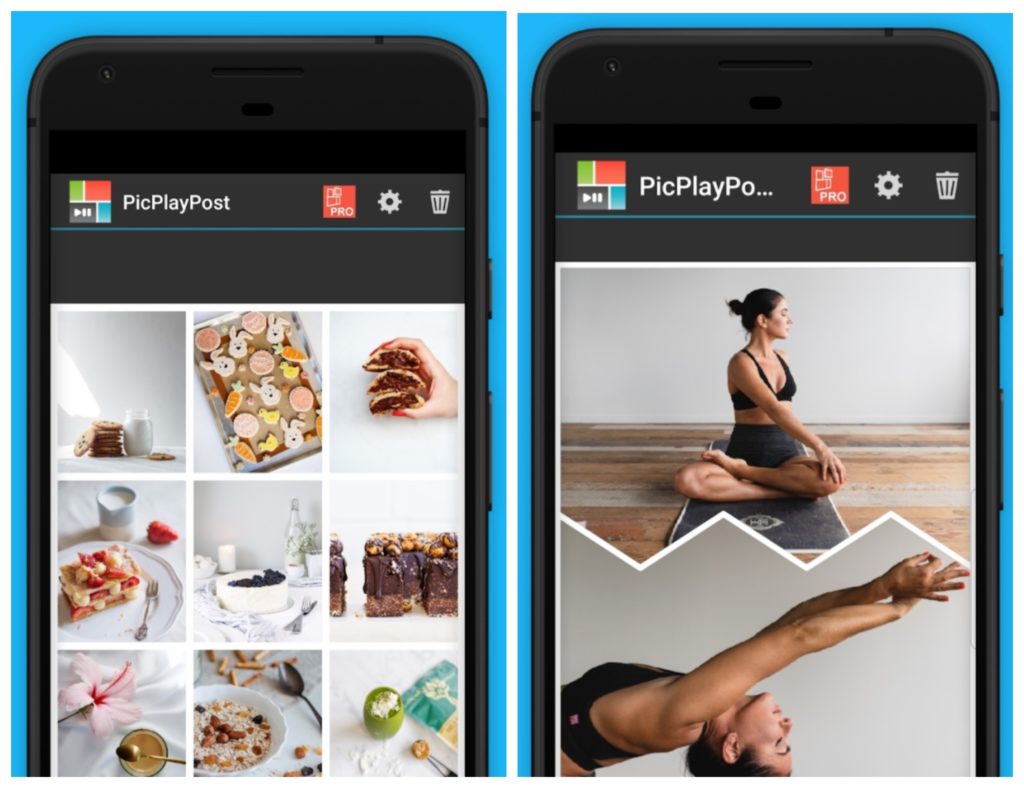 Downloads: 5000000 +
Customers rating:

(4.1 / 5)

Picsart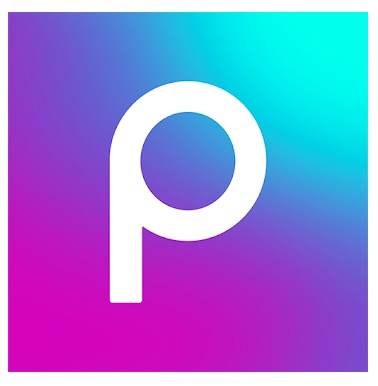 PicsArt is a smorgasbord of editing, enhancing, and sharing photos on smartphones.
It is an outstanding photo editor, split picture creator, and powerful drawing tool. It has been appreciated by millions of people who share their amazing creations with members of the PicsArt community every day.
Its abundance of tools opens up new horizons in the creation of unique pictures from simple photo editing or collage creation, to drawing images from scratch.
The main functions of the program:
Collage Maker is a tool for creating collages from photos. To work you need to specify the images you want and determine the appropriate effect. The placement of the photos can also be controlled by selecting the best overall look;
Photo Editor is a feature that allows you to change or add some visual effects and pictures. For example, in this section you can influence the tone of the photo, work with collages, even adding new ones, apply a frame to the image, apply stickers, make captions on certain parts of the image;
Effects – the main task of the tool is to set interesting, unusual effects. Here you can set a vintage effect, liken the photo to faded paper, blur areas to form the right focus, replace faces, etc;
Photo Camera is a useful feature that helps you take a photo with your camera and process the photo immediately afterwards;
Drawing Tool. Drawing a picture from scratch is not a problem. You can use marker, pencil, text and other auxiliary elements.
These features are enough to cover 90% of the user's photo editing needs.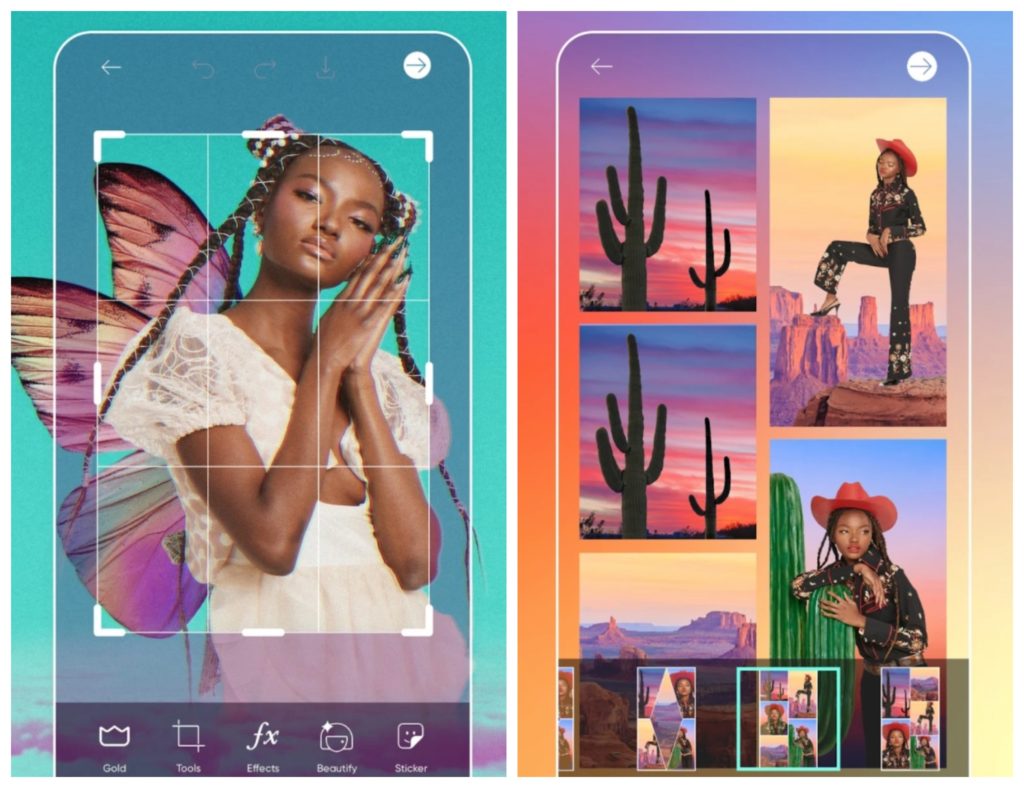 Downloads: 500000000 +
Customers rating:

(3.8 / 5)

You may also like: 9 Best Before & After Compare Photo Apps for Android
PhotoSplit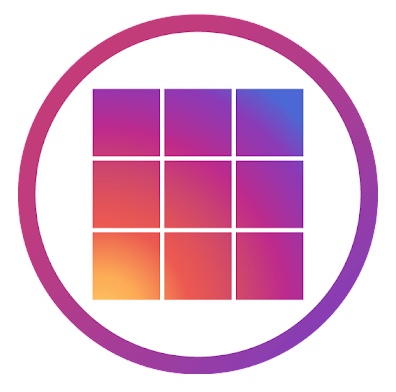 PhotoSplit is a useful application for working on images.
With the help of the program users will be able to cut an existing photo according to the selected grid parameters, then upload the result to their page in high resolution. You can slice any photo into a 1×2, 1×3, 2×3, 3×3, 4×3 & 5×3 grid.
But in addition to this feature, there is another functionality, which will also make it easier to achieve certain tasks.
Quickly, simply and productively. That's what makes this product very popular among those who are constantly working on Instagram and want to not limit themselves to something.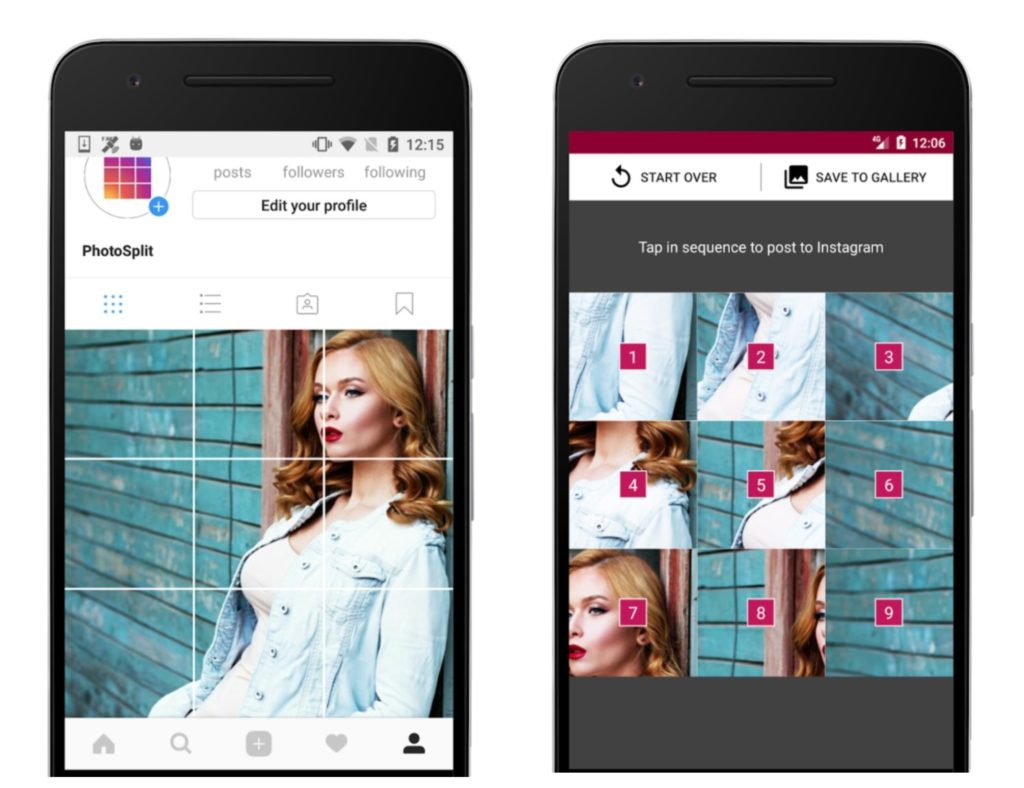 Downloads: 1000000 +
Customers rating:

(4.5 / 5)