Ready to turn your smartphone into a personal cardiologist? Cause we're about to tell you how to do that!
We've found the best ECG apps for Android you could try. These let you monitor your heart rate and even detect arrhythmias with just a few taps.
These are must-haves for seniors living alone, fitness buffs, and anyone interested in health care. All the apps are equipped with everything from detailed analysis to real-time monitoring, so you have all the tools you may need. Let's get into it!
Welltory
Want to improve your overall health? Here's an app for that! With its cutting-edge photoplethysmography tool, it accurately detects your heart rate and spills the tea on your stress levels, fitness, and overall condition.
This all-in-one health monitoring app evaluates your stress lvl and uses a symptom checker to give you useful insights. Feeling a bit stressed out? Well, fret not! There's a tool to keep those stress levels in check and score relief guidance, along with tips on handling panic attacks and insomnia.
And that's not all, folks! Get ready to take control of your cardiovascular health too. It'll do all the heavy lifting – just sync your blood pressure monitor or add BP data manually, and voila.
It also operates as a productivity app to supercharge your efficiency throughout the day! It'll spill the beans on your distractions and productivity lvl, and give you a smarty-pants score on your day's efficiency. You can also connect it with other apps and tools for extra efficiency.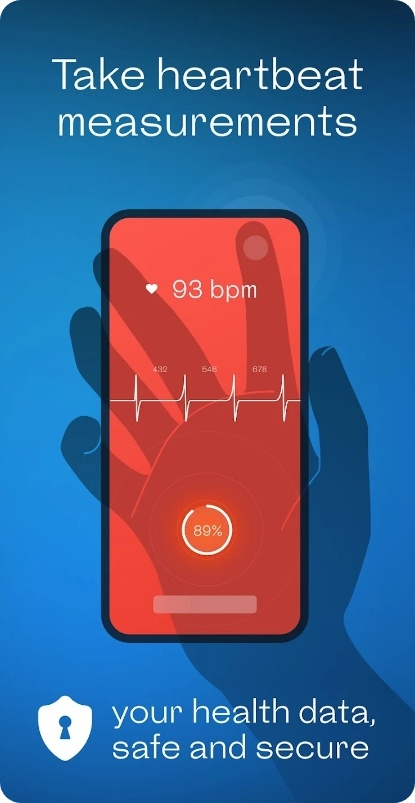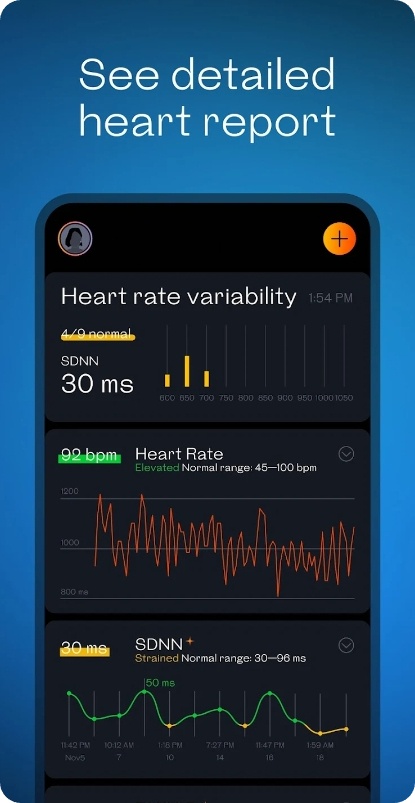 Downloads: 1M+
Customers rating:

(4.4 / 5)

You may also like: 9 Best Android Apps to Measure Body Temperature
HR Monitor
It's the ultimate weapon for counting your heartbeat accurately and effortlessly in under 10 secs. This hidden gem is so precise, that it's giving the big leagues at UCSF a run for their money.
But here's the kicker – no need for fancy gear to use this app. Just your humble cams flash to tap into your pulse. How cool is that? And with a whopping 35 million users worldwide, this award-winning app is the talk of the town!
Now, let's geek out over the heart rate tool. Not only can you nail your pulse in less than 10 secs, but you can also keep tabs on your stress lvl, uncover helpful perceptions, and view your cardio journey. Say bye to clunky heart rate straps, 'cause this app is all about convenience and simplicity.
Oh, did we mention it comes with a fancy PPG graph that could rival an ECG or EKG? This little superhero gives you a detailed beat-by-beat breakdown, showing you the nitty-gritty of your BPM. It even covers training zones to help you slay those goals.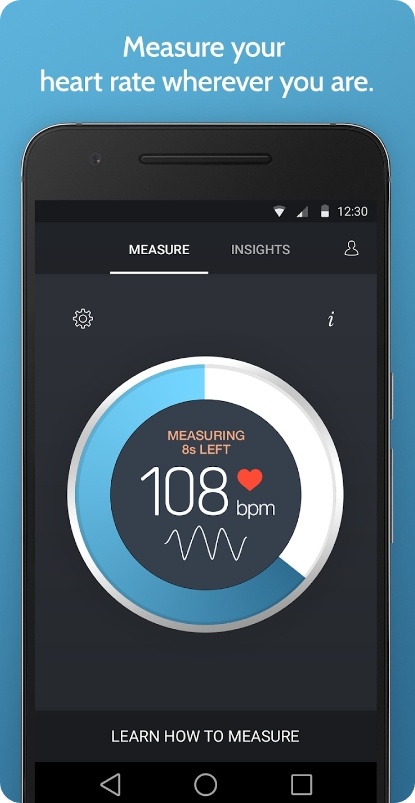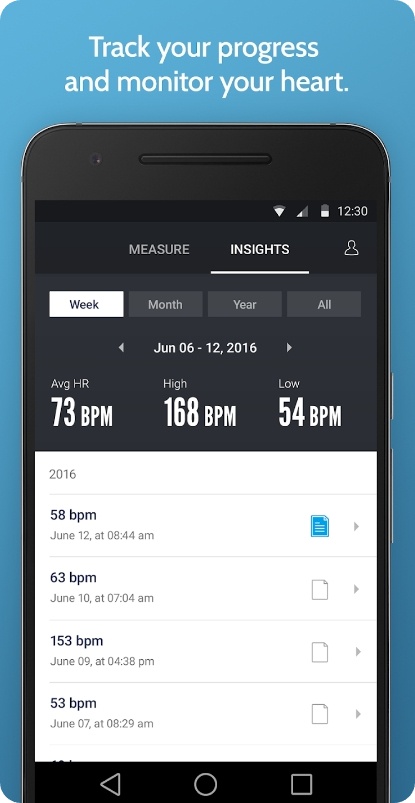 Downloads: 10M+
Customers rating:

(3.1 / 5)

PulsePoint Respond
Haven't added this app to your emergency response arsenal yet? Seriously, what are you waiting for? This app is an absolute lifesaver. No radioactive spider bites or gamma radiation is needed – just the power to immediately know when someone nearby needs CPR. Talk about having a superhero sense for emergencies!
And it doesn't stop at cardiac arrests. You'll also receive early alerts for events that could jeopardize your safety, like wildfires, floods, and utility mishaps. Plus, you can eavesdrop on live dispatch radio, becoming the invisible fly on the wall of your local response center. No gross compound eyes or wings are required, we promise.
But, let's say it isn't available in your hood yet. Fear not, as you can become the hero your community craves by hitting up your fire chief, EMS official, or even those elected folks with a friendly email. Your voice matters in bringing this app to your hometown, you can strengthen the chain of survival!
It is the must-have app for anyone who's all about staying informed and getting involved in emergency response. It's like having a bat signal on your phone, except instead of summoning Batman, you get to be the hero who saves the day.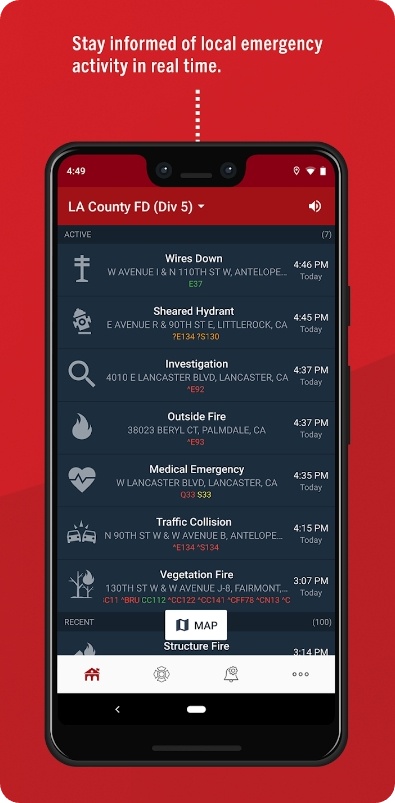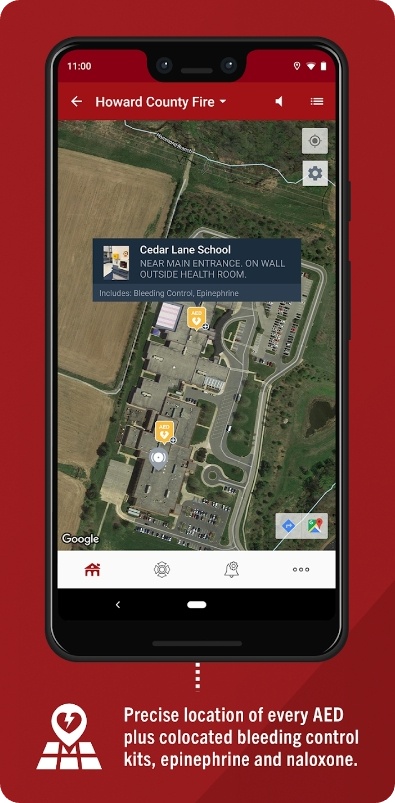 Downloads: 1M+

Preventicus Heartbeats
This app is here to help you keep your heart in check. This certified medical device uses your cam to record pulse waves at your fingertip, giving your heart rate and rhythm a standing ovation. It's like having a backstage pass to your cardiac health!
It's recommended for people over 65 or anyone over 55 with other cardiovascular risks. So, whether you're a young heartthrob or a seasoned pro, this app has got you covered. But remember, always consult your doctor to determine your heart's encore.
How does it work? It uses the magic of photoplethysmography (try saying that with a drumroll) to record pulse waves and diagnose heart conditions. From atrial fibrillation to bradycardia and tachycardia, it's like having a personal symphony conductor! And hey, these results are like a sneak peek, so remember to consult your doctor for the full performance.
The real showstopper? Catching atrial fibrillation early! This elusive condition might only make a cameo appearance, but with regular monitoring, you can give it a standing ovation and reduce the risk of stroke.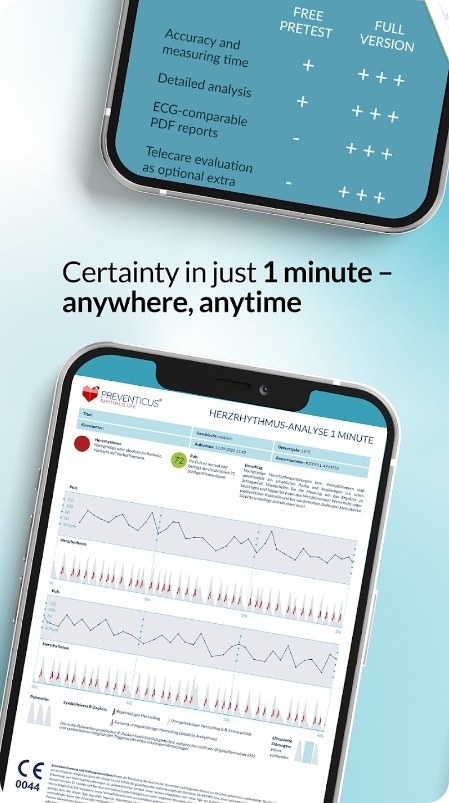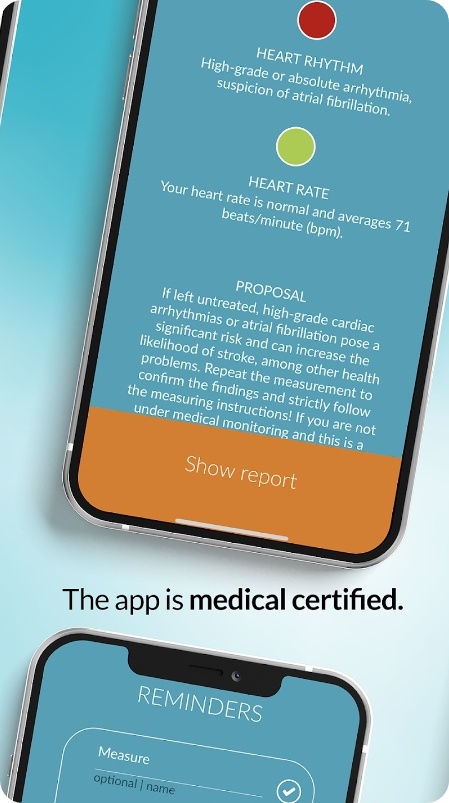 Downloads: 100K+
Customers rating:

(3.6 / 5)

CardioVisual
Tired of sifting through endless Google searches to find reliable info about your heart health? This app can help!
It's trusted by over half a million clinicians and patients in more than 100 countries. Its extensive lib boasts over 400 giving comprehensive info about all aspects of vascular disease and diabetes.
Clinicians can use the app as a time-saving tool to share vid with patients, rather than sifting through paper pamphlets. The app also covers interactive tools like medical calcs and a secure forum for clinicians to connect with their peers and industry experts.
But it isn't just for clinicians. Patients can also benefit from the app's unbiased info, which can help them make informed decisions about their health. Plus, interactive tools like health quizzes and sharing tools make it easy and engaging to learn.
Say goodbye to the anxiety and frustration of unreliable internet searches. The app has everything you need to take control of your heart health.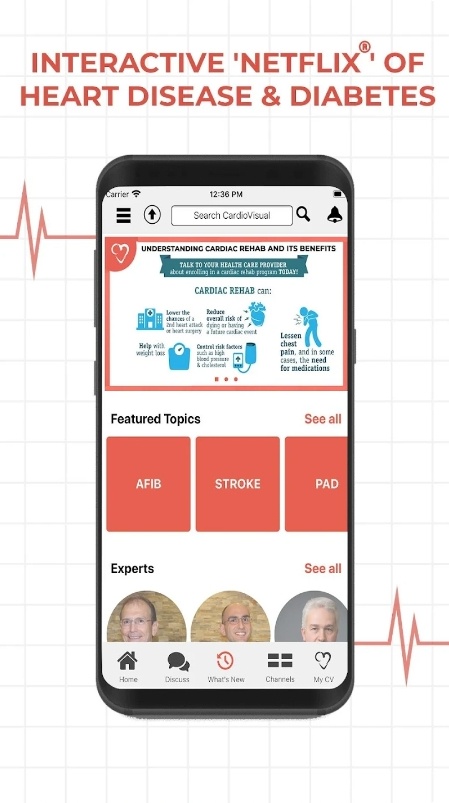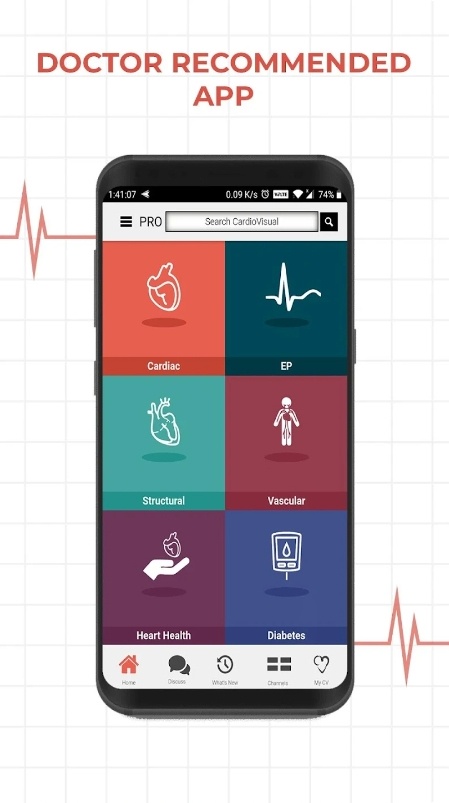 Downloads: 100K+
Customers rating:

(4.1 / 5)

Check also: Top 10 Workout Timer Apps
ECG Master
This app is here to help you brush up on your ECG/EKG reading skills. This nifty app is a game-changer for anyone wanting to evaluate abnormalities of heart rhythms or impulses with ease.
With over 200 ECG/EKG quizzes across several categories, you're bound to find smth that suits your specific needs. And the top part? Even on the free pack, you get access to all the quizzes in the database.
But the real kicker? The relevant ECG/EKG pics that come with each quiz help you visualize the abnormalities you're testing your knowledge on. Most of the snaps are the full 12 leads, so you know you're getting the complete view.
For each question in the quiz, there's a specific interpretation that makes it easier to memorize and understand these complex readings. And while this is only available for a pro pack, trust us when we say it's worth it.
And if you're the type to monitor your progress (who isn't?!), then the status section is just for you. It stores all your exam and quiz records automatically, and you get to see how your score develops over time.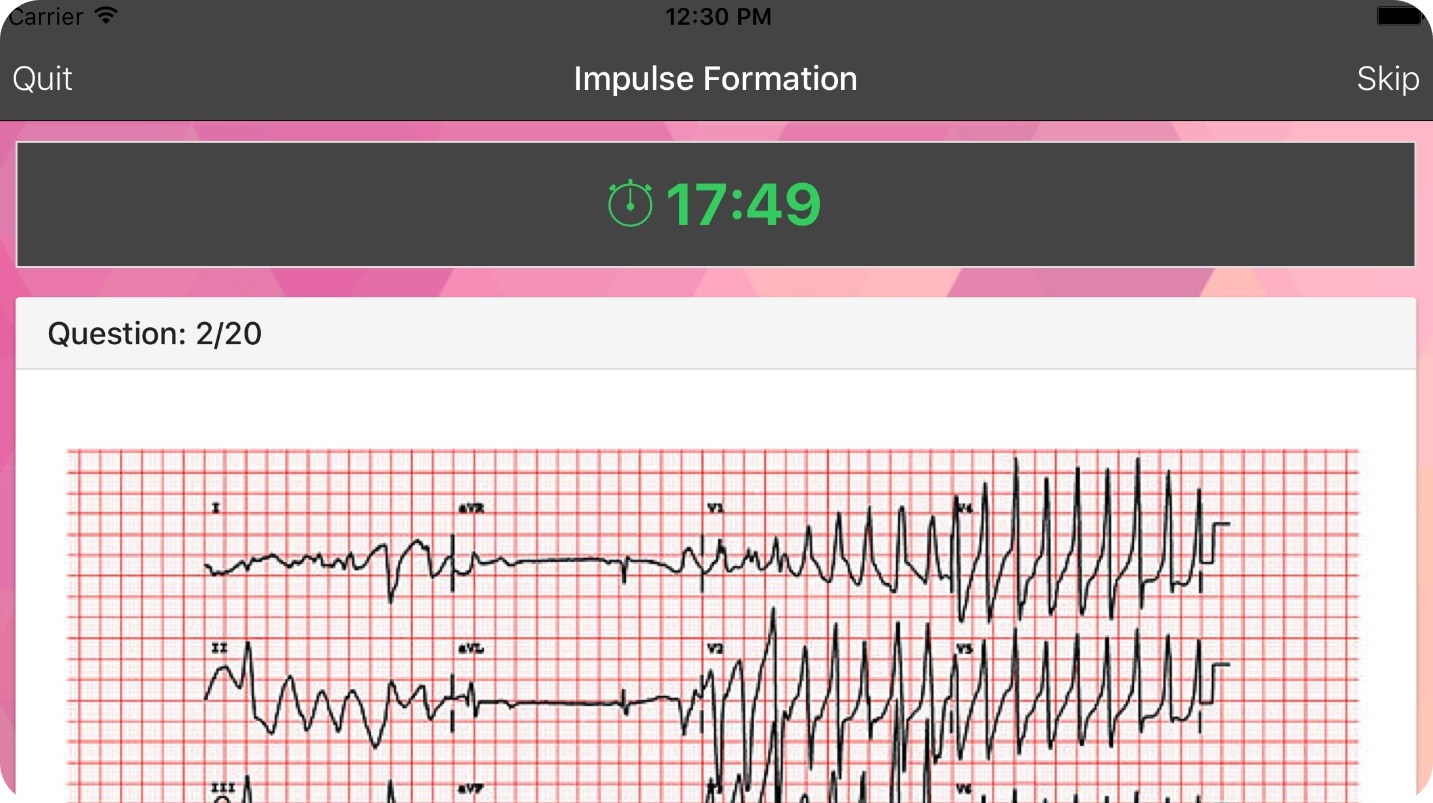 Downloads: 100K+
Customers rating:

(3.8 / 5)

QALY
If you suffer from irregular heartbeats or have gotten an inconclusive ECG, then you need to check out this app. Firstly, the app is the only one out there where human experts interpret your ECG within mins. That's right, no more waiting around for days to get your results, eating away at your peace of mind.
You join over 100K+ heart heroes who get their ECGs read by pro technicians, trained to interpret ECGs for all kinds of heart rhythms and abnormalities.
The app can analyze ECGs from your health device within minutes, whether it's day or night. And if you've gotten an inconclusive ECG, no worries, the app will give you a clear interpretation quickly as well.
What we love about this one is that it goes beyond just identifying irregular heartbeats like PAC and PVC on your ECG. Its expert EKG readers also analyze PR and QRS intervals to give you a comprehensive report on your heart health. But the real kicker? The reports are shareable with your doctor, cardiologist, or electrophysiologist. This app is the ideal tool to take control of your heart health.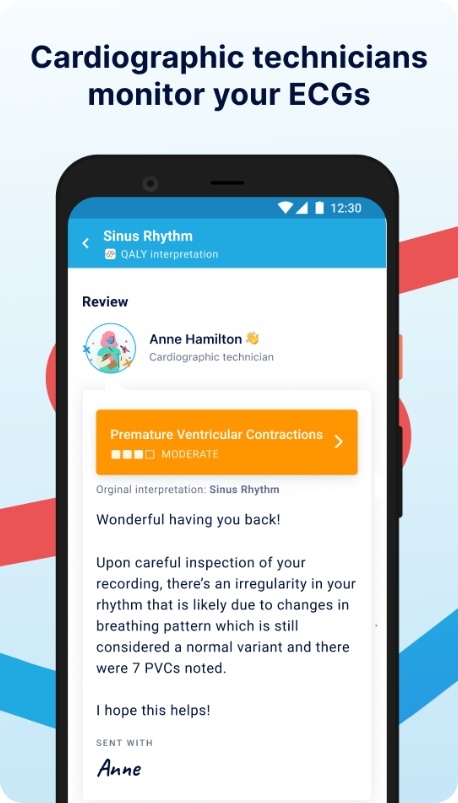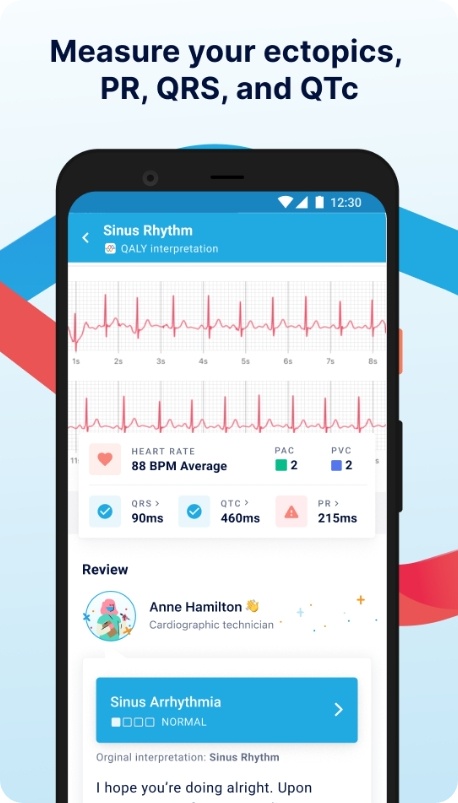 Downloads: 50K+
Customers rating:

(4.4 / 5)

Spandan
Tired of running to the doctor's office every time your heart flutters, or do you feel a little offbeat? Well, this nifty tool, paired with a compact ECG device, lets you monitor the health of your heart right with little to no effort.
But don't let its compact size fool you, it is a powerhouse when it comes to accuracy and reliability. You can trust that you're getting the most accurate results possible. And with the ability to detect up to 21 arrhythmia and 12 heart dysfunctional diseases in less than 15 secs, it's basically like having a personal cardiac assistant in your pocket!
What really sets it apart is its record-keeping capabilities. Say bye to those pesky paper reports that you have to tote around from doctor to doctor. Now you can easily save and maintain your ECG reports like a pro.
And let's talk about the convenience factor. No more booking appointments and sitting in the waiting room for hours. The app lets you check your heart health proactively with just a few clicks and taps, all without leaving your house. With a two-year warranty, high accuracy rates, and easy-to-use features, this app is the best health investment you'll make all year.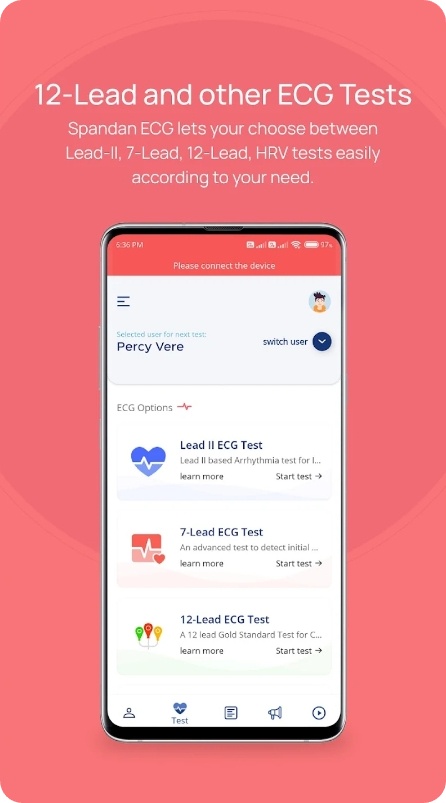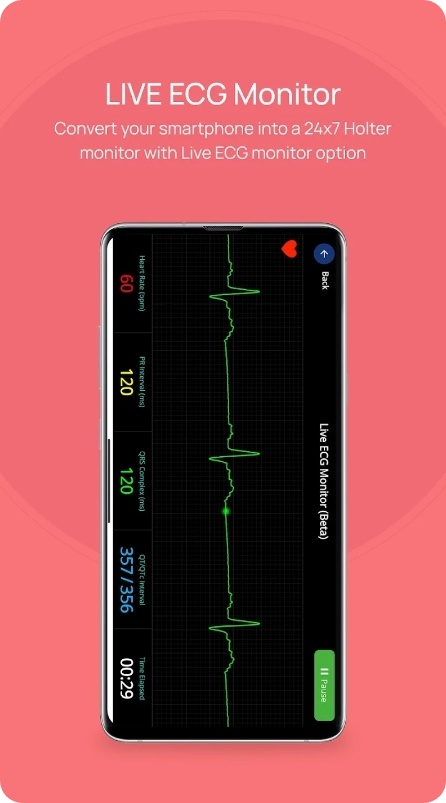 Downloads: 50K+

You may also check: 7 Best Health Electronic Records Apps
Medicos ECG
Struggling with ECG interpretation? Fear not, for this app swoops in to save the day! With its friendly UI and comprehensive content, this app is a must-have for medical students, doctors, and cardiologists. It's like having a pocket-sized cardiology guru!
What makes it the coolest of the cool? Its chapters take you on a journey from ECG basics to advanced wizardry. With step-by-step learning and the expertise of pro cardiologists, you'll master ECG interpretation like a pro. It covers step-by-step learning that is easy to follow and understand.
But wait, there's more! This app isn't just about text, it's all about bringing ECG to life. Snapshots and vids from academies take you on an interactive adventure through real-life ECG examples.
Oh, and did we mention the ECG note tool? It's like having a personal guide by your side, giving you A-Z ECG interpretation and boosting your cardiology game. The best part? You can access it anytime, anywhere. That's right, ECG interpretation is now portable!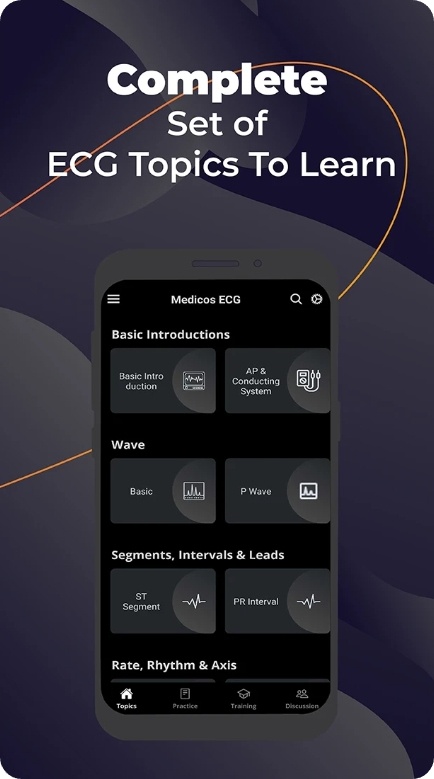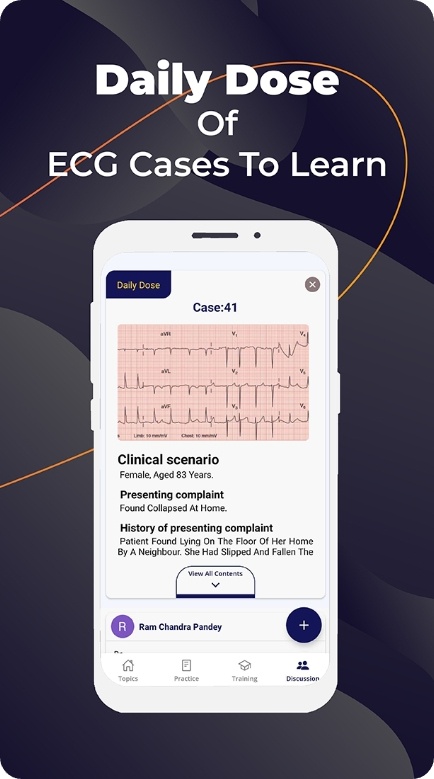 Downloads: 50K+