Many users of mobile devices listen to music via streaming services such as Pandora, Spotify, Google Play Music, or Apple Music. At the same time, many music lovers prefer to use their own media collection – both because streaming is not always fast enough, and because their favorite songs never get boring.
Of course, in this case, you can't do without a music player. What can be recommended among the many options? A collection of the best music playlist maker apps is in front of you.
If you are also involved in music editing then the following article will be useful to you: 7 Best Apps to Speed Up or Slow Down Music on Android
Music Player – MP3 Player
With this application, you can compile unique playlists including only your favorite tracks.
Thanks to this application, you will be able to listen to all your favorite music. The application has a huge number of tools to make your listening experience more enjoyable.
The app has an equalizer so that you can make your beat. Using this app, you can also trim music for free and put it on your ringtone. To make sure you don't lose your playlist, the app has an automatic playlist backup feature. In case you lose your device, you will be able to restore your playlist.
If you want to listen to music before you go to sleep but are afraid to fall asleep. The app has a sleep timer. By setting this timer to the time you want, all the music you have been playing will turn off after that time.
The app has many handy widgets for you to place on your screen. You will be able to filter your songs according to several factors, one of them being the length of the songs.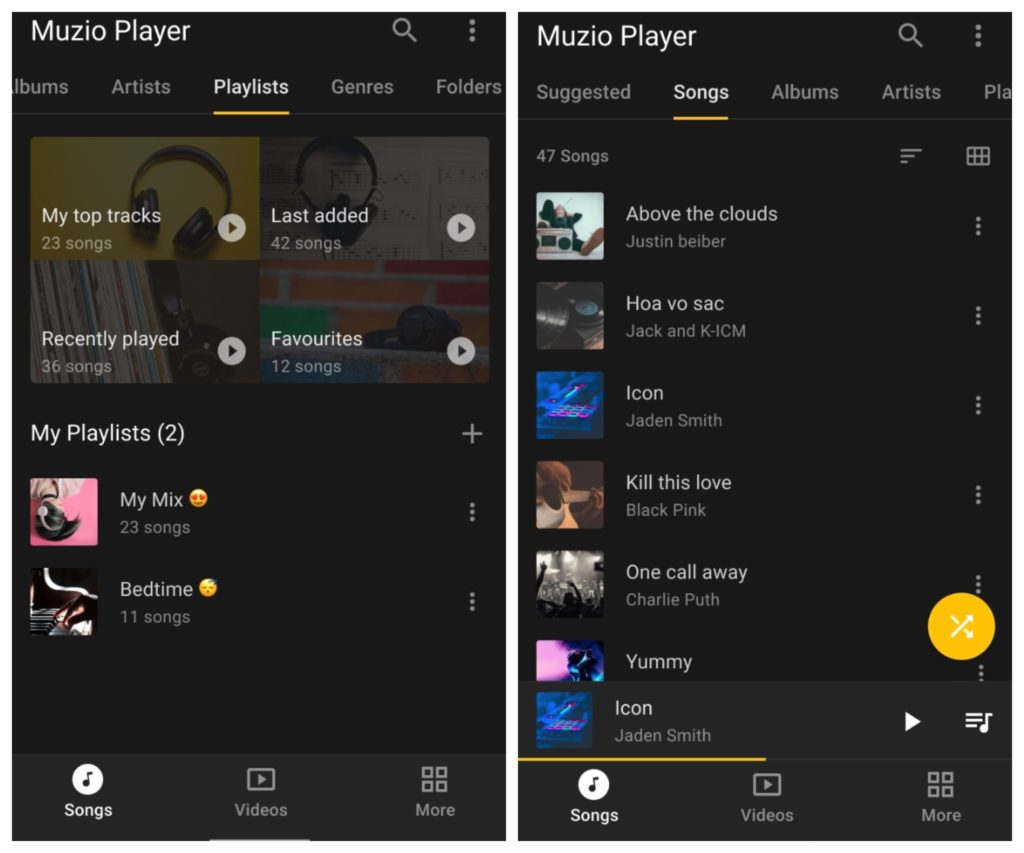 Advantages of the MP3 Music Player app:
A huge number of tools.
User-friendly design.
Trimming songs, creating ringtones.
Playlist backup function.
Downloads: 50000000 +
Customers rating:

(4.8 / 5)

You may also like: 21 Android Apps to Make Your Own Music
Musicolet Music Player
Musicolet is a convenient and functional player. It's quite stable, there are no hangs or crashes. Therefore, we can not hesitate to recommend it and tell you more about it.
How to select music. You can select all tracks, or you can create a playlist by some parameter. For example, listen to one of the folders, all songs by some artist, select songs by composer if it's specified in the tag, select a particular album from the general list or artist list, select songs of a particular genre.
You can listen to all the tracks in a row, shuffle, loop one song or the entire playlist. The order in which the tracks are sorted can also be set according to many parameters. You can create several playlists/queues and listen to them depending on your mood.
On the playback page, the album cover will pop up (if it's embedded in the track). If you click on it, the lyrics will appear instead (again, if they are in the file). The track can be deleted from the playlist or out of phone memory, added to a playlist, set as a ringtone, moved to another folder.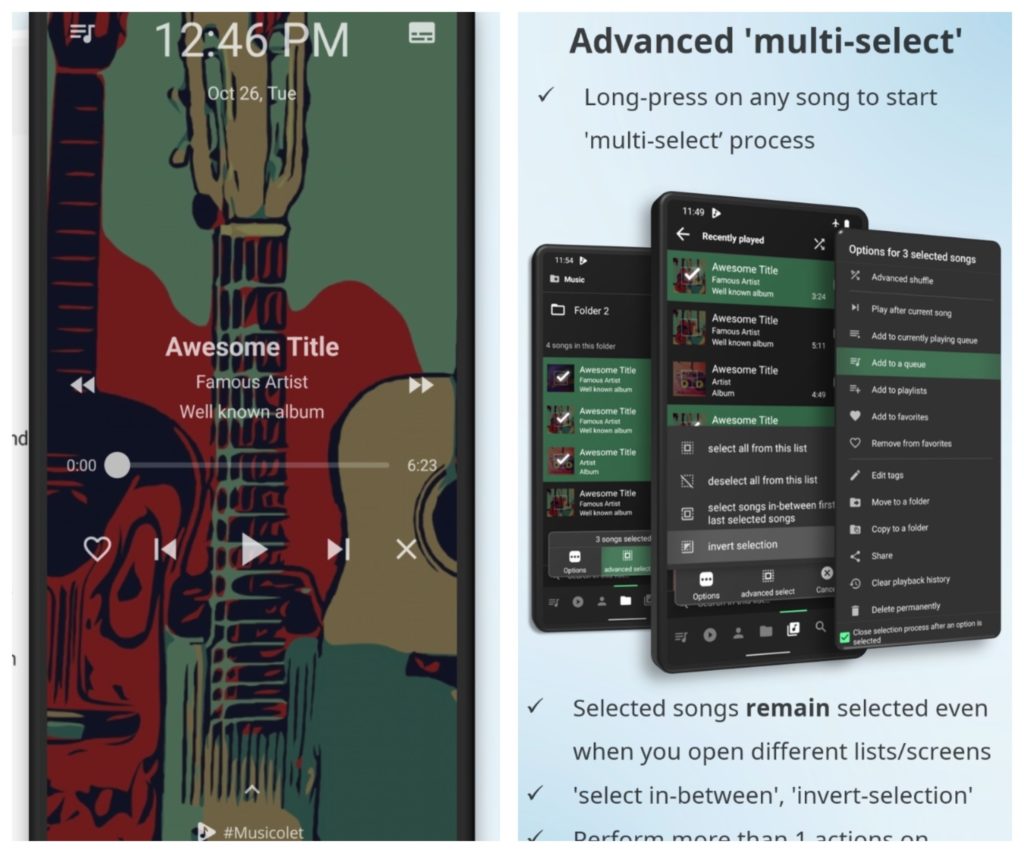 Advantages of the Musicolet Music Player app:
Equalizer. You can add bass, make the sound more expansive and shift the balance to one of the channels. If you want, you can set in the settings to use a third-party equalizer.
This player has 3 types of widgets, any of them can be configured with a theme and transparency.
Sleep timer. You can set the auto shutdown player.
Downloads: 5000000 +
Customers rating:

(4.6 / 5)

MediaMonkey
MediaMonkey is a modern player that is designed to process and organize multimedia data. The program is designed for true music lovers who collect songs.
The app gives you many tools to manage, organize, sync and navigate your huge collection of music and even videos. You can easily sync music files from your Windows to Android and save playlists, tracks, information, ratings and playback history.
The program has a built-in audio player with a clear interface. The functions of the player allow you to organize audio in different formats.
There is also an integrated tag editor that gives the chance to edit both in manual mode and in auto mode. The converter allows you to transform files into different formats.
MediaMonkey helps you manage and organize your collection of music files, which can number up to hundreds of thousands of tracks.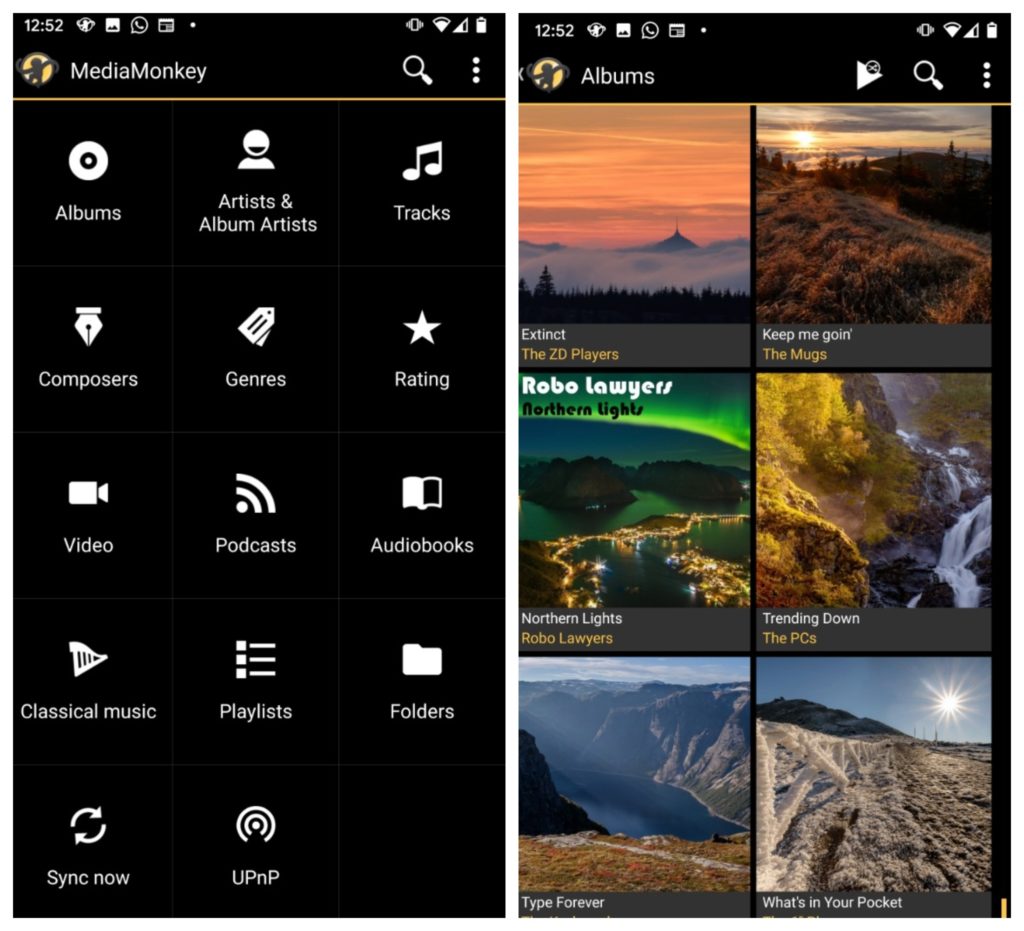 Advantages of the MediaMonkey app:
Synchronizing playlists with other devices.
No ads in the free version.
Availability of a desktop version.
Downloads: 1000000 +
Customers rating:

(3.9 / 5)

Pulsar Music Player
Pulsar Music Player is one of the best music players – it has no ads and has a nice interface. It contains all the necessary functions for playing music files. It can display song lyrics, edit tags, perform voice commands.
After starting the application, the main window opens with a tab "albums". In addition to that, there are also tabs "artists", "folders", "genres", and "songs". The albums section contains the albums found by the program. Once you enter the album, the user sees the total time of the songs, the search buttons, and the menu with commands: sorting, artist, edit tags.
At the top are buttons to return to the list, add to favorites, share, record audio, menu with commands: artist, album, favorites, add to playlist, sleep timer and others. Under the cover, a play queue button, sound speed setting, progress bar, buttons for mixing tracks, next and previous track, repeat songs.
In the equalizer, you can adjust the preset, reverb, bass boost, virtualizer, tone compensation and other parameters using sliders. This can be done in the paid version.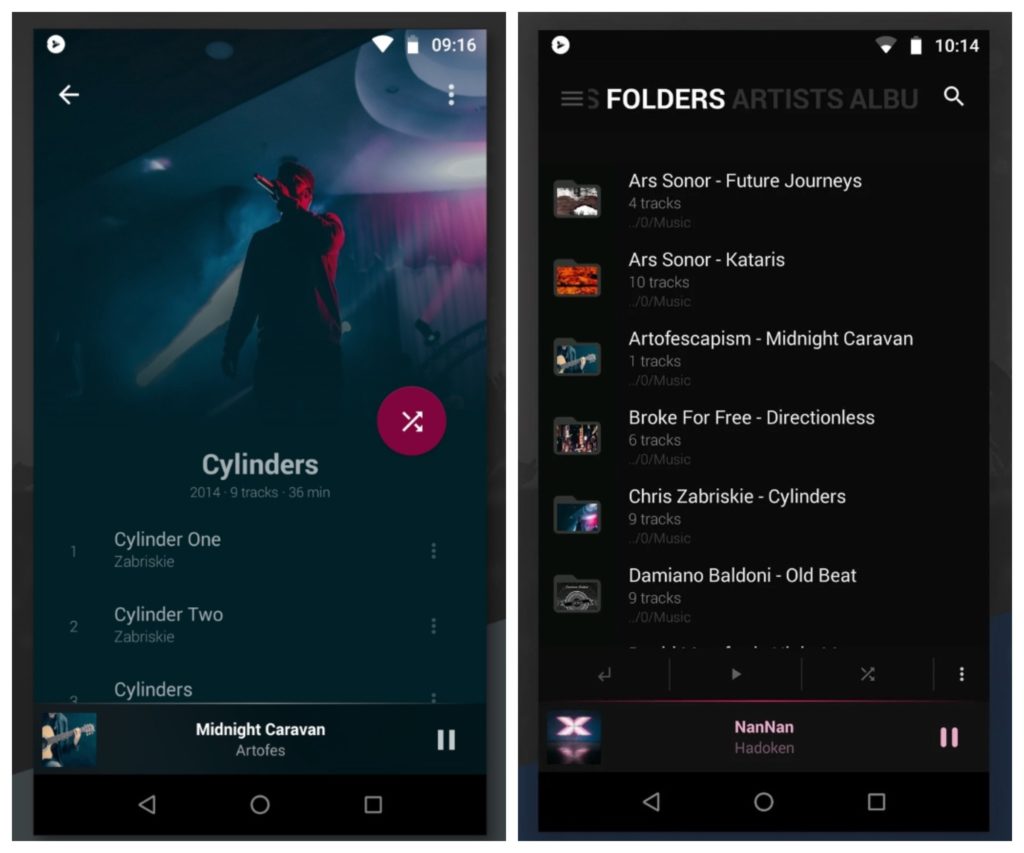 Advantages of the Pulsar Music Player app:
Spectacular interface with animations.
Arranging music by album and artist.
Downloading covers from the Internet.
Customizable playlists.
Downloads: 5000000 +
Customers rating:

(4.6 / 5)

Neutron Music Player
Neutron music player is an excellent example of a software product for playing music files of high resolution, which has an extended functionality of additional sound processing and at the same time has a fairly convenient and clear user interface.
The player is omnivorous. It can play virtually any file, and its power allows you to get good, clear sound at the output.
To get started, you need to set up your media library and specify the path to the folders where your music is stored.
In the user menu, you can select: sorting by album, by artist, by genre, playback by folder is also available. Here, you can also open existing playlists or create your own.
The application settings menu is extensive. A true audiophile has a lot to do! It allows you to customize the user interface, the quality of the played sound, the user profile, and the ability to output sound to another device.
All in all, Neutron is an excellent music player, the best choice for audiophiles who like to tweak the sound to their liking.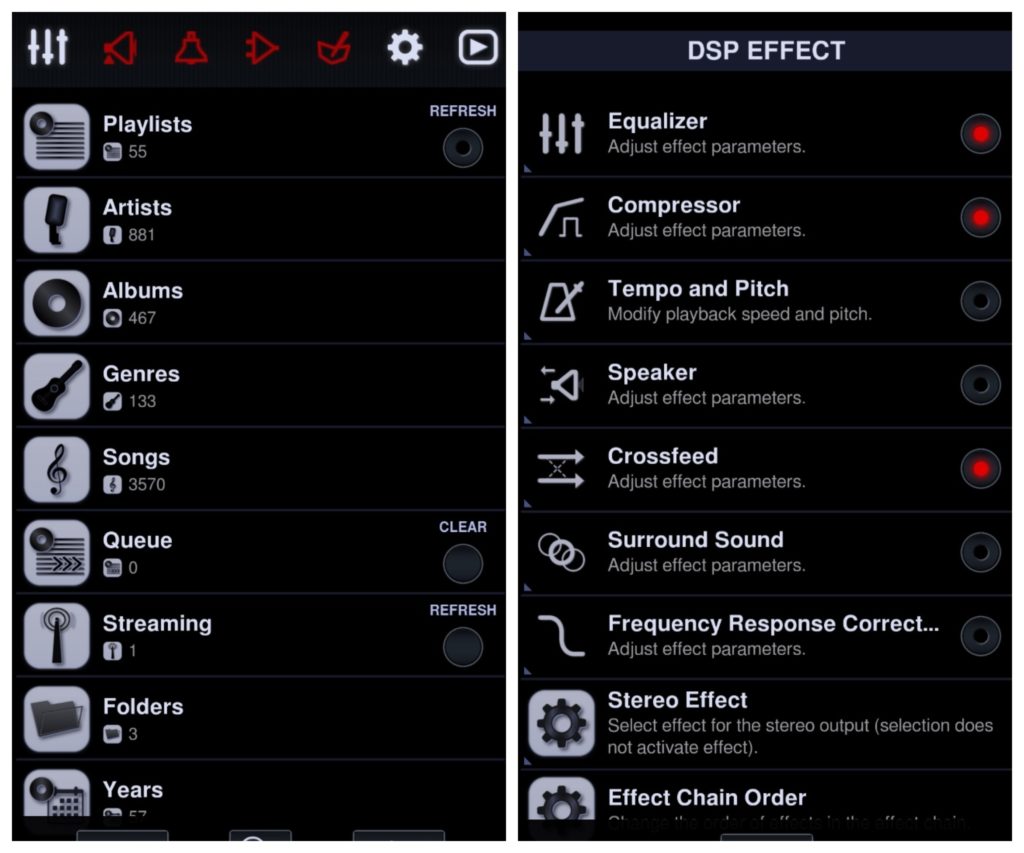 Advantages of the Neutron Music Player app:
It produces a very good sound.
The application has a lot of settings that allow you to achieve the ideal sound of your favorite songs.
Ability to listen to a huge number of Internet radio stations of different styles and musical directions.
Downloads: 1000000 +
Customers rating:

(3.8 / 5)

Phonograph Music Player
The player has a minimum of features and a simple design that looks very organic to the Android interface. The Phonograph colors change depending on the album cover.
The program window has the standard tabs "Artists", "Genres", "Albums" and so on. In addition, there is an opportunity to add tracks to favorites and listen to a personal chart of the most popular songs.
It's worth noting that it's much faster and more convenient to like tracks and then create playlists from them. The player also has autoloading covers and displaying lyrics in LRC format.
Phonograph can be recommended as an excellent everyday player for undemanding users. The only problem is that the folder view mode is only available in the paid version.
If your music library is well organized by album and artist tags are included everywhere, you can safely disregard the purchase of the Premium version.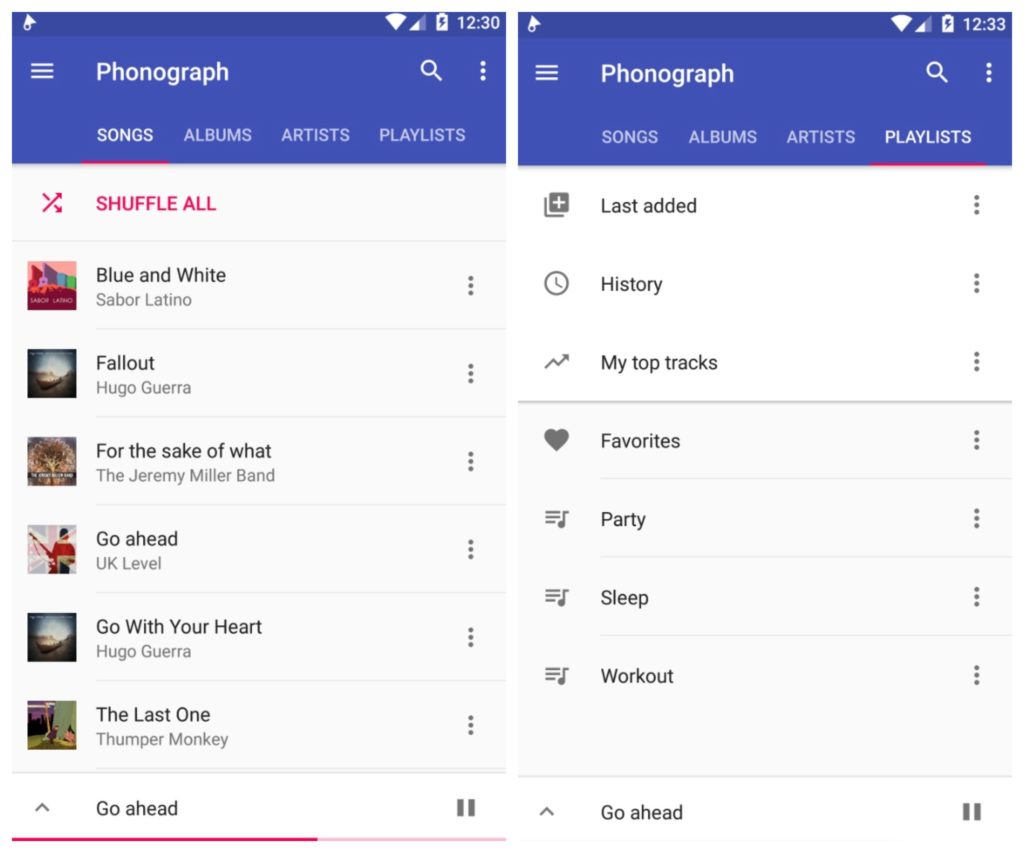 Advantages of the Phonograph Music Player app:
User-friendly interface.
Ability to adjust the position of the menu items to suit you.
The application is aesthetic and easy to use.
Downloads: 1000000 +
Customers rating:

(4 / 5)

You may also like: 11 Best boost music apps for Android
PlayerPro Music Player
This player takes up very little space on your mobile device and has a nice and intuitive interface. If you dig in the settings of the player, you can see a lot of very useful settings.
When you first run this application it will tell you and show you how to make the basic settings and where they are located.
Navigating through tracks, folders and albums is handy and you can even change the order of playback or limit a specific folder for music if you have some other music files on your flash card, which is of course great.
Pleased with the ability to create smart playlists and rate tracks. In sleep mode, the tracks are switched without problems, the volume keys work, and battery power is used sparingly.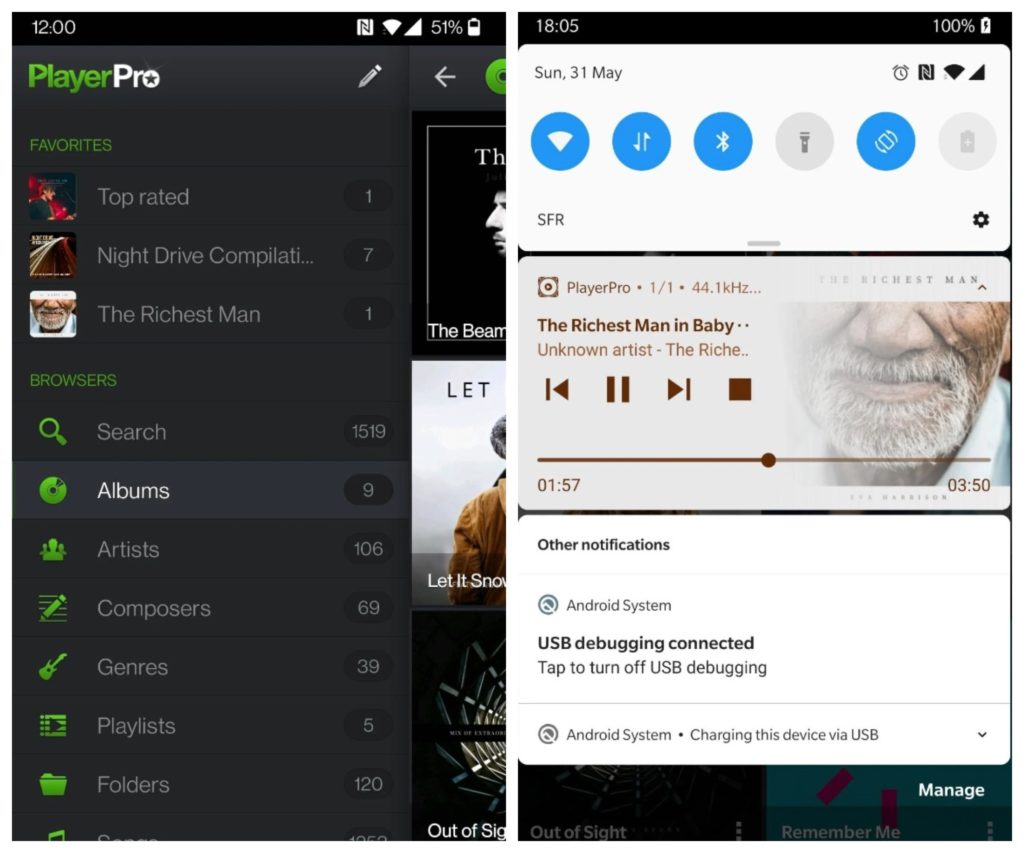 Advantages of the PlayerPro Music Player app:
Detailed and pleasant instructions at the first startup.
The ability to adjust the volume in each earphone.
Quickly and conveniently add lyrics to a song.
Change the sound quality, add sound effects.
Downloads: 10000000 +
Customers rating:

(4.6 / 5)

Shuttle+ Music Player
The free player allows you to flexibly customize the interface and listen to music comfortably on your smartphone and tablet.
The Shuttle player has all the features you need. There is a sorting of music by genre, artist and album, you can create playlists. To adjust the sound, there is an equalizer in which you can pick up your own characteristics or use ready-made presets.
Much attention has been paid to appearance and settings. You can choose one of three basic themes – light, dark or black – as well as optionally change the colors of the interface elements to your liking.
The interface is adapted for smartphones and tablets with different aspect ratios and display resolutions.
Flexible customization is available for widgets: there are four of different sizes to choose from. You can choose the background and text color and transparency level, disable the cover, leaving only the controls.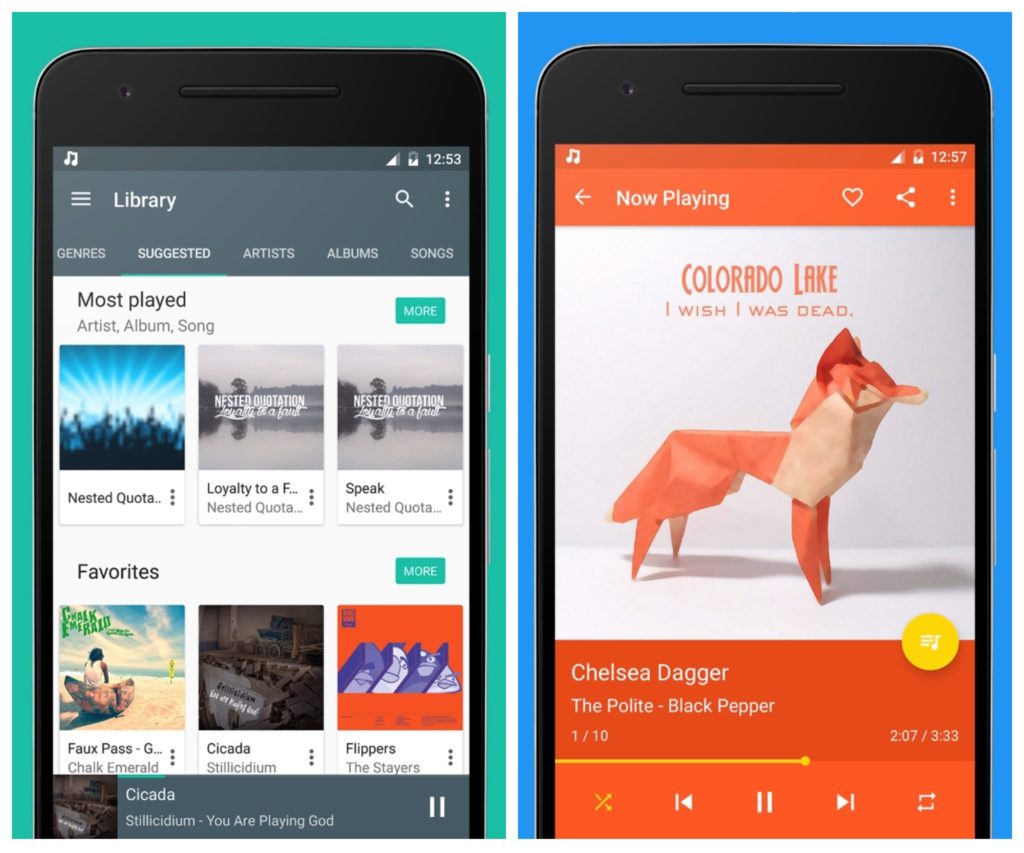 Advantages of the Shuttle+ Music Player app:
There's a useful feature to skip duplicate songs in the same playlist – very helpful for a large music library.
A timer to pause if someone likes to fall asleep to music.
The player sets the cover for the songs itself or downloads them from the internet if they are not embedded in the file.
Downloads: 100000 +
Customers rating:

(4.1 / 5)

Poweramp Music Player
Poweramp doesn't differ much from most mobile players in appearance. But, it's different in that it supports a large number of music formats (mp3/mp4/m4a (incl. lossless alac)/flac/wogg/wav/tta/ wma */ape/wv/mpc/aiff), an advanced 10-band equalizer, several customizable widgets that can be placed on the desktop, and a couple of lockscreen options.
All the music on the phone, no matter what folders it is in, it sees automatically and immediately turns them on to play. Then you can already turn off/on folders with music to play as you like.
In addition, the developer of Poweramp has built in a feature with which users can set the order in which music songs are played.
The program is constantly updated, which is not unimportant, and has a lot of settings! This player pulls the sound even on weak headphones, and on good headphones any audiophile will be delighted, that's for sure!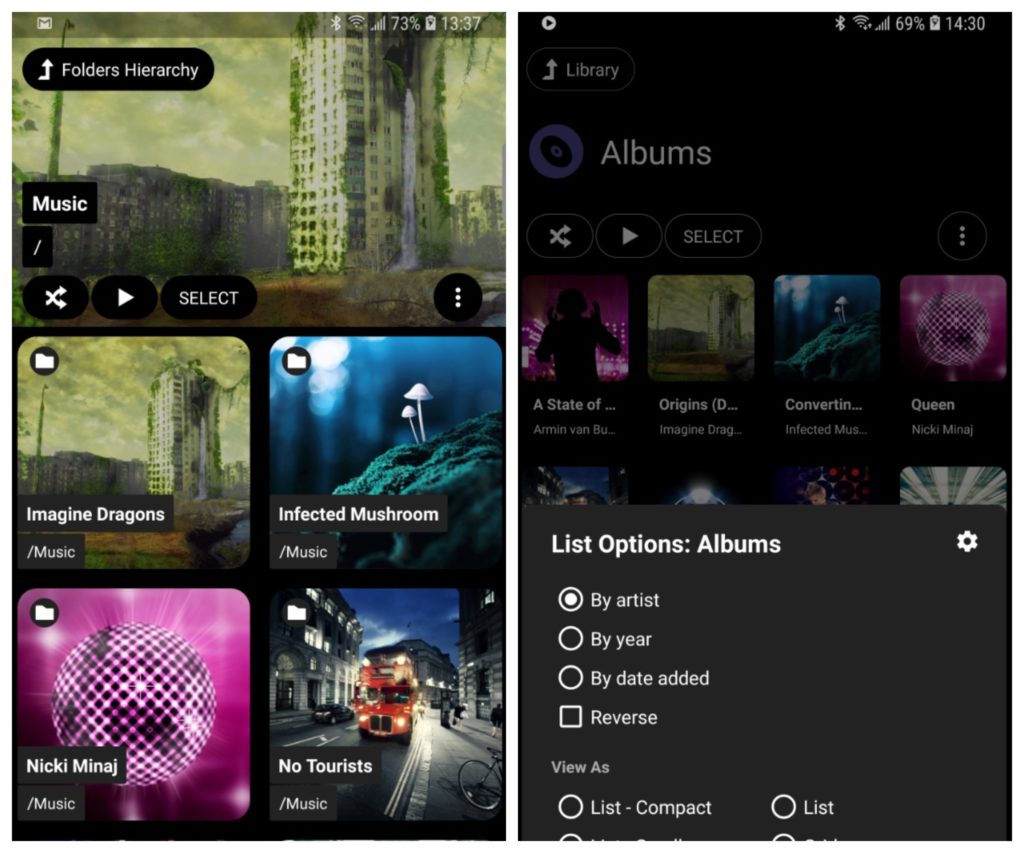 Advantages of the Poweramp Music Player app:
Change the visual design and customize the lock screen.
10-band equalizer with precise sound settings.
Ability to work with most formats.
Downloads: 50000000 +
Customers rating:

(4.4 / 5)

jetAudio HD Music Player
The program is easy to use and has several advantages over others. It will be understandable even to a schoolboy.
The appearance of the main window is the most common and utilitarian, although quite pleasant. At the top, the name of the band, album and song currently playing. Just below, the control icons that allow you to add songs to the list, add the track to favorites, adjust the sound settings, show the song lyrics, set the sleep timer, track context menu (find on youtube, share, change tags, put on the ringer, and so on).
If you dig a little deeper into the settings, you will find that there are just a lot of them. To any taste and color.
Browser settings. Here you can choose the background and colors. You can adjust the text size.
Playback Settings.
Classic ten-band equalizer (in the paid version twenty-band) with built-in presets.
A lot of sound effects.
Without a doubt, the player is worthy. But it's fully disclosed only in the paid version, or in the free version, but with AM3D and Crystalizer plugins connected.
I recommend it to music lovers who listen to music via smartphone. This player is a budget-friendly way to get decent sound. Just keep in mind that you can't get by with cheap headphones when using this player. You need good ears to unlock the potential.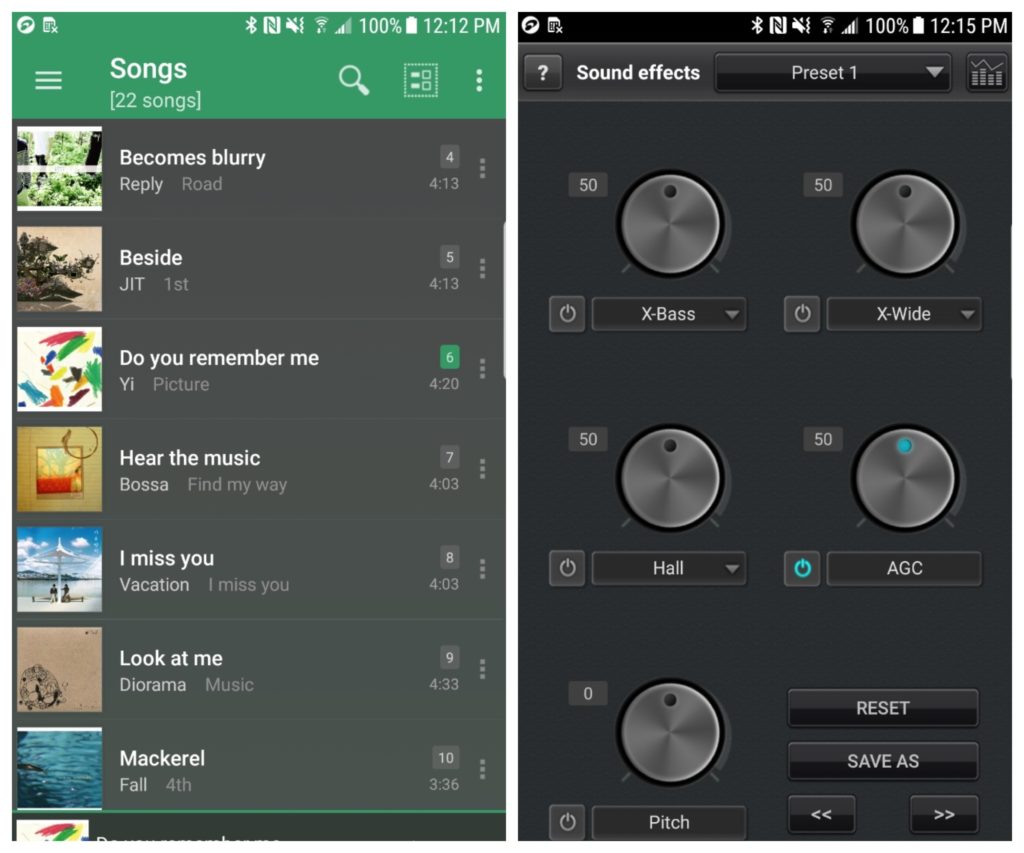 Advantages of the jetAudio HD Music Player app:
Handy widgets.
Advanced settings that improve the sound quality for both speakers and headphones.
You can adjust the sound volume fade in and fade out settings when paused.
Playback control without unlocking the smartphone.
Downloads: 10000000 +
Customers rating:

(3.8 / 5)

BlackPlayer Music Player
This is a lightweight, simple, and pretty Material Design style app.
Its interface is extremely minimalistic and devoid of frills. Nevertheless, it's easy to manage the music. Songs in BlackPlayer are sorted by tabs – albums, artists, genres and folders. Of course, you can create playlists, too.
BlackPlayer also has an equalizer, widgets, a sleep timer, and a built-in lock screen. So, behind the modesty of the interface, an impressive set of features hides.
For a fee, you can buy the Pro-version with additional settings, a light theme and a choice of custom interface colors. But this isn't an obligatory purchase – the free version of BlackPlayer also performs admirably.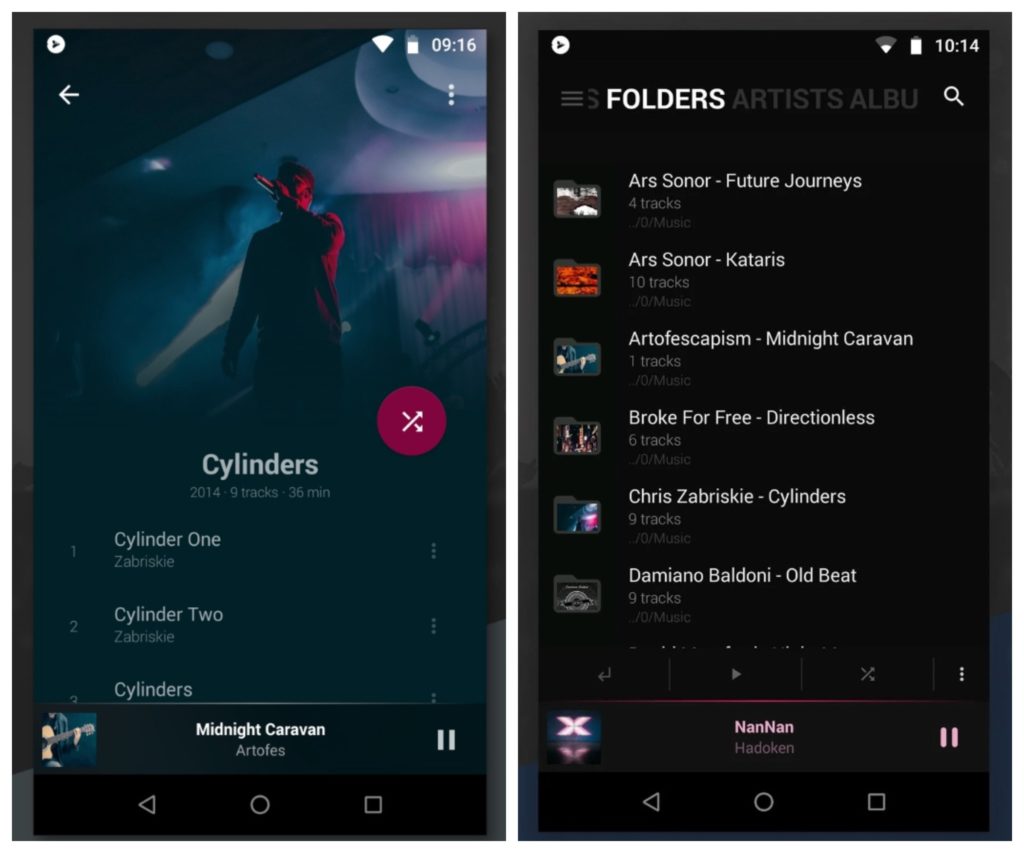 Advantages of the BlackPlayer Music Player app:
A cool thing is bookmarks on the track (if you listen to lectures, for example).
You can partially change the appearance of the interface.
Minimalistic and intuitive.
Downloads: 1000000 +
Customers rating:

(4.1 / 5)

You may also like: 13 Best country music apps for Android
Offline Music Player: Play MP3
Internet connection is not always available, so it's advisable to store your favorite music and songs locally in the memory of your device. Offline Music Player: Play MP3 is a great way to listen to all this stuff.
Offline Music Player: Play MP3 is an interesting alternative to other players. The interface of the application is well designed and makes listening to music from the local memory of your device a pleasure. The interface of the music player provides the perfect solution for the search and retrieval of your favorite songs.
Nice design and the ability to create playlists. Is this what you need? The most convenient thing is the "import lyrics from the internet" button. It automatically finds the lyrics of a song by name and downloads it into the player.
If you want to listen to all your songs in a pleasant interface, install the simple Offline Music Player: Play MP3 app, which will charm you with its beautiful graphics and the mass of functionality offered.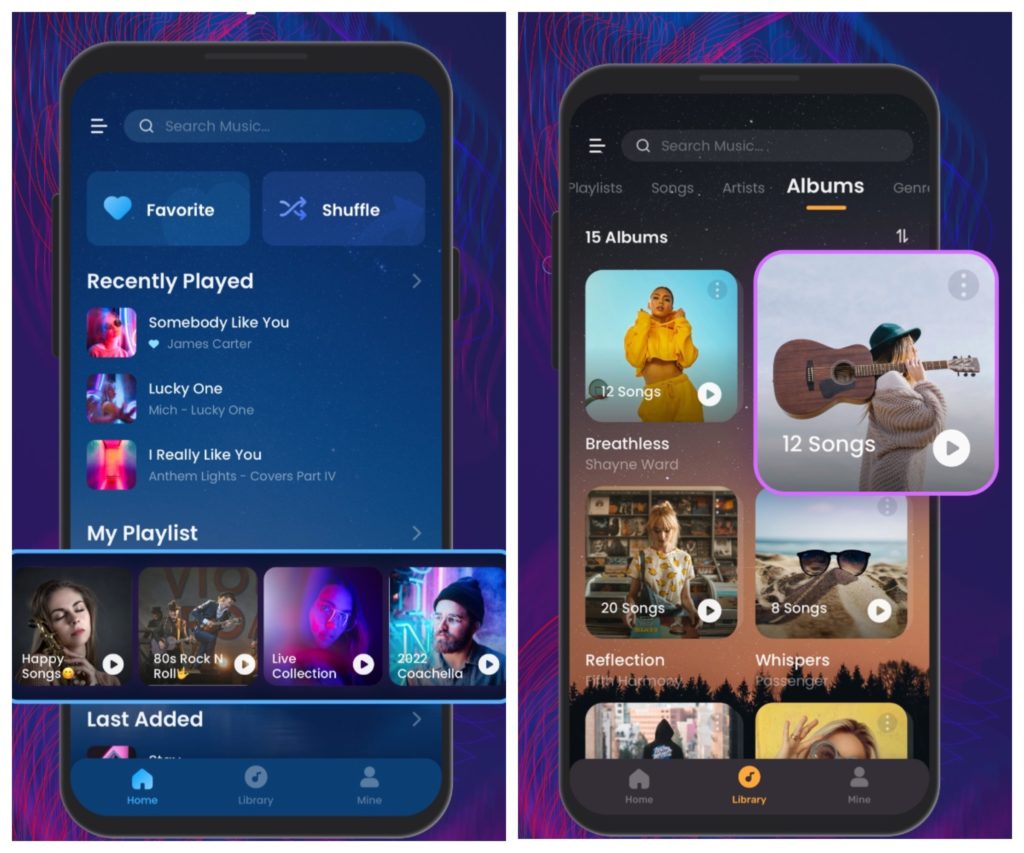 Advantages of the Offline Music Player: Play MP3 app:
Supports multiple formats.
Colorful themes.
Equalizer & Bass Booster.
Works without Internet.
Downloads: 1000000 +
Customers rating:

(4.8 / 5)