If you're like most people, you've experienced the tragedy of accidentally deleting a message you needed to keep. But don't panic, we have a simple solution for you.
We've rounded up the best Android apps to recover deleted messages you could use. These apps work with multiple instant messengers, and let you retrieve those precious texts without any hassle.
Whether it's an important business conversation, a sweet love note, or just a funny meme you can't quite remember, these apps have got your back. The apps also let you save media files and get access to texts that were deleted before you read them. Let's dive in!
WA Deleted Messages Recovery
Worried about deleting important conversations? Fear not, this app got you covered! It will swoop in like a hero to save any lost text, letting retrieve them in just a few clicks. Say goodbye to the anxiety of accidental text deletes, and welcome peace of mind. The app is fully free, too, so make sure to give it a try.
The app boasts an efficient scanning system that restores disappeared chats, leaving no trace of missing data. Yes, it automatically records all messages sent, even those deleted before you've read them. Its reliable recovery system allows you to retrieve your SMS in no time, saving you from missing out on important SMS.
Now, let's talk about how it works. Direct text access is unavailable as all messages are encrypted. To extract deleted messages, the app scans notifications and creates backups. However, keep in mind that restrictions do apply. For instance, muting a chat or disabling notifications hinders the app's functionality. As long as the app configuration is correct, retrieving lost messages is a breeze!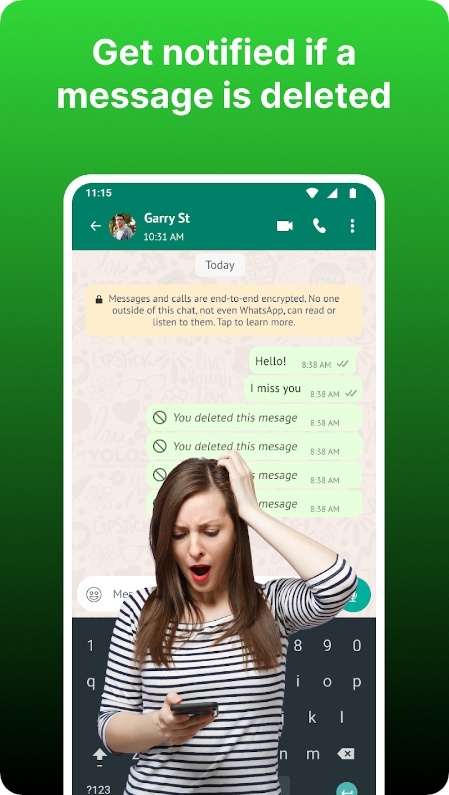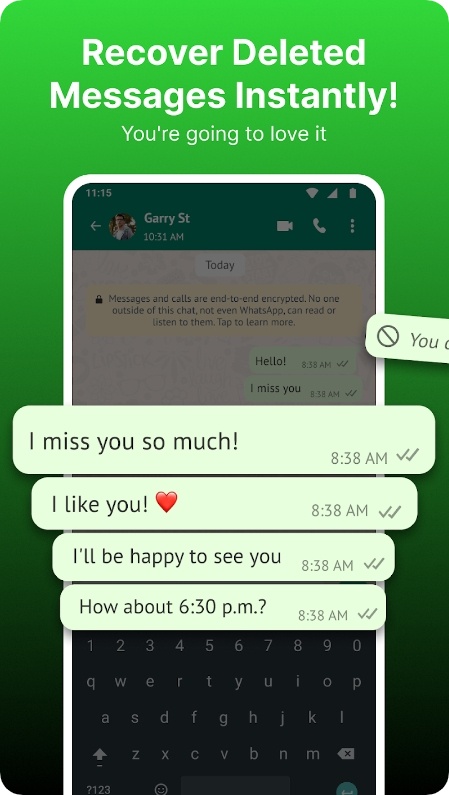 Downloads: 10M+
Customers rating:

(4.3 / 5)

You may also like: 5 Best Secret Messaging Apps That Look Like Games
WAMR
Next, we have a handy one-stop app that lets you restore SMS with no effort. It also supports all types of media attachments, so you're all the way covered. Not impressed yet? The app even lets you download WA statuses!
As all texts get encrypted on your device, the app can't access them directly. But no worries, it has found a workaround. It reads your notifications and creates a backup history based on them. What's even cooler? If a text is deleted, it detects it immediately and notifies you. Talk about staying on top of things! There's literally no chance to miss a message with this one.
Even if the sender deletes the message, the file you received will still be available. However, it can't retrieve files that haven't finished downloading. That being said, it's important to note that there's no way to retrieve files that haven't finished downloading.
So if a chat is muted or if you're viewing a text before it's deleted, the app won't be able to save it. Just make sure to keep an eye on these things, and you'll be ok.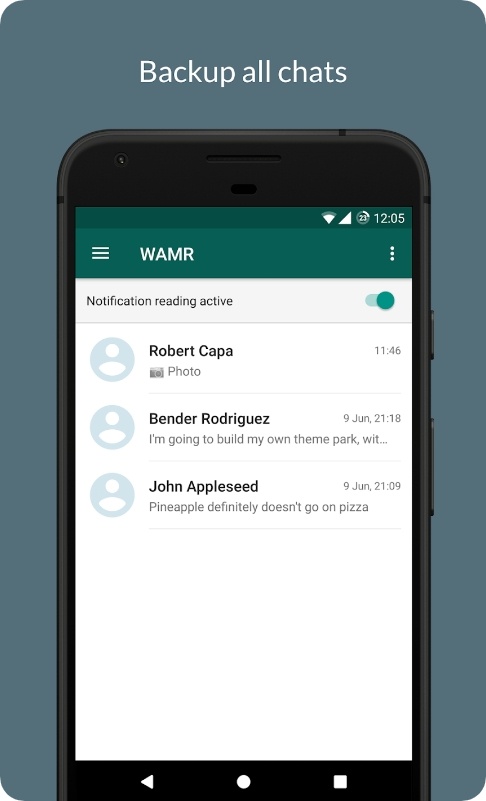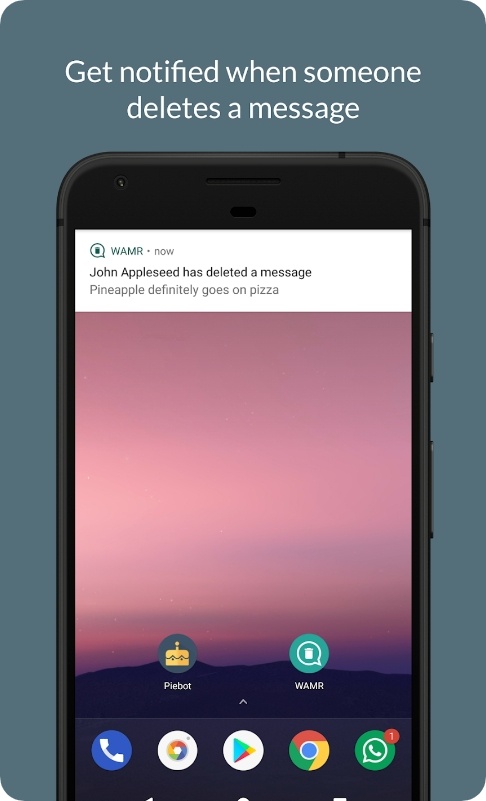 Downloads: 50M+
Customers rating:

(4.3 / 5)

Recover Chat for WA
It's a simple app to help you take your chat game to the next level. Forget worries about deleted SMS, and say hello to message transparency. Easily recover lost text and media files with the app – a lifesaver for retrieving deleted WA chats. With an auto-store feature to automatically save erased SMS, it's simple and efficient.
The app is a gem that's designed to take the pressure out of deleting text. It notifies you immediately when an SMS is deleted, eliminating any doubts or concerns. The app gathers all recovered data and arranges it in one place so that you can view it with ease. Its simple configuration makes setup an absolute breeze. Thus, you can enjoy the peace of mind that all your chat history is secured safely.
Hereby, there are some limitations you need to know about. To ensure that the app functions properly, you must allow notifications access. Without it, the app won't work at all. Muting a chat's notifications will also hinder its data-saving abilities. Moreover, keep in mind that the app cannot save text from the chat you're currently viewing.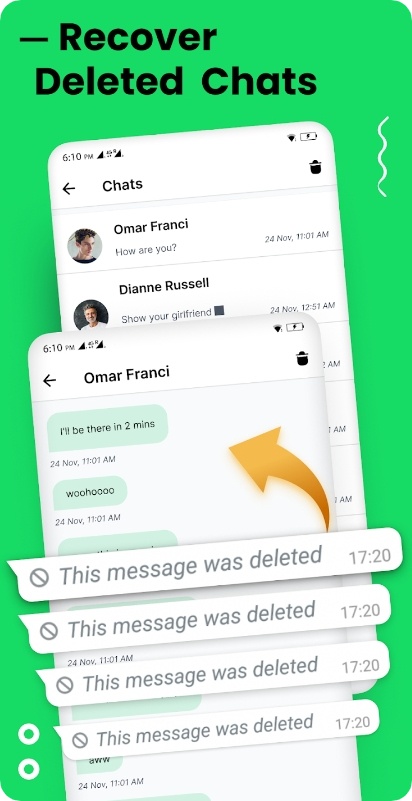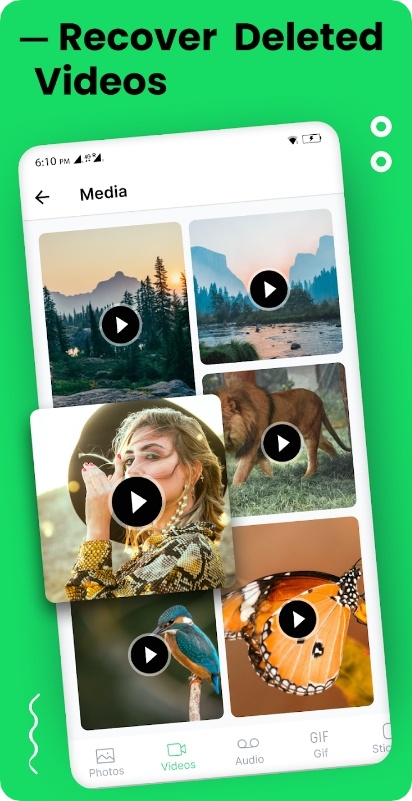 Downloads: 5M+
Customers rating:

(4.5 / 5)

Auto RDM
If you've ever had to deal with the confusion and anger of accidentally deleting important texts, you need this app ASAP. While it only works with WhatsApp, let's face it: it's one of the most popular messages around, and we all use it. Herewith, it's not just limited to restoring texts, but can also recover media files such as pics, voice notes, and even stickers.
It's a one-stop solution, especially y if you use WA for most of your chats. You'll love the seamless experience provided by this app. With just a quick scan of device notifications, all your SMS and media files are backed up like magic. Even if texts are accidentally erased, the app conveniently retrieves them for you.
This app is much more than a simple text retriever. It offers seamless access to a range of media attachments, from pictures to GIFs. Additionally, it provides a highly useful status-saver instrument, allowing you to effortlessly repost and share your favorite pics and vids.
One of the impressive features of the app is its ability to message any number outside your contact list. It's incredibly convenient without you even realizing you needed it until you start using it.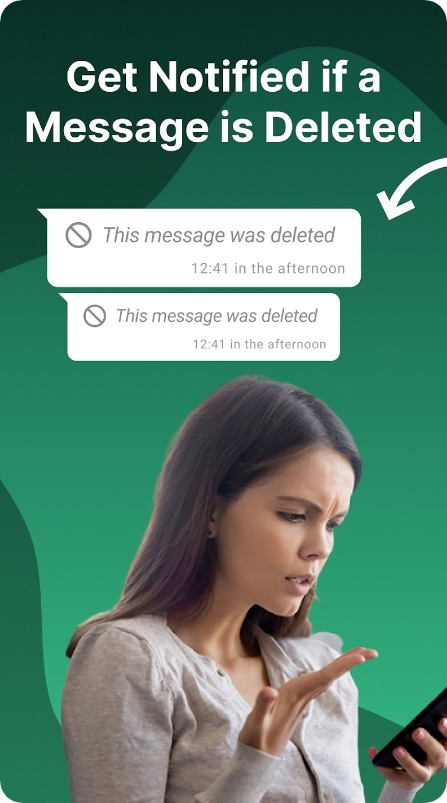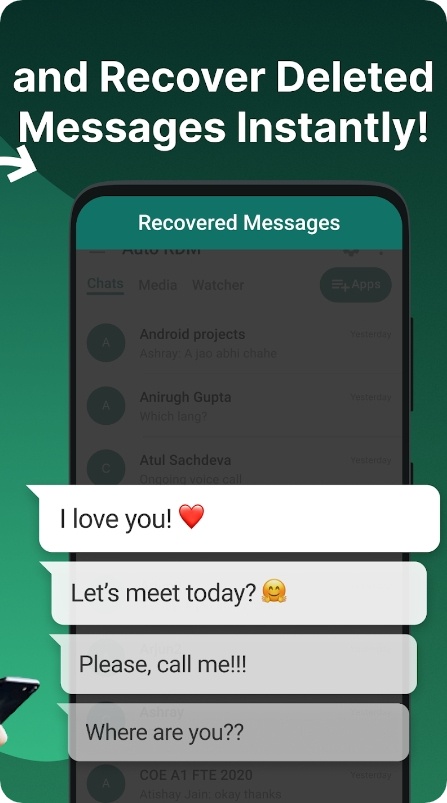 Downloads: 10M+
Customers rating:

(4.4 / 5)

Recover Deleted Messages
This app is a lifesaver when it comes to retrieving deleted SMS and other media files It's not only capable of restoring deleted text messages, but also any type of media file, including voice notes. Its functionality extends far beyond that of a typical data recovery app.
In fact, it's like having your very own personal vault for all your digital communication. You can relax, knowing that your important files and texts are safe and secure. As messages are encrypted, retrieving them can be tricky. That's why this app does it by scanning notifications received on your device, to restore them without delay.
Security is no issue, as the app ensures SMS remains safe from prying eyes with encrypted protection. Above all, it is perfectly user-friendly and all for free. There are a few circumstances that can hamper the app's function. Muting the chat or turning off notifications from WA will prevent it from working correctly.
Unfortunately, the app doesn't restore deleted texts that were gone before installation or ones that were deleted while actively viewing a chat room. However, the abundance of amazing features within is completely worth giving a try!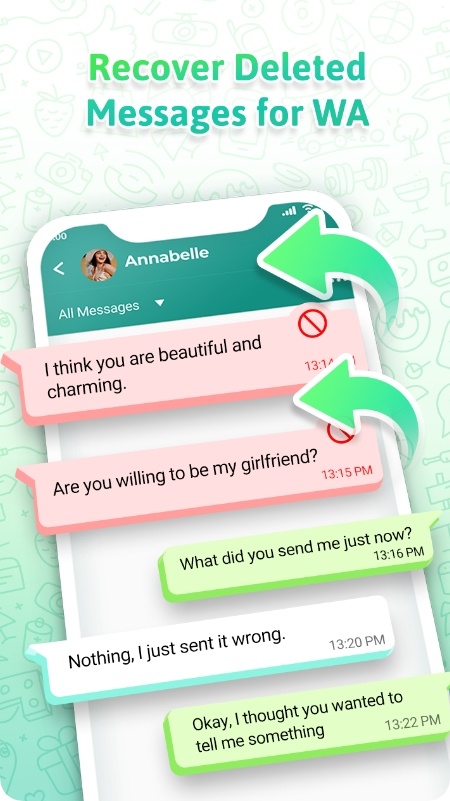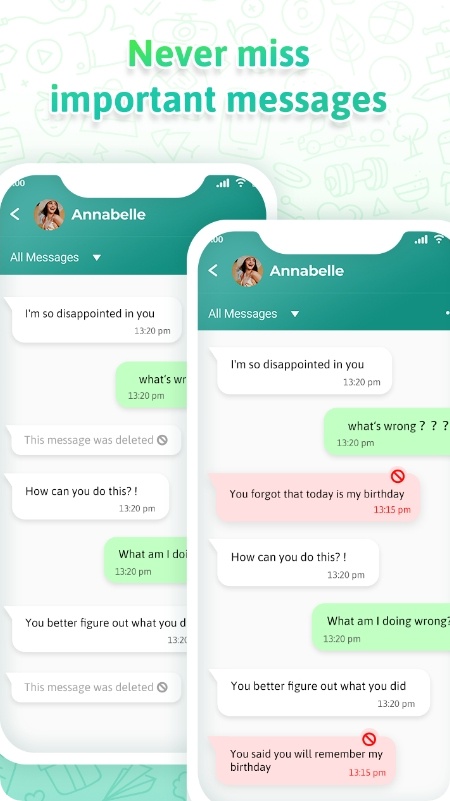 Downloads: 5M+
Customers rating:

(4.4 / 5)

Check also: 11 Best SMS Blocking Apps
See Deleted Messages
As a regular user of WA, you may have experienced the disappointment of being unable to see a text before it vanishes into the digital ether. The lingering curiosity can be frustrating, leaving you desperate to know what you missed.
That's why this app is your ultimate solution. It detects and notifies you whenever a WA text is deleted, providing an all-in-one, seamless experience. The app has a straightforward UI, which requires minimal effort and is accessible to everyone.
It even helps recover deleted SMS, covering all types of media, from pics to vids and voice notes. Updates continue to roll out, improving the overall experience. Best of all, it's free to use, and the ads don't detract from your experience.
The app's notification system is exceptionally quick. It promptly detects deleted texts and instantly alerts you, leaving no message unnoticed. With one effortless click, you'll be able to reach any SMS ever. It's 100% reliable and incredibly efficient, too – an outstanding tool for anyone with a curiosity to know what was deleted.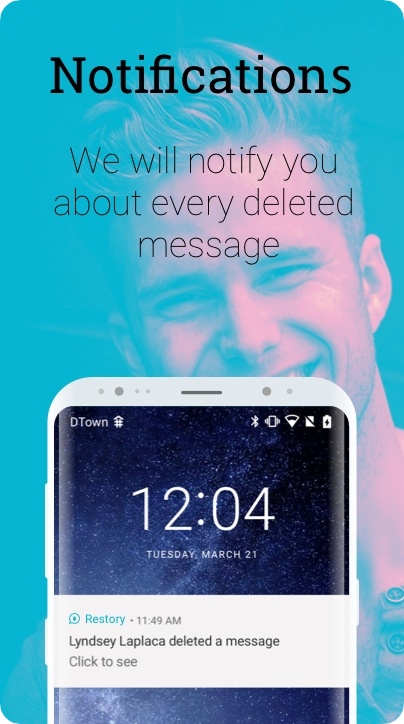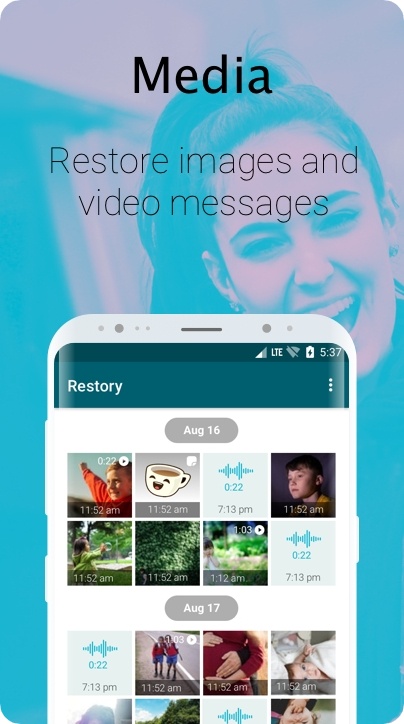 Downloads: 5M+
Customers rating:

(3.9 / 5)

Recover Deleted Messages
Have you ever lost an important text? With this app, you'll never worry about that again! It offers easy backup options and instant text recovery delivered straight to your inbox. Above that, you won't just make backups of your SMS, you'll recover them in seconds flat.
The UI is beyond simple and accessible to everyone. Retrieving your SMS is now easier than ever: just a click of a button and voila! Your chats, contacts, and received data are backed up, ensuring you'll never lose a single text. With this backup system in place, you can now rest easy knowing all your important conversations and contacts are safe and easily accessible at all times.
Moreover, the backup file consumes minimal storage space, ensuring precious memory remains unencumbered. This app efficiently archives all media files, so no worries here. The app also guarantees data security and allows convenient access to specific SMS. However, it's important to grant all necessary permissions for seamless usage. The app is also free, and there are no hidden fees at all.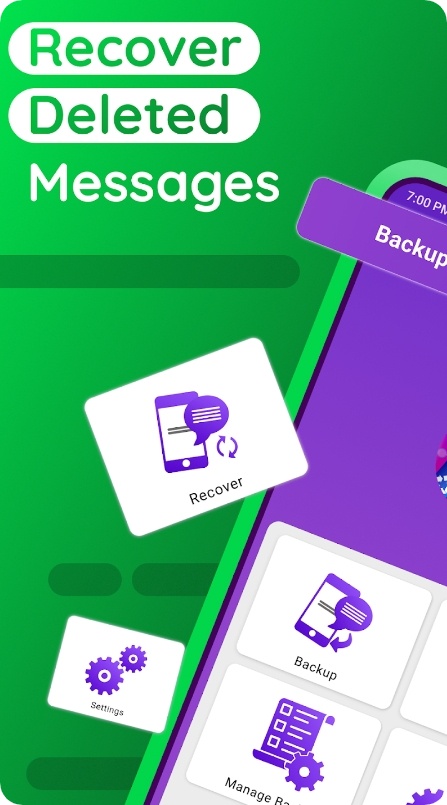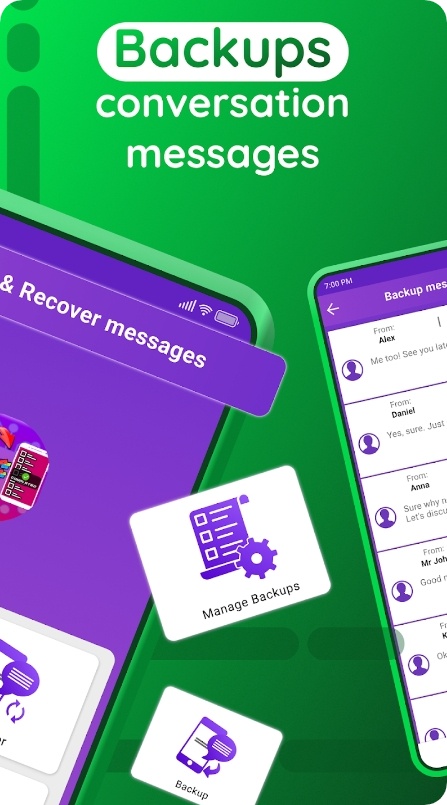 Downloads: 1M+
Customers rating:

(4.3 / 5)

SMS Backup+
This app is a godsend for the forgetful ones and those who switch devices frequently. If you have countless texts that need secure backup, it swoops in to save the day. Not only is it free and open-source. That's right, there are no pesky ads or tracking to annoy you here. The app is fully supported by donations, though, so keep that in mind.
Let's take a look at the app's actual features. The concept is straightforward, yet the app performs exceptionally well. It automatically backs up all of your SMS, MMS, and even call history, so you can forget about the hassle of doing it yourself.
And don't worry about media files, the app covers it all. Not only does it back up your images and videos, but you can also restore saved data back to your phone (except for MMS, though). You can trust us to keep your precious memories safe. Indeed, you've read it right: the app does all the strenuous tasks for you, leaving you free from the hassle of manually backing up your data.
The app has stood the test of time and proven its worth, so you can rest assured it'll meet all your needs and function smoothly. You can trust it to meet all your needs and provide a try-worthy experience.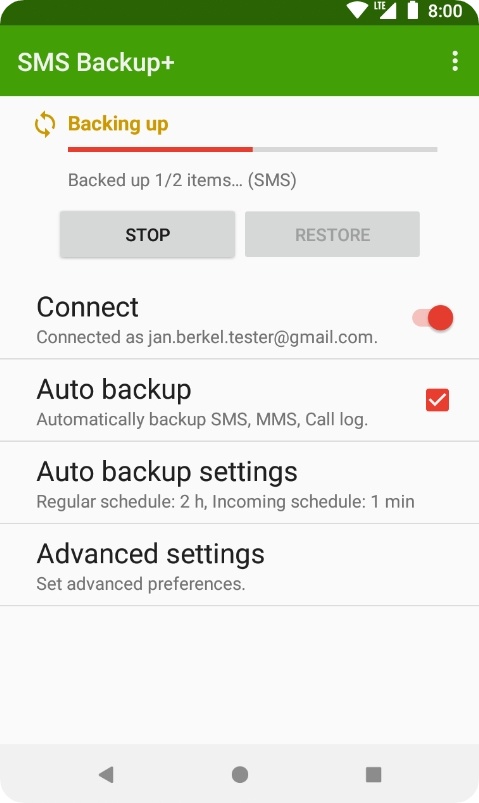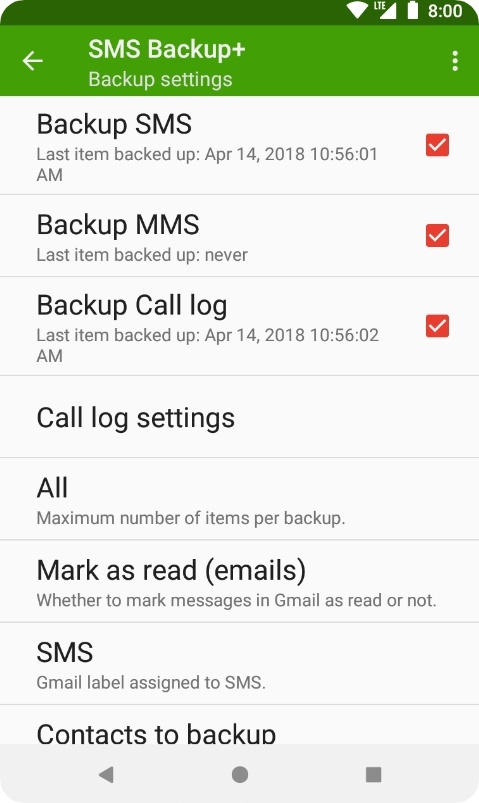 Downloads: 5M+
Customers rating:

(3.3 / 5)

Recover Deleted Messages WA
If you're the kind of person who panics every time you accidentally delete a text, this app is a game-changer. With a few clicks, you can retrieve any lost SMS, whether you deleted it or the other person did. All your backups are easily accessible, ensuring that you can view them within seconds.
Along with undeleting your texts, the app also makes sure you've got all of these in one place. With this one, you'll no longer have to switch between apps endlessly searching for that single, crucial message. What's even better is that it's super fast! No more waiting around for ages to retrieve a single message.
Plus, it works with regular SMS too, so you're completely covered. The notification history rolls all notifications from different apps into one convenient location, making access and navigation a breeze.
With functionality extending across a wide range of apps, including IG and Facebook, this app provides seamless text restoration for everyone. You can easily restore the texts from Direct along with all the needed media files. It's also free to use, how cool is that?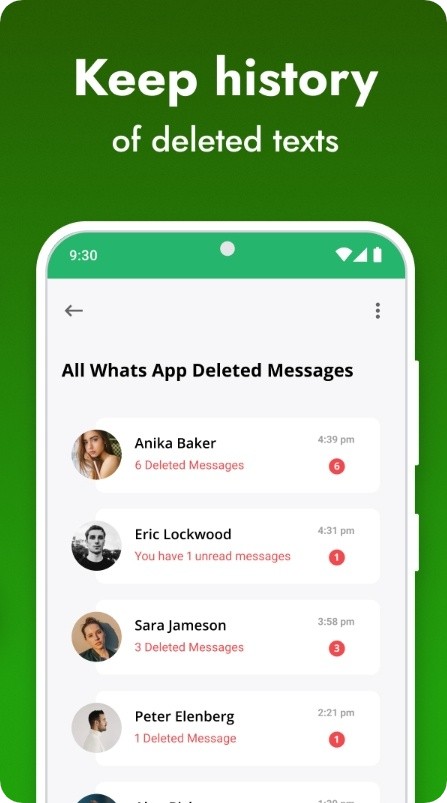 Downloads: 1M+
Customers rating:

(3.7 / 5)

You may also check: 7 Best Auto-Reply Text Apps
Restore Deleted Text
To wrap up, we have an app for simple SMS restoring. It has everything you need to make sure you never lose an important text again. You can easily back up your SMS and applications to either your phone or SD card. And the best part? You can choose to back up the texts in XML format.
The process is beyond simple. You'll just need to tap on the message you want to retrieve and click to restore. And if you want to retrieve all the texts right away, you can easily do that too. It only takes one button click, and you're all set. You'll even get to restore call logs if needed. That will come in handy if you've accidentally deleted an important number.
Above that, you'll get to back up both texts and apps. This is especially useful if you're switching to a new phone and want to make sure all your important data is transferred over. And with the ability to create a backup on an SD card, you have the flexibility to choose the method that works best for you.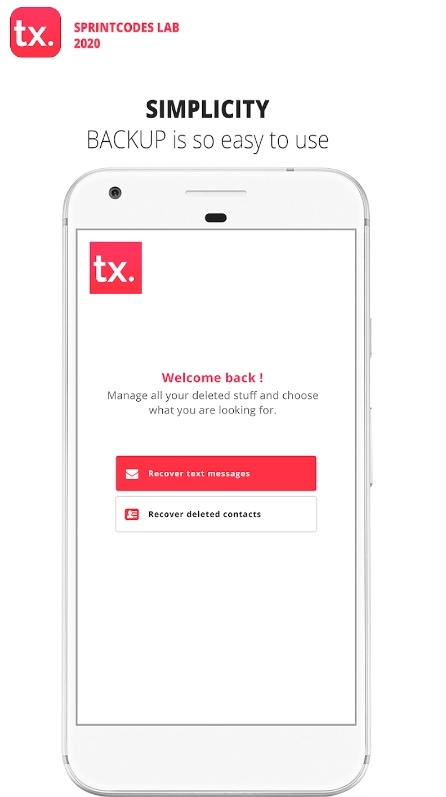 Downloads: 10K+