[thrive_text_block color="light" headline=""]
Planners and scientists who study human memory recommend making lists of important things that need to be remembered throughout the day. It is believed that it is much more efficient to record information about the agenda. This will relieve our brain from trying to keep the necessary data in our head and allow us to focus on the tasks.
A good tool for creating a list of current tasks can be your smartphone. It is always at hand, which means that you can always turn to the daily plan and make corrections to it at any time. We offer an overview of the 21 Best reminder apps for the Android platform.
[/thrive_text_block]
Also check:
Best bluetooth apps for Android
Any.do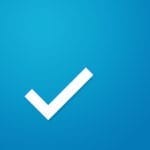 The Any.do task manager is a simple, yet sophisticated way to effectively organize your day. Among other similar applications, it is distinguished by a simple and intuitive interface but assuming that there is a huge amount of really necessary functionality.
For sure, you will note the original idea of developers about the method of adding a task. You can do this not only in the standard way, typing the task from the keyboard but also by voice. When adding a new task, make a swipe down, slightly holding for a couple of seconds, and start talking. Simply, and most importantly, it is not necessary to tire yourself with typing, especially when there is absolutely no time in the flow of your affairs.
Here, and one more advantage of this manager: Any.do saves you time but does not spend it. You can mark the completed task having passed on it with a finger from left to right, like a pen on paper. That is all – the task is crossed out! And if you want to return it back to the list of your cases, reverse the movement with your finger (from right to left) – the job has become an active again.
A lot of completed cases have been accumulated, the list of which has become unnecessary and just cluttered your manager once again – shake your smartphone and all the completed cases will disappear by themselves. Convenience and comfort are simply amazing, while on the usual similar applications users spend time manually deleting all cases.
This is not a complete list of all the features of Any.do. In addition, you can sort all the cases in a systematically convenient way for you (for example, by date, priority, etc.). Viewing scheduled cases is possible in both portrait and landscape mode. It is also worth noting the well-thought-out integration of the application with the built-in GPS location service – Geolocation. Create an event and specify a place on the map (say, work or home), upon arrival at which (or vice versa, leaving the given location), the Any.do task manager will inform you of the scheduled task.
In general, plan your to-do calendar by dragging and dropping tasks from one folder to another, set reminders, share them with friends from your contact list or in social networks: in Any.do everything is as simple as possible but at the same time is extremely effective. Be sure, Any.do will become an indispensable daily assistant in the hectic of your affairs.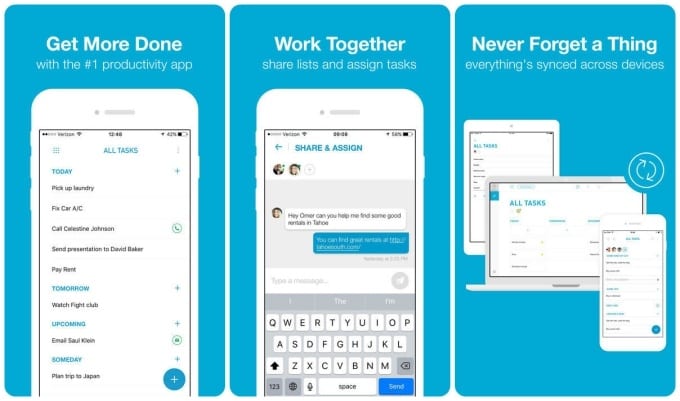 Downloads: +10000000
Costumers rating: (4.5 / 5)

Todoist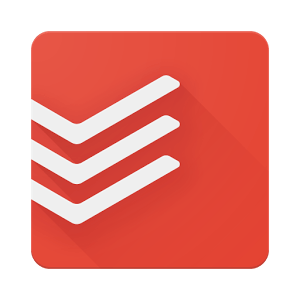 An easy-to-use interface and concise design is the first thing a user encounters by opening the Todoist application. Nevertheless, behind this apparent simplicity lies a wide functionality. Todoist is a cross-platform service available on iOS, Android, Windows Phone, and Symbian. There are also extensions for Chrome and Firefox.
Registration is easy, and if you have a Google account, you can simply use it to sign in. After authentication, the new user is invited to create a project, in which it will then be possible to make lists of cases, determine the deadline for their implementation, and prioritize.
You can also set up a reminder, write a comment, or select a parent task. Adding jobs to Todoist does not take much time, and with the help of widgets, this can be done directly from the desktop.
Labels and filters are used to sort and group tasks. With their help, you can quickly get a list of jobs with the same label or filter it according to a certain feature. Statistics allows you to monitor the number of completed tasks, only reports for the last week are available in the free version of the application.
Todoist has many advantages – support for more than 10 platforms and 20 languages, easy interaction with other users, convenient synchronization. There is even a special regime called "Karma", in which daily and weekly goals are set for the number of tasks.
Todoist can be considered one of the best applications in its segment. However, the features of the free version here are somewhat limited – it cannot use labels, attach files, and only 10 of the 10 themes are available.
Also, there are restrictions on multi-user work and the number of devices connected to one account.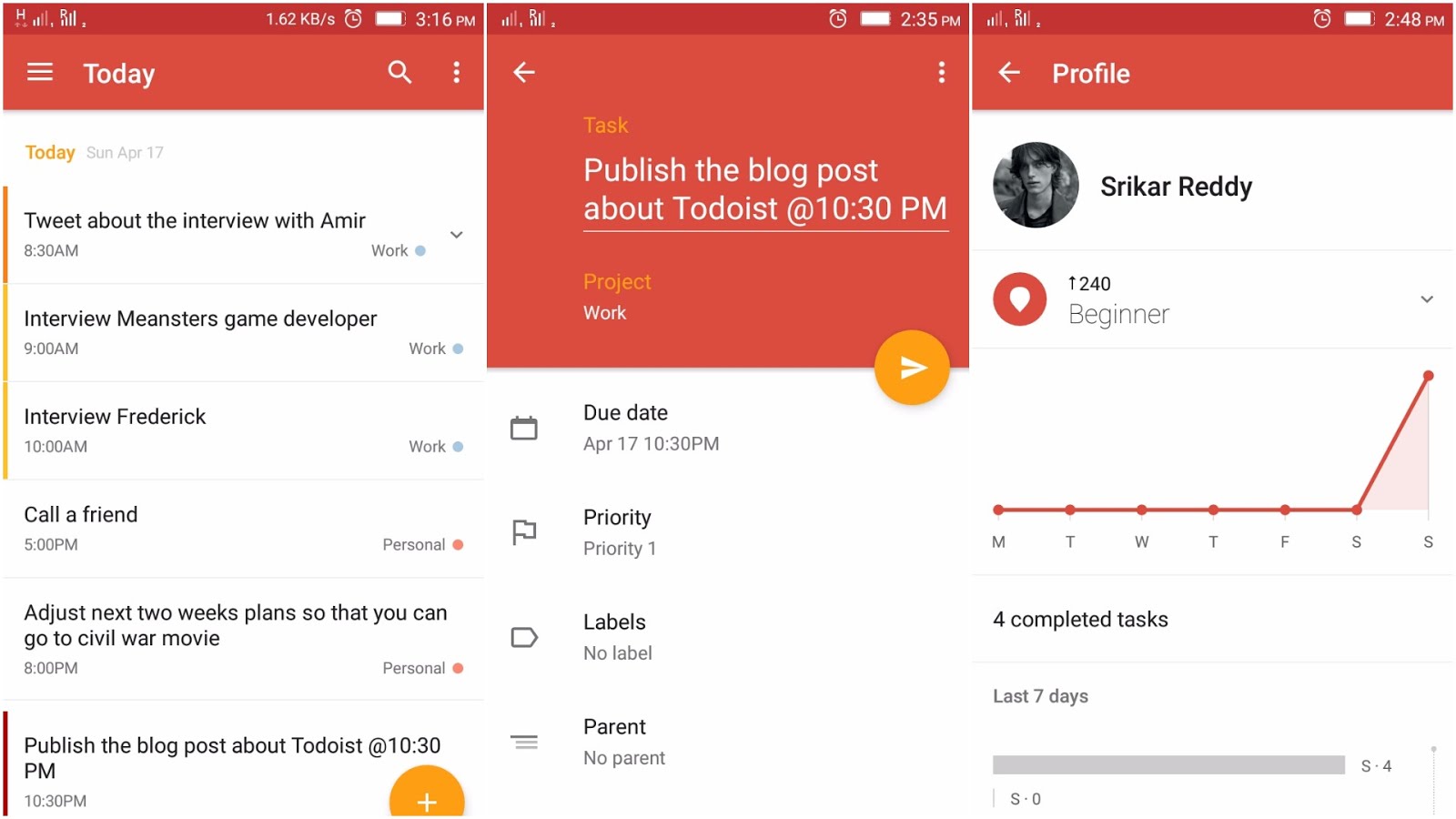 Downloads: +10000000
Costumers rating: (4.5 / 5)

BZ Reminder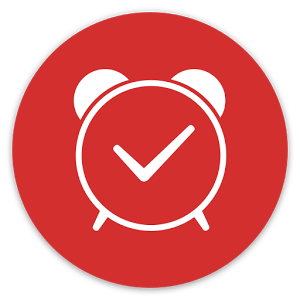 Remembering the birthday of mom and dad – it's quite simple but remembering the date of birth of friends and colleagues is extremely difficult. The BZ Reminder application can help you with this, and it can be used not only as a reminder of Birthday but also as a regular reminder. From the functional, there is everything you need for complete happiness: synchronization, simple and convenient interface, functionality that covers all the needs of a standard reminder.
Functional. Of course, all created reminders are displayed on the main screen, and they are sorted by date, which is very convenient. When creating a reminder, you independently specify its type – Birthday or usual. In the first case, you need to specify a name, a comment (optional), a date of birth, and a reminder time (of course, you can choose the number of days before this significant event for which you will receive a reminder so that you can prepare).
In the second case, you only need to specify the text, the number of reminders, and the date/time. You can also attach a contact or phone number, and choose a color and remind in advance. In the notification panel, there will always be a special line, where the nearest reminder is indicated and there will also be a button for quickly adding a new one.
The settings turned out to be more than in any other application and there is a number of interesting functions but it will be easier to understand them. BZ Reminder does not exactly let you forget about the birthday of an important person for you, and also reminds you of everything that you add to it. Pleasant use!
Downloads: +1000000
Costumers rating: (4.6 / 5)

Evernote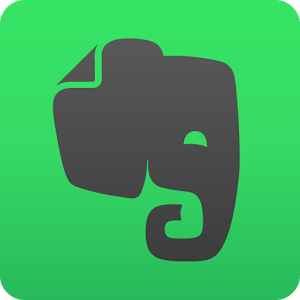 This app is one of the most sought-after in the Google Play store. It was used by more than 600 thousand people, professionals from different industries: teaching foreign languages, selling art, maintaining a popular blog about cooking, and so on. The program received numerous awards in the field of development.
In Evernote you can store a variety of information: make quick notes, save ideas, make plans and to-do lists, collect photos and files, make voice notes. A very convenient search for an array of information was implemented. Moreover, text search is supported in Office, pdf files, and scanned images.
The main feature of the program is the synchronization of information written in notebooks between almost all modern platforms: Android phones and tablets, computers, tablets, Apple phones and players, Windows computers, telephones, and tablets.
Downloads: +100000000
Costumers rating: (4.6 / 5)

Just Reminder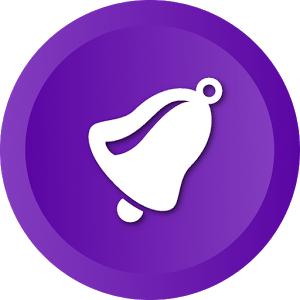 The functionality of the Just Reminder application is listed in its name since it only performs a reminder task. After completing the form about the case, the application sorts all entries by date. These reminders can be repeated every hour, day, month or even minute. Those who purchase a premium subscription will have access to data protection with a password, select individual sounds for different reminders and, most importantly, eliminate annoying advertisements. The functionality of Just Reminder is small but it satisfies all the requirements put forward to similar applications.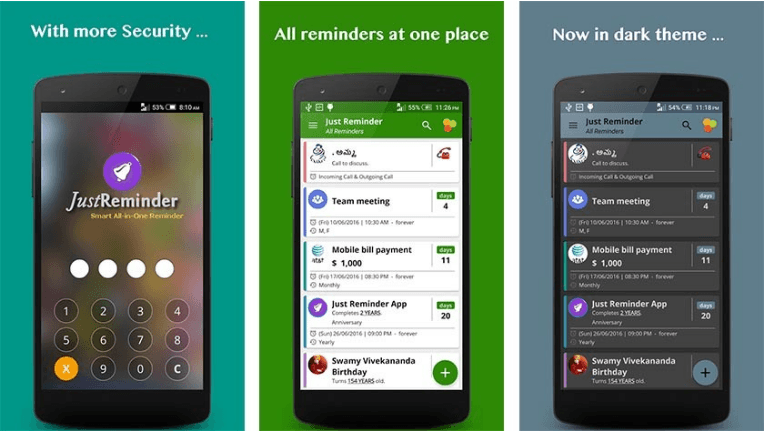 Downloads: +1000000
Costumers rating: (4.5 / 5)

SplenDO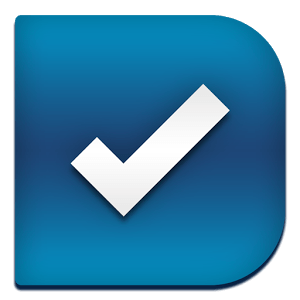 SplenDO is one of the most convenient task lists for Android. The widgets available for the desktop and voice input greatly simplify the job management process.
SplenDO allows you to log in through your Google account and later synchronize all tasks through it. The main screen of the application displays a list of tasks and tools for managing them – adding new (including voice), searching, sorting. Groups of tasks are used to group tasks. On the main screen of the application, you can display all available tasks, as well as items from certain lists. Thus, it is convenient to switch, for example, between work and home tasks.
In SplenDO, you can add multiple jobs at the same time. Each of them will be located on a new line. The rest of the fields do not change in this case – the date, list, notifications, and the repetition mode – monthly, weekly, daily, etc. This format is best for shopping lists. In the SplenDO settings, you can select the language, date and time format, the first day of the week, the sort order, specify the notification settings, etc. Ads are then disconnected through the purchase in an application.
SplenDO is very easy to use and at the same time not overloaded with unnecessary features. It can be argued that the developers found a close to the optimal ratio of functionality and usability. Some users will not miss folders or tags but SplenDO is not designed to organize the workflow, it's more of an application for personal use.
Downloads: +1000000
Costumers rating: (4.7 / 5)

Wunderlist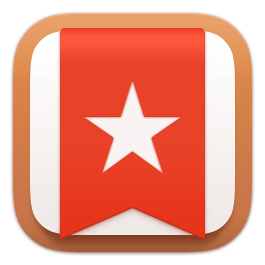 Wunderlist is one of the most famous to-do managers. It is available for a wide range of platforms, including iOS, Mac, Windows, Android; A full web-interface is in the presence.
When creating a task, you can specify the time, the number of retries, create a reminder, add subtasks, a note, a comment and, most notably, a file. In the interface of the application, it is simply impossible to get confused, and this is a separate plus. The task list is easy to manage. Completed tasks are transferred down the list, hidden with a single click. On the main screen, you can remove only the necessary elements by adding them to your favorites.
Wunderlist allows you to create not only a to-do list, but also shopping. In the kit with the application there is a set of widgets, with which you can add tasks with a couple of clicks right from the desktop or display information on upcoming tasks on it. In addition, there are functions for multi-user work in Wunderlist.
This allows you to share with colleagues tasks and other information – attachments in various formats, notifications, etc. There is also a comment – you can create chats right in the application.
Wunderlist is a beautiful, concise, and very understandable tool for managing tasks. In addition, one of the main advantages of Wunderlist is its ubiquitous availability.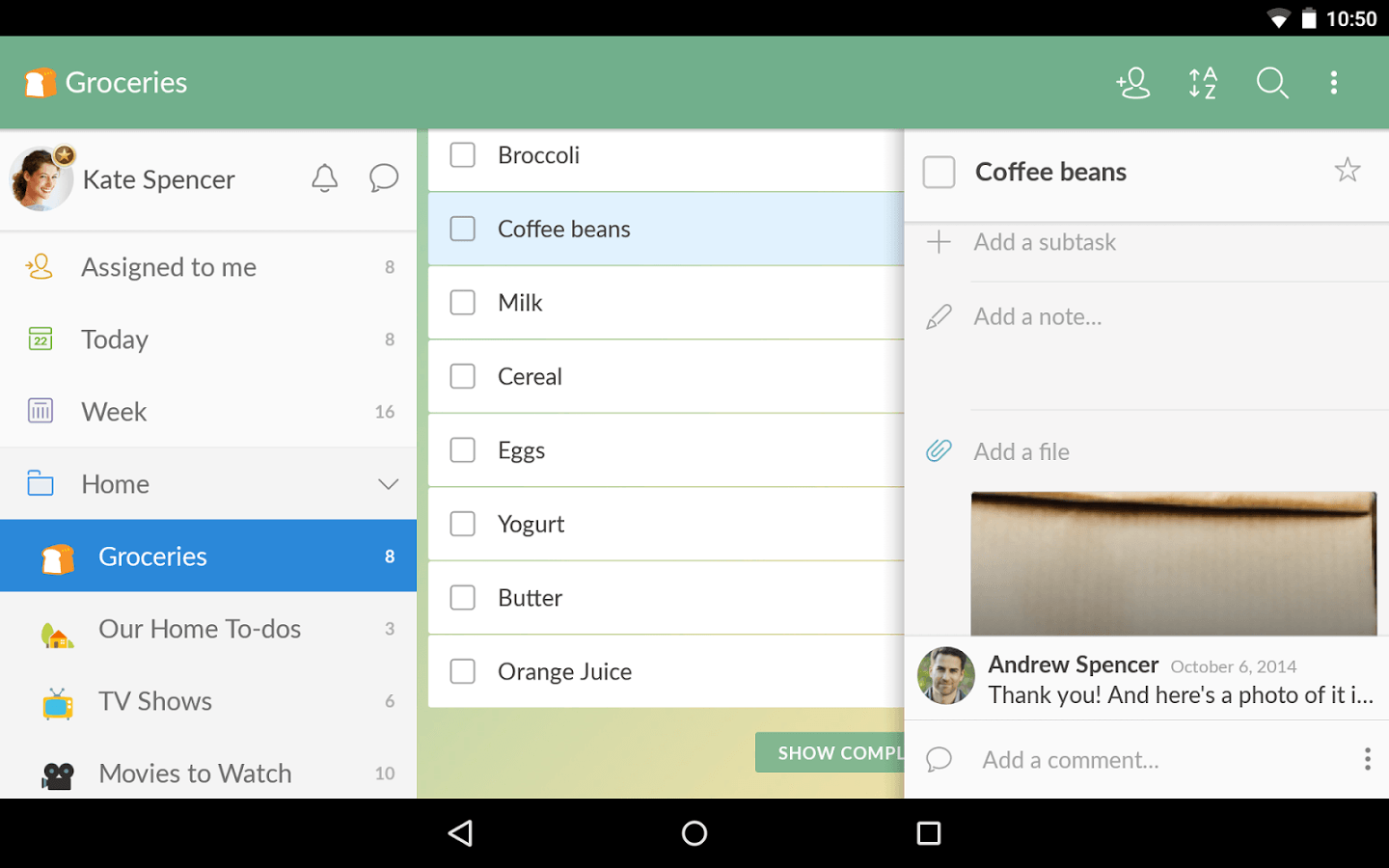 Downloads: +5000000
Costumers rating: (4.6 / 5)

GTasks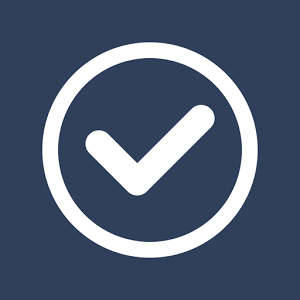 GTasks is one of the most convenient task schedulers. It has many job management features and supports cloud synchronization.
To authorize in GTasks, Google Account is used – it allows you to quickly access data from different devices, and also extract information from Google Calendar through the application. Automatic synchronization provides simultaneous access to several accounts, it is also possible to use in local mode.
Visually GTasks looks quite stylish, and the application interface is well adapted for touch input. The main screen shows a list of tasks with dates and names when you click on any of its items, a detailed description is displayed, including a text note and priority.
The user can edit not only the tasks themselves but also lists. Then tasks can be moved between them. The menu item "Edit Task Lists" allows you to change the names of lists and the parameters of their display – if desired, some of them can be removed from the main screen of the program.
In GTasks, voice input is available, and all actions are performed literally with one or two clicks – adding a task, deleting, editing. There are not many settings here: account settings, notifications, date format, etc. Also, you can go to a paid version costing slightly more than 150 rubles, which differs only in the absence of advertising and a small set of additional tools like synchronization on schedule and alternative themes.
GTasks provides a basic set of functions for managing tasks. Some users of this will not be enough – despite the convenient management, there are no other sorting tools besides the lists. Tags, folders, and other similar tools are missing.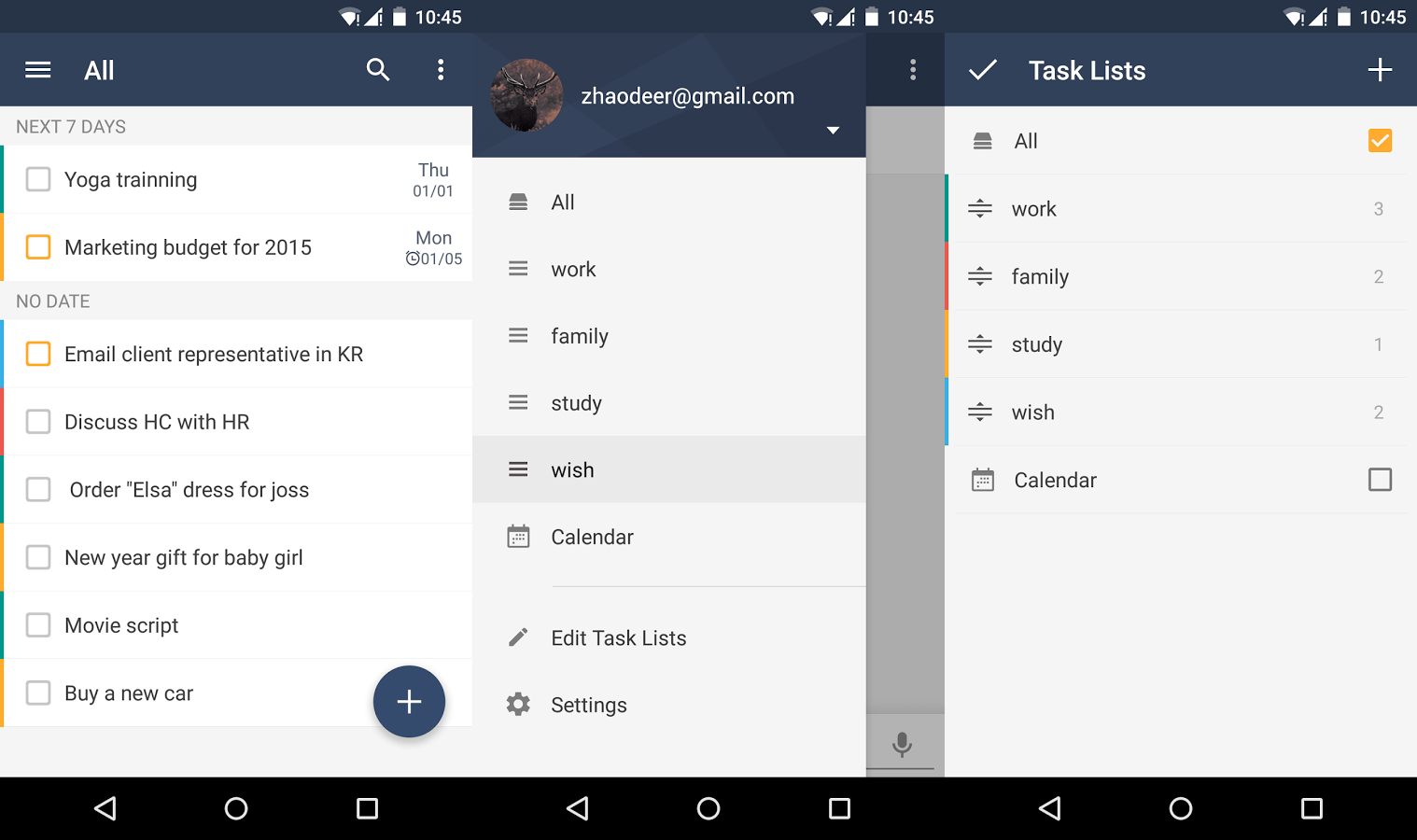 Downloads: +1000000
Costumers rating: (4.4 / 5)

Remember the Milk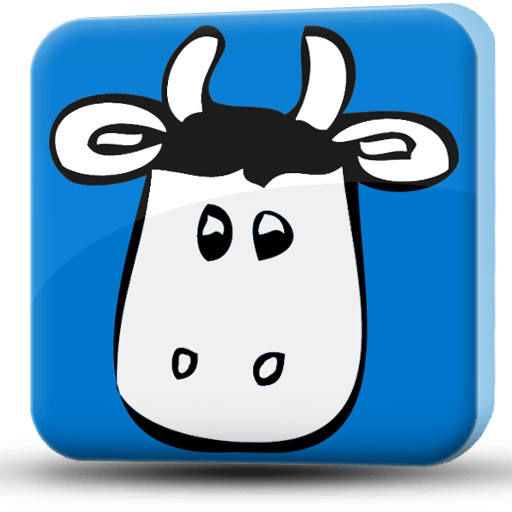 Remember the Milk – a task manager, in whose arsenal is a huge set of tools for effective planning. The application supports cloud synchronization, as well as tags, custom to-do lists, and so on.
To create an account in Remember the Milk, you will need an email. This will allow not only to synchronize data on different devices but also to log in under your account in the web version of the service.
The interface in Remember the Milk is very convenient and stylish enough, this applies not only to the version for Android. The mobile version of the program is well adapted for touch input – here you can quickly add jobs and edit existing ones. The task description can specify the priority, the end date, the executor, tags, notes, etc. Also, the user selects the list in which the task will be placed, and in the Pro version subtasks can be added.
Remember the Milk is good for monitoring workflows. There are tools for quick sorting and multi-user interaction, where participants share tasks with each other. In Remember the Milk, all jobs are placed in the inbox by default, unless otherwise specified. In the future, the task can be placed in any user list, linked with contacts or geolocations, and also supplement the description with tags, which will easily find the task.
In Remember the Milk, there is a system of reminders that can use various services from e-mail to Twitter. The application is also able to interact with Google Calendar, Evernote, and Microsoft Outlook. The free version of Remember the Milk has a number of limitations. For example, you can not create subtasks, synchronize with some of the above services, use color tags. Also, it does not have widgets and advanced tools for multi-user work. The Pro version costs about $ 40 a year and is not in high demand.
Remember the Milk can be considered one of the most advanced and functional applications in its segment. Available in the free version of the set of tools with a head enough for most users.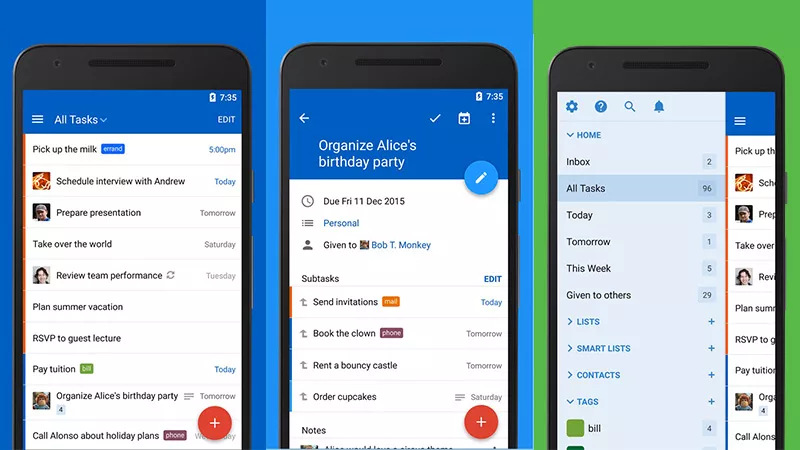 Downloads: +1000000
Costumers rating: (4.4 / 5)

To Do Reminder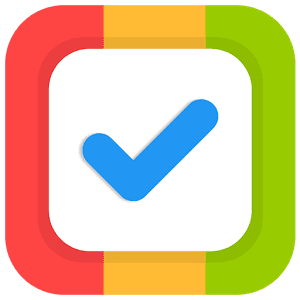 To Do Reminder is a compact application for managing tasks on Android. With it, you can easily manage tasks and events. Authorization is not required here, and backups can both be stored in the memory of the device, and restore data from them.
The interface of the application is very simple – there is a list of tasks with names and dates on the main screen. To add new jobs, use the button with a plus sign in the bottom corner. The tasks themselves are somewhat limited – in addition to the name and date, it indicates the time, periodicity and description. No folders and tags.
To Do Reminder is not very similar to the usual task schedulers. This program is convenient to use for managing small tasks for which sound alerts are needed. To Do Reminder is hardly suitable as a means of long-term planning because there are no appropriate tools for sorting tasks, maintaining statistics, and so on.
The application supports voice input and synchronization of data with the address book, Facebook or Google calendar. You can get data from these sources about the birthdays of users, so you do not forget to congratulate them in time.
In the settings of To Do Reminder, you can change the settings for notifications, sound notifications, displaying the list of tasks, etc. You can disable advertising in an application for an amount of about 200 rubles. Unfortunately, there are no additional features in the paid version.
To Do Reminder can be considered more a reminder manager, not a task manager. Some users need this application with sound notifications for small tasks.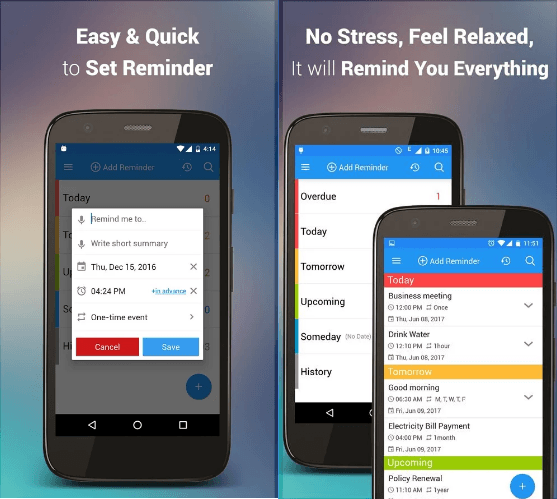 Downloads: +1000000
Costumers rating:  (4.3 / 5)

Do it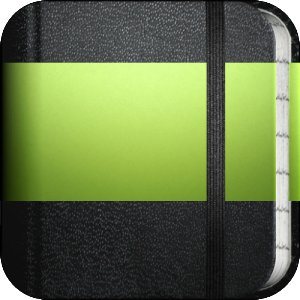 Do it is a simple task scheduler with a limited set of functions. It allows you to manage tasks only for the next couple of days.
A distinctive feature of the application is its concept – here you can plan tasks only for today and tomorrow. Apparently, the developers think that this is enough but everything that is planned to be done not on the current day, is automatically transferred to the next. You could guess about this from the name of the application, but still, the approach is very unconventional and highly questionable – do it hardly can be called a serious scheduler of tasks?
The interface of the application is very simple. Even too simple – there are two vertical lists, one on the left side of the screen, the other in the right one. Left for today, right for tomorrow. Stylized everything under a notebook. Tasks are added and deleted by a couple of clicks, just as easily marked as done, then the list item will be crossed out.
Do it doesn't seem to be a task scheduler, it's more like an emulator notebook. More precisely, its two pages. The functionality of the application is so limited that the convenience it has achieved at its expense seems questionable. Also, there is a cloud synchronization, settings of fonts, sounds, etc.
Do it is too primitive to be considered a full-fledged task scheduler, but the application will find its target audience. Probably, these are those who write long lists of cases that will never be fulfilled, and very much like to constantly transfer them from the current day to the next. In the application, there are no folders, tags, projects, subtasks, and in general, no typical functions for this segment.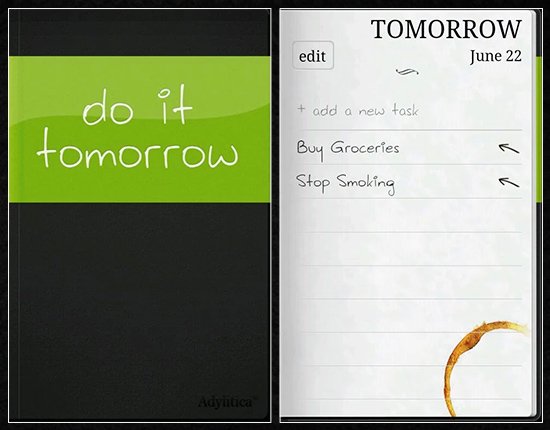 Downloads: +1000000
Costumers rating:  (4.3 / 5)

TickTick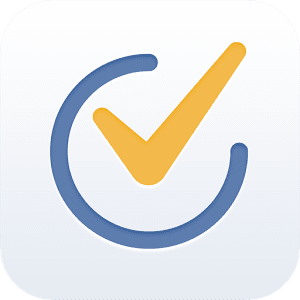 TickTick is an application for working with task lists, available on several platforms. Developers successfully implemented the concept of Getting Things Done (GTD) in their product. TickTick can be authorized with the Google Account. This is necessary for both synchronization and statistics.
Appearance of TickTick does not cause censures – the application looks stylish and modern, and the design scheme can be changed in the settings. The home screen has all the tools you need to quickly add new tasks and manage your lists.
In calendar mode, data is displayed by date. To see a list of tasks for a specific day, you only need to select it in the calendar. With TickTick, you can easily control tasks for the next day, a week, a month and even a few years. New tasks are added very quickly, just specify the name, date, priority, and select the list. Initially, all jobs are placed in the inbox, unless otherwise specified.
TickTick has many advanced features – flexible and repetitive tasks, adding data via email, attaching attachments, labeling. The user is available for quick search, voice input, geolocation or time reminders, four priority levels and batch job editing.
Also, in TickTick, there is an opportunity to share task lists with colleagues, integration with calendar applications, quick search, and sorting. Some of these tools require access to device contacts and location services.
Unfortunately, in the free version of TickTick some functions are missing. To get access to collaboration tools, additional themes for registration, as well as removing limits on lists and tasks, you will need to register a paid subscription.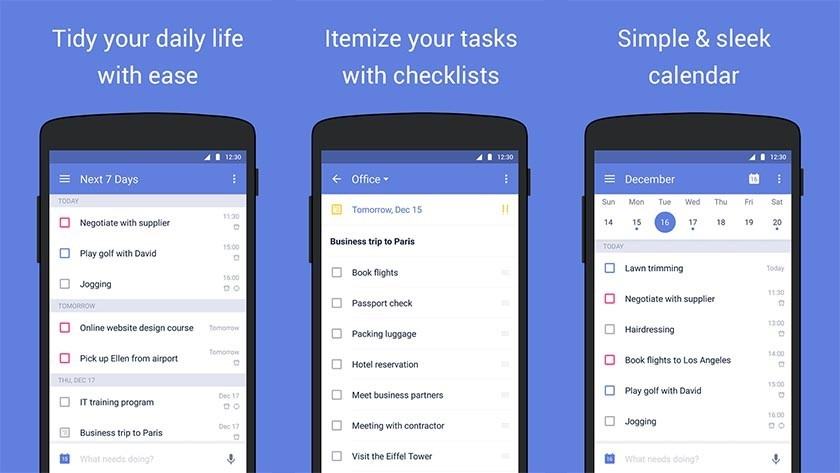 Downloads: +500000
Costumers rating:  (4.5 / 5)

LeaderTask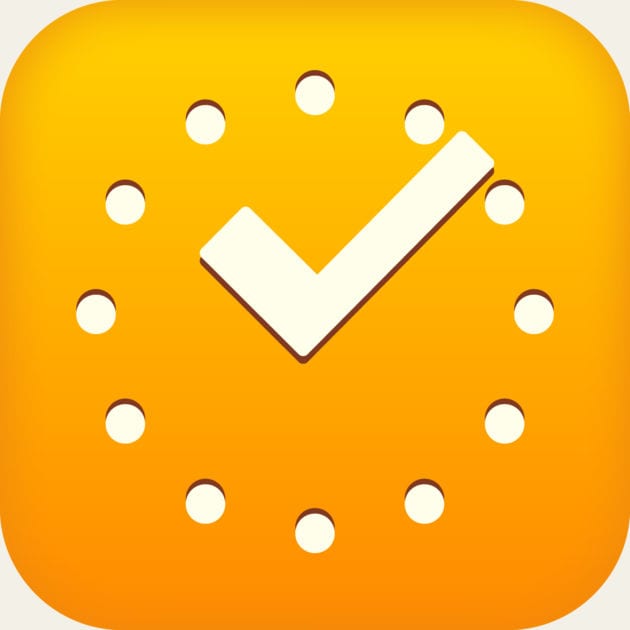 LeaderTask is a simple and convenient program for recording cases, meetings, and events. Allows you to make lists of cases for each day, combine business in projects, set reminders, and much more!
LeaderTask is an application by which Android device owners can plan and conduct business directly on the smartphone: view task lists, add new tasks and mark their execution. Tasks can be entered by voice, while they are tied to GPS-coordinates. Displaying tasks in a visual tree structure makes it easy to navigate in what and when to do. In addition, the user can add tasks to the calendar, and the organizer will remind them in time. Filtering and searching allow you to quickly find the right task.
Thanks to its simplicity and intuitive interface, you can quickly put things in order, and also notice how your personal productivity will reach a better level. Paper lists with cases and tasks will be a thing of the past because thanks to the application installed on the smartphone, the information you need will always be at hand (access to data is possible even without the Internet-connected).
The mobile application can be synchronized with the LeaderTask organizer on a personal computer, so all changes are automatically transferred from the smartphone to the PC and vice versa. The LeaderTask application is distributed free of charge through the Google Play online store.
Downloads: +50000
Costumers rating:  (4.2 / 5)

Voice Reminder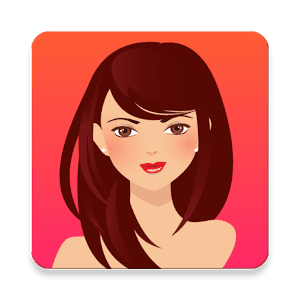 The Voice Reminder application works with your plans. Just tell it what and when you need to be reminded. For example: "Go to the premiere in the cinema in the first decade of next month", "Wake me up at 7 o'clock in the morning".
You do not have to spend a lot of time typing. A couple of seconds, a few phrases – and the daily routine plans for the future, important notes are recorded in the base of the phone.
It's interesting that the application does an excellent job of recognizing speech. It perfectly understands any temporary constructions, so that when communicating with it, you do not have to choose words. Developers are constantly improving the algorithm for voice recognition.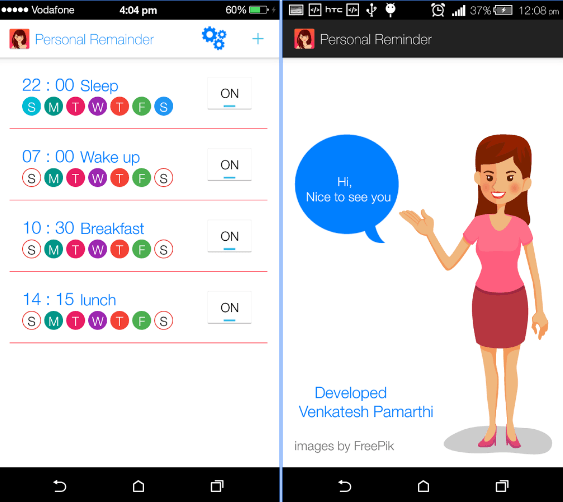 Downloads: +50000
Costumers rating:  (4.0 / 5)

Google Keep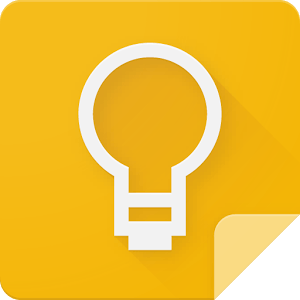 Google Keep is one of the best applications for creating, maintaining, and storing notes on your smartphone and an interesting replacement for the pricey Evernote.
Google Keep and its functions
lists of tasks;
colorful notes;
add pictures;
to-do lists;
audio recordings;
photo notes;
voice notes on the road;
event reminders;
give access to other users of Google – all this and much more was found in the Google Keep application.
In order not to forget, for example, about purchases, you can set up a reminder based on geodata. Once you are near the store, a list of products appears on your phone. And for important cases, you can set a reminder by time. By sharing access to lists or notes in Keep, you can easily make changes in real time.
How Google Keep helps
Create and edit notes (independently or together with co-authors) and provide access to them from any device.
Add notes, lists, photos, and audio.
Label labels and choose colors.
Set reminders to remember important things.
Record audio notes and convert records to text.
Recognize text from images to quickly find notes.
Archive and retrieve deleted from trash
Convert a note to Google Doc. A very useful feature that helps start an article from a couple of rambling suggestions on the phone, and then quickly and conveniently finish it on a laptop.
Google Keep is the best application for creating all kinds of notes, reminders, and lists – simple, understandable, functional. And absolutely free, which is also a big plus.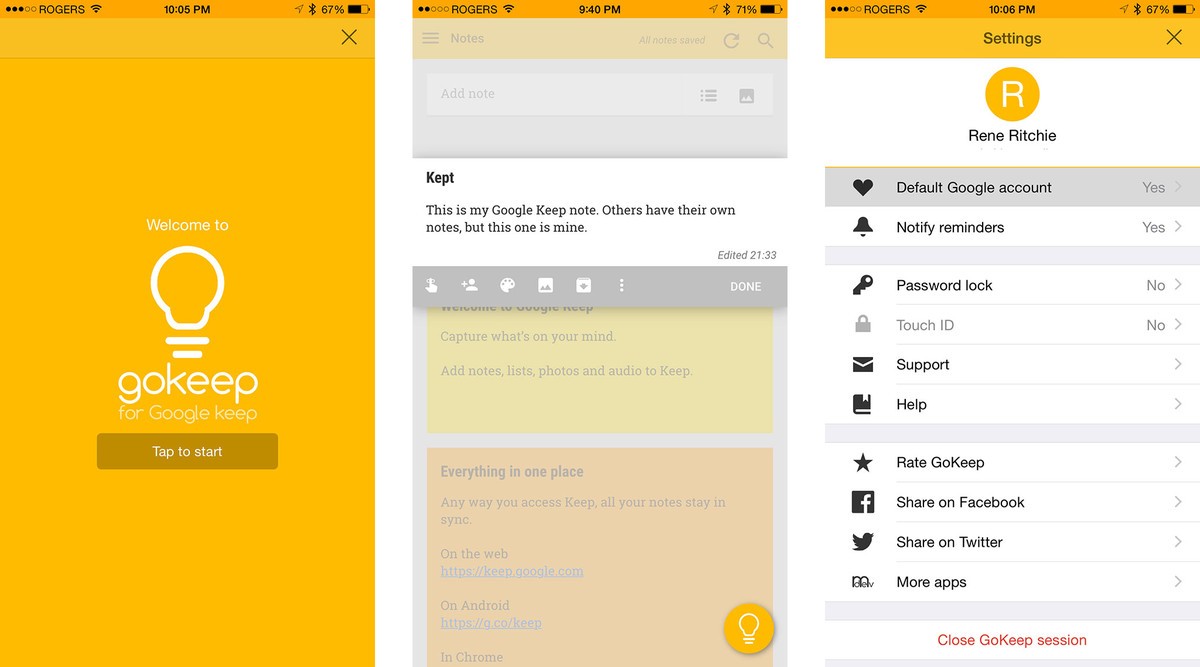 Downloads: +100000000
Costumers rating:  (4.4 / 5)

Remind Me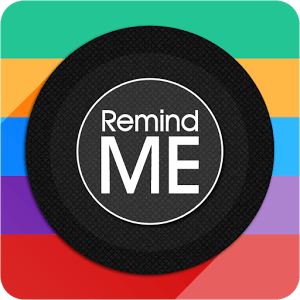 An application for Android that allows you to create reminders for important things and events.
Now there are not a few programs for Android of this nature, offering a whole range of different functions. Planning of the working day, creation of multilevel schedules and so on. Not all users need such extensive functionality. Many people want a simple and intuitive interface, maybe only slightly more advanced and vivid than the standard Android tools.
Remind Me is responsible for all these criteria. The program allows you to create one-time or cyclical reminders, as well as there is a reminder function in advance. In the application, one click on the date or time is enough to set or turn off the signal. There is also the option of setting the background and a convenient selection by category. Download the application to your phone or tablet is absolutely free.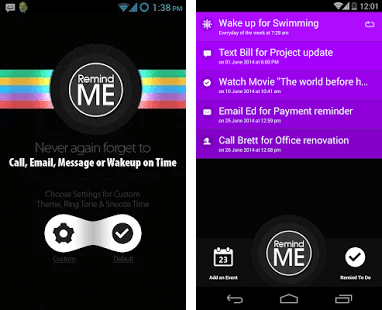 Downloads: +10000
Costumers rating:  (4.0 / 5)

Notification Reminder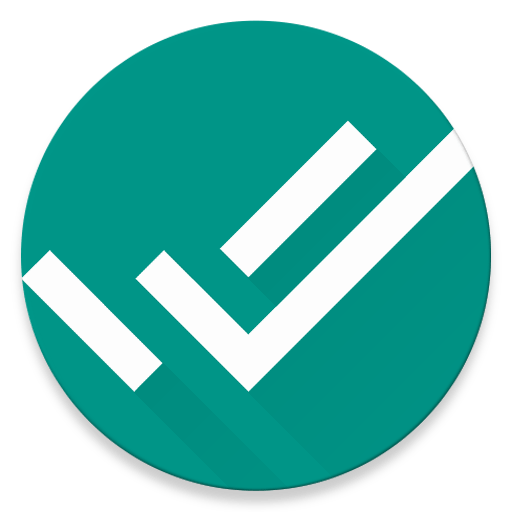 From a large number of its competitors, it is distinguished by a fairly ingenious way of creating and accessing previously created "memos".
What is this method? And that you can do all reminders and notes in Notification Reminder directly from the notification window of the operating system of your smartphone or tablet, and from there you can also get access to previously created notes and memos. This means that the application will always be at your fingertips and in order to quickly record or view the previously recorded email address, meeting place, the name of the product you need to buy, etc., you will not need to waste precious time searching for a shortcut and launching the corresponding application.
With the help of the application, you can literally create reminders with repetition in a matter of seconds, edit and delete notes, share them with friends and acquaintances, and also – view the history of your records. The application has a nice interface, made in the style of Material, so on modern devices with Android Lollipop on board it will fit organically into the common interface of the system.
If you want, you can hide the application icon in the notification panel, use various icons for notes. Also, in the notification pane next to the note, you can hide or show the reminder buttons, hide notifications and delete them. In addition, you can configure the application in such a way that after the notification is created, it will automatically close.
In other words, we have an excellent and functional replacement for a notepad with a built-in timer.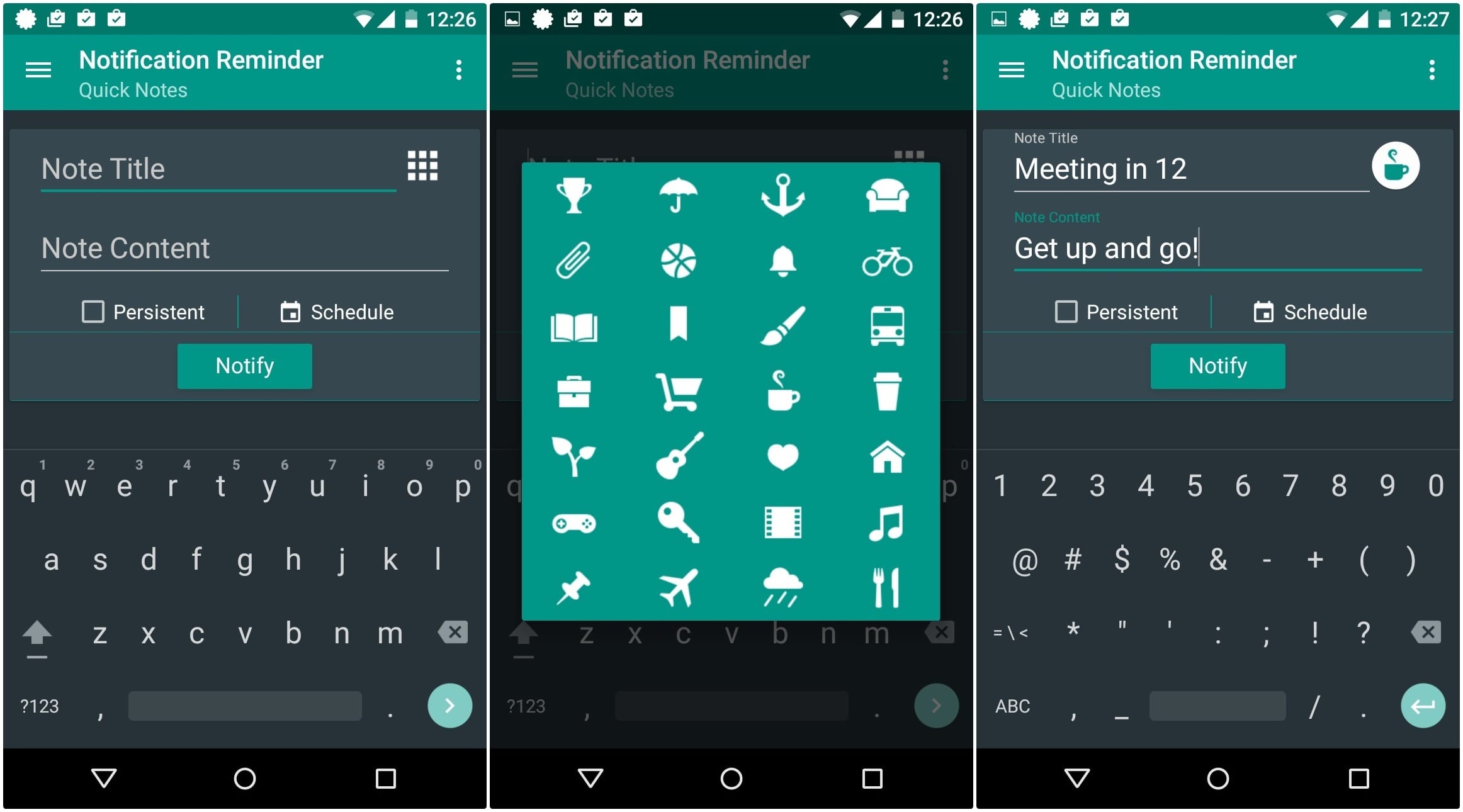 Downloads: +100000
Costumers rating:  (4.2 / 5)

Randomly RemindMe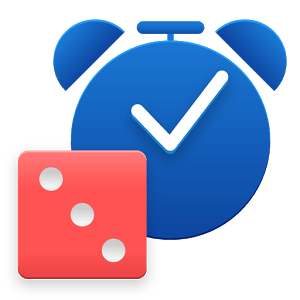 Randomly RemindMe is nothing more than another tool for setting reminders. Most standard default reminders today can be found in any smartphone. Nevertheless, if you are looking for something new and you like minimal solutions, then you should pay attention to the Randomly RemindMe functional tool.
Functional. The main feature that distinguishes the application from a crowd of competitors is the ability to set random reminders throughout the day. It is known that if a certain information is displayed on the screen of the smartphone for the fifteenth time for several hours, then, in the end, we will be able to perform a certain task or remember what we need to do. In my case, the program works well during the day, when you have a lot of things and you do not want to store them in memory.
You can concentrate on work, and unobtrusive reminders will not let you forget about something less important that needs to be done after work. The application allows you to specify a specific time or set a reminder interval, where the selected notifications appear every few minutes or longer. We can also determine the number of such warnings.
Creating a reminder, you can not only set the title and content. The app also allows you to specify which days you want to show notifications. If your smartphone has an LED indicator, you can choose a color that should light up when notifications are received. The user can also set the ringtone, vibration, and warning priority. Also, here is the opportunity to select the appropriate icon, which can be associated with the selected event.
Randomly RemindMe is an excellent solution for the forgetful, which will constantly remind you of the occurrence of certain events or tasks.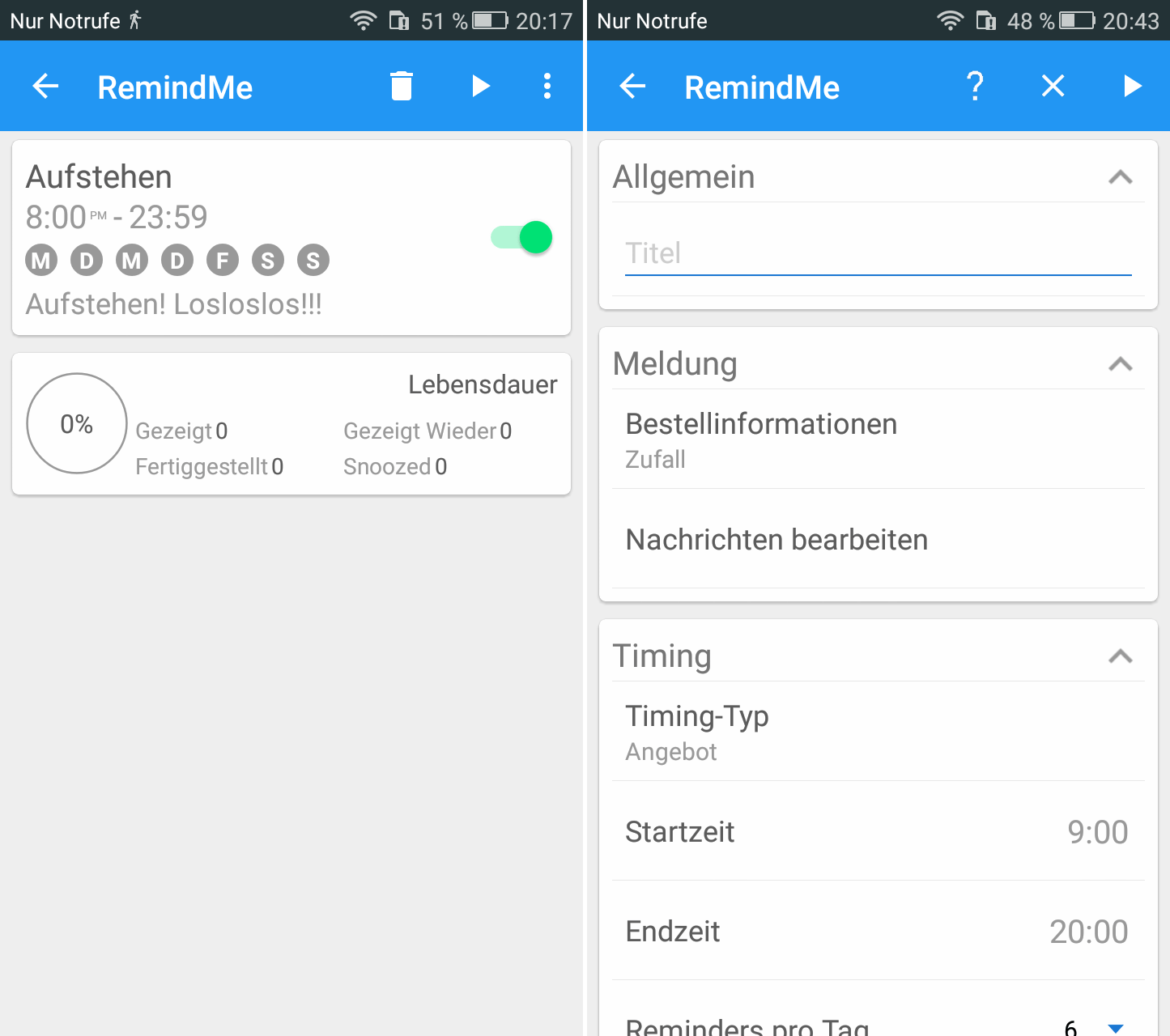 Downloads: +10000
Costumers rating:  (4.3 / 5)

Birthday Reminder GL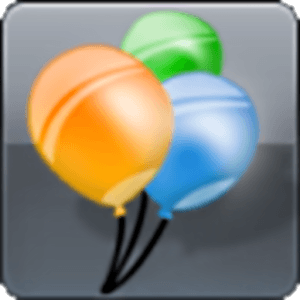 Owners of mobile devices operating on the basis of Android operating systems can now use the new improved version of the application Birthday Reminder GLite, which is a reminder program about the dates marked by the user.
Birthday Reminder GLite allows you to manage events collected from a Gmail account, and also supports the synchronization of contacts of your own database, not related to the user's contact list. The program runs on operating systems version not lower than 2.1.
The GLite application allows you only to view the created events, while the full-sized program allows you to manage them: in the full version, you can add, change or delete functions, or set additional fields if necessary.
The tool is equipped with calling capabilities, as well as access to e-mail and sending SMS messages. Birthday Reminder GLite shows the zodiac sign in the contact's birthday field and is equipped with widgets. Birthday Reminder GLite supports several languages. The application notifies the user about the occurrence of a previously marked event with an audio or vibration signal.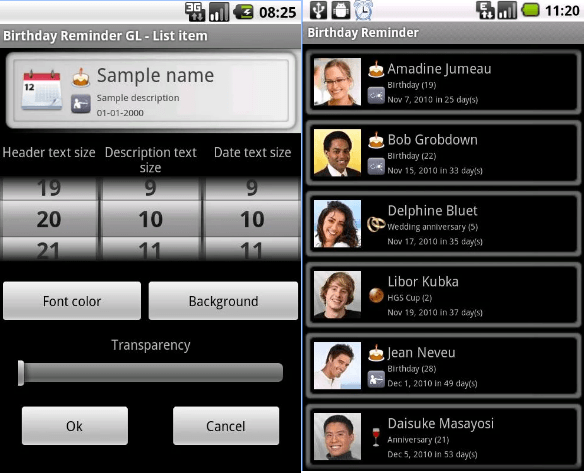 Downloads: +50000
Costumers rating:  (3.5 / 5)
Tasks Free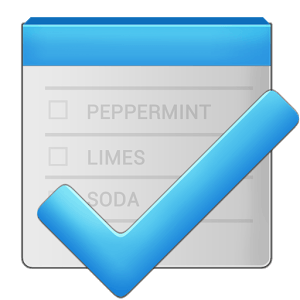 Another manager that synchronizes with Google Tasks, using the basic toolkit of this service. Despite the small number of functions, there are some features in Tasks Free compared to GTasks.
Of the most interesting features – quick entry of notes without restrictions. In the settings, you can choose a theme (light or dark) and a reminder mode. With notifications everything is fine: Tasks Free integrates with third-party widgets (Pure Calendar Widget, Agenda Widget, DashClock).
Returning to the most basic functions. Features such as drag and drop, list management, multiple selections are available. When creating a task, you can specify the date and time of execution, select a list of tasks. At the same time, there is no subtask in Tasks Free, you can not specify the priority of the task, the repetition interval.
In general, Tasks Free is next to GTasks, although many functions are not available. It's best to use this application to create simple task lists. If we talk about more complex management, then the lack of priorities and subtasks is clearly not for the benefit of Tasks Free.
Downloads: +1000000
Costumers rating: (4.2 / 5)
Toastr – The Ultimate Reminder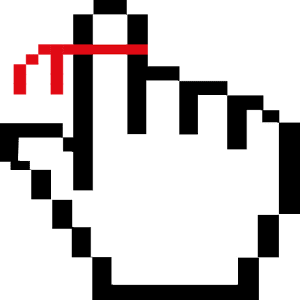 The simplest and most effective reminder for Android!
Does it happen that among the many planned cases you have one, the most important, which in no case cannot be forgotten? One of the easiest ways not to forget anything is to put this task on the screen of a smartphone because we so often look at it. It will be even better if the reminder does not eat a single pixel of a useful workspace.
Toastr reminder for Android fully meets these requirements. You after all perfectly see the messages that appear on the screen after setting the alarm and during setting up the playback parameters of the standard player? Toastr uses just these messages. Just start the application, enter the reminder text, set the time interval during which the message will be displayed on the screen (1.5 or 3 seconds), and activate Toastr. The message will appear every time you unlock the screen and remove the smartphone from the ear after the end of the conversation. For the work of th application, you must activate the ability to lock the screen.
The application takes up slightly more than 40 kilobytes in the memory of the device and does not reduce the battery life at all. In the Play Store, there is a paid version of the Toastr Pro application, which allows you to customize the location of the message on the screen, and specify the color and size of the message.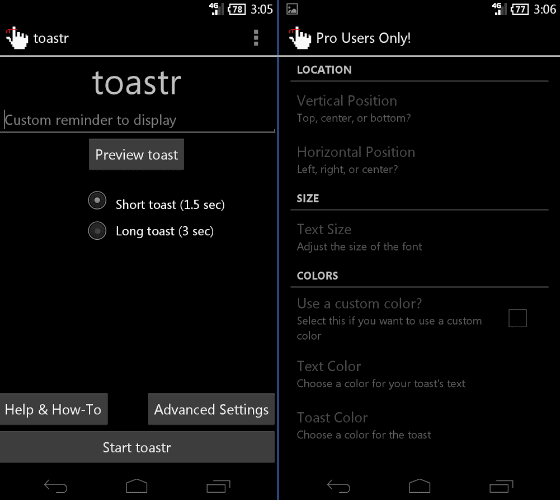 Downloads: +10000
Costumers rating:  (4.4 / 5)
[divider style='full']
All the applications presented in today's review have a place to be on your smartphone and actively used. Yes, some reminders got interesting features, other stylish design but they all do an excellent job of their functions. And which application did you like? Maybe you have already tried out some utility? Share your opinion in the comments.