The lines on your palms can tell you a lot. Try it! Palm reading is one of the most fascinating activities and entertainment. It's a way of fortune-telling, through which one can learn about a person's mental qualities, talents, and future successes.
By opening this veil of the future, one learns about one's destiny and what one is destined to do in the future.
The number of palmistry applications surprised us. So, we have chosen 11 different palm reading apps to tell you about them.
Palm Reading
Chiromancy will help you learn not only your own destiny but also secrets about you and your friends that you didn't even know about. Take a close look at your life, head, heart, and marriage lines.
Learn more about what's in store for you on the love front, your quality of life, health, personality, marital life, and more. It's a fun app that's also completely free. Best used in the company of friends.
Analysis of different lines:
The heart line will reveal the truth about a person's love life.
The lifeline will reveal secrets related to physical strength, health, and overall quality of life.
A person's personality type can be determined by the headline.
The marriage line, which is obvious, will tell about a person's future married life.
Just follow the instructions on the screen, answer a couple of questions about your palm, and instantly get a detailed description of your result.
Use this app at a party or with friends to tell everyone about your results later. It will be a lot of fun!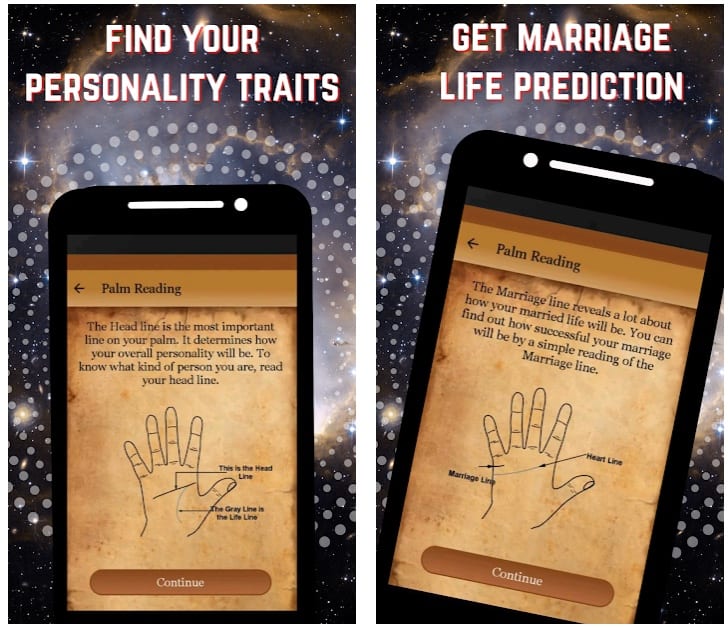 Downloads: 1000000 +
Customers rating:

(4 / 5)
You may also like: 17 Best horoscope apps for Android
AstroGuru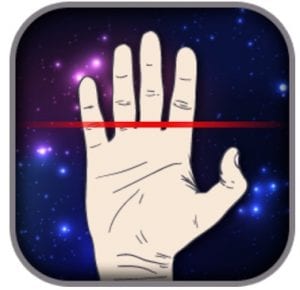 Astro Guru is an application for Android devices, the purpose of which becomes clear from the name. The development of this creation was done by the guys from the studio "AstroLabs India". Here, users can get predictions and use them for their own good.
Astro Guru has a nice, atmospheric design. In the background, you will see a starry sky. The stars will help you learn about your strengths and weaknesses, your financial and love future.
This simple program will tell you when you will meet your sweetheart, when you will get married, and so on. Of course, you can change the future, but the main thing is to know in which direction to go. There are free predictions for the week for all zodiac signs.
As for the shortcomings, they are present. The application is not without advertising content, the developers also added paid elements. Predictions can be received not only astrological but also by hand.
Just scan your palm and let the app read your lines to reveal your personality, destiny, and fate. AstroGuru is one of the best palm readers for Android on the store.
Everyone who is interested in their inner world will find it useful to know more about themselves.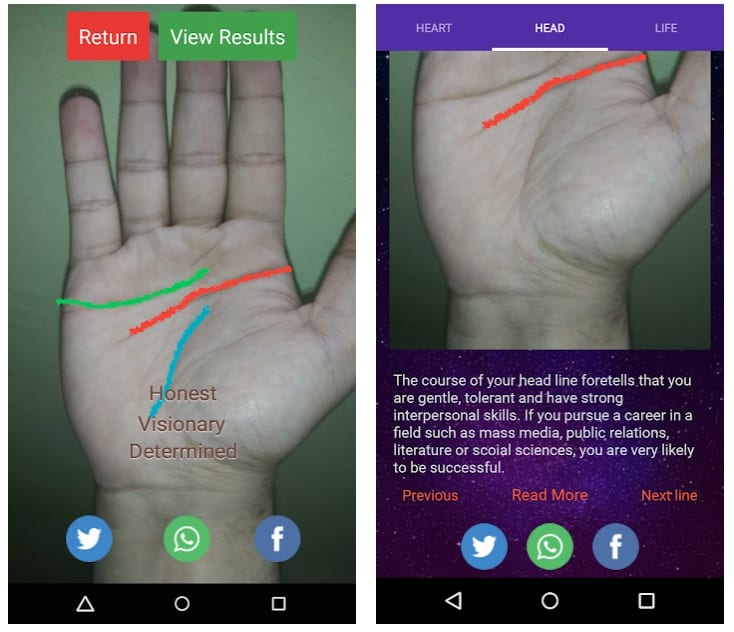 Downloads: 10000000 +
Customers rating:

(3.8 / 5)
Astroline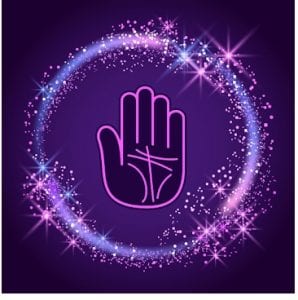 Your personal astrologer! Find out your horoscope for 2023, try hand and tarot divination. Get accurate predictions of the future!
Like astrology, palm predictions have been known for a long time. The lines on the palm will provide the most accurate divination for love, health. And to be able to read the lines of your hand, simply scan it.
Find the fortune-telling of your heart: fortune-telling cards, horoscope, numerology by date of birth, zodiac horoscope, astrology, and chiromancy … Here you will find only the most accurate predictions of the future and horoscope for every day!
palm reading;
zodiac horoscope;
love horoscope, health horoscope;
horoscope for every day, month, year;
tarot cards (tarot yes or no, tarot question-answer);
fortune-telling ball;
numerology;
compatibility by zodiac signs, names, compatibility in love, and business.
Experienced astrologers and fortune-tellers can accurately predict the future! With a hand scan, you will receive an accurate prediction. In the numerology section, you will get a prediction by date of birth and find out the lucky numbers.
Astrology by date of birth will help you make a personal horoscope for 2023, as well as a personal horoscope for the day and a horoscope for the month. Find out the compatibility of zodiac signs, read a love horoscope, and choose the best couple!
How easy is it to know your fate? Scan the lines of your palm and an experienced fortune-teller will make a prediction for each day and make a personal horoscope by hand for you personally!
The lines on your palm are individual, which means you can predict the future exactly for you. A hereditary palm fortune teller can make a prediction based on a fingerprint, but the lines on your hand will be even more accurate. Scan in one click to know the future!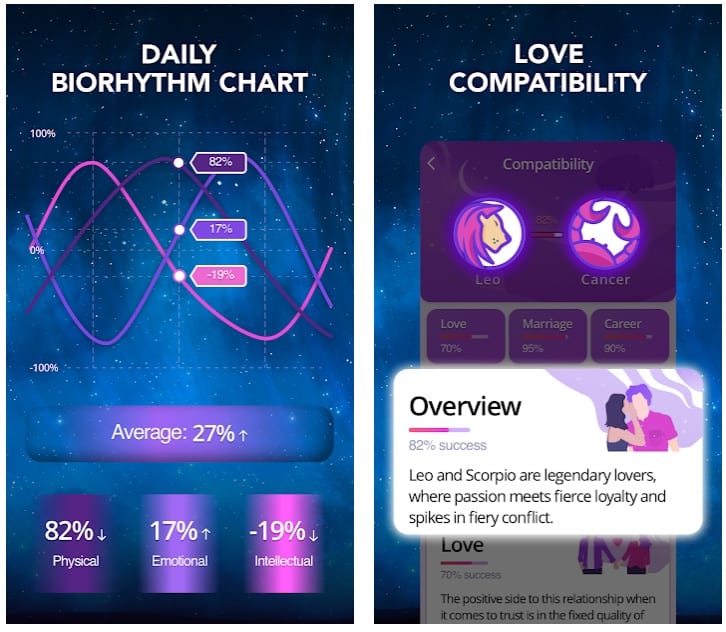 Downloads: 5000000 +
Customers rating:

(3 / 5)

Palm reader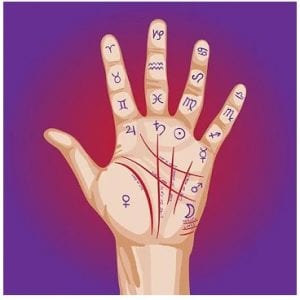 Palm Reader app is quite good, one of the few with such a pleasant design and diverse functionality. It has horoscopes for a day, a week, a year, by life spheres such as career, personal life, etc., decoding lines on the hand, compatibility of signs. In general, everyone will find something for themselves!
When you read my daily horoscope you feel that the day will go well, because if it predicts something good, then we are already charged with positive, waiting for this good, we contribute to making it happen. And if something is not very good, as we think, such as any conflict situations, then we do so to avoid it.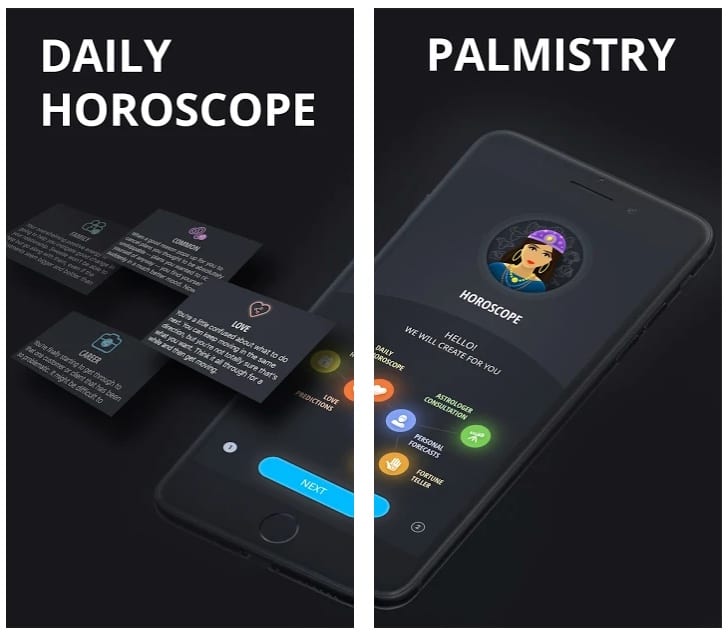 There is so much information on chiromancy in this app. It's amazing, there is so much written about each line. If you want to understand it yourself, you are welcome, and if you want to use a palm scanner, you are welcome too.
Very nice and informative application with a nice interface. The horoscope is quite positive, which can not help but please. Sometimes there are moments that predict something terrible, but this is also good because knowing it is an ace up your sleeve and you can prevent everything.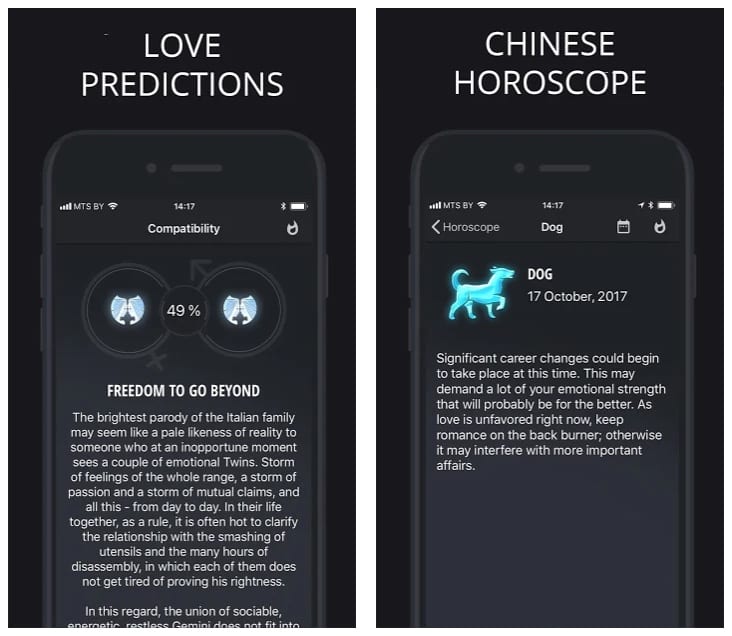 Downloads: 1000000 +
Customers rating:

(4.1 / 5)
Palm Reading Personality Test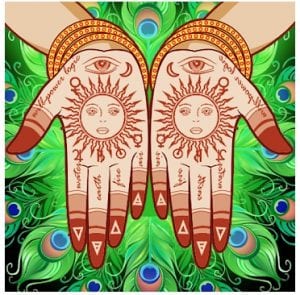 Palm Reading Personality Test is an interesting application with a simple interface. The app guide has sufficient information about all the lines on the palm and their shape, finger lengths, etc.
Palm Shapes and Finger Lengths. Choose the shape of your palm. It must be carefully examined beforehand, in order to get an accurate result. After the user decides on the shape of the palm, he should click on the "Continue" button.
The main lines. Examine your hand and select from each type of line the most appropriate one. After indicating all types of lines, the user will know his result.
But still, I don't recommend relying on the results of these tests completely (they have no official confirmation of their validity).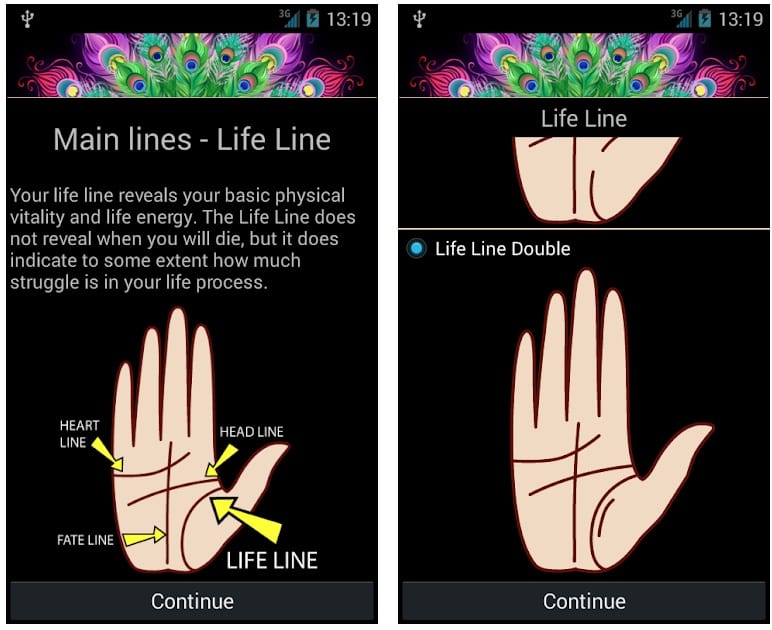 Downloads: 500000 +
Customers rating:

(4.2 / 5)
Palm Reader Master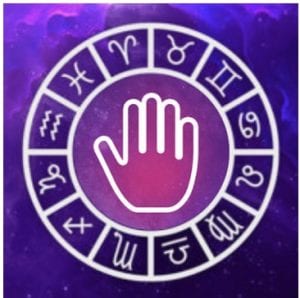 Palm Reader Master is an application that will help you learn what lies ahead, as well as reveal hidden talents and learn a lot of new and useful information about yourself, your friends, and loved ones.
In our childhood, all of us were fond of such things as fortune-telling by hand. For some of us, it was just a joke, and for some quite serious things. All the lines on our palms carry a hidden meaning, the significance of which only chiromancy can unravel.
To use this application, you only need access to your camera so that it can get a photo of your palm. Thanks to the information obtained, the app will be able to create a picture of your personality and indicate your future.
The features of the Palm Reader Master app are:
Palm reading based on actual readings of the heart line, the headline, the lifeline, and some minor lines;
Detailed daily horoscope;
Zodiac signs compatibility.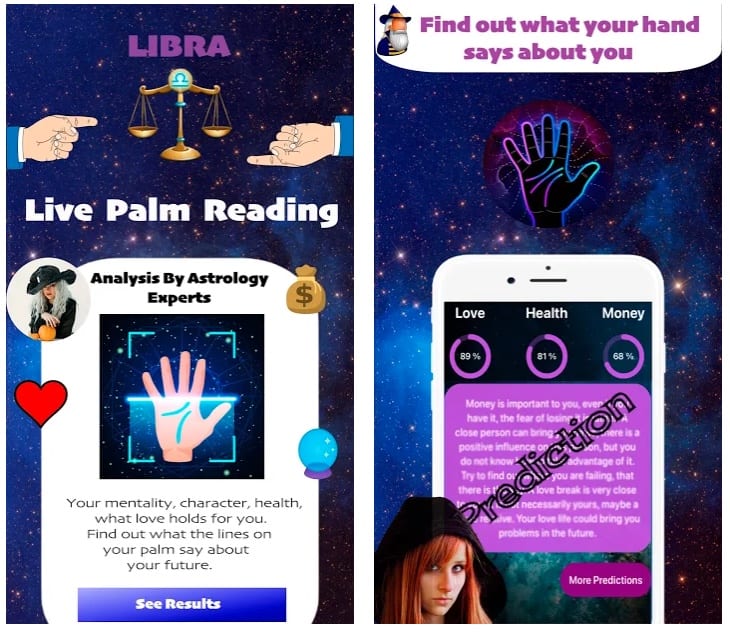 Downloads: 100000 +
Customers rating:

(3.7 / 5)
Relax – Daily Palmistry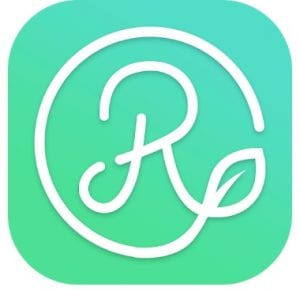 Your fate will be determined by scanning your palm. Try to find out the magical power of chiromancy.
Discover your future and hidden secrets with this Palmistry app! Scan your palm and see your future predicted in 57 seconds!
Will you find your soulmate?
Is your relationship in danger?
Will you make more money?
Get your personal palm reading and let Palmistry tell you secrets about life, love, and career!
After scanning your palm and seeing what Palmistry tells you about your future, Relax will provide the music and meditations you need, including tools for sleep, breathing, and relaxation. They will help you find a better life.
Baby Future Baby Prediction. Have you ever wondered what your future baby will look like? Now you have the opportunity to meet your future baby with your lover. With the future baby predictor, you can easily get a glimpse of your future baby right now!
Relax is free to download and enjoy, some of the features and content are free forever.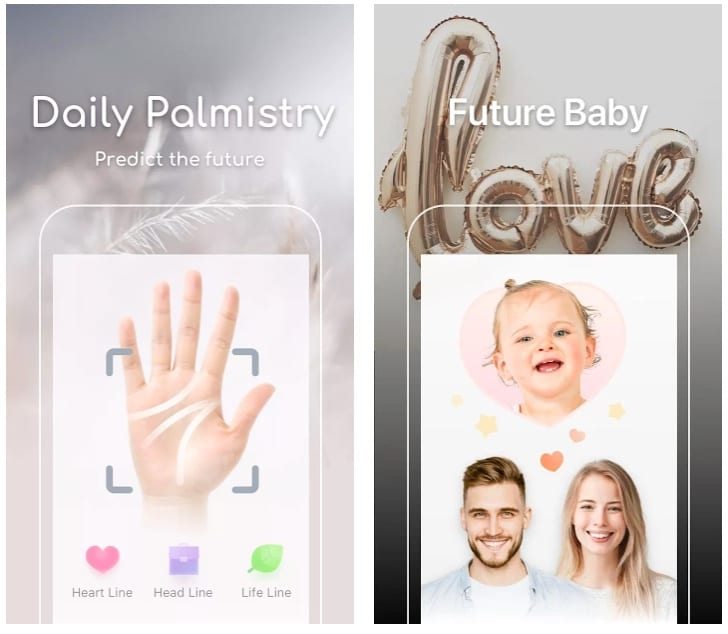 Downloads: 1000000 +
Customers rating:

(4.1 / 5)
Astrospot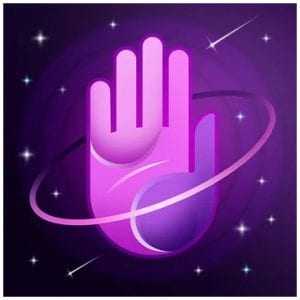 Astrospot will become your personal fortune teller with love horoscopes and palm reading.
The purpose of this app is to help you learn something new about yourself, reflect on your own nature, assess your real capabilities, and find ways to solve personal problems.
You know yourself well, of course. But are you sure you know everything about yourself? If you think about it, probably not many of you can answer this question positively. It is not for nothing that the inscription on the Temple of Apollo at Delphi, "Know thyself!"
Astrospot will help you:
Check your horoscope compatibility;
find the best zodiac matches;
build a happy relationship;
use a hand scanner to look through your head, heart, and life lines.
Chiromancy, which is the most ancient field of knowledge about a human being, gives each of you an opportunity to look "inside yourself".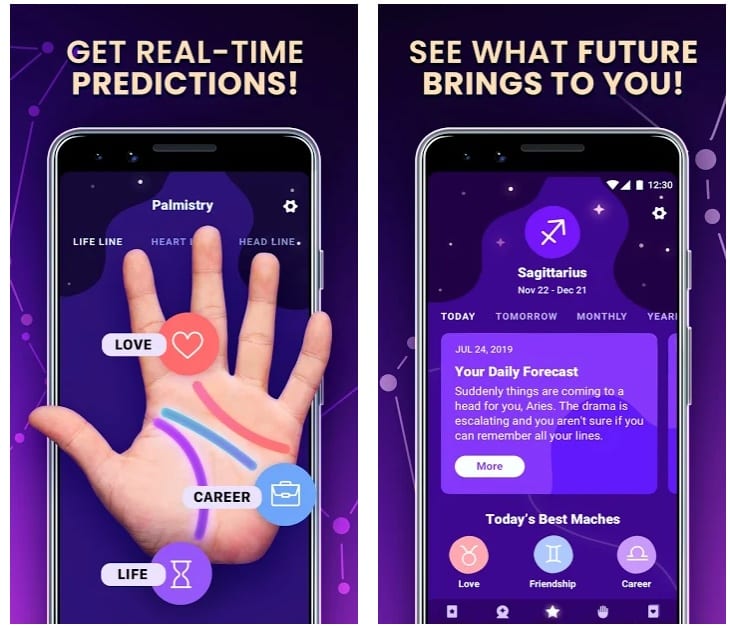 Downloads: 50000 +
Customers rating:

(3.7 / 5)

You may also like: 10 Best reading glasses apps for Android
Palm Reader Scanner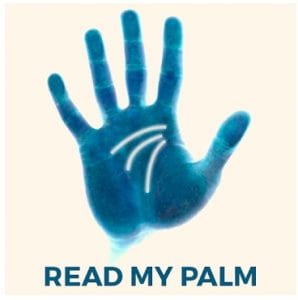 Palm Reader Scanner is a helpful tool to analyze and identify the major palm lines of your hand using OpenCV. This app will help you learn information about your character, lifestyle, and future.
How does Palm Reader Scanner work? Using a computer vision algorithm, it identifies the 3 main lines  (head, heart, and life) and according to their length and angle can give predictions about your future and your lifestyle.
In 3 simple steps, you can find out what your hand says about you.
1. Click the "Scan Left Hand" button.
2. Take a picture of your palm.
3. Wait for the app to analyze your hand and discover your results.
What doesn't Palm Reader Scanner do?
It doesn't read other secondary lines such as the line of fate, money, children, or marriage.
It doesn't make predictions based on zodiac signs or astrology. Palm Reader Scanner doesn't need that kind of information to predict your personal life or your intellectual abilities.
Downloads: 500000 +
Customers rating:

(4.1 / 5)