We used to think that cool dress-up games can be only for girls, but did you know there are some cool games in this category for boys as well? And they are just as exciting! So hurry up, in the following article you will discover the best dress-up games for boys.
Moreover, we have a collection of the best anime love games for boys and the fans of this genre will surely appreciate them!
Boyfriend Games: Dress Up Boys
Here we have one of the most popular dress-up games for boys, obviously, your main task here is to dress up different boys yes it is that simple. Now you can pick up the outfits for guys, pick up fashionable clothes and create cool looks.
You can create your ideal guy from head to toe. One cool thing about this game is that it can work even without an internet signal. Another cool advantage of it is that here you have total freedom of choice.
You can even choose the color of the skin, you can change the color of the hair, and of the eyes, and can even add a beard. It's up to you whether you want to create a biker, the CEO of an IT corporation, the big city boy, or a rockstar.
It's up to you to pick up the hats and accessories. And you can even add the pets to the image of the guy. When you're finished you can click on the photo icon and the avatar will be saved to the memory of your device. All in all, this game seems to be simple but it brings tons of fun.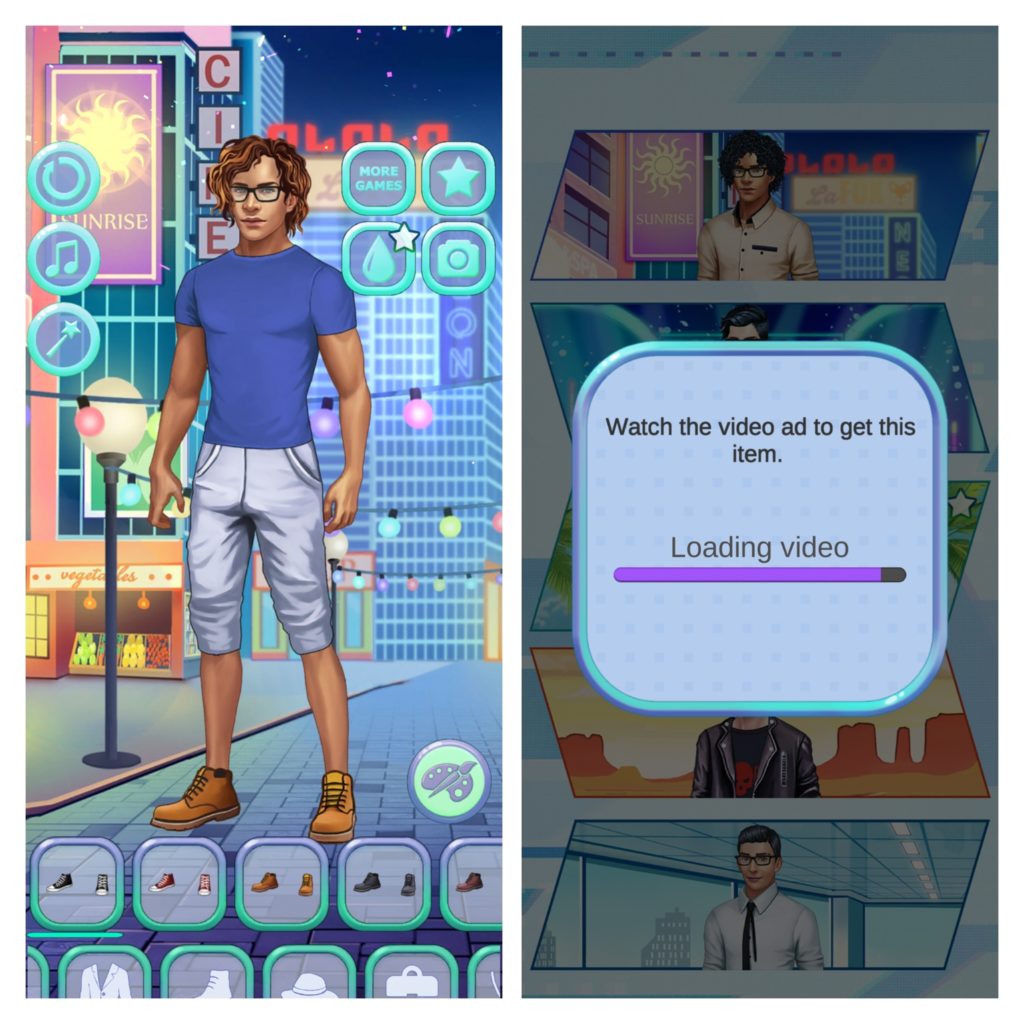 Downloads: 1 000 000+
Customers rating:

(3.8 / 5)

You may also like: 9 Best Fashion Stylist Apps For Android
Anime Boy Dress Up Games
If you want to play dress-up games for boys in the anime style, this is a perfect option. Though this is a quite as simple game, it doesn't have any distracting factors, such as ads or complicated interface design.
Here you just can open the app and start dressing up right away. You can choose literally every detail of the boys' outfits, starting from the facial expression and ending with the background. You can choose the type of hair and the hair sets are presented in all colors.
You can choose the t-shirt and shorts then boots and a blazer. If you want to erase all your progress you have to click on the reset function. The only advantage of this game is that the majority of the items are only available with a premium subscription.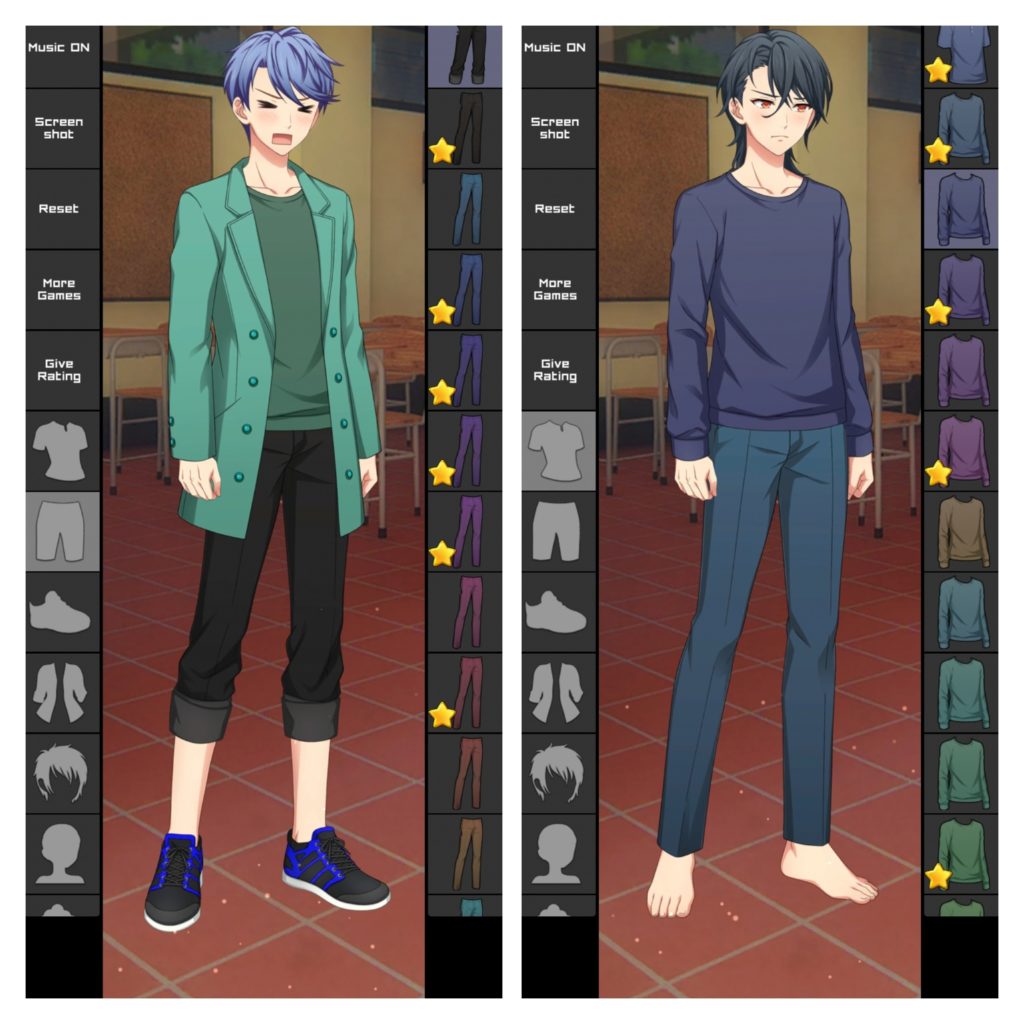 Downloads: 1 000 000+
Customers rating:

(4.1 / 5)

Vlinder Boy: Dress up games
Even though this game is more childish, for all boys and maybe girls who like this cute cartoon style and like creating avatars with this vibe this game will be a good choice. Here you will also have to create and dress up a boy and this game also brings a wide variety of options for customizing the looks.
In the beginning, you receive basically a blank canvas, just a figure of a boy, and the rest you need to pick up yourself. First, you choose the hair set, the eyes, the brows, the mouth, etc. After that you can also select the t-shirt, the pants come on the socks, boots, blazers and so on.
The style of this game is its main advantage. And before you start creating an avatar, you can select the style. It means that all the items for the dress-up that you will receive in each of the sections will have a different vibe to them.
In comparison to the two previous games, here you truly have a wide variety of style options, and a lot of options are available for free. But if you would want to get access to each piece of wardrobe, then you would have to go for the premium subscription.
In general, we would recommend this game because it's convenient to play and it doesn't contain ads. Or you can pick up to watch ads to get access to a locked item. And that's pretty much how you can get it without the necessity to pay for the subscription.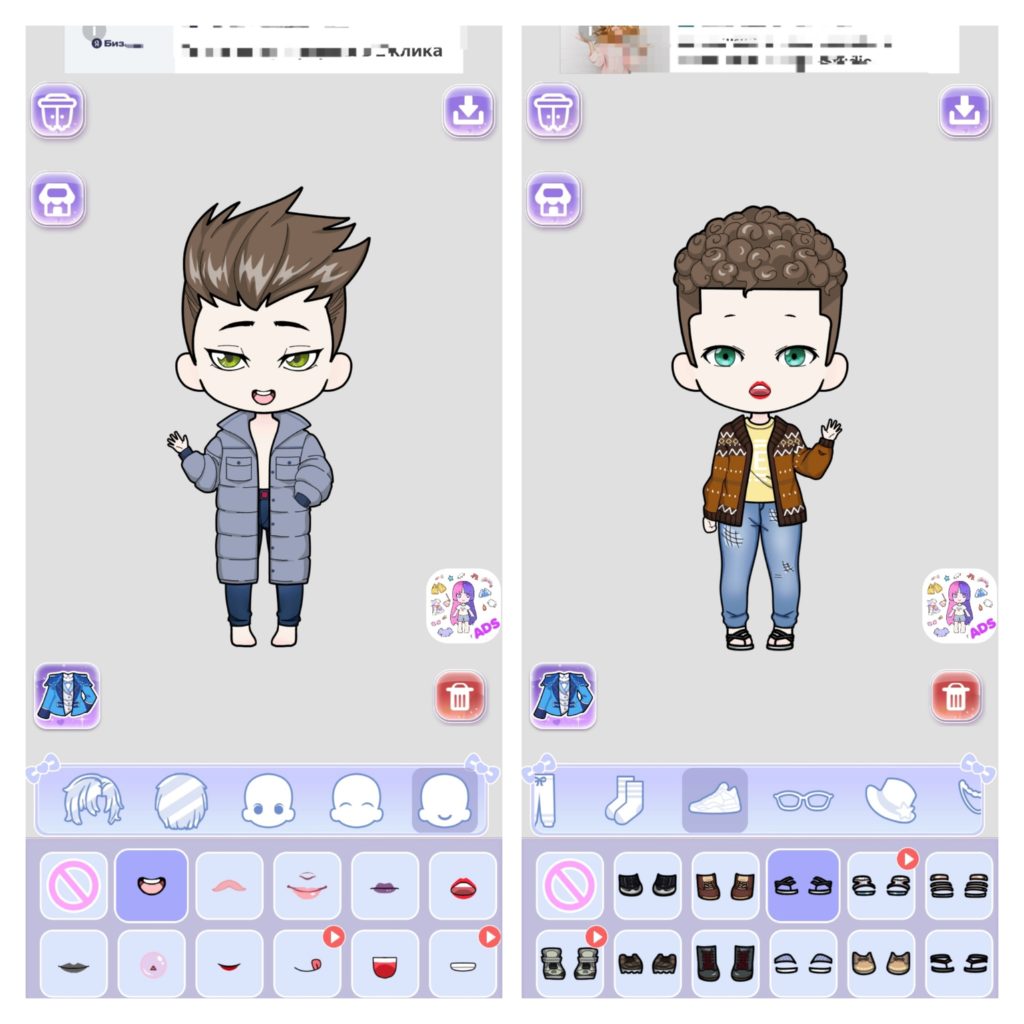 Downloads: 1 000 000+
Customers rating:

(4.4 / 5)

BatDoll monster boy maker game
This game is more for making avatars, but it also can be used as a dress-up game for boys. Here you will create a boy in the anime style. Or to be more precise, in the vampire anime style but it's in a cute way.
With BatDoll you will be able to create and dress up your own golf boy in pastel tones. Here you have to create your own anime boy from scratch, and when we say from scratch we really mean it.
Here you have the wildest selection, and it's much broader than in the previous games. So if you're not that in the details, this game won't be suitable for you.
Here you start from the complete scratch and you first have to choose the facial features of the boy like hair, eyes, brows, teeth, mouth, nose, and all of those details.
In the clothing section, the choice is also extremely wide and one factor that makes BatDoll different from the previous games is that here you can wear two items simultaneously. For example, you can wear pants and shirts at the same time.
Here you can also select socks, blazers, sweat shorts, and t-shirts, select the colors for them, and many many more.
The fact that you also have to choose the color for those items can make this game super exciting for everyone, but some users might get tired at this point so keep that in mind. But this game allows you to express your creativity and the maximum level.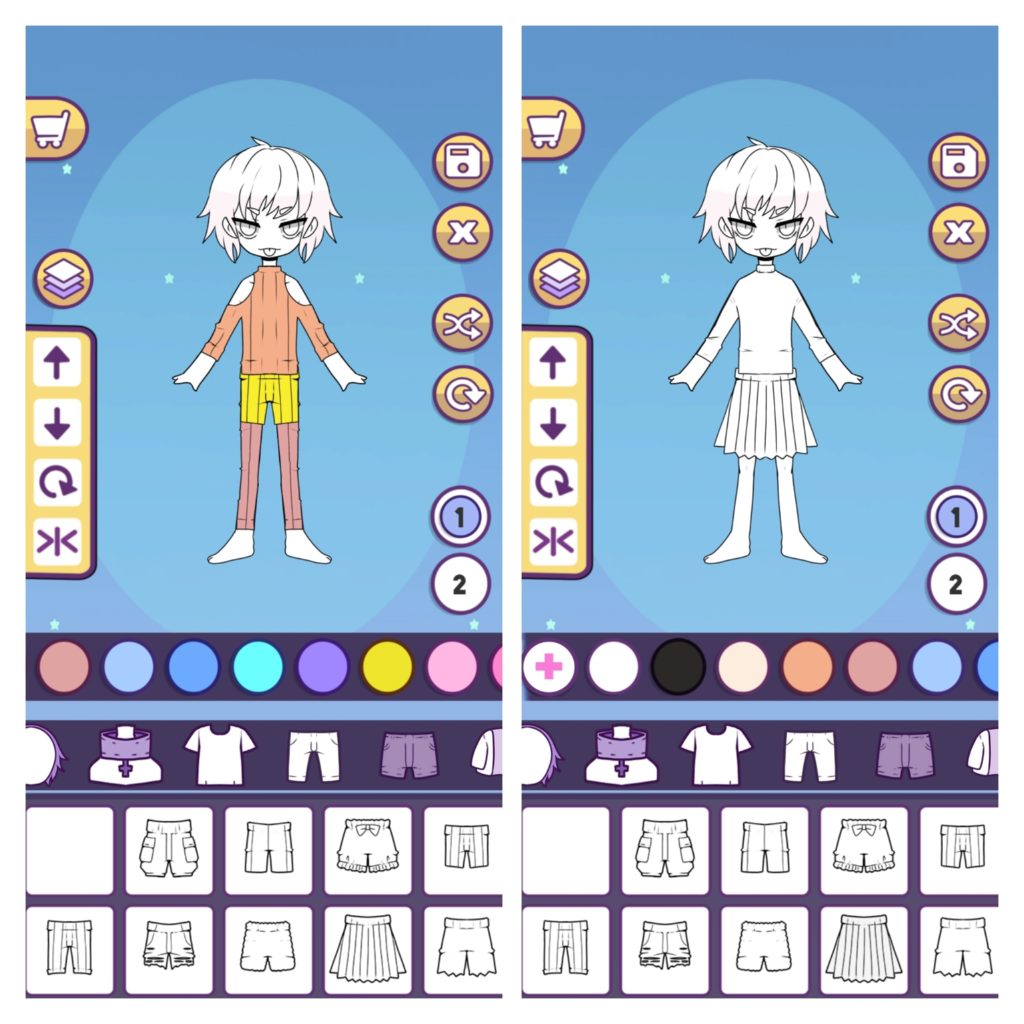 Downloads: 100 000+
Customers rating:

(4.2 / 5)

Kpop Boy Group Dress Up
We found that this app is extremely similar to the one we had before, Vlinder Boy. At least, it gives a similar vibe to us. This game is made in K-pop style and everything looks really cute.
And just like all the previous apps that we had before, this one is also extremely simple to play. You just open the app, and you got a boy in front of you and you can customize him in every way possible. Well, not in every way since here you cannot choose the facial features.
But you can select all the garments. There are dozens of types of coats, t-shirts, sweatshirts, pants, and so on. Play with items and see what matches best.
And the best part of the game is that every single item is available, which means you don't need to go for any paid subscription for that or watch ads to get access, to nothing. So you're free to create. You can also choose the hair set and even the socks for your character.
We didn't really like the soundtrack of the game and found it a little bit annoying, but you can always turn it down. What is more, after you created and dressed up your keep a boy, you can save this picture to your phone's gallery.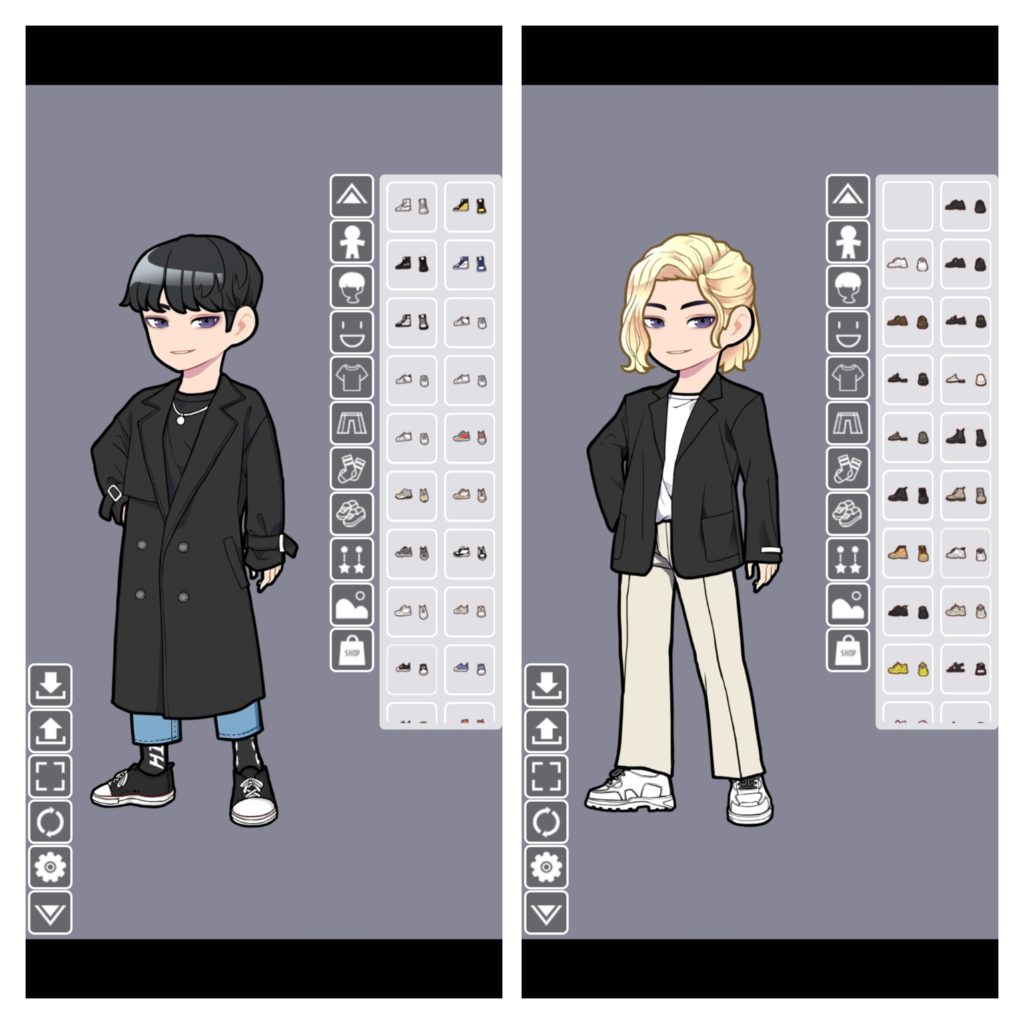 Downloads: 100 000+
Customers rating:

(3.4 / 5)

You may also like: 20 Free Fashion Games for Android
Anime Boys Dress Up Game
Another option of the dress-up game in case you like the games in the anime style. You just open this app, then tap on the plus at the bottom of the screen, and then you can start the dressing-up of your male character. Here you have to choose literally every piece of clothing for him.
And one advantage that makes this game stand out from other competitors is that here you can select the outfit in the tiniest details, including chains, glasses, cat ears, underwear, and other details. The graphics are made in the traditional anime style.
You can also choose the hair set of the character. But still, just like in some previous games, some items here are only available for money or you have to watch ads to get those. There are also some items that we didn't really understand because it's hard to tell by the icon what it means.
Another cool feature of this game is that if you don't want to pay for things, you can watch advertisements and get some money to your account in the game. Then you can exchange that money for pieces for your wardrobe.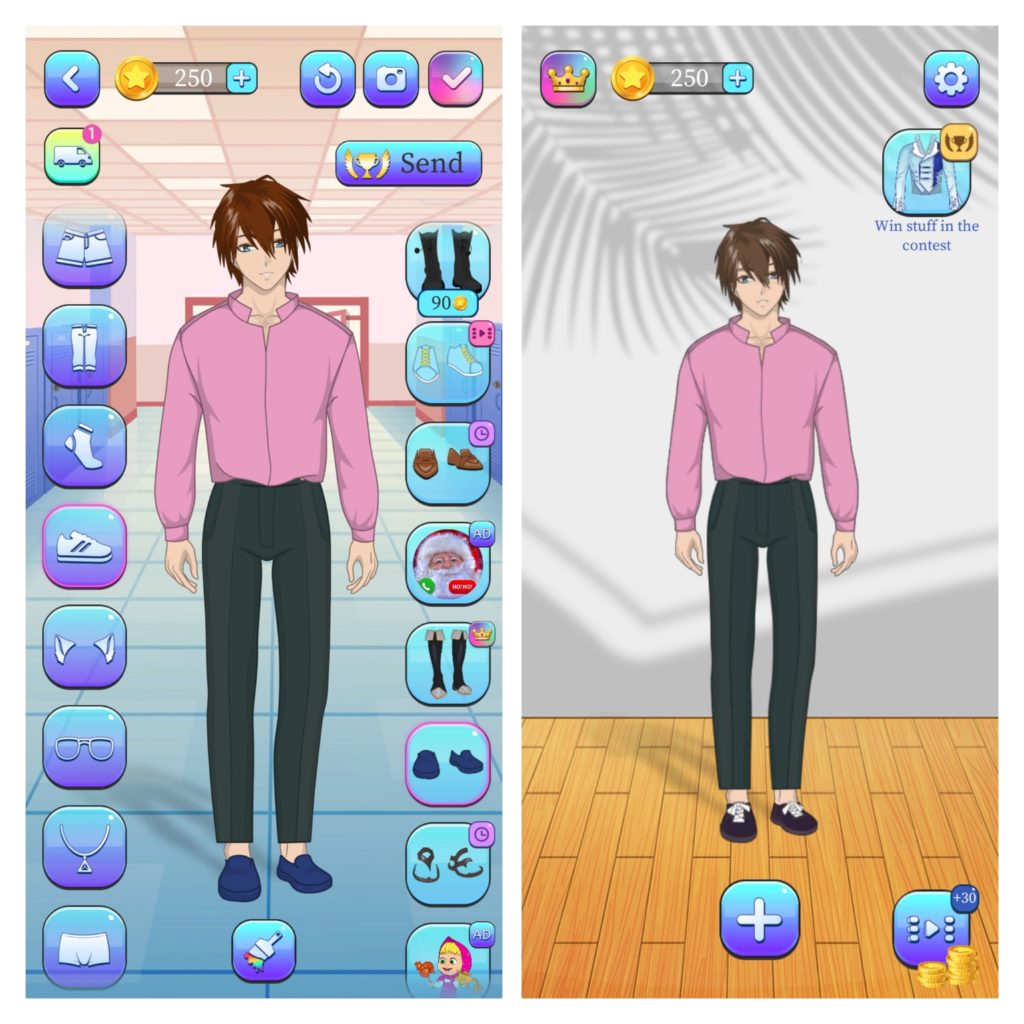 Downloads: 50 000+
Customers rating: unknown

Prince Fashion Game
To start with, our review of this game will be a little bit controversial. It's not the best game in terms of graphics and animations but here you have something like an online game where you have to compete in the dress-up game with other players from around the world.
However, during the process, we didn't really understand if those competitors were real or just artificial intelligence. In the competitions, the decisions are made by the jury, which we think, is artificial intelligence and the points are given quite randomly.
So don't take it too seriously, but if you win, you will get some bonuses. Considering the dress-up itself, we were excited when we saw that you can choose between three types of men, Middle Eastern, Western, and South African.
But in reality, you always have the same boy with the same facial features, it's just the style of the clothes that changes. In general, the choice of the pieces of the garment is not as wide as in the previous games.
You only get to choose some basic things, such as hair said, boots, a t-shirt, trousers, Etc. Sometimes you can choose additional accessories such as a tie, but it's not available in all sections.
And the choice itself is quite limited, and some interesting items with interesting patterns you can only buy for the money. But the most annoying factor that we found in this game is that before you are able to start any dress-up, you will have to watch a long advertisement video.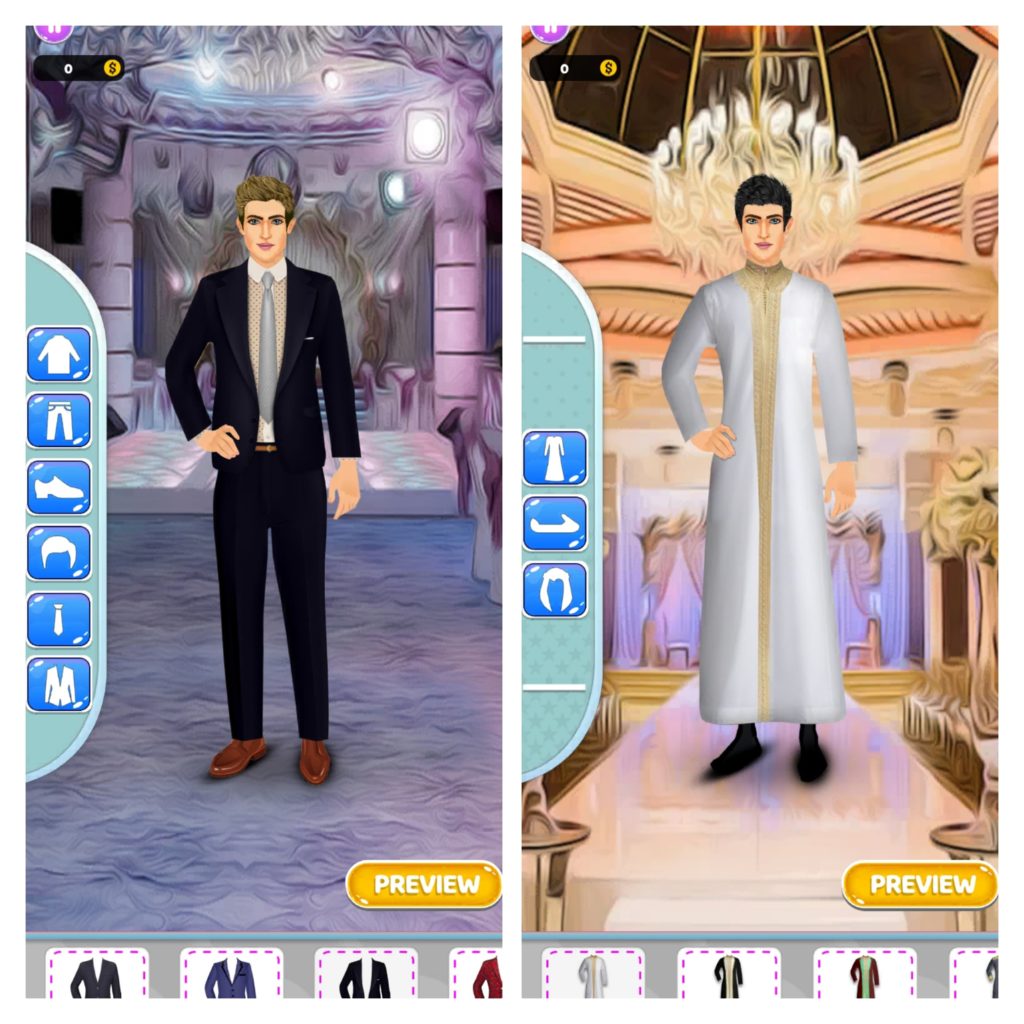 Downloads: 10 000+
Customers rating: unknown

These apps could be interesting for you: Best dress-up games for adults, Best dress-up games for girls
Sky Blue: Boyfriend Dress Up
Actually, this game could be more suitable for girls, since it's called boyfriend dressed up, but boys can play it as well. It's a game in manga style. In reality, it turned out to be one of our least favorite games because it was so inconvenient.
At first, when you open the app and start dressing up a character, everything seems good.
You have a wide selection of all the accessories, and garments, and you can even choose the facial features of the character, but when you actually dive into the process you start noticing some misconceptions.
For example, almost 99% of all pieces of clothes are only available for money, for watching ads, or for crystals. They're a little one or two pieces of clothing that you can choose without any terms.
What is more, when you decide, for instance, to choose pants from one to another, for some reason, the previous choice stays there and new pants are just getting over late on the previous ones, and it looks unpretty.
We didn't really get the idea behind that. The whole concept is nice and we really liked the cat sitting on the boy's head, but we didn't really get the overall idea of the game.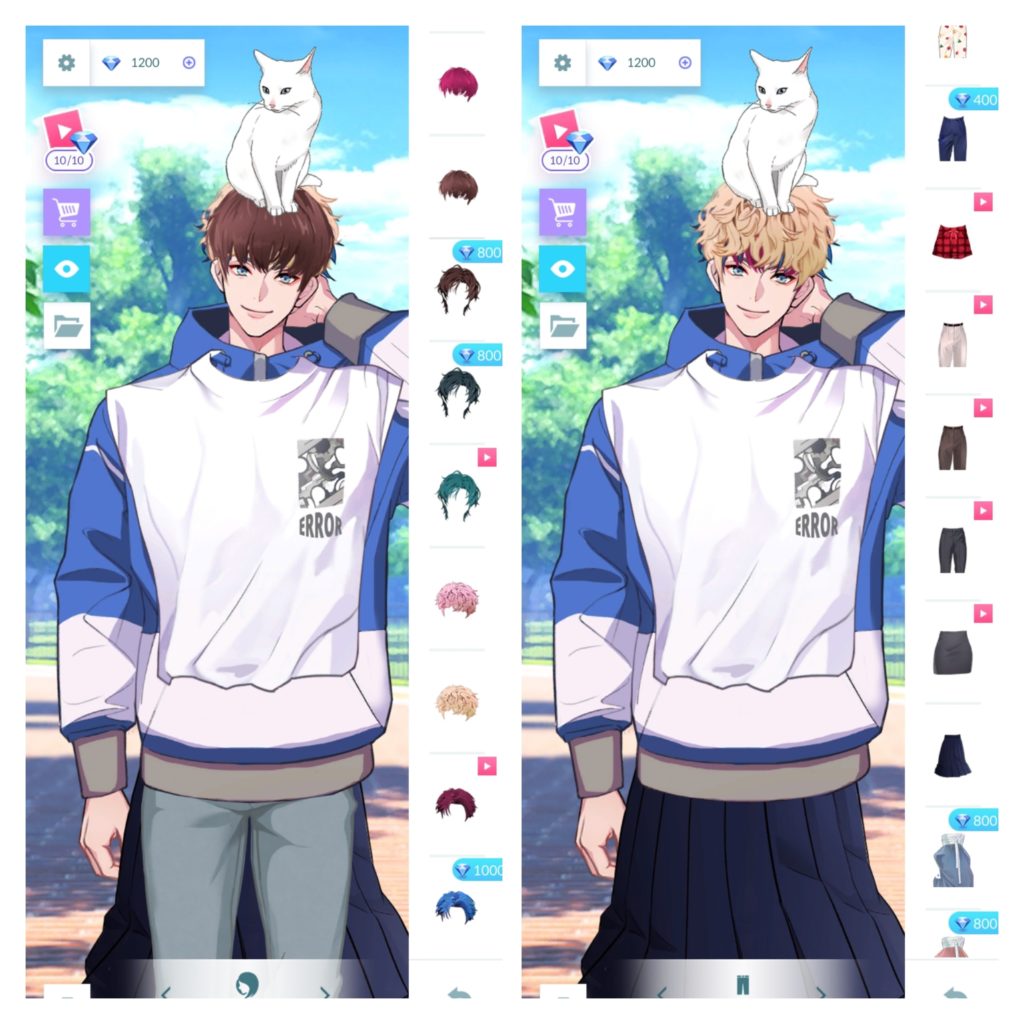 Downloads: 100 000+
Customers rating:

(2.9 / 5)

You may also like: Top 9 Android Apps To Find Clothes From Pictures
Chibi Boy: Doll Maker Games
If you want to create your chibi boy for Avatar and play and dress-up game at the same time, then this app is a perfect choice. Here you have to create your character from the total scratch.
You will have to choose all the facial features, including the mouth, brows, eyes, and hair, and only after that you can choose the pieces of clothes.
Here you can select not only the basic pieces of wardrobe, like t-shirts and pants but also hats, chains, socks, etc. The advantage of this game is that all pieces are highly customizable and you are free to express your creativity.
For example, you can choose hair of any color, for example, you can make them green. You can also add a beard to your chibi boy.
Almost all pieces of clothes are available and only some of them are available for the money. Here you will be able to play dress up as long as you want with almost an unlimited choice of clothing customization.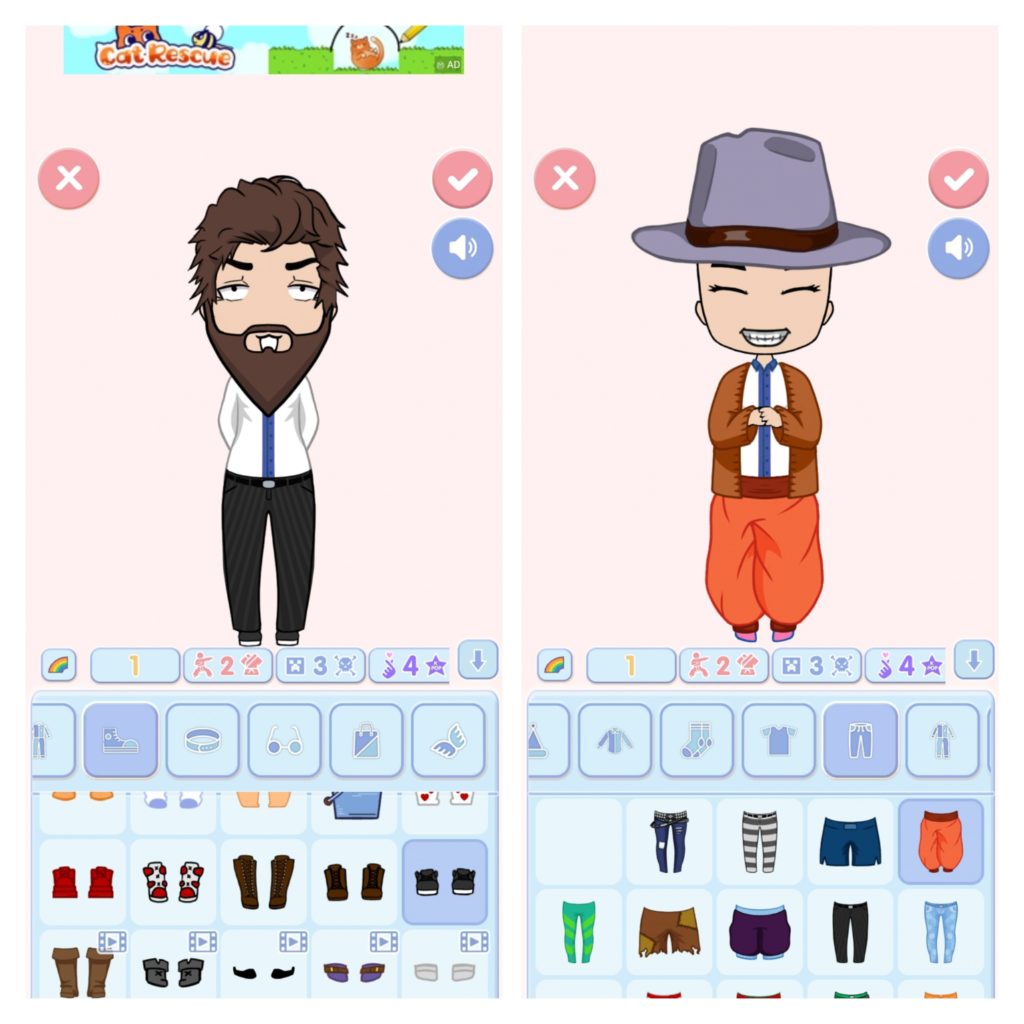 Downloads: 1 000 000+
Customers rating:

(3.5 / 5)