Do you often purchase bus tickets? Or don't have time to buy tickets offline? Then, install apps on your smartphone that make you feel more comfortable and confident when you're hundreds or even thousands of kilometers away from home.
For you, we've gathered only the most useful and, of course, free software. So, let's start the short review.
Rome2rio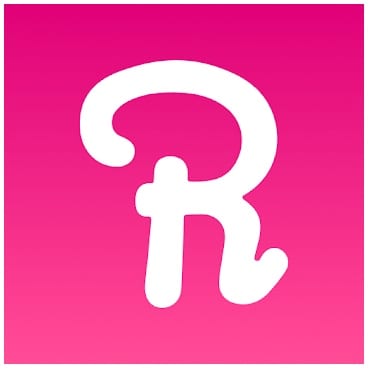 If you need to get from point A to point B using public transport but don't know the routes and schedules, the Rome2Rio website and app can help.
Here you can plan your route and choose tickets for flights, trains, buses, and even ferries. The system offers the best combinations of time and money transport, shows photos (you know exactly what is waiting for you – a double-decker bus with sockets and Wi-Fi or an old bus), and paves the route to the exact minute.
713,318 bus routes from 83,402 bus carriers.
Rome2rio lists all the available ways to get to your destination, including driving. The app also tells you how much each method costs and which one is fastest. It also offers combinations, so you can mix and match to find the most efficient travel route.
If you're bored at work or just want to get out of town for a weekend, type Direct Flights into the "where to" field, and Rome2rio has your getaway plan ready. Lost in town and your flight leaves in three hours? Type Nearby Airports in the same window – the system will help you get there before check-in ends.
A special feature of this app is the provision of all sorts of routes between cities and even countries. All you need to do is enter the date of the trip, the destinations and choose any convenient mode of travel, be it train, car, bus, or plane.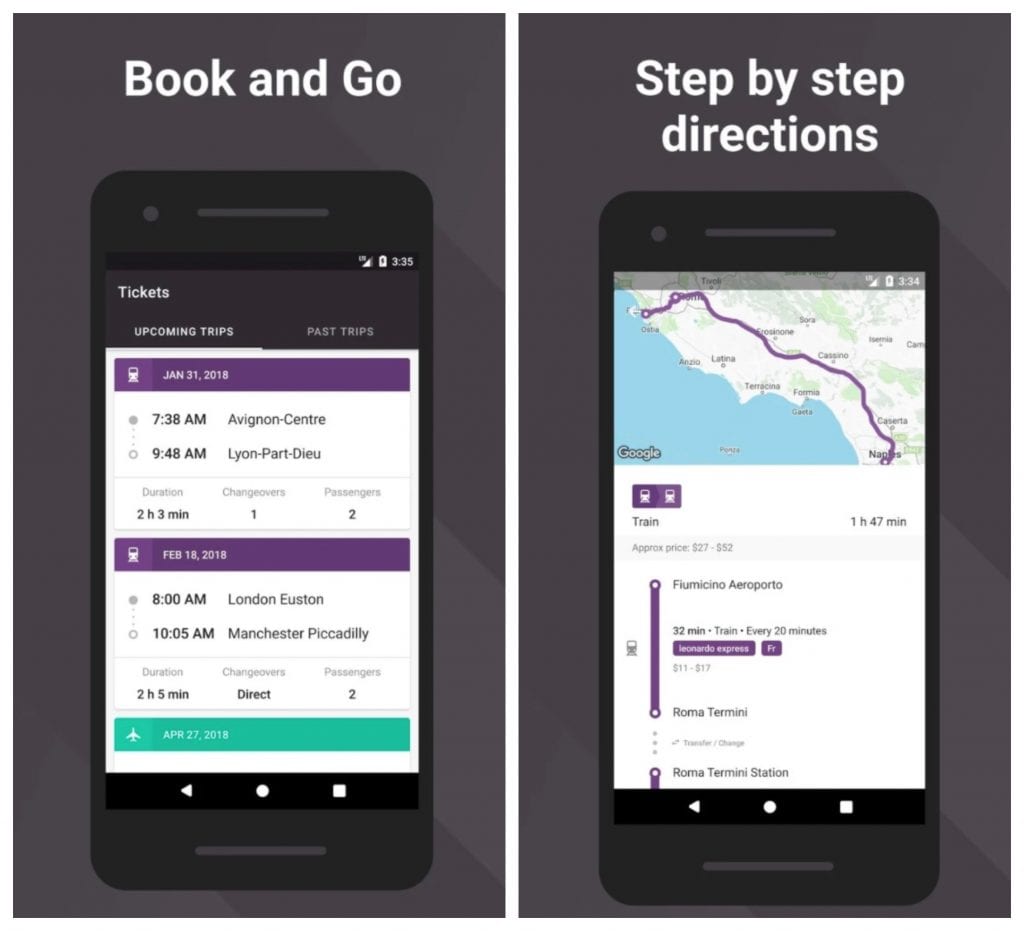 Downloads: 1000000 +
Customers rating:

(4.5 / 5)

You may also like: 9 Best Restaurant Reservation Apps for Android
Omio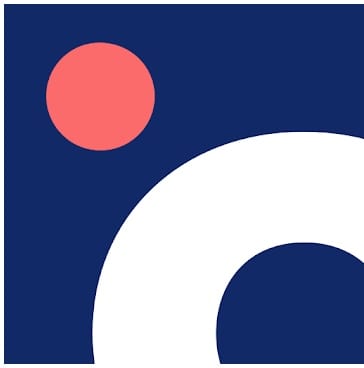 With the Omio app, you can plan your journeys with ease. With the Omio app, you'll get where you're going without a hitch.
The innovative Omio app is the perfect companion for any journey, allowing you to view up-to-date train and bus information, download e-tickets and use many other useful features.
How to use the application:
Register;
Enter the pick-up and drop-off locations of your journey;
Choose the most suitable transport, time, and price;
Complete the booking.
Tickets are saved in the app or emailed to you. A simple and convenient booking system saves you time. No more headaches with tickets!
It is partnered with over 800 trusted transport companies to help you get to your destination.
All in all, a cool app designed to help you search for and book plane, train or bus tickets.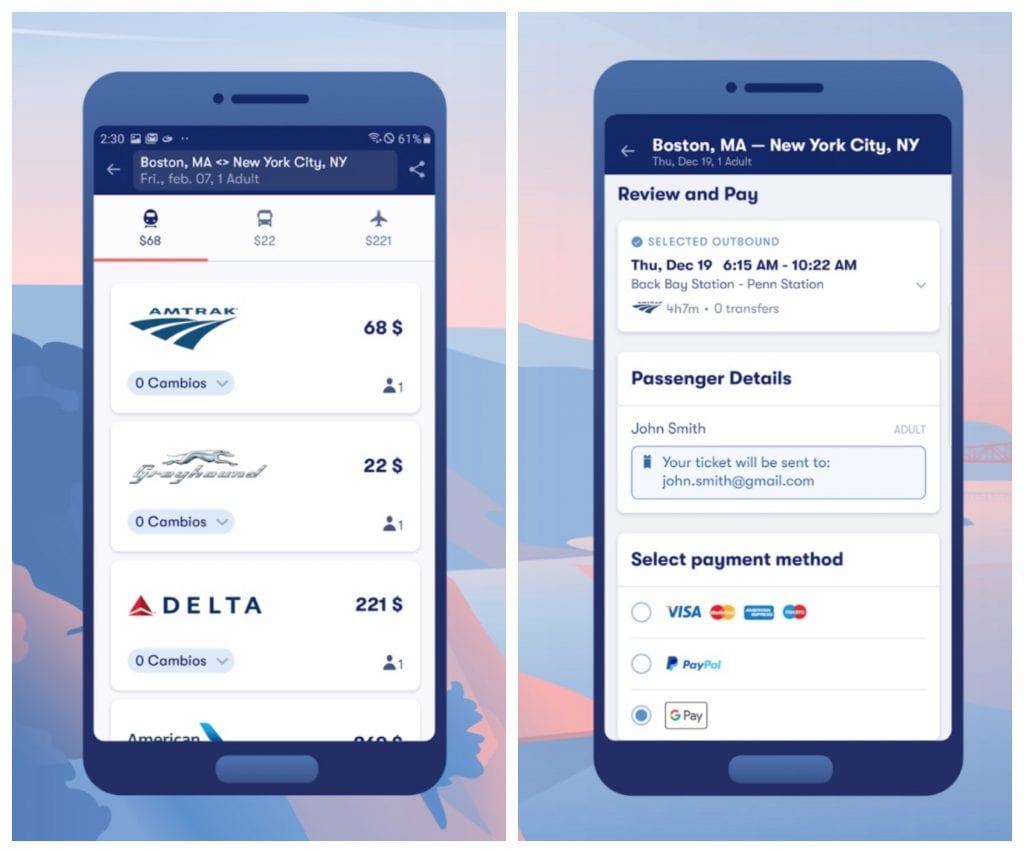 Downloads: 5000000 +
Customers rating:

(4.6 / 5)

Wanderu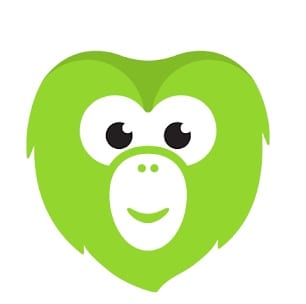 The leading American train and bus booking service in North America and Europe.
If you know that flying, for example, from Munich to Prague will cost you around 200 euros and usually more than 5 hours of flight time, as there are virtually no direct flights between these neighboring cities, and you can get by bus in just 4.5 hours and for a ridiculous 20-30 euros, then you will definitely like Wanderu.
The app focuses on finding the best routes between given points but offers relevant options for planes, trains, and intercity buses at the same time.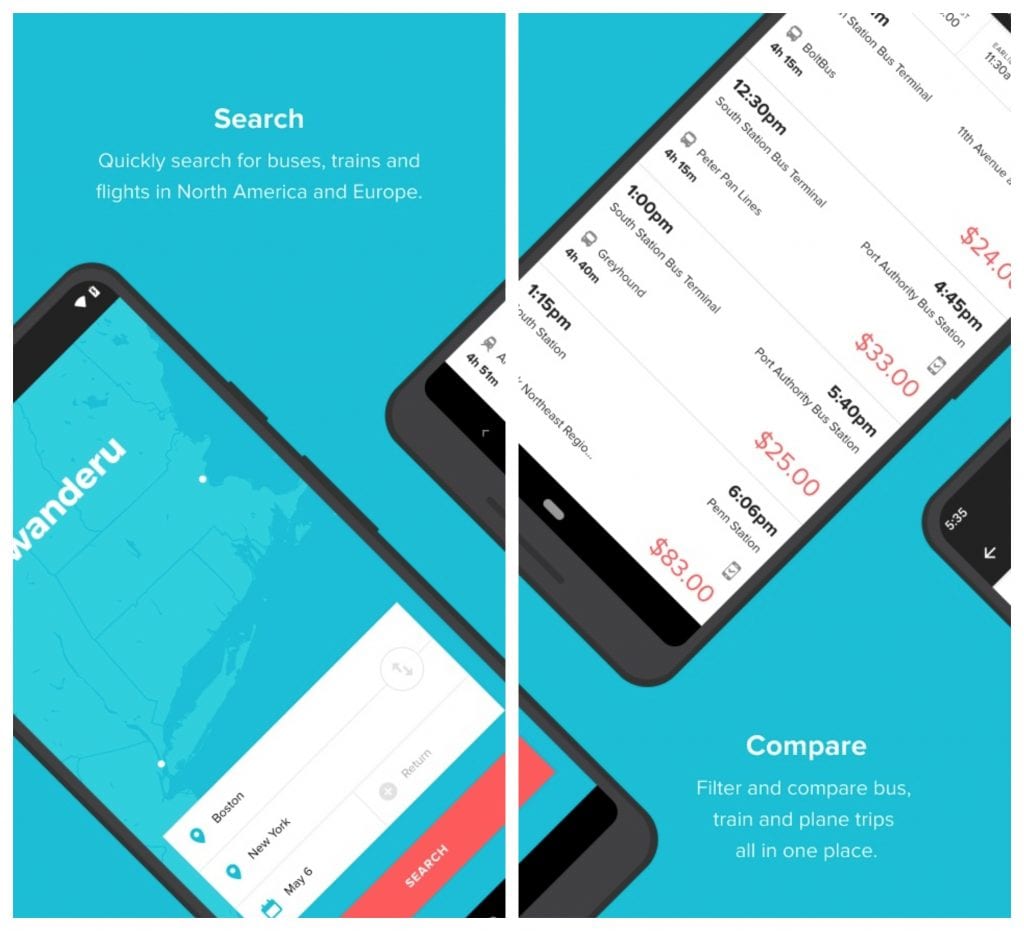 Downloads: 100000 +
Customers rating:

(4.7 / 5)

Greyhound Lines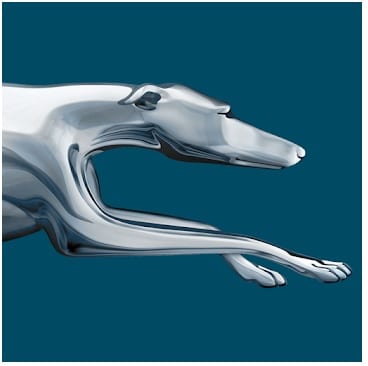 Greyhound Lines is a handy app that replaces surfing the internet for bus tickets. Your personal ticket kiosk is now always at your fingertips.
What you get by downloading this app:
Look for travel ideas right in the app;
Book tickets for your trips;
E-ticket will be delivered directly to your phone;
Track your bus directly on the app screen;
View your routes and find the location of desired stations;
View all your upcoming journeys.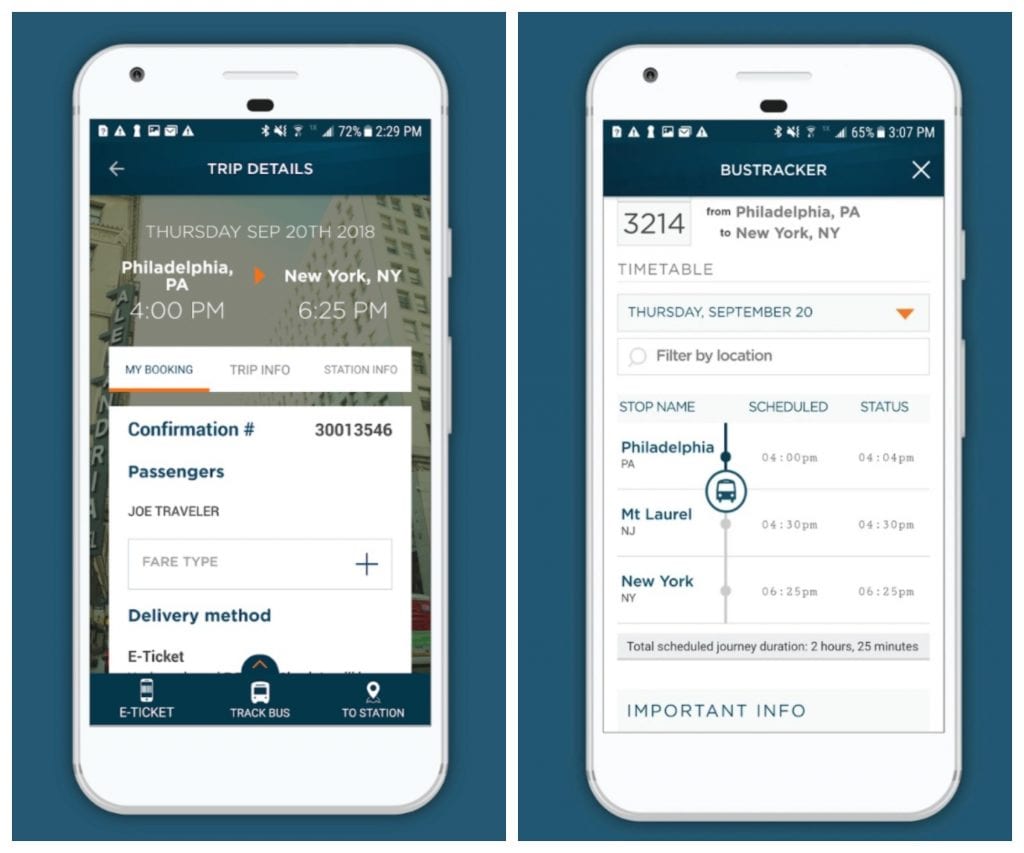 Downloads: 1000000 +
Customers rating:

(4.4 / 5)

FlixBus
FlixBus is a smart bus traveling application for Android. It's the official app of the company of the same name and is available in Europe and the United States.
The FlixBus app saves the information that you enter every time you buy a ticket, which makes it much quicker to get them.
Besides, the cost of the journey is lower (up to -10%), because booking fees are eliminated. There is no need to print out the ticket, just show the FlixBus staff the electronic version via the same mobile service.
This saves both time and natural resources: in this way the carrier is positioning itself as green not only in terms of the color of the buses but also in its attitude to the environment.
FlixBus generously sends out exclusive discount offers and vouchers only to app users. At the same time, the carrier sends instant notifications about canceled bus lines, delays, and other news.
Finally, the app helps you to avoid getting lost at the bus station and locate your bus without a hitch.
Downloads: 10000000 +
Customers rating:

(4 / 5)

redBus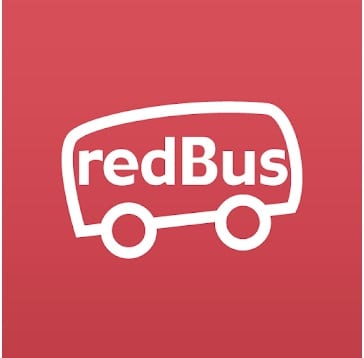 RedBus is India's first, biggest and best loved bus booking service.
RedBus, in addition to its self-titled company in India, brings together several different bus carriers in Southeast Asia.
Locals buy their tickets through apps because non-virtual operators cost at least twice as much. For foreign tourists especially, because they are subject to special taxes in India, for example, a double commission will be included in the ticket price.
In addition to the more democratic price, the RedBus app will help you find your departure point. When getting on a bus, showing the ticket on the phone will be enough. The unique feature of this mobile app – redBus NOW – will help you get on the bus literally on the go when you realize that you have to take your bus hours before departure.
All in all, redBus is a very convenient tool for buying bus tickets in Colombia, India, Indonesia, Malaysia, Peru, and Singapore. And if you are planning to travel to these countries and wish to purchase tickets in advance, redBus is a good way to do so.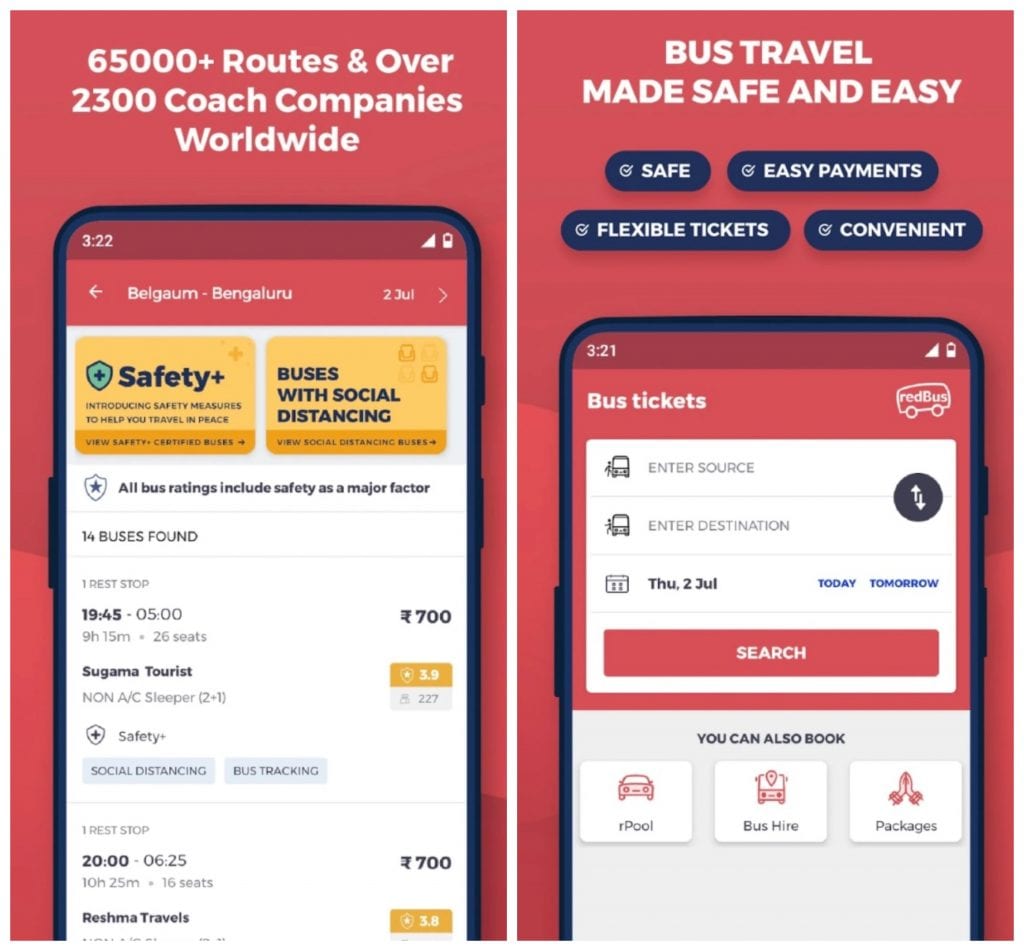 Downloads: 10000000 +
Customers rating:

(4.5 / 5)

You may also like: 11 Cool restaurant finder apps for Android
MakeMyTrip Travel Booking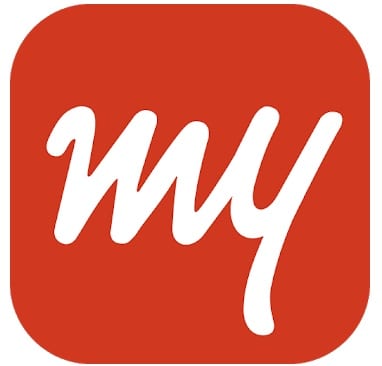 MakeMyTrip is an interesting app for traveling around India without having to search through heaps of transport websites.
It's the leading online travel app that provides many services such as airline tickets, local and international holiday packages, reservations, bus and train tickets, etc.
It has over 10 million users worldwide who enjoy exclusive discounts on hotel bookings and all other services. It offers over 45% discount on every online booking.
MakeMyTrip also offers important features like cheap flight tickets, hundreds of hot deals, international airlines, user-friendly interface, quick browsing, Tripadvisor ratings and reviews, last-minute booking, and much more.
Like other similar apps, it also offers a self-contained map system to help users discover their favorite places around the world.
Compared to others, it offers a fast, secure, and safe payment service with PCI DSS. MakeMyTrip is a great app that manages your holiday without any hassle. Give it a try.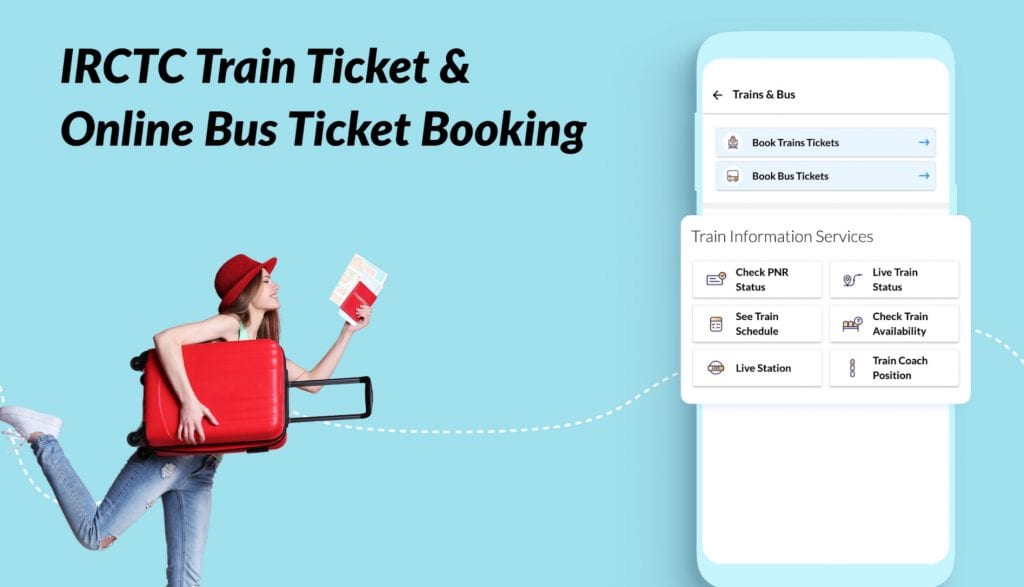 Downloads: 50000000 +
Customers rating:

(4.4 / 5)

Mobile services make it easy to find a flight or buy a ticket quickly, but that's not all. Discounts, carrier special offers, no waste on travel tickets, help for latecomers, e-newsletters, the ability to move to business class or to track luggage are much more interesting.