A lot of actions, deals, tasks, and hobbies take place on our mobile devices in the modern world. There is almost no such thing, which cannot be performed via the Internet in 2022. This is also true about romantic relationships.
An opportunity to choose a partner with the help of the Internet does not narrow chances to find the one but multiplies them. Users can like each other not only by looking at their appearance but also by carefully reading the details about them, such as what preferences they have, or if they are virgins.
1. Dating App Marry Me – Singles
This application claims that it will give its users an opportunity to meet a partner for a romantic relationship in the same way as in real life. The Dating App Marry Me application was created to be one of the top online platforms for matchmaking. It is said to be trustworthy and reliable.
This platform makes people meet each other and start a conversation like in real life: first, you have to see a person (or in this case, his or her profile with a photo and some information), decide if you like him or her, and then make contact.
It is possible to adjust the search function to your needs, interests, or preferences. For example, if you are interested in your potential partner's appearance, you can customize the settings of this option and then look for those people, who meet your criteria.
It is also true about some other preferences. To make the search function to your own requirements, just attach a special tag or a keyword. This works, if you wish your future partner to have a particular personality trait or an experience, for example, him or her to be a virgin.
The application allows its users to find people in different and specific areas. You can add a preferred city, region, or country to the search function, and then it will only show you those people, who are living or staying in the chosen location.
This option will give you an opportunity to meet single people in your own town, or in any other city or country in the world. The app has a huge community, which includes both men and women of different ages, and you can meet the right person here.
It is also possible not only because of the big number of users of the app but also due to the smart and complex matchmaking algorithms, which arrange high-quality results. Along with that, you will have a user0friendly interface, intuitive menu, and free usage of this application.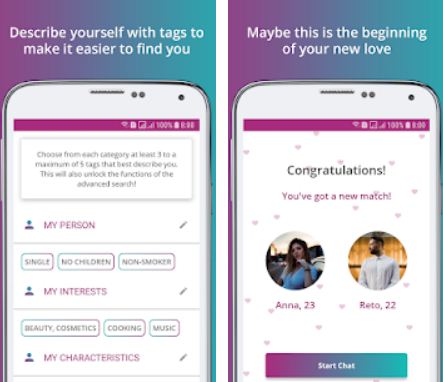 Downloads: 100,000 +
Customers rating:

(4 / 5)

You may also like: 6 Best Instagram Private Profile Viewer Apps for Android
2. Once: Meet singles close to you, one match per day
This application is a leading date application in Europe and around the world. You can meet people from different continents, countries, and cities and build romantic relationships with any of them.
However, this app will make you take these relationships seriously, as there is one peculiarity on it: you will get one match once a day, based on your preferences. There is no need to press the "like" button or the "dislike" button because this person also sees your profile on this day.
If you like each other, you can learn more about your potential boyfriend or girlfriend better by talking or writing in the chat. Then you can arrange a meeting in real life and test if it is a perfect match from the online dating app.
In case it is not, that is not a tragedy. You will receive another match the next day, and then you will have a chance to meet the one.
Though you have to wait 24 hours till the next match, this approach has its advantages too: people take the offered match more seriously. Moreover, your matches will be picked from a great number of users according to the features, which are important for you.
These features can include appearance, age, education, the place of living or staying, interests or en experience, both in usual life and sexual life. So you will get the best matches on the application without any effort! The Once app will offer you the best matches ever possible.
The application offers premium and VIP packages for those users, who do not want to wait 24 hours to meet a new match. With these subscriptions, you will have more than one match per day.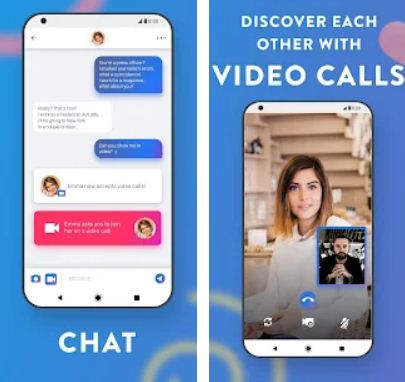 Downloads: 5,000,000 +
Customers rating:

(4.1 / 5)

3. Skout – Meet, Chat, Go Live
This application is widely used for meeting new people, talking, and seeing each other in the real world. One of the positives of the app is that it is good for looking for new love as well as for looking for a friend, or a new acquaintance.
It is possible to find here any kind of relationship you wish. You can also meet both people from your neighborhood and foreigners around the world. It is a good way to make friends or build a love relationship while traveling or moving to another place.
You can meet others through Live streams. It is a great way to see many other users, or show yourself! Start broadcasting from your mobile device and attract a million viewers. There is a good chance you will find your love among them, as you increase your popularity.
The filters for searching people on the app are flexible enough, and you can add your own criteria. For example, preferences, age, or other parameters can be written for your future partner or friend.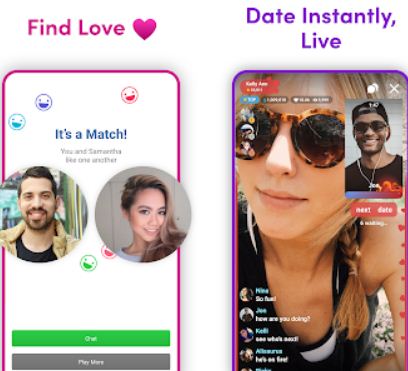 Downloads: 50,000,000 +
Customers rating:

(4 / 5)

4. Coffee Meets Bagel Dating App
This application is focused on arranging real matches and actual dates. It was created for those people, who know what exactly they are looking for in their partners and have little time for useless swiping a lot of incompatible matches.
It was claimed that the Coffee Meets Bagel app has arranged more than 100 million matches some of them were highly compatible and led to real dates and love relationships. This was achieved due to highly personalized mechanisms of matchmaking on the app.
Your matches will be given to you every day, and according to your further choice, the mechanisms will better understand what exactly you like to see in your potential partner. You will get better suggestions every other day.
This community of this application mostly stands for serious relationships, so this application is good for both those users, who seek mature relationships, and for those, who want to have their first love story in life.
The app offers a detailed profile with a lot of different information, and you will always have a chance to look through the information about a person before starting chatting with him or her. This is also useful for those people, who look for particular traits or experiences.
The Coffee Meets Bagel application has a reliable privacy policy. You can be sure your personal data and information will be stored on the app and will not be shared.
Downloads: 1,000,000 +
Customers rating:

(3.6 / 5)

You may also like: 9 Best Apps to Hide IP Address on Android
5. CFish: Christian Dating & Chat
This application is for those people, who definitely take any love relationship seriously and for those who are looking for their first relationship. Users can see each other's profiles, chat and arrange meetings in real life if they find a lot of things in common.
One of the positives of this application is that it provides not only an online platform for chatting and dating but also brings together people with the same or similar views. It is much easier to find the one among fellow believers than ordinary strangers.
You can adjust filters for the search option for more accurate matches. Then you start browsing the profiles, which are compatible with your own, and after you have found some which seem interesting to you, you can give it a try and start a chat.
It is possible to update your profile to get more matches and increase your chances to meet your ideal partner. It is possible to do it directly on the special page, which is called "Chances".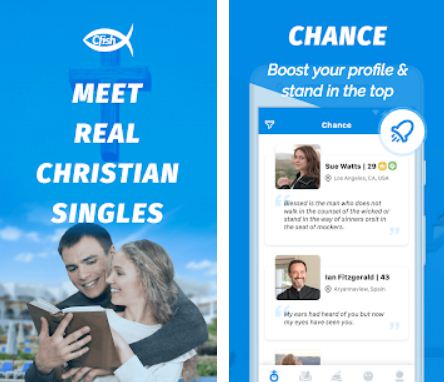 Downloads: 100,000 +
Customers rating:

(2.9 / 5)