Explore the cafes and restaurants of almost any country and book a table in the most suitable institution – now it can be done quite quickly through these smart applications:
OpenTable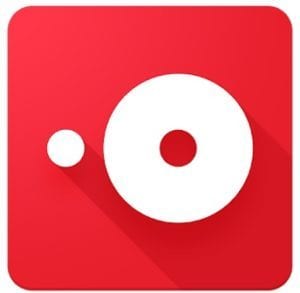 OpenTable is one of the best Android apps which helps you to find and book a restaurant. Comprehensive and intuitive search filters will make the process easy and fast.
Here, you can find menus, special promotions, see photos and personalize recommendations based on your preferences. No matter where you are, you can find the best local restaurants and appreciate the cuisine by booking a table with just one click. OpenTable offers more than 50 000 restaurants around the world.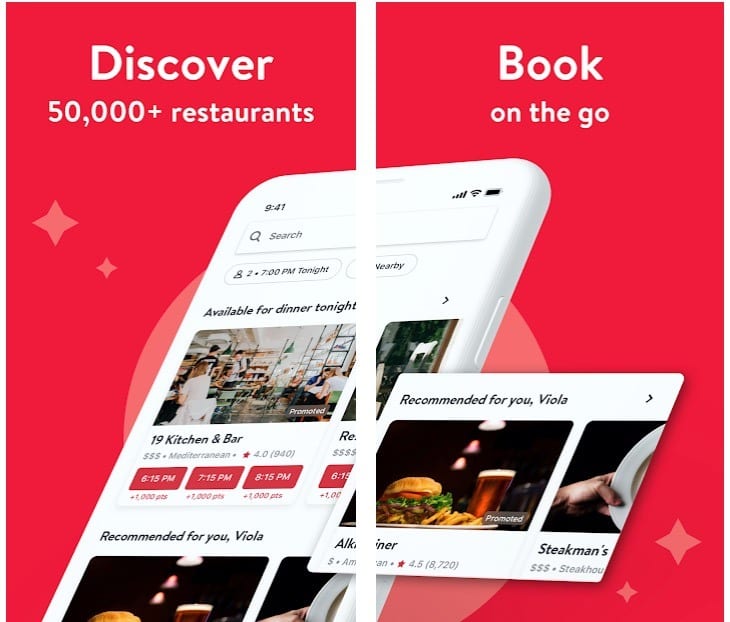 The main advantages of the service:
Use various filters to narrow down the search (neighborhood, cuisine, price, and rating). Read reviews and view photos of other diners to get a feel for the restaurant
Reserve/modify a reservation in just a few clicks and invite friends right from the app
Personalized recommendation
R-book your favorite spots
 Use Dining Points (you can redeem them for dining rewards).
Enjoy extraordinary dining experiences in over 52,000 restaurants worldwide! Download the OpenTable application on your smartphone.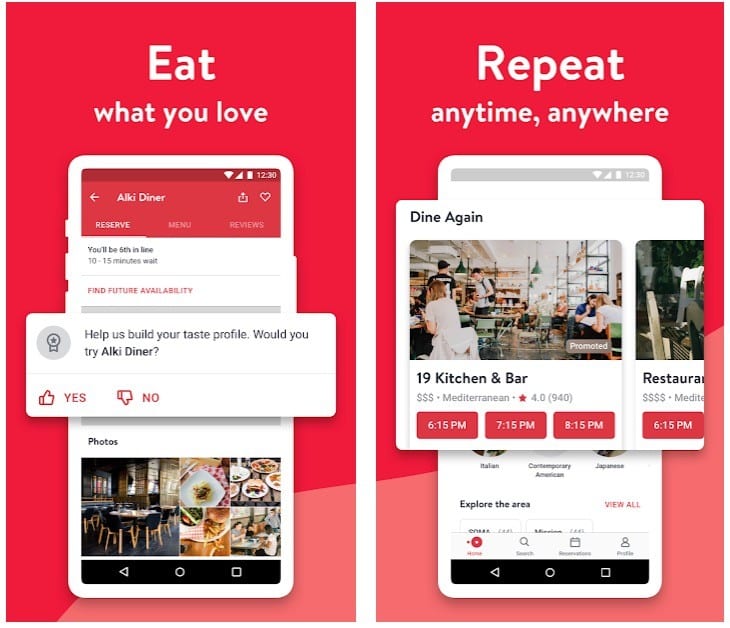 Downloads: 5 000 000 +
Customers rating: 

(4.8 / 5)
You may also like: 11 Cool restaurant finder apps for Android
TheFork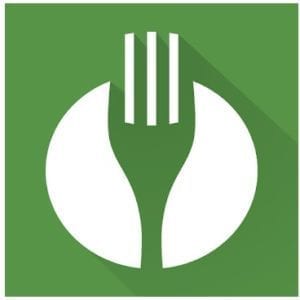 Do you know where to eat deliciously and cheaply in a strange city? Travel service TheFork will become a reliable helper in this matter.
Using the application is quite easy: just set up the geolocation and find the nearest cafes, restaurants in Paris, Copenhagen, Berlin or any other city in the world. TheFork allows you to book tables, get discounts and bonuses on bookings. Simple and convenient!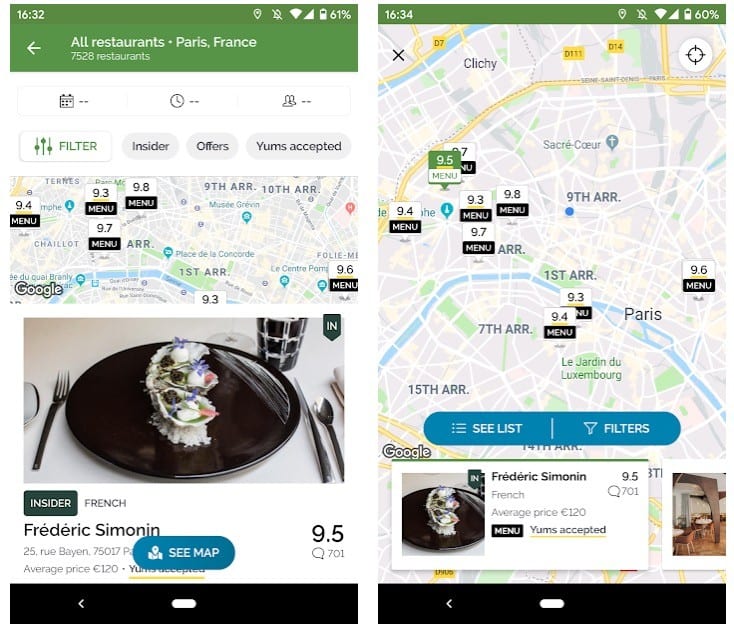 TheFork is a simple application that allows you to book a table in one of the hundreds of restaurants in any city at any time, without even calling there. When you open the application, you will see a list of all the restaurants where you can book a table – they will be arranged by the degree of remoteness from you.
You'll also be able to organize the list by placing category or type of meal, which is a great way to open a new place. Each restaurant description includes photos, prices, and ratings.
Once you have decided where you want to eat, all you have to do is click on the reservation option. In the next tab, you will see what time you can book a table and you can specify the number of people. Nothing else is required from you.
The restaurant will receive a notification and book a table for you. You can also decide in advance what you want to book because in each description of the restaurant you will find recommendations from the chef.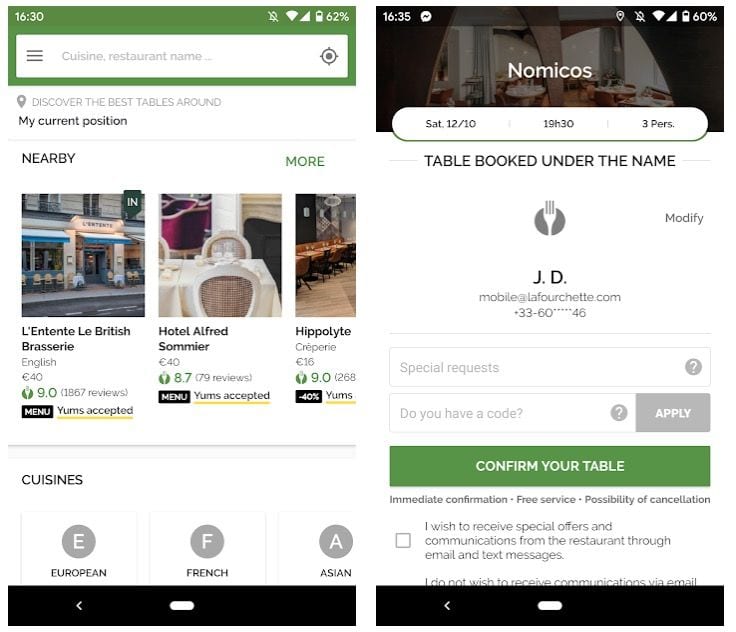 Downloads: 10 000 000 +
Customers rating: 

(4.5 / 5)
Yelp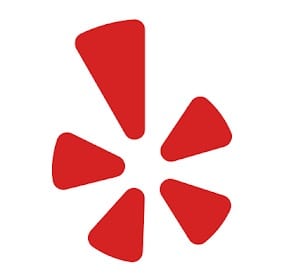 The Best Restaurant Advisor Yelp is a useful application where thousands of users can share information about their favorite places. With the app, you can find the places that best suit your tastes.
Using Yelp, you can see which restaurant to eat at. The app displays on a map all the nearby places that match your needs. Only by touching the name of the place you will be able to see all the information related to them.
You can view basic information, such as address and phone number, see comments and photos of other users, as well as the rating of the institution.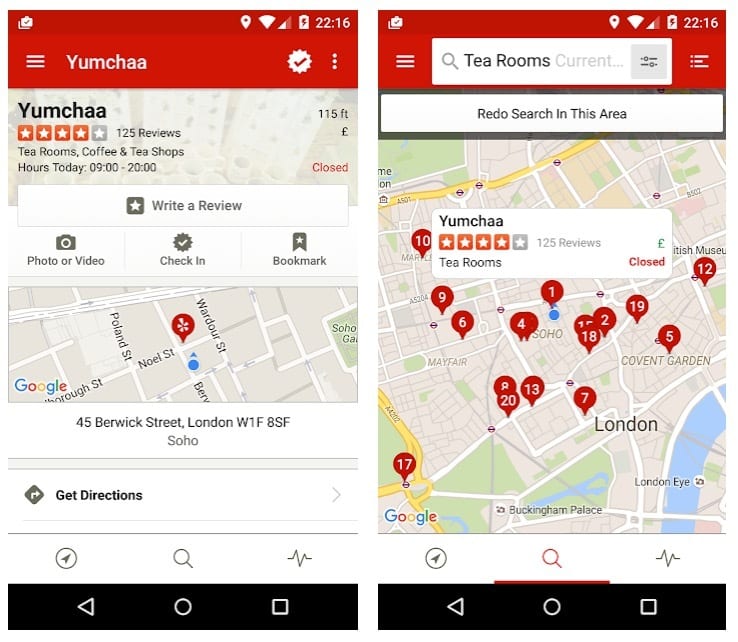 The app also offers information about advantageous offers and discounts that you would not get otherwise. Also, add spots to your favorites if you want to return to them soon.
It's a really handy tool if you want to go to a new place, but don't know which one. Browse by category and see the photos of each of them to decide which place looks better or has the highest rating.
Create your own bar lists, and leave your comments on all the places you visit to help other users find a new favorite place for themselves.
Those who use Yelp to search for cafes and restaurants will be pleased to be able to book through the OneTable service.
And then you can register on the site and share your impressions and possibly photos.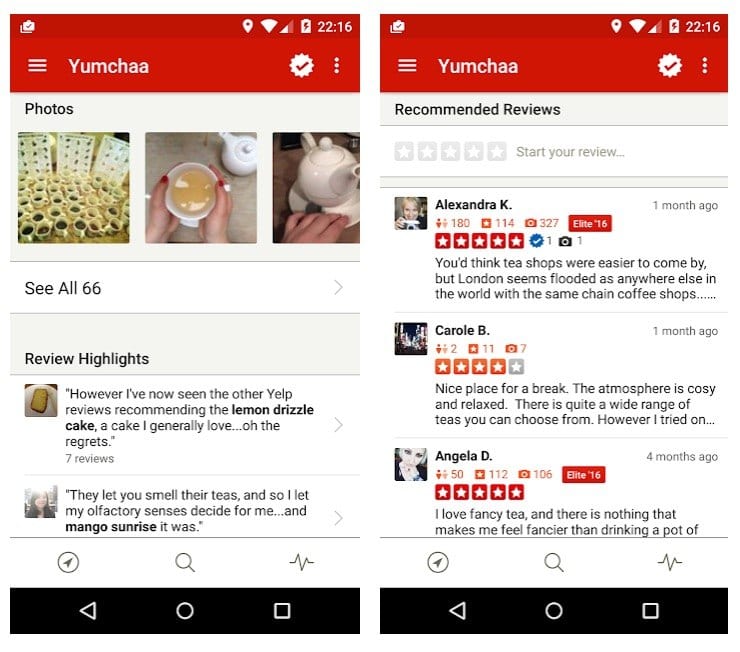 Downloads: 50 000 000 +
Customers rating: 

(4.2 / 5)
You may also like: 11 Best leftover food apps for Android
Quandoo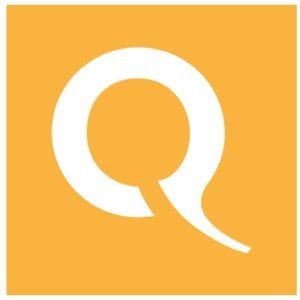 Find the best restaurants in the city and book them for free with a useful Android tool Quandoo!
Quandoo is a free table booking app. Choose from more than 10,000 restaurants. Why call if you can make a reservation directly from your smartphone and get bonuses and discounts?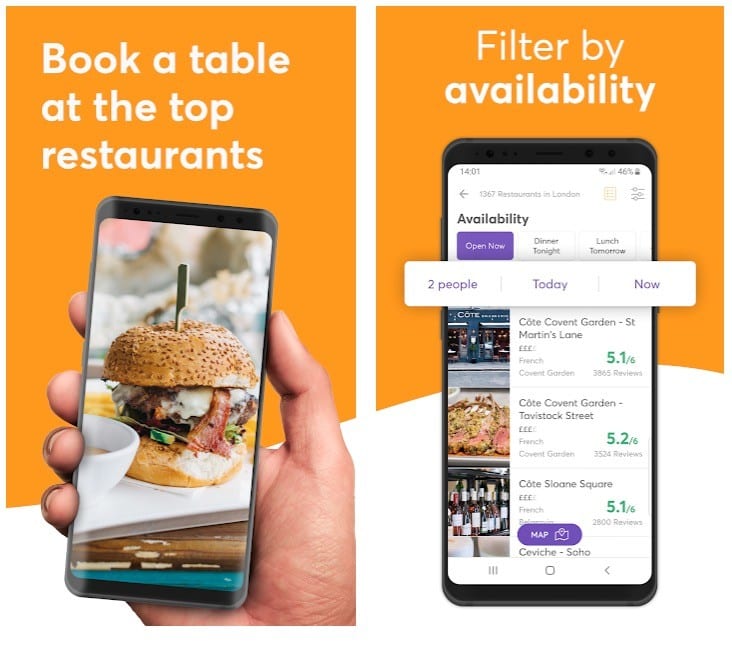 Here are just a few features available to users:
Search for the best restaurants around you (along with the map!)
View images, menus, times, reviews and restaurant addresses
Book in real time for free!
Earn points and exchange them for discounts!
Quandoo is available in several languages in Europe, Asia, and South Africa.
Choose your favorite cuisine: Sushi, Pizza, Steak, Chinese, Tapas, Indian, Burgers, Mexican, Asian, Russian, Vegan, Thailand, African, German, French, Greek, Italian, Spanish, Vietnamese, gourmet, and many others!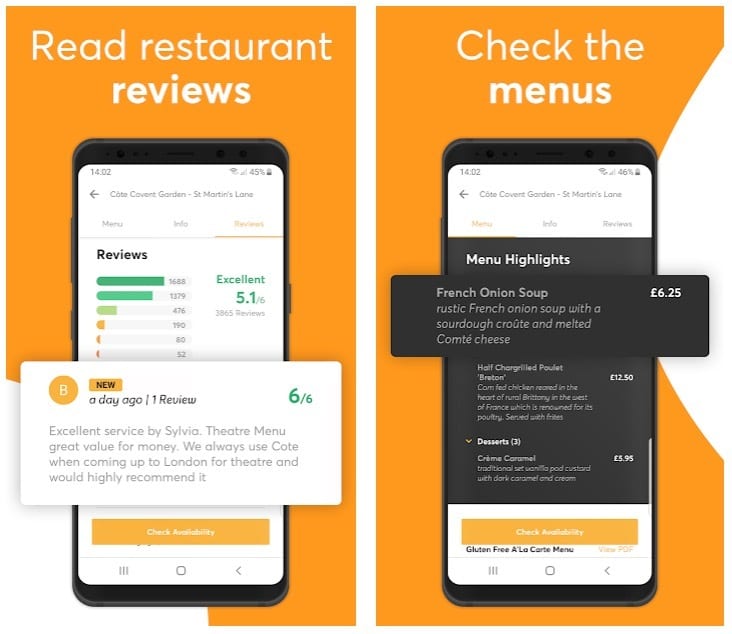 Downloads: 100 000 +
Customers rating: 

(4.6 / 5)
ReserveOut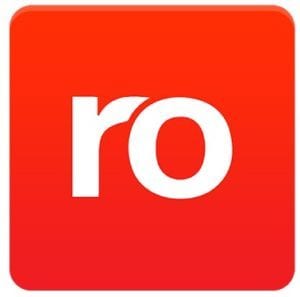 ReserveOut is the easiest way to book a restaurant. Download the application and you'll be able to search for restaurants and cafes, read menus, view photos, read diners' reviews and book promotions.
In turn, you can do your part, too. Having chosen a brand new restaurant to visit, try the most delicious dishes, enjoy the design of the restaurant and good service. And after the visit also leave your feedback with photos. Other users will be very grateful to you.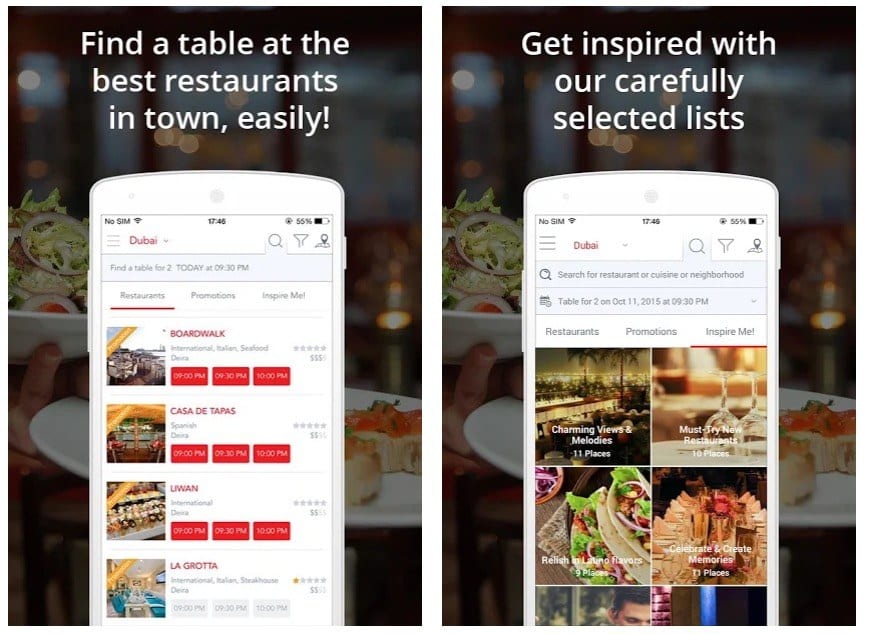 The main features of the application
Find the best restaurants in the city
Reserve instantly on the go through the application
View restaurant photos, read the description, menu, and more
Get exclusive offers and hottest promotions
Set filters such as Cuisine, Neighborhood, Price, or Features according to your preference
Create your Favorite List
Use your calendar to add reservations and be reminded in time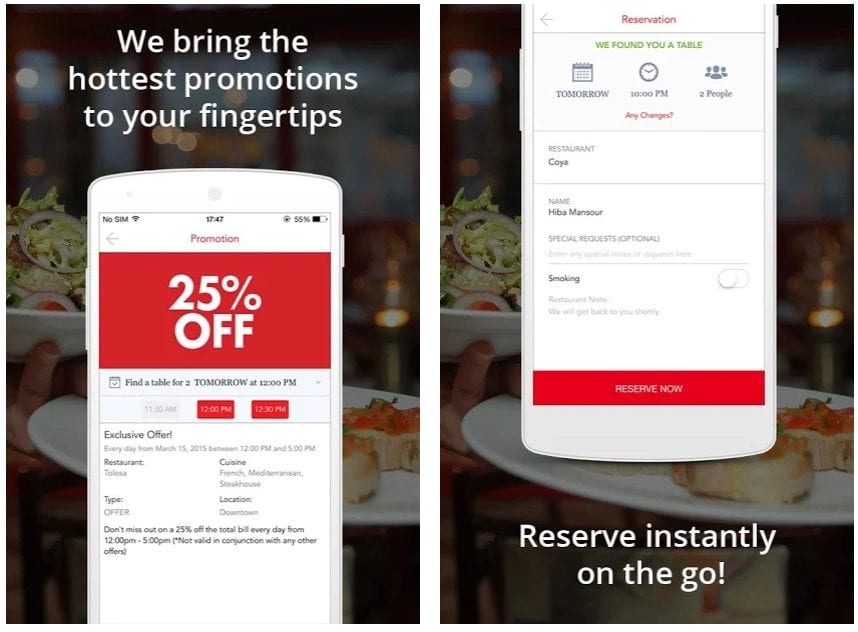 Downloads: 50 000 +
Customers rating: 

(4.6 / 5)
Michelin restaurants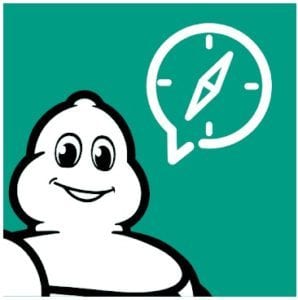 Michelin Travel guide, tours, restaurants, hotels – discover the world with Michelin! This is an interesting and functional application that every traveler will appreciate.
Here, you will find over 35,000 places of interest in more than 80 countries. This app can be considered as a free travel guide that you can always have in your pocket! Find and book Michelin-selected restaurants, hotels, and tours with it wherever you are.
The main features of the application
Thousands of spots and more than 80 countries available
Find your upcoming destination and view the closest sights
Star rating for sights and top sights
Reserve a table at any Michelin-selected restaurant
Get instant travel directions to any sight, using your preferred navigation app
Michelin Travel uses your location to find great ideas wherever you are.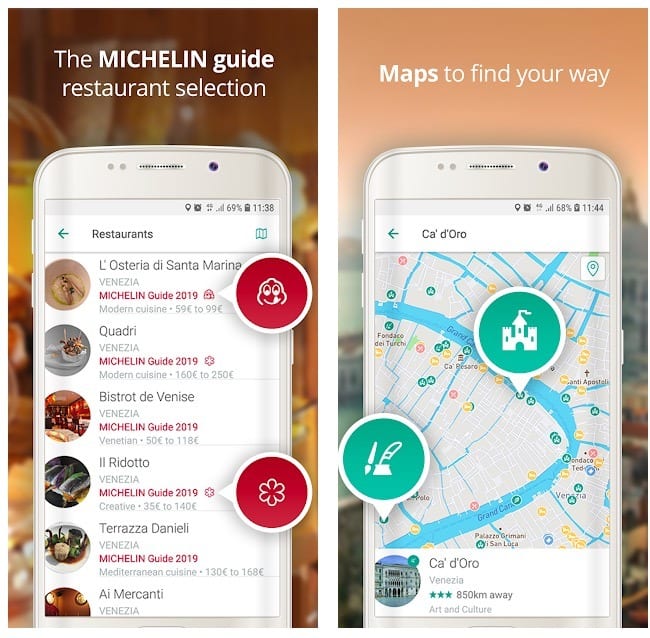 Downloads: 500 000 +
Customers rating: 

(4.3 / 5)

eatigo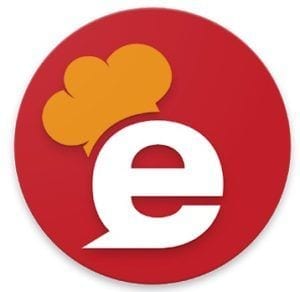 This app will be helpful for those who travel in  Thailand, Singapore, Malaysia, Hong Kong, India, the Philippines, and Indonesia.
Eatigo is a convenient application for Android, which will help you to order lunch at a restaurant and get a good discount.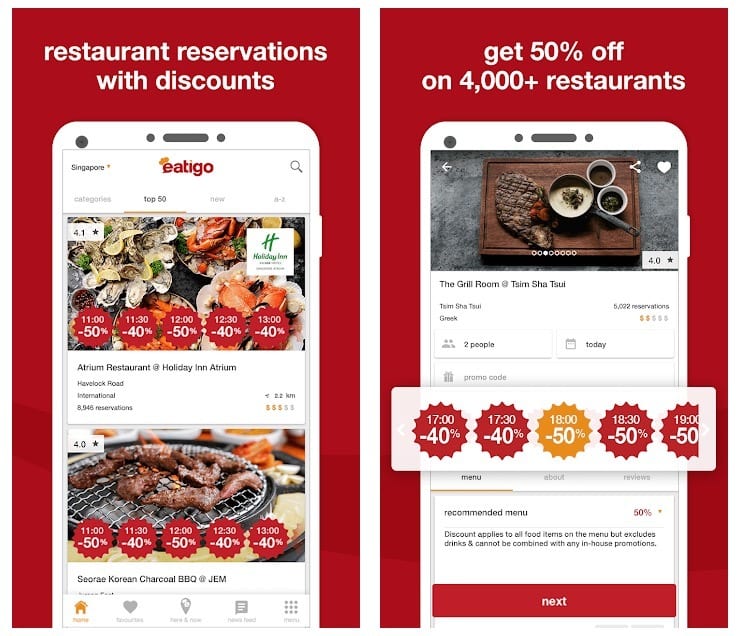 The Eatigo project is a large collection of restaurants and other catering facilities located all over the world. The application is available in countries such as Hong Kong, India, Singapore, Philippines, etc. In these countries, you can order lunch in three simple steps in the proposed partner restaurants.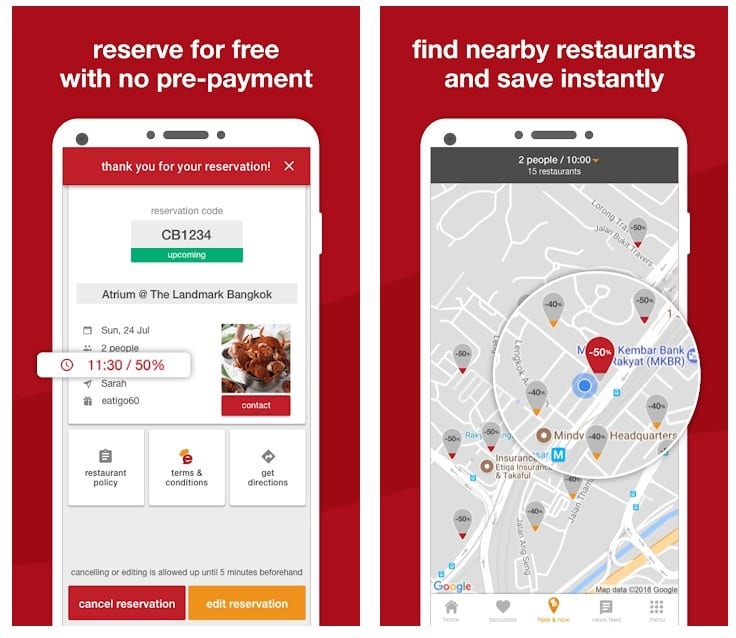 You only need to:
Choose the type of cuisine that you would like to taste, as well as the city where you want to eat.
Specify the desired restaurant from the proposed list of partners of this Android application.
Then book a table, choose the time of the visit, and decide on a discount.
After that, you can prepare to visit the restaurant and the best service. More than 2000 various establishments are available among which it is possible to find Chinese, Japanese, Italian and other cuisines.
Features of the application:
Possibility to save your impressions and create your own list of the best establishments;
Search for the best option for meals depending on the location;
Ability to track discounts and new offers from the comfort of your home;
Overview of all restaurants with reviews and features;
Free of charge.
Eatigo application is a convenient way to organize your lunch with the help of mobile Android-device only in three small actions.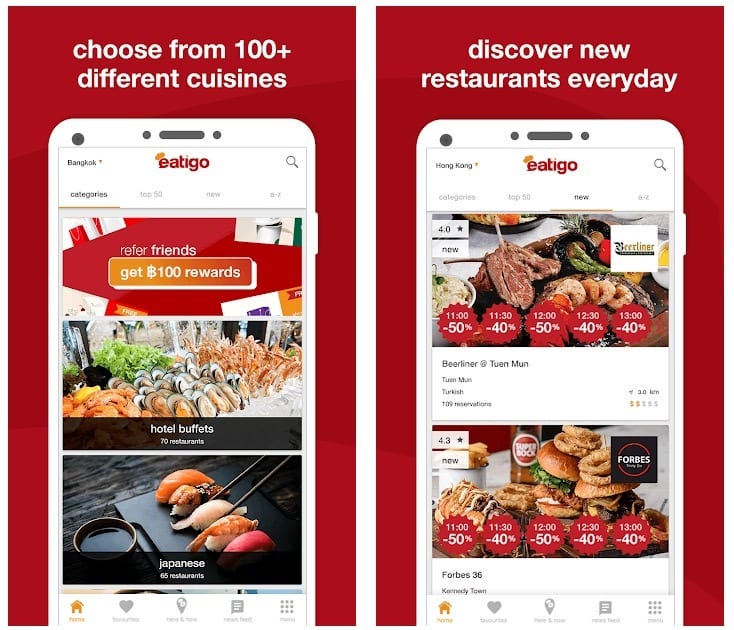 Downloads: 1 000 000 +
Customers rating: 

(4.0 / 5)
Chope Restaurant Reservations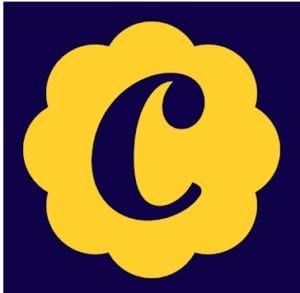 If you like traveling and now you are in Asia, you can use this restaurant reservation application. Chope Restaurant Reservation app offers a lot of opportunities:
Choose from more than 4,000 restaurants
Use filters: Area, Cuisine, Price, Promotions
View photos, read menus and dish recommendations
Reserve a table with just a few clicks
Choose restaurants based on past reservations, and what's nearby
Get Chop-Dollars for each booking and redeem for dining vouchers
New offers and deals are added every day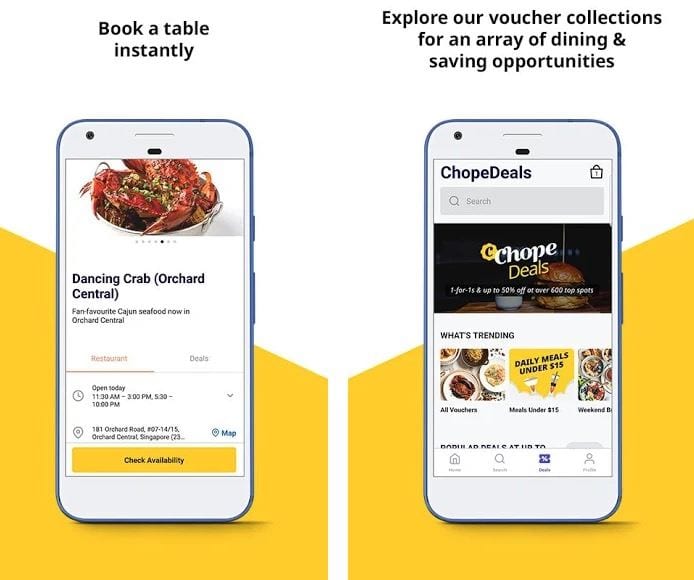 Downloads: 100 000 +
Customers rating: 

(4.2 / 5)
You may also like: 9 Best virtual assistant apps for Android
BigDish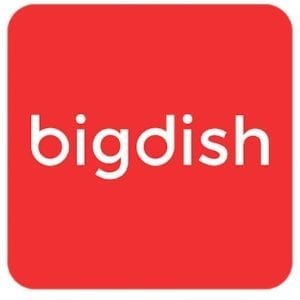 BigDish Dining is a great helper when you need to reserve a table instantly. Moreover, it will help to save on meals. You can get discounts of up to 50%!
The application has a user-friendly interface and extremely easy in use. Just select a spot, choose the time, date and number of people for your reservation.
If you have a discount it will be applied automatically.
The main features of the application
Find restaurants nearby
Instant booking confirmation
Get Up to 50% off meals
Get great savings on your next lunch or dinner
View a menu before booking
Make your Favorite List and re-book in a jiffy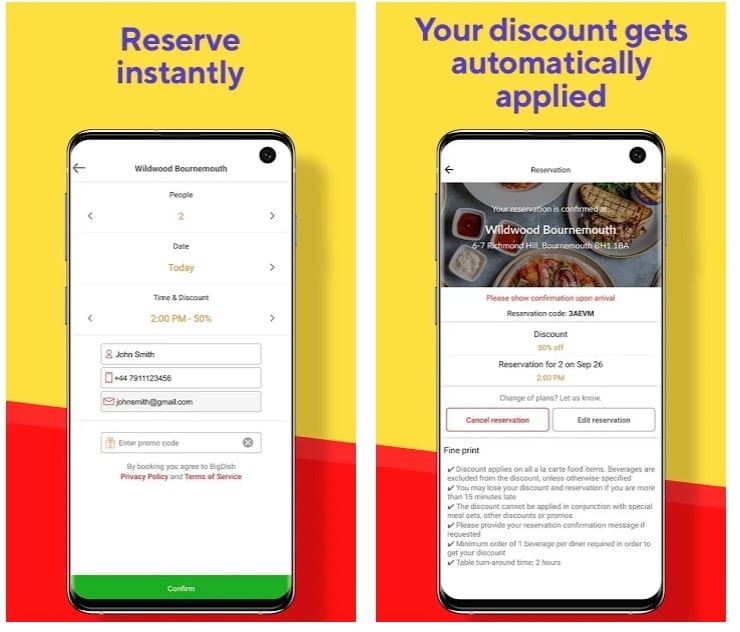 Downloads: 50 000 +
Customers rating: 

(3.7 / 5)
There are many applications for an online table reservation, but each of them, of course, has its pros and cons. You can compare them yourself, agreeing or disagreeing with us in some judgments.