Sports betting is an area that has always been extremely popular. At least 50% of people over the age of 18 in the US have bet at least once in their lives.
As more and more people try their hand at betting, sports betting apps are growing rapidly in popularity. Betting is so easy these days that most people with little experience in sports do it.
In this article, we have compiled the best football betting apps. They are the key to making betting not just a pastime, but also a source of income.
You may also be interested in bet calculator apps. With them, you no longer need to make calculations on a piece of paper: all probabilities are calculated by this smart tool!
Betting TIPS VIP
If you download the Betting TIPS VIP app, it may prove to be a good aid to you in making money from football. The experts share their experiences, which they have gathered over the years, for free.
The app is really user-friendly and has a clear interface. The only thing that can annoy you is the advertising that keeps popping up. But it's worth considering that the app is free.
Try to maximize your winnings by taking into account the app's tips. Statistical analysis and expert betting knowledge are what beginner bettors need.
The analysis takes into account technical changes in the teams, latest team status, penalties, players' form and injuries, player's personal life, weather conditions of the matches, and betting news.
However, we can't recommend relying on the tips provided by the experts in this app. As it's free, it may not be able to produce the best predictions or give you false information about the likely winners of a sporting event. Trust only yourself and your intuition.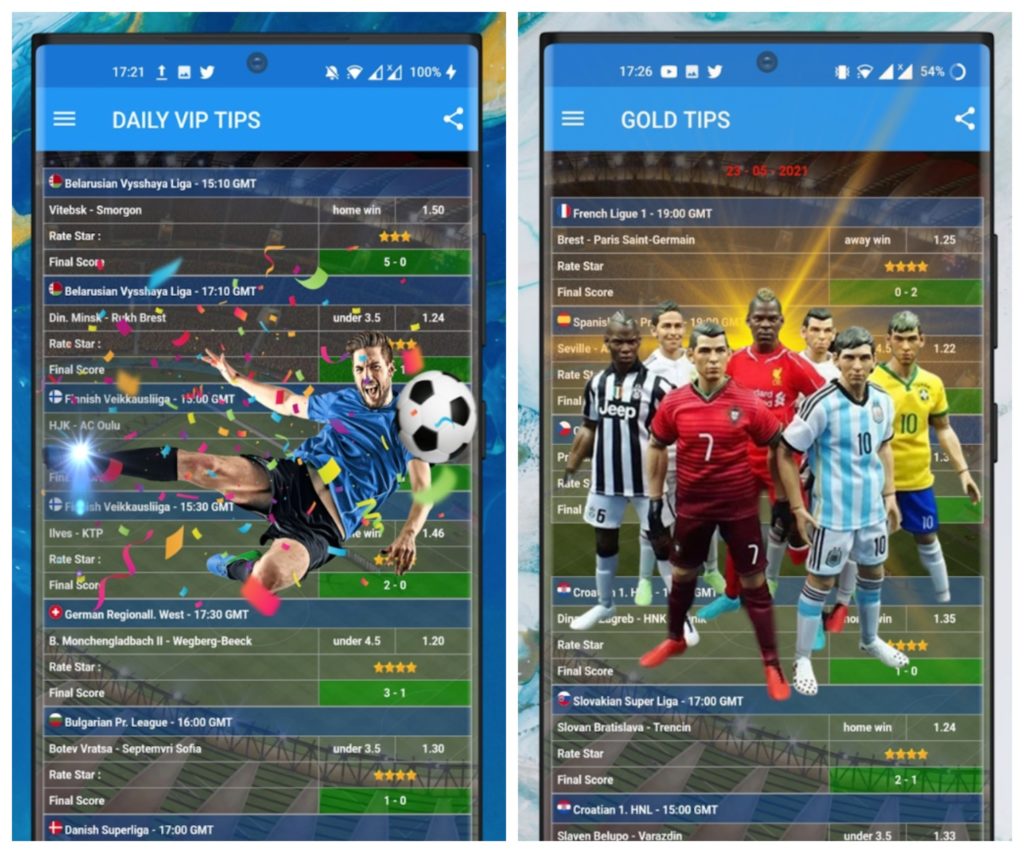 Downloads: 1000000 +
Customers rating:

(4.6 / 5)

You may also like: 15 Best Side Hustle Apps To Earn On Android
Soccer Odds
Soccer Odds is a sports prediction app. A great helper if you're trying to get a feel for betting. The best part is that it's free and provides up-to-date information.
The predictions are based on artificial intelligence. Bookmakers give reference odds for the major football leagues in the world. Bettors can view the accuracy statistics of past predictions and develop their betting strategy based on that.
Every day you can see some betting predictions. They are available for free. But with the VIP version, you get extended access to all forecasts and tips.
Don't forget, you may always get unexpected results in competitions. Predictions show only the expected probability of a match result.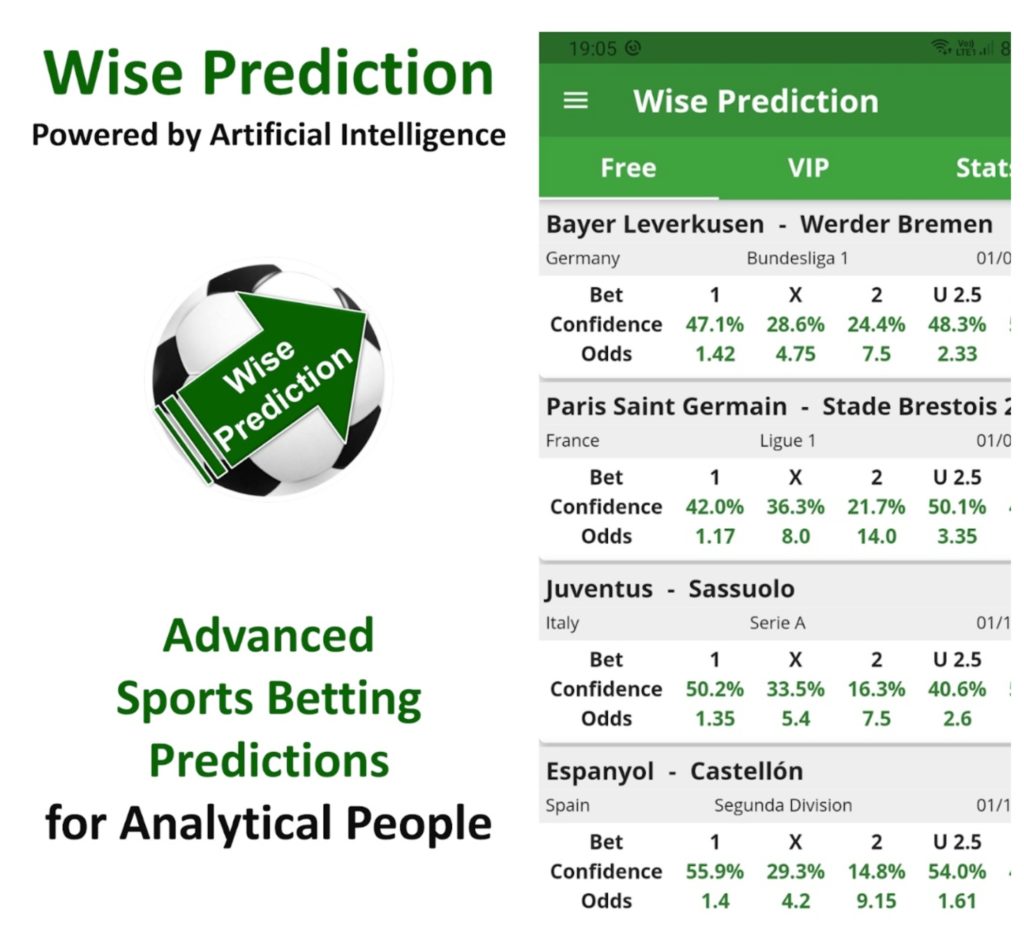 Downloads: 10000 +
Customers rating:

(4.3 / 5)

Wonna
Successful betting is not all about blind luck. Your success depends more on the information you have. There is not enough information about sports, but rather an overabundance of it. The WONNA sports prediction app is much smarter.
Instead of looking at a team's past performance over the last ten years, the app can make a quick summary of vital statistics that you can view straight away.
WONNA offers daily safe betting tips. You can use the free version which will offer you 4-6 free football betting tips. The average real success rate is 88-95% every month.
If you use the additional paid access you may have a success rate of 90-99%. In this case, you will have 3-5 betting options. There are several subscription options for you to choose from.
However, keep in mind that average success may rise or fall. Data is dynamic. Also, success in league matches has been seen, but not so much in cup matches.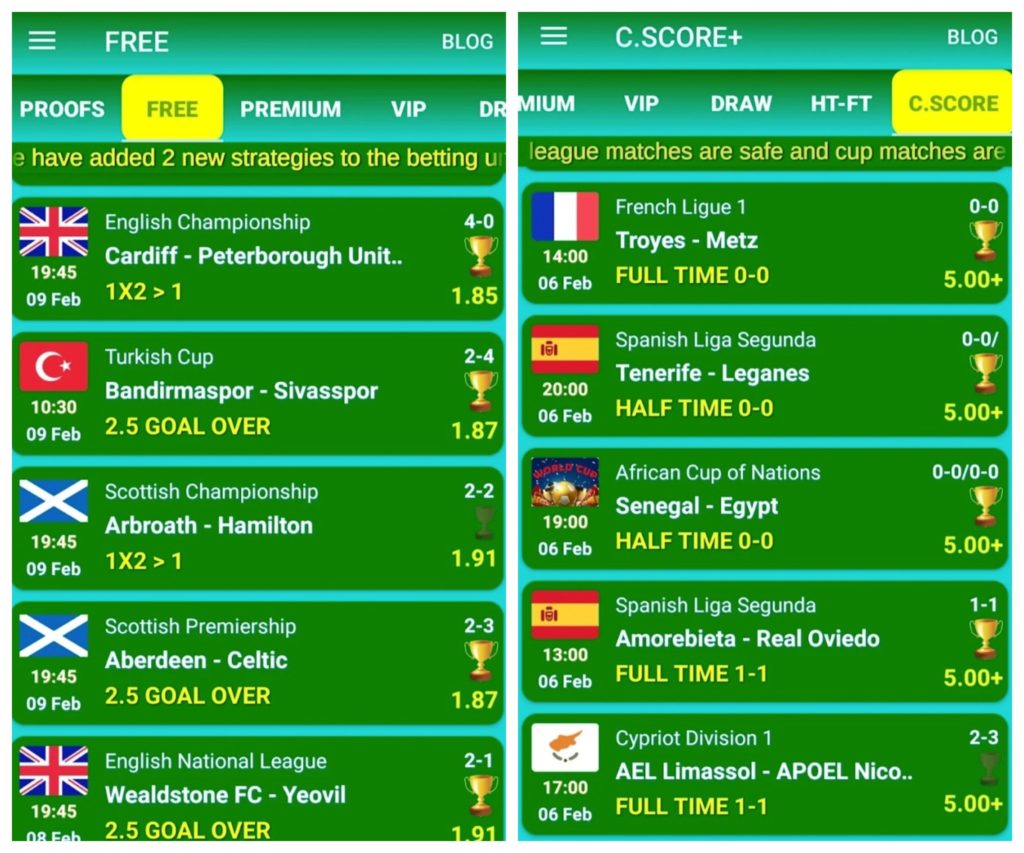 Downloads: 100000 +
Customers rating:

(4.2 / 5)

TipsterMan
TipsterMan is a great app with betting tips. You will have fun and satisfy your thirst for betting. However, who wants freebies pass by, they give a prediction of the outcome as it can go but you need to be able to analyze the game itself and the teams.
The app is good for newbies who don't know much about betting. You get valuable tips for matches around the world. The tips are given on the basis of statistical data. You will be able to bet on both high odds and very high retention bets.
You will get free betting recommendations for dozens of matches every day. Apart from football, there is tennis and basketball. The matches are streamed in real time.
You will also have access to past betting statistics and results.
With this program, you can get success easily and without problems, but of course, there are losses. It's worth bearing that in mind too.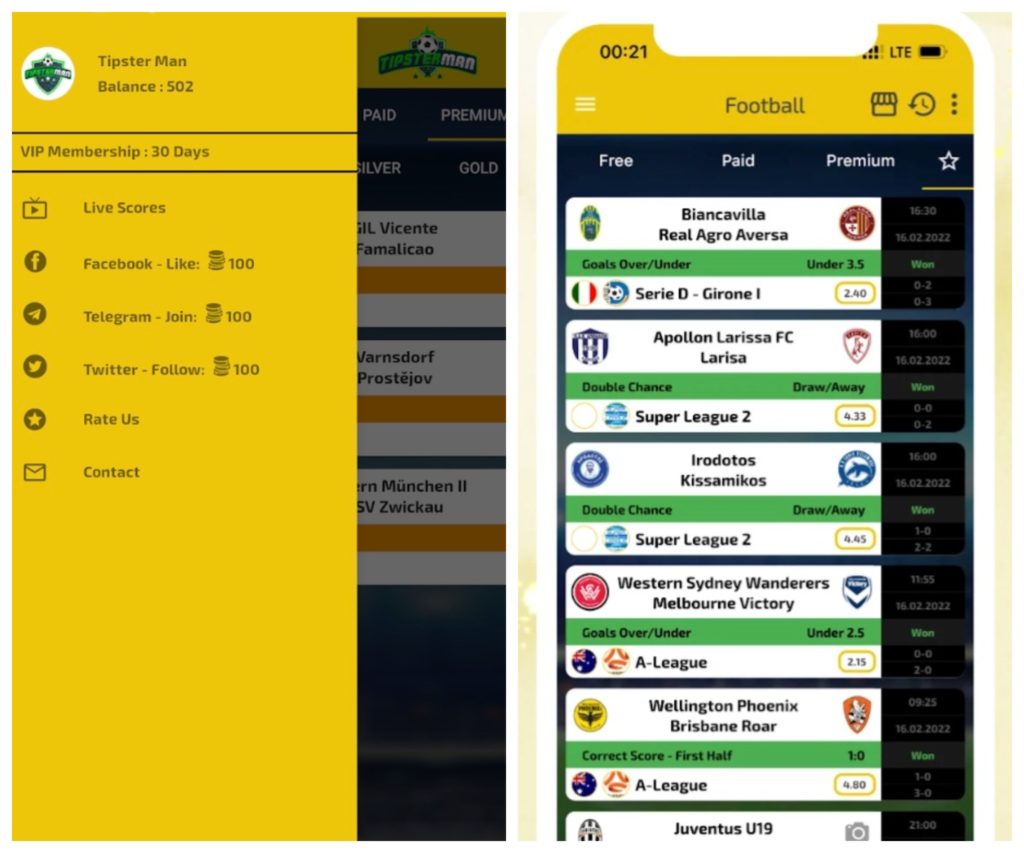 Downloads: 100000 +
Customers rating:

(5 / 5)

Live Football Bet Predictions
This app can make football predictions with the usage of AI help. And because it uses the help of machinery, here you get hundreds of predictions per week, so everyone will find something suitable. The statistics are literally made in the precisions to the minute.
Usually, the predictions are made 4 days before the game takes place. Right before it the app will give you a chance to compare the predictions and the bets one more time. During the game, it will be informing you of any anomalies happening.
Moreover, the app provides all the details about football matches, including the number of yellow and red cards, player exchanges, and scores.
The tournament tables can also be found in the app. In general, Live Football Bet Predictions is remarkable for its convenient interface design that doesn't make its users think too much about how to navigate this app.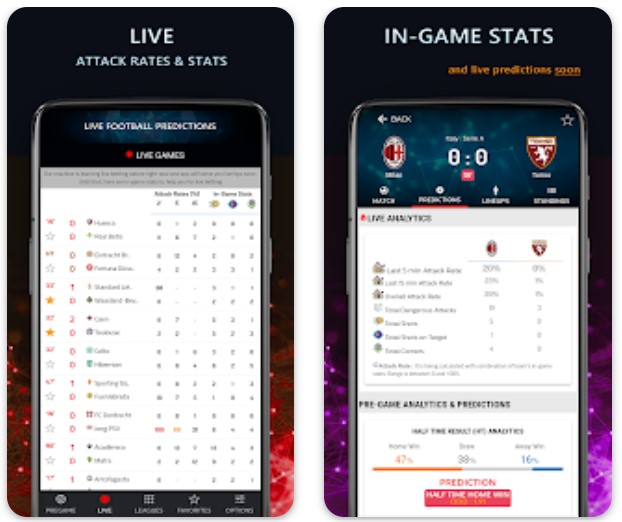 Downloads: 100000 +
Customers rating:

(4.2 / 5)

Betbook Betting Tips
Although this sports event prediction app will never be able to make 100% accurate predictions, it will help you improve your accuracy anyway.
Betbook Betting Tips is a good app that combines expert analysis and algorithmic calculations to ensure accuracy. This will help you gain confidence faster when betting.
In the app, you will find 16 tabs, 8 of which are free. You can get current football, tennis, and basketball forecasts for free. The predictions are published every day.
All predictions are based solely on research and team statistics. Therefore the app is meant for entertainment purposes only.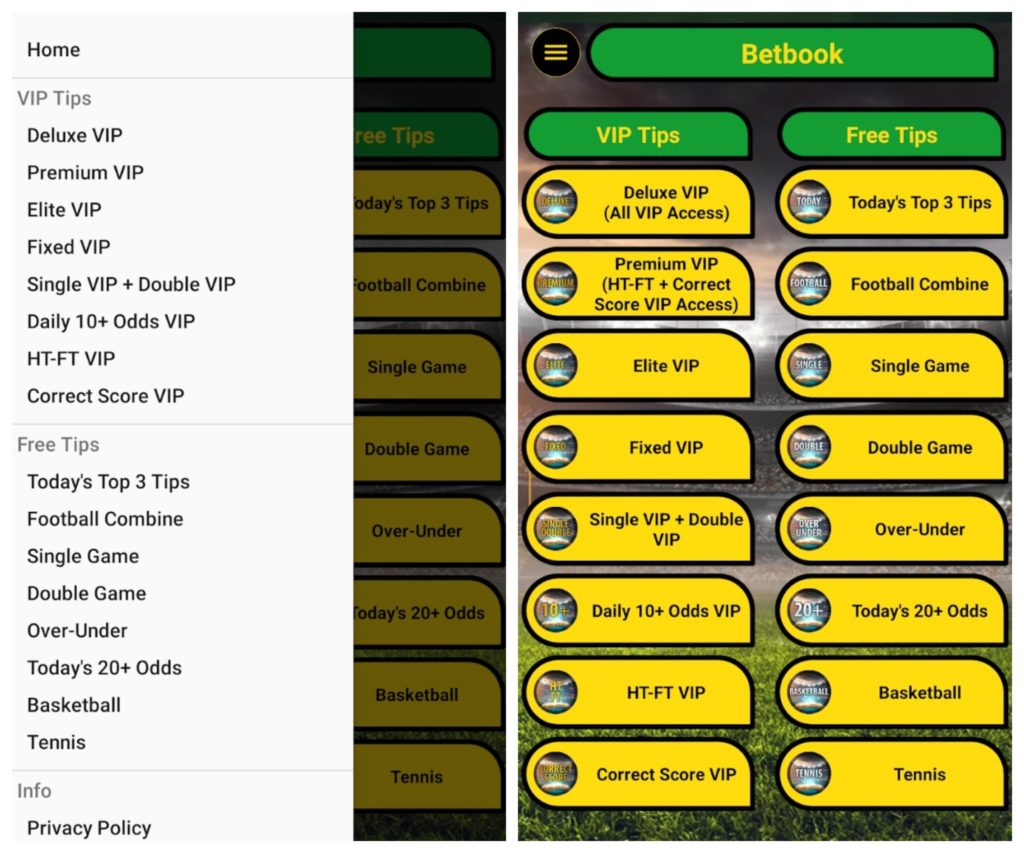 Downloads: 100000 +
Customers rating:

(4.7 / 5)

You may also like: 9 Best Reseller Apps To Earn For Android
Football Predictions
Just like the name of this app, it is quite simple. If you want to bet in sports and you need a nice and easy-to-use application for those purposes, look no further than the Football Predictions app.
The distinctive feature here is that Football Predictions provides detailed analysis and predictions by the leading experts of the industry on the daily basis. The developers brag that their rates of predictions are extremely precise so you can totally rely on the app.
In our opinion, one of the best advantages of Football Predictions is that you don't even need to register here, or create your account – the app requires no personal data from you.
Moreover, the developers claim that the app has the perfect interface design, however, we would rather call it mediocre.
In total, according to the feedback of users and our personal experience, you can quietly rely on the information given by this app for making bets. However, keep in mind that no one is responsible for the ending result.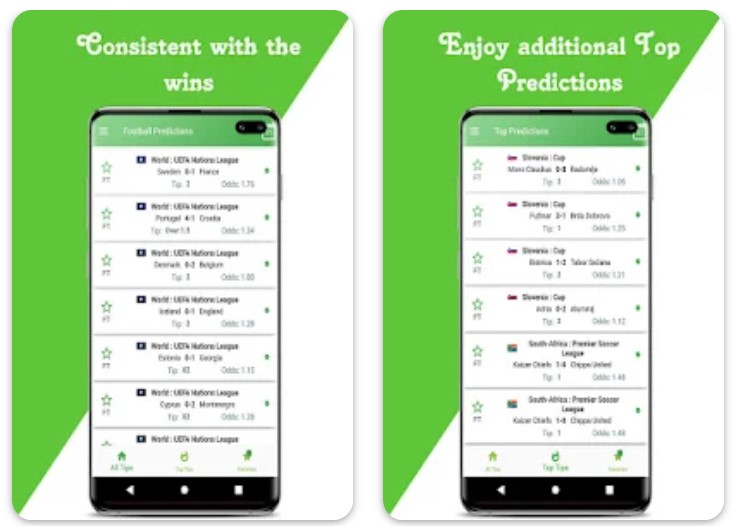 Downloads: 1000000 +
Customers rating:

(4.3 / 5)

Winner Expert Betting Tips
Actions that will take a person hours to complete, Winner Expert Betting Tips will do for free in seconds. Betting tips from the team of experts are published daily. They analyze football on a daily basis to give their predictions as accurately as possible.
The passability is quite high and you can make a profit even though the odds are small. With a premium, you will naturally earn more.
You can set up notifications in the app and then you'll always know when new betting predictions are available. There are also premium tips. You can view the betting history.
But of course, you should not rely entirely on the app. It is your own responsibility.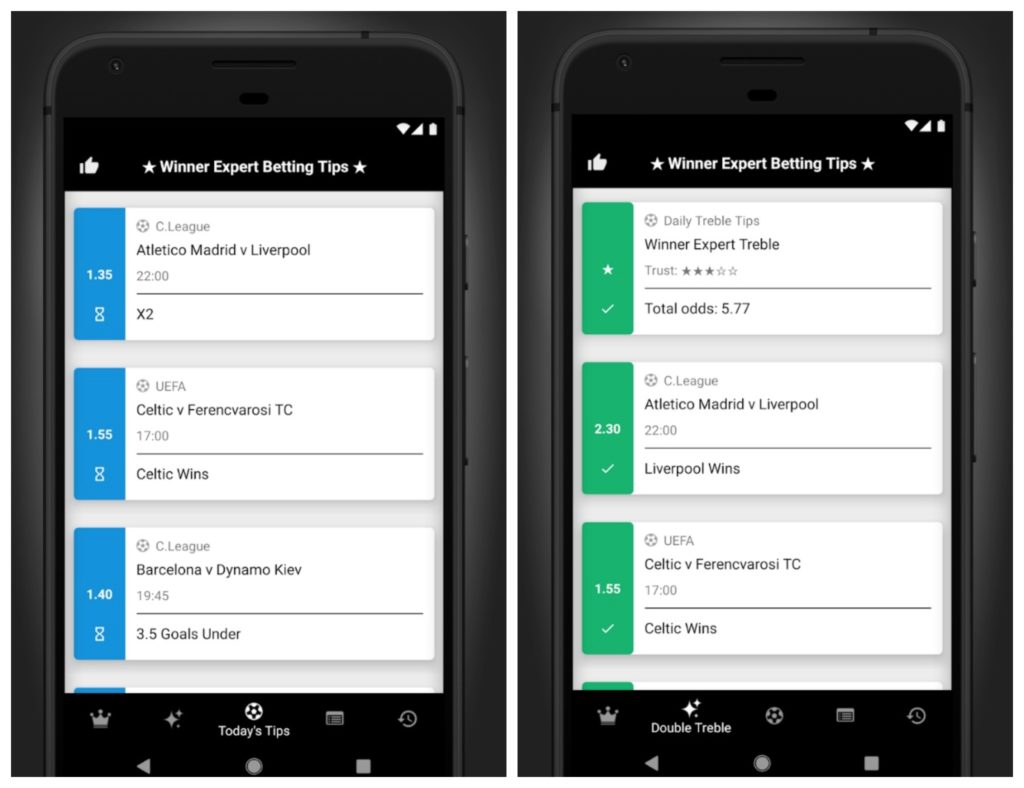 Downloads: 100000 +
Customers rating:

(4.4 / 5)

ProTips
ProTips is a good app if you are into betting. It helps and simplifies analytics. It's better to focus on the top leagues and you'll be on the plus side. Make your own algorithm and earn money!
The app optimizes calculations and saves time. The success rate is quite high as it uses statistical data as well as the latest news and information about the teams. The form of the teams, total number of wins and defeats, home and away stats, the total number of goals, etc. are taken into account.
You can download this sports betting app for free. What is handy is that you will be able to keep track of the score of the match you are betting on with the Livecore feature. You will find the biggest leagues and championships in the different countries.
But as always, the responsibility is yours alone. Mind you, betting always involves a risk.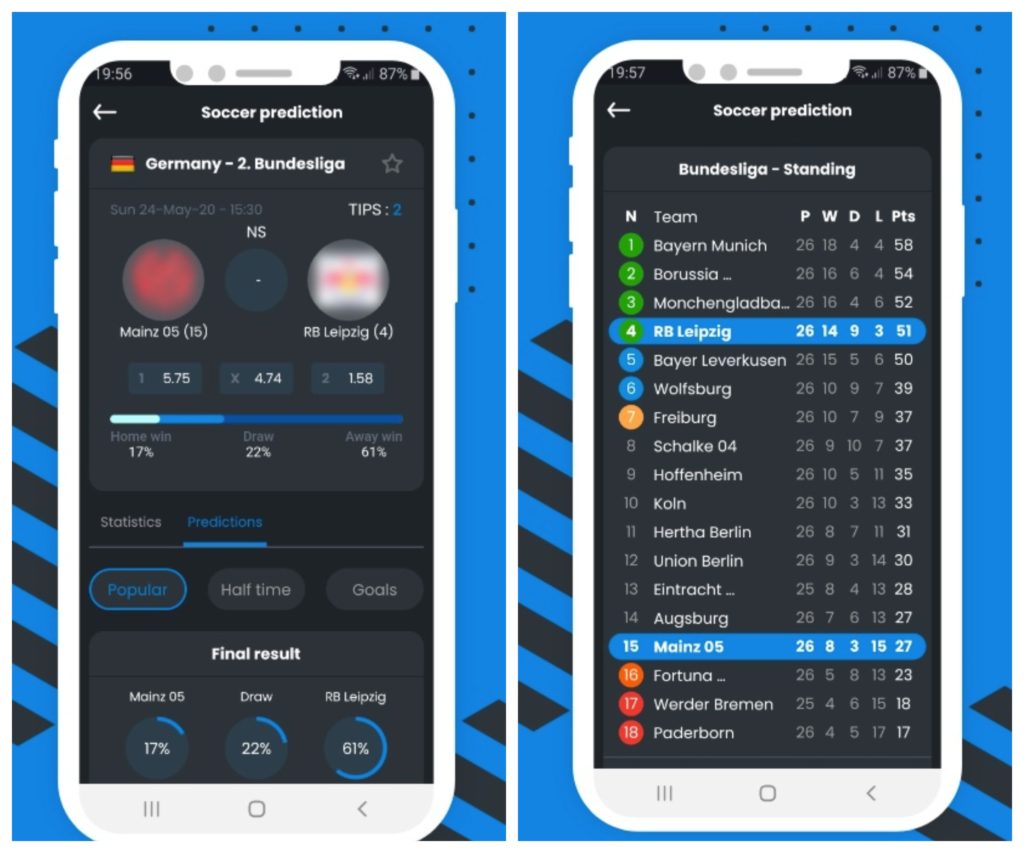 Downloads: 100000 +
Customers rating:

(4.4 / 5)

Infogol
Stay in touch with sports even when you're far away from home with Infogol – Football Scores & Betting Tips. With this app, you can view all the latest information not only about the upcoming matches but also about the ongoing ones and how many goals you can count on.
The developer claims that the team of analysts provides free predictions and tips for users of the app so that they can make money from sporting events. The effectiveness of such predictions has not been established yet, but we don't recommend trusting the information from the free app, as for the most part, it is not reliable.
The reviews for this mobile app in the official market are mostly positive. Users note that it's convenient to use to track information on current sports events, as well as to analyze upcoming matches in order to make a prediction.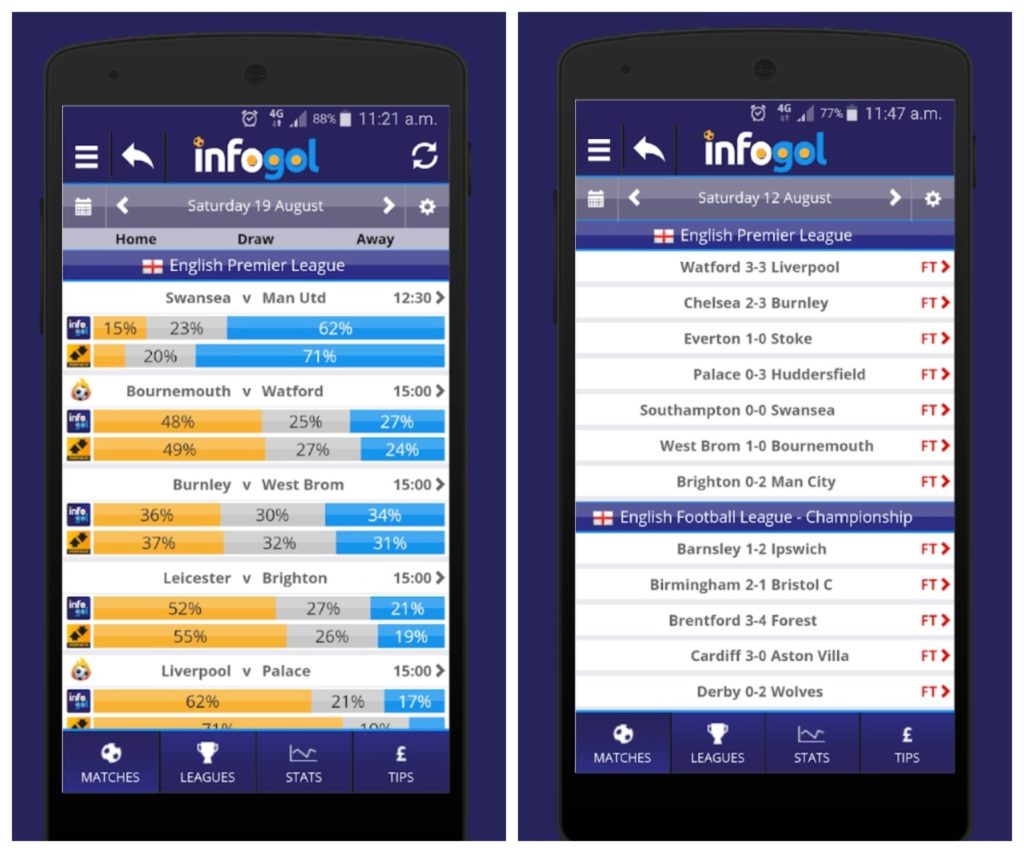 Downloads: 100000 +
Customers rating:

(4.5 / 5)

Soccer Predictions
The application is a real finding for those who have not yet learned how to make their own predictions. Often a bookmaker will deliberately overestimate the odds of a particular team. For beginner bettors, this can be a serious obstacle on the way to success.
However, fooling the program's artificial intelligence is not so easy. It calculates the real probability of each team winning. A particular feature of the software is that it even uses minor factors to make a prediction.
But in any case, it's worth remembering that Soccer Predictions is not responsible for the outcome of matches, and your money.
The app helps you predict the outcome but there are many factors that cannot be predicted (injuries, red cards, etc.).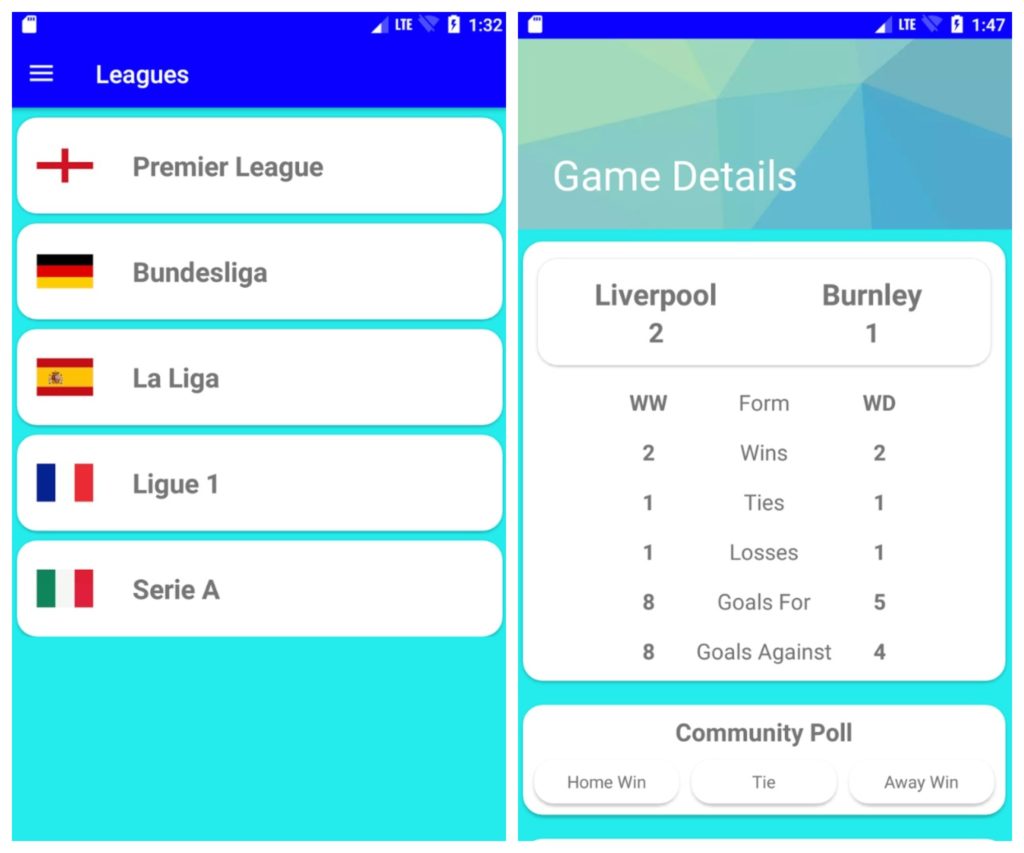 Downloads: 50000 +
Customers rating:

(4.7 / 5)

You may also like: 15 Best multiplayer sports games for Android
Forebet
Forebet is an app with free football predictions based on mathematical models. You will find statistics not only for the major leagues but also for lesser-known tournaments such as Honduras or Zambia.
The system automatically generates the probability percentages for the matches based on the last 14 years, the form of the teams, and the weather conditions. The predictions are accompanied by average odds taken from bookmakers' websites.
The Forebet administration additionally warns that it is not responsible for the accuracy of the information on the website and urges not to use the data as the sole basis for making decisions.
The exact score predictions are based on the teams' past performances, taking into consideration their current form. The predictions for the number of goals scored are calculated on the basis of the goals scored in the games between the opponents over the last 12 years.
Predictions for the other outcomes are based on an algorithm in which Forebet takes into account the team's form for home and away matches separately. This approach is thought to be unique.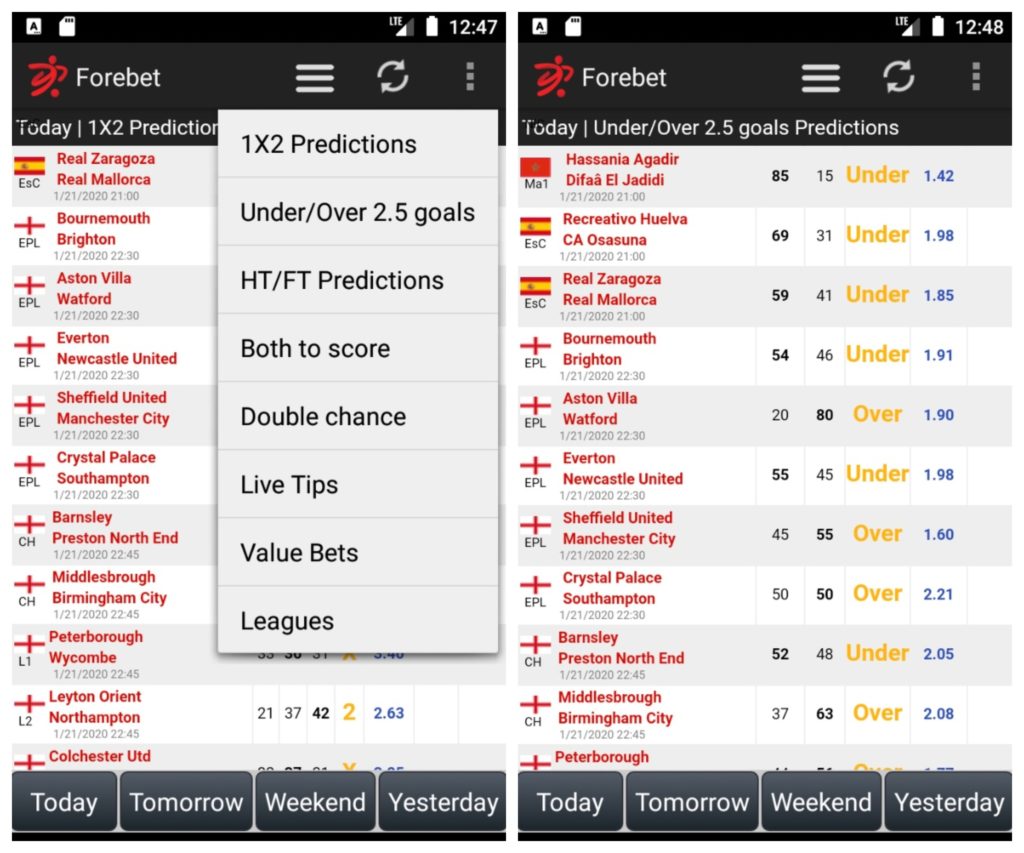 Downloads: 1000000 +
Customers rating:

(3.9 / 5)

The above apps for the Android mobile platform will help both novice bettors and people with experience. They offer great opportunities and make the betting process a lot easier. The apps are as good on their own as when they are used together.