Have you ever struggled with figuring out your foot size? Yeah, we all know the headache that comes with trying to measure something and not having the proper tools.
Luckily, we've rounded up the best feet meter apps for Android you could try. These apps let you figure out the right size and these are gems if you want to buy shoes online.
With these nifty tools, you can unlock the secret to your foot size in a matter of secs! So, no more toe-tangling or heel-slipping, just ideally-fitting shoes for you. Let's get into it!
Shoe Size Meter
Are you someone who loves shopping for shoes or sneakers online, but always worries about getting the right fit? Then this app may be just what you need!
This app takes the hassle out of measuring your foot size at home, thanks to its quick and precise foot sizes. With easy-to-follow instructions, you can estimate your foot length, and width, and type in a flash. And the best part? You can do it all without any additional instruments!
The app also covers a standard size chart, making it easy to find the right fit no matter who you're shopping for. And if you are already aware of the size of your foot, the app provides a user-friendly size converter.
But that's not all, the app also comes loaded with tools like a history, so you can monitor your progress and see your shoes' size charts for the best fit. And with more exciting features like brand-specific charts for top brands coming soon in the Pro version, this is an app that's sure to make your shopping experience a breeze!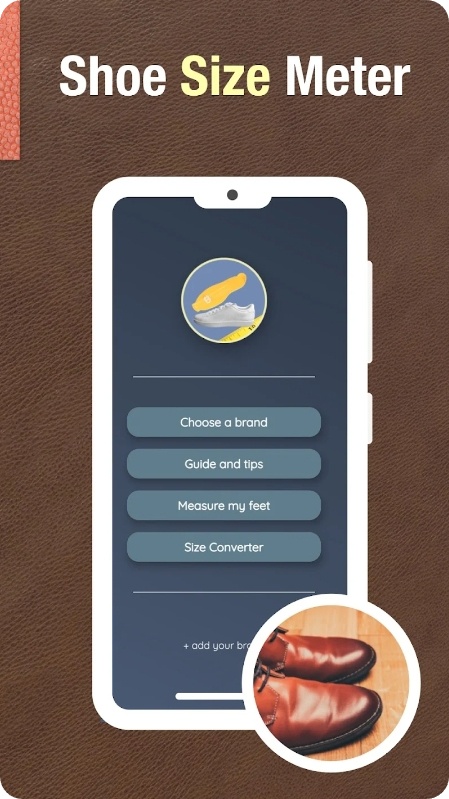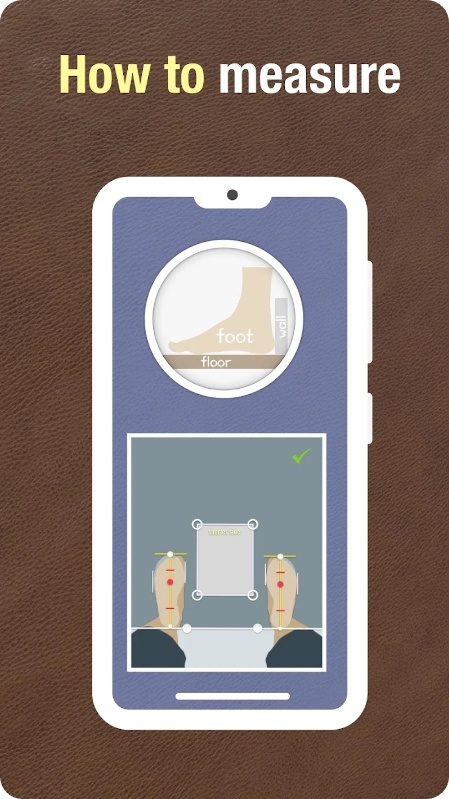 Downloads: 100K+

You may also like: 11 Best Measuring Apps
MFoot
This app is here to help you say goodbye to the stress and headaches caused by online shopping. If you have struggled with finding the right shoe size, this app will become a game changer.
Not only does it make it easy to calc your foot size by simply taking a snap, but it also takes into ACC any specific tools or prefs you may have for your shoes. From narrow or wide widths to specific brands and styles, this app has got you covered.
But the benefits don't stop there. Thanks to the app's database of shoe sizes and styles, you can rest assured that you'll find the right fit every time. With its friendly UI and handy shoe size conversion chart, even those who are new to the world of online shoe shopping can feel confident in their purchases.
Overall, we wholeheartedly recommend this app to anyone who has struggled with finding the right size and style of footwear online. With its innovative technology and vast selection, this app is truly a game changer in the world of shopping.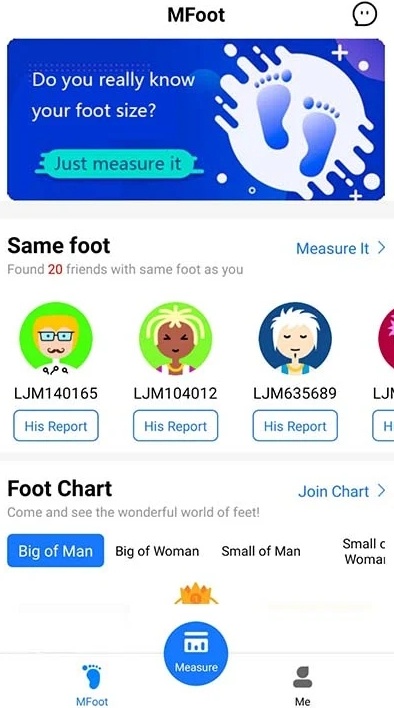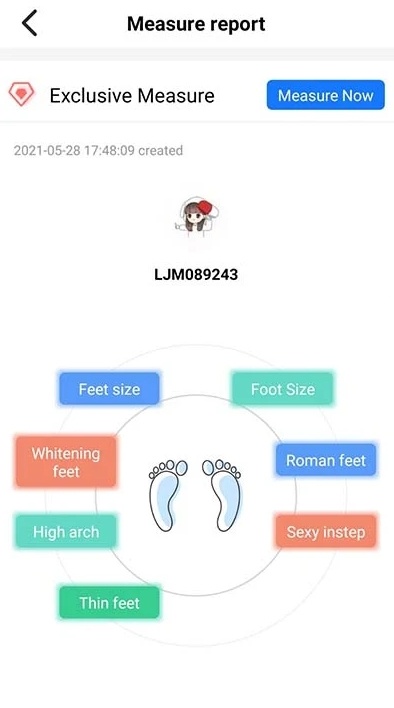 Downloads: 10K+

MS ShoeSizer
Tired of spending hours trying on shoes at the store, only to leave empty-handed because none of them fit properly? Give this app a try to this app, then. It uses advanced AI algorithms to accurately measure the size and shape of your feet, providing you with personalized shoe size recs for every brand in every country.
One of the top aspects of this one is how incredibly simple it is to use. All you need is a cam and a left foot. Simply take a pic of your foot and voila! The app's AI algorithm makes a 3D model of your foot with metrics such as arch height, length, and width.
But what really sets it apart is the fact that it gives personalized size recs for every brand. No more relying on reference objects like A4 sheets or rulers, the app is incredibly precise and easy to use.
Plus, with the virtual try-on tool, you can try on footwear from various brands easily. This eliminates the hassle of visiting a store and trying on dozens of shoes that may not even fit you properly.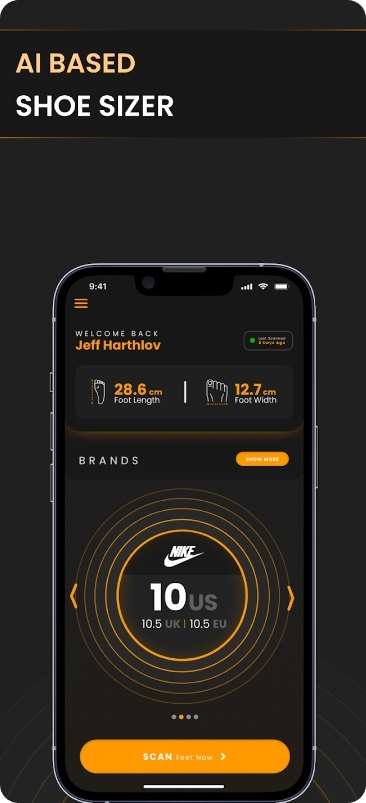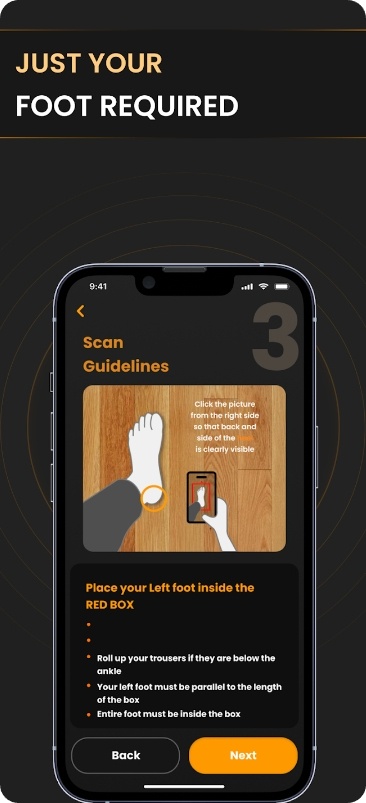 Downloads: 1K+
Customers rating:

(4.4 / 5)

FitFeet
Have you ever bought a pair of shoes that fit in the store, only to realize they're a torture device once you take them for a spin outside? Yeah, it has happened to all of us. Luckily, this app is here to save the day (and your toes)!
This nifty little app is super easy to use – all you need is a sheet of paper and your trusty mobile. Simply place the paper on the floor, stand on it, and let the app work its magic. In a matter of secs, it will find out your foot size and width, taking the guesswork out of shoe shopping.
But wait, there's more! The app is also an expert in shoe sizes for various brands. Thus, it can compare your foot parameters to the sizes of your favorite brands, so you can finally say goodbye to the frustration of having to guess which size to buy.
Online shopping has never been this stress-free. With this app, you can confidently order shoes in the comfort of your own home, knowing that they will fit like a glove (or a shoe?) once they arrive at your doorstep. So if you're tired of dealing with blisters, cramped toes, and all the other pitfalls of ill-fitting shoes, give this one a try.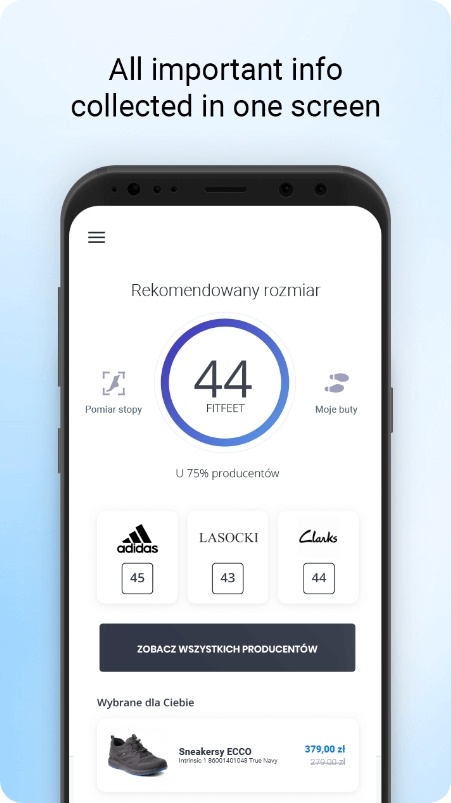 Downloads: 10K+

Check also: 7 Best Clinometer Apps
INESCOP
This app is a handy solution to estimate your feet and find matching shoes online. It will make your shopping exp more convenient and enjoyable than ever before!
With this delightful app, you can say goodbye to the frustration of buying ill-fitting shoes online and the hassle of returning them later. Simply take two simple photographs of your feet from a lateral and upper perspective and let the app work its magic.
It lets you determine the length and width of your feet, as well as your shoe size in various international systems. And if you're concerned about the accuracy, rest assured that the app gives adequate results every time. It even uses an A4 paper sheet as a reference to convert the dimensions extracted from the photos into real-world sizes.
But that's not all! You can cater the app to your prefs and branding needs. If you're a manufacturer wanting to guide your customers in buying shoes, you can get a personalized version of the app with your branding elements. That ensures a seamless customer experience that reflects your brand identity and values.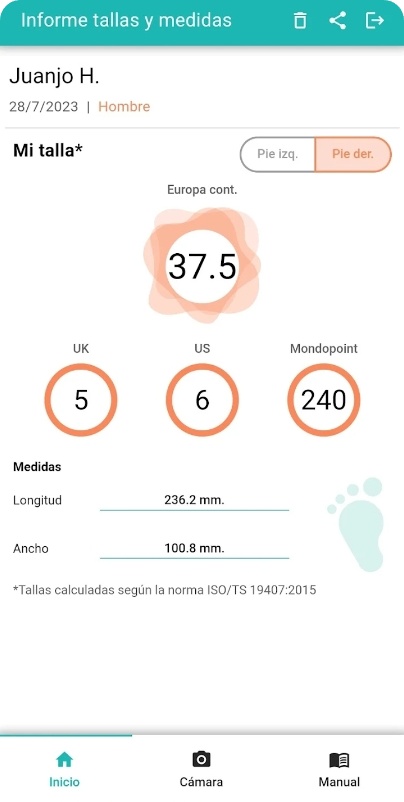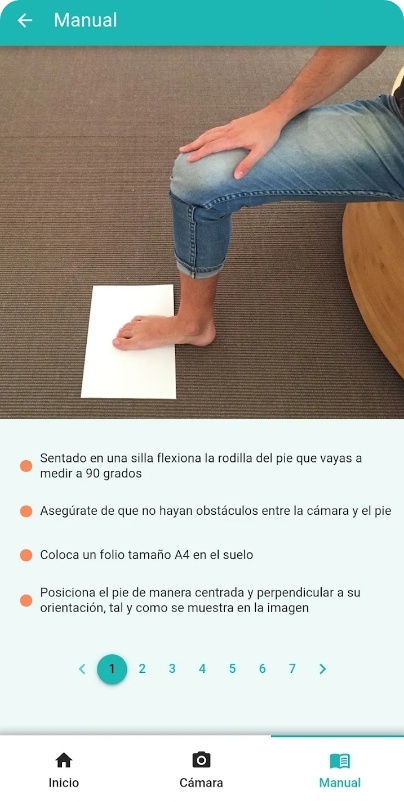 Downloads: 1K+

Shoe Size Converter
This app is your one-stop shop for all your shoe size measurement and conversion needs. It has everything you could possibly ask for in a shoe size converter and more.
Let's start with the basics, The app contains the shoe size estimator for men, women, big kids, little kids, toddlers, and infants. So, whether you wanna buy shoes for yourself or your little ones, this app has got you covered.
The shoe size converter is also incredibly easy to use. Simply pick your gender and age group, and the app will give you all the relevant sizes based on the shoe size charts for diverse countries. It's like having a shoe expert in the palm of your hand!
The app also gives you tips on how to decide your shoe size accurately. So, if you're unsure about your size or need a refresher on how to count it, this app is the perfect guide. One thing we particularly love about this app is its sleek and user-friendly design. The UI is clean, making it easy to navigate and find the shoe size info you need.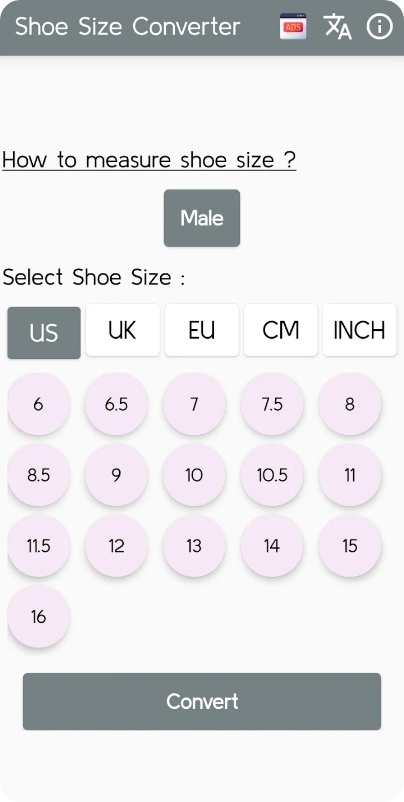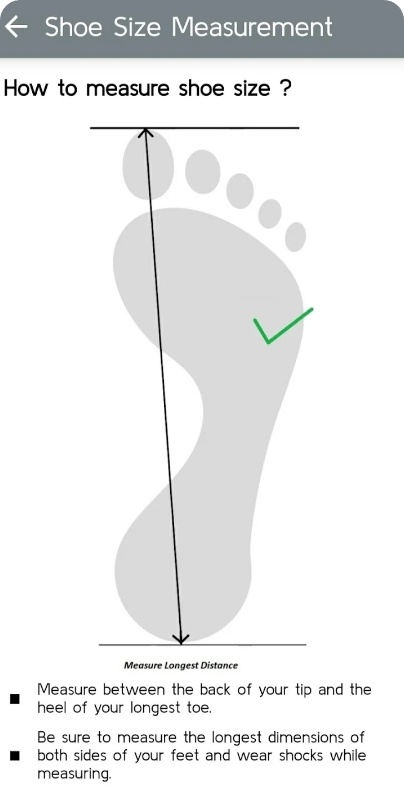 Downloads: 10K+

Ruler App
That's a reliable, functional ruler, and looks great on your smartphone or tablet. This app is packed with tools that make measuring and calculating a breeze. And although it's not made for feet measurement, you can surely use it for that.
First of all, let's talk about accuracy. The app offers precise measurements with every use. No more struggling with flimsy tape measures or trying to get a straight line with a piece of paper. You can trust that your results will be spot-on every time.
But the app isn't just accurate – it's also incredibly easy to use. The stylish design is modern, and sleek, and makes the process a pleasure. Plus, there are multiple units of length to pick from, so you can calc any distance with ease.
There are 4 modes, too: point, line, plane, and level. Whether you need to count a small point or a larger surface area, the app has got you covered. The app also includes a hold function, graph paper, vertical and horizontal lines, a thread pitch calc, and even a caliper.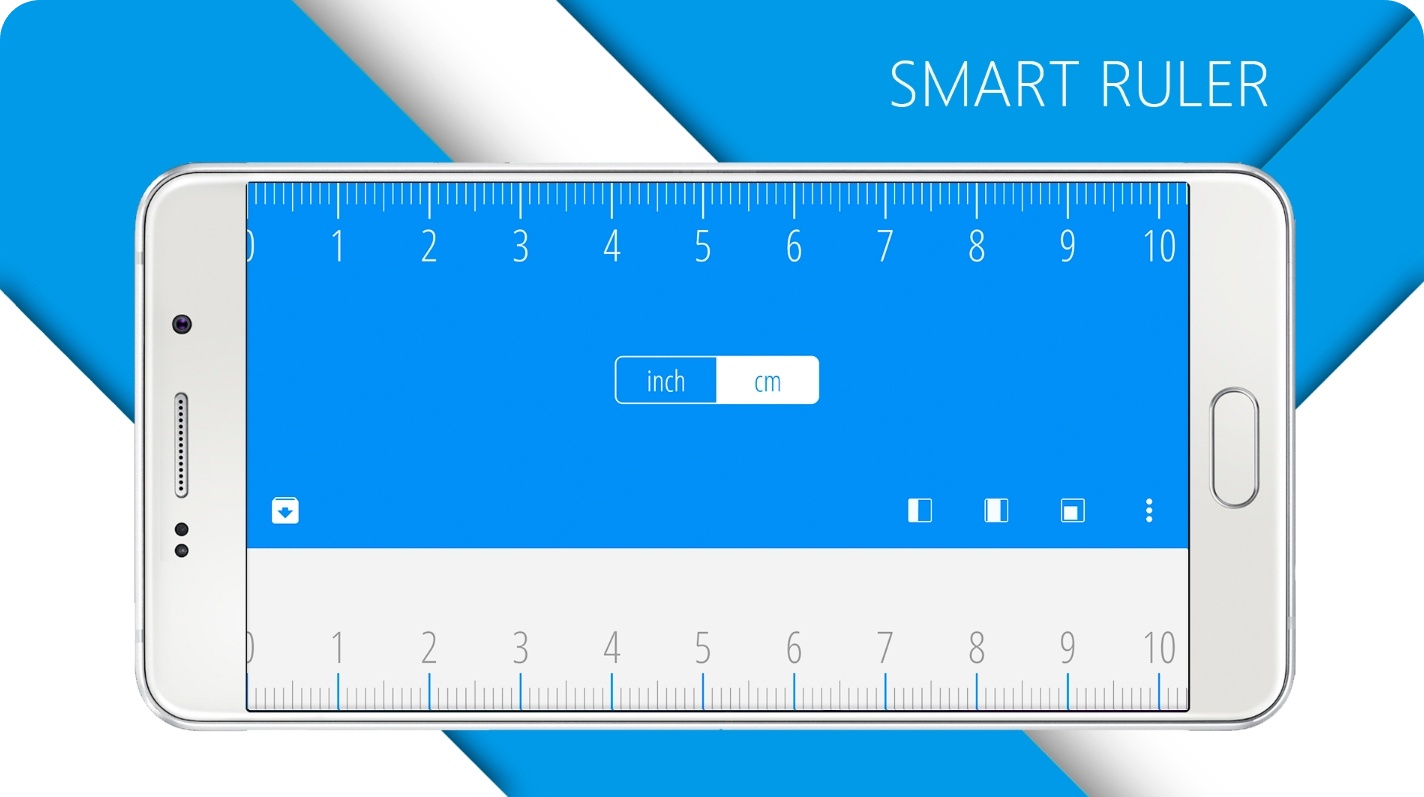 Downloads: 10M+
Customers rating:

(4.4 / 5)

You may also check: 11 Best Square Footage Calculator Apps
AR Ruler App
This app utilizes augmented reality (AR) technology to measure linear sizes in diverse units. Plus, it covers distance, angle, and even area and perimeter calcs for those tricky floor plans. But wait, there's more – the volume scanner lets you estimate the size of 3D objects. And for those pesky heights, the height scanner has your back.
One of our fave tools of the app is the on-screen ruler app. It's ideal for estimating those small objects when you don't have a physical ruler handy. Plus, with the added bonus, you can capture calculations on the go.
But wait, there's even more! The app also includes a room planner and home design tool that generates a room plan projection and exports the floor plan to PDF format. It's like having an entire design team in the palm of your hand.
Overall, we highly recommend this app for all your needs. It's easy to use, accurate, and a must-have for any DIY enthusiast or professional designer. And all that without spending a dime! There are no paid packs and the ads are bearable.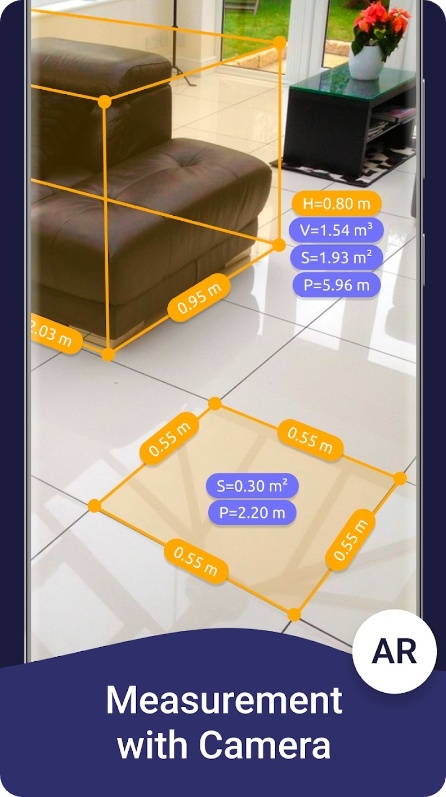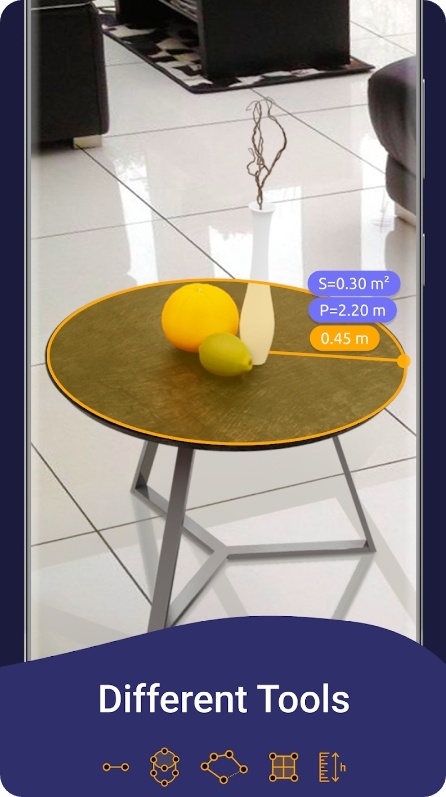 Downloads: 10M+
Customers rating:

(4.2 / 5)