In case you're typing a lot of texts on your devices, we suggest you take a look at this software that will help to correct all the imperfections in your document.
Convenient and most useful program for writing the most readable and easy to edit text, but suitable for conversion into languages ​​for advanced publications.
Along with this software, we also recommend you to check GLB file viewer apps.
Particularly appealing is access to all editor functions with shortcuts, syntax highlighting, and fast Markdown creation without knowing all the syntax.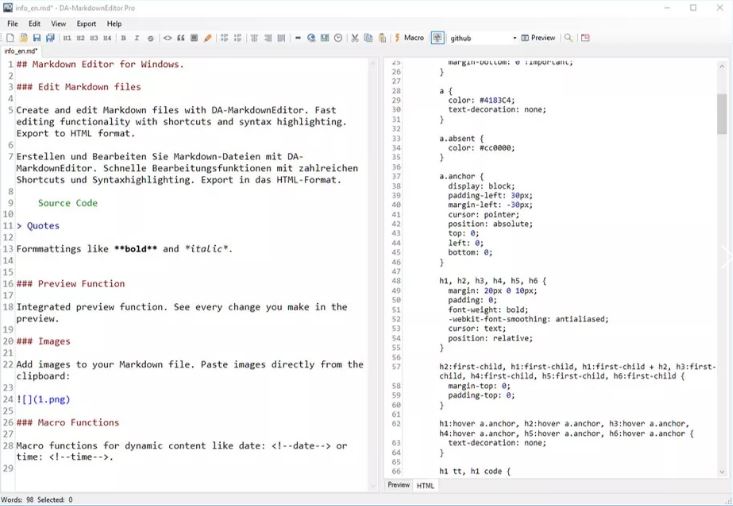 The program includes the main editing menu located at the top of the screen. It contains all the text editing tools such as color, heading selection, highlighting, and others.
DA-MarkDownEditor has a support system. Many users may have questions or problems. Compose your question and send it to the support specialists and they will definitely answer you. The developer's website will allow users to get acquainted with more detailed information and principles of work.
The program interface is a simple classic design, intuitive interface, and easy operation that will allow users to immerse themselves in the work environment and discover important elements.
There are various templates for export and preview in the program. You can change and adapt them. Switch between templates for different types of exports. Macro functions for dynamic content such as table of contents, date, and time. Paste images from the clipboard and edit images directly from the clipboard. The result will save automatically.
For your studying, you might want to check not only the markdown editor, but also the OHMs Calculator Apps for Android.
Overall, DA-MarkdownEditor is the best editor for writing text that is as readable and easy to edit as possible, but suitable for converting to languages ​​for advanced publishing. Moreover, the user can export the Markdown HTML file directly to the webserver via FTP.