No matter how rich the capabilities of a smartphone running Android, it is still primarily a phone with the help of which it is convenient to call and send messages. Unfortunately, the standard Androids SMS app is disappointing both in design and features.
However, manufacturers often change the program for messages to some of their own, which often is not a perfect one either. Looking at the iPhone, where designers worked on each line, it's doubly unpleasant to launch a gloomy SMS application on your smartphone. However, it's good that Android changes and configures everything, anything. And to find an excellent alternative to the standard program for messages is not difficult.
As usual, on the virtual shelves of the Google application store, you can find a lot of various programs. This statement applies to third-party SMS clients. Some of these applications differ from standard solutions only by the interface. Others, on the contrary, almost completely change the process of creating, sending, and reading SMS messages. So, in this post, we will consider the most popular WiFi texting apps for Android.
You may also like: 17 Best voice to text apps for Android
Text Me
This is the first WiFi texting app on our list and it worth to be here. Let's consider its positive sides. With the application Text Me you will be able to send messages to numbers of the USA, Canada, and 40 countries of the world.
Now users of different platforms can always keep in touch. The application allows you to generate a new phone number for free communication between Android devices and other platforms. Free video calls in HD quality, text communication, and voice recording will be available immediately after the application is installed.
Communicate with friends has never been so easy! You can join friends in a cross-platform messenger too and enjoy free video calls, group chats, and communication between users of Apple, Android, and PC. All communication is completely private: messages of all types are encrypted and can be deleted at any time. There is a possibility to get the second anonymous number for sending messages and calls.
You can make friends in the network of the application, create group text and video chats, share important events in life or tell about your location thanks to GPS support. Share videos, music, photos, emoticons, and stickers – with this set of opportunities, communication with friends will become even brighter and unforgettable.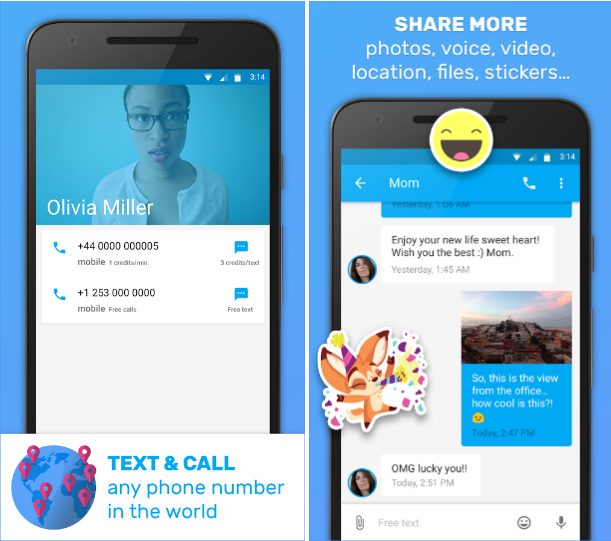 Fast work speed, simple authorization in Facebook and Google, a notification system, and full support for the Android platform makes the application truly in demand among smartphone users. In the basic version, the free SMS application is only valid within the US and Canada.
There are also some restrictions on the sending of messages and calls to other member countries of the network. With the paid version, you will have access to unlimited calls to friends anywhere in the world.
Downloads: 10 000 000 +
Customers rating:

(4.2 / 5)
textPlus

All owners of mobile devices are looking for a free way to communicate and exchange messages and one of the solutions is the textPlus program for Android. Using textPlus you can chat with friends, send free messages to any number, and call around the world. In this case, start using the possibility of free messages and calls right now!
Before you start to chat, you need to create a free account. You should specify the name, surname, country and other data about yourself. Here you can reserve a nickname for yourself. When registering, you can also specify a mobile phone number so that notifications of a new message come in the form of an SMS.
Now you are ready to start communication: you can send and receive an unlimited number of messages. Turn your phone or tablet into a center for SMS, participate in group chats, get an unlimited number of calls. Also, through TextPlus, you can create communities to communicate on a specific topic.
When creating, you give it a name, give a description of the community, choose who can join (anyone, or just invited), as well as those who can send invitations (only you or all members of the community).
Features of the program:
the account is linked to the phone number;
international calls are much cheaper than those of mobile operators;
group chats with program users;
all conversations and messages are in the "cloud", thanks to this, they are synchronized on all your devices.
TextPlus is a very attractive application. On the one hand, this is an analog of SMS, but free (if you do not consider the cost of staying on the Internet). The interface of the app is user-friendly and intuitive.
Downloads: 10 000 000 +
Customers rating:

(4.1 / 5)
WhatsApp Messenger

This is a free messaging program that is very popular all over the world and can be called a leader, including thanks to working with any platforms.
WhatsApp creates an account based on your phone number, scans your phone book, and adds to the contact list those whose numbers are also registered in the service. The advantages of this solution are obvious, no registrations, no nicknames, no authorizations, and adding to friends. If someone from the phone book registers with WhatsApp, he is automatically added to the contact list.
In fact, instant messaging is a substitute for the usual SMS. To send a message to a user through WhatsApp, it is only necessary that both the sender and the receiver have this program installed on the smartphone, and, of course, the Internet connection. At the same time, it is possible to attach files of different formats, including audio tracks, photos, etc.
WhatsApp has a simple and intuitive menu. The program saves the history of communication of users, there is the possibility of creating groups for communication, there are individual opportunities for certain users such as blocking, setting the status of "do not disturb", etc.
WhatsApp service has automatic end-to-end encryption for the transmission of instant messages and calls, which protects the transfer of information to third parties. The sent user messages are only saved for users, the Whatsapp service does not store the sent information. Important: It is recommended that you update the application to the latest version.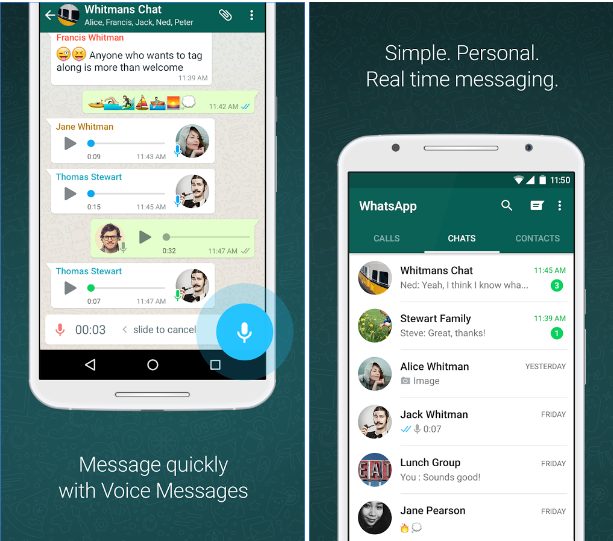 Downloads: 50 000 000 000 +
Customers rating:

(4.4 / 5)
YAATA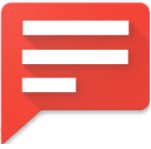 Yaata SMS is a multifunctional SMS / MMS manager of a new generation with flexible settings.
YAATA SMS impresses with the clarity and perfect combination of external data and internal capabilities. The application easily switches day and night mode at your discretion.
It also has the possibility of sending all kinds of MMS files, delivery reports, delayed sending, and many others. If you purchase a premium version, you will have the option of SMS blocking, automatic response, and automatic resending. YAATA SMS looks good, works well, most of the functions work fine even in the free version.
Also, in the program for receiving/sending SMS / MMS, there are fast functions with 3 kinds of widgets on the desktop of the Android gadget of the user. A user can configure notifications, vibration when receiving messages. Separately configured if the number is hidden or unknown (not in the address book). It is also possible to configure notifications when listening to music and when the screen is turned on.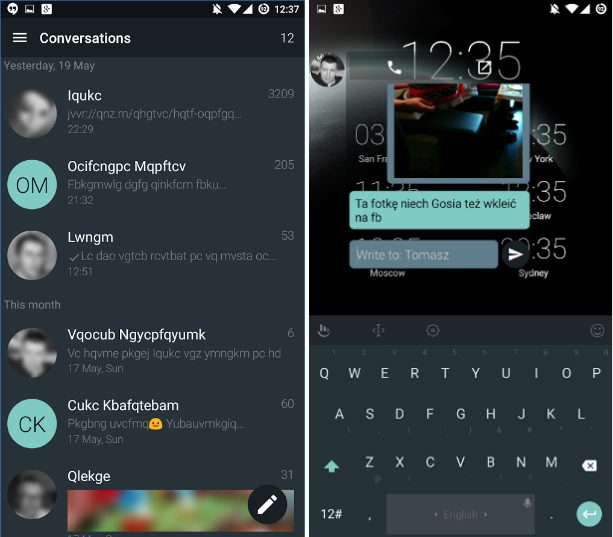 Downloads: 100 000 +
Customers rating:

(4.4 / 5)
Text free

Text Free SMS is an application that provides you with a virtual phone number in the United States, allowing you to make phone calls and send text messages for free. All you need to do is create a user account.
After creating an account, Text Free SMS offers you a choice of a series of phone numbers. Since that time, you can use this number to send text messages and calls within the United States (does not work with European phone numbers).
Despite the fact that the application does not allow you to make calls to European phones, you can install the application and get a phone number in the US. You are even allowed to send an unlimited number of text messages and images.
The most pleasant thing is that Text Free SMS is completely free. In the beginning, you have a small number of free minutes, but you can get another minute at any time, viewing ads, or installing sponsorship applications.
Text Free SMS is a very powerful communication application that allows you to send messages and make voice calls. The best of all is that you can do it all using the virtual number for free.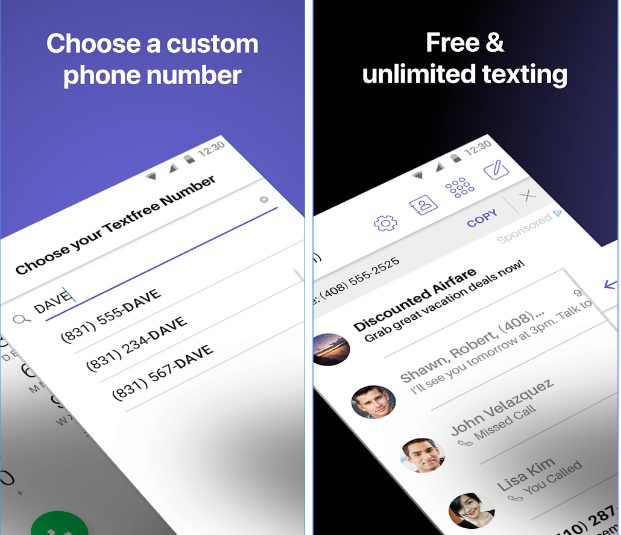 Downloads: 10 000 000 +
Customers rating:

(4.3 / 5)
Signal Private Messenger

Signal Private Messenger will allow you to send instant messages to friends, create groups to communicate in real time!
How it works. When you start the program for the first time, you will be asked to link your account to a phone number, for which a special SMS with a code will be sent. After that, you can make Signal as the main program for sending messages and making calls.
Signal interface practically does not differ from the standard one, so you will understand it without any difficulty. Select the desired contact from the built-in phonebook and click on the pencil button if you want to send a message, or with a picture of the handset, if you want to call. Of course, for encrypted communication, it is necessary that both persons use Signal. In the event that you choose in the address book a person who is not registered in Signal, he will be sent an offer to download and install this program.
The main difference between the Signal program and existing competitors is in reliable encryption algorithms and a simple interface. Download and use the program Signal can be completely free on devices running Android 2.3 and higher.
So, communicate for free, make safe long-distance calls without additional payment. The Signal app is attached to the phone number and works in all countries. It is possible to send less important correspondence to the archive, where they will be stored until the moment you need it.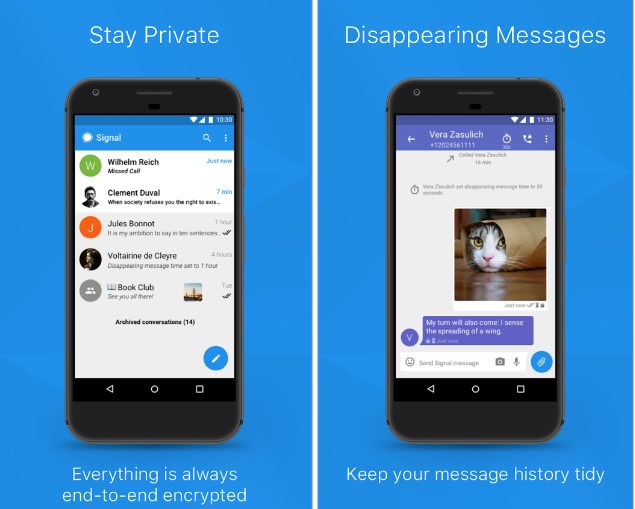 Downloads: 10 000 000 +
Customers rating:

(4.6 / 5)
Telegram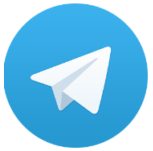 Telegram will allow quickly and securely exchange messages, synchronize the program with all devices, and become a member of the community, which has 100 million users!
This is the fastest application for messaging and data processing. You can get access from all the user devices and not lose the information received. It is possible to send media files without restrictions! The chat history does not use the memory on the phone. All data is stored in cloud storage.
By the way, Telegram has a group chat as well – at the same time, you can communicate with a large number of people – up to two hundred subscribers. This is very convenient, if, for example, there is a need for constant communication with employees of one firm or enterprise. Another bonus – you can set a profile photo and the status. It can be made invisible or hidden for certain contacts.
If you don't want to receive messages from a certain contact – put it on the "blacklist", Telegrams provide such a possibility. Registration in Telegram is elementary, your phone will become your login. A distinctive feature of Telegram is the security of correspondence. The developers claim that the messages are so securely encrypted that even they can not decrypt them, correspondence is only available to the sender and the recipient.
The program works for free, without advertising. And for those users who are interested in maximum privacy, the utility has created special secret chat rooms where the sent content disappears after a certain amount of time.
The timer can be set manually – if you set only two seconds, then immediately after the recipient reads your letter, it will disappear and you and the recipient, according to the developers, do not have any data on the server, so removing is complete.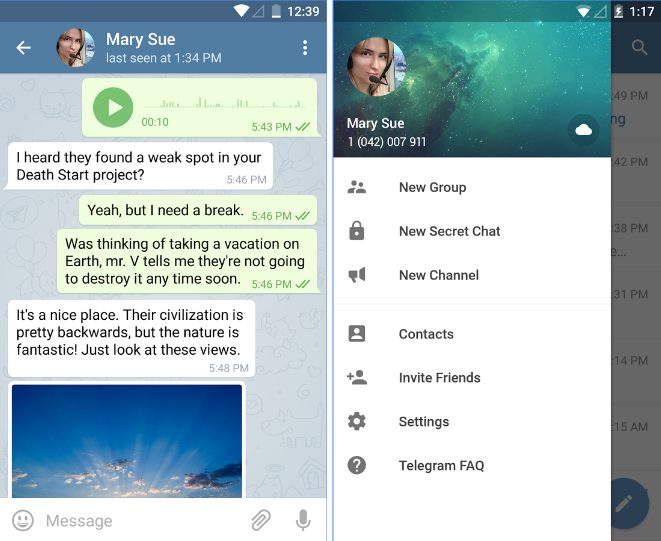 Why Telegram is so popular?
the messenger is completely free;
the highest level of security;
the complete absence of advertising;
instant messaging speed;
per-minute display of user activity;
the possibility of completely confidential communication (secret chats).
Downloads: 500 000 000 +
Customers rating:

(4.3 / 5)
WeChat

WeChat is a popular application for communication, which is easy to use, simple and universal for any user of the Android device.
The program is designed to exchange text or voice messages, to make calls to subscribers in a neighboring house or another country. You can send SMS or MMS for a couple of moments, make a video call with a good quality of the connection. Wechat is ideal for sharing multimedia files – from video, text or pictures, to voice messages.
To communicate in a group chat, you can add up to five hundred users. In the video call, you can add 9 people. Anytime you can call anywhere for free. Use the smart base of stickers, animated stickers to express your feelings. Place important photos in your photoblog so friends know about interesting events in your life.
The developers of the application paid special attention to protecting the personal data of users. The program has been certified by Truste. It is even possible to use the "Radar" function and find new friends nearby. Do not forget about the function of exchanging data about your current location.
Thanks to precise geolocation settings, a friend can easily find out where you wait for him. The application works in two dozen languages, automatically translating text from an unknown language. You are waiting for fantastic wallpapers, beautiful notifications, and many other possibilities.
Downloads: 100 000 000 +
Customers rating:

(4.2 / 5)
Textra SMS

This convenient program for sending SMS has more than a million downloads, and its average rating is 4.5. It has a lot of positive feedback and most users do not want to return to the standard application after using Textra. It has a very convenient and intuitive interface, as well as a set of all the necessary functions for easy communication.
In addition to the beautiful appearance, the application also adds new features that are missing in the standard messenger. For example, there is a function "blacklist", through which you can block unwanted numbers. It is also possible to add a signature to the messages, which will be especially useful when using Textra for corporate purposes.
We can note that Textra is an outstanding program. It preset about 180 themes, beautiful designs, a pop-up window and the color setting of each messenger. Here you can set the night or day modes, the schedule of sent messages, quick camera call, multi-selection of photos, group messages, recording voice notes, blacklist, and much more. You can customize your preferred topics, signatures, notifications.
The application recognizes all the latest Unicode, you can send emoticons and stickers, giving messages emotionality. The text inside the pop-up window can be copied. All offered functions are free of charge. But sometimes advertising pops up here.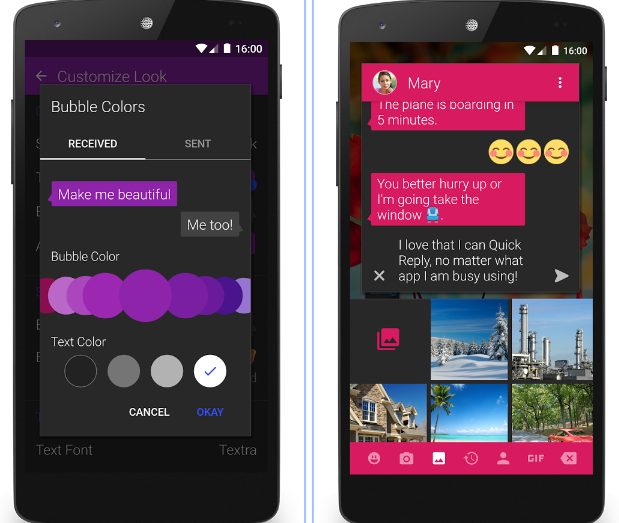 Textra SMS pluses:
User-friendly interface and ease of management;
A large number of functions and flexible settings;
The ability to completely replace the standard application for sending SMS to Android;
Work with MMS.
Downloads: 10 000 000 +
Customers rating:

(4.5 / 5)
Mood Messenger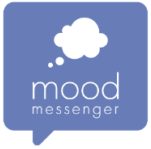 The application Mood Messenger allows you to organize a truly live communication, using emoticons, emoji, stickers, and other joys. In addition, there are chats for up to 200 participants, built-in Internet messenger, the ability to send gifs, multimedia, as well as a special kind of emoji – SMARTemoji, which supports predictive input based on the entered words and their emotional color. The other positive feature is the availability of secret chat.
The interface of this SMS-messenger pleases the eye. Navigation between windows is smooth, the font is soft and pleasant for perception, at the top of the screen animation is provided.
Interface. There are two windows – chats and contacts. The contacts are divided into all available, as well as internal contacts of Mood, that is, this service is also a kind of community, social network, if you want, where you can invite someone directly or via Facebook. The option opens the possibility of communication via the Internet and the exchange of multimedia via Wi-Fi. You can separately download and install colorful themes, as well as customize the blacklist here.
As for the settings, there are a lot of them. So, you can activate night mode, turn off all notifications, adjust the style and display of emojis (for example, turn on small and turn off static). In addition, you can add hashtags to your contacts, write a quick answer, select a theme, background, a melody for a message, and so on.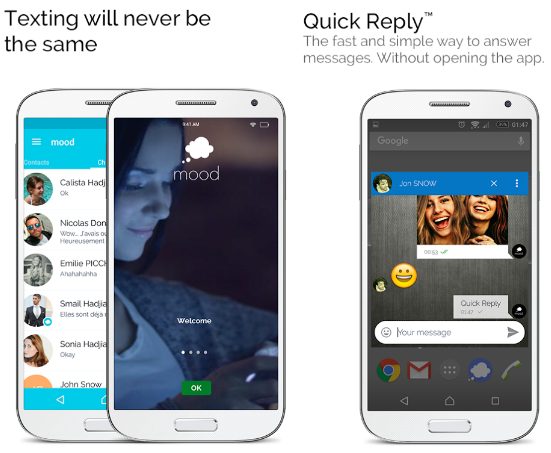 Downloads: 5 000 000 +
Customers rating:

(4.8 / 5)
GO SMS Pro

GO SMS Pro is an application that allows you to send and receive SMS messages with a simple and intuitive interface, jokes, and lots of personalization settings.
The software is used by more than one hundred million people on the planet. You can choose a beautiful design, funny stickers, and customize alerts. Try the function Go chat, which allows you to receive and send SMS and MMS messages for free. It works on devices with several sim cards.
The application works quickly, safely, and qualitatively – all messages reach the addressee. In the free version you are waiting for 100 themes for decoration and stickers, their number is regularly updated. You can use a personal box, the messages in which are encrypted and protected from hacking from the outside.
Fix important contacts at the top of the screen – you can focus on communication, discussing really special issues. The program is compatible with 8000 devices with two or more SIM cards – this number is constantly increasing. Try the "MS blocker" option, which will filter out the messages on demand and make a blacklist.
In chat mode, you can chat with a friend or create a group for messaging. Thanks to the unique settings of sending you can correct the text before sending. All messages from unknown numbers are grouped in a separate folder, so there will be an order in the Inbox.
In version Pro, you can use the function of disabling advertising. The profile page will please you with advanced features. Keep an unlimited number of messages in the cloud storage or put a paid theme for comfortable work with the application. Follow the novelties from the developers, joining groups in social networks.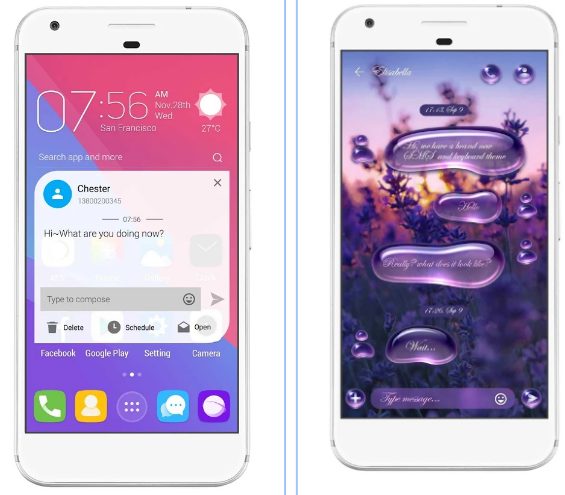 Downloads: 100 000 000 +
Customers rating:

(4.4 / 5)
chomp SMS

chomp SMS – join the revolution in the world of messengers! Already several million people use this convenient and fast application for communication.
Like any traditional SMS application, Chomp SMS meets us with a list of correspondence, which is grouped by subscribers. When you click on a photo, the information about the contact is displayed, and when the tap is long, a menu appears on the text, from which you can call the author of the message, set the notification method, or put the user on the blacklist.
Here you can customize tunes, select icons for the notification panel, different vibration styles, and pop-ups. By the way, the latter is disabled by default, but it's easy to enable it by finding the "Quick Reply Popup" item. One of the Chomp SMS features is that you can very set up a list of correspondence and the dialogs themselves fastly. Everything is configured. Messages will look exactly the way you want.
Although Chomp SMS is a free application, there is some advertising. To disable it, you need to buy any number of credits.
Pluses of Chomp SMS:
Simple minimal interface
Very flexible settings for the message list and dialogs
Blacklist
Scheduled messages
Pop-up notification of a new message
Message templates
Saving and restoring application settings
Chomp SMS is minimalistic, light, but at the same time surprisingly powerful and harmonious application. Of course, we cannot compare its capabilities with a monster like Go SMS, but it is worth mentioning on our list too. If you do not need integration with social networks and other similar features, then Chomp SMS will be a perfect replacement for the standard Android application.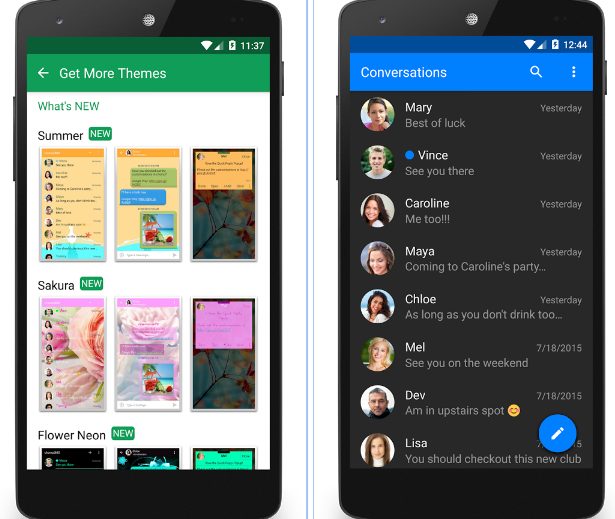 Downloads: 10 000 000 +
Customers rating:

(4.3 / 5)
Handcent Next SMS

Like Chomp SMS, Handcent has become popular long ago. The application has thousands of users as it offers many functions, including a built-in spell checker, password protection for individual dialogs, creating group chat in a chat room and much more. You can also create backup texts, send e-cards. The application supports quite a lot of languages.
For those who often meet with friends somewhere in parks or places that are not easy to find at the address, you can take advantage of the opportunity to send a location. Annoying subscribers should be put on the blacklist. This can be done directly from the message list.
In addition to manually blocking unwanted messages, you can configure filters that automatically blacklist all contacts that send SMS with certain words.
Forgetfulness in our time is quite a frequent phenomenon. Therefore, it is better to create different mailings and other important messages tied to a specific time in a scheduler. You don't need to remember everything. At the set time, the message will be sent by Handcent SMS, and your colleagues, friends, or loved ones will read what you wanted to tell them in time.
Notifications about incoming messages can be configured. Handcent SMS can display a pop-up dialog where you can immediately write the answer.
Pluses of the Handsent Next SMS:
Pop-up notification panel about incoming SMS
Spam filtering and blacklisting
Private messages (personal box)
Scheduled messages
The ability to send messages through the Internet through the service Handcent Talk
Sending photos, music, videos, and other attachments via the Internet without the MMC
Sending a location
Backing up messages
Handcent SMS is the smartest application for Android. If you need a maximum of SMS application, and you are not so interested in all sorts of beautifulness, then take a closer look at Handcent SMS and it will not disappoint you.
Downloads: 1 000 000 +
Customers rating:

(4.1 / 5)
Dingtone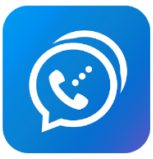 Free Phone Calls, Free Texting SMS on Free Number (also called Dingtone) is an application for making video calls and sending text and sound messages over the Internet.
If you communicate a lot, and communication prices, especially when roaming, are horrible, try Dingtone as this application is suitable for free communication via the Internet. The usual calls and video calls, sending text or voice messages are completely free and unlimited with Wi-Fi available.
Now you can talk as much as you want. When communicating via the mobile Internet, you may be charged according to your tariff plan, so be more careful.
Dingtone will provide you with a toll-free number that will work as a second SIM on your phone. You will not need to enter your personal information. The application will use the list of your contacts stored on the device to work. You can also synchronize the application with your Facebook account and call your friends on the social network anywhere in the world for free.
Installing the app, you will be able to make video calls in excellent quality even when using 3G, organize group video conferences for up to 8 participants, send messages. And if there is no possibility to type the text, write down the sound-letter and send it. With the help of Dingtone, you can generally turn your phone into a walkie-talkie – many dreamed of it in their childhood.
Privacy settings will help you to protect yourself against unwanted contacts. For communication, you do not need a SIM card, so you can easily communicate with the tablet.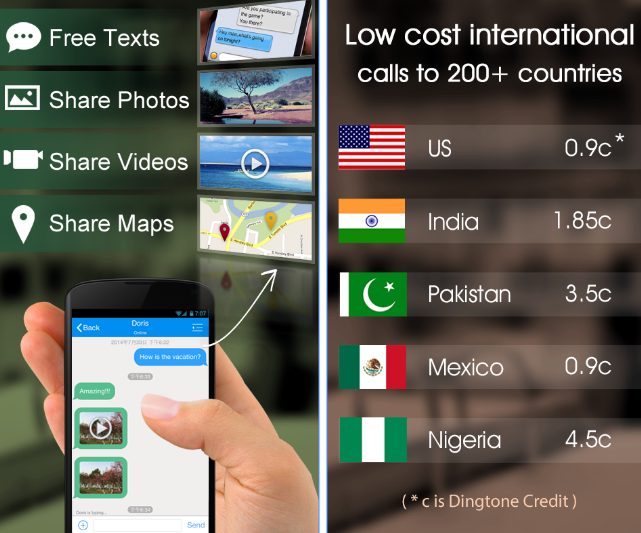 Downloads: 10 000 000 +
Customers rating:

(4.4 / 5)
KakaoTalk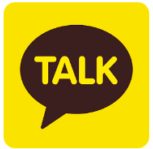 KakaoTalk: Free Calls and Text is an application for sending messages, photos, videos, audio messages or geolocation on Android devices.
Thanks to smiles and stickers chatting in chat rooms will be fun and unforgettable. More than one hundred million users use this convenient messenger. You can start a conversation with new friends or support a conversation in a family chat.
The application works when the device is connected to a wireless network or via mobile Internet. It runs on different operating systems – Android, Mac, iOS, and Windows. Due to the high connection speed, all messages will be delivered to the recipient in a few moments, regardless of the provider. Use the function to exchange free messages and multimedia files.
Funny smileys will help express your emotions and feelings, and unmatched stickers will revive any text. Add an unlimited number of people to the group – share important news with your friends. Try the function "Plus Friend" – get unique coupons from your favorite stores or add text to the voice message, which passes through a fun filter. Using the "Wear" function, you can answer the voice call using a portable device.
Do not forget to take advantage of other features – you can share the location with your friends or add friends to groups. Find out who has already read your text. When making a call, work in multitasking mode – send messages to other chats or make up an individual plan, schedule, or project with reminders. Communicate on Kakao from any device or play mobile games to pass the time!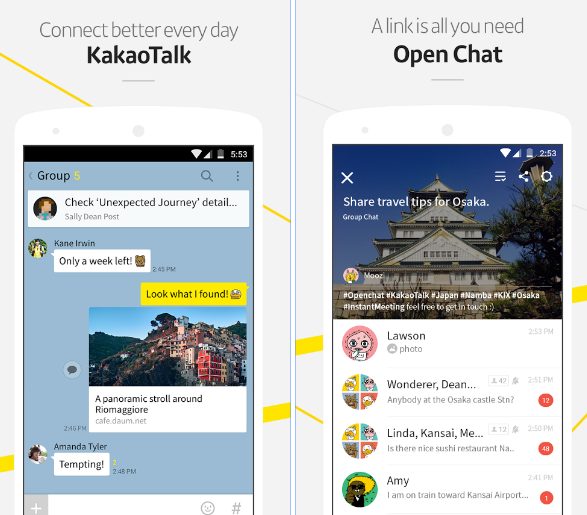 Downloads: 100 000 000 +
Customers rating:

(4.3 / 5)
imo

Join millions of users who chat for free in text chat rooms and video format with friends and family. Install imo on your smartphone!
There is no more payment for SMS – you pay only for traffic, so the application should be used via Wi-Fi or with unlimited mobile data.
The application provides users with all the functions of a modern platform for communication: group chats, video conferencing, emoticons, and stickers, the ability to transfer various files (both media files from the gallery and the contents of the SD card), view the history of messages and chat through one account from multiple devices at once.
After installing and filling a small questionnaire, you can immediately start communicating with any available connection type – 2G, 3G, 4G or Wi-Fi. Due to the fact that the app is not so popular still and it has a weak load on the servers, the messenger is an excellent solution for family conversations with excellent communication quality. Therefore, it is recommended for use with confidence.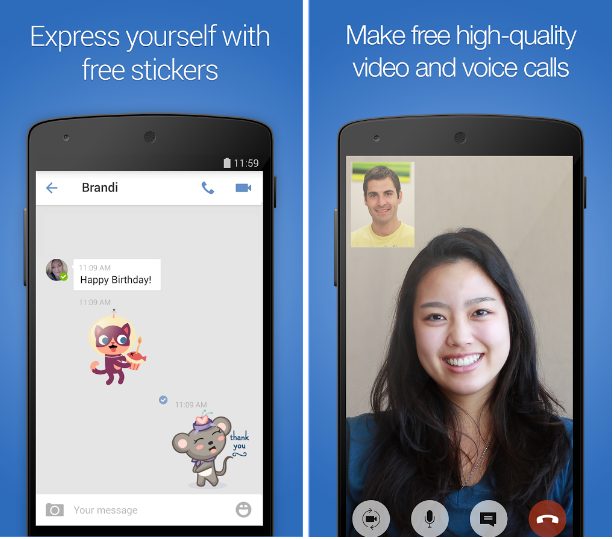 Downloads: 500 000 000 +
Customers rating:

(4.3 / 5)
LINE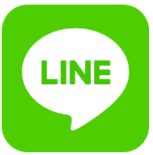 LINE is an application that changes the view of communication, allowing you to enjoy it, send text, video, and voice messages to your loved ones! Download the program and you will find out why it is so popular in 52 countries. You will have the opportunity to participate in private conversations and create group video calls. In the group, there can be up to 200 people.
How it works. So, download the application, register, enter your mail and password. Then you assign yourself an ID and you can register a phone number. Registration occurs, as in WhatsApp – enter the number, and then you will receive a message with the number that you need to enter for registration. I
f you hide your ID, others cannot find you in the search and add using this number. Then the application offers you to add friends from your phone book who have already used LINE. Also, you can add them through the ID or send an invitation via e-mail in the form of a letter with a QR code, the scan of which sends you to add a friend to the contacts. Or you can just shake the phones next to each other (like Bump) and add each other to the contacts.
LINE contains a chat room in which, in addition to standard texting, you can send video, audio, photos, postcards, and geo-tags of your location to each other. In addition to individual chats, you can collect group chats. In addition to smileys, there are also wonderful stickers.
So, share your photos, clips, stickers, and voice messages and stay always in touch!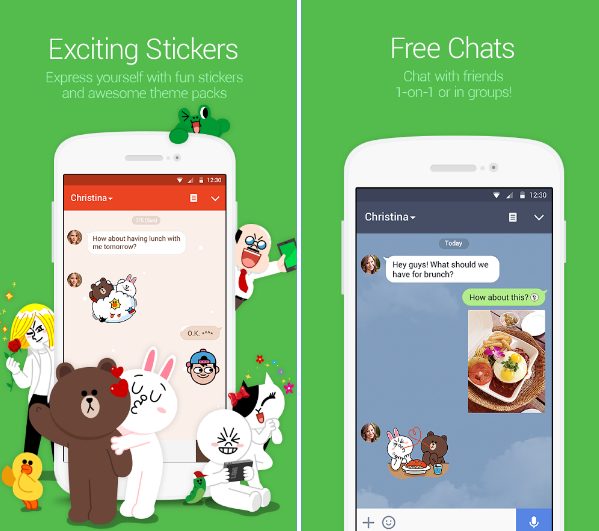 Downloads: 500 000 000 +
Customers rating:

(4.2 / 5)
QKSMS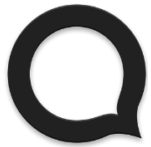 QKSMS is an alternative SMS messaging manager for Android, which replaces the familiar interface with a more aesthetic solution, and also allows you to answer to messages in any application using pop-up cards.
After installation, QKSMS greets the user with a welcome menu with a demonstration of features. The program is made in the style of Material Design and offers 19 different colors as themes. For ease of use in the dark, there is a night mode, which will change the background of the application to a dark one. Finally, one of the key features of the manager is the QKReply function, which allows you to view messages on top of any applications.
This function outputs all incoming messages on top of active applications in the form of cute cards. Right from here, you will be able to view the history, as well as write and send a message, without using the full functionality of the program. To close the card, just press in the empty area.
Thus, the QKSMS functional is as laconic as the appearance of the application. The program is completely unobtrusive and similar in its characteristics to the standard solution in the Android operating system. However, here the user receives comfortable pop-up cards, as well as the lack of advertising and paid functions.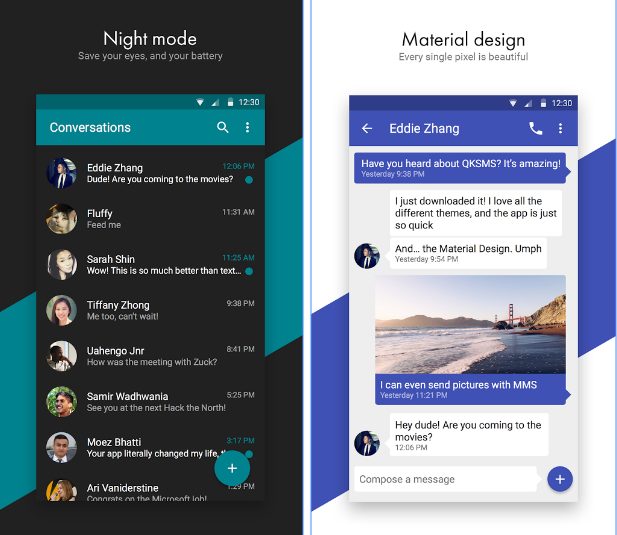 Downloads: 500 000 +
Customers rating:

(4.1 / 5)
TextNow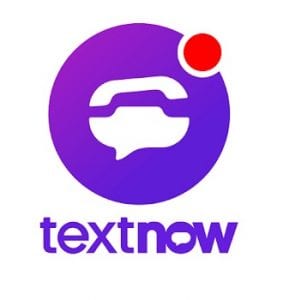 TextNow is a unique application for Android devices that has the best features of all modern programs for communication.
All your messages can be protected by a password, so it's impossible to access your correspondence. A huge collection of emoticons and stickers is available, and with each update, it becomes more and more. You can apply your own signature to all your texts, so you don't have to enter the same text all the time.
The interface of TextNow application is made informative and convenient: all functions and possibilities are accessible even to beginning users.
A variety of widgets are available, which can make the process of communication much easier. You will be provided with a single mailbox, which has all the necessary functions and large storage capacity. You will be able to send messages to the real numbers of mobile operators.
The developers have taken care of the high-quality graphic design, where they managed to successfully combine beautiful drawing and interesting stylistic solutions. There is very little third-party advertising, which doesn't affect the positive impression.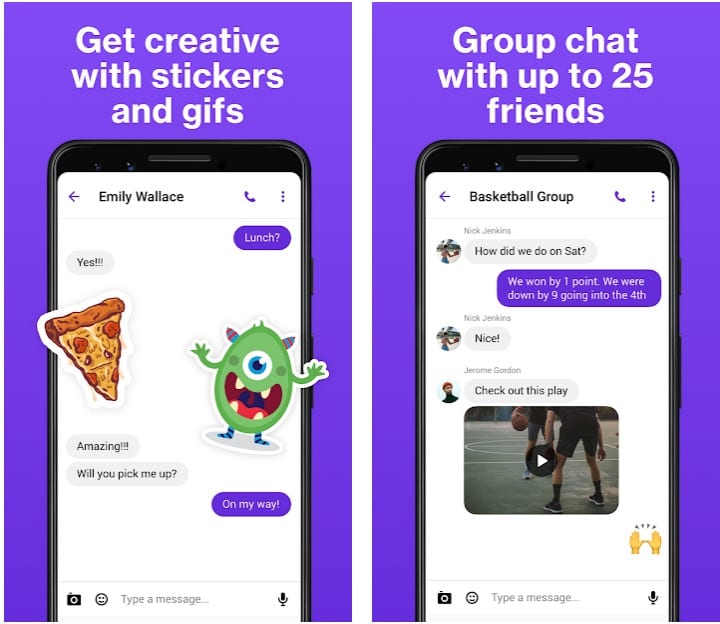 Downloads: 50 000 000 +
Customers rating:

(4.3 / 5)
TalkU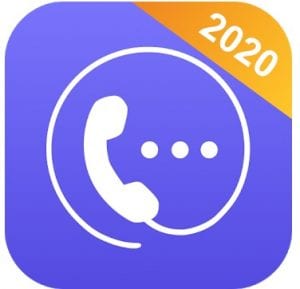 TalkU is a useful application that allows you to stay in touch with your contacts without having to make calls over the phone network. So you can talk all you want without paying a cent.
To use TalkU, all you need is an Internet connection, be it Wi-Fi, 3G, or 4G.
With TalkU you can call and send messages for free to any number around the world! Calls and texting between TalkU users are always free! Share photos, videos, places, and contacts.
With TalkU, you can say goodbye to expensive phone bills. Save money by making all your calls and sending messages with this application!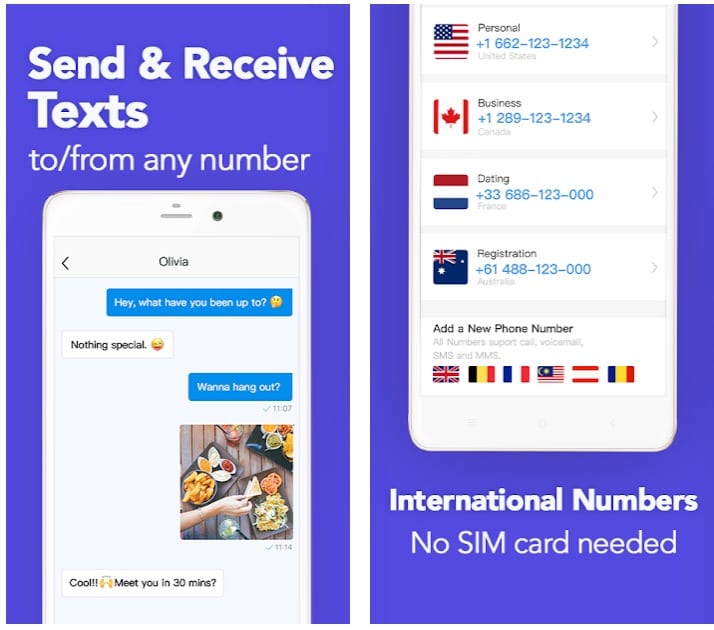 Downloads: 10 000 000 +
Customers rating:

(4.4 / 5)
You may also like: 11 Best apps to add texts to photos for Android
Talkatone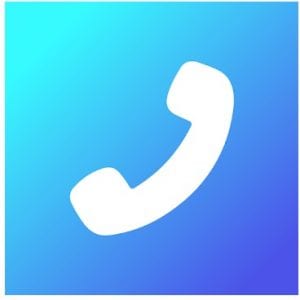 Talkatone is a free application that allows you to send text messages anywhere in the world. Before you can start using the app, you need to create a user account using only your email address.
When your account is created, you will receive a phone number in Talkatone. The best part is that you won't have to spend a penny as long as you have Internet access.
Users can send messages or photos free of charge to any phone number. Talkatone allows users to send photos of interesting moments to their friends. Create group chats to send text messages and photos to a group of friends or family for free.
Talkatone is a very interesting application that allows you to call and send messages to any phone number without spending a penny.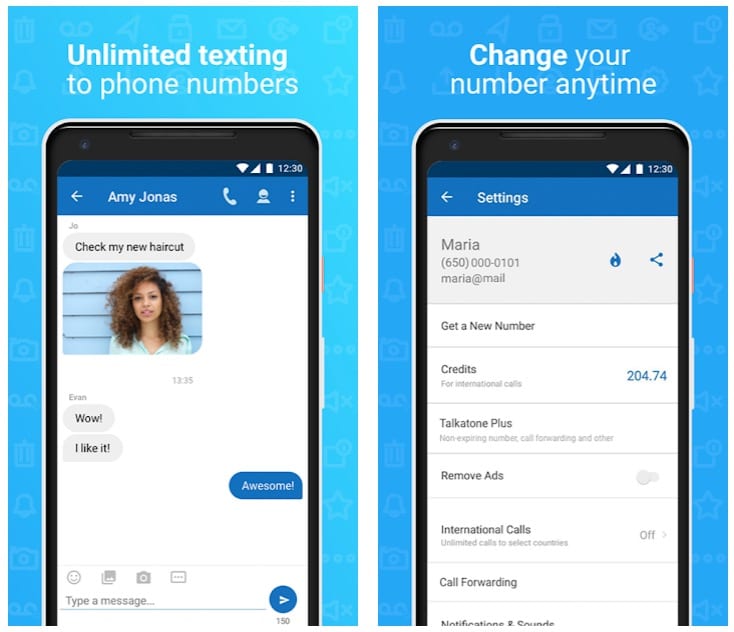 Downloads: 10 000 000 +
Customers rating:

(4.1 / 5)