Today our mobile devices and cell phones specifically are full of our personal information. They often contain a lot of private photos, contacts, or documents. For some reason, there is no possibility to delete all information from the devices or enter a password on them.
Moreover, sometimes we need to hide or lock different pieces of information on the gadget itself. The best way to do it is to install a proper application, which will help you to make sure your private information, such as photos, videos, or even folders is invisible to someone's eyes.
1. Calc Box – Photo,video locker, Safe Browser, Applock
This application was created for the only purpose, which is to help users to hide different pictures or videos on their phones or tablets. It provides an additional layer of protection of your personal data, and you are the only person, who has access to it.
The application is so great that it hides its own purpose and look. Every person who would like to check your apps or look through the applications installed would see an ordinary calculator among other apps. They will never know what exactly this app does.
The app can be invisible itself if you want to. You can replace it with any other icon, according to your preferences. You can change the way this app looks any time you wish.
You will enjoy a lot of functions, which are on this application. First of all, it hides any pictures or videos of any quality, length, or size. You can hide everything you wish from your gallery, starting with small photos and finishing with long HD films.
Along with that, the app allows you to hide as many images and clips as you want to. There is no limit to the number of things to hide. It is possible to hide a few pictures or videos with one button, having multiple hiding this way.
To make your images and videos invisible you just need to share them with the Calculator Box application. When have done it, you will have your information hidden from everyone. You can hide images and videos from any folder, your gallery, or an external SD card.
Moreover, you can record a video and take a photo directly on the Calculator Box app. It will allow you to have them hidden at the moment they are recp0rded or taken. Then you will have no need to copy them from other folders to this calculator.
To unlock your images pr videos you can enter different kinds of passwords. For example, you can have a PIN or Pattern lock. The fingerprint lock is also available.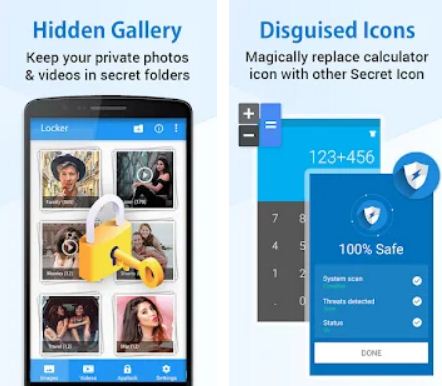 Downloads: 10,000,000 +
Customers rating:

(4.8 / 5)

You may also like: 7 Free Photo Resizer Apps for Android
2. AppLock
This application will protect your personal photos and videos. It is widely known and used, the fanbase of the app contains more than 400 million people.
The application offers a lot of ways to hide your photos and videos. You will have a chance to choose between different kinds of passwords, such as fingerprints, a PIN, or a face ID.
You can hide any number of pictures and videos on your gallery. To have your photos and clips in order, there is an option to create special albums for hidden information. You will never mix up among pieces of information you have decided to hide.
There is something else the Applock app can offer. It can clean the history of your search in your browsers on your [phone or tablet. You can have it automatically done for your convenience.
This application is also great as it is quite clear and easy to use. You will get used to working on it really fast and then you will not be able to imagine your life without using such an application.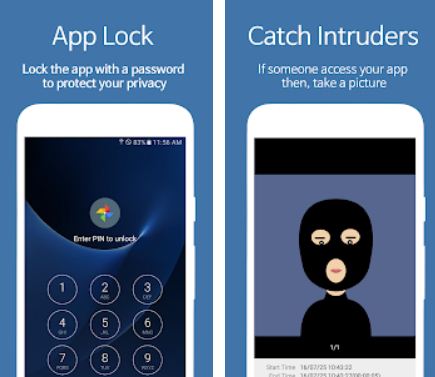 Downloads: 50 000 000+
Customers rating:

(4.8 / 5)

3. Photo Lock App – Hide Pictures & Videos
This application will hide all photos and videos on your mobile device, which you want to. Nobody will notice that some pieces of information are hidden and you can be sure your secrets and privacy remain safe with this application.
You can hide an unlimited number of your pictures and clips. Just share them with the Photo Lock application, and they will be hidden from everyone.
To make sure nobody will learn what the Photo Lock application contains, you can enter a password. Your password can be a PIN, a pattern, or a fingerprint.
It is possible to store or download pictures or videos directly on the app. If you do so, you will not have to share them from another application and have all your pictures and video hidden in one place.
The app allows you to watch clips and photos directly on it. You do not need to open other applications to view some of your images or videos.
There is another great feature on the Photo Lock app. It has an opportunity to make a fake vault with fake photos and videos. If you want to use this option, you just need to think up another password and enter it into this function.
It is possible to replace the Photo Lock app's icon with another one. You can choose any other icon, such as a radio app, a news app, a music app, etc.
To provide even more privacy and protection, the app has another good option, which can be turned on. This option is called "intruder's selfie" and includes taking a picture of the person, who wanted to unlock the Photo Lock application. You will know who tried to learn your secrets.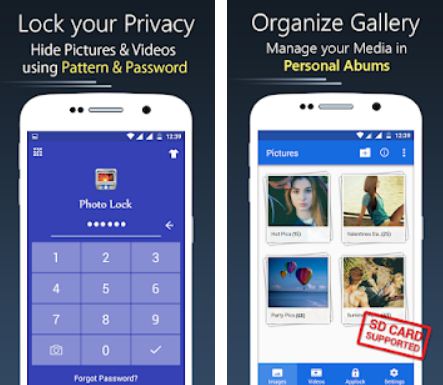 Downloads: 10 000 000+
Customers rating:

(4.8 / 5)

4. Norton App Lock
This application will protect your privacy and personal data. With its complex system of passwords, it will keep your mobile device private and secure for you.
This application can hide not only galleries or folders with videos and images but also other folders and applications, which contain personal information about you. You can be sure that such information as financial operations, personal data, and some others will be secure.
You can add different passwords to any application you want to. If you have done it, then nobody can use the information from your app against you, because they will never have a chance to look at it.
It is also convenient in situations when you have to share your phone with other people or give it to your children, for example. You can be sure they will never know what this or that app contains.
In case your phone or tablet is stolen you can make an additional layer of security. Then you can always have your information, pictures, and videos safe and will have an opportunity to use them any time you wish.
You can also lock all the apps on your mobile device. If you have done it, and then want to unlock them, you can easily do it as well. There is no limit to the number of apps locked, and you can lock or unlock your apps as many times as you want.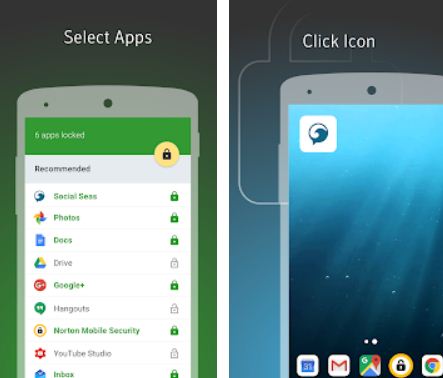 Downloads: 5,000,000+
Customers rating:

(4.2 / 5)

5. AppLock Go: Gallery Lock
This app can lock not only galleries but also some other applications, such as social media, messengers, settings, contacts, music, and some others. You can be sure that your information, interests, pictures, and videos will remain secure and private.
If you want to hide pictures or videos the app will help you as well. To hide all elements you want to just need to move them from the gallery to the AppLock Go application. When elements are moved, their originals in the gallery will disappear.
This application has ad advanced password system. With it, nobody will ever guess your PIN or pattern. The secret of this password system is that it makes your keyboard invisible or random. So no one will learn how to unlock your apps.
Another great feature of this app is that it is absolutely free. You can enjoy all its options without paying and buying the premium packages!
It is possible to adjust settings on the app, for example, make your apps more secure or concentrate on one application, which is the most important among others.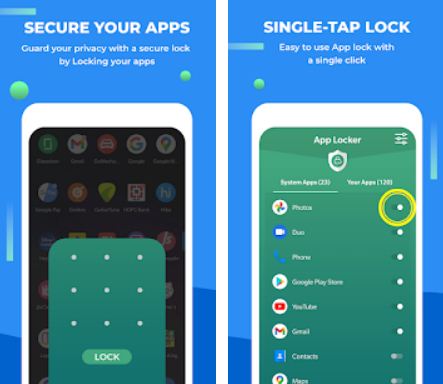 Downloads: 10,000,000 +
Customers rating:

(4.3 / 5)

6. Gallery Lock: Hide Photos – Video Locker
This application is reliable and trustworthy. It will help its users to hide any image or video on their phone or tablet. It uses complex technology to make all your materials invisible to other people.
You can be sure that there will be no leak of your private information even if your phone or tablet is broken, stolen, or lost. Nobody will have access to your personal information, and at the same time, you can have access to it using the cloud or another device.
When photos are hidden. their quality remains the same. You can store important pictures on the Gallery Lock app or take them directly on the app. It is also possible to lock videos so only you can watch and enjoy them.
If you have forgotten your password, you will have no problems with retrieving it.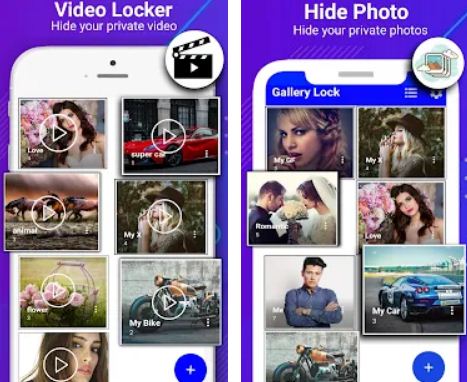 Downloads: 1 000 000+
Customers rating:

(4.4 / 5)

7. Apps Lock & Gallery Hider: AppLock, Gallery Locker
This application is claimed to be one of the best among gallery hiders and lockers. It uses an advanced system of hiding pictures from the user's mobile device, including such files as HD images and videos, documents, folders, or entire applications.
Using this app you will forget about worrying that somebody can accidentally or on purpose intrude into your private information.
You can hide everything you want on your phone or tablet with this app. To do you need to install the app, choose an item you want to hide or lock, then you need to enter a password. Now you can never worry about your privacy.
One of the key features of the Apps Lock and Gallery Hider app is that it cannot be removed from your mobile device by other users. Only you can decide if you need to use it or not.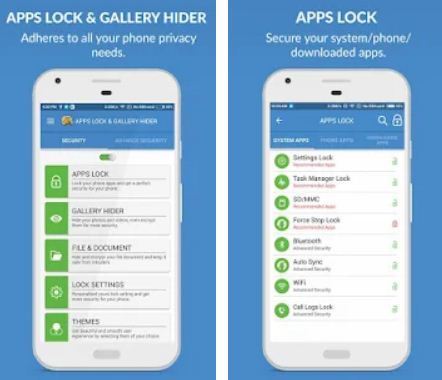 Downloads: 5 000 000+
Customers rating:

(4.1 / 5)

8. App Lock & Gallery Lock Hide Pictures Hide Videos
This application is a good and useful tool for locking and hiding pictures and videos on various mobile devices. It has a lot of both advanced and basic features, which help users to keep their privacy.
One of the main features of this app is an opportunity to create a fake login(a fake user).
Another useful option is called a panic switch. When you need to switch to another app as soon as possible, you can add a special signal to the settings of the app and switch to it. A signal can be your finger, a palm, a shake of the phone, or a special spot on your screen.
You can hide pictures or videos both from your gallery and from your camera. If you want to open them, you can do it directly on the app. It is also possible to download images from the Internet directly to the app.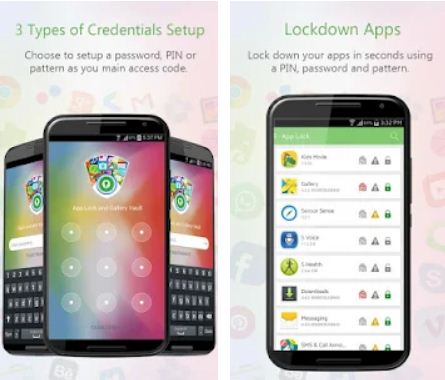 Downloads: 1 000 000+
Customers rating:

(3.9 / 5)

You may also like: 11 Best Reverse Video Apps for Android & iOS
9. Gallery Lock – Lock Photo&Video
This app will definitely keep your pictures and videos safe. It creates another gallery, which is called a secret gallery, and you can store all your files on that one.
It is possible to enter a password to your secret gallery. Your lock can be either PIN or pattern.
There is an option of automatic selfies pf those, who are trying to get access to your secret gallery. You will always know who these people are.
Your secret gallery can look like any other icon. For example, you can make it a calculator, or another ordinary app. With this look, a strong password, and automatic selfies of intruders your files will be absolutely private and secure.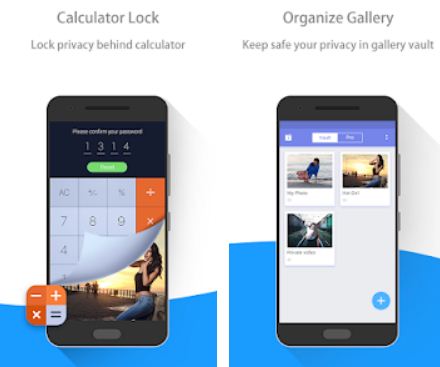 Downloads: 5 000 000+
Customers rating:

(3.7 / 5)