It's no secret that the only place to play poker is in Las Vegas. For those who want to lose their real savings, that's the way to go.
However, without losing a penny, you can feel all the excitement of this game if you enter directly having the Internet. And here is a selection of the best home poker tournament applications on Android:
Poker Games: World Poker Club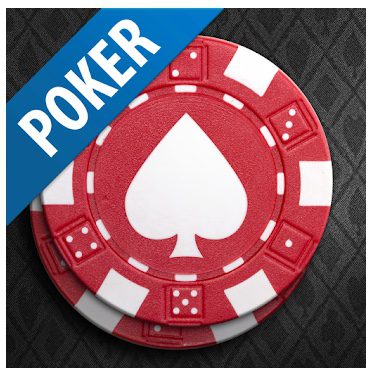 Poker Game: World Poker Club is a poker game simulator for the smartphone in which the gamer needs to compete, participate in daily promotions, tournaments, get bonuses and earn chips. To fuel interest, the creation of private rooms and sending gifts to friends are provided. Coins are exchanged for chips.
Features Poker Game: World Poker Club for Android:
Random game – random selection of opponents from newcomers;
Choice of a table with the concrete rate;
Participation in tournaments;
Deposit – availability of virtual money on the account;
Change of avatar;
Getting in-game prizes;
Communicating with other participants;
VIP status – private rooms, tournaments with friends, special set of gifts, improved personal profile design;
Achievement table – titles, medals, and level are shown;
In the weekly tournament you can play Omaha and Texas Hold'em.
Poker Game: World Poker Club has the following positive aspects:
Filters. Sorting tables, finding the right one.
Rules. In a special section, there are tips and winning combinations for participants who are not familiar with the features of poker.
Lottery. Mini-game with a function of increasing the score.
Respect. Points, which increase the popularity of the user in the tournament table.
Bonuses. These are daily gifts and accruals for winning friends in matches.
Support service. Response to comments and troubleshooting.
Advertising. Doesn't interfere with the process of the game and doesn't cause discomfort.
The simulator has some disadvantages:
It's impossible to see the list of private tables to apply and join a closed match.
The system can make mistakes in the cards and lead to the loss of the gamer.
Poker Game: World Poker Club is installed on Android with a basic deposit account. For gamblers provides refill chips for real money.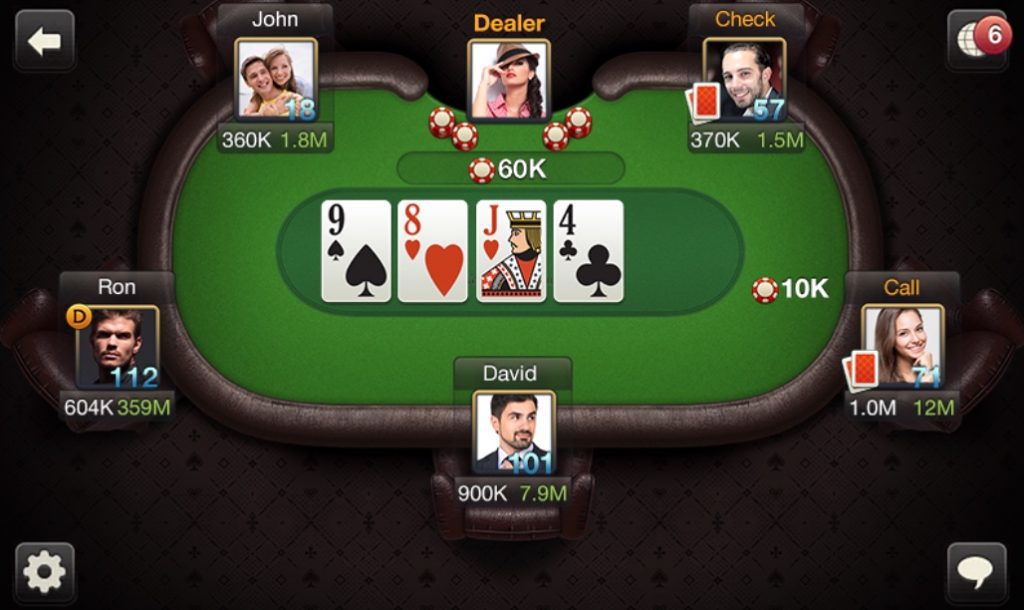 Downloads: 10000000 +
Customers rating:

(4.5 / 5)

You may also like: 9 Best Adult Party Card Games for Android (No 18+)
Zynga Poker ™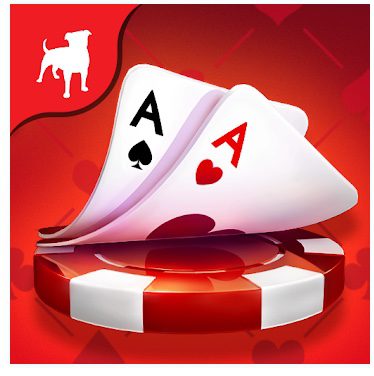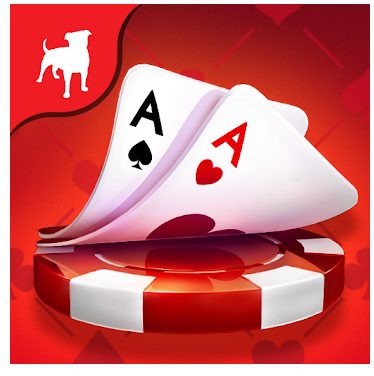 Zynga Poker has managed to acquire an army of millions of fans from around the world.
Immediately after starting Zynga Poker, you can choose a training mode or go directly to the tournament itself. In the first case, the player will be noticed by other users as a guest, while in the second case, he will have to use his own Facebook account.
After installing Zynga Poker on the mobile device, each Android owner gets a certain amount of chips, equivalent to the amount of 20 thousand game dollars.
Separately, we should note the fact that every day the chips are played in Zynga Poker. The amount is the equivalent of one million game dollars.
Zynga Poker allows you to play via 3G, 4G, or Wi-Fi with people from all over the world or directly with your friends. You can participate in tournaments at fast tables of 5 to 9 players, or you can plan big events for your group of close friends. Plus, a very convenient feature of this project is the presence of chat, which is updated in real time.
The authors of Zynga Poker managed to create a quality online poker game, which is most suitable for Android owners who don't want to spend their own money.
That's why this project, above all, should be seen as a training application for those people who want to learn the basics of this card game. Since only chips are used during the game, the gamer doesn't need to spend any real money.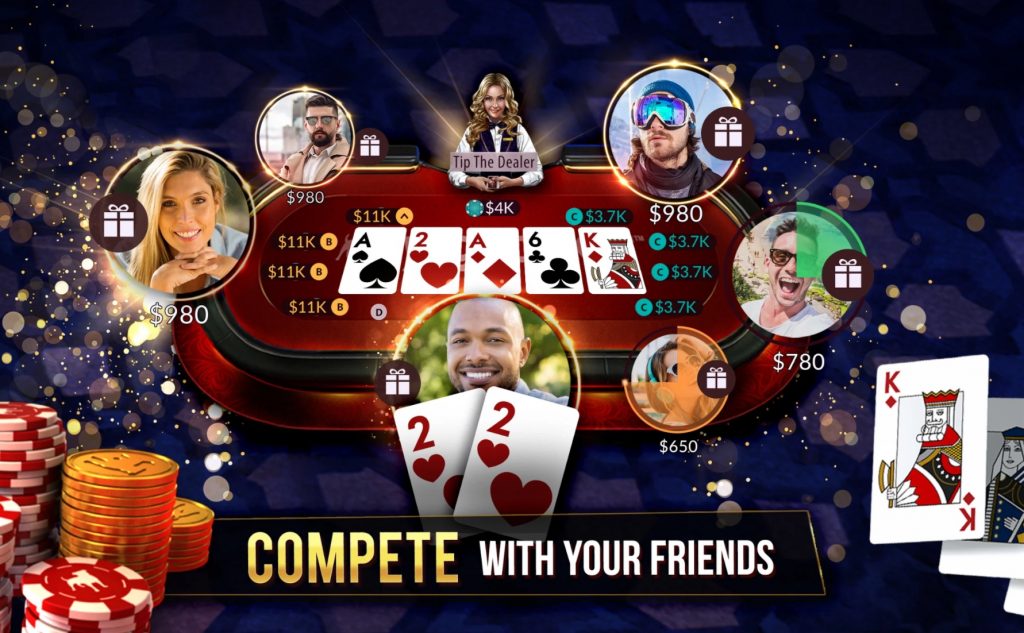 Downloads: 10000000 +
Customers rating:

(4.5 / 5)

PokerUp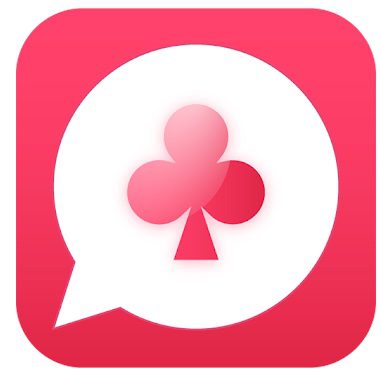 Looking for an app to play with your friends during quarantine? All the functionality you need is here. Private room only for friends, raising blinds and most conveniently, the app is available on both Android and iOS.
Ladder system of player development with increasing stakes, periodic bonuses in upgrades, and a good set of skins for the table and cards.
You can invite up to three people to the game and go higher and higher on the leaderboard in each city of the world tour. Chat with friends via instant video messaging and watch them succeed.
The interface is awesome, the animations, the graphics, everything is top-notch. There is even a night mode feature. The idea of ratings and cities is great! Not always works steadily, there are small bugs and loose ends, but in general, it's very interesting to play, kudos to the developers.
There is a mode for 4 players in each city, where you compete for the prize. Even if you don't know how to play poker, you can learn with this app.
Now we can have a nice time together from different houses in the evenings playing the same game.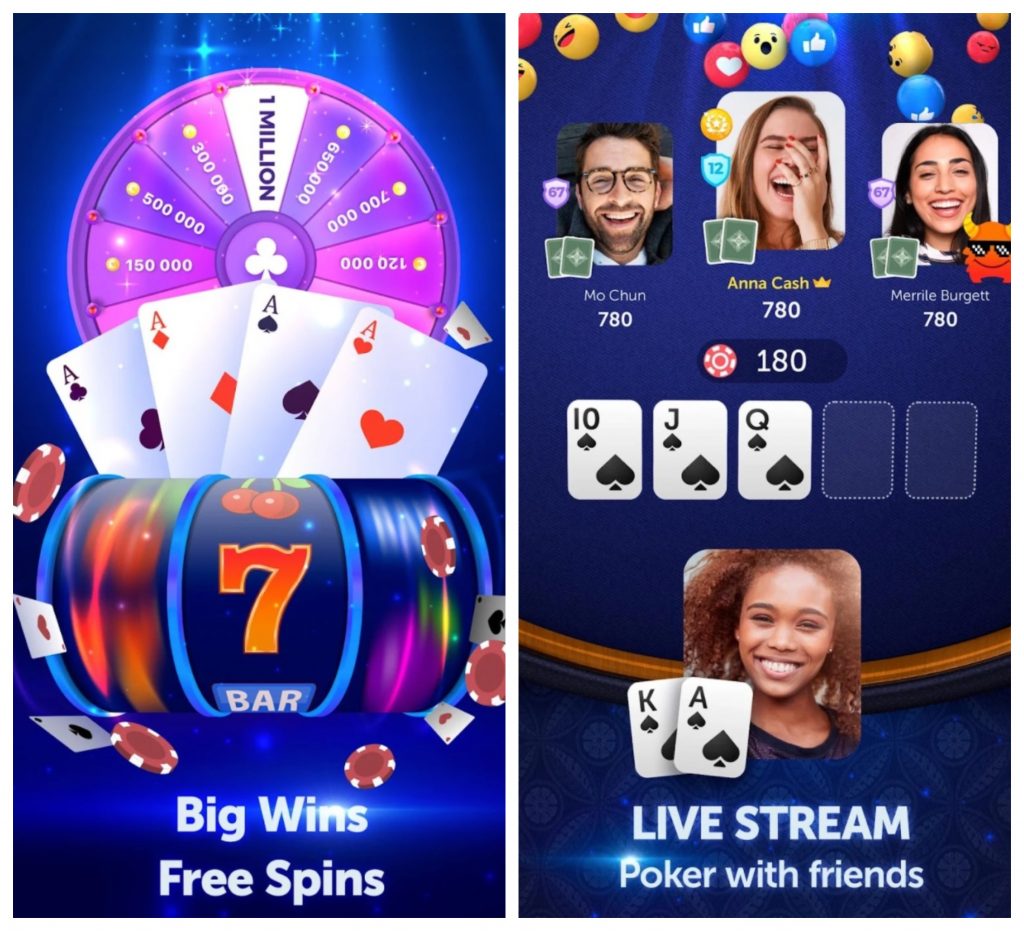 Downloads: 1000000 +
Customers rating:

(4.1 / 5)

Pokerrrr 2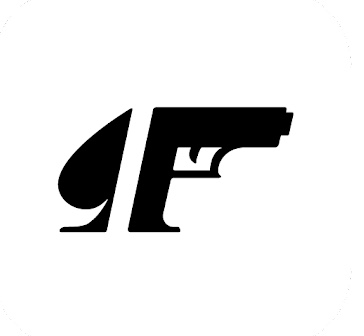 Pokerrrrr 2 – your company is sure to love this poker game! With this app, you can host your own poker tournament at your house party.
I liked the game because it's not as simple as other poker games, this game almost entirely conveys the tension of choosing a move.
So how does it work? You create a private room and set the rules of the game, whether it be No-Limit Hold'em, OFC, Short Deck, Pot-Limit Omaha, Round of Each, Sit-and-go, MTT, Tournament Timer, etc.
The cool feature of the app is that you can use your iPad as a shared screen where your game will be streamed with community cards. Well, the players' cards will be displayed only on their phones. Already want to try it?
You can even record tournaments and then view and discuss them in the in-game chat.
Do you want to play poker with random players? That's also an option here. You can play poker with users from all over the world and participate in worldwide tournaments.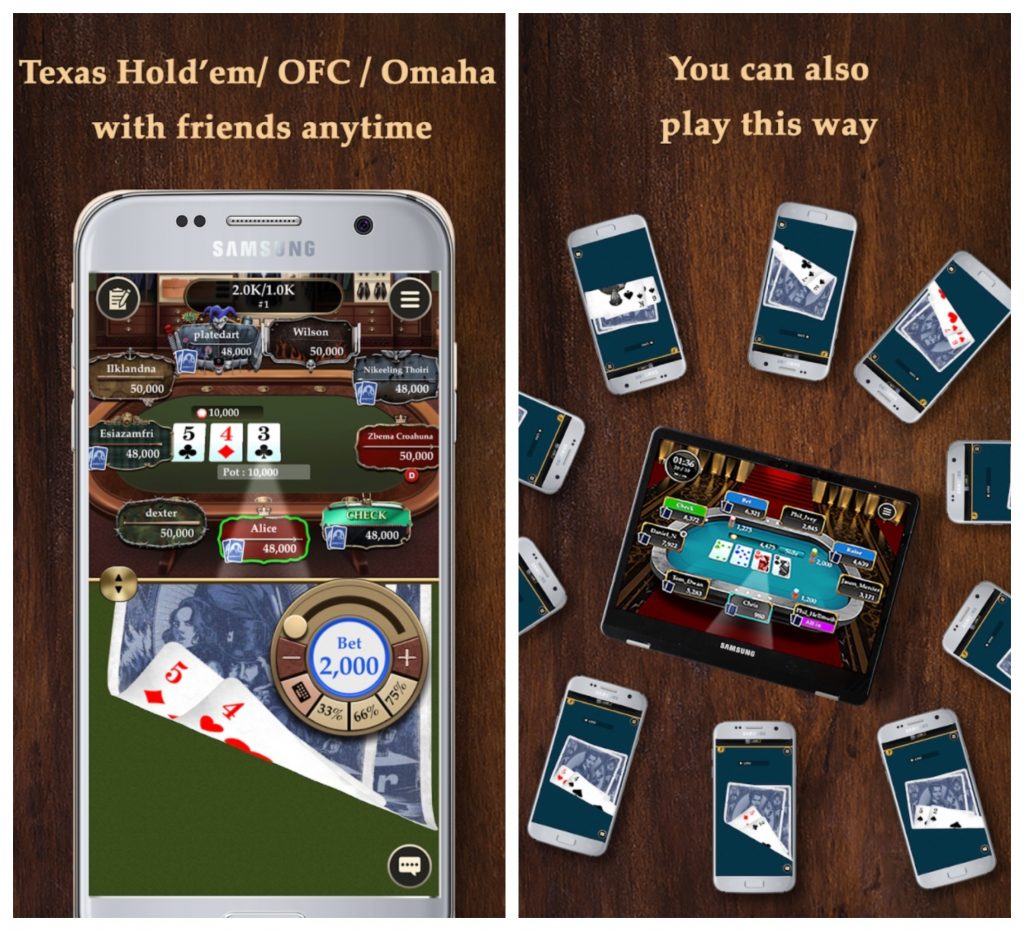 Downloads: 1000000 +
Customers rating:

(4.4 / 5)

Poker Face – Live Video Online Poker With Friends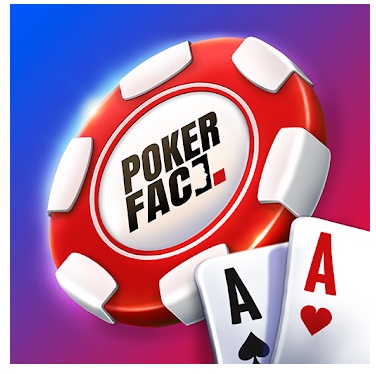 Poker Face is an unusual video poker game with controversial reviews. But I still wanted to tell you about it because it has cool features.
It's suitable for holding poker tournaments with friends online. Play Texas Hold'em Poker from the comfort of your own home! Can you imagine? Gather your friends in the game and have a lot of fun. You'll be able to chat live with your friends while playing in a group chat room.
Or you can play against poker gamers you've never met before. Live play will make you have fun.
Overall, it's a great app. Interesting and entertaining. The ability to see your opponent's emotions and communicate live is catchy.
Pros: a pleasant interface, the very process of the game, communication with interesting people.
Cons: A lot of heat on the phone because of the constant operation of the camera and the camera eats up a lot of battery power.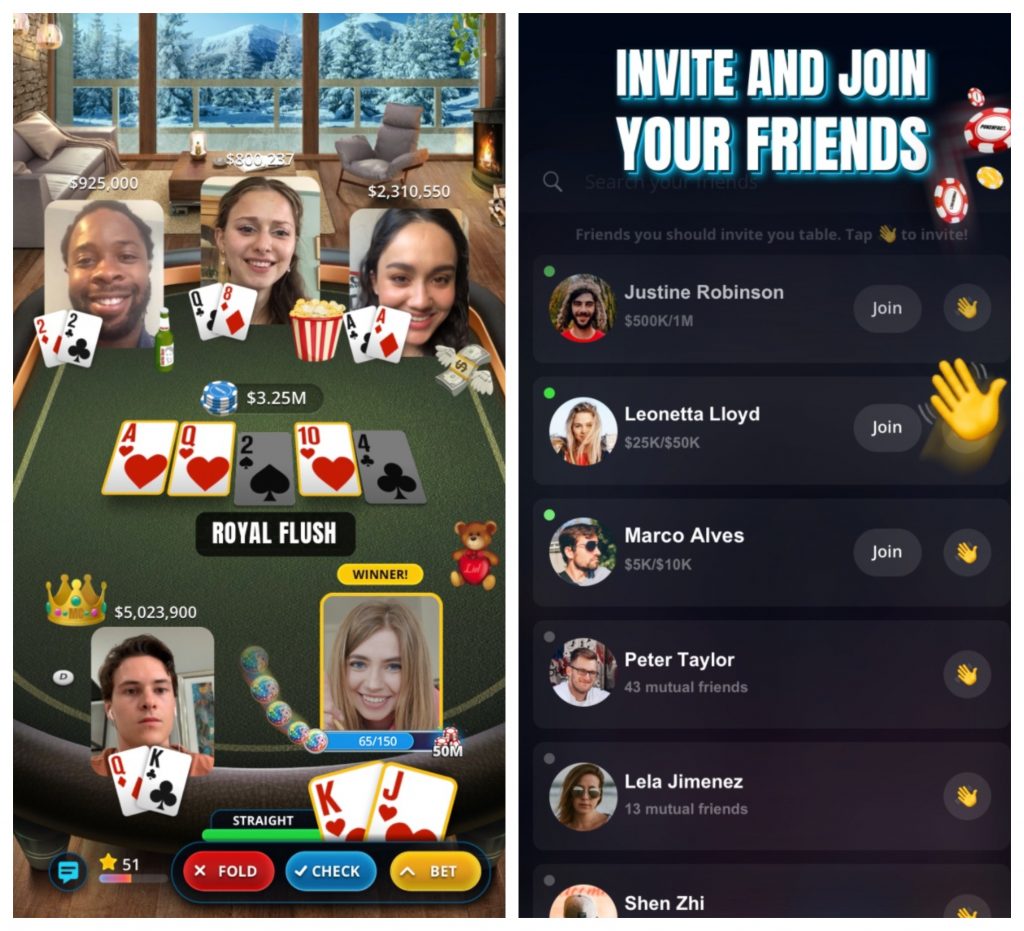 Downloads: 1000000 +
Customers rating:

(4.5 / 5)

Mr. Poker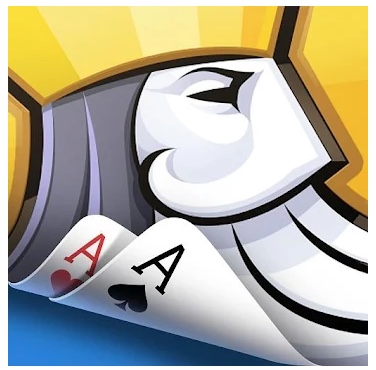 Mr. Poker is an interesting poker application. This platform allows you to organize real private poker tournaments. Cool!
Everything is simple here. You can play poker with friends anytime and anywhere. The creator of the game can invite his friends to the poker table.
You can even create your own rules. They don't differ much from the classic ones, but they can be varied substantially.
You don't have to pay for poker, and you can play in the app completely free of charge.
I also like the customization here. You will be able to switch the table to horizontal or vertical mode according to your convenience. Stickers or memes are available. It also offers a creative four-color deck.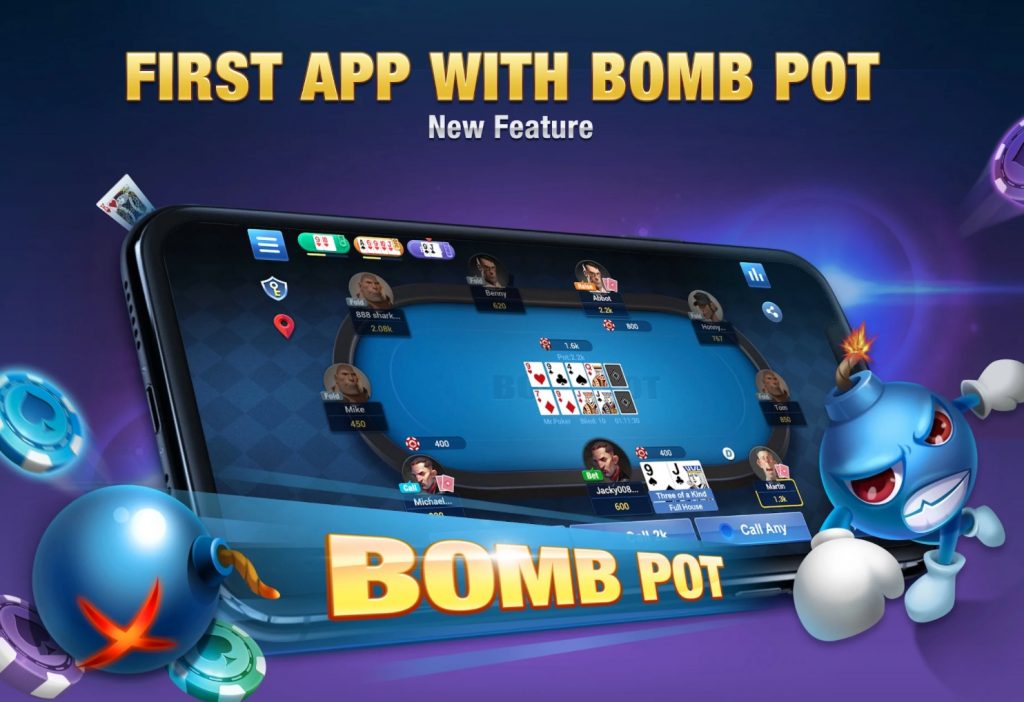 Downloads: 5000 +
Customers rating:

(4.3 / 5)

You may also like: 12 Best offline card games for Android
EasyPoker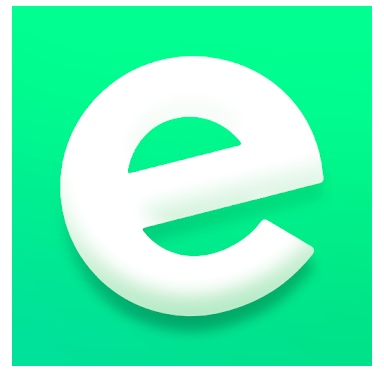 Do you travel? Are you in a cafe or restaurant? Are you on the road with friends and don't know what to do? Then EasyPoker is just what you need!
The application is not so popular but still deserves a place on our modest list. What is noteworthy is that it's focused on LIVE play.
You will be able to play with up to 12 people and it will be fun. Play with family members and friends wherever you are. And you will only need a phone and a network.
Create a private room and invite participants. The app is easy to operate. You can play with one hand.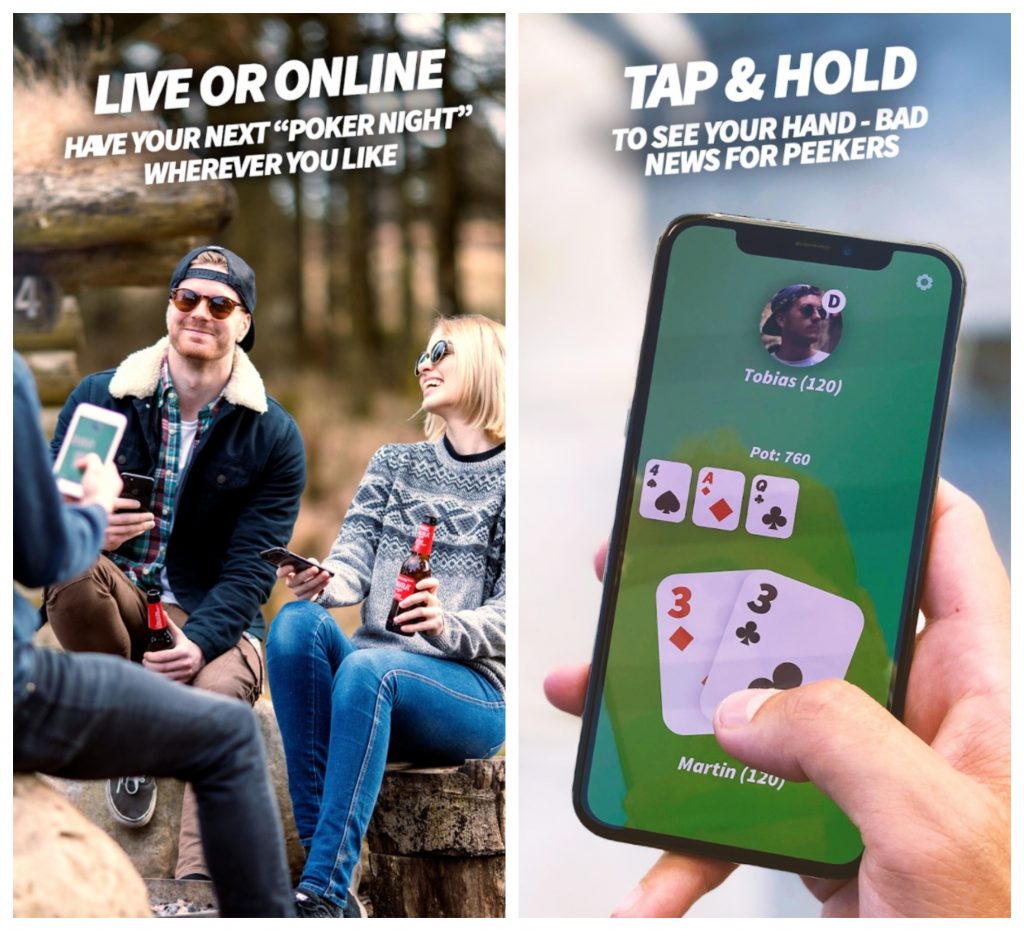 Downloads: 100000 +
Customers rating:

(4.1 / 5)