Instagram is a kinda crucial indicator of social life nowadays. If you see two people unfollowing each other there then it means serious business. In order to always be aware of who unfollowed you, we suggest you explore the best Instagram unfollow apps down below.
And for those who like different Instagram apps, we also recommend reading an article about Android apps to fake Instagram direct messages.
Followers Reports for Instagram
This app is considered to be one of the best ones for Instagram bloggers and for literally everyone who wants to try their Instagram statistics. It will show you everything the unfollowers, your fans, who blocked you, and even who visited your profile.
All of that you'll be able to discover in follower reports for Instagram. The app will reveal who interacted with your profile. Follower reports for Instagram watch everyone.
One of the most interesting features of this app is that it can show who blocked you on Instagram and it's one of the most popular functions here.
For those people who have a lot of followers and who follow lots of other people might be tricky to track unfollowers and followers.
So another feature and feature that we are talking about in this article is the unfollowers report. The app tries the precise amount of your accounts and followers and will show you all the accounts that unsubscribed recently.
Another useful feature that you can find in follower reports for Instagram is the tool that allows you to unsubscribe from a lot of accounts at once. Therefore, this app makes a mess and follows everyone.
An additional feature is all this happens can provide you with a thorough analysis of your Instagram profile and an analysis of your follower's activity. It will be useful for those who monetize their Instagram pages.
What is more, Followers Reports for Instagram provides one of the most reliable statistics and shows your unfollowers more or less precisely.
Considering the third parties you can stay safe because the app doesn't pass the data to anyone else so be sure that your Instagram password is safe and sound.
Lastly, one feature that we want to highlight is the interface design it's one of the best ones in this category, it's stylish, it's fresh and it's obvious that the developers have put thought into it.
Downloads: 500 000+
Customers rating:

(4.6 / 5)

You may also like: 6 Best Instagram Private Profile Viewer Apps for Android
Followers & Unfollowers
This is another useful app for those who want to track their own followers. It's almost at the same level as the previous one. Why almost? Cuz it has more simple user interface design. With this app, you will easily track your followers and you will be tracking their actions.
With Followers & Unfollowers app you will be able to track your fans, ghosts, guests, and so on. The app works quite precisely but it shows you the unfollowers with a delay of a couple of days.
Another interesting feature of the Followers & Unfollowers app is its tools will give you a chance to track your most popular and least popular posts. You will be able to review all of your media files according to the number of likes and Commons categories.
What is more, you will be able to unsubscribe the people who don't tell you back. And an interesting feature of this app is that it is even able to show you who deleted their likes.
By the way, this app also gives you a chance to get rid of the annoying subscription requests from the people that you don't want to see and delete them all at once.
And if you want to clean your account from ghost followers there's a feature that can identify people who never comment on your posts or stories and clean your account from them.
But keep in mind that on some devices Instagram can consider this app as potentially hazardous one and will not let you access it through the app.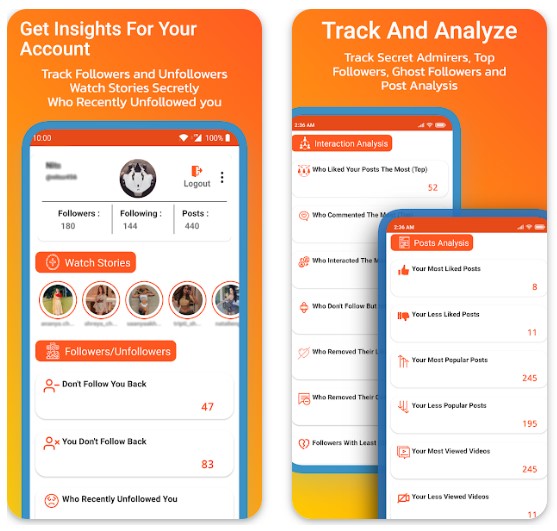 Downloads: 500 000+
Customers rating:

(4.3 / 5)

Followers – Unfollowers
We hope that you won't get lost in all those app names because all of them are really similar. For example, this app is called followers on followers, and it's a popular app to track your Instagram statistics.
First of all, this app allows you to track all the people that unsubscribe from you. You will be able to find the number of people that unsubscribe from the smell in a special section in the main menu.
By the way, one of the main advantages of this tracker app is its easiest usage. The main menu is designed in a way that you can overview all the features and serve you any type of Statistics just by clicking on even though.
There you will find the list of people that may have certain actions towards your Instagram account for instance apology. Or, if you don't want to track followers, you can see how many people and who visited your profile.
The app will also show you the people who don't follow you back. Another convenient feature is the mass unsubscribe and where you can unsubscribe home as many people as you want just with one single click.
The app doesn't interfere with any third party so it's quite safe for you to trust your Instagram password to it. However, it can also be harmful to your Instagram account because it will see it as a third-party invasion.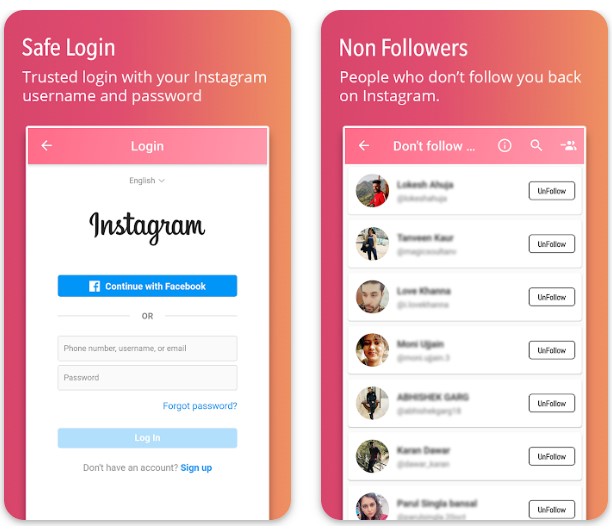 Downloads: 1 000 000+
Customers rating:

(3.5 / 5)

Followers and Unfollowers
It is funny that this app actually almost has the same name as the previous one. Basically, it has the same purpose and it will help you to track the activity of your followers on Instagram. It will let you analyze the actions of your followers and track your unfollowers.
All you need to do is just synchronize Followers and Unfollowers with your Instagram accounts and grant permission to it and then you will be able to track your daily unfollowers. If someone unfollows you, the app instantly sends you a notification.
In addition to that, the app can provide you with the least of the people that you follow, but who don't follow you back. And it can also provide you a list of the vice versa following.
Thanks to this app, you can also study the interaction between your subscribers and your account and understand this statistic.
Overall, this is a typical representative of this category. The app is quite convenient to use, though its main menu design is not that easy to understand. And one of its main disadvantages is the excessive amount of ads.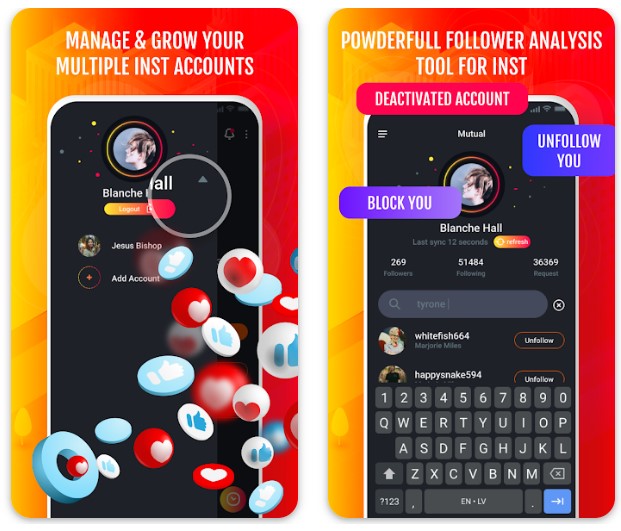 Downloads: 100 000+
Customers rating:

(3.5 / 5)

You may also like: 9 Free apps to download videos from Instagram
Followers & Unfollowers
Watch out and try not to get tangled in this Instagram statistics analysis app with the same names. This is the app with the same name that we already had on the list but it has slightly lower rankings than the previous one.
As usual, here you will be able to track your total Instagram statistics. Considering the unfollowers statistics, the app will show you your unfollowers but not always it shows the precise information.
What is more, the information will be delivered with a delay of 3 days to a week and that's a significant disadvantage. And followers and then followers are not able to fully track all your unsubscribers, it is able only to track about 60-70 % of them.
The interface design is also quite mediocre here though it's quite easy to understand. When you download and sell the app you will need to synchronize or Instagram account with it after that, you will be able to see the list of your followers and their latest actions towards your profile.
By the wait, another disadvantage that we found here is that here the followers who make different actions toward your profile aren't divided into categories. You're just scrolling through the list and seeing which actions did they do.
In our opinion, that's not the most convenient decision ever. However, you have to be really careful with this app because some users complain that it steals your data.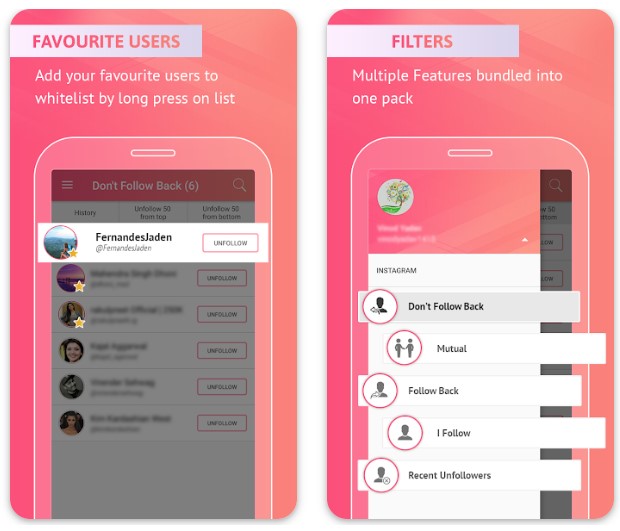 Downloads: 10 000 000+
Customers rating:

(3.5 / 5)

Unfollowers for Instagram
The main goal of this app is to track your unfollowers on Instagram and it has huge popularity on Google play. Probably, because it's one of the most simple and easy-to-use apps in the market.
All they have to do is just synchronize your Instagram account with it and then you will see three categories and switching between those categories is a breeze. In the first category, you will see exactly who unfollowed you.
The only thing is that the data is not really clear and it might be confusing because Unfollowers for Instagram shows your followers all the time. If someone new unfollows you then the app showed probably in approximately 3 days, but not instantly.
The app can also show you the people you follow but who don't follow your back. All In all, it's all the same. However, as usual, the app does not work quite well for each device.
The success of working of this app will depend on how security settings on your Android device work independently and Instagram might not let you in with this app. But at least it doesn't have ads.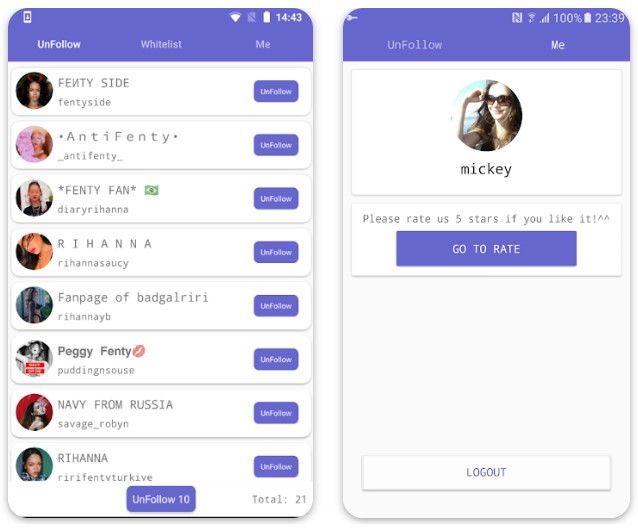 Downloads: 1 000 000+
Customers rating:

(3.5 / 5)

Reports Followers Tracker IG
For everyone who is interested in tracking their followers on Instagram, this app is an optimal choice. It claims that it will provide all the information about the actions of your followers and of course about your unfollowers.
You will be able to track your profile visitors, your fans, how many legs did you get and whether you are in a certain period of time, you will also be able to receive various notifications and so on.
One advantage of it that we would like to highlight is its interface design and how comfortable this app is in usage. It's really easy that all the actions are divided into categories and you can view each one separately.
The unfollowers won't be shown instantly, only after a certain period of time and this period of time is rather unknown. There is not much known about this app in general so we recommend you be cautious before trusting your information to it.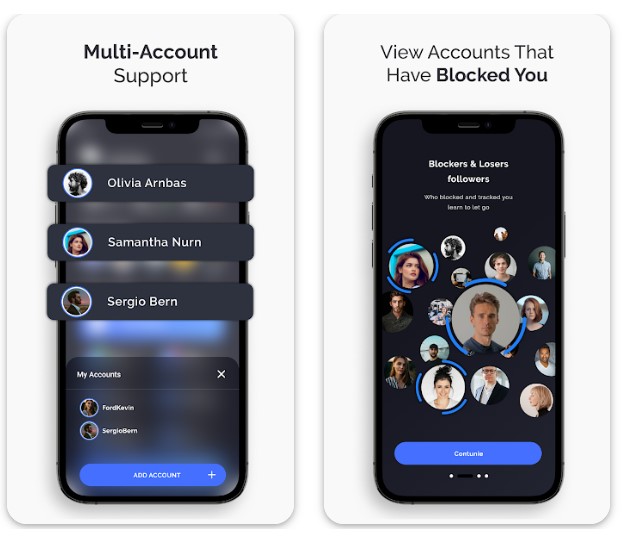 Downloads: 100 000+
Customers rating: unknown

Yupi
At a glance, you'll seem more or less a decent app for tracking the activity of your Instagram followers. I'm on its advantages we can highlight its user interface design, functionality, and a variety of features.
All the actions of subscribers are divided into categories, and you can check out any category by clicking on it. What is more, the app will compile statistics for you. One interesting feature of you is that it can also show who blocked you, not speaking about unsubscribed.
The information about the letters is more or less precise and it appears in a day or several days, depending on your account and the number of your followers.
And the most interesting part is that thanks to you you can track not only your activity but the activities of other users.
You can check when they were online the last time or see if they deactivated their account.
These all advantages could make this up best on our list, however, despite the high rankings of the app, we found lots of comments from dissatisfied users who claim that your Instagram can get blocked after the usage of this app or that the app has a tendency to steal your personal data.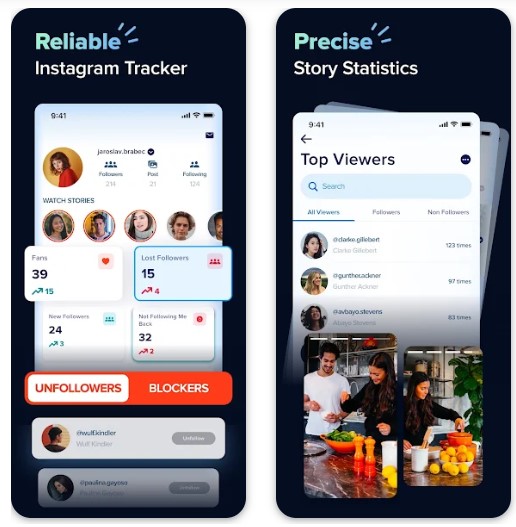 Downloads: 500 000+
Customers rating:

(4 / 5)

Followers Assistant Original
To be honest we decided to review this app only because it's something different from all the typical apps in the segment and because it's so surprisingly popular.
It is an extremely simple app and it doesn't have any fancy-looking pictures in its interface but it seems like it does its job.
Just like all other apps on this list, it tracks the activity of your followers and when someone unfollows you the app sends you a notification. Of course, it is not really clear how soon the app will notice your unfollower and how its access synchronizes through your Instagram account.
What is more, we didn't feel really safe trust in our Instagram passwords to it because, as we already mentioned there's little known about it.
So we would recommend only to those users who have all their enjoy devices or for those who just want to try all the apps before committing to something particular.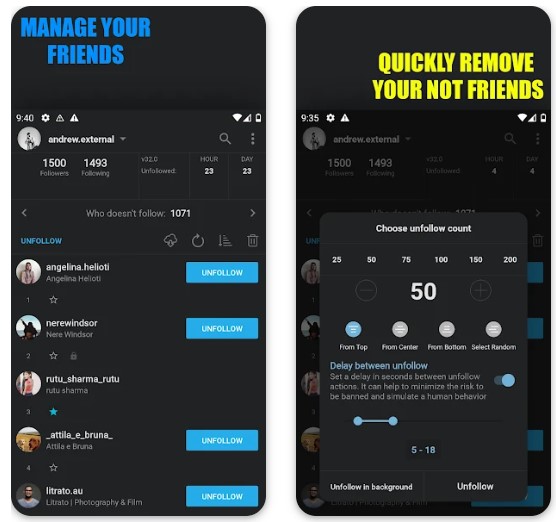 Downloads: 1 000 000+
Customers rating:

(3.5 / 5)

Reports: Followers Tracker
Reports is basically an analog of all the apps mentioned above. The only thing is its interface design reminds of the Yupi app. And it's not that popular yet. It will show you the statistics of your followers' activities, including unfollowing.
We can't really say how precise this app is in terms of unfollow, but it will surely show you the whole amount of them, especially, if you have many followers. What is more, the unfollowers will be shown with a delay.
And just like in previous cases, we recommend being cautious about it since it might cooperate with 3rd parties and trade your data.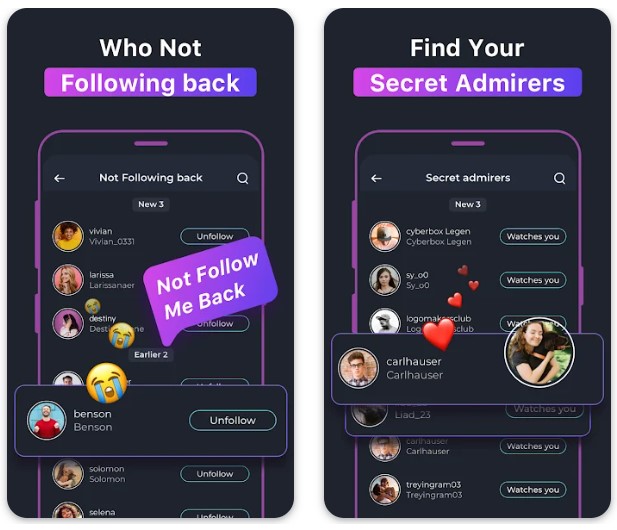 Downloads: 10 000+
Customers rating: unknown

You may also like: 9 Best Apps to Hide Apps on Android
Follower Reports for Instagram
We selected this app just because of its interesting ways and how it provides statistics. The feature that makes it stand out from its competitors is that it provides you the statistics on your follower's activity in visual graphs.
You can even make a screenshot and then share these statistics with your potential clients for example.
The whole interface design is nicely executed and it's easy to navigate in the app. You can open any category, including followers and there you will find the list of people that unfollowed you.
However, we place this app last on our list because, despite all of the advantages mentioned earlier, it's not really safe to use.
There are users who complain about the app stealing their data or that their Instagram account has been blocked after synchronizing it with follower reports for Instagram.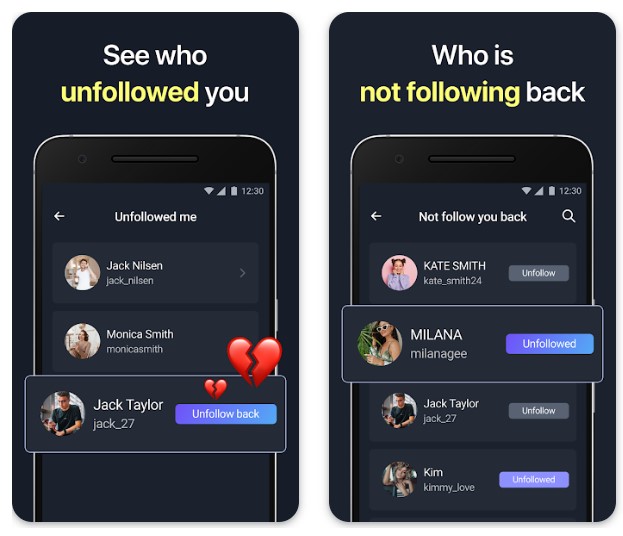 Downloads: 100 000+
Customers rating:

(4.3 / 5)