How many times did you check the weather on the internet and found later that the forecast was wrong? It happened to a lot of us. It is really annoying, so we decided to find a reliable app not to repeat the same mistakes. And we found it! The app with the fullest meteorological information exists. It is called eWeather HDF. And there is no better source than this app.
You may also like: 9 Best Android Apps to Change Hair Color
This app includes widgets, alert notifications, and a barometer. You can see the hourly forecast and 10 days ahead as well. eWeather HDF gives you data based on your location which it detects automatically. If there are pressure changes or other geomagnetic activities this app will notify you at once.
Perfect for those who are sensitive to such weather conditions as you will be prepared and can reschedule some important things you were going to do. And if you love fishing then this barometer is a great tool to know the best time to catch fish.
Speaking of planning, eWeather HDF has an amazing feature called the Weather Clock Dial. Rotate the clock to know the hourly weather and plan your day accordingly. You will not get under rain unexpectedly, we promise.
It also displays natural disasters like hurricanes and earthquakes.
You can track the way and the speed the hurricane moves. And the app allows filtering the earthquakes by time, distance, magnitude, and depth. If you are searching for the Moon and Sun calendar or air quality indicators this app has them as well.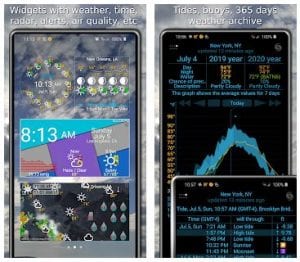 And for weather nerds, there are annual archives of air and ocean temperature, tide forecasts, and weather buoys. The tech support is efficient and quick. They answer any question and any complaint. eWeather HDF is being updated regularly for even more amazing features.
You may also like: 5 Best Android Apps to Catch a Cheater
This app is just the fullest scientific meteorological source. Everything is there and even more. All the imaginable data about the weather is to be found here. Why don't you download it and check it for yourself?