The idea of using a phone as a universal notepad is not new. Even before smartphones became a mass phenomenon, many subscribers adapted drafts of SMS messages for taking notes.
With the development of mobile devices, working with notes has become much more convenient – many phones have special applications for taking notes, and many programs have been released for smartphones that implement similar functionality.
Just have a look at the best word processor apps for your Android device:
1. Microsoft Word
Are you used to working with text on a computer and don't want to switch to unfamiliar mobile programs? Then an ageless classic is for you! Microsoft word is the best text editing application.
Now the convenient functionality is already in your smartphone. Intuitive control, full functionality, the ability to save in multiple formats, and now it's all at your fingertips!
Advantages:
Now you can view long and large format texts even on small screens
You can expand any insert, be it an image or a table on the screen of your device
If you need to insert information from the Internet into the text, now you can do it directly from the application using intelligent and personalized search
This program interacts with many cloud data stores and you can edit your document on the go
You can add your own comments or reply to others with one touch
Auto-save of all entered data both to your mobile device and to cloud storage
Do you like to work in a group or urgently need to send a completed project to your superiors, all this is done without leaving the application thanks to high integration with messengers and repositories
You can edit a document together and simultaneously while in touch, even when hundreds of kilometers away from each other
Now all the commands can be found literally in one click, just drive them into the search
It's no secret that you often have to work on the road, now you can do it right from the screen of your mobile device. You no longer need to stick your nose into small text, the entire application has been redesigned for easy file opening
Added a lot of modern and well-designed templates, now it's even easier to start your projects.
Now there are many convenient and familiar formatting options and layouts for visualizing your thoughts
This program is supported on all devices and allows you to expand your capabilities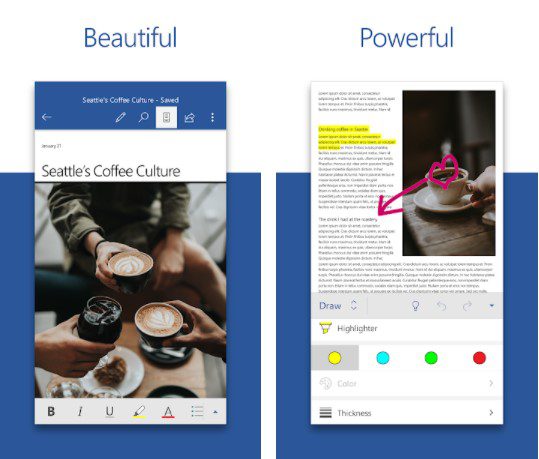 Downloads: 1000000000+
Customer rating:

(4.4 / 5)

You may also like: 9 Best Music Notation Apps For Android
2. Note Everything
Note Everything is a tool for creating notes. It is possible to create text, graphics, voice, barcode, and Google notes.
This application differs from ordinary and boring notebooks in that it allows you to create not only text notes, but also graphic notes, and even voice notes.
With the help of Note Everything, you can quickly dictate the necessary information, as on a dictaphone, you can draw a map, a logo you like, anything and save it all on your phone.
Notes can also be sorted by folders directly in the app. So by installing Note Everything, you can safely remove a few extra programs that will replace this application for you.
Note Everything is an excellent multifunctional tool that allows you to quickly and easily create a note of any type. The disadvantage is a weak external interface design, but this is not so important, the main thing is the functionality of the program.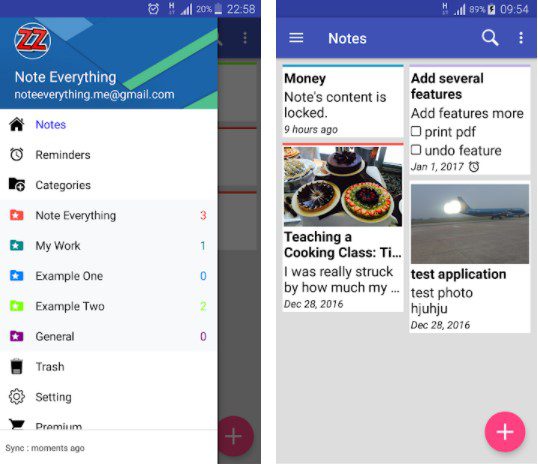 Downloads: 10000+
Customer rating:

(3.6 / 5)

3. Google Documents
Google Docs has become a common tool for anyone who needs to create a document. Many of you are already familiar with the desktop version, and the mobile version can become a hub for your documents when you travel.
Imagine that you don't have access to a laptop on the road, and you need to view a document. This situation is solved using the mobile version of Google Docs.
This application allows you to save on your mobile device: сreate your own project and edit in one app. You like to work in a team, then this application is exactly for you because now you can simultaneously work with colleagues on one file
The application allows you to work where there is simply no mobile connection.
Comment on your notes, as well as respond to your colleagues on their comments. All your changes are now saved automatically. You can not be afraid of losing your records even in case of a sudden disconnection of the device
Now you can make additional files and notes from the Internet without leaving the application with the "Advanced Search" function. The application allows you to work with Microsoft word files, work in formats that are convenient for you.
Downloads: 1000000000+
Customers rating:

(4.3 / 5)

4. WordPad
Word Pad is an application for mobile devices running Android, which is a text editor. Currently, the legal successor of notepad in Windows and will definitely appeal to those who love the applications of this wonderful operating system.
Unlike Word, this utility has a simple interface and does not have a large number of tools for formatting text, but at the same time, it is a full-fledged text editor with all the necessary functions.
Users can create notes, share them with friends, and also choose the interface theme. To use the application, you must allow access to the internal memory of the mobile device. After that, the main page will be available. In the right part of the window, there is an area in which information about the last viewed documents is displayed.
There is a menu on the left side. All controls are as simple and intuitive as possible. To create a document, click the New button and proceed to edit. Users can enter text using the on-screen keyboard. It is possible to choose the size of letters, font, and background color.
The application allows you to use the built-in spell-check. If an error is detected, the wrong word will be underlined in red. In this case, the user can choose the correct option from the suggested ones.
The function of automatic saving of the document contents is available. After the editing is finished, the utility allows you to save the document in the smartphone memory or send it to friends by email.
Features the application can be downloaded and used for free; the utility is a simple text editor; users can view documents in TXT format; spell-check function is available; it is possible to configure automatic saving.
The app is compatible with current Android versions.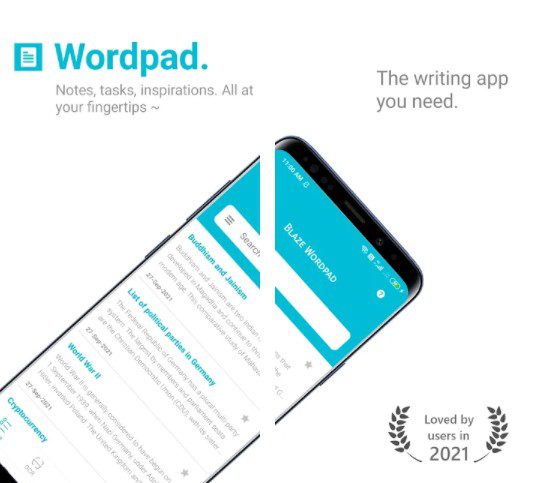 Downloads: 50000+
Customers rating:

(3 / 5)

5. ColorNote
ColorNote is one of the most popular Android note-taking apps.
The list of ColorNote features includes highlighting notes with color, the ability to add events to the calendar, displaying notes on the desktop, searching, the ability to protect information with a password, synchronization with cloud services and between devices, as well as backup to a memory card and the ability to share a note by email.
When you launch ColorNote, a list of notes is displayed on the display of your mobile device. You can also set a calendar as a start screen, which can be very useful for those using ColorNote as a scheduler.
The note is saved automatically when the "back" button is pressed. To quickly switch to the editing mode, you can use a double-tap on the note in the viewing mode. When creating and editing a note, the text selection function and the clipboard are available.
When deleting notes, they end up in the trash (Trash Can), from where they can be restored or permanently deleted. When viewing the basket, there are several sorting modes available (by the creation or deletion time, alphabet, or color) and a quick cleaning function of the basket.
The next useful feature of ColorNote is the backup and synchronization of notes. Cloud storage or a memory card can be used for these operations. It is suggested to use Facebook or Google social network accounts as authorization data to log in to the online storage.
What surprised me is that there is no full registration, although the possibility of authorization by email address and password is present.
From the application settings, we note the ability to select a theme (dark or standard light) and configure many parameters, including the already mentioned view of the start screen, as well as the ability to set the "default" color, font sizes, and the note itself, as well as the sorting mode and text input parameters.
One of the interesting "things" is about the possibility to manually set the first day of the week and the presence of a lunar calendar (at the user's choice – Korean or Chinese).
The main thing is that ColorNote combines sufficient functionality and a simple interface. And it is not overloaded with unnecessary functions.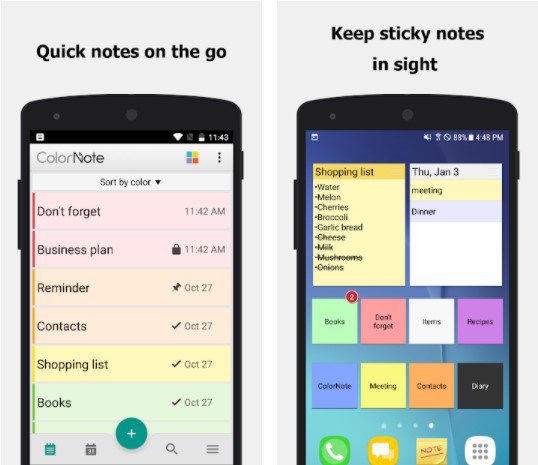 Downloads: 10000000+
Customers rating:

(4.8 / 5)

6. Docs To Go
Docs To Go is a special and multifunctional assistant for working with documents. Take advantage of all the proposed functions to increase labor efficiency and make your work as convenient as possible.
In Docs To Go, you can edit existing or create new MS Office files, as well as view PDF files. Take advantage of this most popular office application. Connect to any cloud storage, synchronize documents with a PC, protect the necessary files with passwords for reliability and increase the security of information.
A lot of interesting functions that are not supported by another office application package will pleasantly surprise you! You will also be able to perform many other actions provided by the application.
Features of the Docs To Go app:
InTact Technology allows you to save the original formatting.
All files will be displayed in one place — you don't have to download additional tools or applications.
A large selection of cloud storage allows you to save space in the memory of your mobile device.
The application supports the most popular languages in the world.
The ability to edit files for new users for free.
An upgraded and incredibly practical interface with an improved file manager.
Ability to work with MS Office files (97-2013).
View documents in PDF format.
Files are stored directly on the device or in different cloud storage.
Convenient sending and receiving of electronic documents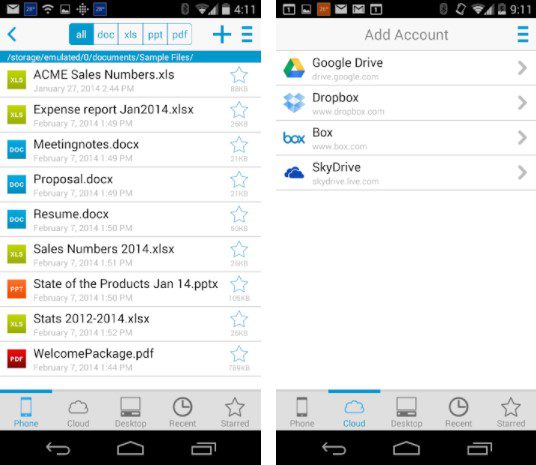 Downloads: 50000000+
Customers rating:

(3.8 / 5)

7. AndroWriter
An application with many functions for writing texts, suitable for both beginners and experienced professionals. You will be amazed at your text processing and writing capabilities.
Each of us has to work with text often and in large volumes. Now you don't have to be tied to your computers, process texts anywhere. You didn't have time to finish the project, and in transport, you have free time to finish your text or urgently edit an unplanned task. Use AndroWriter right on your mobile device!
This application compares favorably with analogs in power, at the same time, not a complex interface
Do you need to create a template document? The template selection function will help you with this. Now to make an invitation or standard fax, you do not need to reprint it, you can simply choose the template you need.
If you haven't found the right template, don't worry, you can create it and your work will go much faster.
Format the text and apply the necessary style so that your text is pleasing to the eye and looks beautiful.
You need to title the text or refer to your other project, all this can be done using this application
Insert the necessary objects, graphics, or pictures so that the text is not monotonous. You can create the frame you need when preparing a presentation or advertising campaign
Communicate and leave comments for yourself or for those who are also working on a completed project and respond to them. You can widely use autocorrect to add templates and other things
This application works with a variety of formats, which will pleasantly surprise users of different operating systems, there will be no more file conflict
Microsoft Word 6.0 / 95/97/2000 / XP (.doc and .dot);
Microsoft Word 2003 XML (.xml);
Microsoft Word 2007 XML (.docx, .docm, .dotx, .dotm);
Microsoft WinWord 5 (.doc);
WordPerfect Document (.wpd);
WPS 2000 / Office 1.0 (.wps);
.rtf, .txt and .csv;
StarWriter formats (.sdw, .sgl, .vor);
DocBook (.xml);
Unified Office Format text (.uot, .uof)•
Ichitaro 8/9/10/11 (.jtd and .jtt);
Hangul WP 97 (.hwp);
T602 document (.602, .txt);
AportisDoc (Palm) (.pdb);
Pocket Word (.psw).
The AndroWriter interface is intuitive and elegant, no need to search for the desired function for a long time, you can control gestures for more convenient navigation.
Change your document or you can view the final view, leave the file itself unchanged
Convenient file navigation
Control the scale with just two fingers, so as not to miss something important
Save your projects to local storage
The app works even with a keyboard
To change a text document, it is placed in the built-in cloud storage, and after editing it is uploaded to the device. At the same time, the internal memory of your device is not heavily loaded, which will significantly increase its resource and help avoid unnecessary data.
AndroWriter has a built-in file manager module with the following features
Login to the home directory at the first boot. In the future, you can navigate through the directories;
Basic operations with files – uploading, copying and moving them, creating, renaming, etc.;
Work with bookmarks and recently opened files;
Ability to view accurate information about a file or folder;
Sorting files by name, date of creation or modification, etc.;
Presentation of files in the form of a grid, icons or a table;
Availability of FTP access;
As well as file search tools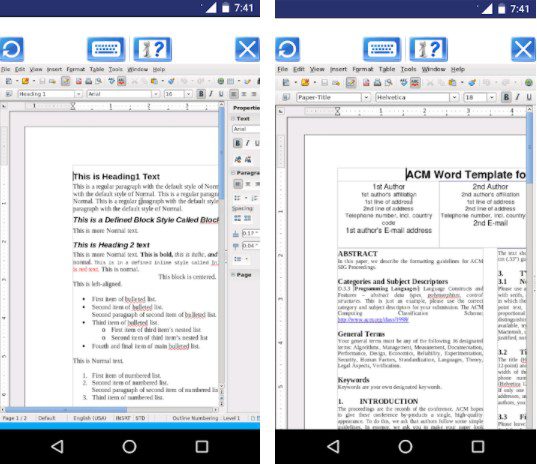 Downloads: 1000000+
Customers rating:

(3 / 5)

8. AndrOpen Office
AndrOpen Office is one of the most popular office packages for portable devices running the Android operating system. A distinctive feature of the application is the high speed of working with text documents, presentations, and tables in almost all existing formats.
AndrOpen Office Functions
work with six tools, each of which is responsible for viewing and editing a specific format of office files;
opening files created in graphic editors;
built-in drawing functions, editing mathematical formulas, databases.
Package Features
all resources that remain unused on the device are used for maximum performance of the office suite;
all documents are opened in the original format, animation, pictures, etc. are supported;
support for working with popular cloud services;
checking documents for grammatical errors;
saving documents in PDF format;
work with files that are protected by a computer.
Advantages
multi-functionality of the software;
work with files that are created in the most popular software editors.
Disadvantages
unstable on weak devices;
takes up a lot of space on the device.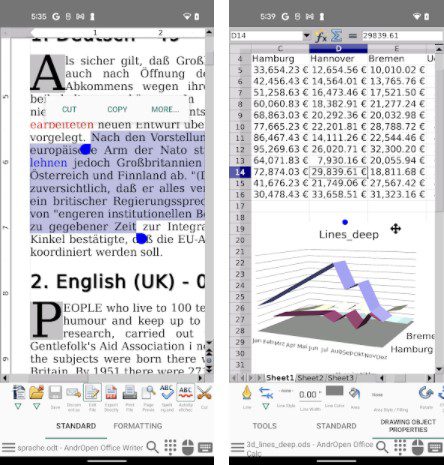 Downloads: 5000000+
Customers rating:

(4 / 5)

You may also like: 11 Free Schematic Drawing Apps for Android
9. Zoho Writer
Zoho Writer is a text editor from the Zoho Writer cloud suite of office tools that can create, edit, share and collaborate on documents.
What features can be found in Zoho Writer?
Advanced editing features from highlighting and italics to bookmarks, hyperlinks and videos.
Collaboration on documents in real time.
File sharing.
Sending and receiving instant messages using the built-in chat.
Review tools.
Highlighting text and adding comments.
Cancellation of decisions and responses to comments.
View changes in documents.
Work with files using the browser, including offline mode.
Sync files on your computer for quick access.
Export files to PDF, DOCX or EPUB formats without loss of formatting.
Import files to get started quickly.
Merge documents.
Library of ready-made templates.
Automatic correction.
Integration with other Zoho, Dropbox and Google Apps services.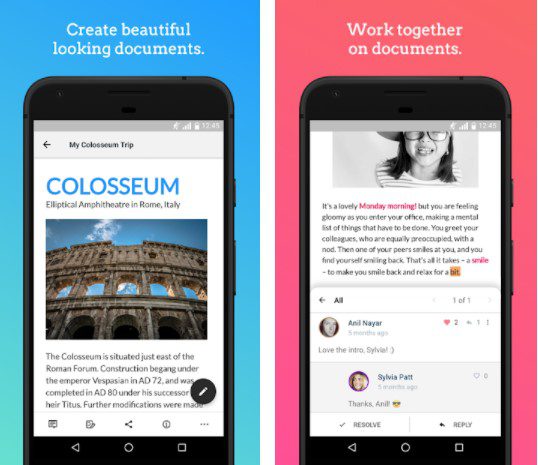 Downloads: 100000+
Customers rating:

(3.6 / 5)